Exclusive: All About Jennifer Lopez's Wedding Dress in 'Marry Me'
"The director and Jennifer wanted it to be classically romantic, and over the top." See who designed the dress and more.
There's nothing more nostalgic than a Jennifer Lopez movie involving weddings, and the next film on the list is Universal Pictures' Marry Me. J.Lo—the star behind beloved romantic comedies like The Wedding Planner and Maid In Manhattan—has returned, yet again, to showcase her romantic comedy chops opposite Owen Wilson and Maluma. This Jennifer Lopez movie, however, reflects portions of her real life. In the Marry Me movie, Lopez plays a superstar multi-hyphenate named Kat Valdez who seemingly has everything: riches, fame and a Grammy winner for a partner. However, the glory crumbles down when the jilted bride-to-be discovers her superstar fiance Bastian (played by Maluma) has been unfaithful with her assistant. In fact, Jennifer Lopez is wearing an equally-worthy wedding dress fit for a pop star of her level.
Heartbroken, J.Lo's Kat Valdez enters her concert and cooks up a last-minute plan of her own where she elopes with a random fan in the crowd at her show holding the sign, "Marry Me." That fan so happens to be a single, girl dad Charlie (Owen Wilson) who's been dragged to that same concert by his daughter and friend (Sarah Silverman). "I will marry you," she replies breathlessly.
The 'Marry Me' Wedding Dress Details
Though jilted in the film, the dress evidently was made for a bride of Lopez's caliber as her character, Kat Valdez, is the world's most prominent superstar. "It had to feel like a dress for a pop star's wedding and also for a televised concert that was also a wedding," the film's costume designer Caroline Duncan tells The Knot. "It's a bit of a Cinderella moment… layered with the expectations we have for a pop star. It could've gone so many ways and we could've gone slinky and Vegas. But, the director and Jennifer wanted it to be classically romantic, and over the top."
Designed by Lebanese fashion designer Zuhair Murad, the backstory included much more detail and a variety of options. "Zuhair Murad is a designer with whom Jenifer has a really strong relationship. We looked at everyone… and we started looking [the most] during bridal fashion week," says Duncan. "We started sending images of what was happening live and they were putting things in front of her and she was gravitating towards the bigger dresses and skirt. There were probably 15 dresses in contention that everyone was happy to loan. They all love working with Jennifer and she looks beautiful in everything. Zuhair sent two dresses, both runway samples, they had not even been put into production and it was the clear winner for the first time when it went on her."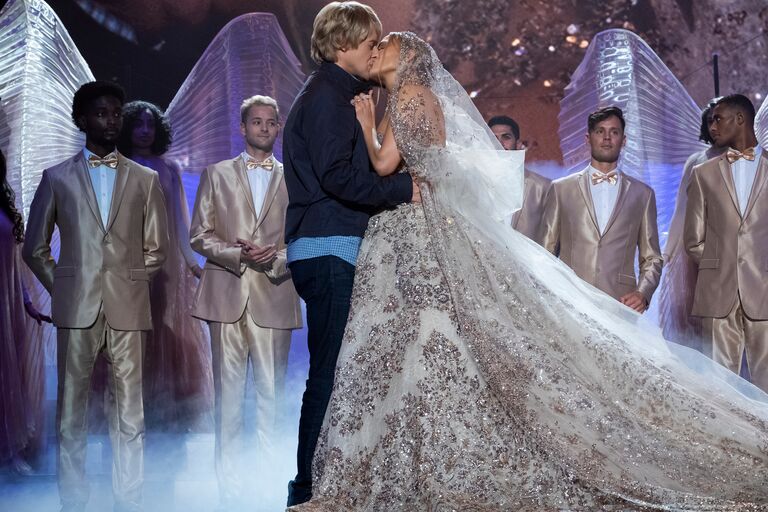 The piece itself is something Duncan describes as "its own character in the film." She notes, "It's the heaviest garment I've ever worked with as a costume designer. It was over 80 pounds. It lived in its own truck and took five people to move it around just because of how large the train was… For example, in the limo, the dress dwarfed them in that car. It was evident it wasn't the two of them. And that dress represented with its volume and what was in the middle of them."
Duncan and the costume department paired the gown with an additional piece by Murad. "The veil adds a statuesque element to the look," she notes. It's almost armor with a crown: an accessory fit for royalty with a fighting, resilient spirit.
Raised onto a podium mid-concert, as she reads the Page Six "exclusive" of her fiance cheating, Kat tearfully opines to the crowd about love and the ideals of pursuing a romance. (She's also been through multiple marriages, at this point herself, just like Lopez.) Still, she shimmers and conveys strength in the middle of her would-be wedding, a winter wonderland that's live-streamed globally. "The gown is a romantic, refreshed silhouette of a fairytale wedding dress," Duncan explains. "It has those sentimental elements of what a little girl imagines for what a fairytale wedding can be. But it's not white. It's rose gold and champagne… and it has a cathedral element to it."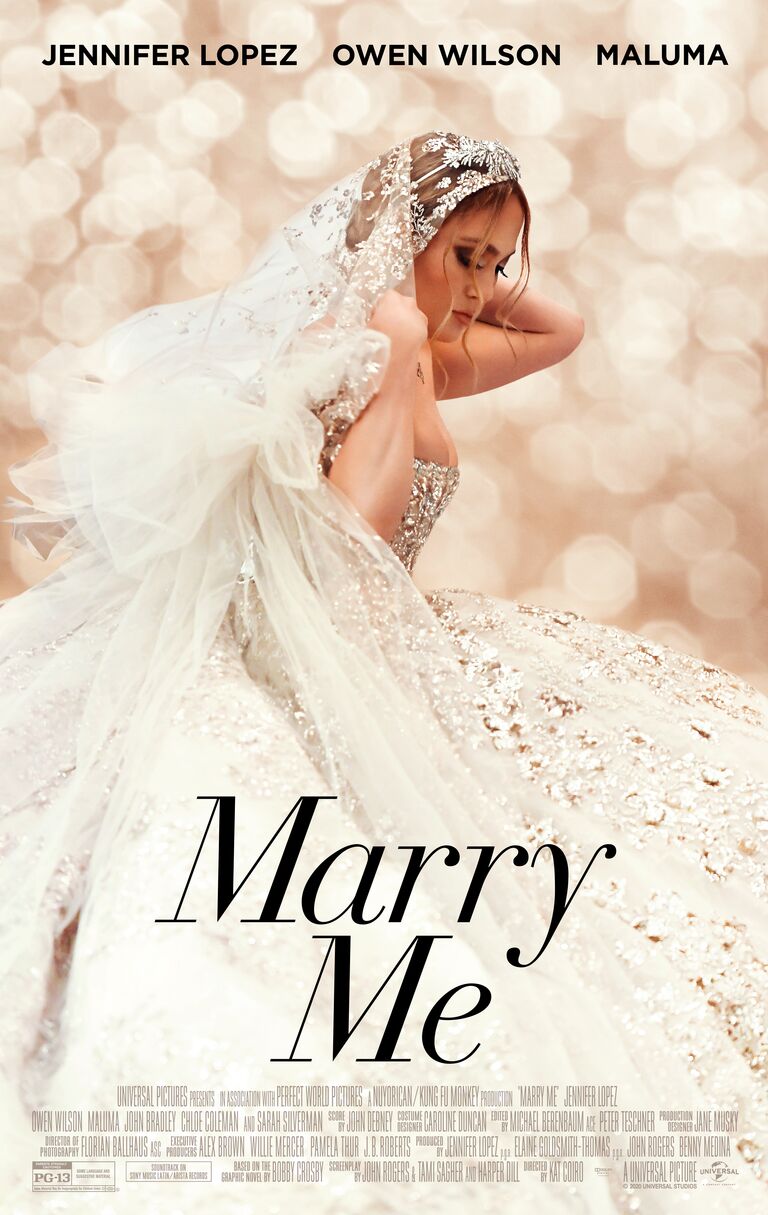 The final moment for the gown is inside a gleaming New York City high-rise apartment. The cameras and the flurry of paparazzi have gone. Kat is alone, "married" to Charlie, and humiliated. "In the bedroom, there was a sparkling moment, but it's sentimental because she's alone and not celebrating," notes Duncan. "The dress goes from telling the story of romance and happy endings, to feeling very lonely and confining."
When Is Marry Me Being Released?
Days before Valentine's Day 2022, the Marry Me movie will hit theaters nationwide on February 11. The film is based on a webtoon by the same name, which was written by Bobby Crosby. It will be streamed exclusively on Peacock in addition to its release in theaters. Watch the exclusive shout-out from Jennifer above.
Who Is Starring in Marry Me?
The standout star of the Marry Me movie is Jennifer Lopez, whose return to rom-coms has been heralded as one of the gifts of 2022. After wedding planning through COVID with her ex, Alex Rodriguez, the superstar songstress broke off the engagement in early 2021 only to find love, once again, on a yacht with her former fiance Ben Affleck.
Starring opposite Lopez is Wilson, whose biggest wedding movie credit includes Wedding Crashers. Wilson's Charlie has a teenage daughter who says, "You haven't had any fun since mom left." The fun begins when he agrees to marry Lopez for a brief period. "I don't want to be the punchline," Valdez pleads to Charlie in the trailer. Will the faux couple fall in love and actually move ahead with life forever after, or will Kat face two broken relationships in one film?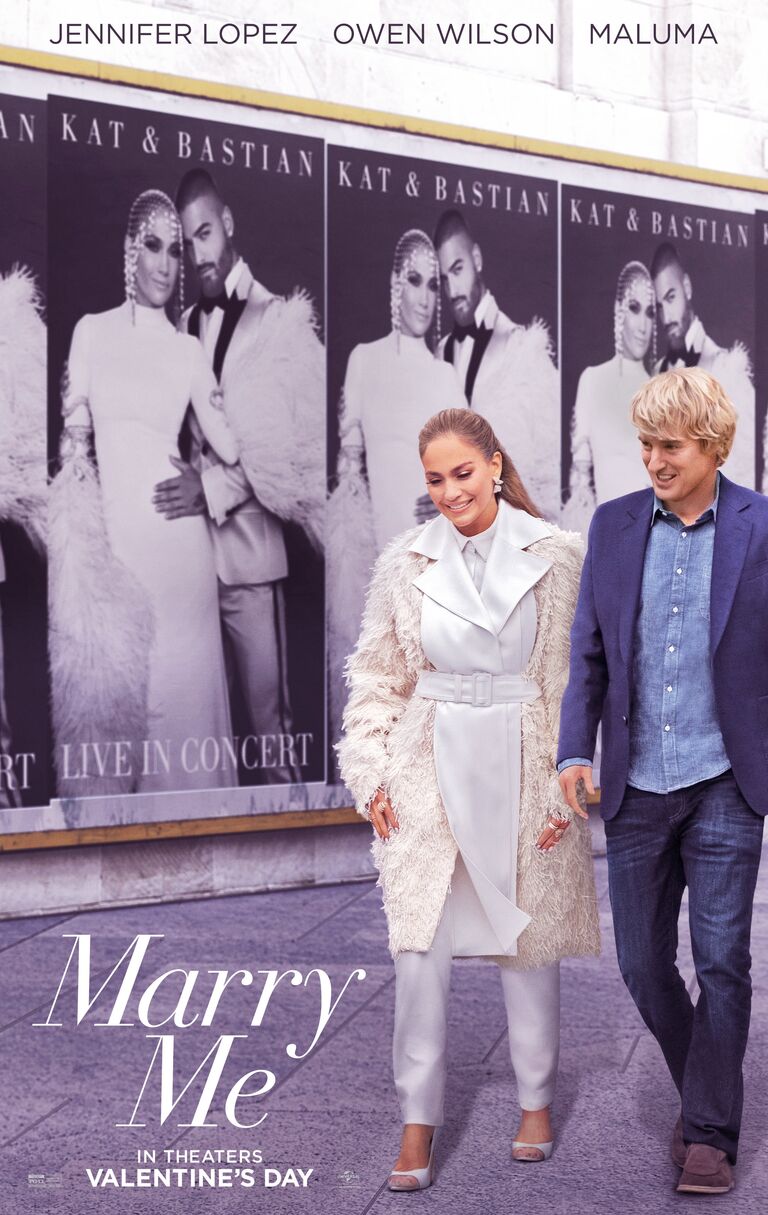 Marry Me has been positioned as a heartwarming romantic comedy, especially as viewers discover the layers between Lopez and Wilson's characters. Comedian Sarah Silverman, John Bradley, Michelle Buteau, Chloe Coleman and Maluma are also featured in the film. Watch the Marry Me movie trailer above.