Watch the Trailer for Jennifer Lopez's Next Wedding Movie 'Marry Me'
Plus, see her shout-out to The Knot.
There's nothing more nostalgic than a Jennifer Lopez movie involving weddings, and the next film on the list is Universal Pictures' Marry Me. J.Lo—the star behind beloved romantic comedies like The Wedding Planner and Maid In Manhattan—has returned, yet again, to showcase her romantic comedy chops opposite Owen Wilson and Maluma.
This Jennifer Lopez movie, however, reflects portions of her real life. In the Marry Me movie, Lopez plays a superstar multi-hyphenate named Kat Valdez who seemingly has everything: glory, fame and a Grammy winner for a partner. However, everything crumbles down when the jilted bride-to-be discovers her superstar fiance Bastian (played by Maluma) has been unfaithful with her assistant.
Heartbroken, she enters her concert and cooks up a last-minute plan of her own where she elopes with a random fan in the crowd at her show holding the sign, "Marry Me." That fan so happens to be a single, girl dad Charlie (Owen Wilson) who's been dragged to that same concert by his daughter and friend (Sarah Silverman). She pleads, "You haven't had any fun since mom left."
Marry Me has been positioned as a heartwarming romantic comedy, especially as viewers discover the layers between Lopez and Wilson's characters. "I don't want to be the punchline," Valdez pleads to Charlie. Will the faux couple fall in love and actually move ahead with life forever after, or will Kat face two broken relationships in one film? Watch the Marry Me movie trailer above and find out more details about the film below.
When Is Marry Me Being Released?
On Valentine's Day 2022, the Marry Me movie will hit theaters nationwide. The film is based on a webtoon by the same name, which was written by Bobby Crosby.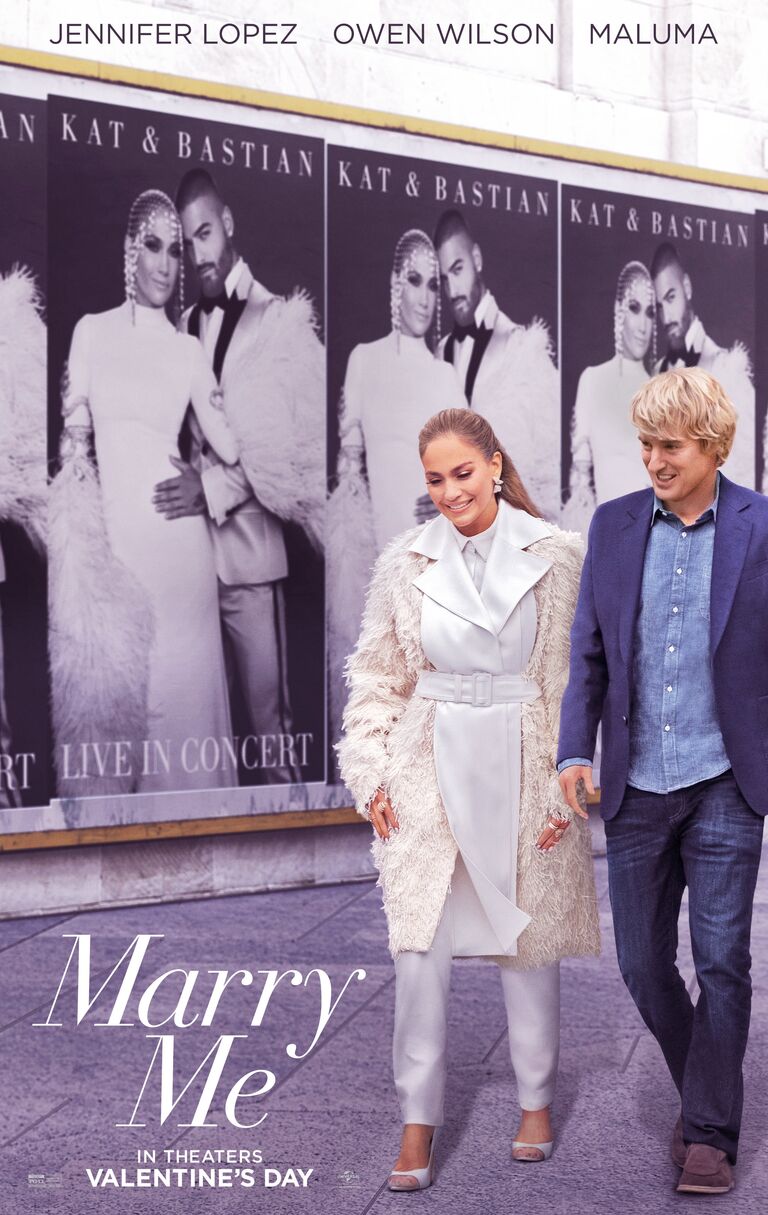 Who Is Starring in Marry Me?
The standout star of the Marry Me movie is Jennifer Lopez, whose return to the past has been heralded as one of the gifts of 2021. After wedding planning through COVID with her ex, Alex Rodriguez, the superstar songstress broke off the engagement in early 2021 only to find love, once again, on a yacht with her former fiance Ben Affleck.
Starring opposite Lopez is Wilson, whose biggest wedding movie credit includes Wedding Crashers. Comedian Sarah Silverman, John Bradley, Michelle Buteau, Chloe Coleman and Maluma will also be featured in the film.