Inside Jennifer Lopez and Ben Affleck's Rekindled Romance
Bennifer is, indeed, back and better than ever.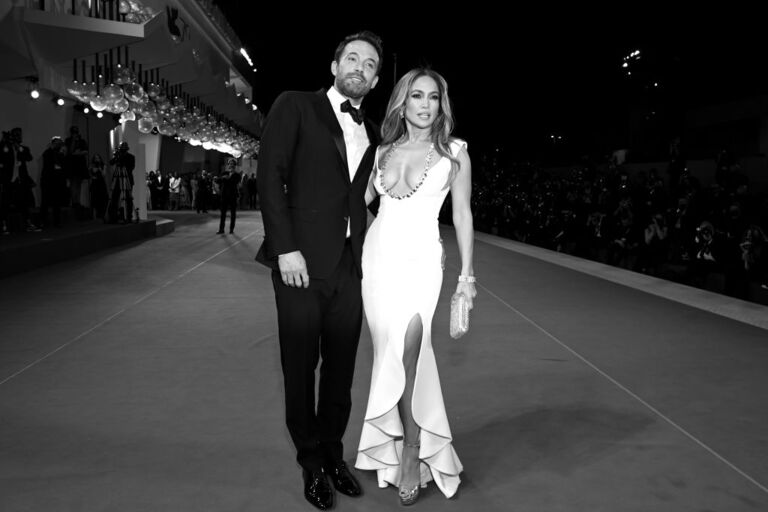 Getty Images
ICYMI, Jennifer Lopez and Ben Affleck are engaged and, no, it's not 2002. The Hollywood power couple, who were previously set to wed in the early 2000s, rekindled their romance in 2021, pleasing millennials and hopeless romantics alike. After months of paparazzi photos and speculation about the state of #Bennifer, JLo announced on April 8 via her newsletter that they were engaged again, two decades after Affleck originally popped the question.
In the video announcement, the bride-to-be showed off a massive green diamond engagement ring, saying, "You're perfect." Although we have yet to see a clear, close-up photo of the sparkler, experts say it's undeniably valuable. "Fancy colored diamonds make up less than .1% of all diamonds," says Jillian Sassone, founder of Marrow Fine. "A fancy green diamond—especially of that size and deep saturation—is quite rare." JLo's new bling is also aligned with one of the biggest engagement ring trends right now: colored gems. "We see a lot of couples choosing colored center stones," Sassone adds, noting that green sapphires are particularly popular among her clientele. "A colorful stone is the perfect choice for anyone who wants to have a truly unique one-of-a-kind piece that you won't see the likes of anywhere else."
Of course, this green beauty isn't the first dazzling engagement ring JLo has ever received. In fact, the singer has worn six iconic sparklers over the years, of varying cuts and colors, which we look back on here. In honor of their rekindled romance, we break down everything you need to know about Bennifer's love story, the new engagement ring (along with the five JLo previously wore), their former engagement, and much more.
In this article:
A Look Back on Jennifer Lopez's Engagement Rings
Jennifer Lopez's latest engagement ring from Ben Affleck is a certified show-stopper—but it's not her first. Take a look at every single engagement ring Jennifer Lopez has worn in the past.
JLo's Engagement Ring from Ojani Noa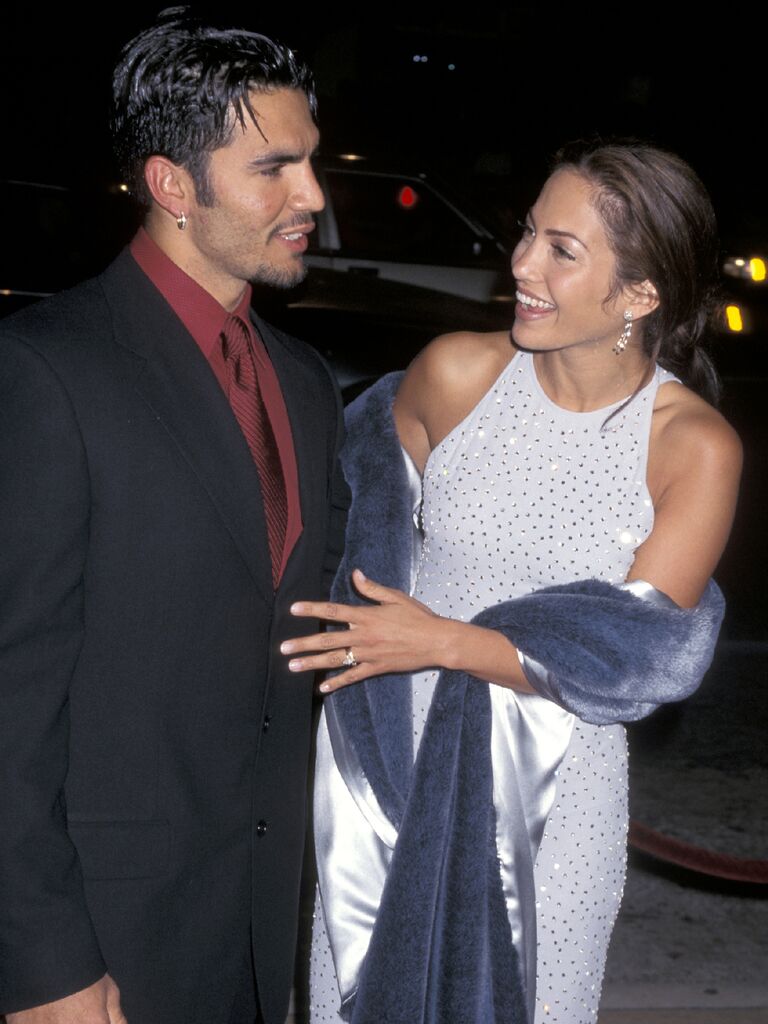 JLo's first marriage was to restauranteur Ojani Noa in 1997. He popped the question with a massive pear-shaped diamond, which was estimated to cost around $100,000. Ultimately, they parted ways a year after they were married.
JLo's Engagement Ring from Cris Judd
After meeting on the set of her music video "Love Don't Cost a Thing" in 2001, JLo got engaged to choreographer and backup dancer Cris Judd. He proposed with an emerald-cut diamond engagement ring, which many experts say was worth over six figures. The marriage ultimately lasted about a year.
JLo's Engagement Ring from Ben Affleck
Bennifer was one of the most iconic pairings of the new millennium, and they fell in love in the public eye in 2002, just as the paparazzi rapidly expanded its reach across Hollywood. Affleck proposed with an incredibly rare pink solitaire diamond—but more on that below.
JLo's Engagement Ring from Marc Anthony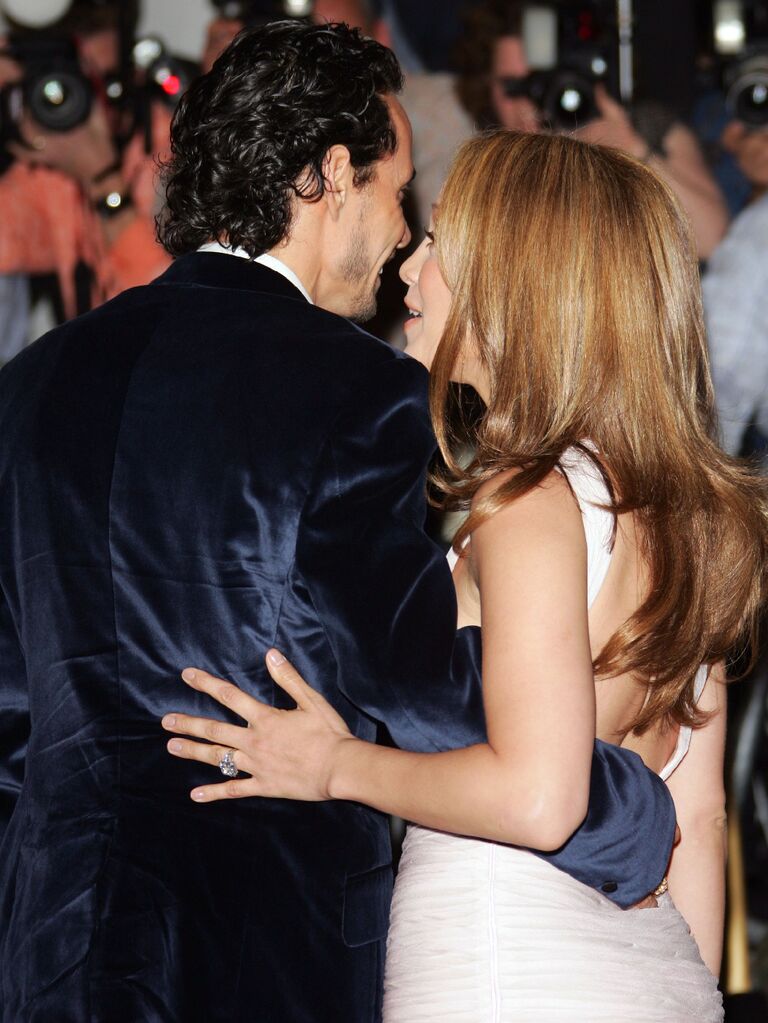 Following her split from Affleck, Lopez began dating singer Marc Anthony. They got engaged after Anthony presented her with an 8.5-carat blue Harry Winston diamond ring. They wed in June 2004, and later welcomed twins Max and Emme in 2008. The couple ultimately announced their separation in July 2011 and finalized their divorce in June 2014.
JLo's Engagement Ring from Alex Rodriguez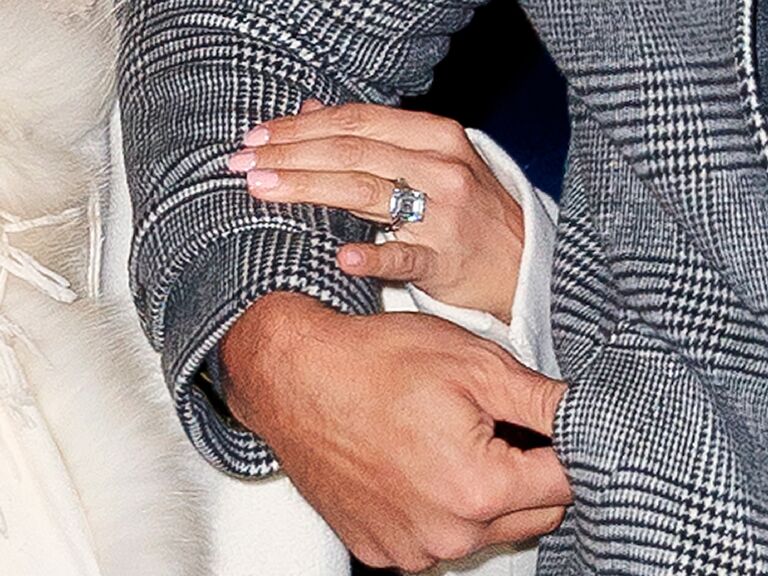 In 2017, JLo began dating sports star Alex Rodriguez. After two years, ARod proposed with another emerald-cut engagement ring; this time, it was estimated to be between 10 and 15 carats and valued around $1 million to $5 million. After changing their wedding plans multiple times due to the pandemic, they called off their engagement early in 2021.
JLo's Engagement Ring from Ben Affleck...Again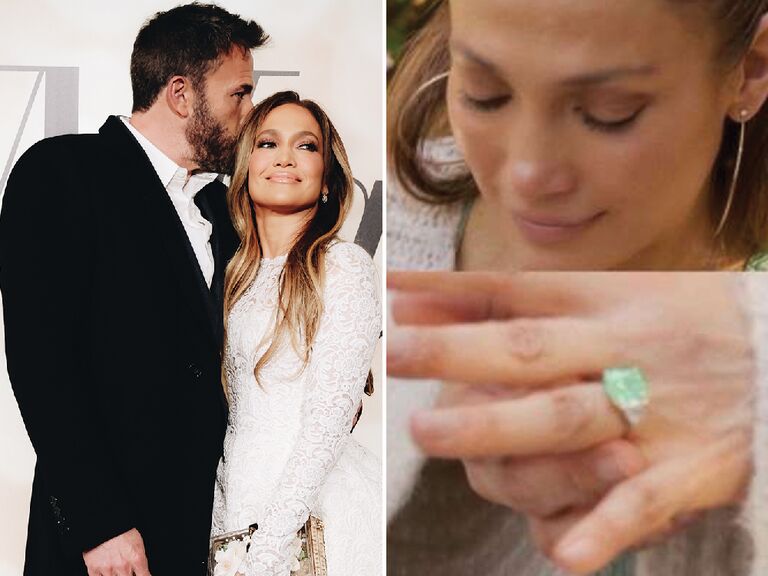 As fate would have it, Bennifer found their way back to each other later in 2021. For their second engagement, Affleck proposed with a fancy-colored green diamond. While we have yet to see a clear photo of the ring, there's no doubt the sparkler is rare and valuable, just like the first one.
Ben Affleck and Jennifer Lopez's First Engagement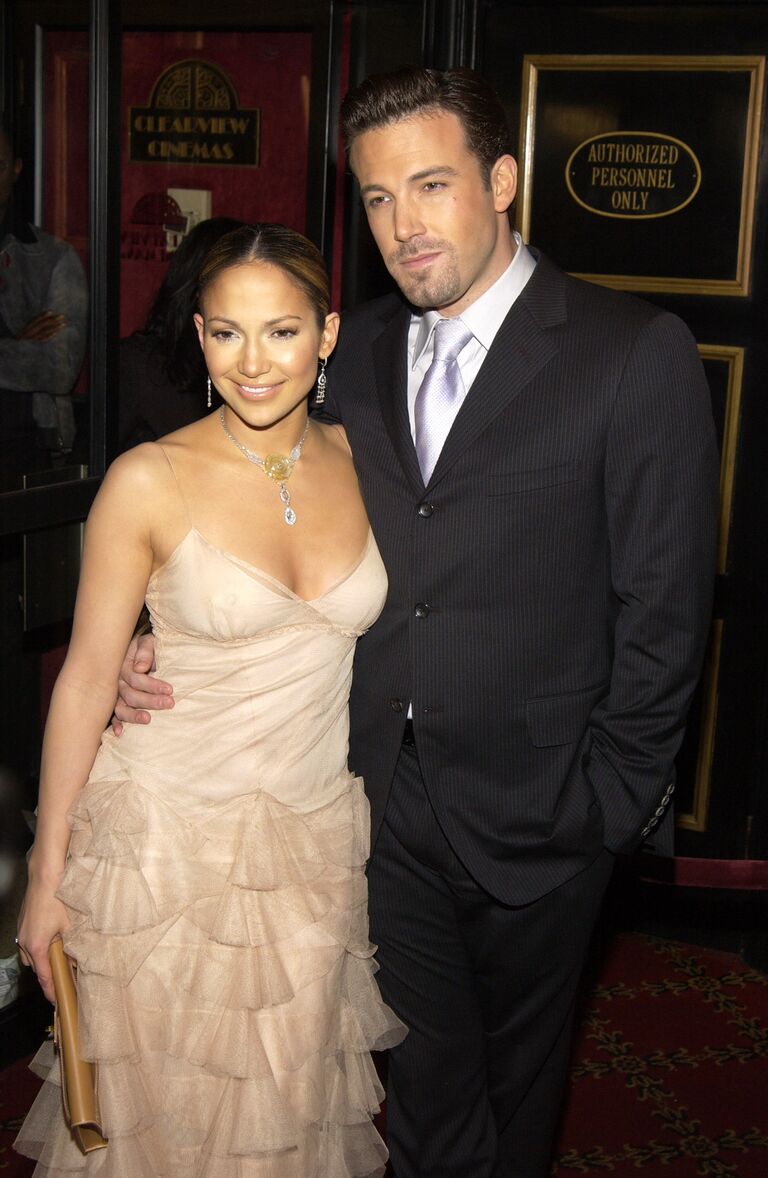 Like many celeb couples, Lopez and Affleck fell in love in 2002 while filming Gigli, the great blockbuster blunder of the '00s. (The Ben Affleck and Jennifer Lopez movie was considered such a failure that it required a few years' time for both of their respective careers to rebound.)
Still, before the film's release, the Armageddon heartthrob and Lopez were photographed everywhere, indirectly providing access to their relationship as they fell in—and out—of love. In fact, some pop culture experts claim Bennifer was responsible for driving the demand for paparazzi photos moving forward, especially after they were photographed during one saucy tryst on a yacht that will remain embedded in the minds of pop culture fanatics worldwide.
J.Lo's Engagement Ring From Ben Affleck Was Unforgettable
The couple's whirlwind romance culminated in a proposal from Affleck as Lopez's career skyrocketed. The Good Will Hunting actor proposed to Lopez with a 6.1-carat ring designed by Harry Winston, which Lopez said she "loved getting" in a 2020 interview. The custom piece featured a pink solitaire diamond, one of the rarest in the world, and helped catapult sales of pink diamonds moving forward. (For context: this particular shade of diamond only accounts for about 1% of diamond production globally, per the Gemological Institute of America.)
The ring still remains a standard sparkler for celebs, even the likes of the one and only Barbra Streisand. "I met her at an Oscar party, years ago, and I was at the time engaged to Ben Affleck, and she's really into diamonds, which I didn't know," Lopez said in an interview. "He had given me a pink diamond, which got a lot of press and was whatever. I loved getting it, don't get me wrong. So, she came up to me, and like, she's heard of it. I'm like, 'Oh my God.' And she's like, 'Can I see your ring?' And she asked me about the ring, but then she asked me—and I thought it was so strange—about being famous, and how I handle it."
They Were Set to Wed in Fall 2003
The destination was Santa Barbara, which still remains an ever-popular choice for outdoor weddings. Days before their September 2003 wedding, the event was called off. Though the pair worked through some issues at the time, they ultimately split and confirmed they were parting ways in January 2004.
Ben Affleck & Jennifer Lopez: After the Split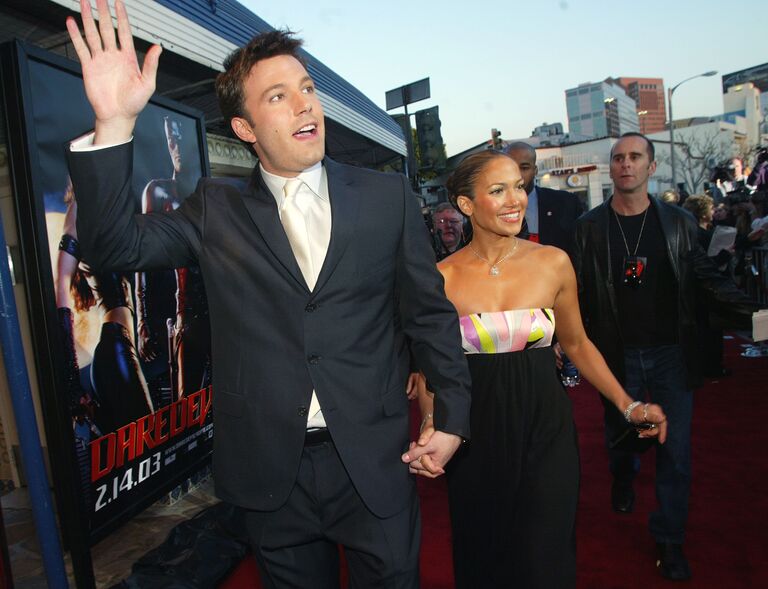 In a 2014 interview with the Today show, the "If You Had My Love" singer recalled how her breakup with Affleck was, in fact, her "first big heartbreak." She later told HuffPost Live of the relationship: "I just feel like everything is part of your story and your journey and is meant to be and helps you grow if you're willing to look at it, and I'm willing to look."
Ben Affleck and Jennifer Lopez Both Moved On
Affleck eventually ended up marrying actress Jennifer Garner, with whom he shares three kids. The couple first met in 2000 while filming Pearl Harbor. Though at the time, Garner was engaged to her first husband, actor Scott Foley. "We met on Pearl Harbor, which people hate, but we fell in love on Daredevil," Affleck told Playboy of filming in 2002. (He was still with Lopez at the time.) "By the way, she won most of the fights in the movie, which was a pretty good predictor of what would happen down the road — my wife, holding swords and beating the living s— out of me."
In 2015, the couple split right after a humiliating nanny scandal, among other addiction issues on Affleck's part. Garner, for her part, moved on and continues to co-parent the couple's three children with her ex. Affleck has since referred to his divorce as the "biggest regret" of his life.
Meanwhile, Lopez moved on with Marc Anthony. She was later engaged to Alex Rodriguez until early 2021.
Still, J.Lo and Affleck Remained Friends
Even as Lopez weighed her split from fiancé Alex Rodriguez, Affleck consoled her as a friend. The actor also recently emerged from a relationship with Ana de Armas. "They have been in touch here and there throughout the years," a source told E! News in April. "Ben reached out to her to see how she was doing and they had dinner together a few times within this last month. It's natural between them and the chemistry is unreal. They picked up where they last left off and are enjoying each other's company right now."
Ben Affleck & Jennifer Lopez's Relationship Today
It was only a matter of time until their friendship turned into something more. The couple, whose reconciliation captivated the hearts of many nostalgic fans, made their red carpet debut at the Venice Film Festival on September 10, 2021.
Lopez looked resplendent in white alongside Affleck, dapper in his tailored attire, to walk the red carpet for The Last Duel during the 78th Venice International Film Festival. Giving their beloved fans exactly what they wanted, the pair affectionately posed for photographers before sealing the red carpet moment with a mega smooch.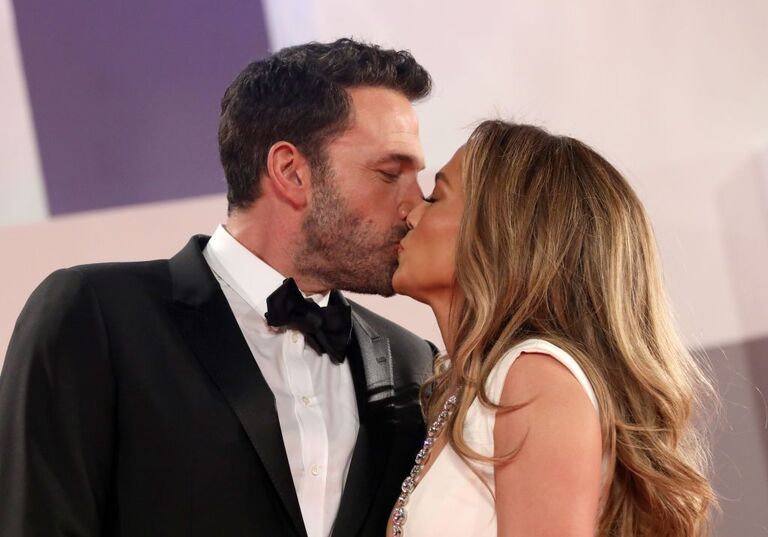 This isn't the first time the pair made waves with their on-again romance. To mark her 52nd birthday, Lopez finally confirmed her relationship status with her on-again beau via social media in July. The multi-hyphenate posted multiple photos of herself to celebrate the occasion, including a sultry kissing snapshot with Affleck. The couple harkened back to the early '00s with yet another "moment" on a yacht.