Engaged Athletes Megan Rapinoe and Sue Bird Are Going to the Olympics
Get their proposal details here.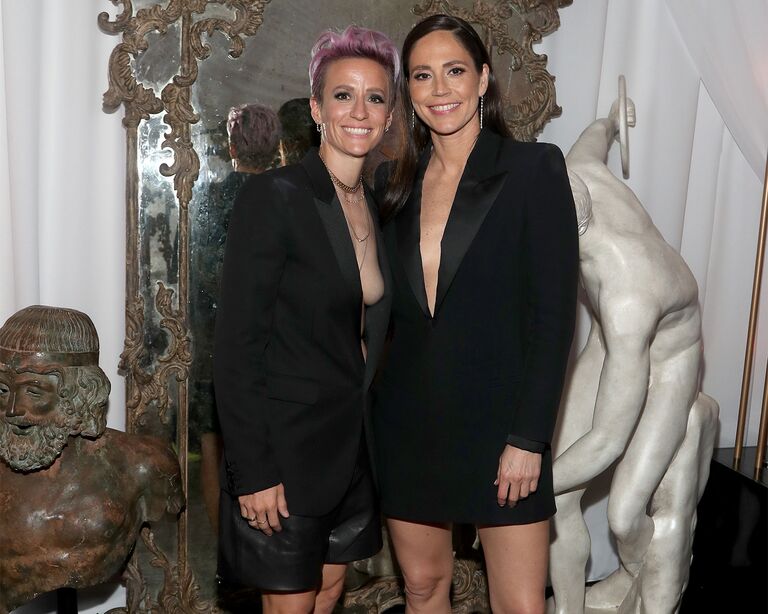 Jerritt Clark/Getty Images for UNINTERRUPTED
Two women's athletic superstars are engaged and headed to the 2021 Olympics in Tokyo. Both soccer player Megan Rapinoe and basketball star Sue Bird were both revealed on Team USA's respective rosters for each sport. Of course, this means even more training for the to-be-weds before wedding planning, or perhaps something in between.
In October 2020, Rapinoe and Bird revealed they were engaged after four years of dating. The couple announced their relationship milestone via social media. At the time, Bird posted a photo of Rapinoe popping the question by a pool in Antigua and no caption was necessary. "There was a look in her eye," Bird later told GQ. "I could just sense it. I knew what was happening." The moment took place during Rapinoe's 40th birthday trip to the tropical haven.
The pair also said the timing felt right following the death of the late Justice Ruth Bader Ginsburg. Many couples were concerned in fall 2020 about their rights as same-sex couples, whether it be access to healthcare or family planning needs. Rapinoe has long been aware of what's at stake with her love. In 2016, she decided to kneel before a game in solidarity with Colin Kaepernick. "Being a gay American, I know what it means to look at the flag and not have it protect all of your liberties," she said. The move was greeted by backlash from her club team. However, during that time, she started dating Bird.
"I really did transform. From a career standpoint, I owe so much to her," Rapinoe added. "In order for me to really get back, I had to be way better than I was before, because [US soccer officials] were just kind of happy to let this b--ch go." The two, who've been together since 2017, respectively have strong fan bases: Rapinoe is a two-time FIFA Women's World Cup champion and co-captain on the United States Women's National Team. Bird, who plays with the Seattle Storm, is a four-time winner of the WNBA title and the proud winner of four Olympic gold medals.
The Seattle couple made waves when Bird publicly announced she was gay to ESPNW several years ago. "I'm gay. Megan's my girlfriend," Bird declared. "These aren't secrets to people who know me. I don't feel like I've not lived my life. I think people have this assumption that if you're not talking about it, you must be hiding it, like it's this secret. That was never the case for me."
She also revealed the reason behind her extended wait. "It's happening when it's happening because that's what feels right," she noted. "So even though I understand there are people who think I should have done it sooner, it wasn't right for me at the time," said Bird. "I have to be true to that. It's my journey."
Both have since supported each other on their respective sidelines since the announcement. Bird was front and center when Rapinoe won the 2019 World Cup; Rapinoe was there cheering on Bird as she led her team to the championship title in 2020.
Their Activism
It isn't just at sporting events that the couple advocates for what they believe in most. Just recently, Rapinoe wrote about the popularity of women's soccer as opposed to women's basketball or other sports, bringing it to demographics of each sport itself. In solidarity with her partner, Bird publicly agreed with Rapinoe's statements in The Player's Tribune.
"To be completely blunt, but also kind of simple, soccer players generally are cute little white girls," Bird told CNN. "And I think basketball players, we're all shapes and sizes. It's 70-80% Black women, a lot of gay women. We're tall; we're big. And I think there's just maybe this intimidation factor with that. People are quick to talk about it, judge it, put it down. And soccer, you just don't see that just based on how they look."