Our Favorite Olympic Couples and Their Love Stories
Couples who medal together, stay together.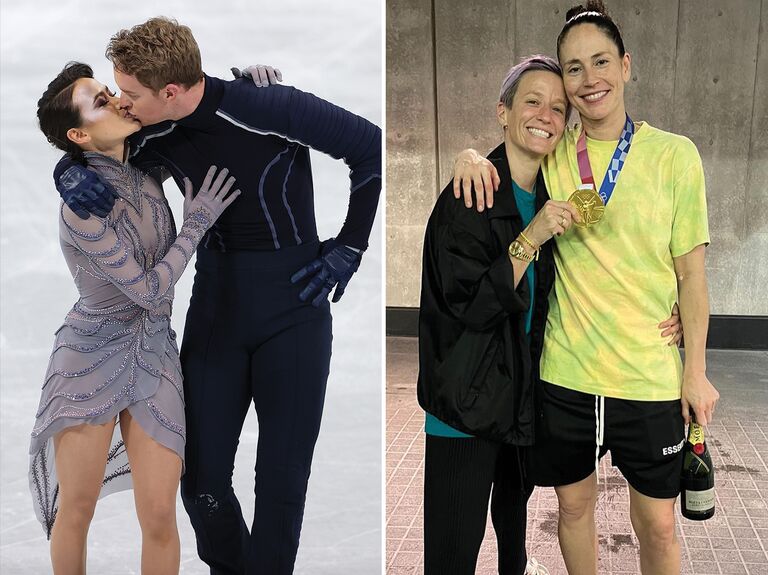 Jean Catuffe/Getty Images,@mrapinoe/Instagram
When it comes to famous couples, you might associate the most iconic duos with celebrity A-listers, like Beyoncé and Jay-Z, Prince Harry and Meghan Markle, Blake Lively and Ryan Reynolds, or Taylor Swift and Joe Alwyn. But there's another kind of partnership we'd like to bring to your attention: Olympic couples.
Every two years, spectators watch as the world's finest athletes compete during the Summer or Winter Olympics. While many dominate the headlines for broken records and athletic brilliance, we can't help but gush over those who also found love through sport too. And, believe it or not, there are plenty of Olympic couples who are dating, engaged or even married. (Some even compete against each other for opposing countries!)
Amid the 2022 Winter Olympic Games in Beijing, China, we're taking a deep dive into the most romantic Olympic couple love stories. Read on to learn about 12 of our favorite duos, some of whom are competing right now.
Evan Bates & Madison Chock; Ice Dancing
Given the passion and chemistry required for ice skating and ice dancing, we don't blame you for wondering if there are any figure skating couples at the Olympics. You'll be pleased to know that US ice dancers Evan Bates and Madison Chock—who already won the free dance portion of the figure skating team event to help Team USA secure the silver medal in Beijing—found love off the ice. According to Time, their relationship goes far back: They met as kids when their paths crossed in a Michigan-based figure skating community. In fact, their first date took place when they went out for dinner in celebration of Chock's 16th birthday. They began skating together in 2011, but they didn't begin dating officially until 2017. Bates opened up about their relationship in a 2018 interview with Inside Edition. "We were always having a blast and we were laughing all the time and just enjoying our time together," he said. "I think that friendship and that base was what sort of led to the romance."
Sydney McLaughlin & Andre Levrone Jr.; Track & Field
We'd be remiss not to mention two-time Olympic Gold medalist and current world record holder Sydney McLaughlin in our list of athletic power couples, particularly because she graced the cover of The Knot Spring 2022 Issue. While her fiancé, Andre Levrone Jr., hasn't competed in the Olympics, he is a former NFL player. In our exclusive interview, McLaughlin opened up about how her experience in the Olympics has helped her during her wedding planning journey. "I feel like running has provided me the opportunity to mature in a lot of ways—it's definitely taught me life lessons on and off the track," she told us. "Being in the Olympics at 16 forces you to grow up pretty fast. Along the way, I've just seen myself continue to mature into the woman that I am. I've been blessed to have such an amazing support system around me and I really think that's the foundation that has helped me get to where I am right now."
Mikaela Shiffrin & Aleksander Aamodt; Alpine Skiing
Alpine skier Mikaela Shiffrin is certainly one of the buzziest winter athletes for Team USA. The 26-year-old has racked up plenty of accolades throughout her career. Not only was she the youngest slalom champion in Olympic alpine skiing history, she's a three-time Overall World Cup champion, a four-time world champion in slalom, and a six-time winner of the World Cup discipline title for the slalom. Shiffrin is currently dating fellow Olympian Aleksander Aamodt, who skis for Norway. Despite knowing each other for many years, the two connected in 2020 after the tragic death of Shiffrin's father. "He never ever stopped being nice and friendly but also always very respectful, especially because at some points I was in a relationship and he had a couple relationships as well over that time frame," Shiffrin shared in an interview with NBC. "He got in touch with me again with a really nice and supportive message to my family once I started racing again after my dad's accident and this time we just never stopped chatting."
Megan Rapinoe & Sue Bird; Soccer, Basketball
You don't have to be a sports aficionado to recognize the names Megan Rapinoe and Sue Bird. Rapinoe has a storied career with the US women's soccer team, while Bird has been a mainstay on the WNBA Seattle Storm team since 2002. Perhaps the best part of their love story, though, is that it began at the 2016 Olympics. The future couple met during a press event in Rio de Janeiro, which prompted a quick connection. In addition to supporting each other in their respective athletic endeavors, the two are fierce activists and advocates. The duo got engaged in 2020, and later competed alongside each other at the Tokyo Summer Olympics in 2021.
Kim Meylemans & Nicole Silveira; Skeleton Sliding
Olympic couple Kim Meylemans and Nicole Silveira will face off in the skeleton race at the 2022 Beijing Olympics—for different countries, that is. Meylemans hails from Belgium while Silveira competes for Brazil. The two met at a skeleton race years ago, and kept their relationship status relatively private until recently. In an interview with TODAY, Meylemans spoke about how their relationship thrives despite competing for opposing teams. "People always think of it as [us] competing against each other, but skeleton is a sport where you essentially race the clock," she explained. "It's not like we step into a ring and have to fight each other. So I think it's a bit non-realistic to think that we're actually enemies." She added that they're able to provide each other support that others can't. "We're pretty much the only athletes for our countries. So we tend to reach out to people for added support because we don't have that huge team that other countries have. And so I think we're also able to help each other in that sense."
Tara Davis & Hunter Woodhall; Track & Field
Tara Davis and Hunter Woodhall are a power couple on and off the track. Davis is the American junior record holder in the indoor long jump, while Woodhall is a two-time Paralympic Track & Field medalist. The pair, who began dating about five years ago, recently competed at the Tokyo Olympics in 2021—and they ended that summer on a high note after Woodhall proposed in September. "You've shown me the true meaning of life and now I get to spend the rest of my life with you," Davis wrote on Instagram. "Let me reintroduce myself as a FIANCÉ."
Misato Komatsubara & Tim Koleto; Ice Dancing
Japan's Misato Komatsubara and Tim Koleto are another married Olympic couple. The duo began a relationship after they began ice dancing together in 2016. Just a few months later, they tied the knot in January 2017. The four-time Japanese national champions also found success at the 2022 Olympics in Beijing, where they earned a bronze medal in the team event.
Edward Gal & Hans Peter Minderhoud; Equestrian
Longtime Olympic couple Edward Gal and Hans Peter Minderhoud are members of the Netherlands' equestrian team. While they rode together in the team event at the Summer Olympics in Tokyo, they weren't always friendly competitors. Back in 2008—the first year they spoke publicly about their relationship—they also challenged each other for one spot on the Olympic team, which ultimately went to Minderhoud. In an interview, Minderhoud explained the benefits of having a partner in the same sport. "Competitions are a way of life and it is so much fun if you are with someone who precisely understands that and knows what you are doing, dedicating all your time to horses," he said.
Hailey Langland & Red Gerard; Snowboarding
US snowboarders Hailey Langland and Red Gerard have a blossoming love story that's certainly on-brand for the digital age. "Red and I met in [Oregon] when we were 12," Langland told ESPN. "Our team manager gave him my phone number and he started texting me funny messages. We became best friends for years." Their friendship ultimately turned romantic, and they began dating just before their Olympic debuts in Pyeongchang, South Korea. Despite disappointing performances, they're back and stronger than ever ahead of their events in Beijing. Not only are they more experienced this time around, they're even more grateful for the continued support they provide each other. "To snowboard with your girlfriend, your best friend, both of us push each other in really good ways," he said. "It's amazing that we get to travel the world together. A lot of us don't get to go home for months, so to travel with your girlfriend and have these small little vacations where we're doing our job and learning tricks and filming each other is awesome."
Anissa Urtez & Amanda Chidester; Softball
Only in rare cases do Olympic couples compete directly against each other, but such is true for softball players Anissa Urtez and Amanda Chidester. After getting engaged in 2020, they both traveled to the Summer Olympics in Tokyo the following year, with Chidester representing the US and Urtez playing for Mexico. In a podcast interview with Out Sports, the couple shared how they handle being competitors in love. "We've had a bunch of conversations about it," Chidester said. "Whoever medals, we're going to be happy for each other no matter what. No matter what." Added Urtez: "We don't know each other when we're on the field," she said. "It's game on." (Team USA ultimately beat Team Mexico in a 2-0 shutout, and they went on to earn a silver medal.)
Blayre Turnbull & Ryan Sommer; Ice Hockey, Bobsledding
How's this for a romantic reunion? Despite both competing for Team Canada, Blayre Turnbull (women's ice hockey) and Ryan Sommer (bobsledding) spent the three months leading up to the 2022 Winter Olympics apart due to their rigorous training schedules. The couple, who got engaged in April 2021, finally crossed paths in the most epic fashion—at the opening ceremony, of all places. "Name a cooler place to be reunited with your fiancé after spending the last 3 months apart…. I'll wait," Turnbull wrote of the moment on Instagram. Added Sommer: "A couple of kids, chasing our dreams."
Atanu Das & Deepika Kumari; Archery
Some might think India's archery power couple Atanu Das and Deepika Kumari were struck by an arrow of love, but that's not how their relationship started. Per the Olympics' official website, the future married Olympians met at an archery academy in 2008, though they had minimal contact in the beginning. "He didn't know Hindi then, so he wouldn't talk to me," Kumari said. She went on to say that, over the years, they experienced "misunderstandings, communication gaps and two big egos." Of course, their feelings eventually turned romantic when they reconnected in 2017. They got engaged one year later, and in 2020 they were married in a private ceremony. They became the first archery couple to represent India at the Olympics in Tokyo, where Das gave his wife credit for his skill set. "She deserves most of the credit for my transformation," he reflected.