US Women's Soccer Star Alex Morgan: All About Her Wedding Plans (and Who's Designing Her Wedding Dress!)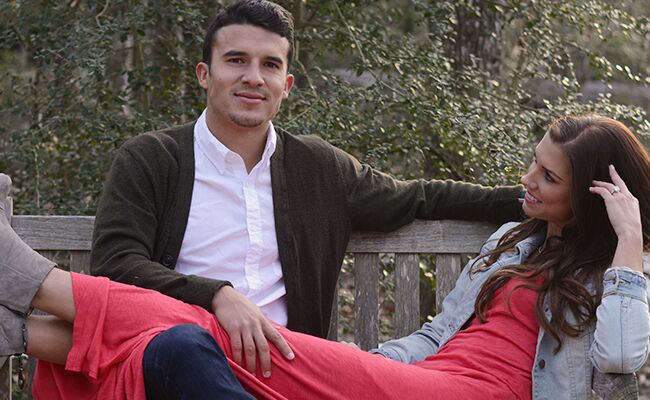 Isabella Martinez-Funcke
It's been a busy year for US Women's National Soccer Team and Portland Thorns FC forward Alex Morgan: Not only is she preparing for the FIFA Women's World Cup next year, but she's also getting married! The Olympic gold medalist got engaged to her longtime love, Houston Dynamo MLS player Servando Carrasco, in December, and has been busy planning their wedding when she's not on the field.
You'd think that the soccer power couple (who've been dating for nearly seven years) would likely get married wearing cleats, but after we spoke to Alex about her upcoming winter nuptials, we learned that the California native is planning a wedding that's going to be rustic and romantic wedding all the way!
The Knot: What's more stressful — physically prepping for the Women's World Cup or planning a wedding?
Alex Morgan: Definitely prepping for the World Cup. That's a different type of stress! With wedding planning, it's lots of preparation, but not very stressful.
TK: How did Servando propose?
AM: We spent time in Manhattan Beach, California, off-season in December and went to an annual fireworks show. He was planning the proposal for that night and asked me to stand up, and then asked me to marry him. We rode our beach cruisers to my dad's house to celebrate and have champagne with our family and friends. We had spoken about what kind of engagement ring I wanted before the proposal, but I wasn't really set on a specific style. He did have it custom-designed, though.
TK: What kind of wedding are you planning? Can you give us any details?
AM: I'm well into planning our wedding with help from my family. It'll be an outdoor wedding, since I grew up in SoCal and want good weather. I want our wedding to have a very rustic and romantic vibe with a simple blush and ivory color scheme. I also love the look of lace, twine and burlap accents. I think that having photo booths with albums next to the booth is a really great idea too. I've been seeing that at all the weddings I've gone to lately! Not everyone has a chance to sign the guest book, so it's nice to be able to put a photo in an album for the newlyweds instead.
TK: Are there any special traditions you're incorporating into your ceremony and reception?
AM: Servando's from Mexico, so the food is going to be Latin-infused. Our menu is going to have really good food — we're both athletes and love to eat! And although the ceremony is in English, we might have someone read something in Spanish to honor both of our cultures.
TK: Who's inviting the most people?
AM: Servando. He has a huge family — he's got aunts, uncles and cousins from everywhere, even though some of them aren't actually related to him!
TK: You were a bridesmaid in the Real Housewives of Orange County star Kara Keough's wedding this year. What was that like?
AM: Kara is one of my best friends! We were roommates in college. I didn't think I was going to be able to go to her wedding with my injuries (Editor's note: Alex injured her ankle last year), but I made it wearing an ankle cast and one flat shoe. Her wedding was incredible; she's such a great person. Everyone had an amazing time, and her wedding definitely helped inspire my own.
TK: Have any other celebrity nuptials served as inspiration for your own wedding?
AM: Jessica Simpson's wedding — all of her bridesmaids dresses had such gorgeous details. I loved that her bridesmaids all wore different gowns in similar shades and palettes.
TK: What's your wedding prep beauty routine like?
AM: I'll definitely incorporate Chapstick's Dual-Ended Hydration Lock Day & Night and Dual-Ended Hydration Lock Moisturize & Renew into my look. It's perfect for when you're out in the sun all the time like I am, so it keeps my lips healthy and fresh.
TK: What are your favorite wedding dress styles?
AM: I love all wedding dress looks, but for me, I had no idea what I wanted or what looked good on me. After trying gowns on, I now know that I love a fitted bodice, and I think trumpet and mermaid skirts are gorgeous. Amsale is making a custom wedding dress for me, which is amazing and exciting!
TK: What's the most important part of your wedding to you?
AM: It's the one day that we're able to invite whoever we want to celebrate our day. Your wedding day is just the one day that you can never replicate. Having everyone who means so much to you in one place at the same time is the most special feeling. We're so excited to see all of our family members and the amazing friends we've made over the past 25 years.
Want more? Right here!
> Hayley Paige is engaged (and told us all about her fun and fashion-forward wedding plans!)
> 9 unique save-the-date ideas