Soccer Stars Ali Krieger and Ashlyn Harris Welcome Their Daughter
Read their exclusive interview with The Knot here.
Jessica Kane / The Knot
Ali Krieger and Ashlyn Harris are now moms. The soccer stars (affectionately referred to by USWNT fans as "Ali and Ashlyn") took to Instagram on Valentine's Day 2021 to reveal the first photo of their baby girl, Sloane Phillips.
"Dear Birth Mom.. Our promise to you: We promise Sloane will be loved every single day by us, our friends and our family," Krieger wrote on her social media page. "We promise to give her the tools to live a happy, successful life of inclusivity and support. We promise to share her adoption story with her from the very beginning and celebrate every milestone! We promise to encourage her to follow her dreams no matter how big or small. We promise to be open minded and respect your wishes to have future communication and that she will always know how much you love her! Welcome to our family, Sloane Phillips.. we are so in love with you already!"
While speaking openly about the adoption process, Krieger also paid tribute to her wife. "This has been one of the most beautiful yet stressful processes I've ever experienced with you, [Ashlyn] and I love you even more throughout this journey, if that's even possible," she wrote. "When we first dated, we always spoke about adoption and always wanted to give a child a loving, happy and stable home. I cannot wait to give her the world and be the best Mom I can be with you right by my side❤️ THANK YOU to our wonderful family, our best of friends, agency, teammates and coaches who have supported us fully through this process and now we are SO PROUD to finally share her with the world! YOU GUYS.. and then there were FIVE! This is the best Valentine's Day gift we've ever received!"
The little one weighed in at 6 pounds and 11 ounces, and was born on February 12, 2021. The couple spoke candidly about wanting to grow their family of two in an exclusive interview with The Knot in late 2020. Between a pandemic, an election season fraught with anxiety and a year where their own rights as an LGBTQ+ couple were questioned, they felt it imperative to normalize the messaging of their own love story and wedding with the world.
"The only reason we could stand there was because of the landmark ruling [Obergefell v. Hodges]," Krieger told us. So meaningful was the 2015 Supreme Court ruling to the couple that they even included portions of it in a wedding ceremony reading. "Ash had the idea for that to be a piece of the wedding. It was so beautiful in the way that one of our best friends had read it, and it was good for our family to hear it," Krieger added. "We've continued this past year to really try to gather the troops and express why it's important for them to support us, and go vote: To save our marriage. And for the LGBTQ+ community, it's important to consistently talk to them about why it's important to vote for [Joe] Biden and Kamala [Harris] to save our rights. We also know that if we don't vote for our rights, who else will?"
Already activists for leveling the equal pay gap within the sport of soccer, the couple was also candid about opening up their new home to their "chosen family," a term they've used often in interviews. "Ali and I want and hope to create a beautiful foundation, in order to build a beautiful family. That's always been our priority," Harris noted. "We need to make sure we're rock solid in all that we do. Our ultimate goal is to raise a beautiful family. That's why we work so hard. That's the next step in the big picture for us. We're working so hard to put our house together and build the beautiful foundation we've always dreamt of."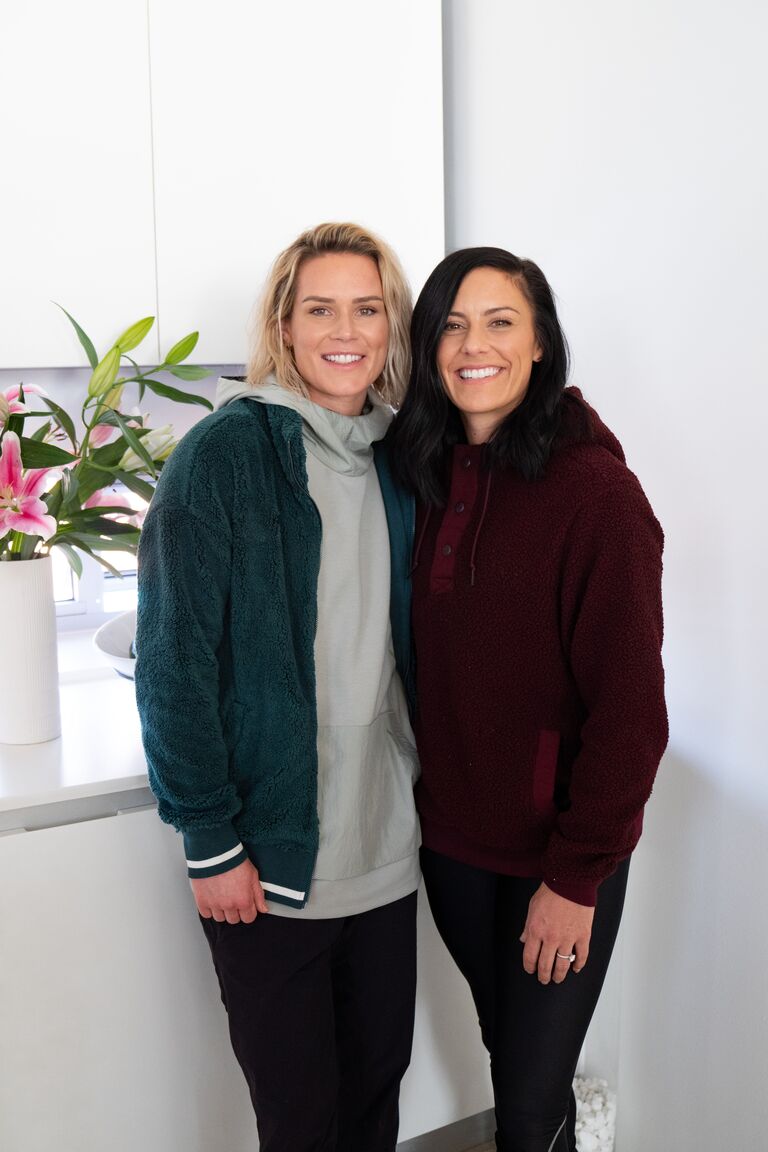 Ali Krieger and Ashlyn Harris Wedding Details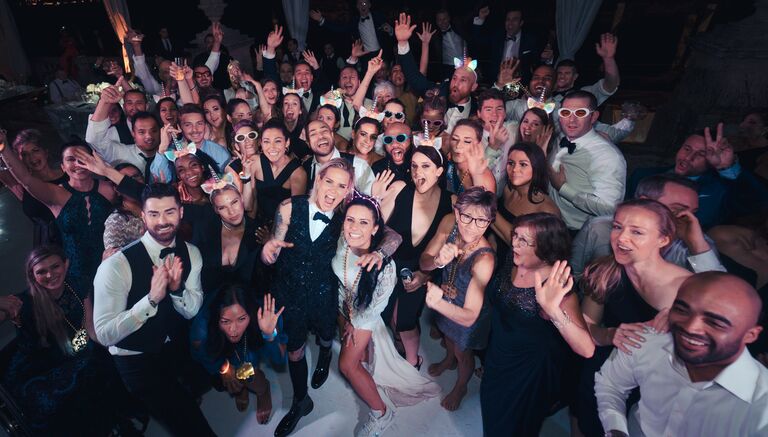 On December 28, 2019, Ali and Ashlyn exchanged vows on the grounds of the Vizcaya Museum and Gardens in Miami. The event became known as the "Krashlyn" wedding. Krieger wore a gown by Pronovias against Harris's Thom Browne suit. Women's World Cup MVP and USWNT team captain Megan Rapinoe, who's now engaged herself to basketball star Sue Bird, served as maid of honor. To help design out the historic Miami space, the couple enlisted Sara Lowell of Sara Renee Events to help plan the wedding, along with their own agency.
"Ali and I sat down and we were very strategic about the way we wanted to plan our wedding; what we wanted to be visible. Visibility is key for us," Harris told The Knot. "We wanted people to see happy endings can happen between two beautiful women, who have a love story."
They memorably included thoughtful centerpieces, a rainbow wedding cake, among other personalized touches. "Credit to Ali: the details she put in to pay tribute to all the trailblazers in our LGBTQ+ community was phenomenal. Every table had a trailblazer and a leader who paved the way for us to have the freedom and the luxury to be married legally," said Harris. "It told a story about their sacrifices for us to be able to have the wedding. It was a chance for everyone to learn."
The duo first met while playing for the U.S. Women's National Team back in 2010, and are now teammates for the Orlando Pride. They announced their engagement in March 2019. "As a young kid, I didn't have the luxury of opening up a magazine or seeing on TV, two people who looked like me and Ali," Harris mused. "For Ali and I, when you can see something, you can achieve it. That was our focus around the wedding. We didn't want to be selfish and private. We wanted people to see our beautiful love story. It became bigger than we ever expected. Our video for our wedding was viewed over a million times. That's important for young people to see it, so they don't have to be scared. They can see happy endings for themselves too."
Ali Krieger and Ashlyn Harris's Marriage Tips
The couple celebrated their first wedding anniversary in January 2021. "Hopefully, we'll be out of quarantine and celebrate somewhere," Harris said. "We've been wanting to go to a few places in the US and keep it safe and healthy during this pandemic."
While the athletes didn't expect their first year of marriage to be spent in quarantine, the experience has been enriching. "For Ali and I, what has been our saving grace during all this, the wedding thing, we're devastated, to be quarantined is important for couple and roommates is communication," Harris continued. "Let people know how you feel if you need space, if you're having a hard day, it's so key. It develops such great building blocks to further your relationship. That's the hardest thing with couples: to be honest and not harsh sometimes. Since day one, Ali and I knew hard conversations are always needed to move forward. We don't take them p[ersonally, and this is a practice thing we've done for a long time. We've thrived in quarantine… we've understood our wants and our needs. That's through communication."
"It doesn't define your marriage if you can't have this elaborate wedding you've dreamed of… it's not the end-all and be all in affecting the way you've envisioned a life together," said Krieger. "If you detach the emotion from all that glitter and glam you've planned, the union between two individuals, think of it as two individuals building your life together. You can still have the wedding of your dreams, even if it's toned down a bit. It can turn into the dream wedding you've envisioned."
Ali and Ashlyn's Registry Picks
The pair, of course, used The Knot to plan the wedding from start to finish (registry included). "Our avenue was more what we can do activity-wise, Krieger expressed. "We've also done little house details here and there… cooked and been homebodies since the pandemic started."
"Being mindful of everything going on right now, self-care is so important," Harris added. "Valuing your health is very important. If you need time to rest, be mindful of that. That's where it comes in. How do you get yourself to feel a hundred percent to take on the next day? That's self-care, that's something we try to go out and get a breath of fresh air and not worry about materialistic things. We try to have a balance of both." See a few picks from the couple.
A Baking Dish
"We wanted things to bring us together. The kitchen is such a beautiful space for that," Harris explains. "Especially during the holidays and quarantine, focusing on baking goods, wine, things we're strategically focused on how to bring us together."
Le Creuset Signature cast iron oval baker in Marseille, $75, TheKnot.com
Pasta Night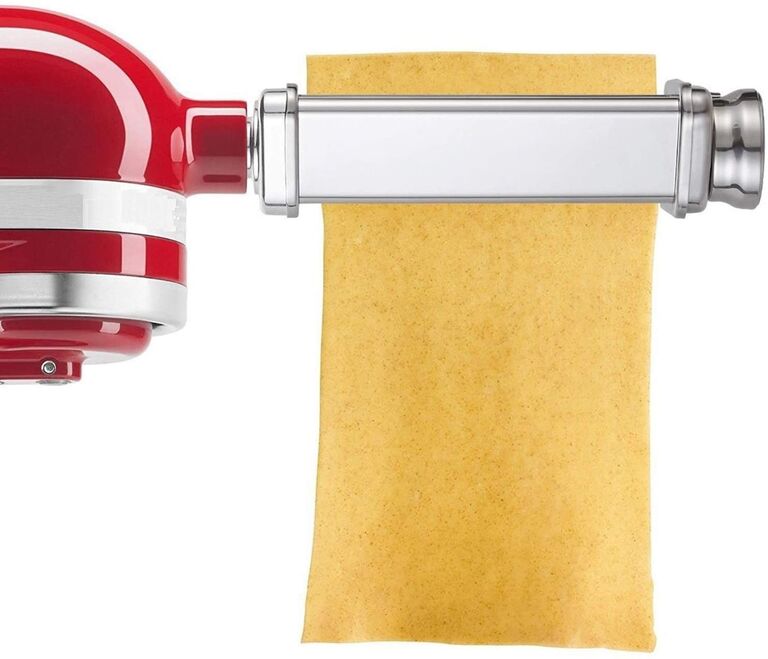 "The biggest thing Ali and I love to do is lounge in the kitchen and keep ourselves cooking," says Harris.
KitchenAid Pasta roller attachment, $80, TheKnot.com
A Divine Decanter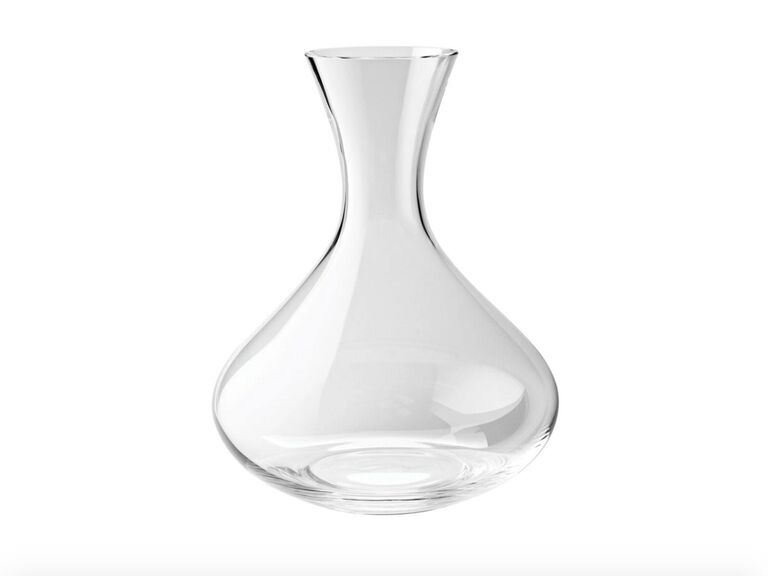 "We love wine," Harris notes. "We love the cool gadgets… glasses, openers… that's really important to us."
Zwilling J.A. Henckels Predicat wine decanter, $100, TheKnot.com
Ali and Ashlyn's Holiday Tips
As the athletes are constantly in the public eye, a term they've certainly leaned into in the last few years is the concept of a "chosen family," comprised of their inner circle and support network. "Chosen family is the people we choose to be around because they make us better and they fill our lives up and hold us accountable," Harris shared. "Ali and I are very serious about the average of five people we're around all the time… Our chosen family is not necessarily blood but we would do anything for them: they're a big part of our life. We're outspoken about our chosen family, who support our community and our lifestyle."
"We try to do a lot for our family because of work and soccer. Ash and I always want to do something special for our family during the holidays," Krieger added. "We love being home and we know we can provide a nice setting for them to enjoy and relax. It's fun for us too." They selected picks on The Knot Registry Store to curate experiences for their family members, specifically around the holidays. So, they shared their picks for couples hosting loved ones during holiday gatherings.
Preparation Is a Must
"Ali and I have learned this the hard way, when we hosted Thanksgiving, and we did everything the day of," said Harris. "A practice run is really crucial. Have everything timed and planned out. Preparation is so key, it's less cleaning, less work."
Part of that is knowing each person's role. "Ali's funny about family gatherings. She only likes proper plates and forks and knives and I'm like, 'Why can't we use paper plates?' And she's like, "Absolutely not.' She's way more invested and really cute," Harris adds. "She's decorative and prepped beforehand, which allows us to be present with our family and friends. Instead of running around like chickens. That's my biggest advice."
Have Decor Ready the Night Before
"I'm décor-oriented, [whereas] she's really good at cooking," Krieger agreed. "We get everything done beforehand, whether it's décor or food prep, during that week. It's important to have everything ready a day or two ahead of time. It doesn't have to be the most expensive decor you can find. We can easily go to HomeGoods or Target and find placemats… Setting a dining table doesn't have to be a massive scene. You can find little simple things to make it look nice. Do it beforehand so you can focus on food that day."
Be Aware of Dietary Restrictions (And Must-Haves)
"For Ali and I, we're very health conscious. Ali and my brother-in-law, Kyle, are vegan," Harris explains. "We have two set menus for people who matter most. We're vegan-conscious and meat-conscious. One thing we definitely don't compromise, even if it's a vegan is macaroni and cheese. It stemmed from my late grandmother and it's key soul food to us. Oh, and sweet potatoes, no matter what is on the menu."
"We love pineapple casserole. I have to have it every holiday meal," added Krieger. "It sounds odd, but it's really good. Cheddar cheese, pineapple, glazed pecans and Ritz crackers. It's one of the best casseroles I've ever had. I grew up having casseroles—Ash is probably dying right now—but that's the one that we had at every holiday event for us."