5 Wedding Reception Traditions Couples Still Love (and 3 They Don't)
Here are the most and least popular wedding traditions, plus a few ways to make them your own.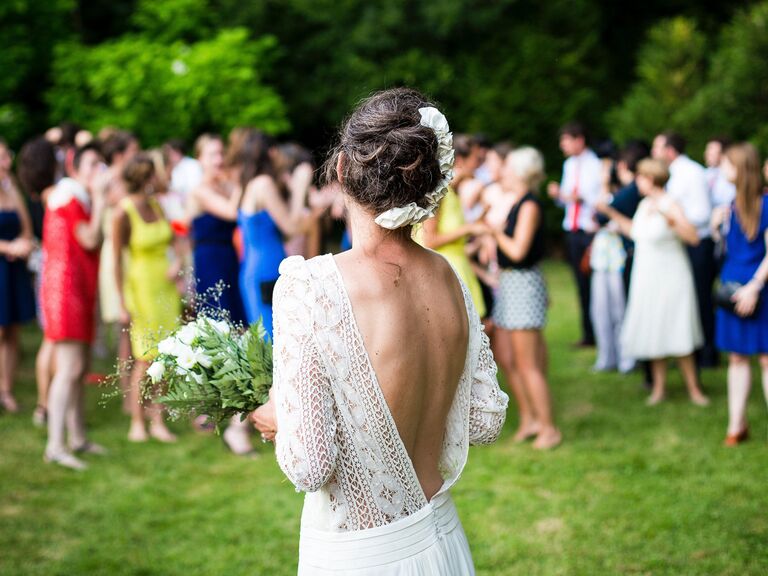 Sweet Ice Cream Photography on Unsplash
As you probably already know—either from being a wedding guest yourself or from hearing us say it—wedding receptions come in all shapes, sizes and styles. There's no right or wrong way to celebrate. Some couples buck tradition completely by skipping reception activities we've come to expect at weddings, like the cake cutting or a garter toss. Others continue to include these fun, symbolic wedding moments because, let's face it, when's the next time they'll get to toss a bouquet?
The Knot 2017 Real Weddings Study asked nearly 13,000 newlyweds whether or not they stuck with these eight traditional wedding reception activities. From the most to the least popular traditions, here's what they had to say.
85 percent of couples have a cake cutting
78 percent of couples include a best man speech
76 percent of couples have a father-daughter dance
72 percent of couples have a mother-son dance
49 percent of couples do a bouquet toss
37 percent of couples do a garter toss
23 percent of couples have a choreographed first dance
12 percent of couples do a money dance
3 percent of couples have none of these traditions
On the fence about adding one (or a few) of these traditions to your reception timeline? Maybe you like the idea of starting your own tradition or feel like there'd be a gap in your reception without doing something in its place. Either way, here are some fun alternatives to inspire you.
Instead of Cutting the Cake
One couple who'd never been big cake eaters still wanted to have a similarly celebratory moment around dessert. So what did they do? Instead of slicing and feeding each other a piece of cake, they broke open a cake-shaped piñata filled with candy and snacks. But if cake is your thing, and you're more worried about making a public display, there's no need to make a scene or halt the party. Feel free to share this sweet moment quietly at your table (but don't forget to have your photographer around to snap it).
Instead of Doing a First Dance
Think of something you both love, then do that first something as newlyweds. Write a song and sing it together, take your first newlywed selfie, shotgun a beer or pop champagne—it's entirely your call. We've seen one couple take their version of a first dance to the slopes. They did a "first ski" down the mountain after saying "I do." Genius, right?
Instead of a Bouquet and/or Garter Toss
Rather than pausing your dance party to single out your single guests, try something new and more inclusive. Separate the stems of your bouquet and hand out individual buds to your loved ones. You could also set up a bouquet and boutonniere station where guests can DIY their own bunches. Or take it to the dance floor: Have a special anniversary dance to celebrate all the married couples at your wedding.