13 Romantic Movies on Netflix to Make You Swoon
For your bachelorette or a simple date night in, these flicks will give you the heart flutters.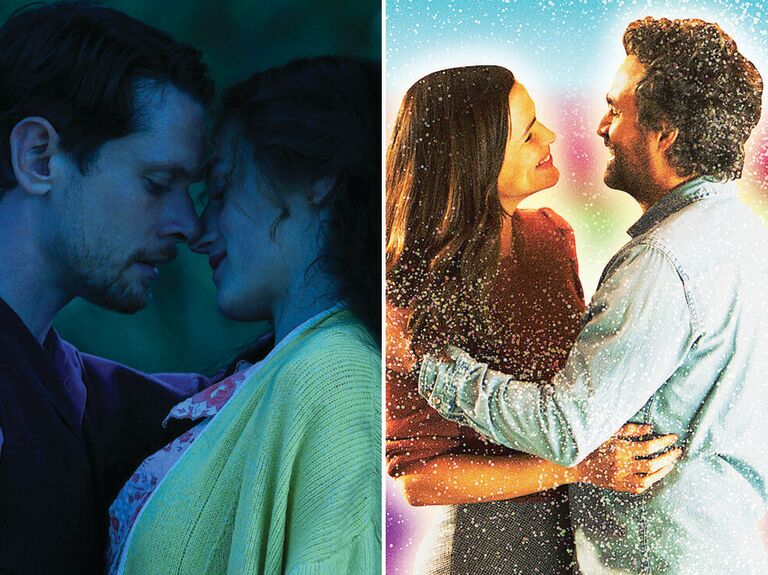 Photos: Netflix
We have included third party products to help you navigate and enjoy life's biggest moments. Purchases made through links on this page may earn us a commission.
Are you ready to embark on a journey of love and passion from the comfort of your couch? If you're a hopeless romantic searching for the perfect movie night, look no further: we've curated a selection of the best romantic movies on Netflix or to rent on Amazon. From timeless classics to modern movies, these films promise to sweep you off your feet and leave you with all the heart-fluttering feels.
Films like Sense and Sensibility and The Notebook will transport viewers to a bygone era, while recent romances like The Kissing Booth and Friends With Benefits showcase the complexities of modern relationships (with a healthy dose of humor and wit). Whether you're looking for a sweet escape from reality or a cathartic emotional experience, here are 13 romance movies on Netflix or to rent on Amazon that'll leave you feeling warm, fuzzy, and maybe even a little lovestruck. So, snuggle up and get ready to swoon as we explore the magic of romance, connection and all the moments that make our hearts skip a beat.
The Best Romantic Movies on Netflix
Grab some popcorn (and maybe even a box of tissues) and cozy up to one of these romantic movies on Netflix. (Editor's Note: Select films are currently unavailable on Netflix in the US, though available in other international regions. We have offered an Amazon rental link instead.)
Funniest: Forgetting Sarah Marshall
Most Nostalgic: 13 Going on 30
Best LGBTQ+: The World To Come
Best Period Drama: Brooklyn
Steamiest: Lady Chatterley's Lover
Best Tearjerker: The Notebook
Sense and Sensibility
Prepare to be swept away in a whirlwind of wit, charm, and love as Sense and Sensibility serves up a delightful dose of late 18th-century romance. Follow the Dashwood sisters, Elinor (Emma Thompson) and Marianne (Kate Winslet) through their misadventures in matters of the heart, proving that finding love can be just as enjoyable (and exasperating) as the beloved Jane Austen novel of the same name.
Release Date: December 13, 1995
The Notebook
Grab your tissues and prepare to swoon as The Notebook takes you on a heart-tugging rollercoaster of love that defies time itself. With a romance so epic, even Noah (Ryan Gosling) and Allie's (Rachel McAdams) chemistry would make cupid cry. This romantic movie on Netflix will leave you weeping, laughing, and wishing for a love as powerful as theirs.
Release Date: June 25, 2004
Crazy, Stupid, Love
With a witty script and endearing characters, Crazy, Stupid, Love is a great rom-com to stream on Netflix. When Cal's (Steve Carell) seemingly perfect marriage falls apart, he seeks guidance from a young and stylish ladies' man named Jacob (Ryan Gosling). As Cal tries to rediscover himself and his dating prowess, he finds unexpected connections and hilarious misadventures.
Release Date: July 29, 2011
Lady Chatterley's Lover
In the aftermath of her husband's war injury, Lady Chatterley (Emma Corrin) finds herself isolated in her marriage and eventually ends up in a steamy, passionate affair with the estate's gamekeeper (Jack O'Connell). As their relationship deepens, she confronts her own internal prejudices, leading to a profound journey of self-discovery and liberation.
Release Date: September 2, 2022
The Kissing Booth
In this teen romance, you'll be left feeling giddy as ever as you watch Elle Evans (Joey King) in the most unexpected lip-lock situations with Jacob Elordi's character. With a dash of teenage drama, a sprinkle of first-love jitters, and a secret kissing booth that turns her world upside down, this adorable rom-com does not disappoint.
Release Date: May 11, 2018
The World To Come
Brace yourself for a mesmerizing tale of forbidden love in this captivating period drama. The film follows Abigail (Katherine Waterston) and Tallie (Vanessa Kirby), who find solace and passion in each other's arms amidst stale marriages and the harsh realities of 19th-century frontier life.
Release Date: September 6, 2020
Brooklyn
Step back in time to the era of the 1950s as we journey with Eilis (Saoirse Ronan) in Brooklyn. This poignant coming-of-age story follows a young Irish immigrant who leaves her home behind for new opportunities (and love) in the bustling streets of Brooklyn, New York. While coping with major homesickness and the challenges of a new life, Eilis finds herself torn between two worlds and two loves.
Release Date: November 20, 2015
The Vow
Based on a true story, this romantic drama follows the life of Paige (Rachel McAdams) and Leo (Channing Tatum), a couple deeply in love until a tragic accident erases Paige's memories of their relationship. As Leo fights to win back the heart of his beloved, The Vow delves into the complexities of love, commitment, and the power of enduring connections.
Release Date: August 23, 2020
Friends With Benefits
In this sizzling, cheeky rom-com, two friends Jamie (Mila Kunis) and Dylan (Justin Timberlake) decide to add a little spice to their sex lives by embarking on a strictly physical relationship… no strings attached. But as their playful arrangement unfolds, they soon discover that love and friendship are not as easily compartmentalized as they thought.
Release Date: July 22, 2011
Forgetting Sarah Marshall
This hilarious rom-com follows Peter (Jason Segel), who finds himself heartbroken after his girlfriend, the famous TV star Sarah Marshall (Kristen Bell), abruptly ends their long-term relationship. Determined to heal his broken heart, Peter decides to take a solo trip to a tropical paradise. There, he unexpectedly finds Sarah, her new boyfriend (Russell Brand), and a potential new love interest (Mila Kunis).
Release Date: April 18, 2008
13 Going on 30
In this whimsical rom-com, thirteen-year-old Jenna Rink makes a wish to be 30, flirty and fabulous, waking up the next day to find herself magically transformed into her adult self (Jennifer Garner). Navigating her boisterous adult life with the heart of a young teen, Jenna stumbles through the adventure of rediscovering her true self and rekindling the connection she had with her childhood best friend (Mark Ruffalo).
Release Date: April 23, 2004
Ammonite
This evocative romantic drama tells the story of acclaimed paleontologist Mary (Kate Winslet) and her chance encounter with Charlotte (Saoirse Ronan), a grieving and privileged young woman. Set on the windswept shores of the 19th century, the film follows the women as they embark on an unexpected journey of forbidden love and profound connection.
Release Date: September 11, 2020
50 First Dates
Buckle up for a rollercoaster of laughter and tenderness as we dive into the heartwarming story of Henry (Adam Sandler) and Lucy (Drew Barrymore). The film follows Henry as he falls head over heels for Lucy, a charming woman with short-term memory loss. Every day he must woo her all over again, making every date feel like the first.
Release Date: February 13, 2004