The Best Rom Coms of All Time, According to The Knot Editors
Let us #influence your next movie night.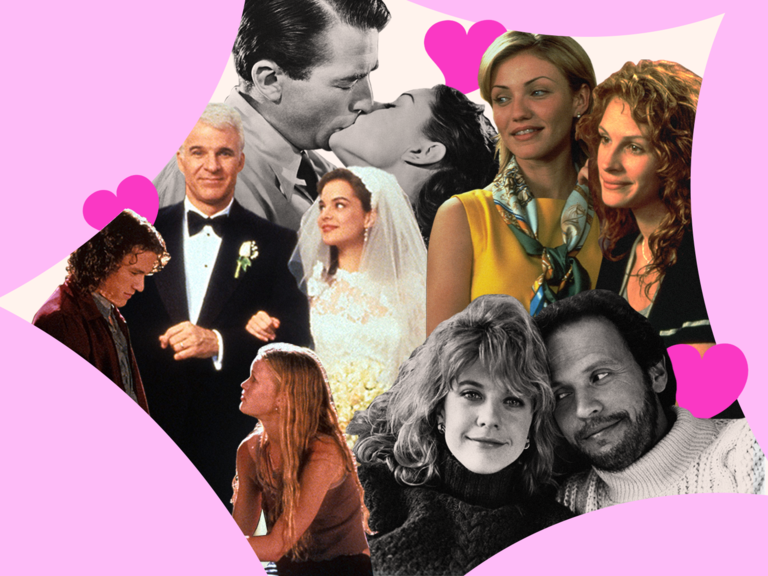 Photos: Getty Images,Design: Tiana Crispino
We have included third party products to help you navigate and enjoy life's biggest moments. Purchases made through links on this page may earn us a commission.
When it comes to the best rom com movies, the editors of The Knot are well-versed in this subject matter. As curators of all things love and wedding inspiration, we've seen our fair share of swoon-worthy films over the years, from vintage flicks to cheesy 2000s rom coms. (It's called research, of course.) But with so many emotional and funny wedding movies out there to stream, it's nearly impossible to narrow down the best of the best—but we never back down from a challenge.
Below, The Knot Editors have curated the ultimate list of the best rom coms of all time. From quotable laugh-out-loud features to seasonal flicks best enjoyed during Meg Ryan Fall, browse our favorite rom com movies to queue for your next date night at home.
What is a Rom Com, Anyway?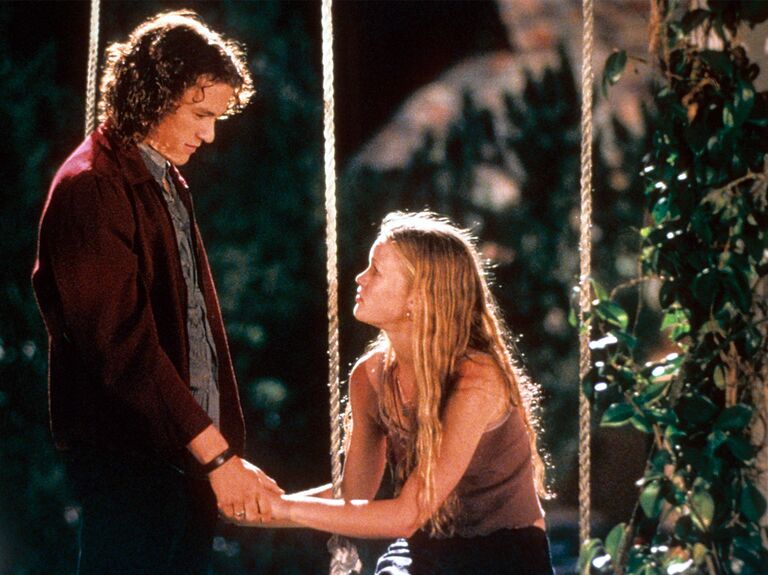 First things first, what's a rom com? The definition is quite simple: It's any movie directed by Nora Ephron starring Meg Ryan in a colorful autumn setting in New York City. Kidding! (Kind of.) A shortened term for romantic comedy, the true rom com meaning is straightforward: it's a subgenre of a fictional comedic work in literature, television or film featuring a romantic plot line.
The history of rom coms is actually quite fascinating. Comedies have been around since the time of the ancient Greeks, when satirical plays were all the rage. The Oxford Dictionary of Literary Terms notes that some of the best examples of early romantic comedies—which they define as "comedies that deal mainly with the follies and misunderstandings of young lovers, in a light‐hearted and happily concluded manner"—can be traced to some of Shakespeare's most popular works from the 1590s. (Think: A Midsummer Night's Dream, Twelfth Night, As You Like It, and Much Ado About Nothing.)
Fast forward to the Western European medieval period, when themes of true romantic love were integrated into rom coms. By the 20th century, Hollywood latched onto this idea and transformed rom coms into flicks you've definitely watched once with your grandmother, featuring iconic starlets like Marilyn Monroe, Audrey Hepburn and Doris Day. When the 1980s rolled around, "sexually charged" rom coms with thick tension, passionate pining, and oh-so-captivating chemistry took box offices by storm (looking at you, When Harry Met Sally).
The popularity of rom coms hit a fever pitch in the 2000s with the arrival of "chick flicks"—in other words, the movies you loved to watch during sleepovers. From She's the Man to 10 Things I Hate About You, these lighthearted comedies (that generally target female audiences) helped define the rom com genre we know today.
So, now that you know a thing or two about how your favorite flicks came to be, allow The Knot Editors to break down the best rom coms ever made.
The Knot's Rom Com Ranking
Forgetting Sarah Marshall
Kicking off our list of the best rom com movies, Associate Menswear Editor Tres Dean raves about this iconic 2008 flick. "Forgetting Sarah Marshall isn't just my favorite rom-com, it's one of my favorite movies ever, period," he says. "In addition to being funnier than just about any movie I've seen, there's a nuance to the breakups, relationships and gender dynamics in the film that I think has allowed it to age better than a lot of its Judd Apatow-era counterparts. The core four characters all feel like real, complex humans. Nobody is just good or just bad. Plus, you know, Dracula Musical."
Release Date: April 18, 2008 | Watch Trailer
But I'm a Cheerleader
As The Knot's resident expert on all things love and romance, Jamie Cuccinelli almost couldn't pick her favorite rom com. "It's honestly a toss-up between Splash and this 1999 cult classic—but I have to give it to But I'm a Cheerleader for the queer representation," says our Senior Sex & Relationships Editor. "This baby has it all: Natasha Lyonne! Clea DuVall! RuPaul! Queer couples coupling! And a final scene that's just the right amount of cheesy and that 'No-I'm-totally-not-crying' kind of sweet."
Release Date: September 12, 1999 | Watch Trailer
13 Going on 30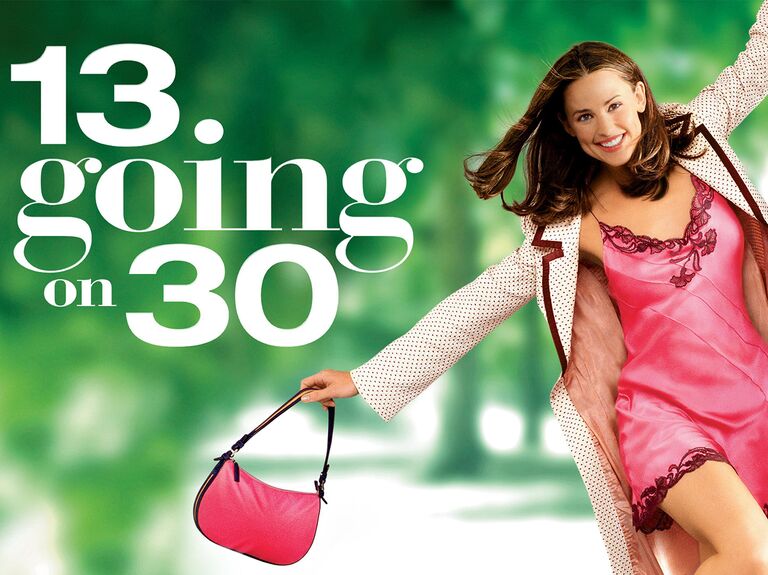 When you're in the mood for a nostalgic movie night, there's one heartwarming rom com that tops the rest. "13 Going on 30 was an instant favorite for me when it came out in 2004, at the same time I was nearing 13 myself," explains Lauren Whalley, The Knot's Fashion Editor, Inclusivity & Beauty, adding that it ultimately played a major role in her life path.
"I totally related to Jenna's desire of wanting to grow up and be a 'big time magazine editor,' foreshadowing my future career," she continues. "The chemistry between Mark Ruffalo and Jennifer Garner is insane and the end wedding scene is such a vibe. Plus, I love all the nods to the 80s, from the music to the Razzles. (It's both a candy AND a gum). Just talking about it makes me want to go watch it!"
Release Date: April 23, 2004 | Watch Trailer
10 Things I Hate About You
When you think of classic rom coms, you probably envision the sizzling enemies-to-lovers trope that Heath Ledger and Julia Stiles defined in 1999—and that's why The Knot's social media coordinator Meghan Ho considers this to be her all-time fave. "10 Things I Hate About You is my go-to rom com. From the incredible cast, '90s fashion statements, and famous one-liners, this is a true comfort movie," she tells us. "Heath Ledger's serenade scene and Julia Stiles' unwavering feminist values had me raising my standards by the end."
Unsurprisingly, Meghan isn't the only team member who loves this rom com. "10 Things I Hate About You objectively has the hottest cast of all time (enter: my bisexual awakening!)," jokes our Fashion Content Strategist Nic Taliaferro. "This modern portrayal of Shakespeare's Taming of the Shrew works so well because this group of '90s era teens are motivated by a #relatable virtue of love."
Of course, we can't talk about this rom com without mentioning some of the *most* iconic scenes. "So many moments from this movie play on repeat rent-free in my mind, including Heath Ledger's impromptu performance of 'Can't Take My Eyes Off You' on the bleachers, principal Allison Janney drafting her erotic novel as students visit her office, and Julia Stiles flashing her soccer coach to get her crush out of detention," Nic adds.
Release Date: March 31, 1999 | Watch Trailer
Roman Holiday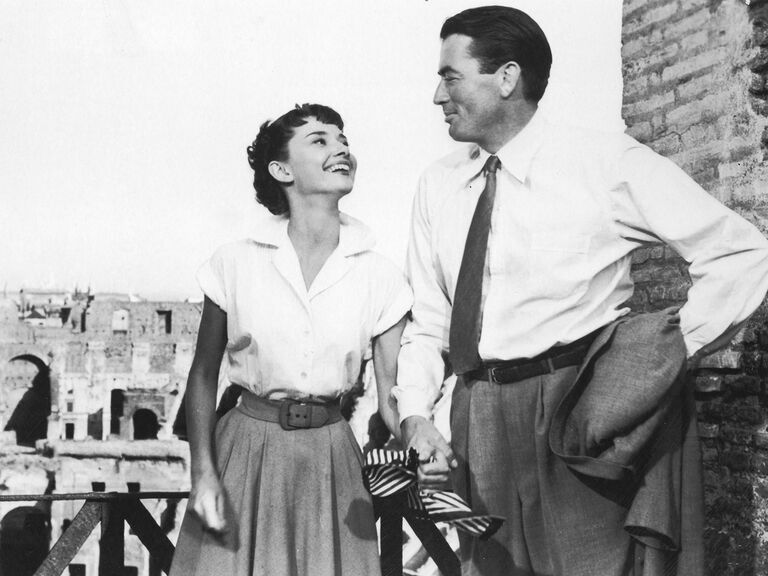 Remember our history lesson on rom coms? The Knot's Editorial Designer Tiana Crispino considers one of the aforementioned transformative films as her favorite movie night pick. "Audrey Hepburn, Gregory Peck AND Italy! Is there anything more I could want in my favorite rom-com?" she shares. "The 1953 classic captures the beautiful visuals of midcentury Rome as we ride along with Audrey in a Vespa. It's a timeless film filled with the hilarious adventures and swoon-worthy moments of a runaway European princess who falls into the arms of an American journalist."
Plus, she adds, this particular rom com movie will have you wanting to plan a trip to the rustic Italian countryside pronto. "You'll laugh, you'll wish you were in Italy, and you might even get teary at the end."
Release Date: September 2, 1953 | Watch Trailer
The Proposal
We'll file The Proposal under "rom coms we all know by heart." Such is the case for Hannah Nowack, The Knot's Senior Editor, Weddings. "I can quote nearly every scene of this movie, word for word, but one of my all-time favorite scenes is during the flight to Alaska when Andrew (Ryan Reynolds) is quizzing Margaret (Sandra Bullock) to prepare for their immigration interview that is set to take place after Andrew's grandmother's 90th birthday weekend. Margaret refuses to answer the questions and wants to turn things around on Andrew, only he claims to know all the answers in regards to Margaret. So she says, 'What am I allergic to?' To which his quippy response is, 'Pine nuts, and the full spectrum of human emotion.'To go from that level of loathing to proposing to someone? Talk about the epitome of the enemies-to-lovers trope."
When you aren't sure what movie to watch for date night, this funny rom com is always a crowd-pleaser. "This movie has it all: A strong female lead, an adorable meddling grandmother (Betty White), some spice, a dilemma that leads to a crisis and moral reckoning, and a happy ending," she continues. "All you need to make this a perfect movie night is some girlfriends and a glass of wine."
Release Date: June 19, 2009 | Watch Trailer
When Harry Met Sally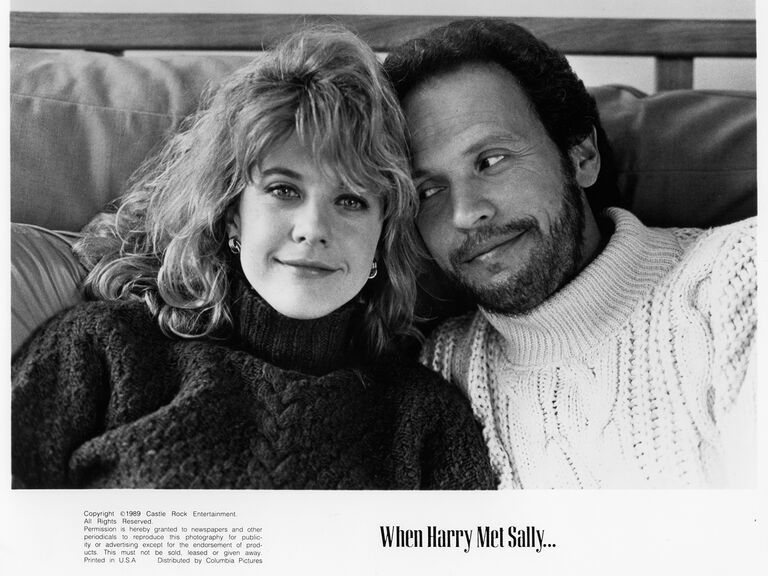 We can't curate a list of the best rom coms of all time without mentioning this one. (If you aren't watching this as soon as there's a chill in the air, wyd?) "When Harry Met Sally is Meg Ryan at her very best (IMO)," says The Knot's Executive Editor Lauren Kay. "I love the film's tension, the friendship, the romance—it's all so well done. There are so many iconic lines, set in the greatest city in the world, plus that Katz deli scene. Fun fact: the woman who says 'I'll have what she's having' is the director's mother!"
In fact, Lauren goes so far as to say this film had an impact on one of the biggest days of her life. "I can't say I chose my first dance song because of this movie, but, I can't say I didn't (cough, "It Had To Be You," Frank Sinatra). I can recite almost every line of the movie and have seen it hundreds of times. It is my go-to comfort when I just need something on in the background or a hit of fuzzy nostalgia. And every time I rewatch (which I have already confessed is often) I lean into something new. Most recently? Sally inspired me to sign up for tap class. I'm also a huge Nora Ephron groupie—she was a fantastic journalist before pivoting to essays and screenplays. She can do no wrong!"
Release Date: July 21, 1989 | Watch Trailer
(500) Days of Summer
According to our Assistant Editor Chapelle Johnson, all self-proclaimed music junkies should have a soft spot for (500) Days of Summer. "Not only does this film have an amazing soundtrack (The Smiths, Simon & Garfunkel, Feist and much more), it also has a surprising ending that made me appreciate rom-coms more," she muses. "Plus, the intense chemistry between Zooey Deschanel's and Joseph Gordon-Levitt's characters makes me smile every time."
Release Date: July 17, 2009 | Watch Trailer
While You Were Sleeping
Looking for a rom com with a cozy vibe to help you get over those end-of-summer blues? Our Associate Director of Editorial Operations has just the rec for you. "While You Were Sleeping is my absolute favorite nostalgic late fall/winter comfort film," says Samantha Langabeer. "I remember watching this movie as a kid with my parents, so it brings back many memories for me. It has the perfect amount of cheesy 90's rom com humor. Plus, who doesn't love Sandy Bullock? Her chemistry with Bill Pullman is off the charts."
Release Date: April 21, 1995 | Watch Trailer
My Big Fat Greek Wedding
When you think of the best wedding movies ever made, there's probably an early 2000s classic that comes to mind—at least, that's the case for Kim Forrest, The Knot's Senior Editor. "The best rom coms are ones that not only make you laugh, but make you cry and think, too. It's been more than 20 years since My Big Fat Greek Wedding first came out and my husband and I still quote it all the time ('What do you mean he don't eat no meat? Oh, that's okay. I make lamb.'), which must be a sign of a memorable and special film!"
Besides all the quotable one-liners, Kim loves this movie because of its sentimentality. "This movie isn't just hilarious, it offers an important message about marrying cultures—the way that Toula and Ian navigate blending their families is just so relatable," she reflects. "And, since My Big Fat Greek Wedding 3 just came out, it's time for a rewatch!"
Release Date: August 2, 2002 | Watch Trailer
Just Friends
Another Ryan Reynolds masterpiece on our list of best rom coms? Who would have thought? "I think we can all agree that the early 2000s were the prime era of rom-coms, and Just Friends is my absolute favorite," explains The Knot's Senior Social Media Manager Mina Garagozlo. "I watch it *at least* once a year because it's the perfect mix of a hometown romance, a holiday movie, and the most ridiculous, quotable humor. It's definitely one of my comfort movies and always makes me laugh!"
Release Date: November 23, 2005 | Watch Trailer
La La Land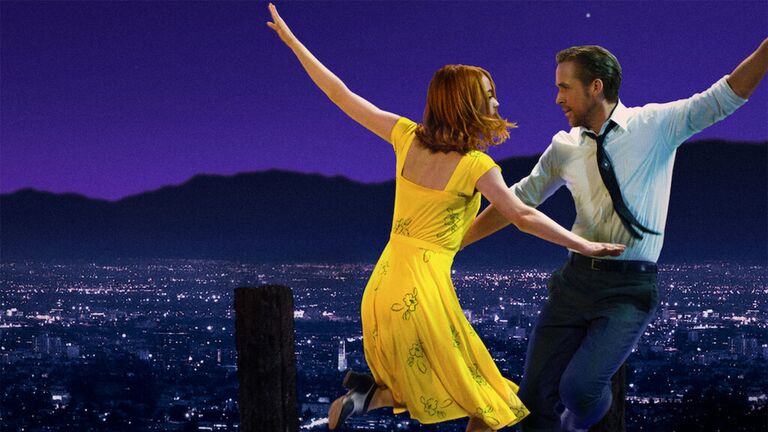 Ryan Gosling, are you shining just for us? When it comes to emotional rom coms, The Knot's Social Media Coordinator Kerre Jo Lattanzio prefers this modern classic. "La La Land is my go-to feel-good movie," she shares. "Emma Stone and Ryan Gosling's sarcastic, flirtatious banter and pure artistic talents instantly put me in a good mood. Plus, *spoiler alert*—after a two-hour escape, the ending is the perfect taste of reality we all need, and leaves you feeling nostalgic for all the 'could have beens' in your life. It also gives you a subtle appreciation for where you are in the present. Oh, and did I mention Ryan Gosling is in this film? What's not to like!"
Release Date: December 9, 2016 | Watch Trailer
Fight Club
While you might not find Fight Club on most other reviews of the best romantic comedies, The Knot's Associate Director of Editorial Video Ash Tulett stands by his hot take. "Hear me out," he begins. "The movie's screenwriter, Jim Uhls, described Fight Club as a romantic comedy, so I'm not pulling this out of thin air. Beneath its abrasive exterior, there exists a captivating experience for alternative couples."
He continues, "With its unexpected blend of romance and comedy, this thought-provoking film unveils a love story that challenges conventions, inviting couples to explore the depths of relationships and discover the power of genuine connection. A unique and unconventional choice for couples seeking a cinematic experience that sparks conversation and redefines what it means to love."
Release Date: October 15, 1999 | Watch Trailer
Serendipity
"Christmas in New York City and a packed early 2000s Bloomingdales...need I say more?" asks The Knot's Planning Content Strategist Taylor Whitten. "Serendipity's iconic meet cute where Kate Beckinsale and John Cusack reach for the same gloves brings me back to simpler times when you exchanged photo numbers on a piece of paper (while hoping it didn't fly away in the wind). As they test fate's little signals throughout the film, the reunion is worth the wait when the stars align, and they realize they are meant for each other, surrounded by romantic snowfall in Central Park."
Release Date: October 5, 2001 | Watch Trailer
Meet Joe Black
The Knot's TikTok Specialist Alli Kennon has yet another seasonal rec for your viewing pleasure, calling Meet Joe Black her go-to comfort film for the fall. "In this quirky rom com, the protagonist has a meet cute at her favorite diner and can't stop thinking about Joe (Brad Pitt)," she explains. "As they keep looking back at each other while leaving the coffee shop, Joe is hit by a car and dies the minute she turns away."
But don't panic—this isn't as sad as it may seem! "'Death' inhabits Joe's body, and he becomes an intern to the protagonist's dad to experience what being a human is like. Joe and the protagonist continue to fall in love, even though it's not 'Joe'—rather, it's death inside Joe's body. The premise is WILD but it's beautifully performed (think Pride and Prejudice vibes). I love the dark academia aesthetic of it all."
Release Date: November 2, 1998 | Watch Trailer
Crazy, Stupid, Love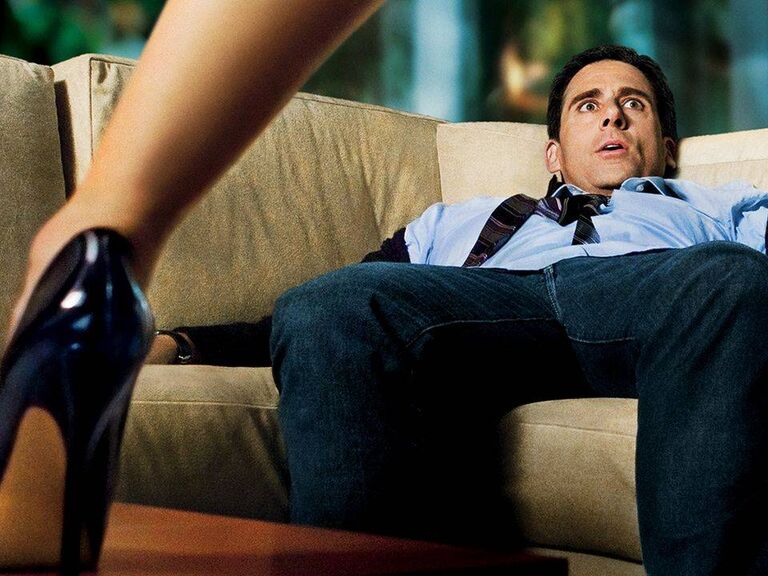 The Knot's Assistant Commerce Updates Editor Emily Rumsey has one thing to say on the matter: "If you haven't seen Ryan Gosling (shirtless) lift Emma Stone (gorgeous) like the scene from Dirty Dancing, then you're missing out."
In what can only be described as the best rom com of the modern era, Crazy, Stupid, Love deserves a spot on your next movie night at home. "This rom com is equal parts funny, romantic and dramatic with laugh-out-loud moments, swoon-worthy confessions and shocking plot twists," Emily continues. "I've yet to meet anyone who didn't enjoy this film."
Release Date: July 19, 2011 | Watch Trailer
Morning Glory
Of all the rom coms she's watched, there's one film that keeps Esther Lee coming back time and time again. "In Morning Glory, Rachel McAdams flawlessly delivers as Becky Fuller, the peppy, newly-minted executive producer of an ailing morning show, which is co-hosted by the gruff Harrison Ford and enthusiastic Diane Keaton," says our Deputy Editor. "This multigenerational rom-com has it all: a fresh perspective on how we consume modern news and entertainment programming; plenty of laugh-out-loud scenes, especially involving Keaton; plus, a brewing workplace romance between McAdams and Patrick Wilson's character. It's a heartwarming watch, one that keeps me glued and grounded, year after year."
Release Date: October 2, 1995 | Watch Trailer
My Best Friend's Wedding
As The Knot's Entertainment & Celebrity Editor, I'll enjoy any rom com that's on my TV—but we need to give Julia Roberts and Dermot Mulroney some love. Together, they're responsible for bringing us some of the most unforgettable romances in the history of time. Case in point? My Best Friends Wedding. This late 1990s film follows childhood friends Julianne and Michael, who make a pact to marry each other if they're both single by the time they're 28. Just before the clock strikes on their lifelong promise, Michael reveals that he's marrying his 20-year-old girlfriend (expertly played by Cameron Diaz). The only problem, of course, is that Julianne realizes she's in love with her best friend just as he's slipping away from her. A tale as old as time, if you will.
Release Date: June 20, 1997 | Watch Trailer
Father of the Bride (2022)
And one more for good measure. We can't have a list celebrating iconic rom coms without mentioning Father of the Bride. As much as I love Nancy Meyers' 1991 rendition, HBO Max's 2022 remake deserves just as much love. Both films follow a similar storyline, in which loving and well-meaning fathers must come to terms with their daughters marrying and moving away. Although remakes are rarely as good as their original counterparts, I can't help but love the new version. It follows Latin and Cuban families in Miami as they navigate bringing two cultures together, and it serves as a breath of fresh air desperately needed in the wedding film industry. Plus, Gloria Estefan is in it—who doesn't love that?
Release Date: December 20, 1991 | Watch Trailer