14 Wedding Moments From 'Sex and the City,' Ranked Worst to Best
"You want pasta, you go to Little ltaly. You want wedding, you go Wang."
by Ivy Jacobson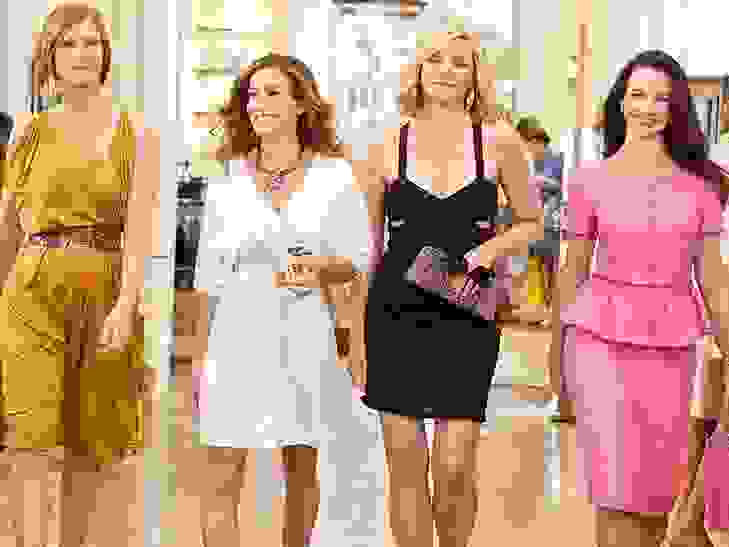 Full disclosure: I watched way too much Sex and the City in college. Like, to the point where my friends and I didn't have cable and permanently kept a few SATC discs in the DVD player on rotation instead, so we could flip it on and casually watch Carrie and Co. conquer New York City anytime we wanted. Now, 12 years after the series ended, Sarah Jessica Parker recently told the Press Association that reprising the series or making another movie is a possibility (!). And let's be real: I don't care how bad the second movie was—in the words of Big, I'll abso-f***ing-lutely watch whatever the fabulous foursome is up to these days.
So now that this hopeful news is out there, what's a wedding editor to do with all her encyclopaedic knowledge of Cosmos and Manolos? Write a wedding story about the show, of course—specifically, all of the wedding, engagement or bridal moments, ranked from worst to best (in my humble opinion).
14. Charlotte's proposal to Trey
Somehow, Charlotte accidentally proposed to Trey after she suggested he have a tomato salad at dinner, and then casually suggested they also get married—to which he responded, "Alrighty." Carrie says, "Alrighty? He said alrighty? Now I'm thinking the upsetting thing isn't that you proposed, it's that you proposed to a guy that says 'alrighty.'" True, "Alrighty" definitely isn't the best response—and that, coupled with Bunny, Trey's intrusive mother, and uh, his bedroom issues, paved the way for a rocky relationship.

13. Big and Natasha's marriage announcement
There's nothing like brunching with your girlfriends only to have your eggs Benedict ruined by your ex's perfectly hateful marriage announcement, complete with an intimate Southampton ceremony at Nastasha's family's estate. "She's just...you know, shiny hair, style section...Vera Wang," Carrie says. "And I'm the sex column they run next to ads for penile implants." At one point or another, haven't we all felt that way?
12. Aidan's proposal to Carrie
Ohhh, Aidan. I have such a soft spot for him. He loved his tools, his dog, his questionable upstate cabin and Carrie (though not necessarily in that order), and when he proposed, it was such a sweet moment that I think we all knew would never come to fruition. Especially, you know, after Carrie threw up when she caught a glimpse of the first ring he chose and broke out in hives while trying on wedding dresses. Good times!
11. Steve's proposal to Miranda
While we're on the topic of ill-fated proposals, how about Steve's first shot at marriage with Miranda? After she tells him she's pregnant with their child, he dutifully proposes to her with the first ring that Aidan got for Carrie, and her response is true Miranda real talk that still makes me LOL (at 1:25).
10. Carrie, Miranda, Samantha and Charlotte's 'Witches of Eastwick' moment
Can we all just take a moment to look at this gif? Who wouldn't want to sit with these incredible wedding guests (who look like they're going to a sexy funeral)? When the gals attend a wedding early in the series, Carrie sums up their guest situation: "It was your average $100,000 wedding. Investment bankers and the women who hate them, classmates from Steiner, Dalton and Brown—and us. We looked like The Witches of Eastwick. A wedding this size always has two singles' tables. We were at the other one."
9. Charlotte trying on wedding dresses at Vera Wang
When Charlotte is attempting to find her dream wedding dress, she realizes she needs expert help and hires stylist Anthony Marantino, who's hard not to adore. "You want pasta, you go to Little ltaly. You want wedding, you go Wang," he says. It's almost like he knows her taste better than she knows herself.
8. Carrie's poem reading at Madeline Dunn's wedding
So okay, Miranda's crush/houseguest marries her interior designer at the Plaza, then much to her chagrin, Charlotte's new love interest/groomsman goes off on her at the wedding, and Big won't even sign his name with Carrie's on the gift, plus he steps out during her poem reading at the reception too. Not a perfect situation—but Carrie's reading is kind of cute and always memorable:
"His hello was the end of her endings
Her laugh was their first step down the aisle
His hand would be hers to hold forever
His forever was as simple as her smile
He said she was what was missing
She said instantly she knew
She was a question to be answered
And his answer was 'I do.'"
7. Charlotte and Trey's wedding
Even though their marriage was ill-fated from the start (and Carrie broke up with Aidan during it), Charlotte and Trey had picture-perfect nuptials, with Charlotte wearing a lovely strapless Vera Wang ball gown. Carrie mused, "Charlotte was 34, single and standing in a $14,000 dress. She was getting married. Not even a low libido could stop her."
6. Miranda's proposal to Steve
Sometimes when you're drinking cheap beer with the love of your life, the words, "Will you marry me?" can just roll right off your tongue. Case in point: Miranda sweetly—and unexpectedly—proposing to Steve at Pete's Tavern.
5. Harry's proposal to Charlotte
Single's night at the synagogue was never the same after the ever-beloved Harry gave Charlotte a second chance and popped the question after he realized she was the one. Her teary reaction gets me every. Single. Time.
4. Stanford and Anthony's wedding
What do you have when you get swans, a chorus singing show tunes and Liza Minelli? Stanford and Anthony's long-awaited wedding in Sex and the City 2, of course.
3. Charlotte and Harry's wedding
Basically, everything that could go wrong at Charlotte and Harry's nuptials did. Harry's face has a questionably-placed smudge in their marriage announcement photo, he spills red wine on her Badgley Mischka wedding dress at the altar, he can't break the ceremonial glass, Samantha's bracelet breaks during the ceremony with jewels flying everywhere, Carrie has a fling with the best man that ends in the drunken wedding toast of your worst nightmares and so on. Carrie has to remind Charlotte, "You already had the perfect wedding, and the marriage—not so perfect. I think this is a good sign. I think the worse the wedding, the better the marriage."
Oh, and this also happened.
2. Miranda and Steve's wedding
Okay, Miranda and Steve's wedding seriously gives me all the feels. Not only did they do what felt right for them as a couple—have a small ceremony in a random garden wearing nontraditional wedding attire—but when Samantha tells Miranda she has breast cancer on her wedding day, I still need a tissue or two.
1. Carrie and Big's wedding
After much, much (did I say much?) wedding drama, Carrie and Big realize that all that will make them happy is Carrie wearing her label-less white suit and blue Manolos to city hall, and brunching at Juniors after the ceremony with all of their friends. Who says planning a wedding has to be hard?