The Best Wedding and Proposal Moments From 'Sex and the City'—Ranked
Marriage, Manolo Blahnik and everything in-between.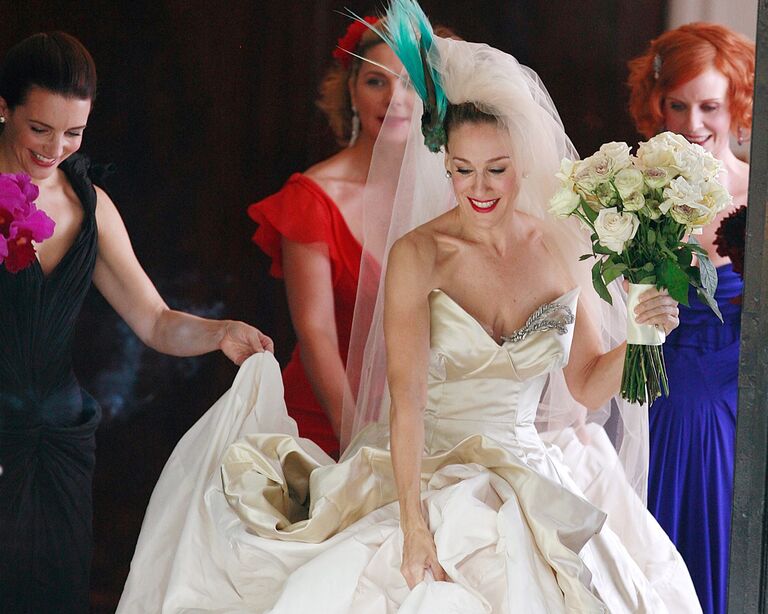 Marcel Thomas / FilmMagic via Getty Images
We have included third party products to help you navigate and enjoy life's biggest moments. Purchases made through links on this page may earn us a commission.
With the reboot of Sex and the City formally announced by Sarah Jessica Parker (Carrie Bradshaw) on January 10, we're replaying the dozens of wedding and proposal moments sprinkled throughout six seasons of HBO's wildly popular series-turned-movies on repeat to celebrate the news.
Between Carrie and Big, Charlotte and Harry, Miranda and Steve, and other romantic moments in between, Candace Bushnell's characters encounter a plethora of engagement and wedding moments, all personalized and tailored per couple. With so much romantic fodder, we rank our favorite Sex and the City wedding moments ahead of HBO Max's limited series reboot of the show: And Just Like That.
We'll have to watch for concrete updates, but the characters' marriages will likely still be central to the show's plot, in addition to a new twist involving mourning. Samantha Jones' "core four" character will be missing from the latest series after actress Kim Cattrall declined to reprise her role for the show. "Samantha isn't part of this story. But she will always be part of us. No matter where we are or what we do," Parker wrote on Instagram in response to one fan.
Otherwise, not much is known about the reprisal beyond Samantha's absence, though Parker speculated where Carrie's relationship stands with Mr. Big in early 2019. "Well, my guess is that she and Big are New Yorkers and still involved," she told E! News. (The pair got married in the 2008 big screen flick following a dramatic relationship dynamic that spanned multiple seasons.) "I'm sure she's still writing. I'm sure she has a lot to write about given what's happened in this country over the last year and a half, two years, politically, socially. I think she would be deeply engaged in those conversations."
1. Harry's Proposal to Charlotte
Harry Goldenblatt isn't the most likely Prince Charming for a perfectionist like Charlotte York (Kristin Davis), yet their romance is true #RelationshipGoals, and it's especially the case when he proposes. At this point separated, both Charlotte and Harry (Evan Handler) spot each other from across the room at singles' night.
"Out of all the synagogues in all the cities, you had to walk into mine," he says to Charlotte, while she tears up and asks for forgiveness. Harry then proposes to Charlotte among a sea of singles, and of course, the two live happily and imperfectly ever after.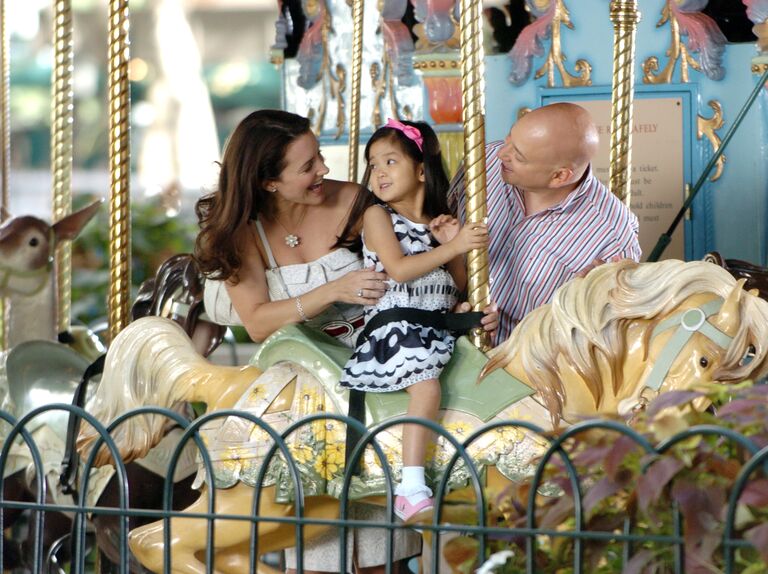 2. Big's Proposal to Carrie
Deemed the most personalized engagement moment ever featured on-screen, Big's proposal to Carrie fittingly takes place within a closet and involves one of her favorite topics: shoes. Instead of a ring, Big and Carrie commit to each other (again) with a buckled and blue, 4-inch stiletto by none other than the esteemed Manolo Blahnik. "If the Hangisi fits" is certainly an appropriate saying for when Mr. Big finally decides to pop the question. The shoe, of course, became so popular that Manolo Blahnik released a limited edition collection 10 years after the fact to commemorate Carrie Bradshaw's impact on the brand.
3. Miranda's Proposal to Steve
While perched with beers outside of Pete's Tavern, Miranda Hobbes (Cynthia Nixon) and Steve Brady's second proposal arrives at the most unexpected moment—in the most Miranda way. The couple, people watching and witnessing a squabbling elderly couple, launches into a cute back-and-forth of "I don't wannas" when Steve's tone turns sentimental and he remarks, "I don't wanna lose you again."
On whim, Miranda pops the question and says, "Will you marry me?" To which Steve (David Eigenberg) incredulously replies, "Hell yeah."
4. Carrie and Big's Elopement
They didn't need the grand ballroom wedding to see a fitting ending to their love story. After significant tears, a rage-filled bouquet moment, and plenty of relationship drama, Carrie and Big make it official at city hall with a simple elopement followed by a cozy brunch reception. The writer chose a "label-less dress" to pair with her blue proposal Manolo Blahniks (a staple now in the designer collection) for her commitment ceremony to Big or "John James Preston." The event was followed by a group brunch at Junior's.
Parker told E! News in 2019 she imagines Carrie and Mr. Big would've grown even closer after all the fury around their wedding. "I think that she would still be a voracious reader and have maintained those friendships," she said. "I would hope that she and Big were enjoying their time together and still, you know, in love and in like."
5. Charlotte and Harry's Wedding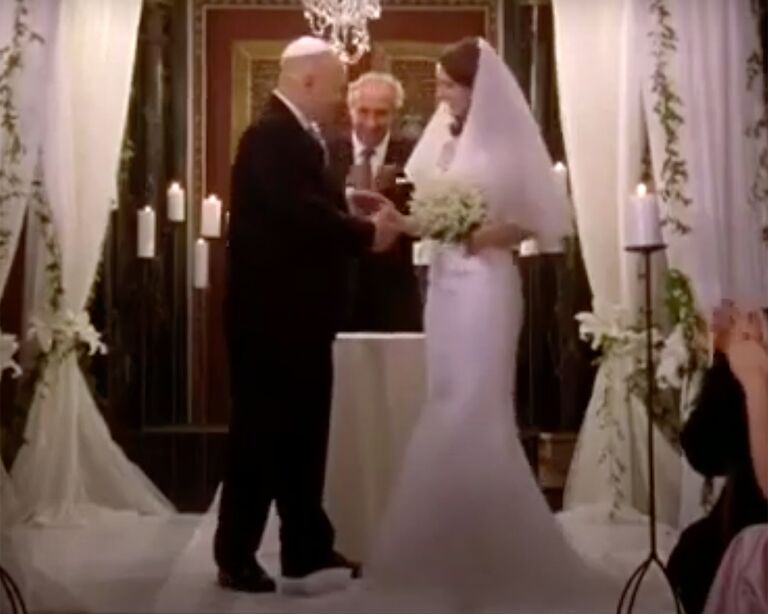 Often, we discuss snafus at weddings especially since there's that saying: "What can go wrong, will go wrong." (It's why we recommend hiring wedding professionals for everything. They will cover any traces of wrong.) In the case of Charlotte and Harry's nuptials, multiple elements of the ceremony go awry: Harry spills wine on Charlotte's Badgley Mischka dress, the groom is unable to break the glass (a Jewish wedding tradition) after multiple attempts, Carrie has a disastrous fling with the best man and delivers an equally uncomfortable speech, Miranda's toast literally catches fire, Charlotte nearly trips on her way down the aisle, Samantha's bracelet shatters, the list continues.
But leave it to the bride's besties to make any wrongs right. "You already had the perfect wedding," Carrie notes to Charlotte of her failed marriage to Trey. "And the marriage? Not so perfect. I think this is a good sign. I think the worse the wedding, the better the marriage."
Of course, viewers saw this wise remark become the case for Charlotte and Harry. Even if she didn't wear Vera Wang like she had to her wedding to Trey, the marriage itself became goals.
6. Miranda and Steve's Wedding
A nontraditional wedding for an anything-but-traditional couple. Miranda and Steve's wedding in Sex and the City season 6 was a rather emotional event for several reasons: first, the couple didn't conform to the lavish NYC weddings of that era; instead, they opted for an outdoor minimony (before minimonies were even named). The ceremony venue of choice was a simple NYC garden with the couple opting for nontraditional attire: Miranda in a velvet, oxblood look with a matching autumnal bouquet against Steve's gray suit. Later, the day grows even more emotional when Samantha tells Miranda she's been diagnosed with breast cancer.
7. Anthony and Stanford's Wedding
Lavish and exactly what we expect from the beloved series: Sex and the City 2 opens with the most incredible, over-the-top wedding between Stanford Blatch and Anthony Marantino. The extravagant event is complete with swans and a memorable wedding cameo by the incomparable Liza Minelli.