Here's Why a Microwedding Might Be the Perfect Celebration for You
What exactly is a microwedding—and is it right for you? Here's what you need to know.
by Maggie Seaver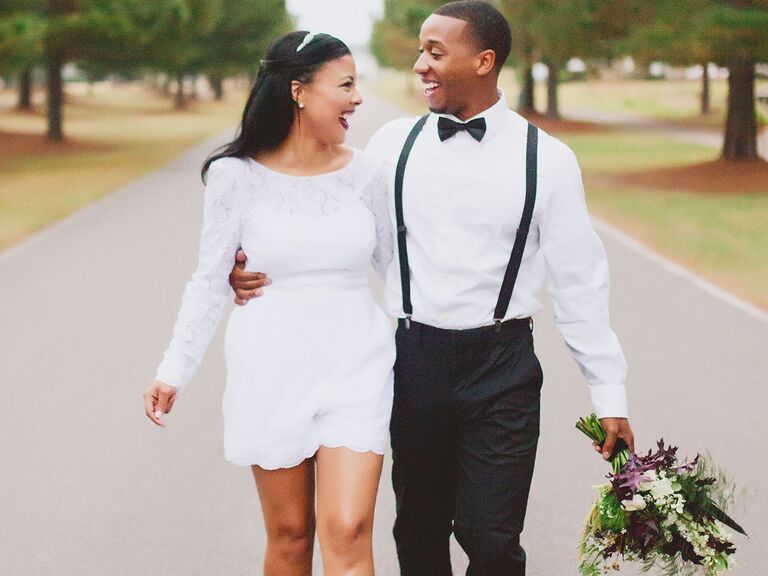 Another day, another trendy, wedding-related term (as if you haven't heard enough of those already). But hear us out on this one. More couples are choosing to wed in small, intimate celebrations, known as microweddings. A microwedding, like its name suggests, will typically include anywhere from 5 to 50 guests—often immediate family and super-close friends only. Though tiny and low-key, a microwedding isn't an elopement, which is usually planned and attended only by the couple (and a witness) and often performed in secret (though not always). Think of a microwedding as a beautiful cross between an elopement and a big, traditional wedding—and it might just be the perfect compromise to suit your style. Here are a few reasons to love the increasingly popular microwedding.    

You'll Save a Lot of Money...
A small guest list is the easiest way to work within a smaller budget. The fewer people you invite, the less physical space, party rentals, food and drinks, invitations and favors (the list is really endless) you'll need overall.
...Or Be Able to Splurge on Things You Really Love
While a microwedding can definitely save you money, many couples take the micro route in a different direction. They'll take all the money they've saved on certain wedding details (a live band, copious amounts of flowers or a large venue, for example) and pay for expenses that truly matter to them. With a guest list of 15 of your nearest and dearest, a tropical destination weekend wedding, a designer wedding dress or a decadent brunch at a five-star restaurant becomes much more feasible.
It's an Introvert's Dream
What's the point of celebrating this exciting, personal milestone if you're freaking out about being the center of attention and pleasing friends of friends you haven't seen since childhood? Don't lose sleep over dreading your first dance in front of 250 pairs of eyes—it's not worth it. Whether or not you consider yourself a shy person, your dream wedding might be saying "I do" in front of 10 witnesses you adore, followed by cake and champagne at your apartment—with no pressure, just love. And you should absolutely do it.
You Get to Spend Quality Time With Everyone
Though a massive guest list would make for a full and festive party, another potential pitfall is you wouldn't be able to hug, kiss and catch up with everyone there—kind of a sad thought, right? By choosing a microwedding, you'll be able to prioritize spending quality time with each and every loved one at your event. This is one case in which less is totally more.  
You Can Think Outside the Box
A smaller wedding and fewer expectations allows you to be more flexible and creative. You're more free to change things up—for example, you won't feel pressure to include wedding traditions that have never really resonated with you. Also, a teeny, tiny wedding will be easier to coordinate, no matter where you are or what you're doing. You'll be able to reserve a private room at that top-notch restaurant you've always wanted to try, fit everyone into your childhood backyard, or bring your immediate family and besties up a mountain for a scenic ceremony and picnic lunch.