The 'SATC' Wedding Cost Over $229K (and 17 Other Movie Marriage Price Tags)
Even a quaint 'Father of the Bride' backyard celebration runs a pretty penny.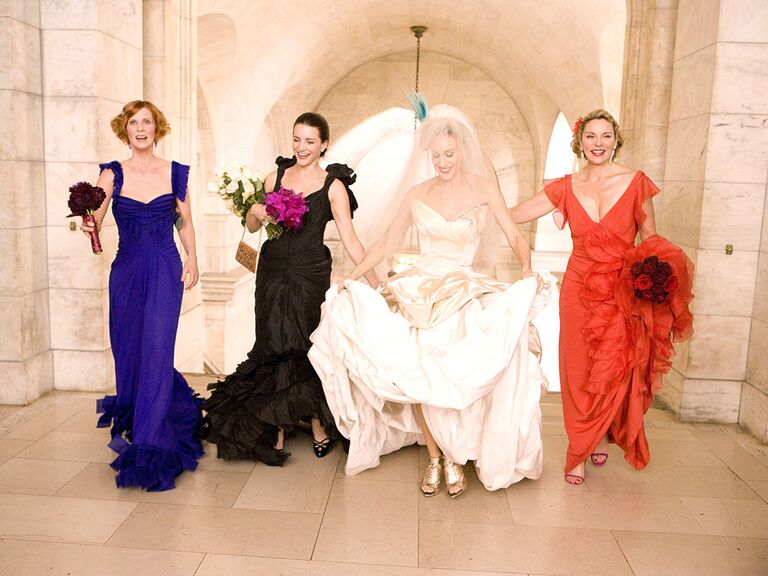 New Line Cinema/Everett Collection
What does Princess Bride, The Godfather, My Big Fat Greek Wedding and Bridesmaids all have in common? They have some of the most famous weddings in movie history. Ebates, the "pioneer and leader of online cash back shopping," did a little digging to find out just how much those celebrations would cost IRL. You know, for us normal folk.
For a bit of context, it's helpful to know that the current average cost of a wedding is $31,213. If you were to guess that most movie weddings would be an above-average spend, you'd be right—14 out of the 18 movies all clocked in above the national average. The most expensive of which being Carrie Bradshaw's wedding to Mr. Big (which cost $229,869 and—spoiler—didn't even end up happening).
So what do these movie marriages cost? You might be surprised:
The Princess Bride (Renaissance Era): 20,000 ducats
The Little Mermaid (19th Century Denmark): 43,297 krones
It Happened One Night (1934): $7,429
The Godfather (1945): $46,730
The Graduate (1967): $4,080
The Wedding Singer (1987): $7,763
Father of the Bride (1991): $34,365
My Best Friend's Wedding (1997): $49,821
The Best Man (1999): $55,384
Kill Bill (1999): $500
My Big Fat Greek Wedding (2002): $37, 621
Sweet Home Alabama (2002): $181,810
Love Actually (2003): $45,557
Meet the Fockers (2004): $62,493
Wedding Crashers (2005): $114,334
Sex and the City (2008): $229,869
I Love You, Man (2009): $48,061
Bridesmaids (2011): $109,658
When crunching the numbers, Ebates took two main factors into consideration: the time periods of the weddings and the venue (at a church, at home or at a rented space, for example). Granted, the total cost of these weddings are just an estimate. The cost of vendors differ between cities (metro cities like New York are the most expensive) and the exact head count of movie guest lists can't be totally nailed down.
So if you're totally in love with that waterfall wedding ceremony from Bridesmaids, don't be discouraged! Just plan on cutting your guest list—like, a lot.