10 Iconic Galia Lahav Celebrity Wedding Dresses We Can't Stop Thinking About
Galia herself gives us the inside scoop on these unforgettable designs.
When it comes to celebrity wedding dresses, A-listers often gravitate toward luxurious designs with ornate details and thoughtful elements of personalization. (Can we blame them?) It's no surprise, then, that one of the most beloved celebrity wedding dress designers is Galia Lahav. The namesake label of Israeli fashion designer Galia Lahav launched in 1984 in Tel Aviv, Israel—and in the years since, the brand's wedding dresses have become synonymous with sultry silhouettes, glamorous embellishments, and exquisite details.
Quite a few of our favorite famous brides have worn Galia Lahav wedding dresses, from Olympians to reality TV stars and, yes, even Beyoncé. We look back on the 10 most memorable Galia Lahav wedding dresses worn by celebrities here. Plus, head designer Sharon Sever and Galia herself give us the inside scoop on these iconic looks.
Simone Biles' Wedding Dress
When it came time for Olympian Simone Biles to get married in the spring of 2023, the gold medalist wore not one, but four Galia Lahav wedding dresses. Mere weeks after their surprise April courthouse elopement in Texas, the star athlete and her husband, NFL player Jonathan Owens, jetted off to Mexico to swap vows again with their loved ones. Biles' search for her wedding dresses began shortly after getting engaged in 2021—all thanks to Instagram DMs, that is. "We reached out to her as soon as we heard the engagement news, and I remember our team saying, 'She replied! She wants to come try on dresses!' Everyone was over the moon," said head designer Sharon Sever in an interview with The Knot.
Simone Biles' first wedding dress was a custom-designed lace ball gown with a sheer bodice and floral straps. "Simone really wanted to add a slit to the airy and light ball gown to give her length, which was such a perfect final touch," Sever explained. "The subtle sheerness makes this a dreamy gown for a beach wedding. It delivered the wow factor as she walked down the aisle with a beach breeze."
Biles also wore a form-fitting feathered evening gown for her rehearsal dinner the night before. After the ceremony, she changed into a figure-hugging sheer lace gown, followed by a feathered mini dress for the after-party. "It was a dream to work with Simone," Sever reflected. "She really knows what works for her and she chose such beautiful looks that complement her in every way possible."
Paris Hilton's Wedding Dress
Six wedding dresses? That's hot. Paris Hilton pulled out all the stops when it came to her wedding wardrobe, and we couldn't get enough. The heiress married author Carter Reum in November 2021, and she began the big day in a long sleeve Grace Kelly-esque lace gown. What truly captivated us, though, was the princess-worthy Galia Lahav ball gown she wore for their first dance set to Bruno Mars' "Just the Way You Are."
The custom-designed stunner featured a corseted bodice with exposed boning and romantic draped off-the-shoulder sleeves, which led into a glittery full skirt that perfectly reflected the light as she and her newly-minted husband twirled around the dance floor. "Paris Hilton's sparkly ball gown was a perfect choice for her first dance with Carter," Lahav tells us.
Weeks before her wedding, the bride-to-be stopped by the label's Los Angeles salon for her fitting with Sever, where her vision was brought to life. "She dreamed of having that magical princess moment in a big sparkly gown," Lahav explains. "The dress was designed to highlight her figure and create a sense of magic on the dance floor. The fitted corset bodice really accentuated her incredible figure and she looked absolutely royal."
Beyoncé's Wedding Dress
If you've ever dreamed of looking like Beyoncé on your wedding day, we have great news: it's more attainable than you realize. When the singer renewed her vows with rapper Jay-Z in 2018, she opted for Galia Lahav's Thelma gown. At the time the dress was purchased, Sever tells us the team didn't know what it would be worn for. "This is a funny story," he muses. "Beyoncé's stylist Zerina came to our flagship store in Los Angeles and bought the Thelma gown off the rack. We were super curious because we knew it was for Beyoncé, but we didn't know what it was for." Considering details of the vow renewal were kept under wraps (just like their secret wedding in 2008), the team didn't realize its purpose until six months later.
Footage of the private celebration was used in the visual effects for the couple's joint "On the Run II" tour in the summer of 2018, where the bride can be seen wearing the form-fitting long-sleeve gown. "The dress just screams Beyoncé in every single way," Sever says. "It accentuates her incredible body and every curve so perfectly. It's romantic, dramatic and sexy at the same time. It also gave major renaissance vibes."
Sarah Hyland's Wedding Dress
Actress Sarah Hyland began her wedding to Wells Adams in two Vera Wang wedding dresses. But as the couple's reception rolled around, she swapped into a slinky Galia Lahav reception dress. "Sarah wore our Elise satin gown in champagne for her reception, and it was truly the most amazing choice," says the brand's global public relations manager Yael Friedman. "Her stylist reached out saying Sarah saw the dress and was completely in love with it, and that it was exactly what she envisioned."
Although the couple's California vineyard wedding took place back in 2022, Friedman says this particular silhouette will always be in style—and it embodies the buzzy "quiet luxury" wedding aesthetic that's trending thanks to recent brides like Sofia Richie. "This gown is such a timeless yet modern dress. It exudes old money glam, and the fit is flattering on every body shape."
Jennifer Lopez's Wedding Dress
Jennifer Lopez has worn a handful of iconic wedding dresses both on-screen and in real life. Most recently, she tapped Ralph Lauren to design the three looks she wore to wed Ben Affleck. You might have also noticed that she wore a wedding dress in her 2022 film Shotgun Wedding, in which she and Josh Duhamel portray a couple whose destination wedding gets ambushed by pirates looking to steal their fortune. Who made the dress, you might wonder? Her statement gown was a Galia Lahav creation.
Given her role as the bride, Lopez's dress played a key role throughout the film, notably because it's one of the only outfits she wore. "This high-octane action-comedy required dozens of copies of the same dress to be made," Sever tells us of his experience working with the costume department. "We meticulously constructed 28 dresses in just one month using special techniques and fabrics so the gown could be modified, ripped and transformed into a uniform suitable for a glam action hero."
The actress had a clear vision of what she wanted her character to wear throughout the riveting flick, and she had a hands-on role with both Sever and costume designer Mitchell Travers to create a gown that was full of intentional meaning. "She really wanted it to feel as if it was 'the perfect wedding dress' that her mother and cousin wore, but wasn't quite for her," Sever explained. "However, as her character evolves in the movie—just like her dress—it transforms into something she actually loves and would have chosen herself."
Christine Quinn's Wedding Dress
The stars of Netflix's Selling Sunset are known for wearing jaw-dropping outfits as they sell ritzy real estate properties throughout Los Angeles. Perhaps the biggest style icon to come from the show was Christine Quinn, one of the series' top brokers. We all anxiously awaited the reveal of her wedding dress when she married Christian Richard in 2019, and it certainly didn't disappoint. Channeling a "gothic Barbie" look, the reality star wowed in a bespoke black Galia Lahav ball gown. The custom design featured a sheer bustier-style bodice, delicate off-the-shoulder floral straps and a sparkly full skirt, which she accessorized with a striking 22-foot veil. The bride asked her guests to wear white to the winter wonderland affair, allowing her unique Galia Lahav wedding dress to take center stage.
Vanessa Villela's Wedding Dress
Christine Quinn wasn't the only Selling Sunset star to opt for a Galia gown. Quinn's co-star Vanessa Villela also donned a Galia Lahav wedding dress to marry Nick Hardy. Ahead of her nuptials, Villela opened up to The Knot about her wedding vision, telling us she wanted her big day to be "cinematic." "We want the wedding to be very magical," she explained. "The place we're getting married has a lot of colors, so we want to allow that to pop by using a white palette." At the time, Villela told us that she had yet to narrow down what her dream wedding dress might look like, saying, "I think that when I try it on, I'll know it's the one."
"The one" turned out to be a Galia Lahav creation. She tied the knot wearing the brand's Renee gown from the Spring 2023 collection: a strapless ball gown with a sweetheart neckline, sheer corseted bodice and romantic floral embroidery.
Astrid Loch's Wedding Dress
After postponing their wedding multiple times due to the pandemic, Bachelor stars Astrich Loch and Kevin Wendt finally wed in October 2022. The Sarasota, Florida wedding was attended by a handful of Bachelor alum, including Rachel Lindsay and Blake Horstmann. Loch opted for a custom version of Galia Lahav's Magia gown, which featured a fitted bodice with dreamy floral embellishments and botanical straps. After the ceremony, the newly-minted Mrs. Wendt transformed her look by removing the voluminous gauzy skirt to reveal a fit-and-flare silhouette underneath.
Lais Ribeiro's Wedding Dress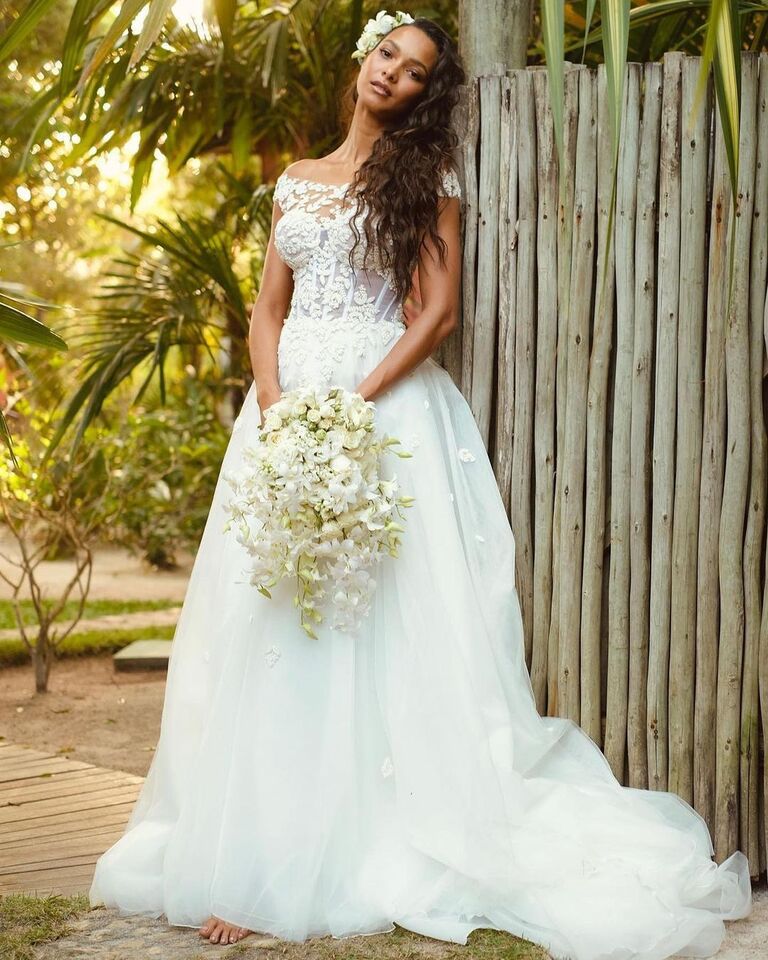 Brazilian model Lais Ribeiro looked like a vision at her beachy destination wedding in July 2022. The Victoria's Secret angel swapped vows with former Chicago Bulls basketball player Joakim Noah in a custom lace off-the-shoulder gown with a sheer neckline and floral embroidery. The bride accented her elegant Galia Lahav wedding dress with a cluster of white flowers pinned in her hair and a matching white bouquet. The label also outfitted Ribeiro's bridesmaids in elegant champagne-colored one-shoulder silk dresses.
Tara Davis' Wedding Dress
Simone Biles wasn't the only Olympian to wear an unforgettable Galia Lahav wedding dress. Track and field star Tara Davis married Paralympian athlete Hunter Woodhall on October 16, 2022, in her home state of Texas. The bride traded her running gear for a princess-worthy Galia Lahav ball gown, which happened to be the very first dress she tried on at the brand's Los Angeles flagship store. Davis selected the Poet dress, which had a plunging V-neckline with sheer fitted sleeves and a double-tiered voluminous skirt dotted with embroidered organza flowers.