Inside Tennis Star Taylor Fritz's Relationship with Influencer Morgan Riddle
These two are a perfect *match.*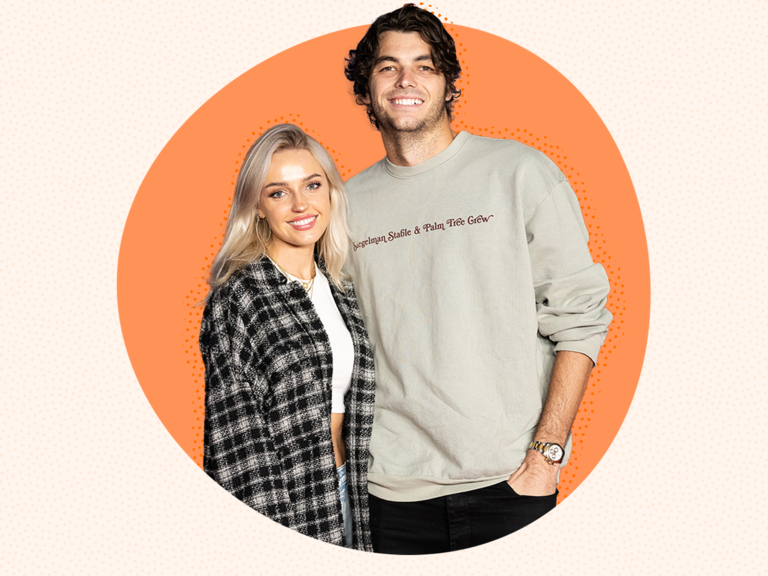 Getty Images | Design by Tiana Crispino
Even if you aren't a self-proclaimed tennis superfan, there's a good chance you're familiar with Taylor Fritz and girlfriend Morgan Riddle. Currently ranked fifth in the world by the Association of Tennis Professionals, Taylor Fritz is a rising star who's undeniably taking the sport by storm. He rose to fame after defeating Rafael Nadal at the 2022 Indian Wells Masters, securing his first Masters title.
Off the court, Taylor Fritz's girlfriend Morgan Riddle gives an inside look at the life of a tennis pro. Riddle has garnered a dedicated social media following online, often going viral for sharing vlogs as they travel the country for various tournaments. Taylor Fritz and Morgan Riddle's relationship was also featured in the 2023 Netflix series Break Point, which followed the lives of top tennis players as they trained and traveled around the world for all four Grand Slams and various tours. Here, we break down everything you need to know about Taylor Fritz and his girlfriend Morgan Riddle.
Taylor Fritz's girlfriend is Morgan Riddle, a social media influencer on Instagram, TikTok and YouTube.
Taylor Fritz and Morgan Riddle began dating in 2020 after meeting on a celebrity dating app,
Taylor Fritz and Morgan Riddle's relationship was featured in the 2023 Netflix series Break Point.
Morgan Riddle is a fierce supporter of Taylor Fritz's tennis career, as she's always spotted cheering him on from the VIP box (and going viral for her intense expressions).
Who is Taylor Fritz's girlfriend, Morgan Riddle?
Taylor Fritz, 25, is one of the biggest names in the tennis world right now. But who is his girlfriend, Morgan Riddle? You've probably seen the 25-year-old cheering on her boyfriend from the stands, or her viral videos documenting life on the road. Here's what to know about Morgan Riddle and her romance with Taylor Fritz.
She's From Minnesota
These days, you can often find Morgan Riddle sipping champagne in Paris or filming TikTok content in Australia. She travels the world with Taylor Fritz as he competes in various tennis tours, giving her followers a behind-the-scenes glimpse at the life of a tennis pro. Prior to embarking on tennis tour life, Riddle grew up in Midwest. She opened up about her upbringing on the podcast Hold On to Your Racket, where she shared that she always dreamed of living in a big city. "I grew up in Minneapolis, Minnesota, I'm from the Midwest originally," she explained. "My dream was always to go to New York."
While Morgan Riddle admittedly didn't grow up as a tennis fan, she did come from a sporty family. "I grew up with hockey, my whole family is a hockey family…not a soul from Minnesota plays tennis," she continued. "I personally was more into theater and speech and debate, not athletic at all."
She Went to College in NYC
Riddle turned her big-city dreams into reality by attending Wagner College in New York City. According to her LinkedIn, she graduated in 2019 with a bachelor's degree in English language and literature. While in school, she was the student alumni association president and the PR chair for her sorority, Alpha Delta Pi. On the same Hold On to Your Racket podcast episode, she added that she also held eight internships across various industries like marketing, public relations, event planning and media.
She's a Social Media Influencer
After graduating college, Morgan Riddle went on to work for the real estate company Compass for nine months before pivoting back to media. She held influencer marketing roles at companies like Food Network, Love Your Melon, Hollywire and MuteSix, while simultaneously building her own personal brand. She now works as a full-time influencer and content creator.
She Wants to Make "Tennis Cool Again"
Riddle has garnered an extensive following across Instagram, TikTok and YouTube, as her popular "day in my life" and "get ready with me" videos often rack up millions of views. In one of her viral clips from 2022, she breaks down how professional tennis is played around the world, jokingly remarking that the sport is "relatively uncool and unknown in America," and that she's "on a personal mission to make tennis cool again."
During a press conference at the 2022 Indian Wells Masters, Taylor Fritz praised his girlfriend for her viral tennis content. "I think what she did was awesome for our sport. It got a ton of people looking at it," he said. "I think you get your typical older fan who may be upset about it. I don't understand how anyone can get upset about it. I'm the one that's a professional tennis player, I'm the one that does this for a living. I 100 percent agree with everything in that video."
She'll Appear on Break Point Season 2
Taylor Fritz and Morgan Riddle both appeared in the Netflix series Break Point, which premiered in January 2023. The first five episodes followed 10 tennis pros as they prepared for the Australian Open, the Indian Wells Masters, the Madrid Open, and the French Open. Five more episodes of the show will premiere in June 2023, which are set to focus on Wimbledon, the Eastbourne International, the Queen's Club, the U.S. Open, as well as the WTA and ATP Finals.
In a TikTok posted on March 15, Riddle revealed that she and her boyfriend were busy filming season two of Break Point, indicating we'll see much more of this power duo in the future.
How Taylor Fritz and Morgan Riddle Met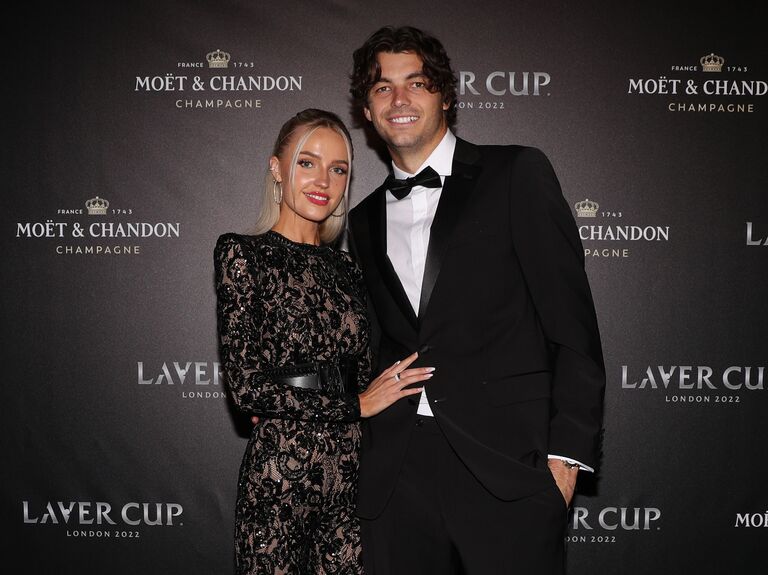 So, how did Taylor Fritz and Morgan Riddle meet? Their modern meet-cute will give hope to those also dreaming of living the tennis lifestyle. Riddle took to TikTok to answer this frequently-asked question, confirming that she and Fritz met on the celebrity dating app Raya. ("Which is mortifying," she quipped, adding that wasn't confident in recommending the members-only platform to friends.) If tennis players are your type, though, she went on to say that "every tennis player who is single is on there," so swipe accordingly.
Taylor Fritz and Morgan Riddle's Relationship Timeline
Prior to dating Morgan Riddle, Taylor Fritz was previously married to fellow tennis player Raquel Pedraza. The two swapped vows in 2016, and welcomed a son one year later. They got divorced in 2019.
Now, Taylor Fritz and Morgan Riddle have been dating for about three years. Here's a look back at their relationship timeline, which began in 2020.
June 2020: Taylor Fritz and Morgan Riddle Start Dating
Thanks to TikTok, we know Taylor Fritz and girlfriend Morgan Riddle met on Raya, likely in early 2020. They officially began dating in June of that year.
November 2020: Taylor Fritz and Morgan Riddle Go Instagram-Official
Morgan Riddle made her first appearance on Taylor Fritz's Instagram page in November 2020. The tennis pro shared a photo of his girlfriend on his back while on vacation in the Maldives. The snap was simply captioned, "Happy 🤗." Riddle, for her part, posted her boyfriend for the first time on Valentine's Day in 2021.
March 2022: Taylor Fritz Wins Indian Wells Masters
In March 2022, Taylor Fritz defeated tennis icon Rafael Nadal to win the men's singles tennis title at the 2022 Indian Wells Masters. He was the first American tennis player to win the title since Andre Agassi in 2001. Fritz's girlfriend was by his side throughout the tournament, and later posted a photo dump of them together on the court with the caption, "u & me♥️."
Summer 2022: Morgan Riddle Supports Taylor Fritz at Grand Slam Tournaments
Throughout their relationship, Morgan Riddle has supported Taylor Fritz at his matches around the world, including the Grand Slams—the four most important annual professional tennis tournaments: the Australian Open, the French Open, Wimbledon, and the US Open. To date, Fritz's best Slam performance was in 2022 when he advanced to the quarterfinals of the Wimbledon Championships.
Amid the excitement of peak tennis season, the couple celebrated their second anniversary, which Fritz documented on Instagram. "2 years has flown by with @moorrgs ❤️," he captioned the post. "I love you and I can't wait for all the fun times still ahead for us 🎉Thank you for all the love and support always... we really make an amazing team ❤️"
January 2023: Netflix's Break Point Airs
During the 2022 tennis season, Taylor Fritz and Morgan Riddle participated in filming season one of Netflix's Break Point. The couple attended the red carpet in Australia in January 2023 to celebrate the series' debut, which took place amid the Australian Open tournament.
In an interview with tennis website ATPTour.com, Riddle shared her hopes that the series will bring more attention to the sport, particularly in the United States. "Since Taylor and I first started dating, one of the things he's always said to me is that pretty much his main goal besides being a top player obviously is to make tennis more popular in the US" she said. "I have kind of helped him a bit with that or been on board with his mission to do that, so I think the show will just enforce that."