14 Shows and Movies to Watch When You Need a Break From Wedding Planning
This is your sign to take a well-deserved planning pause.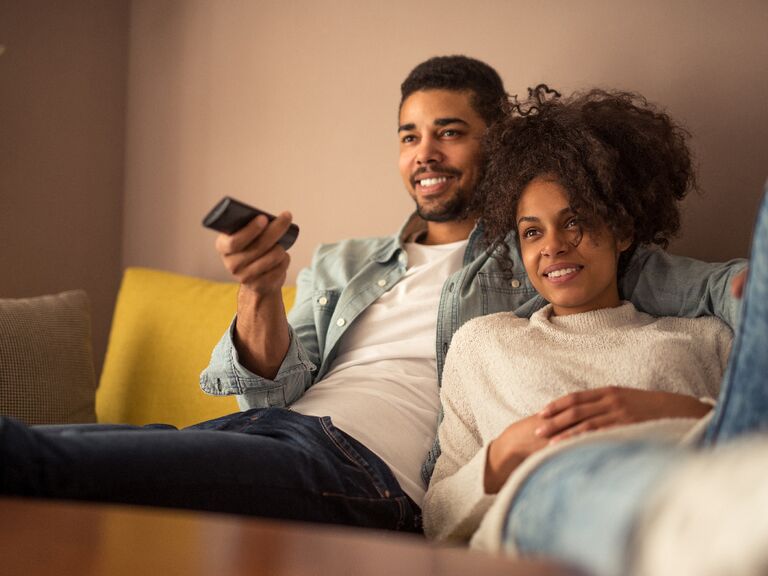 bbernard/Shutterstock.com
We have included third party products to help you navigate and enjoy life's biggest moments. Purchases made through links on this page may earn us a commission.
Fact: Planning a wedding is hard work, and you deserve to be proud of yourself for balancing all of your responsibilities while simultaneously bringing your big day to life. As you're cruising through your wedding planning checklist, though, there's one task that you should not overlook: taking breaks. Yes, you read that right! As crucial as it is to stay on top of your wedding deadlines, it's equally as important to take breaks throughout the entire planning process.
According to The Knot 2021 Real Weddings Study, the average couple spends six hours a week planning their wedding—which is a solid chunk of time when added to other things, like working, taking care of your wellness, having a healthy social life and preparing your relationship for marriage. With so many tasks at hand, it's no surprise that planning a wedding can leave you feeling tired, stressed or burnt out. This, of course, shows the importance of putting planning on pause every once in a while. And what better way to do so than by having a low-key date night at home with your favorite takeout and a new show or movie to watch?
Whether you're looking for a light-hearted comedy or a riveting drama to distract you from wedding stress, we've rounded up the best shows and movies to stream when you need a break from planning your nuptials. Get cozy, pop the popcorn, and prepare to get hooked on any (or all) of these popular shows and flicks.
In this article:
TV Shows
Searching for your next binge-watch? From reality hits to popular dramas, these are the best shows to stream for a mental wedding planning break.
Bridgerton
Shonda Rhimes' hit drama Bridgerton was the talk of the ton following its 2020 debut. Immerse yourself in London's regency era with a whimsical tale that follows the steamy love story of Daphne Bridgerton and Simon, the Duke of Hastings—the vivid imagery and dreamy set will take your mind off wedding stress in no time. Keep an eye out for the highly-anticipated release of Season 2, expected to drop on March 25.
Where to stream:
Ted Lasso
It's impossible not to be charmed by Jason Sudeikis' portrayal of Ted Lasso, an endearing American football coach who's hired to manage a lackluster British soccer team. With quick wit and a stellar cast, it's easy to see why this comedy has racked up plenty of awards since its debut in August 2020. (And no, you don't have to be a sports fan to fall in love with this series.) Catch up on the first two seasons now before the release of the third, which many fans hope will come later this year.
Where to stream:
The Bachelor
Bachelor nation, can we steal you for a sec? If you can't get enough of the beloved ABC dating show, you'll be thrilled to know you can watch multiple seasons online. To relive some of the most dramatic moments in Bach history, head to Amazon Prime to purchase select past seasons (featuring stars like Ben Higgins, JoJo Fletcher and even Jason Mesnick). For more recent episodes, you can watch the latest season starring Clayton Echard on Hulu.
Where to stream:
Euphoria
If you feel like you can't open social media without seeing chatter about Euphoria, you're not alone—in fact, Twitter just announced that the HBO drama is the most-Tweeted about show of the decade. Given the hype, it's a worthy add to your must-watch list if you looking for something moody and captivating. We recommend checking relevant trigger warnings before beginning this series, though, as it features mature content.
Where to stream:
Love Is Blind
Reality fans, this show is for you. Following the success of its first season, Love Is Blind Season 2 is back and better than ever. The experiment follows a group of singles who mingle and try to fall in love—without ever coming face-to-face. Once they've established an emotional connection, couples leave their pods to pursue their relationship in real life… while planning their wedding, that is. This is one buzzy TV show you need to see to believe.
Where to stream:
Never Have I Ever
Created by Mindy Kaling, Never Have I Ever follows the life of a first-generation Indian teenager who wants to up her social status—though her family doesn't make it easy for her. Inspired by Kaling's childhood, this show is a quick and easy watch. (And if you've watched The Office one too many times, consider giving this fresh comedy a chance.) The series was recently renewed for a highly-anticipated third season, which is currently in development.
Where to stream:
Below Deck
When you truly need a mental detox from wedding planning, you can't go wrong with Bravo. From The Real Housewives to Project Runway, the network has plenty of iconic reality shows to dive into—but if you need help convincing your S.O. to binge-watch with you, we recommend starting with Below Deck. The series follows the fascinating (and somewhat chaotic) personal lives of luxury yacht workers as they serve elite cliente in the world's most exotic locations. With three franchises to pick from (including spin-offs Below Deck Mediterranean and Below Deck Sailing Yacht) you'll be hooked on this series in no time.
Where to stream:
Schitt's Creek
Perhaps you need a light-hearted show to play in the background while you and your S.O. are reconnecting (sans wedding talk, of course). If that's the case, we recommend Schitt's Creek. The witty comedy follows the overly-extravagant Rose family—but after they lose their money, they're forced to move to a small town called Schitt's Creek they once purchased as a joke. This sitcom, which features father-son duo Eugene and Daniel Levy, will make you laugh until you cry. So, if you need a planning pick-me-up, consider it this.
Where to stream:
Movies
When you need to put wedding planning on pause, there are plenty of newly-released flicks that are perfect for date night. Find our favorites—including a few receiving Awards Season buzz—here.
Spencer
Royal fanatics and former Twilight stans alike will want to add Spencer to their watch list. The Oscar-nominated historical fiction drama, starring Kristen Stewart in the titular role, follows the estranged marriage of Princess Diana and Prince Charles amid rumors of affairs and a looming divorce. (And yes, you'll get to see Stewart in a replica of Princess Di's iconic wedding dress.)
Where to stream:
Being The Ricardos
Hollywood icons Nicole Kidman and Javier Bardem star as the 1950s power couple Lucille Ball and Desi Arnaz in this buzzy biopic. The film follows the ups and downs the couple faced both in their private lives and on their famed TV show I Love Lucy.
Where to stream:
West Side Story
Breakout star Rachel Zegler shines in Steven Spielberg's adaptation of West Side Story. Set in the mid-1950s in Manhattan's Upper West Side neighborhood, it follows the romance between Tony and Maria. Despite falling in love at first sight, their relationship sparks trouble between rival gangs vying for control of the streets. You don't have to be a die-hard musical fan to become obsessed the film's iconic tracklist.
Where to stream:
Encanto
Mark our words: You'll have Encanto songs stuck in your head for days after watching this fun Oscar nom. (But who's to say that's a bad thing?) This smash hit from Disney follows the Madrigals, a close-knit family living in the mountains of Colombia. The magic of their home blessed every child in the family with a unique gift except for Mirabel, who may be the only one capable of protecting the family from impending danger. This heartfelt flick is simply perfect for date night in the comfort of home.
Where to stream:
Don't Look Up
Meryl Streep, Leonardo DiCaprio, Jennifer Lawrence, Timothée Chalamet, Ariana Grande and more make up the star-studded cast of Don't Look Up. The tongue-in-cheek comedy explores what happens when two astrologers try to spread national awareness of an incoming comet set on a path to destroy Earth.
Where to stream:
Palm Springs
Trust us when we say Palm Springs is one of the most underrated rom coms available to stream right now. Starring Andy Samberg and Cristin Milioti, it revolves around two wedding guests stuck in a time loop living the same day over and over again amid their budding romance. Even with a wedding at the center of this flick, it's just what you need to get your mind off of your own. (Want more? Check out our roundup of the best wedding rom-coms here.)
Where to stream: