4 Unique Wedding Attire Ideas for the Groom
Grooms, distinguish yourself from your posse. Here's how to pick wedding attire that'll make you truly stand out.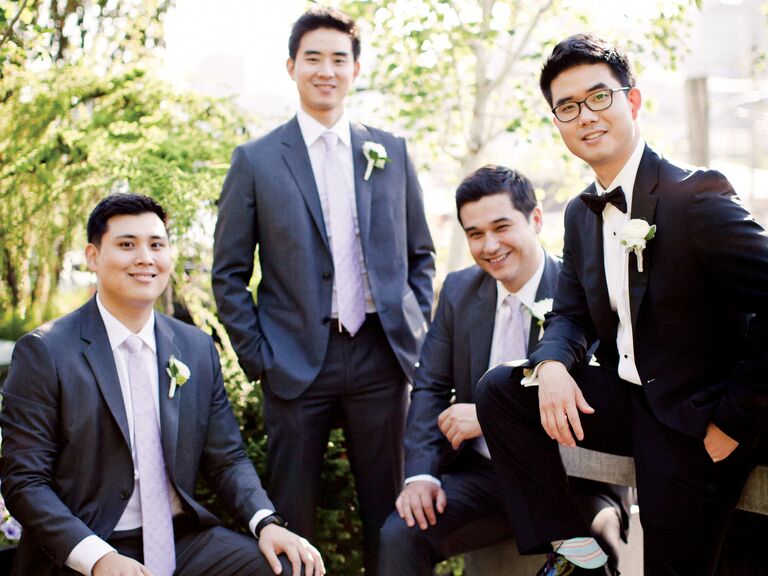 Sure, all eyes will be on the bride, but as the groom you should still set yourself apart. Although wedding tradition dictates that the groom and his henchmen all wear similar outfits, it's important to help guests identify you as the special guy who just locked lips with the bride at the altar.
The more formal the event, the more strict the codes of conduct. If you and yours are opting for an ultra-formal affair, your team will wear virtually the same tuxedo, so being singular becomes a tougher task. The more casual the celebration, the more leeway you'll have. But regardless of the sartorial dictates of your wedding, you can use these four ways to stand out on your special day.
1. Alternative Tux
Wearing a subtly different jacket from those of your groomsmen is a surefire way to make your mark. For a daytime affair, wear a cutaway coat, but have your boys wear stroller coats instead. If you select a double-breasted jacket, put your men in a single-breasted cut. Or, put yourself in a one-button jacket and have the groomsmen sport a three-button version. If your tux has a satin lapel, the boys' could be plain. Another option: Wear a white dinner jacket, and put the groomsmen in traditional black tuxes (or vice versa).
2. A Fancier Flower
A unique boutonniere, a "mini-corsage" worn on the jacket lapel, is the easiest way to help guests single you out. If your wedding will be very formal and mismatched tuxes would seem inappropriate, run with this option. For example, have boutonnieres made of the same flower (such as stephanotis) for the groom and groomsmen, but add a berry or herbal accent, such as rosemary, oregano or mint to yours. Or, select a different but very similar blossom: Wear a lily of the valley boutonniere, and have your men sport stephanotis. It's a good idea to keep the flowers in the same color family for a consistent look. Two more options: The groom can adorn himself with a two- or three-blossom boutonniere and the groomsmen with a single bloom of the identical flower, or the groom can wear a fully open blossom while the groomsmen don buds of the same flower.
3. The Telltale Tie
Boost your "all-about-me" factor by wearing a different-colored tie or bow tie than the gang. For instance, if you wear a silver tie, the groomsmen could sport a different color that complements or matches the bridesmaid dresses. Grooms can go one step further and wear a different type of neckwear from the guys. If you choose a bow tie, the groomsmen could wear neckties with a Windsor knot, which has a triangle-shaped knot and is larger than your standard, everyday four-in-hand. Or, if you plan to wear an ascot, select a matching necktie for your men.
4. Variety in the Vest
Vests are another element of the tux with which grooms can experiment. Pick a vest that's a different color from that of your groomsmen. If you choose a black tie and black vest, you could put the groomsmen in a color that matches the bridesmaid dresses. Or, set yourself apart in a cummerbund and put the fellas in vests.