The Top Wedding Dress Trends From the 2024 Collections
We scouted the Bridal Fashion Week runways in search of next year's hottest styles because it's never too early to start your hunt for the perfect dress.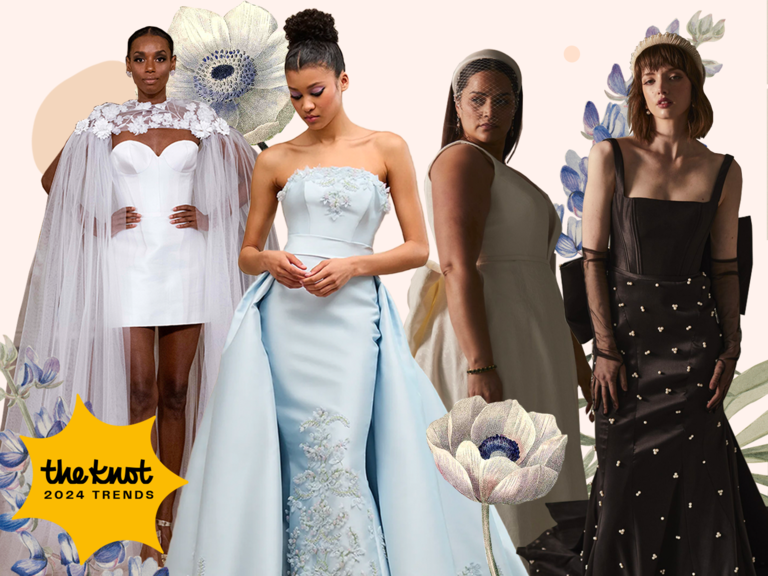 Photos, From Left to Right: Nardos, Ines Di Santo, and Hera Couture,Design: Tiana Crispino
For brides who believe that walking down the aisle should feel like walking down the runway, there's no better place to begin your search for the perfect dress than New York Bridal Fashion Week. Recently, The Knot got a sneak peek into upcoming wedding dress trends as designers showcased their fall 2024 collections. The semi-annual affair takes place each April and October when editors, buyers, and influencers from all over the world convene to see what's on deck for the following year of bridal fashion. This season, we witnessed beloved bridal brands like Berta and Galia Lahav showcase their designs alongside up-and-coming names like Cinq and Nadia Manjarrez. I even had the opportunity to catch up with industry éminence grise Vera Wang to chat about her latest designs for Pronovias.
From modern takes on classic bridal styles to innovative avant-garde looks, there was a little something for everyone to enjoy this season. For 2024 brides, there is undoubtedly reason for excitement as all of these designs will be available to wear for your own nuptials before you know it. Getting hitched a bit sooner and still in need of a dress? We hope this roundup can still serve as inspiration. As your expert source on all things bridal fashion, we're breaking down the top 10 upcoming wedding dress trends for 2024 so that you needn't book a trip to The Big Apple.
Why Are 2024 Wedding Dresses Shown in 2023?
It might seem a bit hasty to start talking about next year's wedding dress trends a year ahead of schedule, but if you're a bride gearing up for a 2024 wedding, these collections actually come at just the right time. Whether you're actively searching for your dream dress, or just fantasizing about your future wedding look, getting to know the looks from the runway can help you stay ahead of the game when it comes to trends. Also, shopping for a wedding dress can be a long and extensive process—especially if you plan to go the made-to-order route. According to The Knot's Real Wedding Study, the ideal time to purchase your gown is anywhere from eight to ten months before the date of the event in order to budget enough time for production and alterations. Having foresight when it comes to emerging bridal trends can help ensure you'll still love your dress by the time it's ready to be worn.
What's Trending in Wedding Dresses for 2024
"I have never thought of bridal as one single context," said Vera Wang ahead of the launch of her most recent collection. "The sky has always been the limit in terms of materials, silhouettes, proportion, volumes, and styles and that's where we brought fashion to weddings." It is a sentiment shared by Honor designer Giovanna Randall, who launched her brand after being frustrated with the market's more traditional offerings, as well as Sally LaPointe, who has gone so far as to embrace ivory denim for bridal (albeit festooned with Swarovski crystals and ostrich feathers) in an effort to better serve her ready-to-wear customers who are getting married. The overarching theme is that brides want to feel like themselves on their wedding day and the lines between ready-to-wear and bridal fashions are becoming increasingly blurred as fashion brands expand their offerings and bridal fashion brands embrace less traditional fare.
As for precisely what's trending, we're breaking that all down here. Keep reading to discover all the top 10 bridal fashion trends for 2024, or jump ahead to your favorite.
The 2024 Wedding Dress Trends:
A Penchant for Pastels
Unconventional brides who aren't in search of a white dress can now rejoice. From baby blues to soft pink hues, the 2024 bridal collections have shown us that more designers are getting comfortable experimenting with color. Pastels in particular made a splash in more vivid ways than seen in previous seasons—from the hand-painted flowers emblazoned on dresses by Savin London, to the grand, often embroidered gowns showcased at Ines Di Santo and Nadia Manjarrez. While classic bridal whites will certainly never go out of style, we're embracing the fact that pastels are on the rise.
Wrapped up in Bow
There's perhaps no better way to tie a wedding look together than with a bow (pun intended), and the recent collections were a testament to that. From oversized bows that extend into dramatic trains (as seen at Hera Couture) to mini crystal bow embellishments on veils, designers are 'wrapped up' in this trend for good reason. A bow adds a timeless feminine touch and a festive flourish to any look. While they previously played a supporting role in wedding attire through hair ornaments or accessories, we're predicting that oversized bow motifs will soon take center stage throughout the bridal fashion world.
Bridal Meets Boudoir
The 1920's flapper, defined by her desire to flout tradition, is not unlike the modern bride. Now, over a century later, many designers are embracing that sentiment by tapping Jazz Age inspiration with boudoir-inspired fashions. Slip dresses, bralettes and lingerie-influenced toppers (all previously reserved for the privacy of one's bedroom) have made their way to the most public setting of all: the wedding altar. For the brides who simply aren't looking for tradition-bound virginal white looks, these modern takes on Roaring '20s staples are the way to go. Thanks to brands like Danielle Frankel, HONOR and Watters, there will be no shortage of these looks in 2024.
Back to Black
The Land Down Under has been known to set the pace when it comes to bridal fashion trends, due to it being a hub for so many beloved designers and brands. So when Australian brides began stepping down the aisle clad in black, it didn't take long for the rest of the world to follow. The antithesis of tradition, black dresses have become increasingly popular among Gen Z brides, who are rewriting the rules when it comes to wedding fashion. This season, many collections included at least one option in black; however, we predict that this is only the beginning. For to-be-weds looking to rock a black gown in a way that still feels distinctly bridal, many of the black lace designs have the option to add a nude or white underlay, which creates a unique sense of contrast.
A Nod to the '90s
They say fashion repeats itself every 20 years, but when it comes to the bridal world, some styles never fade. The '90s, for instance, are seemingly always 'back again' leading us to question whether they ever really left. There's something about the decade's minimalist designs and understated silhouettes that will forever hold a beloved place within bridal design. This year, brands including Katherine Tash, Kelly Faetanini and THEIA leaned into turn-of-the-century charm by showcasing looks that featured bias-cut satins, structured bodices, and overall clean lines.
Elegance Deconstructed
The rise of subversion within streetwear has given way to an all-new era of bridal fashion that's unlike anything we've seen before and defies categorization. Think classic silhouettes coupled with elements of deconstruction that reveal the underpinnings of what is not normally meant to be seen. Exposed boning, sheer paneling, distressed skirts, and raw hems all lay the framework for these avant-garde styles. This year, brands including Cinq, Danielle Frankel and Watters showcased unique looks in which free-spirited brides and femme fatales alike are sure to rejoice.
Mastered Maximalism
Micro weddings and elopements had a major moment in recent years, but according to our Real Weddings Study, large weddings are now back and bigger than ever. Given the plethora of maximalist looks on the runways, bridal fashion is prepared to meet the demand for over-the-top designs. Brands like Esé Azénabor, Berta and Madeline Gardner did not hold back, employing pearls, appliques, and all things sparkly in the creation of their show stopping designs. This sense of all-out maximalism is perfect for the bride who believes more is more and while minimalism will always have its place within the wedding fashion world, one thing is certain: There will be no shortage of bridal glamour in 2024.
Short and Sweet
Spoiler alert: Short in length doesn't mean short on style. This year, little white dresses hit the scene in a big way, proving that good things really do come in small packages. For brides hoping to rock a second look on their wedding night, there were plenty of convertible wedding dresses featuring overskirts that can be detached to reveal a mini dress underneath. But if this year's New York Bridal Fashion Week runways showed us anything, it's that mini dresses aren't just for receptions anymore. For brides looking to show off their legs as they strut down the aisle, there were plenty of ceremony-worthy styles thanks to designers like Jaclyn Whyte, Nardos, and Vera Wang.
Suited Up
So, you're a laid-back bride; you put your pants on one leg at a time. We get it. Luckily, designers do too. Designers such as Andrew Kwon, Maticevski, and Esé Azénabor showcased innovative jumpsuits that prove you don't need to wear a dress to look like a bride and you can push the envelope without sacrificing glamour. Whether you're looking for a wedding day look that makes a statement or one that's dance-floor-approved, we think you'll love this trend.
Sultry Separates
We're all about bending the rules when it comes to bridal fashion, especially when it means fostering a more inclusive future for all. The options for suiting and separates that we saw on this year's runways pushed the boundaries of traditional gender roles and redefined what it means to look like a bride. For gender-fluid to-be-weds or those who simply want to rock a look that's outside the norm, these designs from brands like Rime Arodaky, Milla Nova, and Bronx and Banco come at just the right time. While there's still progress to be made in the industry, for now, this milestone leaves us looking forward to embracing more expressions of gender fluidity on the runway, and (of course) down the aisle.