12 Bridal Shower Outfit Ideas for Every Style and Budget
Whether you're having a casual garden party or a fancy soiree, we've got you covered with some super-chic bridal shower looks.
by Shelley Brown and Sophie Ross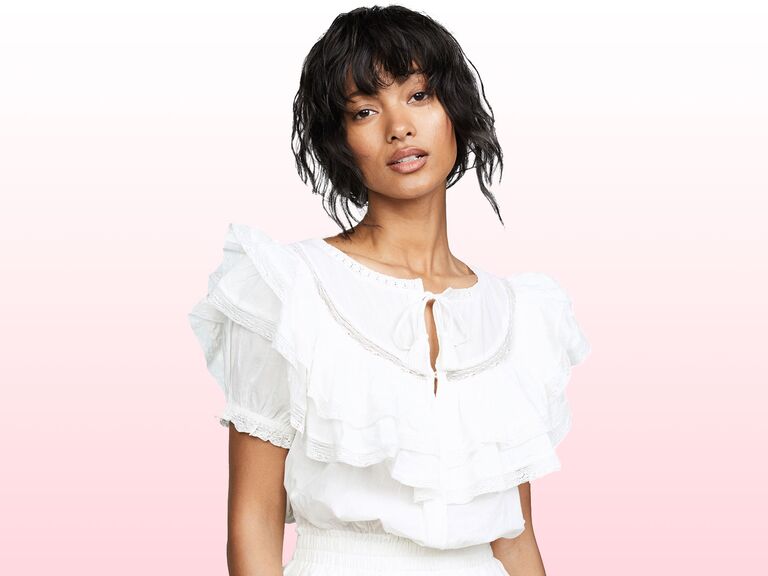 Your bridal shower is a great opportunity to celebrate with your family and friends—it's less formal than your rehearsal dinner and probably not as (ahem) crazy as your bachelorette party. As with any wedding-related event, you're going to need a killer outfit to make your day that much more fabulous and memorable. You don't have to wear white to your bridal shower when you're the bride, but we love the chic look of a casual white ensemble.
Whether you opt for a sleek white minidress or a fun and flirty crocheted sundress, your bridal shower outfit should match the theme and venue of the shower. (Think: light, breathable fabrics for outdoor affairs and glamorous statement accessories for five-star events). If you're still not sure about what to wear to a bridal shower, you can't go wrong with a simple white shift dress. If your bridal shower is during the day, add a cardigan and some nude pumps. If it's at night, throw on some strappy metallic heels and a statement necklace and you're good to go. Don't love bright white? Opt for a subtle print or a soft pastel, like blush or ice-blue. If pants are more your thing, go for a romper or tuxedo jumpsuit. The point is to feel like a polished version of yourself. Check out these eight amazing bridal shower outfit ideas, below. 
Try Cotton Lace for a Casual Affair

Consider a Dropped-Waist Dress for a Vintage-Inspired Look

Opt for a '60s Swing Dress for a Sleek Look

Wear Floral Separates for a Trendy Vibe

A Lace Romper Is Perfect for a Nontraditional Shower

Aim for a Formal-Yet-Fun Look in a Tulle Midi Dress

Try a High-Low Halter Gown for an Uncomplicated Look

Choose a One-Shoulder Mini for a Fashion-Forward Feel

Go Modern for a Formal Shower

Wear a Slinky Slip Dress for an Effortlessly Chic Vibe

Don a Printed A-Line Dress for a Sophisticated Look

Consider a Plunging Neckline for a Nighttime Bridal Shower