19 Questions to Ask While Wedding Dress Shopping
Chat with the consultant about these simple but essential details.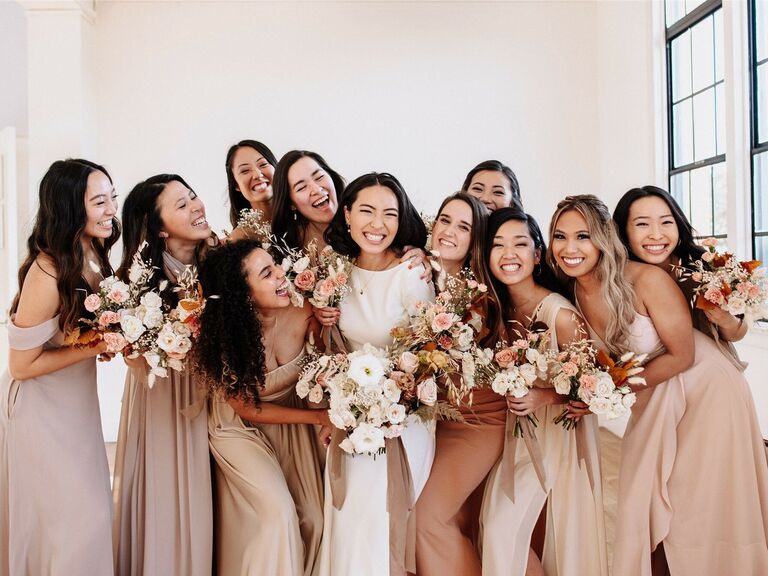 SoCal Standard,Amy Kuschel
You've made your bridal shop appointment, looked at wedding dress inspiration and have recruited your shopping crew. Now what? When it comes to prepping for your appointment, a handy wedding dress questions checklist can go a long way. Not only is it a good idea to familiarize yourself with the general wedding dress shopping timeline, but knowing exactly what to ask your consultant ahead of time will help you feel less stressed in the moment when you're standing in that dressing room. Bookmark this list of questions to consider asking before, during and after your bridal salon appointment to make sure everyone's on the same page, and to ensure that you don't forget any important details in your search for the perfect dress.
In this article:
Wedding Dress Questions to Ask Before Your Appointment
Ahead of your appointment, be sure to read through any guidelines or frequently asked questions listed on the bridal boutique's website. If you can't find the answer you're looking for, reach out via email or phone to talk to an associate. Include these topics on your wedding dress shopping checklist.
Does my wedding date present any limitations?
Before you even set foot in the bridal salon, you should be aware of how your wedding date will affect your gown shopping experience. After you make your purchase, most gowns take four to six months to arrive and require an additional two to three months for alterations. If you're shopping close to your wedding date, you may be limited to samples or off-the-rack gowns (styles that have previously been tried on but can usually be taken home the same day). And while rush deliveries are sometimes available for an additional cost, keep in mind that smaller stores may not be able to put in last-minute orders, and designers may not always be able to accommodate your short timeline. It's always good to know your limitations up front.
Are alterations included in the cost of my gown, and what do they average?
Even if there is a tailor in-house, most salons don't include alterations in the cost of your gown, so it's important to factor them in before committing to a dress—especially if it's already on the higher end of your price range. For in-house alterations, it's also important to ask whether the bridal salon charges a flat fee or changes the rate based on the service. Depending on the amount of work needed, the cost of wedding dress alterations can run the gamut from a couple hundred dollars for minor changes, like adjusting the hem, to upward of $1,000 for extensive changes, like restructuring the gown's silhouette or adding beading.
Can I request a sample gown if you don't carry it in-store?
Some important backstory: Not every bridal designer's entire collection is available in every store. When a designer releases a new wedding dress collection, salon owners pick and choose the style(s) that they want to sell in their store. They purchase sample gowns of those styles from the designer at wholesale cost and use those dresses for try-ons during bridal appointments. When you find your dress after trying on the sample gowns, the salon places an order for a brand-new version of your dress based on your measurements (this is why it can take months for the dress to actually be ready!).
So why does this matter? If you're looking at a designer's website and you see a wedding dress you love, you'll want to find a salon that has the dress in-store for you to try on. If they don't, they may be able to request a sample specifically for you with enough notice.
Are any trunk shows coming up?
Unlike traditional wedding dress samples, a trunk show gives you the opportunity to try on a designer's entire collection—including dresses that may not regularly be available in the store. These events also often give you a rare opportunity to talk one-on-one with the dress designer. You can personally discuss the gown you like and any changes you may want to make to it. An added bonus: Most bridal salons will discount your purchase if you buy a gown on the spot during a designer trunk show.
How many fittings will I have?
Most custom gowns require multiple rounds of alterations, so it's important to know if your salon offers alterations in-house, and if your gown will require additional fittings. This is especially true if your body changes in between the time you first tried on and purchased the dress and when it arrives at the store.
Your first fitting typically takes place about two or three months before your wedding day. This is when the seamstress will handle any major alterations, like fixing the length, adjusting straps, sewing the bustle or adding hidden bra cups. You'll need one or two follow-up fittings depending on how much you change. Your final dress fitting should take place about two weeks before your wedding—this gives you the most accurate fit while still leaving time for professional steaming or last-minute changes.
If your bridal salon doesn't offer in-house alterations, your consultant can help you locate a trusty tailor who has experience working with wedding dresses.
What is the typical deposit on a wedding dress?
According to The Knot Real Weddings Study, the average cost of a wedding dress in 2021 was $1,800. Regardless of what you're planning to spend on your dream gown, you can expect to pay a deposit before leaving the bridal salon. The required deposit percentage varies from shop to shop (and the final amount will depend on the price of your chosen dress), so feel free to reach out in advance to ask about their payment plan policies and what to expect when signing your wedding dress contract.
Wedding Dress Questions to Ask During Your Appointment
Trying on wedding dresses is an incredibly exciting experience, but it's also a major decision. Use this wedding dress questions checklist to stay calm, cool and collected while chatting with your bridal stylist during try-ons.
What do you think will look flattering on me?
You might already have an idea of the wedding dress silhouette you want (if not, that's okay too!), but it's important to also be open to the consultant's suggestions. At the start of the appointment, your consultant will ask you about the kind of dress you're looking for, but you can also ask for their recommendations based on your body type, personal taste and wedding theme. And remember: Even if a gown doesn't look amazing on the hanger, that doesn't necessarily mean it won't look amazing on you. Be open to what an experienced consultant thinks will flatter your figure—it might be different than what you pictured, but you could be pleasantly surprised.
How customizable is this dress?
Before you make a final decision about a gown, you should know if you can change its construction, color or fabric. Case in point: Blush-colored dresses usually also come in white, so if your consultant walks into the fitting room carrying a pink ball gown that you definitely didn't ask for, don't panic. If you really don't like something about a gown, the good news is that it can probably be changed, and it doesn't hurt to ask. At the very least, it will help point the stylist in the right direction. You may be describing another dress they have in the showroom that would be perfect for you.
If I decide to buy this dress in the coming months, will it still be available?
After you've found "the one," you really should stop looking. But if you need some time to sleep on your decision, that's completely normal—just make sure your dress will still be available in the future. Designers discontinue styles all the time, and salons usually have very little notice. Some salons also offer incentives if you buy on your first visit. It never hurts to ask, and it might help you make up your mind by realizing that you don't want to miss out on a specific dress style.
Can I buy the sample?
If you're on a budget and have an open mind, buying a sample dress could be a great deal. While it's true that sample wedding dresses are usually heavily discounted (giving you the chance to buy a style that would normally be out of the question), this is often because of wear and tear from people previously trying on the dress—and it may not be your exact size. Minor stains, snags and missing embellishments can often be repaired during alterations, so if the sample is in fairly good shape and fits you within three sizes, it's worth considering.
What accessories would look good with this dress?
This question gives your consultant an opportunity to style your dress in ways you might not have considered. Even if you're set against wearing a certain accessory, like a veil, it never hurts to try it on just to see how it makes you feel. They can also share ways that past brides have styled the same dress, such as wearing a certain type of wedding shoes or hairstyle, which could spark inspiration for your own big day. Our tip: The earlier you ask about accessories, the better, since more elaborate orders, like custom headpieces or sashes, take longer to arrive.
Do I have to wear undergarments with this gown?
After you've found your dress, you'll need to consider what goes under it, which can impact the overall look just as much as the gown itself. Depending on the construction of your dress, you may be able to add bra cups and boning during your fittings. The benefit of these alterations? They'll save you the time spent searching for the right shapewear, strapless bra or nude undergarments. You also don't need the heat or bulk of extra garments if you can avoid it.
Will this dress be functional for my wedding?
You want your dress to look perfect, but before making your final decision, we recommend taking a few practical details into account. Ask your consultant how a potential style will affect your ability to sit, walk and use the restroom throughout the wedding day. For example, if the stylist says the gown could be restricting, and you're planning to be partying on the dance floor all night long, you might want to reconsider. Other things that can influence the practicality of a certain style are the wedding dress fabric, the train length and where you're getting married.
Am I missing anything?
Once you have the dress and the accessories nailed down, there might be other items you haven't thought of. Ask your consultant if you're missing any necessities, like crochet hooks for those tiny buttons down the back of the dress, or if they would recommend any fun extras that will make your wedding day even more memorable. (Who knew you'd need that monogrammed hanger for prewedding detail photos?)
Wedding Dress Questions to Ask After Your Appointment
Yay—you've purchased your dream wedding dress! The hard work is done, but there are still a few logistical loose ends you need to address. This wedding dress questions checklist covers what to ask after you've found your gown.
What will happen if I change my mind?
If you change your mind about your dress after you place your order, it's important to know what the return policies are, if any. Wedding gowns are usually custom orders, so most stores won't give you a refund, but it's good to check. You may be able to recoup some of the cost or work out another option.
When do I pay the balance?
Each salon has a different expectation when it comes to payment, so you'll need to be clear on when the full balance of your dress is due. Some stores require total payment up front, while others expect a deposit at the end of your appointment with the remaining balance due when your dress arrives. Make sure you know all the details to avoid confusion—and so you can budget accordingly.
Will the dress be steamed at pick-up?
It's an easy step to forget, but trust us, you don't want to walk down the aisle in a wrinkled gown. If your dress won't be steamed when it's ready for pick-up, bring a steamer on your wedding day or ask if your venue is able to provide one (they might have a steamer on-hand in the dressing suites). If you're having the dress altered by a seamstress who operates separately from your bridal salon, you should also ask if your dress will be steamed or pressed ahead of time.
How do I put on my gown?
It may sound like a silly question, but if you have a dress with interior buttons, a lace-up back or an elaborate skirt that needs a bustle, you'll want to ask how to put it on properly to save time and frustration when it's showtime. Have someone who will be getting ready with you on the wedding day (like a relative or bridesmaid) with you during the fittings to take notes on how to help you get dressed.
What's the best way for me to store and transport my gown?
Your dress will most likely be pressed and packed when you pick it up either from your salon or the seamstress. Once it's in your possession, you should know how to store it and transport it to your venue. If you're storing it outside of the salon, keep it in a protective opaque garment bag—not only to avoid your partner from sneaking a peek, but also to protect it from sunlight and discoloration. If you're having a destination wedding, travel with your dress in a garment bag (preferably as a carry-on, so you have it in your sight) and steam it once you arrive.