12 Ways to Include Your Kids in Your Wedding
Make your wedding day as special as possible by including your little ones in the celebration.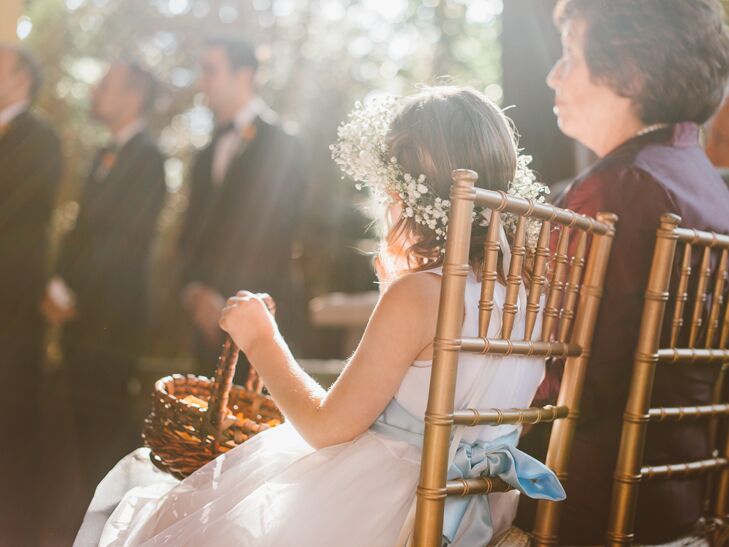 Colleen Stepanian Photography
If you and your partner already have kids together, or if this is your second marriage and you or your partner have kids from a previous relationship, then it's a no-brainer that you'd want them to be a part of your wedding day. Ask your kids how they'd feel most comfortable taking part and find an age-appropriate way to include them. Here are a few of our favorite ideas to include your kids in your wedding (try one or combine a few!).
1. Include them in DIY crafts.
This is the perfect opportunity to both knock things off your wedding checklist and plan an activity for your children. What's more fun than arts and crafts for little ones? Have them help you out with simple tasks, like hand-writing your guests' place cards, putting together welcome baskets and favors or stamping envelopes.
2. Bring them to the cake tasting.
You'll instantly become the coolest parent ever if you offer cake for lunch. Showing your children you care about their opinions will make them feel special, and they'll love telling guests they helped pick the flavor of the cake. Bonus: If your child's choice isn't your cup of tea, see if your baker can go half-and-half with both of your choices.
3. Give them a special "morning-of" gift.
Similar to presenting your soon-to-be partner with a thoughtful note or gift, have something for the kids too. It'll be something they cherish forever, and a special time for you to express how much they mean to you and how excited you are to take on this new family role.
4. Create their own siganture drink.
Think Shirley Temples, milkshakes and non-alcoholic pina coladas. It's okay for them to have a sugar rush on this one day, right?
5. Share a first look moment.
The anticipation of this will make them feel like it's Christmas morning. Having a first look with your children (after you and your partner have had yours alone) will make for amazing photos, but will also be a time to bond as a family and talk about the exciting moment that's about to happen.
6. Include them on your wedding website.
Include a section on your wedding website suggesting things to do in town, and some of your favorite spots as a family. Give a shout-out to your kids' favorite restaurants and what they recommend you order, or their favorite activity to do when your guests are in the area.
7. Make them bridesmaids and groomsmen.
There's no rule that says your bridal party has to be all adults, so why not let your kids be bridesmaids or groomsmen? This idea works especially well if your children are older than 10, the typical age cutoff for flower girls and ring bearers. If they're younger, they can serve as junior bridesmaids and groomsmen. Either way, they get to participate in prewedding activities like the bridal shower and maybe even the PG portion of the bachelor and bachelorette parties; on the day-of, they can dress like your bridesmaids and groomsmen.
8. Include them in the unity ceremony.
If you're having a unity candle, sand ceremony or nontraditional unity ceremony alternative, this is the perfect chance to involve your kids. By getting married, you really are making one big family, or reaffirming the existing family, so it makes total sense to give them a special role. Let them help light the candle, include multiple sand colors or come up with something totally new and creative, like family handprints you can display in your home after the wedding.
9. Write them into your vows.
Recognizing your kids in the vows is an easy way to make them feel included and special. It's also important to remind them that you're committing to being a family and not just gaining a spouse. Engrave a gift with quotes from your vows for them or hang a pretty calligraphed version in your home afterward.
10. Ask them to walk you down the aisle.
Whoever walks you down the aisle doesn't have to be your dad or parents. Have one or all of your kids walk you to the altar to switch things up and make your procession extra-meaningful. This idea is especially great if your children are older.
11. Have them perform at the wedding.
If your kids are particularly passionate or gifted in singing, dancing or reciting poetry, you could ask them to showcase their talents in a special performance for everyone. Allowing your child a moment in the spotlight will mean a lot to them. If they're not up for a big solo performance, have a separate parent-child dance—after your first dance and traditional father-daughter and mother-son dances—to a song of their choice. Their participation could even be as simple as choosing a poem, dedicated to you, to go in the printed program.
12. Have them as your flower girl and/or ring bearer.
If you're having a traditional wedding, you shouldn't force yourself to find an out-of-the-box way to incorporate your little ones. The classic, kid-friendly roles of flower girl and ring bearer are simple, fun and always a crowd-pleaser.