Whitney Port Shares How She Accidentally Had Two Proposals! (Plus, See a Sketch of Her Oval-Shaped Engagement Ring)
by Ivy Jacobson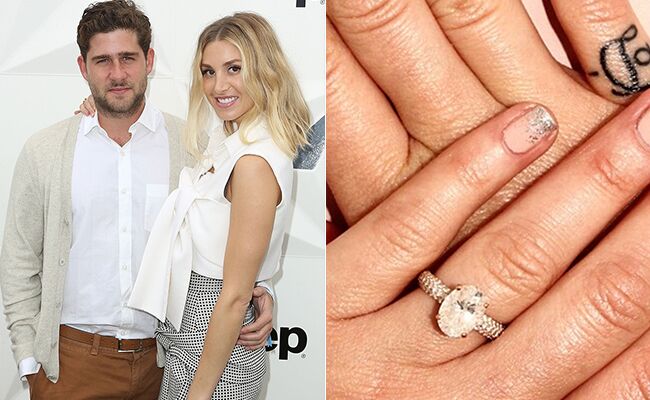 Getty Images; Whitney Port via Instagram
Bride-to-be and fashion designer Whitney Port was recently in Australia for Jeep's Portsea Polo event, which is the continent where her fiance Tim Rosenman proposed — for the second time! On January 5, The Hills alum shared a post on her website detailing how she and Tim got engaged in 2013, and how she initially screwed up the proposal. (Don't you just hate it when that happens?)
So, the night before the couple's trip to Sydney, Whitney was sitting on the couch with Tim, who was on the phone with his boss.
She writes:
"That's when I heard his boss say something like, 'Good luck with Whit with whatever you decide to do in Australia.' My stomach immediately dropped. I thought to myself, 'Does he need to talk to me about something? What the f does he need luck for?' I immediately asked him and he tried to brush it off but I just couldn't let it go. He could see the mental torment I was putting myself through so he finally gave in. He got down on one knee and proposed! It was so beautiful. He told me he had this elaborate plan to get the ring in Australia from a jeweler by the name of Ron Bensimon and was going to propose to me on a boat in the Sydney Harbor! I couldn't believe I had basically ruined that magical moment we would have had, but I was so happy to be engaged to him that it didn't even matter! We went and popped a bottle of champagne at my mom's place and the next day we were off to Australia as planned."
But Tim's sweetness didn't end there — he had a second proposal in mind.
"Since the ring had not been bought yet, I had the gift of being able to give Timmy a little insight into my taste. I told him I loved oval shape and rose gold. He met with the jeweler Ron Bensimon, who went above and beyond and found the most beautiful stone ever in Israel. It was flown across the world to him, where he set it and then delivered it to our hotel in Sydney! Once Timmy had the ring, he wanted to make it official — he came back to our hotel room, got down on one knee, presented me with the most beautiful ring I had ever seen and popped the question! How many girls get to say they had two proposals?! I feel so lucky and I wouldn't change a thing about our story!"
See Whitney's engagement ring sketch by Ron Bensimon below:
Want more? Right here!
> 5 chic wedding dresses we love for Whitney Port
> Whitney Port's wedding stationery collection launches today!