Home

Elizabeth Michaels
Details
Bridesmaid Dresses, Flower Girl Dresses, Mother of the Bride Dresses, Shower + Party Dresses, Wedding Dresses, Dresses, Alterations, Private Appointments Available, Fashion Services, Fashion
Contact Info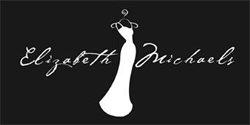 1505 Grand Central Avenue, Vienna, WV
Best Wedding Dress Shop!
Reviewed on

4/23/2014
Emily R
Elizabeth Michaels was fantastic! I went probably over 10 places in different parts of Ohio and in Parkersburg, WV, to look for dresses and tried on more than 60 (!) before I found this shop. My budget was super tight, so I knew I needed to buy off the sale racks in stores... Read More instead of the normal current-season's inventory. It was like finding a needle in a haystack and was so discouraging and frustrating (I'm not usually a crier, but my trip to David's Bridal left me crying in the fitting room). Elizabeth Michaels was exactly the kind of shopping experience I wanted/needed. Not only were the owners and employees wonderfully friendly, but they were not pushy and really listened to what I needed instead of trying to sell me something completely over my budget and outside of my personal sense of style. I think it was because they had recently taken over the store that they had so many discounted dresses, but they had an entire wall of new designer dresses (simply from previous retail seasons) marked WAY down. I got a stunning $1200 designer ballgown for $250!! Even their prices on brand new inventory, despite being over my budget, were more reasonable than at some places I'd been. I wish I'd found them first instead of wasting my time driving all over the region. They also have a great selection of formal gowns for other occasions and a section of mother-of-the-bride dresses. And their preferred seamstresses' rates were very affordable (although you can use anyone you want for alterations). I'd definitely recommend them to anyone.
---
So happy I found them.
Reviewed on

9/02/2013
Terri M
I had looked many places for my dress. Some shops didn't even care that I was there. Some shops had very little to choose from. Some shops were total chaos. And many were outrageously priced. The minute I walked into Elizabeth Michaels I was greeted and the sales rep gave... Read More me her total undivided attention. I described what I was looking for and she found the perfect dress at a price i could afford. They were very eager to please and very professional in every way. They also have a seamstress on staff so getting alterations was easy and I didn't have to go looking elsewhere. Loved my dress and the service.
---
Veil
Reviewed on

12/20/2012
Lindsey C
I went to this location looking for a veil. They were very helpful and even let me try on my dress I bought at a different location. I wish I would have bought my bridesmaid dresses from here because they had a good selection.
---
Amazing Time
Reviewed on

10/18/2012
Linda B
I found my wedding dress after Elizabeth Michaels posted pictures on their facebook page. I went in and tried the dress on and knew instantly it was the dress. The staff there worked so hard to make sure I was treated like a queen and that I got the wedding dress I wanted.... Read More They helped out with everything from picking my shoes to my veil. They were easy to work with and willing to work with my schedule because when I first bought the dress I was attending school 3 hours away and right before my wedding I was working 2 1/2 hours away. Would reccomend them to anyone.
---
Perfect!!!
Reviewed on

8/03/2012
Allie R
My experience with Elizabeth Michaels was perfect. I had gone to several other bridal shops before this one and always left stressed out and done with the experience. I was able to bring several of my bridesmaids and family to my appointment and the staff made me feel so special... Read More and not once did I get stressed. The girls all got to take part in the day and pick out dresses for me to try. Surprisingly enough I was able to pick out one from the hundreds of beautiful dresses they have and once it arrived the staff help make several suggestions on how to make the dress my own. Alterations listened to every word I had to say and made my dress fit perfectly! The day of my wedding everyone kept saying my dress looked as if it was made just for me!! I LOVED my dress and every bit of my experience with the staff at Elizabeth Micheals. I would STRONGLY recommend this shop to other brides who want to truly enjoy their dress shopping experience : ) ... THANKS ladies you were all AMAZING!!!!!!!!
---
Eh..
Reviewed on

6/15/2011
Samantha P
I found my wedding dress on theknot.com website and was lucky enough to find the dress so close to home at EM. I went in and ordered the dress and they received it in just enough time to have it altered and taken home a week before my big day. When I first tried it on, I was... Read More in love with the dress. The ladies were very helpful in advising me how to have my dress altered and I took their advise and was so excited to get my perfect dress back! I had to get the dress taken in a bit and bra cups sew into the bust, which they pinned in while I was still wearing the dress. When I got the dress back, the alterations were all wrong. I visibly had wider hips and a small waist, and the dress was taken in wayyy too much at the hips and the bra cups were sewn in too low. When I tried on the dress, I had to wear it much higher than it was supposed to be worn and it was very uncomfortable. Needless to say, the dress was great at the beginning, but I do not advise getting alterations done at Elizabeth Michaels...
---
Great shop and helpful staff!
Reviewed on

11/08/2010
Christine F
Elizabeth Michaels did my bridesmaids' dresses. Everything was ordered in time and came in the correct sizes. Pricing was clearly listed. I also purchased my bridal accessories there. They carry beautiful jewelry for any style and beautiful veils. They were super helpful... Read More regardless of how busy they were.
---