Home

Freed's Bakery of Las Vegas
About this Vendor
Creating delicious memories since 1959!
Featured on The Food Network, TLC, and more, Freed's Bakery's talented bakers and cake designers create the most unique and beautiful wedding cakes in Las Vegas. Freed's offers a large variety of wedding and specialty cakes, pastries, desserts, cookie trays, and fresh baked goods.
Details
Cake Accessories, Cake Delivery + Setup, Groom's Cakes, Cakes + Desserts





Contact Info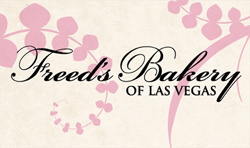 Delicious!
Reviewed on

5/27/2014
Keegan J
As a destination bride traveling from Missouri for my Las Vegas wedding, I had to rely on reviews from other helpful brides for many of my vendors. Of all the vendors I reached out to for wedding cakes, Freed's responded first and was able to provide loads of information to... Read More me. I had so many questions, and they were responsive to each and every one of them. I ordered a three tier cake and each had different flavors. With zero opportunity to taste the cakes ahead of time, I was basically going in blindly. Jamie B. contacted me the day before the wedding to confirm delivery, and the colors of the flowers for the cake. Upon arrival to the reception space I went straight to the cake and it was BEAUTIFUL! I could not wait to dig in. When the cake course came along I chose the tier with white cake and raspberry puree filling...it was the best wedding cake I've ever tasted! Soft, moist cake with sweet butter creme icing and fruity filling - so good (even the next day)! Sadly, our top tier did not travel well to keep for the one year anniversary. But the next time we're in Las Vegas we will be visiting Freed's to reenact the best way we can!
---
Yum!
Reviewed on

5/07/2014
Christy H
Our wedding cake was beautiful and tasted even better. The prices are fair and Nancy helped me decide on flavors as well as the cake size. The delivery was prompt. My only tiny complaint is the cake board was larger than it should have been for my size cake so I had overhang... Read More on the cake stand. If I would've thought to ask about this before hand I could have ensured my cake stand was the right size. I'm fairly certain I am the only one who noticed however. My favorite was the lemon layer with raspberry mousse.
---
So Good!
Reviewed on

5/06/2014
DAWN
I had a 3 layer cake from Freed's with lemon, red velvet, and chocolate as my flavors. OMG it was so good and moist and the butter cream frosting was great! I loved my cake. It looked great too. They did a wonderful job.
---
Reviewed on

3/23/2018
Leah M
We ordered a small geode cake for our destination wedding/elopement. It was just as delicious as it was beautiful. Everyone who was lucky enough to have a piece said it was the best cake they'd ever had!
---
Reviewed on

10/05/2017
Melissa C
Our cake was amazing, and the staff was so very helpful in helping us to decide on flavors! Highly recommended!!!!
---
Reviewed on

9/30/2017
Rebecca G
The best wedding cake EVER! The buttercream frosting was incredible. Also, the meeting to decide on the cake was very reassuring. We got to sample multiple cakes and they got the color scheme perfect on the final product. Freed's is the best!
---
Reviewed on

8/06/2017
Anna W
Everything was great. I would give it 5 stars but since they put writing on the cake although I said i need it blank for my own cake topper, i have to take one star off. Other then that it was super yummy
---
Reviewed on

6/18/2017
Jessica O
The sample cakes were pretty good, but the actual wedding cake was amazing. It was even better than what we expected. It was absolutely wonderful and looked beautiful. The cake was everything that we could have wished for on our special day!
---
Reviewed on

4/12/2017
Tyree H
The cake was delicious and beautiful! Not exactly what I asked for, but it was very beautiful.
---
Reviewed on

4/02/2017
Ashley S
Freed's is amazing! The process of ordering our cake and cupcakes was very quick and easy. They showed us images of different cakes to ensure it looked exactly as we wanted! They provided the stand for our cake and cupcakes so I didn't have to purchase one. Our wedding cake... Read More looked and tasted amazing!
---
Reviewed on

12/11/2016
Eden C
No wedding can go without something going wrong. Freed's Bakery was our "something wrong." We chose two dozen cupcakes to be delivered to the MGM Grand in lieu of a cake. I ordered online to be delivered on our wedding day to our in-suite wedding between 3pm and 6pm. I had... Read More chosen those times because it would mean that we would have our room number ready by that time, and it would arrive before our ceremony at 7 (guests arriving at 6:30). I clearly put instructions to call for our hotel room number as we would not have it until the day of. At about 1:30, after we had gotten our room number and were in the suite, I called Freed's to provide the room number. It was especially important because my name was listed on both the Skyline Terrace suite as well as our regular hotel room, and I didn't want the cupcakes being delivered to the empty room. First, they couldn't locate my order and I was put on hold, at which at some point 30 seconds in, I got disconnected. So I called back, and they tried to find my order again. I was told "oh, well they're already out for delivery, we organize that in the morning." That makes sense, getting organized in advance. I'm sure they deliver a lot and I get planning in advance. I asked if there's any way they can get the message to the driver, so he knows how to deliver it when he gets here. They told me they didn't know who had our cupcakes, and if the message doesn't get there, they'll leave it with the bell desk who will throw it out. This is where my husband saved the day. He called down to the bell desk to let them know about the package coming. At about 5:30, when the cupcakes still hadn't been delivered and I'm putting on my dress, I'm debating getting someone organized to go buy some cupcakes from one of the cupcake vendors on the casino floor. He called down to the bell desk, confirmed that the cupcakes were delivered there and that there was no attempt to bring them up to our hotel room according to the bell desk (the guy just dropped them there and left), and arranged for them to be delivered up to our suite. Our tip for delivery of the cupcakes went to the bell guy who delivered it to the room. I didn't have any of the cupcakes until the following day. We ordered 2 dozen for 25 guests, knowing that some wouldn't get eaten but knowing that we have a number of guests with a sweet tooth. I think we were left with about 8 cupcakes, which we ate for breakfast and then handed out to our Best Lady to eat/distribute. I will say this: buttercream frosting is an excellent cure for a hangover. All in all, the cupcakes were delicious, the price was right, but the delivery was a headache. My advice to any in-suite brides is to get them delivered the day before to your own room, and just keep them refrigerated, or plan in advance that you're going to need a trip to the bell desk.
---
Reviewed on

10/26/2016
Taryn H
Our cake was everything we could ask for and more!! We traveled all the way from Texas to have a destination wedding!! The planning and tasting was effortless!! I showed them a pic of what I wanted and it came out even better than expected!! Prices are affordable and cake was... Read More delicious!! We received lots of compliments!! We even ordered a cake for my dads birthday online while in Vegas and I was impressed on how nice the delivery guy was and willingness to find us plates and forks since we forgot!! We were very impressed and will be ordering more goodies from them the next time!! Thank you Fred's!!
---
Reviewed on

8/19/2016
Vanessa K
I originally choose a different bakery. And then I heard from my contact at the reception venue that the bakery I was using had changed owners and she didn't recommend them anymore and suggested using Freed's! I am so glad I made the change. With the 1st bakery I was getting a... Read More naked cake and was hoping to do the same and Freed's. Max told me they could definitely make one but they tend to dry out and they don't recommend eating them and that they would provide a sheet cake for free. That seemed wasteful to me so I searched pinterest for pictures and found a couple cakes that I liked. I sent them the pictures and told them what I liked about each one and the color scheme I was thinking! And it came out perfect! Even better than I imagined! It was also delicious! We went with the almond cake with a raspberry buttercream filling! Max was super helpful and easy to work with! They were also super affordable the cake was just under $200. We got a 2 tier cake that said fed 18-22 people and we had 26 people so I was a little nervous but we didn't even cut into the 2nd tier and we cut pretty big pieces!
---
Reviewed on

4/10/2016
Sydney D
Our cake turned out perfect! It was simple and elegant just what we wanted. We do not like fondant so we wanted a different icing on the outside they have a 50/50 buttercream and icing mixed together option that turned out perfect and was great tasting. We needed the cake... Read More delivered last minute to our venue rather than picking it up so we called and they helped us out over the phone and took our payment over the phone as well it was so convenient. We saved the top tier for our first wedding anniversary and we can't wait to eat it. Freed's Bakery has amazing wedding cakes and amazing treats at their location. We highly recommend them!
---
Reviewed on

3/21/2016
Jennifer J
Freed's Bakery did an amazing job on our wedding cake and groom's cake. They were beautiful and delicious. The cake tasting was so much fun with the staff and they really listened to what we wanted and delivered on it perfectly!
---
Gorgeous & Delicious
Reviewed on

11/12/2015
Kristen C
Freed's Bakery was included in my package for JW Marriot, but had it not been, I still would've came here for my wedding cake. When I went to go pick out the wedding cake, Elia helped us and she was amazing. She was so patient and kind and gave us so many options. We didn't like... Read More the cakes that came in our package so she said that we could use that as a credit and just pay the additional charge for whatever we chose. Our cake came out so incredibly beautiful and it was so moist and delicious. I wouldn't choose anyone else for a wedding cake! Our package covered about $800 of the wedding cake and we only paid an extra $200. I was very happy with it.
---
just ok
Reviewed on

11/02/2015
Catherine C
When researching I found good reviews of Freeds so much that I decided to (re)book with them. The initial contact didn't really put in our order as I found out after emailing a question to be met with a new snotty hard to work with contact. I adjustsd our order to 3 dozen... Read More cupcakes. One chocolate covered cherry, one peanut butter and one red velvet, my favorite. I found them overlym chilled moist but plain chocolate, the flavor was for the icing. I bake some and felt like I could've made them myself. The cream cheese icing on the red velvet was just way way too rich. The cherry one was marvelous I can say.
---
Reviewed on

10/27/2015
Andrea S
My cake was amazing everything I wanted!
---
YUM!
Reviewed on

9/22/2015
Christina W
Our cake was adorable and it tasted delicious. Very pleased !
---
Reviewed on

7/12/2015
Barbara E
Although I couldn't do a tasting before the wedding, I felt confident ordering from Freed's, based on all the reviews here. The consultant was very helpful on the phone and made sure we were talking about the same elements to get everything coordinated with my colors. The cake... Read More was beautiful but more importantly, tasted absolutely delicious. We did the Bride on a Budget Rose Cascade, with a bit different ribbons to match, with the top and middle layer the chocolate with raspberry puree and the bottom layer vanilla with Bavarian cream. Unfortunately, our wait-staff hadn't been told in advance they were cutting and serving the cake and cut way too small slices (and not properly) and the middle, chocolate layer never got served. Everyone gorged on it the next couple of days in our suite, though, and it was amazing! I definitely recommend them!
---
Great Cake, Bad Customer Service
Reviewed on

5/06/2015
Shelly F
Freed's really gets 3 1/2 stars, but The Knot does not give that option. This was the vendor for my all-inclusive wedding in Las Vegas. The cake was excellent, but the communication left a LOT to be desired. I first got in touch with Jayme, the contact person assigned to my... Read Moreauyfcbefvrafaxtfuutwwtrufxwrzdburayxxw venue. I contacted her by phone and received some good information. Things only started going downhill when I tired to communicate with her by email, which was necessary as I lived in a time zone with a three hour time difference from Las Vegas. After several emails with no response, and a phone call with no response, I finally had to ask my venue to intervene. I received a phone call promptly with excuses for why my emails were not received, but it was all very "dog ate my homework." However, Jayme did make up for it by upgrading my wedding cake at no charge, which went a long way to alleviating my annoyance. I continued to have communication issues leading all the way up to the day of the wedding, when the delivery person called me to get the number for the venue. Since my venue uses Freed's almost exclusively, I was mystified as to why they would call the bride on her wedding day to get a phone number. I worked with several vendors through my venue and this was the only vendor through my venue that I had any issues with. Given these issues, I was quite skeptical about how this cake was going to turn out. Luckily, it was AMAZING! We got chocolate/chocolate mousse, vanilla/strawberry filling, and carrot cake/cream cheese filling. Everyone talked about how delicious and moist the cake was. It also looked beautiful. So, to sum up: if you like excellent cake and have a lot of patience, Freed's Bakery is the place to go.
---
Freeds Bakery Review
Reviewed on

1/15/2015
Lauren S
After contacting numerous bakeries in the lead-up to our December 2014 wedding, I was beginning to get frustrated by the outrageous prices and poor communication. Then I contacted Freed's and I instantly felt at ease. The staff responded to our queries promptly and assured us... Read More that they could make the cake that we wanted. We went with a two-tier, white fondant-covered cake with black ribbons and fresh pink roses. It was a simple design but it looked awesome. One tier was white cake, the other was chocolate. Our filling was chocolate buttercream and the frosting was regular buttercream. It was delicious. I'd highly recommend Freed's to other Vegas brides and grooms.
---
Cake of my Dreams...and YUMMY too!
Reviewed on

10/24/2014
Jennifer M
I was originally supposed to have a cake provided through the chapel we were getting married at, however, the people who supplied the cake were a bit limited and I had something specific I really wanted that I had found a picture of online. After some negotiating I was able to... Read More order my cake through Freed's and am I ever glad I did!! The cake was just beautiful and it matched exactly what I wanted. They even matched the flowers from my wedding to put on the cake. As far as the taste of the cake; all I can say is YUMMY! Everyone just loved it and it got demolished. The cake isn't super sweet, it's just perfect, moist and delicious. I plan on going to Vegas for our 1st anniversary and ordering another small cake so I can actually enjoy some with my husband since I barely got a small piece on my wedding day!!
---
Delicious Wedding Cake on a Budget
Reviewed on

10/19/2014
Korie M
I booked Freed's Bakery about 2 weeks before my wedding day. I have gotten their cupcakes before and they were a big hit at the office. The wedding cake did not disappoint! We ordered a two tiered basic wedding cake with 4 or 5 dozen of their signature cupcakes, all within our... Read More limited budget. The cakes were delicious, affordable, and a big hit with our guests. The customer service in the cake ordering department and on the day of pick up was outstanding! Thanks Freed's Bakery! Definitely recommended.
---
Exactly what we wanted
Reviewed on

10/14/2014
Rachel H
We ordered our wedding cake along with cookies for our cookie bar from Freed's, and we were not disappointed! We were unable to do a tasting because we live out of state, so we put our trust in other positive reviews. Our cake was lemon flavored with Bavarian cream filling and... Read More buttercream frosting, it was delicious! Our guests loved it. Our cookies were hit, everyone enjoyed them. Freed's sells cookies based on weight, and because I asked for a specific number of cookies rather than a specific weight of cookies, we had to estimate the cost beforehand. Janie contacted me afterward to notify me that she would refund us the difference because our cookies ended up being less expensive than anticipated. Great customer service, great baked goods!
---