Home

Freed's Bakery of Las Vegas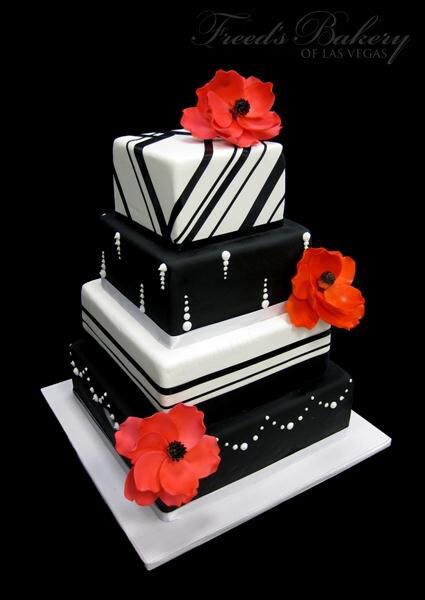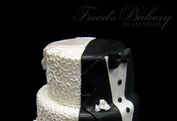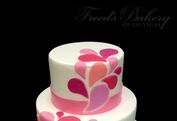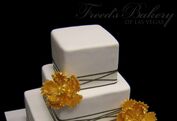 About this Vendor
Creating delicious memories since 1959!
Featured on The Food Network, TLC, and more, Freed's Bakery's talented bakers and cake designers create the most unique and beautiful wedding cakes in Las Vegas. Freed's offers a large variety of wedding and specialty cakes, pastries, desserts, cookie trays, and fresh baked goods.
Details
Cake Accessories, Cake Delivery + Setup, Groom's Cakes, Cakes + Desserts
Contact Info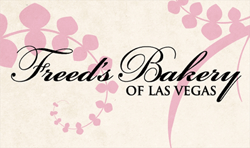 9815 South Eastern Avenue, Las Vegas, NV
Delicious!
Reviewed on

5/27/2014
Keegan J
As a destination bride traveling from Missouri for my Las Vegas wedding, I had to rely on reviews from other helpful brides for many of my vendors. Of all the vendors I reached out to for wedding cakes, Freed's responded first and was able to provide loads of information to... Read More me. I had so many questions, and they were responsive to each and every one of them. I ordered a three tier cake and each had different flavors. With zero opportunity to taste the cakes ahead of time, I was basically going in blindly. Jamie B. contacted me the day before the wedding to confirm delivery, and the colors of the flowers for the cake. Upon arrival to the reception space I went straight to the cake and it was BEAUTIFUL! I could not wait to dig in. When the cake course came along I chose the tier with white cake and raspberry puree filling...it was the best wedding cake I've ever tasted! Soft, moist cake with sweet butter creme icing and fruity filling - so good (even the next day)! Sadly, our top tier did not travel well to keep for the one year anniversary. But the next time we're in Las Vegas we will be visiting Freed's to reenact the best way we can!
---
Yum!
Reviewed on

5/07/2014
Christy H
Our wedding cake was beautiful and tasted even better. The prices are fair and Nancy helped me decide on flavors as well as the cake size. The delivery was prompt. My only tiny complaint is the cake board was larger than it should have been for my size cake so I had overhang... Read More on the cake stand. If I would've thought to ask about this before hand I could have ensured my cake stand was the right size. I'm fairly certain I am the only one who noticed however. My favorite was the lemon layer with raspberry mousse.
---
So Good!
Reviewed on

5/06/2014
DAWN
I had a 3 layer cake from Freed's with lemon, red velvet, and chocolate as my flavors. OMG it was so good and moist and the butter cream frosting was great! I loved my cake. It looked great too. They did a wonderful job.
---
Reviewed on

7/12/2015
Barbara E
Although I couldn't do a tasting before the wedding, I felt confident ordering from Freed's, based on all the reviews here. The consultant was very helpful on the phone and made sure we were talking about the same elements to get everything coordinated with my colors. The cake... Read More was beautiful but more importantly, tasted absolutely delicious. We did the Bride on a Budget Rose Cascade, with a bit different ribbons to match, with the top and middle layer the chocolate with raspberry puree and the bottom layer vanilla with Bavarian cream. Unfortunately, our wait-staff hadn't been told in advance they were cutting and serving the cake and cut way too small slices (and not properly) and the middle, chocolate layer never got served. Everyone gorged on it the next couple of days in our suite, though, and it was amazing! I definitely recommend them!
---
Exactly what we wanted
Reviewed on

10/14/2014
Rachel H
We ordered our wedding cake along with cookies for our cookie bar from Freed's, and we were not disappointed! We were unable to do a tasting because we live out of state, so we put our trust in other positive reviews. Our cake was lemon flavored with Bavarian cream filling and... Read More buttercream frosting, it was delicious! Our guests loved it. Our cookies were hit, everyone enjoyed them. Freed's sells cookies based on weight, and because I asked for a specific number of cookies rather than a specific weight of cookies, we had to estimate the cost beforehand. Janie contacted me afterward to notify me that she would refund us the difference because our cookies ended up being less expensive than anticipated. Great customer service, great baked goods!
---
Delicious
Reviewed on

7/20/2014
Caprice B
My cake was absolutely delicious, i had a three tier cake and did a different flavor for each tier/
---
Delicious cake!
Reviewed on

5/05/2014
Carolyn W
The cake was not only beautiful but delicious! We did a 50/50 frosting and the center was raspberry Bavarian filled. I highly recommend Freed's for any occasion which requires a cake or baked goods!
---
Perfect!
Reviewed on

4/27/2014
Rita-Rae' C
I was attracted to Freed's because the offered a "Bride's on a Budget" menu. I live on the east coast and was planning my Las Vegas wedding from there. After several phone calls back and forth because of my indecisiveness I finally picked a cake and paid. My wedding guest loved... Read More the cake my husband and myself didn't have any but we plan on visiting Freed's when we return.
---
Beautiful, Delicious & Affordable
Reviewed on

4/10/2014
Maria R
They have a great variety of options. All are delicious, so much so that I had each tier done in a different flavor. We felt that the price was more than reasonable for the style, size and selection. It was a hassle-free decision. We told them what we wanted, they delivered, and... Read More we ate. Couldn't ask for anything more.
---
Shockingly Stunning
Reviewed on

4/01/2014
Susan O
Freed's provided my wedding cake.. With the Las Vegas as a destination wedding for our 80 guests, we chose the Viva Las Vegas cake. Now, I assumed it would just be a cute cake fitting the theme but I clearly underestimated Freed's. The picture did not do it justice.. sure, the... Read More cake was cute but it was also BEAUTIFUL.. It somehow sparkled and was absolutely stunning! Matched to its beauty was the taste.. I'm glad I ordered larger than I needed because my guests were requested seconds and thirds of the cake even though there were other desserts served at the reception. I'm so thrilled! My favorite comment on the cake came from my brother.. I had asked him if he liked my cake.. he said he didn't see it.. I pointed it out and he said "Oh wow..I thought that was a beautifully wrapped present" and then he questioned me that it was really a cake..So cute!
---
Delicious!!
Reviewed on

3/27/2014
Catherine A
My cake was beautiful. Exactly as we had planned together. Everyone loved it!! We got so many compliments!!
---
Classy Cake
Reviewed on

3/23/2014
Renee W
I ordered a red velvet 6 inch cake with their 50/50 frosting. It was delicious. I ordered over the phone (I live in Colorado) and described my simple design request and they did it perfectly. It looked amazing and tasted even better. Yum! Their Napoleans are also incredible!
---
Excellent Price, Excellent Quality
Reviewed on

3/20/2014
Casey C
We opted for a 2 tier cake in their bride on a budget category to feed about 20 people. It came with 2 flavors and fillings and was decorated perfectly! The taste was amazing and you couldn't beat the price. Well done Freed's!
---
Not what I expected...
Reviewed on

2/15/2014
Crystal W
I went to Freed's to order a groom's cake because I had seen some of the awesome cakes they did while visiting the bakery. When I sat down with the consultant, I showed her the exact cake I wanted. She then spent the next ten minutes searching for a similar cake they had... Read More already done, insisting on selling me that one. When I decided on the design, I had to ask if I could taste the flavors. It felt awkward as the consultant just sat there looking at stuff on her computer like I was inconveniencing her. Then she seemed surprised that I actually wanted to order the cake. It's like she was just waiting for me to leave. Along with the cake, I ordered an additional two fondant pieces at $25 each to place on my wedding cake that was being made somewhere else. A few days after I ordered the cake, I decided that instead of having the baker hand paint/frost the cake, I would have them print a photo instead. I thought this would be easier/less time consuming. When I went to make my final payment, only then was I informed there would be an extra charge. On the day of the wedding, I sent a friend of mine to pick up the cake and fondant pieces. When we all arrived at the venue, I saw that the bakery had shorted me one of my fondant pieces. They counted the one that had had already been included in the price of the groom's cake as one of the two extras that I ordered. So I was out $25 and the embellishment I had wanted for my wedding cake. The cake itself looked good and tasted good. But the customer service left something to be desired. I always anticipated the cake tasting/ordering to be one of the more fun aspects of wedding planning, but this put it towards the bottom of my list.
---
The Copper Affair!
Reviewed on

12/02/2013
Linda K
It was simply gorgeous! Having a very naturalistic theme to our Italianate Wedding, it just looked lovely--so many compliments from our guests!
---
Best. Cake. Ever.
Reviewed on

11/13/2013
Stephanie N
We originally wanted to go with Retro Bakery for our October 12, 2013 wedding, but when I emailed them about a month and a half out they said they were all booked up for that day. They suggested we look into Gimme Some Sugar or Freed's Bakery. Based on reviews from TK... Read More (especially vegasgroom) we went with Freed's. Rather than have the cupcakes at the restaurant since desert was included we had it at our suite after the dinner. We had a cupcake tower with a 6 inch cake for cutting. I'll try and add a picture of it; it came out perfectly and was just like the pictures I saw online. For the cake top we had white cake with Bavarian cream and raspberry filling and vanilla buttercream icing. We had assorted cupcakes; a mix of chocolate, vanilla, red velvet and carrot. The cake and cupcakes were the absolute BEST I have ever tasted in my life. Everyone raved about it. Not only did it look beautiful, but it also tasted divine! We got it delivered and while it was almost late, it did arrive on time. I requested delivery between 12noon and 2 pm, and around 1:20 the driver called and asked if it would be okay to come at 2:20pm. I told him that wouldn't work because we were getting picked up to go to the chapel around that time. The driver said he would be there by 2:00 and he was. He set up the tower and was quite professional. One of the most heartbreaking parts about the trip was when we left and had to leave behind some cupcakes. I can't say enough good about them; I'm sure I'll be dreaming about the cake for months and months. Highly recommend!
---
WOW!!
Reviewed on

10/03/2013
Melissa B
1 word... WOW. We contacted Freed's because they were on the preferred vendors list at Maggianos (where we were having our reception). I found a cake I loved from their website and contacted them. They were very friendly and professional from the first second and we were able to... Read More do everything over the phone and through email because I was planning my reception from San Antonio, Texas. Now, because I was planning this from another state and had never even tried Freed's, so I was VERY nervous. All I had to go on were reviews. They delivered our cake to Maggianos ahead of the reception and so it was all set up when we got there. WOW!! It was AMAZING!!! So much better than the pictures. As a matter of fact I posted a pic on twitter and a friend said it looked like a masterpiece. As awesome as the cake was, it tasted even better! I've never had a moist wedding cake before and it was so yummy. Our guests are STILL talking about how awesome the cake was. The hubby and I don't like fondant but because of the design of the cake, we had to do fondant. Freed's assured me that theirs was different. She was right. It was soft, creamy and not like any other fondant I have had. Thanks Freed's for a PERFECT cake. Would TOTALLY recommend!
---
Beautiful yet simple
Reviewed on

9/17/2013
Tara D
The cake was exactly what we had asked for and tasted so yummy! It was very simple but had just the right amount of bling!
---
My fairytale wedding
Reviewed on

5/12/2013
Julie D
Our cake was beautiful, I had a picture of a design I wanted and they were able to take the picture and make even better. They provided a very pretty stand too. The cake was moist and delicious.
---
DELICIOUS and BEAUTIFUL cake!
Reviewed on

5/01/2013
Amy F
Our cake turned out so beautiful, and it tasted even better. We got a 3-layer cake, and every layer was a different flavor with a different filling. I highly recommend the almond cake with Amaretto non-dairy mousse! Our consultant was very helpful and helped us through the... Read More process. They dropped our cake off at our reception site for us.
---
Wonderful and fun wedding cake!
Reviewed on

4/16/2013
Larisa H
Freed's Bakery is outstanding! From their unique, fun, beautiful, and wonderful tasting cakes, to their customer service and timeliness, I had a great experience overall! I received so many wonderful compliments on our Las Vegas wedding cake, and still have people raving over... Read More the photos of the cake!
---
Nice cake
Reviewed on

4/14/2013
Lauren W
Cake was nice, but kind of expensive for what it was. I got the chocolate Bavarian and it was a bit dry.
---
Loved our Cake
Reviewed on

4/03/2013
Alysha T
Our cake was beautiful and tasted delicious!! We even brought our top layer home with us :)
---
Short notice
Reviewed on

3/30/2013
christine d
I really was on short time when I ordered/booked my cake. I am from out of town and really wanted to taste the flavors before committing. Soooo the first stop when we arrived in Las Vegas was Freed's bakery. I already researched their website and knew I was going to get my... Read More cake from there, but really, they made it happen for me when I ordered the cake 4 days before my wedding (for about 65 guests). I am so grateful they have the ability to accommodate last minute brides like myself. Thanks!!!
---
Amazing Cake
Reviewed on

2/25/2013
Jacqueline M
I have read nothing but great review about Freeds that I had to give it a try. So I ordered my cake over the phone and it was a breeze. I went with their bride on a budget cakes so I picked the golden wedding cake and they customized it to our wedding colors of silver, black,... Read More red and white. I picked chocolate, white and marble cakes with bavarian cream filling and white frosting. I had them deliver the cake to my reception site. Everything was wonderful all the cake flavors were great (I had to take a bite of them all). I didn't want the fondant frosting since I don't like the taste. That's why I picked the white frosting and it was just what I wanted for flavor. We had more than enough cake for 30 people with 4, 6, and 8 inch round cake. Don't let the word budget fool you this cake looked and tasted amazing and was in my budget.
---