Home

Morning Glory Coffee And Pastries
About this Vendor
Award-Winning Wedding Cakes for Every Budget!
Wedding consultations are by appointment only so that our Executive Pastry Chef Debbi Gilliland can give you her undivided attention while you enjoy a tasting of our huge selection of cakes, frostings, and design options.
Details
Cake Accessories, Cakes + Desserts

Contact Info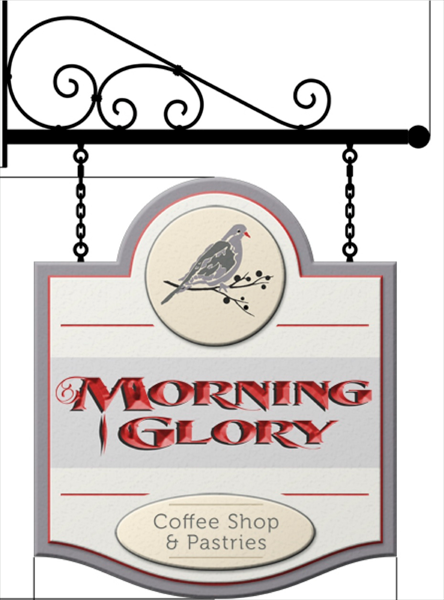 Love Morning Glory's cake!
Reviewed on

10/06/2013
Mike M
I got an unbelievably delicious and gorgeous cake to assist in my proposal to my soon to be wife. We have an appointment later this month to pick out our wedding cake. Both my fiancé and I cannot wait for the tasting!
---
LOVED the tasting, can't WAIT for the cake!
Reviewed on

10/05/2013
Mary Anne B
My fiancé and I recently met with Jenn to select our wedding cake. I cannot believe how many options there were. I can't wait to slice into our cake as husband and wife ( I am already dreaming about it MAINLY because I am on a strict diet before our November 2013 nuptials;)
---
Macaroons for rehearsal dinner
Reviewed on

10/04/2013
Jack C
When we booked a rehearsal dinner, we weren't too thrilled with the dessert options at the restaurant and really didn't want to do a cake. So we had Morning Glory make macaroons for us and they were delicious! Our guests loved them and they made the dinner even that much more... Read More memorable.
---
Reviewed on

1/17/2018
Nina M
Our wedding cake was AMAZING! My wife and her family are gluten free, so we were really excited to find a bakery that could do a wedding cake gluten free, in many different flavors, and have it taste sooo good! When we went in for the cake tasting we couldn't get enough, it was... Read More all so good. Mary was very helpful in accommodating our dietary needs while designing the cake of my wife's dreams. The cake turned our absolutely beautiful, chocolate and yellow cake torted with white chocolate mousse covered with buttercream icing. Maybe the best part was the cake texture; most gluten free cakes are quite dense and somehow Mary and the Morning Glory team created a gluten free cake that was light and full of flavor. Thanks for making an amazing cake everyone could love!
---
Reviewed on

10/11/2017
LaRita L
My cake from morning glory was beautiful and delicious. My guests are still talking about my wedding cake. You guys rock and exceeded my expectations for my wedding on 10/07/17.
---
Reviewed on

9/28/2017
Anna C
The cake was fantastic! It was delicious and made beautifully. We had several compliments on the taste. It was a reasonable price and they were very easy to work with. Highly recommend to any couple in the Detroit area!
---
Reviewed on

12/19/2016
Kelly Z
All I can say is YUM. Morning Glory created my wedding shower cake and my wedding cake, I couldn't get enough! The cake was delicious and very moist! We ordered too much, froze it, and have been eating it slowly for the past few months, and it's still as delicious as it was on... Read More day 1. All of my guests commented on the wedding cake being the best they ever had! If you're questioning this place, do yourself a favor and book them.
---
Reviewed on

8/05/2016
Alison D
Melissa created a custom groom's cake for us, and it was phenomenal! The price was so fair and reasonable, and the quality was beyond expectation. She even added to the design beyond what I asked for, and made it even better. We didn't actually eat the cake, because when we cut... Read More it all we got was fondant, but that's okay! We'll see how it tastes next year.
---
Tasty cupcakes, poor planning
Reviewed on

10/29/2013
Allison H
These cupcakes are the best!! However, I was given 4 days notice that the baker forgot to order our cupcake stand and was promised it would only cost $20. 4 days before the wedding, she calls and says it'll cost $100 because her friends couldn't get her a better deal. I was very... Read More disappointed with the way she handled the situation.
---
Great cake
Reviewed on

10/03/2013
Justin N
The cake Morning GLory made for our wedding was both beautiful and delicious. And the selection process was easy and not stressful at all - I highly recommend them!
---
Great Experience
Reviewed on

10/03/2013
kelsi l
Wedding Day started out incredibly FRESH & SWEET! I am so glad I found Morning Glory on this site. They made breakfast the morning of my best friend's wedding amazing. She chose to do hair and make up at her mother's home in Grosse Pointe. Our only problem was how to feed about... Read More 20 people. I preordered breakfast wraps, pastries, cookies, and cupcakes. Each bite was better than the next. Everyone knew better than to think I created all of the deliciousness. All the credit and my thanks to the staff!
---
Cannoli Heaven
Reviewed on

10/03/2013
Lara V
Coming from an Italian family I am always on the hunt for the perfect cannoli, without a trip overseas. My search was over once I went to Morning Glory. We ordered over 100 for the brunch the day after our wedding. Thankfully Morning Glory delivers which made things even easier... Read More on us. Guests were literally fighting over them and I still dream of them.
---
Our wedding favors were incredible!!
Reviewed on

10/03/2013
MELESSA M
Morning Glory created our "gift" to guest who attended our wedding. We wanted to do something that reflected us. My family is in the pizza industry (no shameless plug). These great folks created pizza cookies! They looked like the real thing and tasted even better. Our guests... Read More were so impressed and loved each & every bite. THANK YOU so much for being a part of our special day.
---
AMAZING Wedding Cakes!
Reviewed on

6/11/2013
Lauren N
My husband and I were married last September and we used Morning Glory as the vendor for our wedding cake. I could not have been more pleased! Our experience was GREAT from start to finish. We went in on a Saturday morning for our tasting and they had every flavor of cake and... Read More frosting imaginable to sample. I had also brought in a small photo (which I cut out of a magazine) of my dream cake, in hopes they could replicate it...And they did!
---
Macaroons
Reviewed on

6/06/2013
Megan M
I recently hosted an engagement party and needed a dessert - preferably unique & different. I wandered into Morning Glory to do some "window shopping". Their staff couldn't have been more upbeat and helpful. After nearly drooling all over their colorful display case I decided on... Read More macaroons. My guests and I were not disappointed. Perfectly sweet, light, and delicious. I will be returning, hopefully soon. Thank you!
---
Amazing wedding cake
Reviewed on

5/29/2013
kristen m
I ordered my wedding cake from Morning Glory in June 2012. It was absolutely beautiful-3 layers alternating polka dot and stripes in chocolate and white. They also provided a classy silver cake stand. I'd like to post a picture--it was delicious and affordable too.
---