Exclusive: Everything to Know About the 'All My Life' Wedding and Proposal Scenes
The film is based on a true story.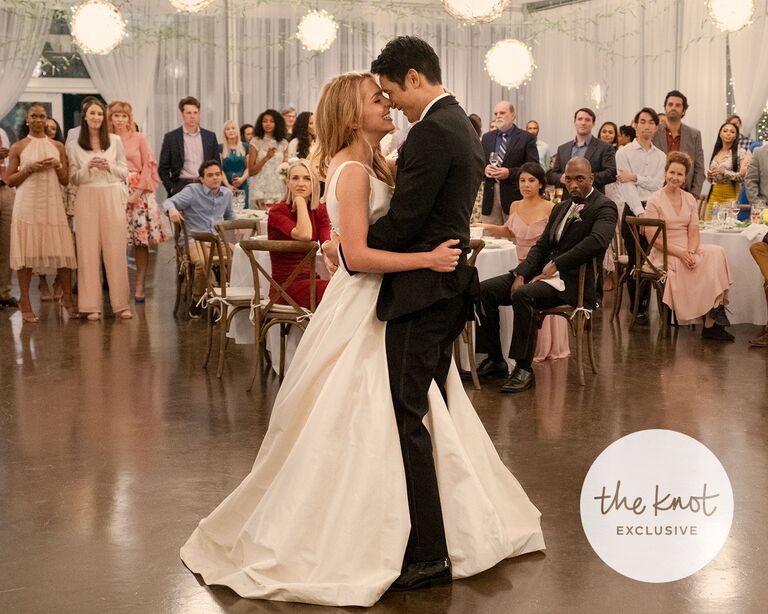 Patti Perret / Universal Pictures
In a year where loss has been profound, All My Life, the movie, is a poignant look into celebrating life's greatest moments, like weddings, during difficult times. The film, starring Harry Shum Jr. (whose movie and TV show credits include Crazy Rich Asians and Glee) and Jessica Rothe of Happy Death Day, is based on the true love story between Solomon Chau and Jenn Carter, a couple who in 2015, accelerated their wedding timeline after discovering the groom-to-be had a rapidly dwindling and finite amount of time left on earth.
The Knot has the exclusive first look at the wedding and proposal details featured throughout the movie. Check out all the unique elements of the All My Life movie wedding, and an exclusive clip from the film (out in theaters Dec. 4) below.
The Proposal Was Reminiscent of 2015
When Chau and Carter got engaged in 2015, flash mob proposals had emerged as a proposal trend. Since footage from the actual moment doesn't exist (proposal photographers hadn't become a thing just yet), original screenwriter Todd Rosenberg dove deep into his conversations with Carter to bring the moment to life. "We wanted to keep things really close to their experience. The engagement itself was amplifying what their experience was like," he says.
Costume designer Christina Flannery chose another popular piece of clothing in 2015: she threw a Members Only jacket on Shum. "The day they got engaged, we didn't want people to know what was going on," she says. "We kept it casual: a collegiate look for Jess, making it seem like another casual day. The other characters, meanwhile, got to bring out their Sunday best. And then we put Harry in a Members Only jacket as we didn't want viewers to know what was going on."
The engagement ring featured in All My Life was a collaborative effort between Jenn Carter, Flannery and the production designer. "We wanted it to be a nod to their original engagement ring as well," Flannery notes.
Dress Shopping Took Place in a Real Bridal Boutique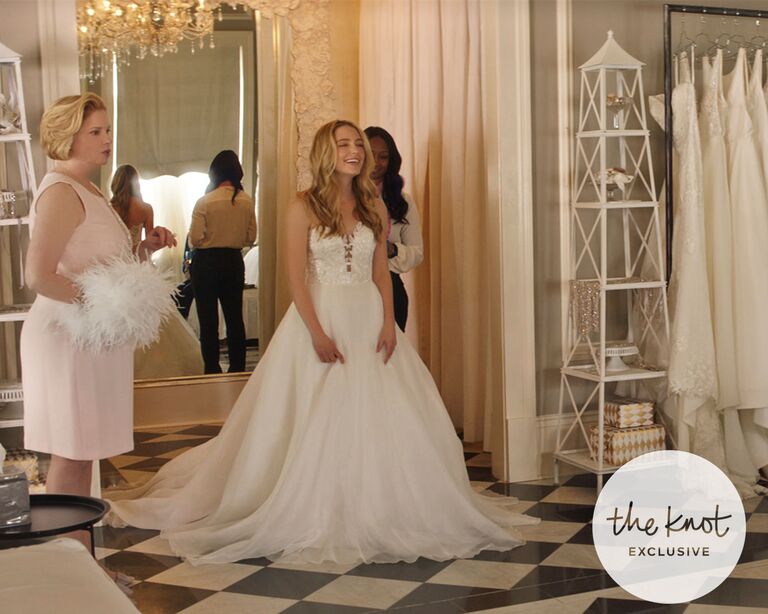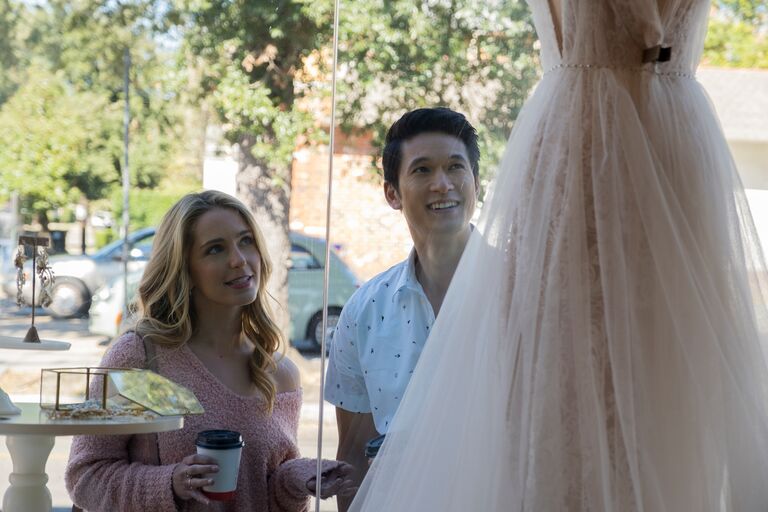 In the movie, the bride-to-be takes her inner circle to a local bridal boutique to try on gowns, an age-old ritual documented from Bridesmaids to Bride Wars. The scene in the All My Life movie was shot in a bona fide bridal boutique in New Orleans.
"We took [director] Marc Meyers to three or four bridal boutiques. It was a running joke: 'Three guys walk into a bridal shop,'" says production designer Chris Spellman. "We settled on one that was in Uptown New Orleans. It's a working bridal boutique, and we went in and rearranged things. We had to redress and reorganize parts of it, and then we shot the scene in an existing place."
The 'All My Life' Wedding Dress Is Romona Keveza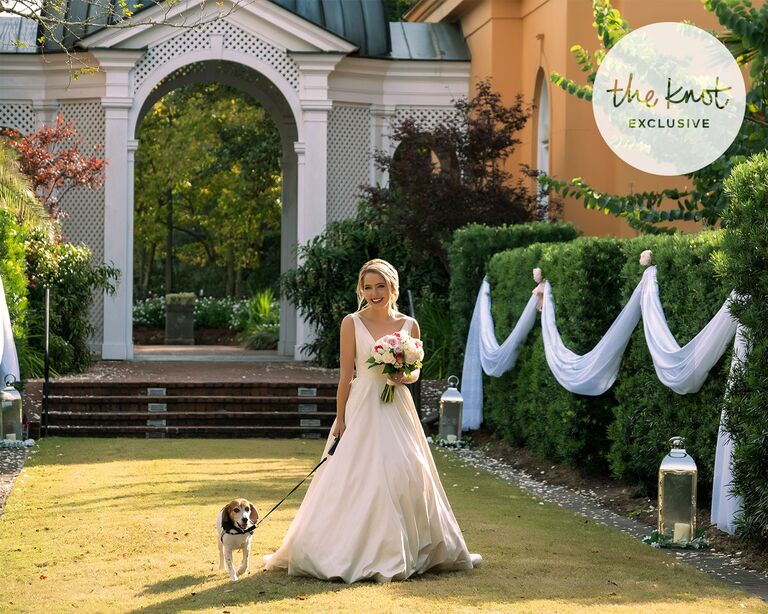 Luxury bridal designer Romona Keveza was the name behind the on-screen wedding dress worn by actress Jessica Rothe. The costume department wanted to keep much of the design aesthetic as close to Jenn Carter's wedding dress. The perfect fit, it turned out, did exist—and it nearly didn't make it into the film.
"The UPS guy put the Romona Keveza on the recycling bin, which went out for trash that day. You would never think this box was the wedding dress," says Flannery, who was frantically searching for the gown that morning. "I walked out to find it and sure enough, it was the recycling bin. Had I been shopping, I would've lost this $10,000 dress, the perfect gown for Jessica almost went into the recycling. It worked out."
Prior to fittings, the team concluded the gown had to flow a certain way in water, because there is a scene that involves a fountain. "The dress is aspirational: a big, beautiful Cinderella moment, and we knew it would be in water," adds Flannery. "So the dress had to be able to float around in that and look magical and beautiful. It was really heavy and Jess was a trooper."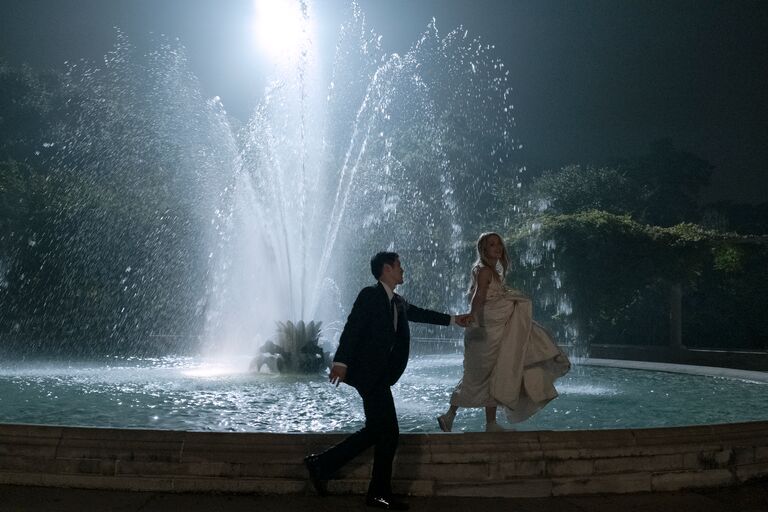 Both Rothe and Shum had very minor alterations for their wedding day looks. The groom was fitted appropriately in a go-to brand too. "Hugo Boss does suits like nobody's business," Flannery notes. "I had a lovely store in New Orleans that worked with us on getting everything. He is also gorgeous, and it was very minimal with the alterations he needed as well."
Finding a Venue Proved Challenging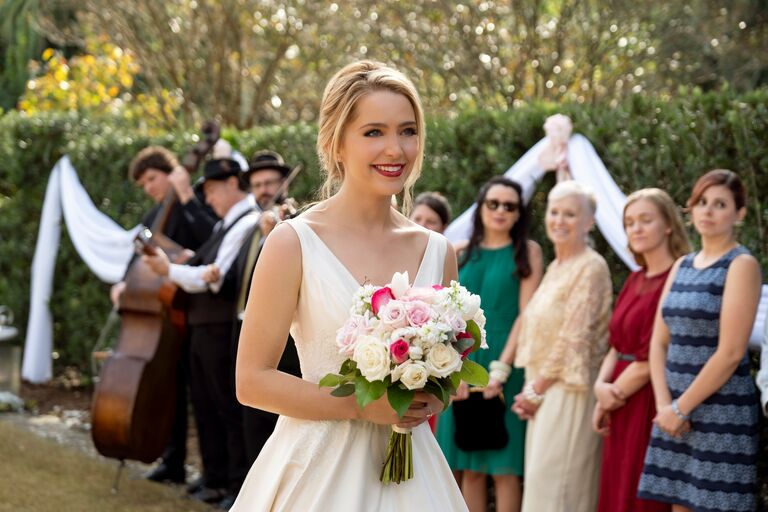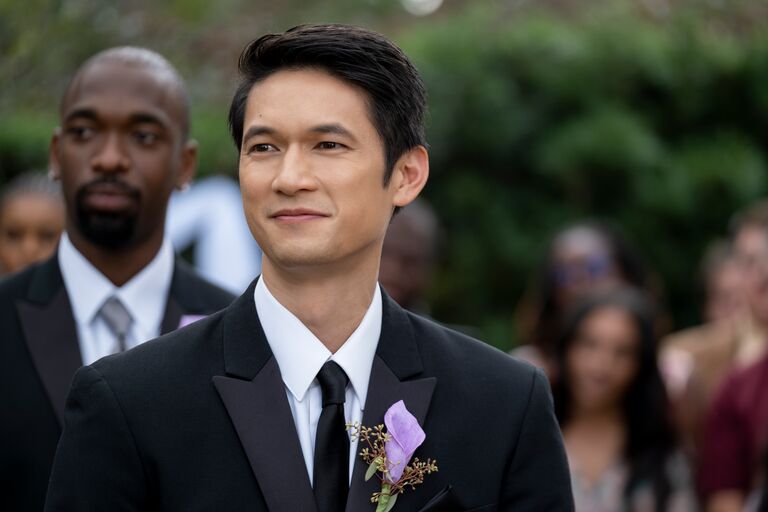 Movie crew… they're just like us. Narrowing down a venue and a date is one of the most challenging checklist items while planning a wedding. The team learned this as they scoured all of New Orleans for a venue that worked with their needs. "I wanted to make sure the ceremony was cinematic and visually pleasing," says Spellman. "We saw other venues where normal weddings are held in town, but real couples were booking these places too, so we had to find a time frame. But we were competing with real weddings."
Eventually, the team settled on an alcove in City Park. "It was serendipity," notes Spellman. "We were scouting a number of places in this huge area. We wound up in this area between two venues, and it had that long walkway in between and the circular center."
"For the wedding and reception sets, we decided to incorporate the natural colors and elements provided by the park, like the statues and established botanical gardens, into the aesthetic in our decorating choices," elaborates Jonathan Cappel, the film's set decorator. "The gardens did most of the work for us; it is already a beautiful location and did not need much help to make it look spectacular."
Since filming took several days, the crew couldn't use real floral arrangements. "We used Afloral, which carries an excellent real touch flower that looks better and feels real to touch compared to most silk flowers," Cappel notes. "Many of the vines, grapevines, garlands, and vases were purchased from Earl J Doescher, Inc. which is a wholesale floral gift supplier in Arabi, Louisiana. They offer a larger selection and quantity than most craft stores carry."
The Wedding Was Hyper-Personalized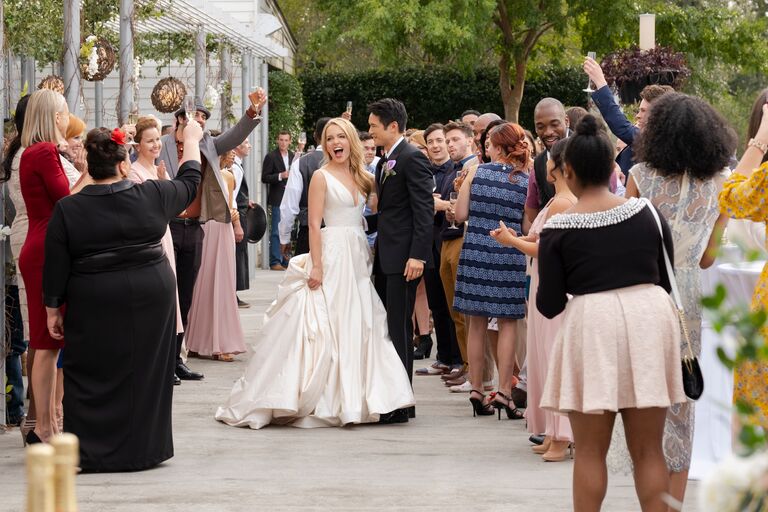 Considering Sol's condition, the pair infused as much sentimentality into their 2015 wedding as possible. Details included everything from food prepared by the groom to adorable bridal sneakers for the reception, a nod to their love of dancing. In one scene, Jenn wears a pair of blue Converse sneakers, which the real-life bride donned on her wedding day. "It was the 'something borrowed, something blue,'" explains Flannery. "It was special that we could do that."
"I did a deep dive," says Flannery. "I took a lot of time looking through Jenn's Facebook pages and doing research on them as a couple… There's a lot of details, like the Converse sneakers. There was this adorable photo of Jenn in a red dress with cowboy boots, so throughout the film, we wanted to do cute nods to her to make it authentic."
The crew, on their end, wanted the wedding reception to be perceived as intimate. "We wanted it to feel both ideal and accessible to the viewers, not too stuffy or formal, but rather light and fun," explains Cappel. "The reception was also meant to highlight our food and drink presentations, as food and drink are such a major part of our characters' lives." Furniture rentals came from Element Event Rentals in New Orleans and other local prop shops.
It Pays Homage to the Wedding Industry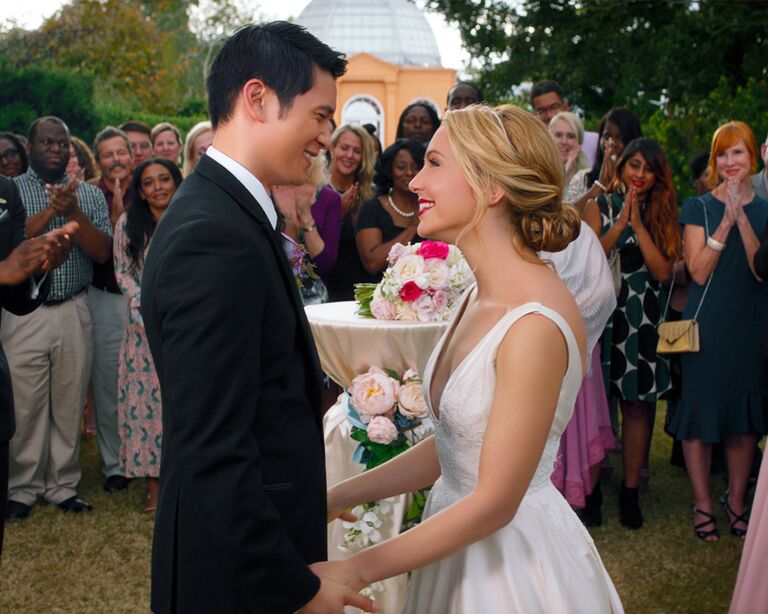 Part of the film focuses on how Chau and Carter's love story inspired America as they were in the race to plan their dream wedding in two weeks. Due to hefty medical bills, the pair wasn't originally able to throw their intended wedding and decided briefly to put their plans on hold. With the couple's blessing, their friends thoughtfully launched a fundraiser online (see the exclusive clip above), which received an immense amount of support and generosity from strangers around the world—including the wedding industry.
With the generosity of local vendors, the pair received their venue at cost and their wedding planner (a bit of comic relief) even offered his services "gratis," he quips in the film. The bridal boutique owner gifts the gown to the bride-to-be, and the goodwill of specific vendors shines as they're planning.
In short, the industry has long been charitable, and their acts of giving can only be sustained with support. Plus, they're the pros. "I learned there are lots of vendors involved in an event: vendors with chairs, those with fabrics, those handling flowers, the plates, the food," says Spellman. "Then you're dealing with the musicians and the photographer; and the lighting is a big part of it. It takes a certain type of individual to be able to deal with those moving parts, the time frame and a budget."
Check out The Knot Marketplace today to explore all your local vendors if you're planning a wedding.
Inspiration Was Gathered From The Knot
Surprise! There's a cameo of The Knot Magazine in the film. Without spoiling too much, we'll say this: the entire issue is marked with tips from our editors. The Knot inspired the crew too. "I researched and looked at other wedding films, cinematically speaking," says Spellman. "I also bought magazines that I normally wouldn't buy and went on websites that I normally wouldn't go onto."
Read our Winter 2020 Issue featuring cover girl Heather McMahan. All My Life arrives in theaters December 4.