How to Mourn With Your Partner
Loved ones and miscarriages, included.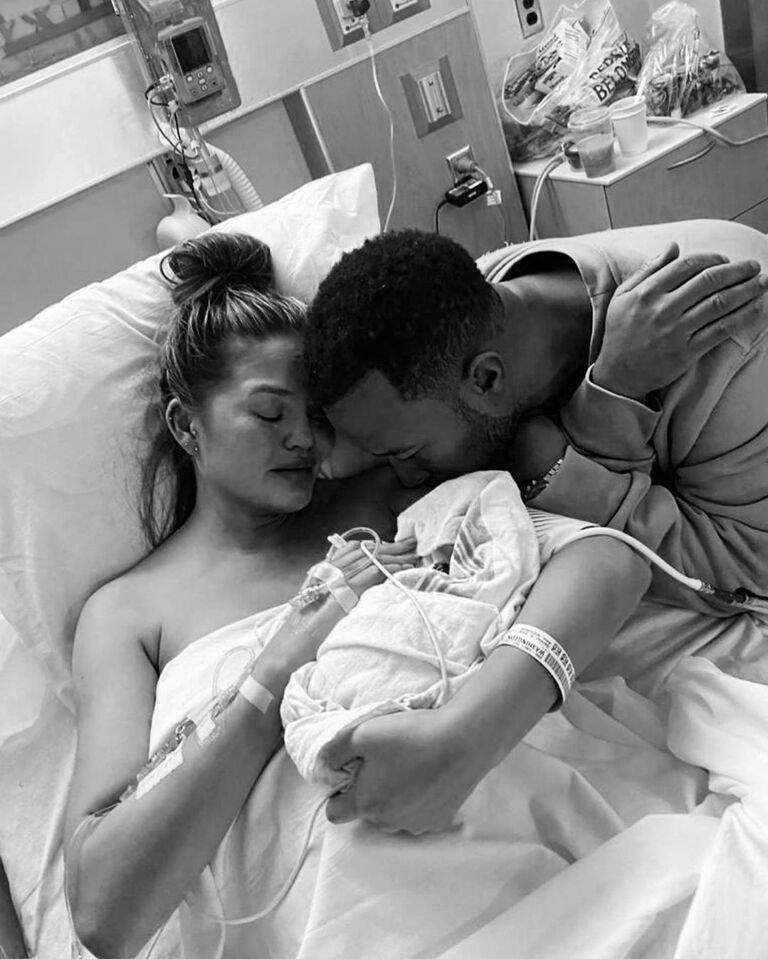 Chrissy Teigen / Instagram
Mourning and grieving are a part of the human experience, but much of 2020 has especially been marked by loss. Whether it's the loss of a loved one, a miscarriage, or general future plans, the process is heavy and often the burden is shared between partners.
"Each person mourns differently and it's often a surprise to individuals just how they mourn," says Dr. Marion Rudin Frank, a licensed psychologist with a private and group practice in Philadelphia. "This is, without doubt, the rockiest of times… You must hold onto each other." As the pandemic has fundamentally changed how humanity is experiencing loss, here are some basic tips for mourning with your partner and experiencing grief therapy during a challenging time.
If You're Mourning a Parent or Sibling
Whether it's parents, grandparents or a sibling, the loss of a direct family member is traumatic. Layer on a pandemic, including final moments apart along with burial restrictions, coupled with loss may feel especially devastating in the wake of the coronavirus. Generally, showing support to the partner who is directly impacted by the loss is the biggest area of focus within any relationship.
While scenarios range from age of death to length of possible illnesses, or the unexpected, mourning crystallizes in different ways per person. "Two people might mourn differently: one might be withdrawn in their own grief and that's not uncommon," says Frank. "The other might be more in a place of distraction, though it might hit them eventually. I would say it's just a matter of trying to support the other person, particularly the one who lost the parent [or loved one]."
If you've experienced the loss of a direct family member, it helps to share in grief, though that may not be the default resort for all. "For some, it's like an animal going under the bed, hiding, and licking their wounds. The person may be different from whom they usually are," notes Frank. Express compassion and understanding during this period. Your partner will appreciate it.
If You're Mourning a Miscarriage
Most recently, model Chrissy Teigen and Grammy winner John Legend suffered a pregnancy loss due to a partial placental abruption. The couple boldly shared their experiences, in solidarity with countless other couples who've dealt with miscarriages. "We are shocked and in the kind of deep pain you only hear about, the kind of pain we've never felt before," Teigen initially shared with the world. After a month-long hiatus from social media, the mom of Luna and Miles followed up with more details on Medium. "More than anything, these photos aren't for anyone but the people who have lived this or are curious enough to wonder what something like this is like," she wrote. "These photos are only for the people who need them. The thoughts of others do not matter to me."
"All so often, a miscarriage is treated dismissively and it shouldn't be. A miscarriage is a loss," Frank explains. "It's the loss of your own hopes and dreams too. There should be a ritual, as with any loss, or a rite of passage to denote something significant happened. And this makes that true."
Ways to mark the occasion could include a funeral or an intimate gathering, which acknowledges the loss experienced by the parents. It's imperative couples support each other through this period. "A miscarriage can bring a couple together if they can share their experience in healthy, meaningful ways," says Frank. "Sometimes, tragedy tears couples apart. What's really important is that they be able to be supportive of what the other person is going through which may not be exactly what they're going through."
If You're Mourning Your Child
The loss of a child is unbearable, and for some parents, the most traumatic experience they'll experience in a lifetime. "It's one of the toughest losses to get through," notes Frank. "It's a tragedy to lose a child for sure and it has to be acknowledged that it's a major tragedy." If you're grappling with the loss of a child together, perhaps consider professional help.
As with any death, circumstances vary and the loss of a child could come at a very young age from a terminal illness or even from a mental health condition. "I've had parents lose their children to suicide… and that's difficult because there's guilt attached to that," explains Dr. Frank. "A person's experience with guilt surrounding suicide is something they should process with a therapist."
Another form of grief therapy is dream interpretation with your certified therapist. "Your mind will heal itself eventually or it will progress towards healing. A lot of people will talk about their dreams in times like this, which is important as some are afraid to dream. It's important to talk about it with a therapist because dreams and the psyche go towards healing."
If You're Mourning a Spouse or S.O.
The loss of a partner leads to psychological changes that no amount of preparation can buffer. "You're mourning the person and you're mourning your hopes and dreams for the future," explains Frank. "It's very traumatic to lose a spouse, whom you saw every day, who was a major part of your life. A spouse is a most significant loss—especially if it was a good relationship. You've lost your main support in life, your best friend, even roles this person played for you… It involves mourning on so many complex, difficult levels. Usually, the loss of a spouse is acknowledged as a huge loss, but still, no one understands it unless you've had a similar kind of loss. It's a deep, dark place."
Rather than focusing on an imposed proper mourning period after the death of a spouse, place an emphasis on the stages of grief. If you're a friend or family member of someone who's lost their partner, extend support without projecting. "Some go through it in order, some jump around, and some want to stay home and make soup," says Frank. "Don't predict what you think they feel. Instead, ask them what they want."
The National Institutes of Health has an in-depth look into actionable steps to take as you go through the grieving process. Actions include finding a support system, seeking grief therapy and counseling, emphasizing self-care, making plans, and getting everything else in order.
If You're Mourning a Job or Career Plans
Financial burdens are abundant across the country as couples deal with job loss, a shift in career trajectories among other challenging scenarios. "We've lost so much of our usual routine," explains Frank. "Mostly, what we've lost was what was predictable. We're living in such uncertainty, the truth is there was always uncertainty but we're forced to confront it. The world is not what it was in many ways."
With many Americans losing work or their sense of self through their work, there has been a true mourning period over the possibilities. Have your partner lean on you as they regain their footing, and take those next steps together through economic recovery and stability.
If You're Mourning General Loss
Grief therapy also applies to life stages and future desires. "We're experiencing a Plague of the Middle Ages in the Time of Zoom. Maybe no one died, but some are simply grappling with a lot of grief at this time," notes Frank. "There's a lot of anger because it goes along with grief. Sometimes, there's a focus and it could be on the spouse. That's the worst place to be."
Simply put: being there for each other through challenges is of utmost importance in your partnership. "A [significant other] sees the worst parts of us, maybe how dark we go," says Frank. "But remember: If you're on the supporting end of grief as a partner, know that it's not your job to fix [your loved one]. It's your job to bear witness."