Planning a Wedding? Read These 8 Stories in the Latest Issue of The Knot Magazine
We've got all the planning advice you need.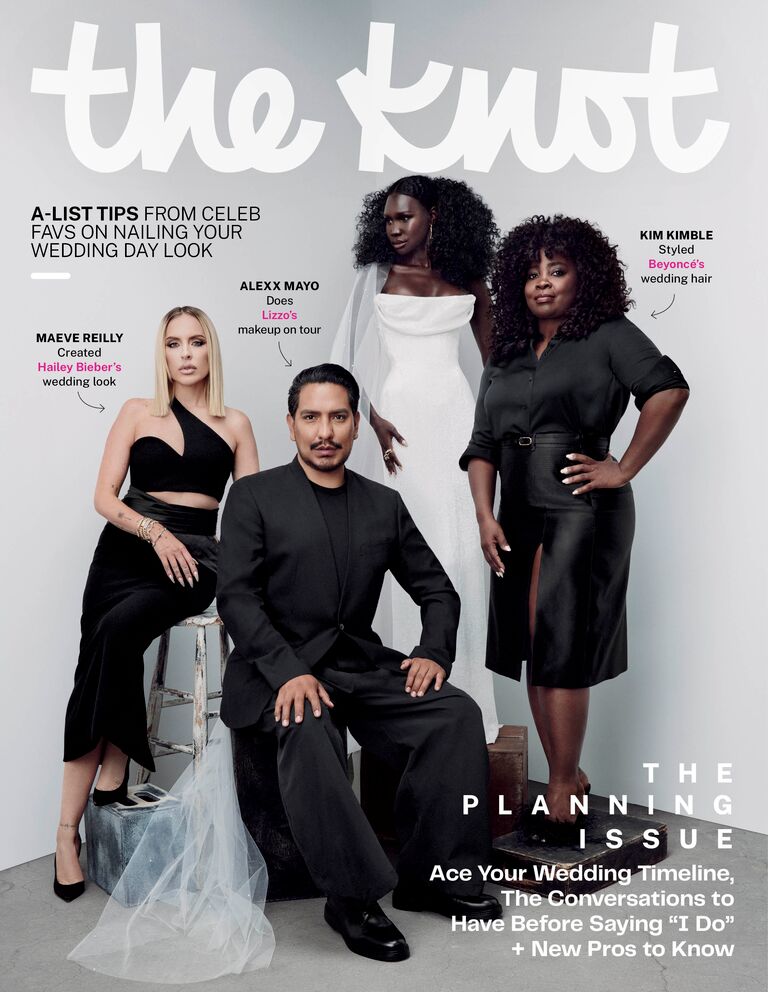 Photography: AB+DM, Hair: Charles McNair,Nails: Jazz Style Nails,Tailoring: Jessica Yuen,Set Design: Bette Adams,Production: Petty Cash Production
Looking for the best wedding magazine? Whether you're newly engaged or a seasoned planner, The Knot Magazine is a must-have planning resource. The Fall 2023 issue of The Knot Magazine is the second installment of a new format for the exceptional magazine.
To ensure couples are getting as much out of the wedding planning magazine as possible, we shifted to a Special Interest Publication that follows the wedding journey. This issue of The Knot Magazine is The Planning Issue that will give engaged couples all the advice they need to navigate the wedding journey. We're also excited to continue to connect readers with our recently launched wedding magazine subscription so you can receive every issue of The Knot Magazine published during the year. Whether you sign up for The Knot Magazine subscription or purchase just one issue, couples can be on the lookout for The Celebration Issue later this year.
The revamped format of The Knot Magazine as a Special Interest Publication means that every issue isn't just a magazine you can read once and toss. Rather, it is a bespoke heirloom that includes interactive elements (like checklists and journaling pages) and it can serve as your planning partner throughout your entire engagement season.
In addition to content specific to advice in The Planning Issue (like an interactive guide to creating deciding on a wedding venue), this issue of The Knot Magazine also contains mainstays couples can expert in every issue of the wedding magazine. We cover everything from an overview of the planning tools you need while engaged to must-know tips from top experts and wedding vendors. We also dive into wedding fashion and beauty trends by highlighting of-the-moment wedding dresses, hairstyles and more to inspire your dream wedding vision.
Each issue of the wedding magazine also includes wedding registry must-haves and travel ideas, such as honeymoon destinations to have on your radar. The magazine also showcases fresh Real Wedding stories with wedding photos from couples just like you. In short, we have all the wedding ideas you could possibly need, from bouquets to wedding showers to wedding gowns and more.
In this story: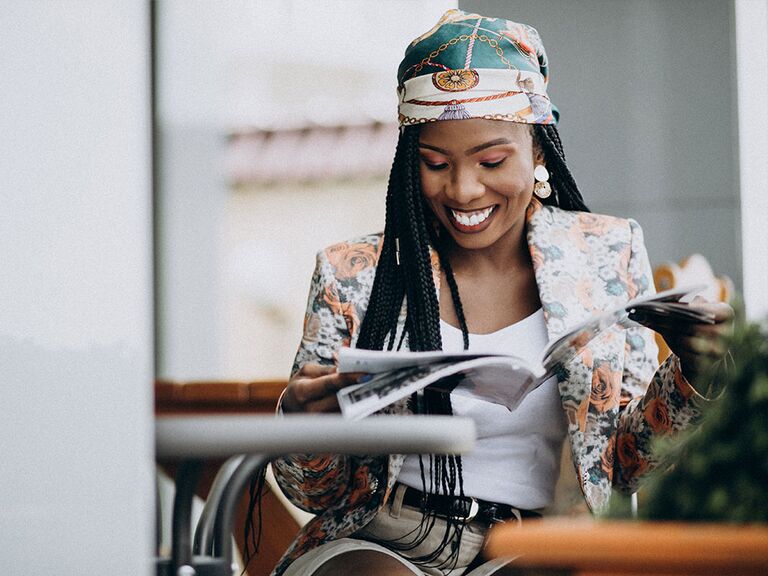 Where to Read or Buy The Knot Magazine
Looking for wedding ideas and wondering "where can I buy The Knot Magazine?" Or maybe you're curious about how to get The Knot Magazine print subscription. Whether you live in New York, the Carolinas, California or somewhere in-between, the good news for you is that there are multiple convenient ways to get your hands on both physical copies of the latest issue as well as The Knot digital magazine. Here is everything you need to know about where to buy wedding magazines packed with inspiration from The Knot.
So where do you get wedding magazines? The great thing about The Knot Magazine is that you can buy or subscribe to The Knot Magazine yourself, but The Knot Magazine also makes an amazing gift to engaged couples. The amazing wedding magazine is available for purchase online, but you can also grab a copy easily at major national retailers like Whole Foods and Barnes & Noble.
The Knot
Here's the scoop on where to buy The Knot Magazine. It's never been easier to buy (or subscribe to) The Knot Magazine. You can purchase the magazine directly from The Knot website. And if you don't want to limit yourself to just one issue of wedding content, you can easily subscribe to the magazine and get every issue published during the year.
Newsstands
In addition to buying the magazine directly from us, you can easily pick up a copy while you're out and about running errands as it is stocked on most major newsstands. Find a Barnes & Noble or Whole Foods near you so you can scoop up a few more copies of the best wedding magazine out there: The Knot Magazine.
Digital Edition
If you simply can't wait until you buy a physical copy of The Knot Magazine to dive into all the great content then you're in luck. You can easily pursue the digital edition of The Knot Magazine from the comfort of your phone or laptop.
Beyond the magazine, The Knot offers extensive wedding planning resources. Whether you need help creating a timeline, managing your budget, finding a wedding planner, wedding photographer or other expert pros, starting a wedding registry, or building a wedding website, we've got you covered. Couples can download The Knot App for the ultimate wedding planning tool or browse our Marketplace to find the very best pros to bring your big day to life. No matter what your planning needs are, we're here to help you along every step of the journey—so grab a copy of The Knot Magazine and get planning!
Must-Read Stories in The Knot Magazine Fall 2023
Now that you know how to get your hands on a copy of The Knot Magazine, it's time to take a peek at all the goodness awaiting you in the latest issue of the best wedding magazine available to couples. In the Fall 2023 issue, The Knot is diving into wedding planning advice. Take a peek into the wedding magazine below.
Meet the Makers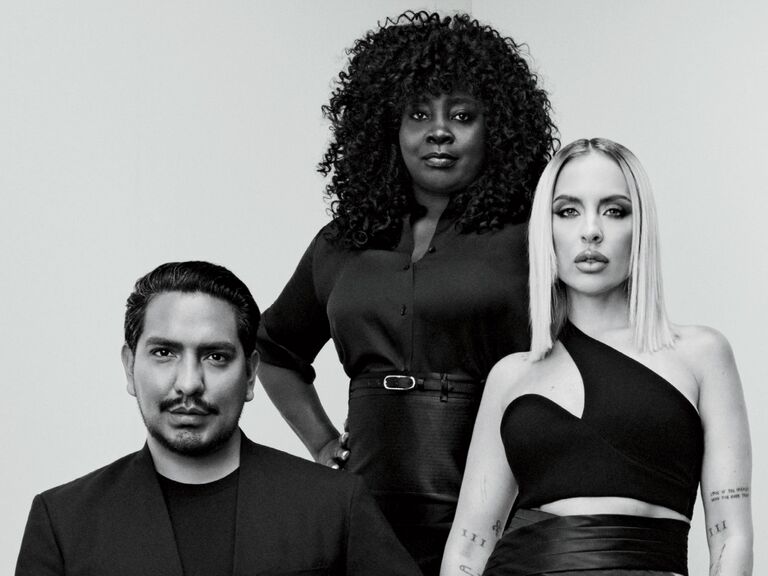 The makers behind the looks of some of your fave A-listers open up on nailing your wedding day look. The Knot Deputy Editor Esther Lee spoke with Maeve Reilly, a stylist who created Hailey Bieber's wedding look, Alexx Mayo, a makeup artist who does Lizzo's beauty on tour, and Kim Kimble, a hair stylist who was responsible for Beyoncé's wedding hair, about the making of star-studded looks. Read more to find out why the names behind the stars aren't so different from wedding pros.
Hard Rock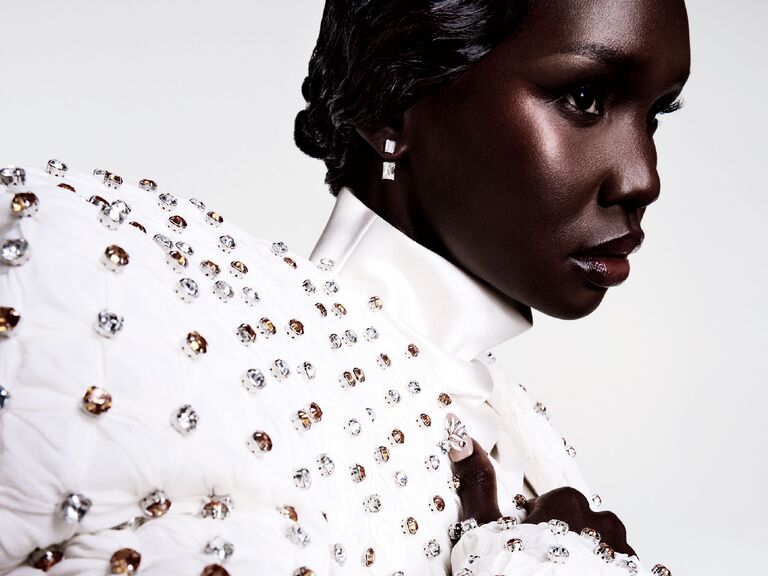 Chunky crystals and polished pearls bring the drama to these fashion-forward wedding looks. Consider this your warning that you're going to fall in love with all the epic looks.
Love Is in the Hair With Jonathan Van Ness
This is a must-read when you're going through JVN withdrawal after you finish binging the latest season of "Queer Eye." Netflix star, multihyphenate beauty expert and founder of JVN, Jonathan Van Ness talks prewedding care, embracing yourself and creating a gender-inclusive hair line.
Vibe Check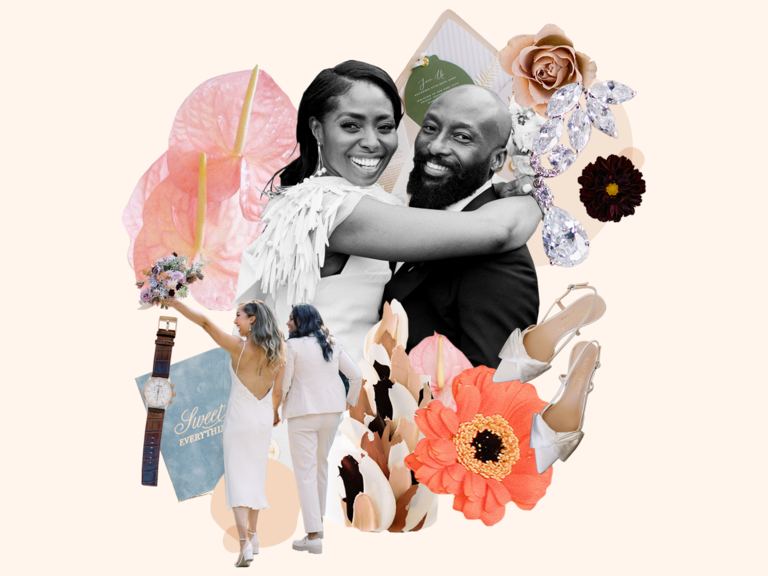 What's in a theme? Words like "classic," "romantic" and "whimsical" are tossed around ad nauseam—but would an aesthetic by any other name be as sweet? We've crafted a blueprint of five of the most common wedding themes to set the record straight.
Love and the Law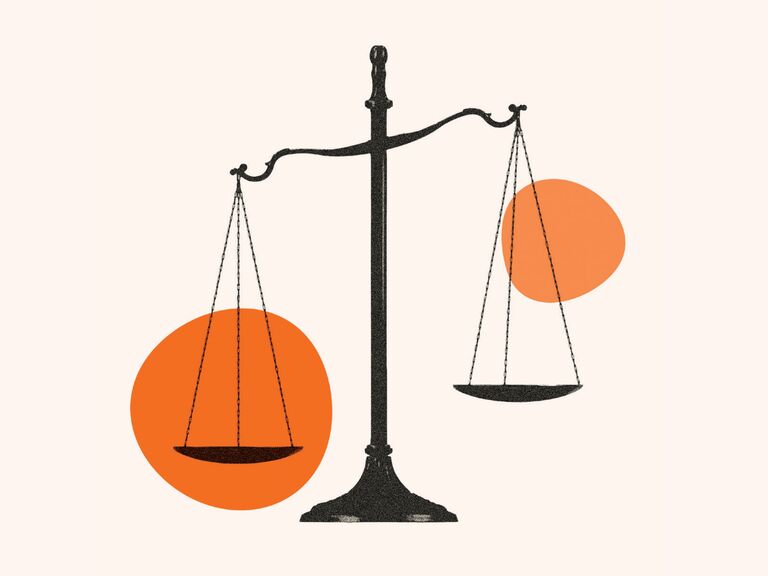 What happens when policy decisions and the law of the land influence your love story? "What stresses the individuals in a relationship stresses the actual relationship," says one expert. In this investigative journalism piece, our reporter digs into how changes at the government level can affect you and your partner.
Ready, Set, Jet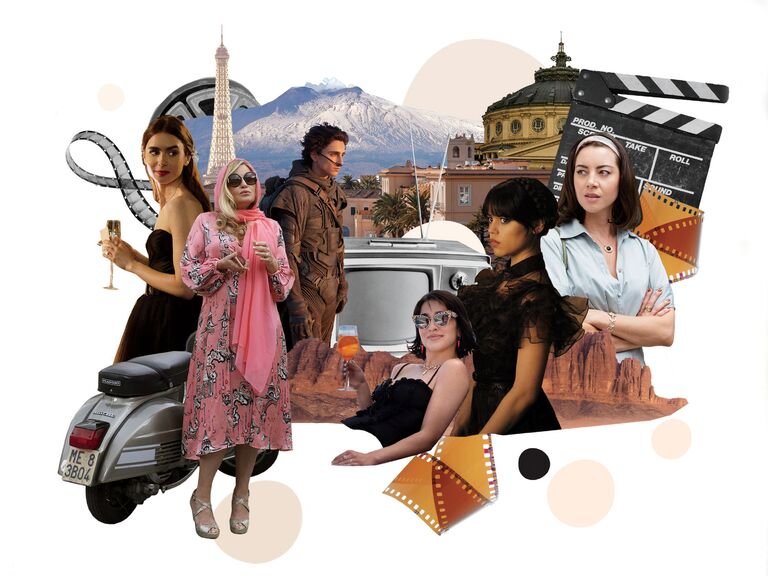 What's more satisfying than sinking into your couch and binging your favorite TV series or movie trilogy? Bringing the plots to life during a romantic getaway. Did you fall in love with Taormina during "White Lotus" or maybe "Emily in Paris" got you hooked on The City of Lights? We're diving into epic honeymoon destinations inspired by your favorite movies and television shows.
Enneagram Wedding Planning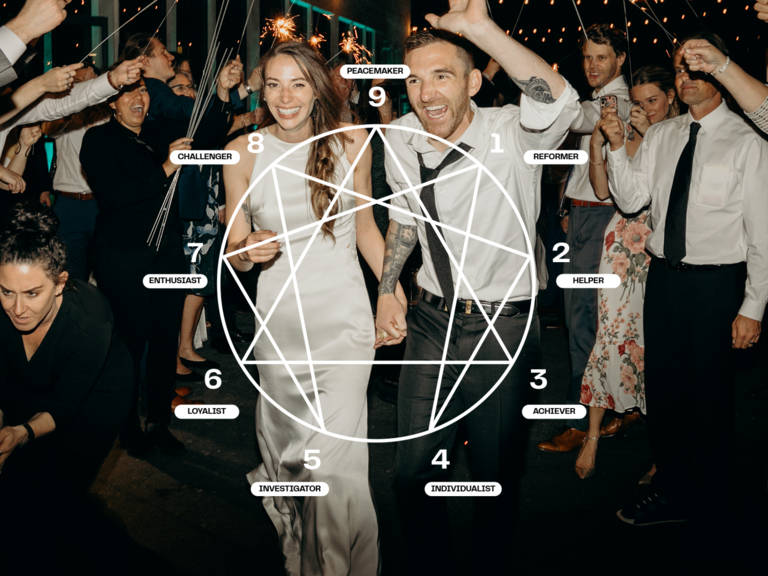 This popular personality test can take your wedding planning experience (and relationship) to new levels of bespoke.
Real Weddings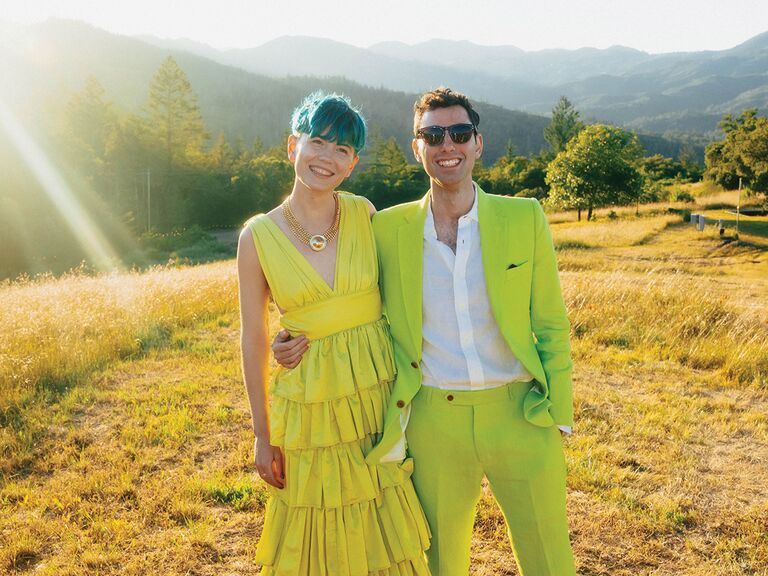 In our Real Weddings section, we're taking a look at how three different couples planned their dream wedding day. One couple leaned into a bold color palette that included chartreuse fashion and a hot pink aisle. Another couple turned their wedding into a carnival, complete with an acrobat and carousel. And yet another couples said "I do" at night under the twinkling stars. In every case, our couples highlighted how to plan a personalized wedding that reflects their individual partnerships. If you want to see your wedding and love story featured in a future issue of The Knot Magazine, here's everything you need to know.