All the Details About Ariana Grande's Engagement Ring From Dalton Gomez
One of the most unique celebrity rings is accompanied by a sentimental story.
We have included third party products to help you navigate and enjoy life's biggest moments. Purchases made through links on this page may earn us a commission.
Ariana Grande's engagement ring from then-fiance Dalton Gomez created quite the stir when the real estate agent proposed in 2020. Fans didn't expect the "Breathe" singer to get engaged to her boyfriend so soon into their relationship, but it became clear they were the ultimate match. In December 2020, Grande announced her engagement to Gomez on Instagram with photos of her unique ring and the caption, "Forever n then some."
For Grande's second engagement (she was famously betrothed to comedian Pete Davidson for eight months), the singer received a sentimental, one-of-a-kind sparkler. A year later, the couple exchanged vows in their home in Montecito, California. Learn more about Ariana Grande's engagement ring below.
Ariana Grande's Engagement Ring Details
Behind the scenes, Gomez worked closely with jeweler Jack Solow of Solow and Co. to design a truly unique diamond engagement ring for the soon-to-be Wicked star. "Dalton was involved in every step of the selection process through FaceTime and Zoom since he was on the West Coast and I was here in my office in New York. He was very, very specific about what he wanted," Solow told E! News. "He had very strong feelings about how he wanted this to look, a contemporary kind of way. It was his idea to do the diamond on an angle and he said to me we had to incorporate a pearl into the finished piece because it is very sentimentally special, the element of a pearl is very, very sentimentally special to Ariana. He wanted to include that in the ring."
Indeed, Gomez opted for a Toi et Moi ring (which in French means "you and me") comprised of a pearl nestled beside a tilted oval diamond. "The ring is a gorgeous, tilted, oval-cut diamond and placed alongside a white pearl. It's set on a classic yellow gold band," says Tonia Zehrer, SVP and Chief Merchandising Officer at Signet, the parent company of Kay Jewelers, Zales and Jared. "I would estimate the diamond to be about six carats."
Among celebrity engagement rings, Grande's ring design is truly exceptional and unique, especially worthy of the couple whose love is anything-but-ordinary. Toi et Moi rings have emerged among celeb wearers like Emily Ratajkowski. It's also accompanied the surge in demand for three-stone engagement rings (à la Meghan Markle), though slightly less mainstream.
Why Ariana Grande's Ring Is One-of-a-Kind
What still remains a theory is where the pearl was procured. "We started seeing this trend a couple of years ago and it's only picked up in popularity," adds Zehrer. "Pearls are also trending right now and we're seeing them incorporated in different jewelry styles."
In 2014, Grande shared a story on Twitter of a gift she'd received from her grandmother Marjorie: a ring comprised of her late grandfather's tie pin after he had passed away. "Nonna had a ring made for me w/ the pearl from grandpa's tie pin. she says he told her in a dream it'd protect me," Ari tweeted at the time with a pic of the gift.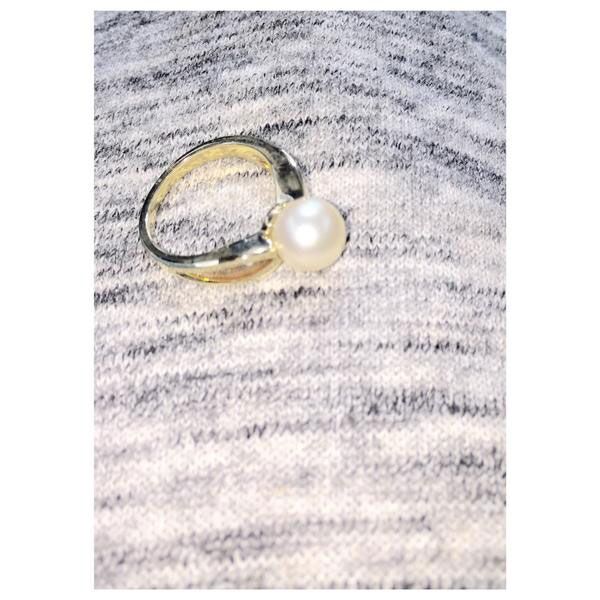 Nearly six years later, eagle-eyed observers noticed the similarities between the pearl ring from the pop star's grandfather and Ariana's ring from Gomez. Many have since speculated whether he added the oval-cut diamond at a diagonal angle to make the ring all the more sentimental.
Also impressive in value, the ring cost could hover close to six figures. "We believe this stone is roughly four carats, ranging in price from $50,000-$100,000," says Zaven Ghanimian, CEO of Simon G. Jewelry. "The pearl is harder to tell but it could be a cultured, bleached pearl or a natural south seas pearl. If the center stone is a lab-grown diamond… the value could be anywhere from $27,000-$32,000." Both pieces were set on a platinum band, rounding out an entirely unique ring choice for the songstress.
Shop Ariana Grande's Engagement Ring Style
Most rings in this category will be custom, especially if a certain jewel remains sentimental to the relationship. "Couples who are into symbolism and fine jewelry with significant meaning tend to be the customers that purchase rings with multiple gems or those set in a unique pattern," explains Zehrer. "Each gem represents a milestone or facet about their partner that the couple wishes to capture in the ring." Shop the style of Ariana Grande's engagement ring below.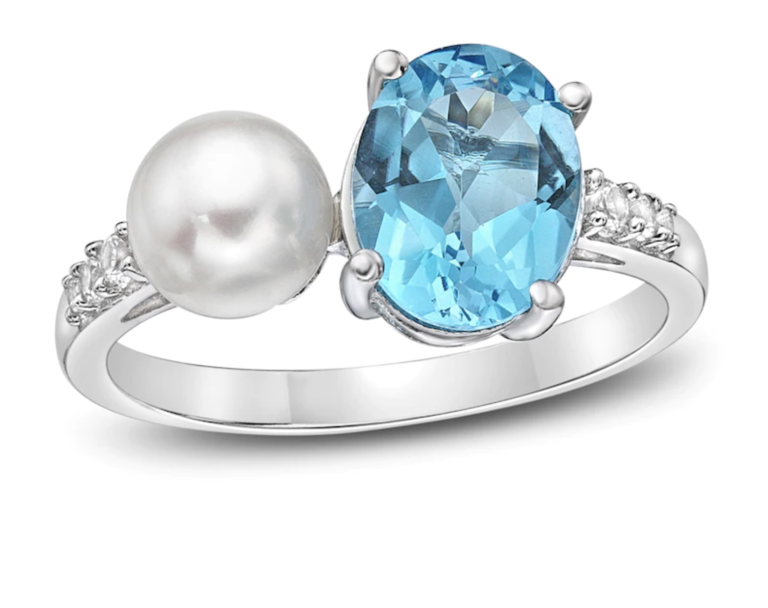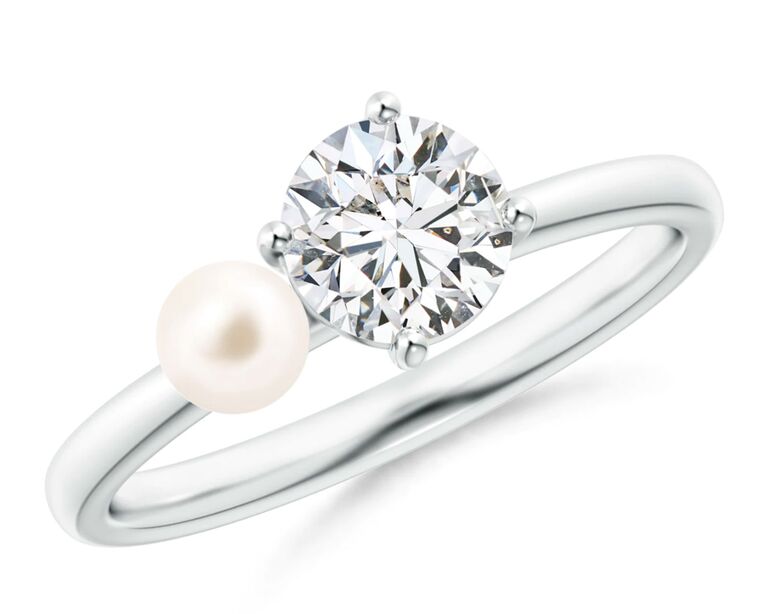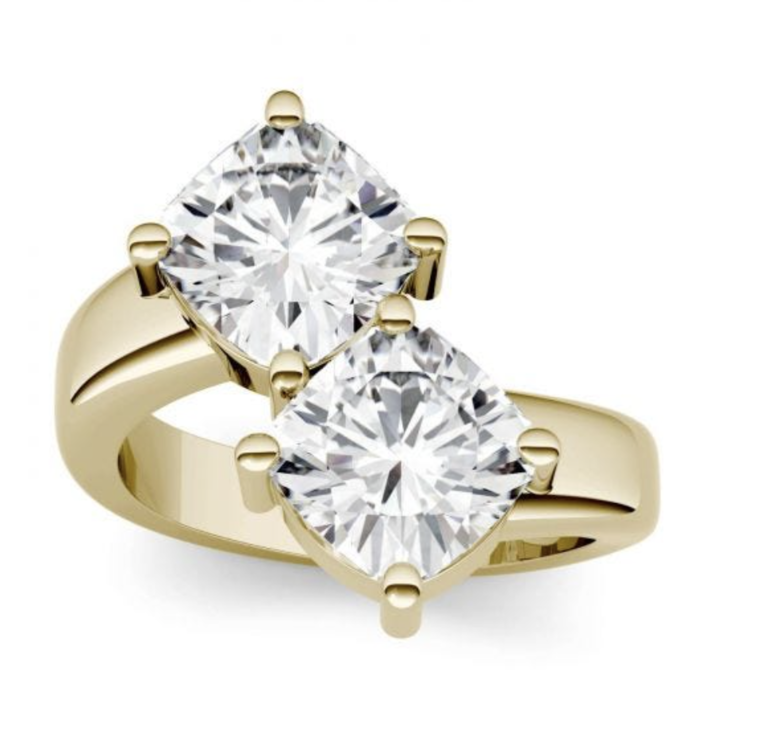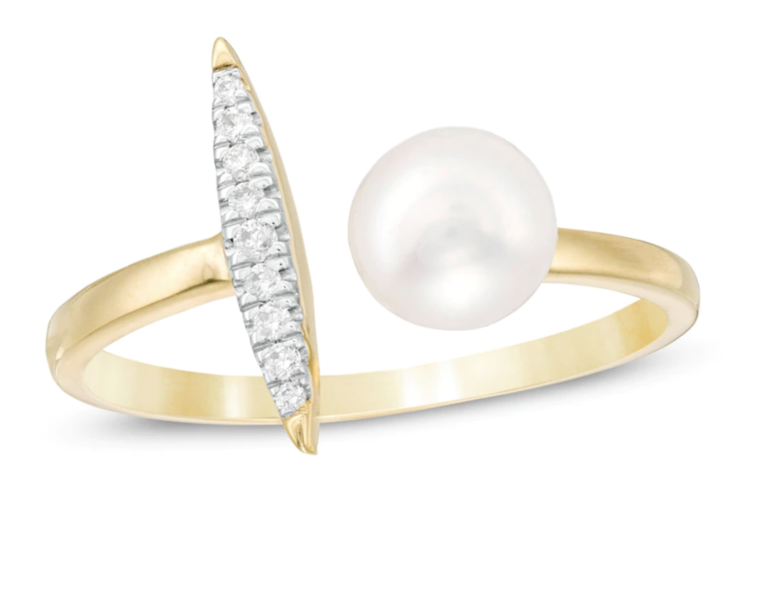 Ariana Grande's Engagement Ring From Pete Davidson
Representative of the ever-evolving relationship landscape in Hollywood, Grande and Davidson's short-lived engagement has long been a relic of pre-pandemic love stories. In fall 2021, Davidson and Kim Kardashian started to be linked romantically, while Grande and Gomez have moved on. The ring, however, remains memorable in pop culture history.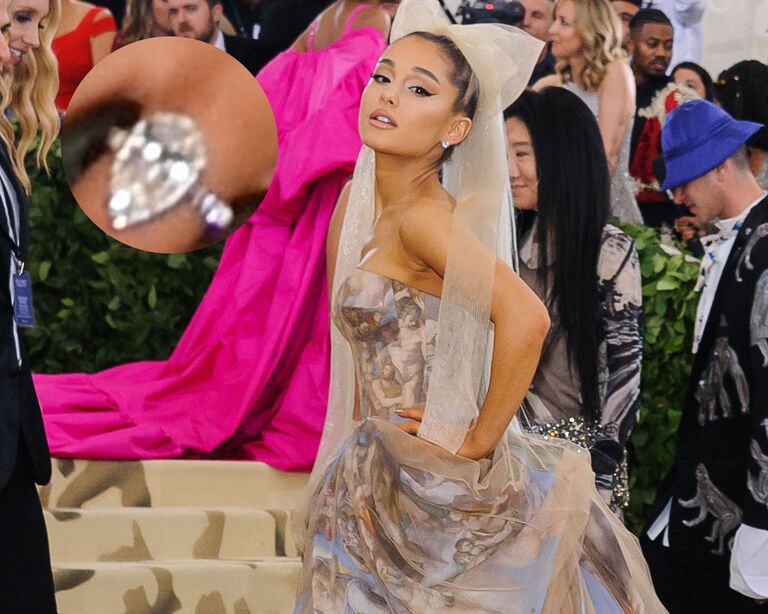 Grande's ring from Davidson was custom designed by celebrity jeweler Mr. Flawless, Greg Yuna. The piece, a pear-shaped, three-carat diamond with the coveted VVS1 clarity, was set on a diamond platinum band and featured a tiny halo of diamonds. Ari's ring from Davidson is valued at close to $93,000.