33 Gorgeous Two Stone Engagement Rings to Nail the Toi Et Moi Trend
What's better than one center stone? Two.
We have included third party products to help you navigate and enjoy life's biggest moments. Purchases made through links on this page may earn us a commission.
Still obsessing over Ariana Grande's pearl and diamond engagement ring? You aren't alone. Two stone engagement rings, also called Toi et Moi rings (that's French for you and me), are appearing on fingers everywhere. Get the deets on the symbolism and history behind this unexpected setting—plus shop our favorite two stone engagement rings you can add to your cart right now.  
What Is a Two Stone Engagement Ring? 
One of the hottest engagement ring trends of 2021, two stone engagement rings have two major pros: they offer twice the sparkle and are easily personalized with different stone shapes and colors. Besides their megawatt shine and inherently unique feel, two stone engagement rings or Toi et Moi rings also have a wedding-worthy, sentimental meaning. The two central gems that sit side by side or close to each other symbolize two souls becoming one, connection and—most importantly—love.
While this setting is all the rage in 2021, it actually has a long history dating back hundreds of years, as well as several famous fans. Napoleon Bonaparte put two stone engagement rings on the map when he proposed to Josephine de Beauharnais with a sapphire and diamond ring in 1796. In 1953 First Lady Jackie Kennedy debuted her iconic two-stone stunner, featuring an emerald-cut emerald and an emerald-cut diamond. In 2018, Sebastian Bear-Mcclard popped the question to Emily Ratajkowski with a princess-cut and pear-shaped diamond Toi et Moi ring. And of course, we've already covered Ariana Grande's standout sparkler, composed of a pearl from her grandmother and a beautiful oval diamond.
Trendy Two Stone Engagement Rings
Feeling a two stone engagement ring or Toi et Moi ring now? Shop some of our fave styles below.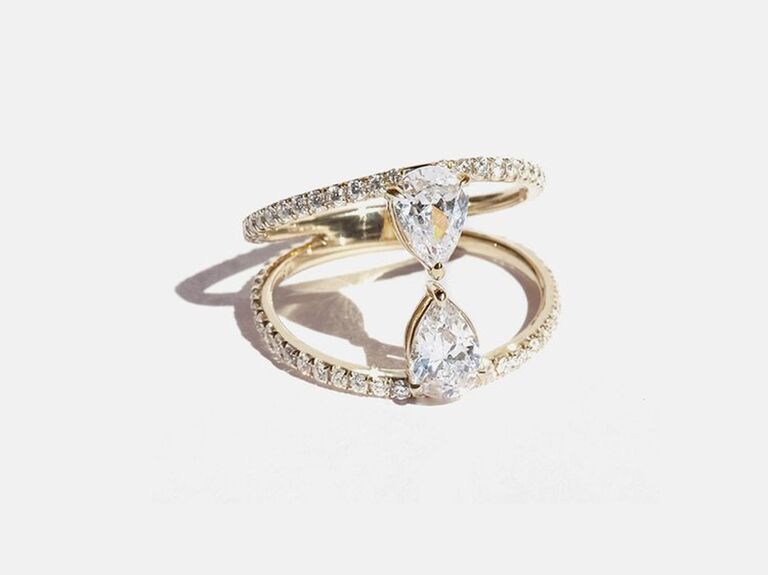 Pear lovers, this one (or two) is for you. Kissing pear-shaped diamonds in a negative space setting create a symmetrical mirror effect. 

KATKIM Duét Pear Pavé Ring $9,600, KatKimFineJewelry.com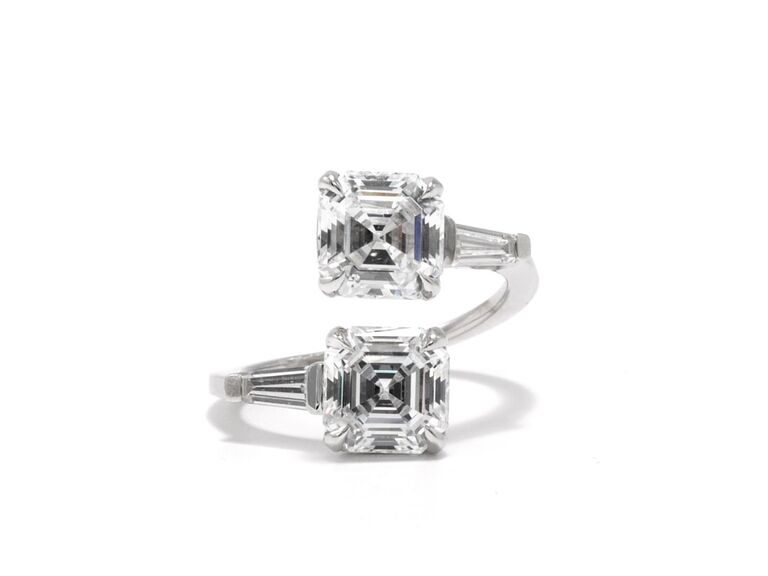 Timeless with a twist, this Toi et Moi ring showcases the geometric beauty of two asscher cut diamonds.
Ashley Zhang Margaret Asscher Cut engagement ring, from $18,000, AshleyZhangJewelry.com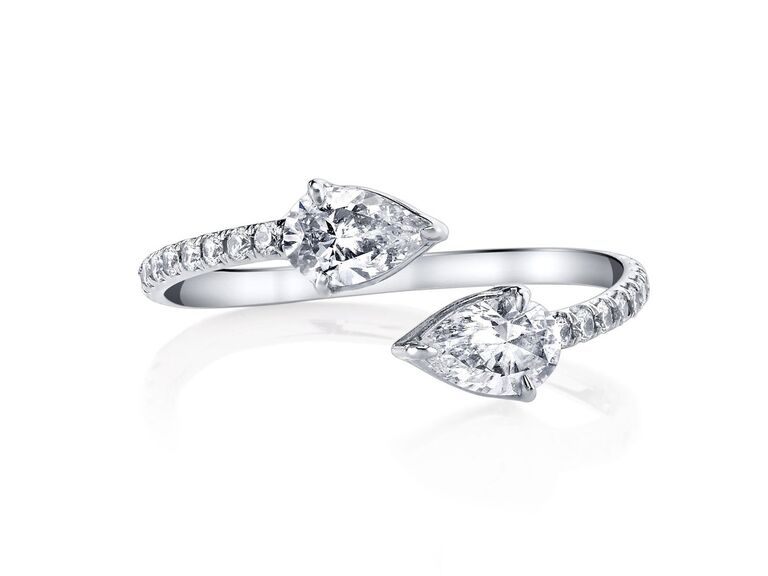 Two stones and two ways to wear it. This blinged out Toi et Moi ring is versatile enough to stand alone or add to your stack. 
Anita Ko Two Stone Diamond Claw ring with pavé band, $7,350, AnitaKo.com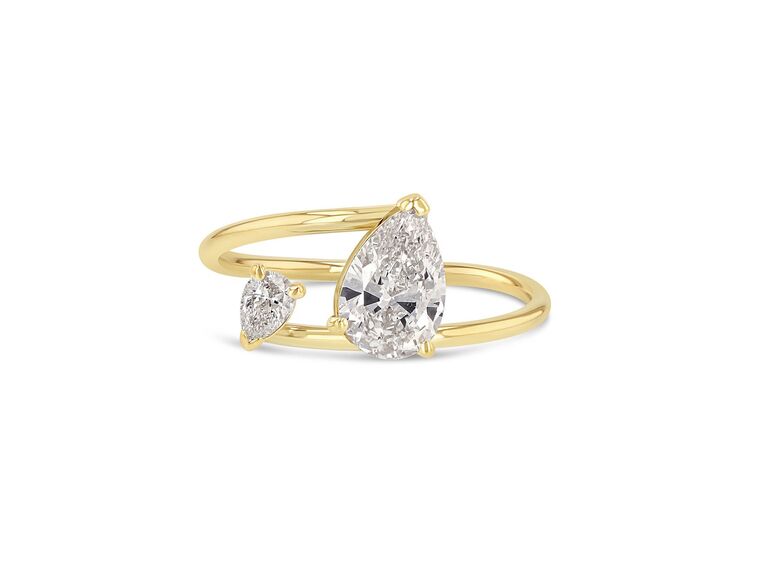 Balance is key. A larger pear-shaped diamond offsets a smaller pear-shaped diamond for a two stone engagement ring that doubles as a work of art.
Grace Lee Twin Pear ring, $15,800, GraceLee.com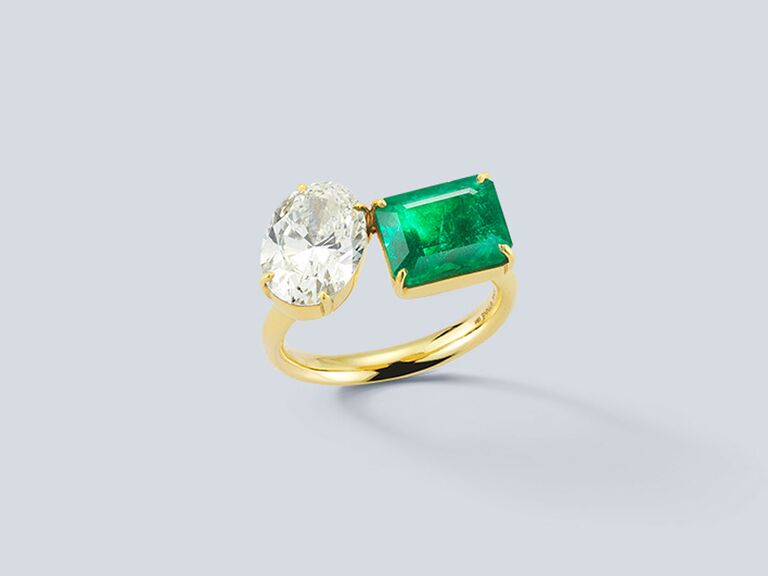 We predict Emeralds will be the next big colorful center stone. This ring gives you the best of both worlds: A vibrant emerald and a classic white diamond.
Jemma Wynne Bespoke Diamond Oval and Emerald Engagement Ring, Inquire for Price, JemmaWynne.com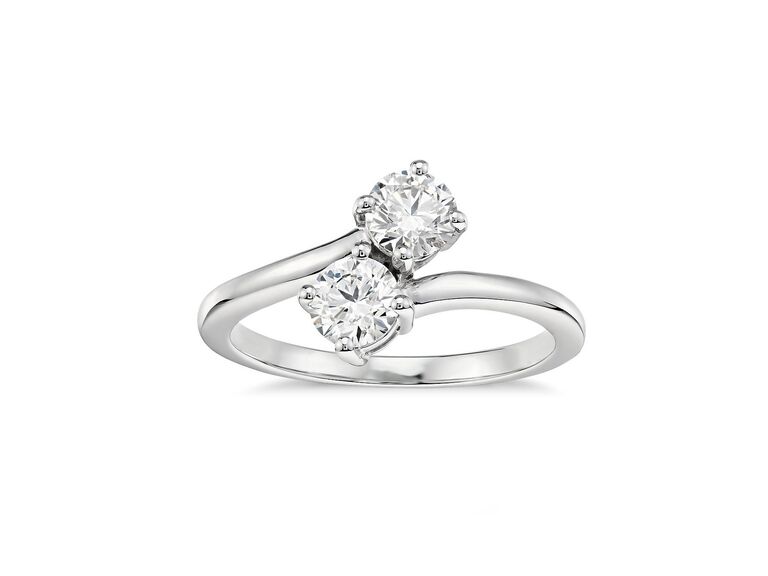 This two stone engagement ring is an instant classic. You can't go wrong with a simple white metal setting plus round cut diamonds.
Blue Nile Two-Stone Solitaire Diamond ring, $2,990, BlueNile.com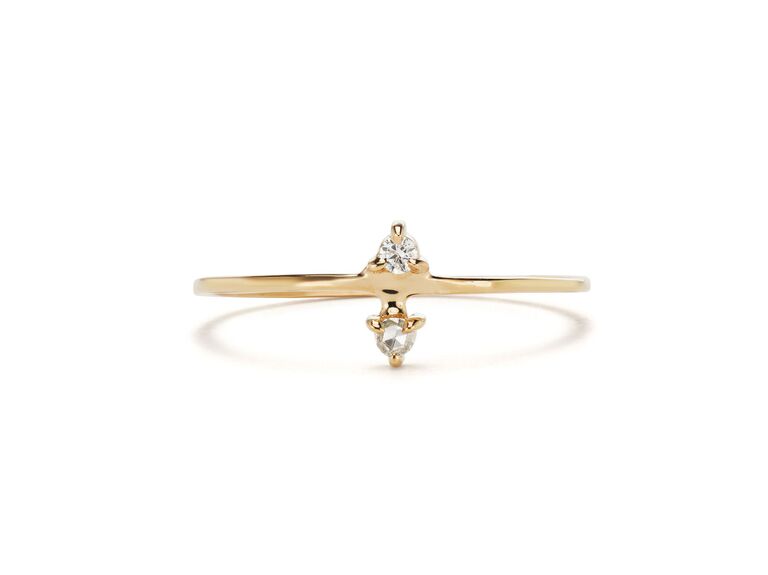 Bigger isn't always better. This dainty two stone engagement ring is subtle—but still striking. 
Bruce Sloane diamond ring, $326, Bruce.com
A two stone enagement ring doesn't have to feel super modern. Take a cue from the trends of bygone eras and consider a ring with vintage flair. 
Kwiat Double Rose Cut Ring, $9,000, Kwiat.com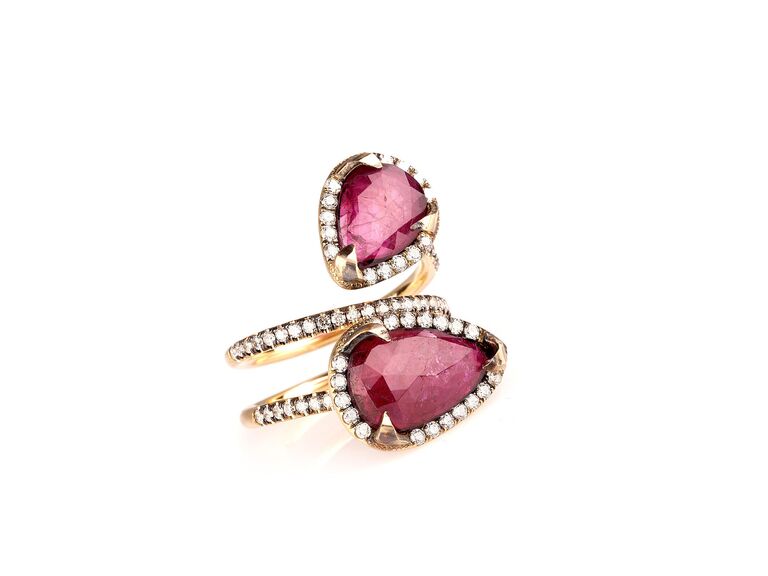 Red is traditionally the color of passion and desire—so what better way to represent your love than with twice the rubies? 

SYLVA & CIE 18K Yellow Gold Ruby & Diamond Bypass ring, $12,750, MitchellStores.com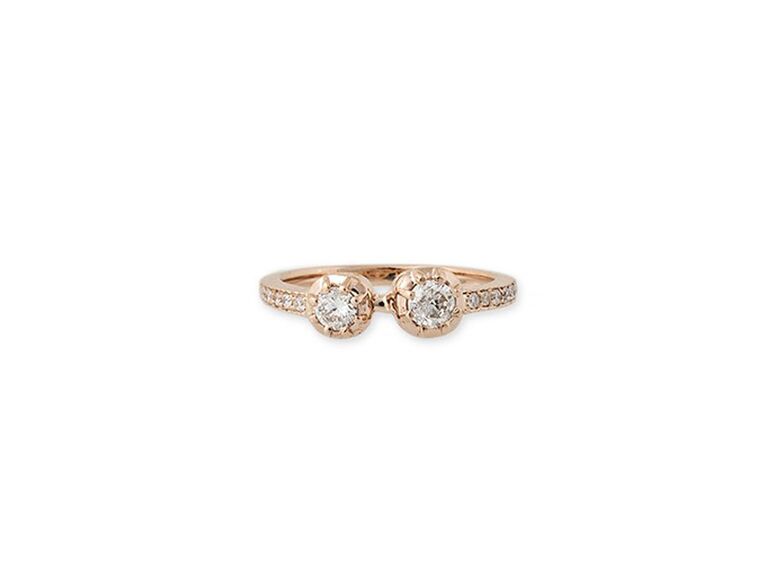 You don't have to break the bank to get in on the two stone engagement ring trend. An intricate rose gold setting plays up the artisanal feel of this budget-friendly option.
Jacquie Aiche Sophia pave two diamond ring, $1,875, JacquieAiche.com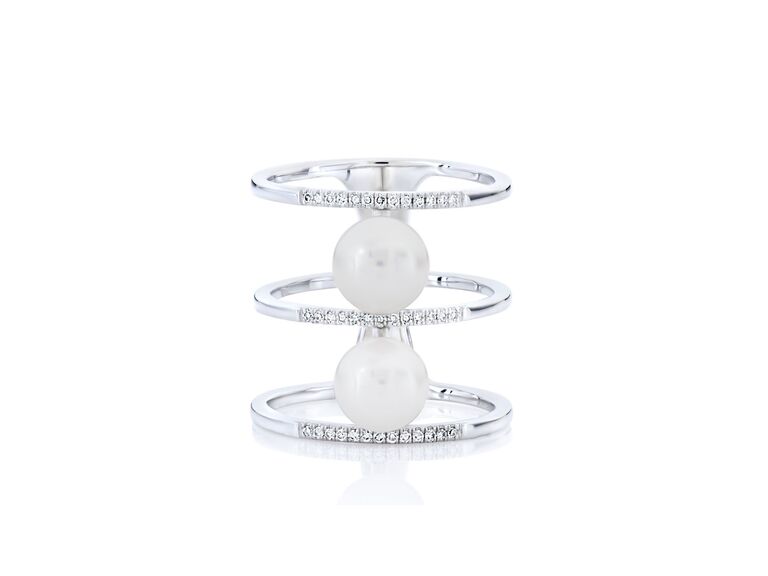 If Ariana Grande and Emma Stone are any indication, pearl engagement rings will become a go-to diamond alternative in the coming years. The diamond-encrusted cage setting of this one adds some edge to an otherwise traditional gemstone.
Nicole Rose Three Row Diamond Cage ring, $995, NicoleRoseJewelry.com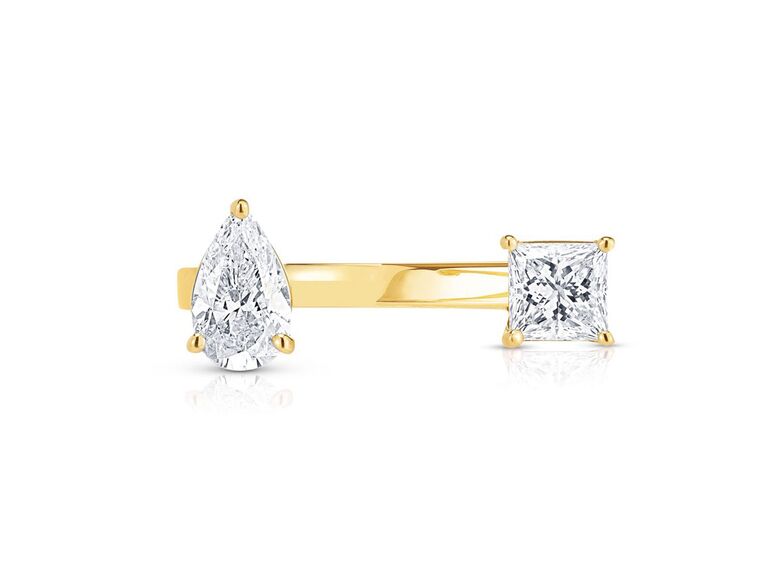 The totally open style of this Toi et Moi ring creates the illusion of diamonds floating in between your fingers. What's not to love about that?
Carbon & Hyde Reign ring, $6,900, CarbonandHyde.com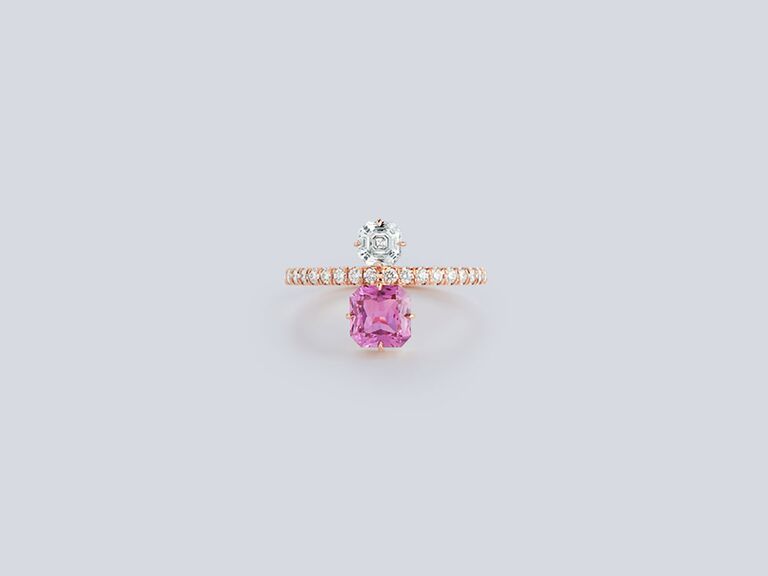 If you're in the market for an alternative look but don't want to go for full color, consider a two stone engagement ring with a white diamond and a colorful second stone.
Jemma Wynne Prive Pink Sapphire and Asscher Cut Diamond ring, $12,390, JemmaWynne.com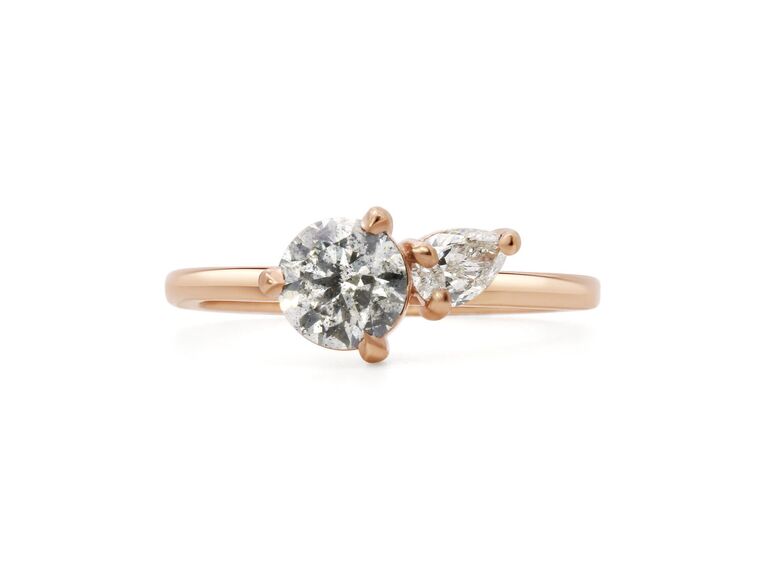 A dazzling take on the concept of salt and pepper, this asymmetrical combo of a gray and a white diamond offers both subtle shimmer and brilliant shine. 
Michelle Oh Amelie ring, Inquire for Price, Michelle-Oh.com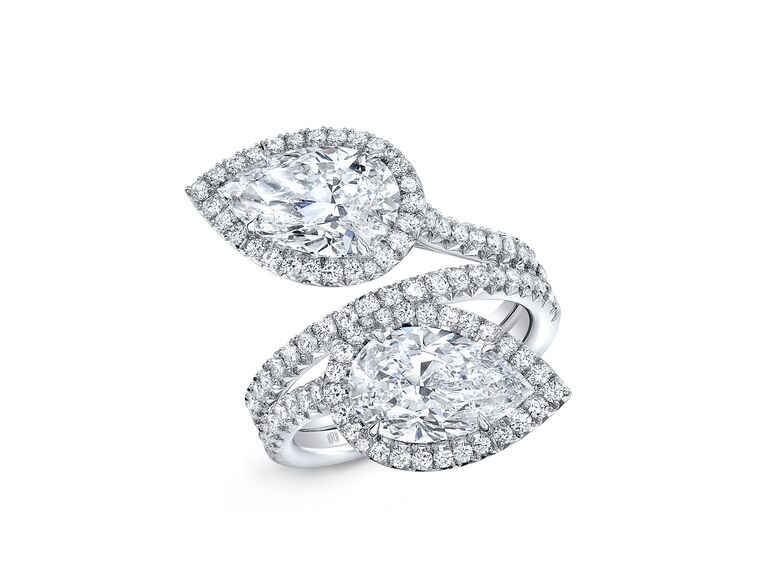 Bring on the bling. This two stone engagement ring of sizable pears in a diamond-encrusted setting is all about over-the-top sparkle.
Rahaminov Diamonds Bypass ring, Inquire for Price, Rahaminov.com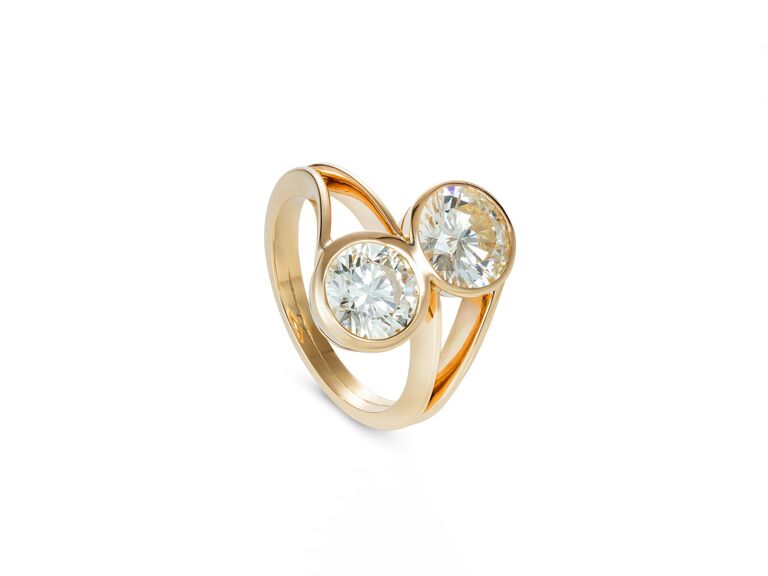 Twin round cut diamonds in a double bezel setting gives this two stone engagement ring the look of an über-luxe infinity symbol. 
Thelma West Fraternal Mischief, Inquire for Price, ThelmaWest.com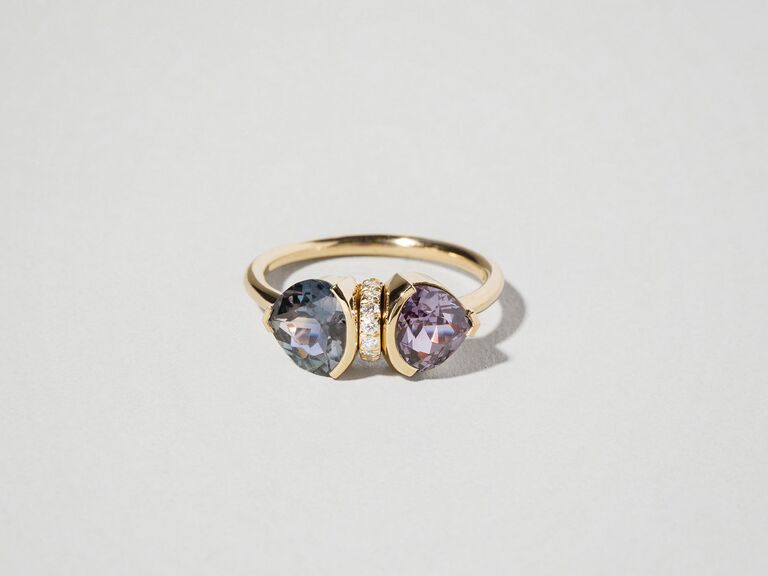 Think all sapphire engagement rings have to be super traditional? Think again. This purple and blue two stone one is both modern and moody. 
Mociun Sark sapphire and diamond cluster ring, $8,200, Mociun.com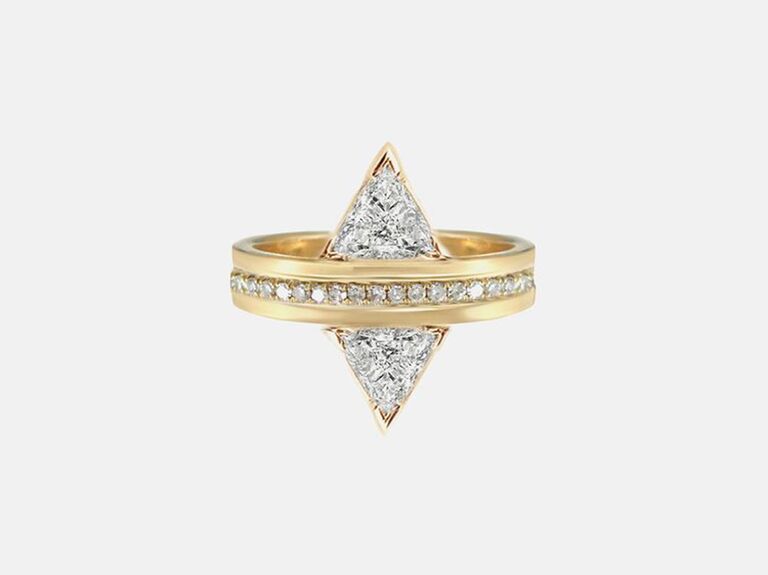 Usually an accent stone, trillion-cut diamonds are an atypical choice for a center stone—but this Toi et Moi ring proves they can definitely turn some heads.
KATKIM Highland ring, $16,800, KatKimFineJewelry.com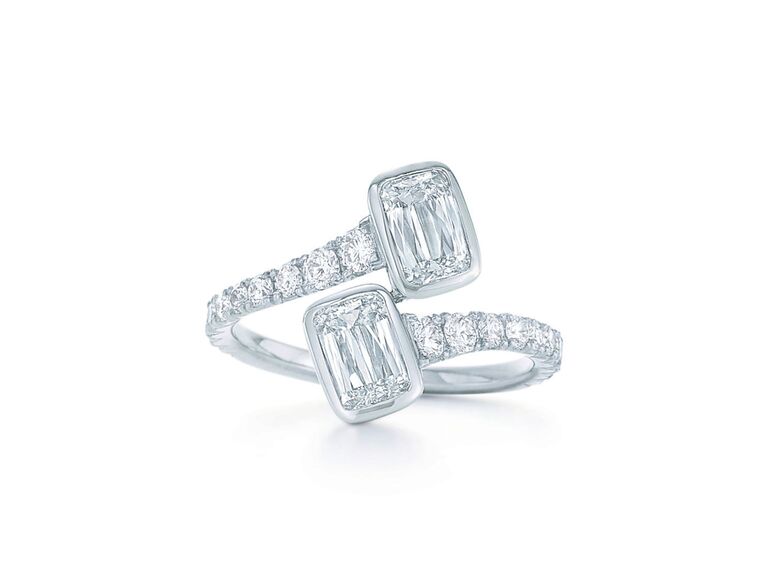 Ashoka cut diamonds (read: modified cushion cut diamonds with a retangular shape and rounded corners) are said to banish sorrow. What do two Ashoka diamonds mean? Twice the luck—and style.
Kwiat Ashoka Diamond bypass ring, $14,800, Kwiat.com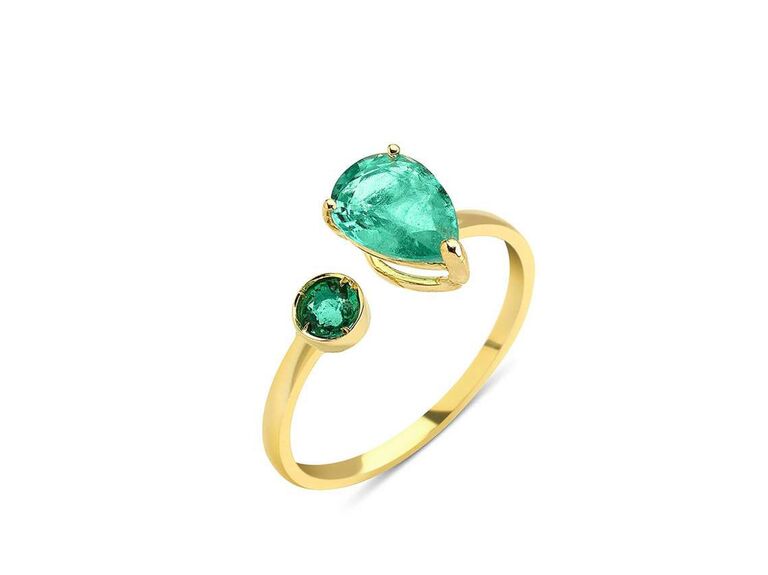 An open Toi et Moi ring with a cool twist, this ring setting features two dazzling emeralds in contrasting shapes. 

GFG Jewellery Project 2020 Open ring with emeralds, Inquire for Price, GFGJewellery.com
Say it with us: Large and in charge. These two large cushion-cut diamonds make a big visual impact.
Edward Avedis Carla Diamond Deux ring, $32,000, EdwardAvedis.com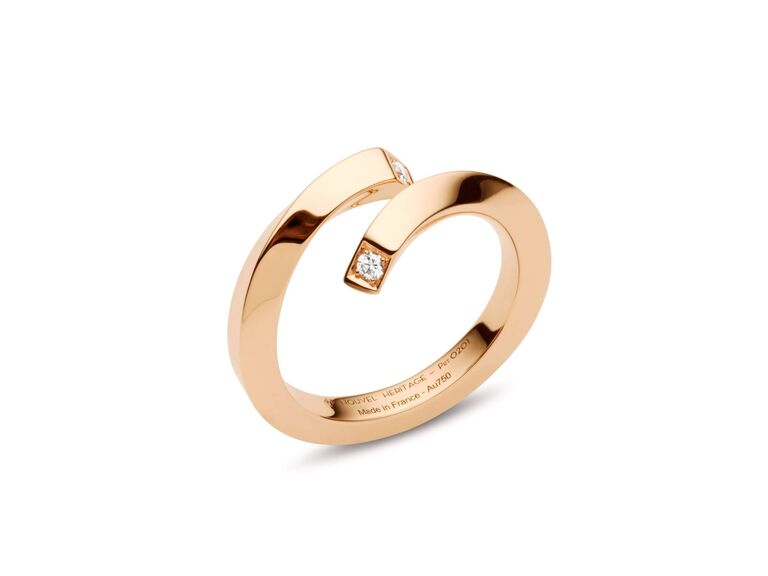 Perfect for the minimalist, this streamlined two stone engagement ring (or wedding band) is finished with two petite diamonds on either end. 
Nouvel Heritage Gold Thread ring in rose gold, $1,900, NouvelHeritage.com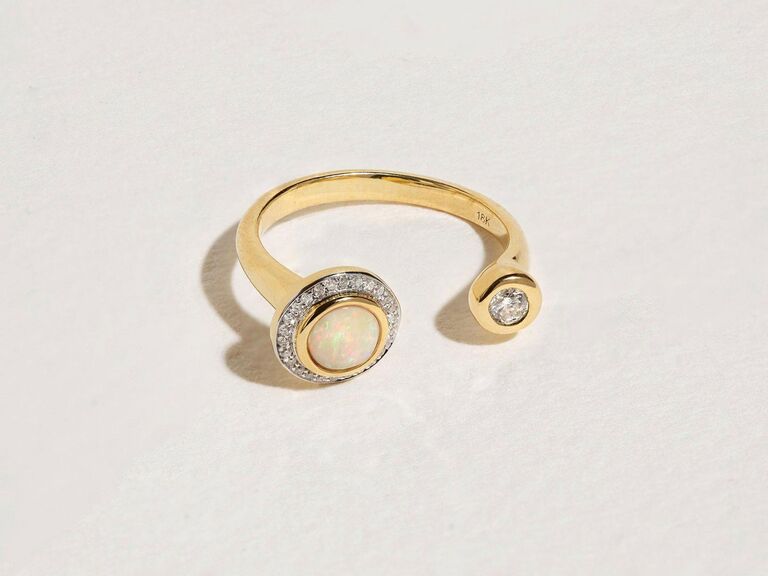 A round cut diamond balances out an opal orbited by a diamond halo. The end result? A conceptual ring that's out of this world.
Pamela Love Gravitation opal and diamond ring $1,700, PamelaLove.com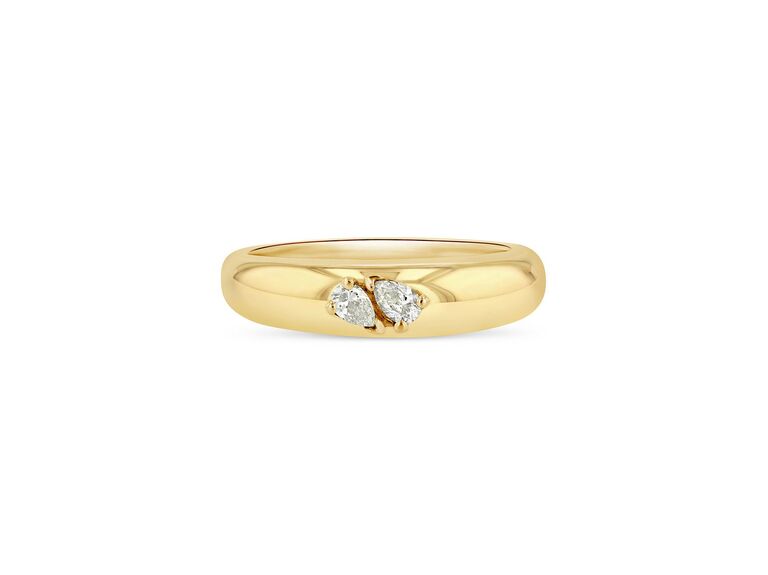 For an understated take on the two stone engagement ring trend, consider this domed yellow gold band with petite pear shaped diamond accents.
Grace Lee Double Pear Demi Demi ring, $1,680, GraceLee.com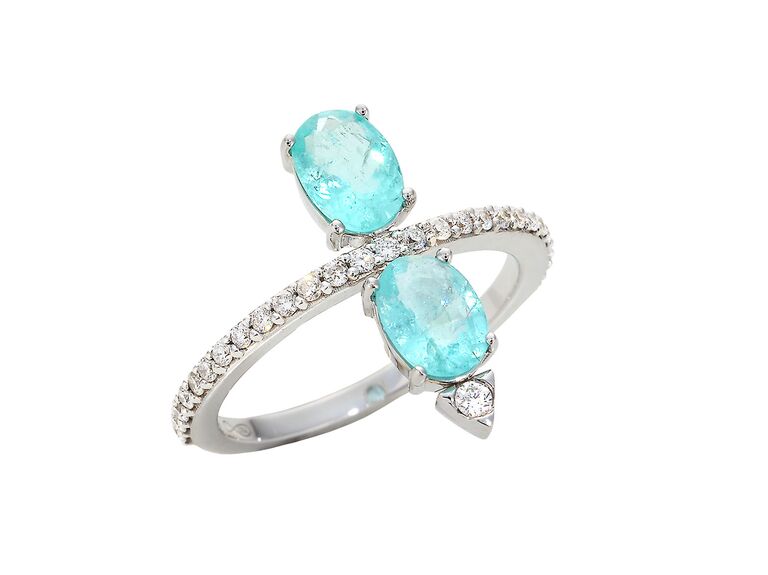 Calling all mermaids. This splashy paraiba tourmaline two stone engagement ring has a magical feel. 
Graziela Something Blue paraiba tourmaline ring, $5,830, GrazielaGems.com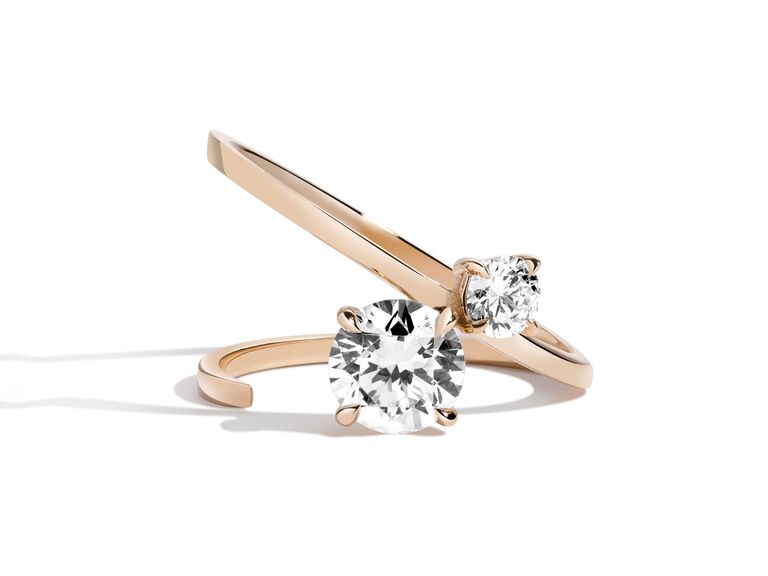 An homage to Bauhaus design, this two stone engagement ring focuses on innovative simplicity. The slant of this setting creates a cool visual effect, where the smaller accent diamond appears to hover above the larger center diamond.
Shahla Karimi Double Brilliant Slant ring, $1,790, ShahlaKarimi.com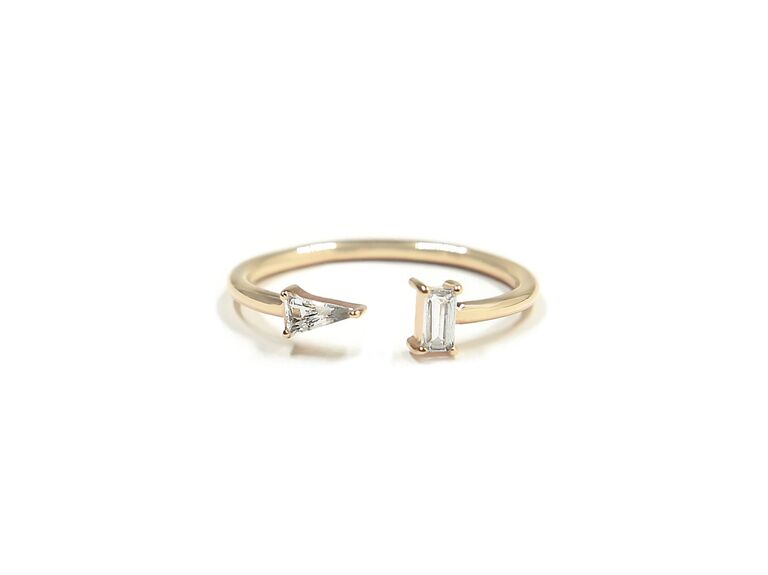 Contrasting stone shapes give this open Toi et Moi ring a fashion-forward vibe. We love the idea of stacking it with other funky bands for an eclectic stack.
Bondeye Jewelry Luna white topaz open ring, $655, BondeyeJewelry.com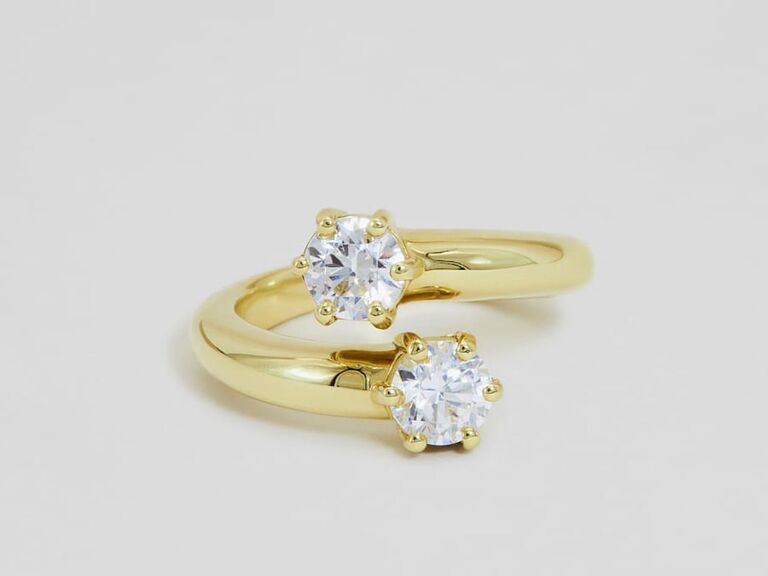 Besides the sleek spiral design, double serving of diamonds and velvety yellow gold setting, there's something else to love about this Toi et Moi ring: Its unisex design comes in a range of sizes for all fingers—no matter how you identify.
Ceremony Yasmin ring, From $5,500, Ceremony.US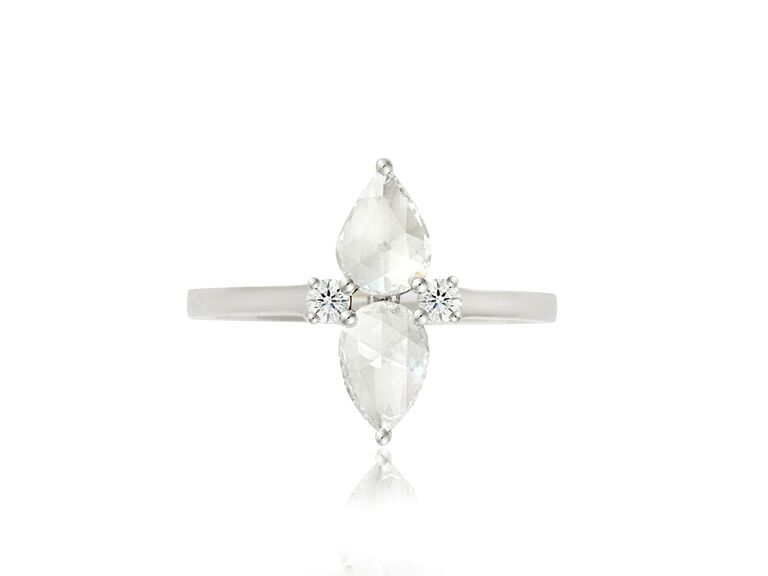 Frost yourself. Two pear-shaped, rosecut diamonds in a polished white gold setting lend this Toi et Moi ring a frosty finish.
Ileana Makri Vow ring, Inquire for Price, IleanaMakri.com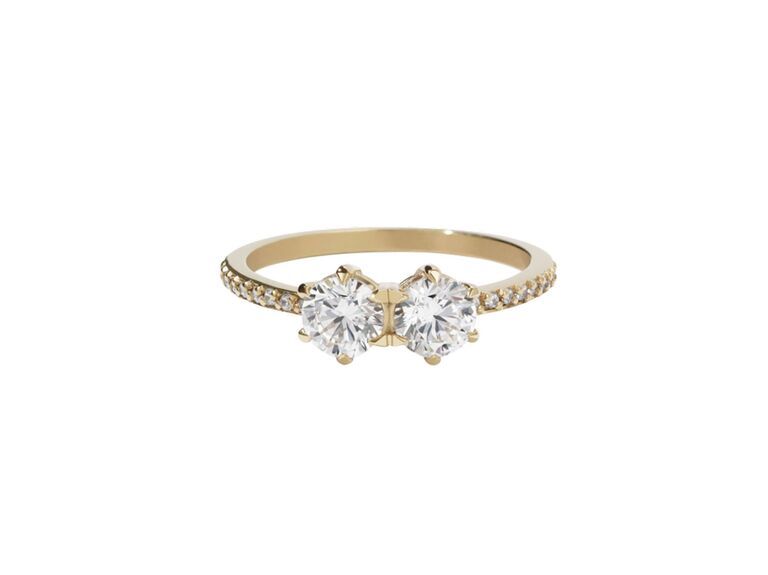 Designed to represent unity between two lovers, the diamonds in this Toi et Moi ring even share two prongs. 
Meadowlark Luna diamond ring, $6,993, Meadowlark.co.nz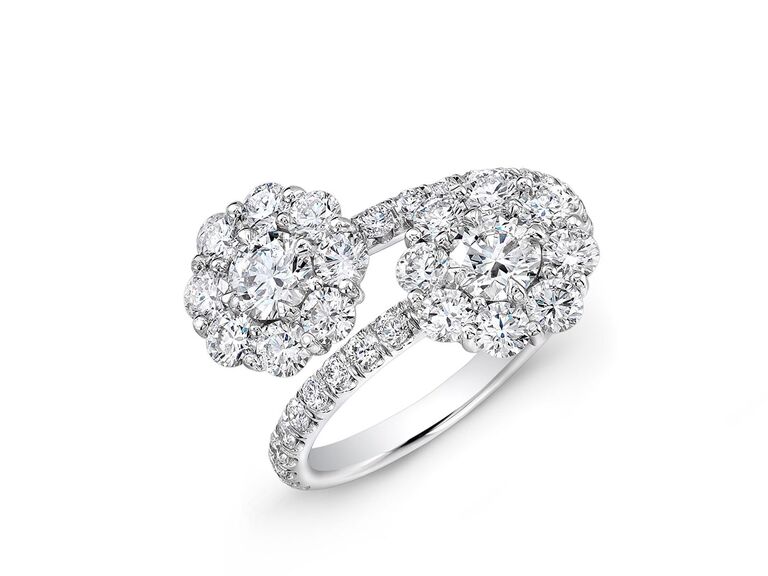 Two words: Flower power. The floral-inspired halos of this two stone engagement ring bring the romance.
Rahaminov Diamonds for Forevermark Cluster Bypass ring, from $11,600, Forevermark.com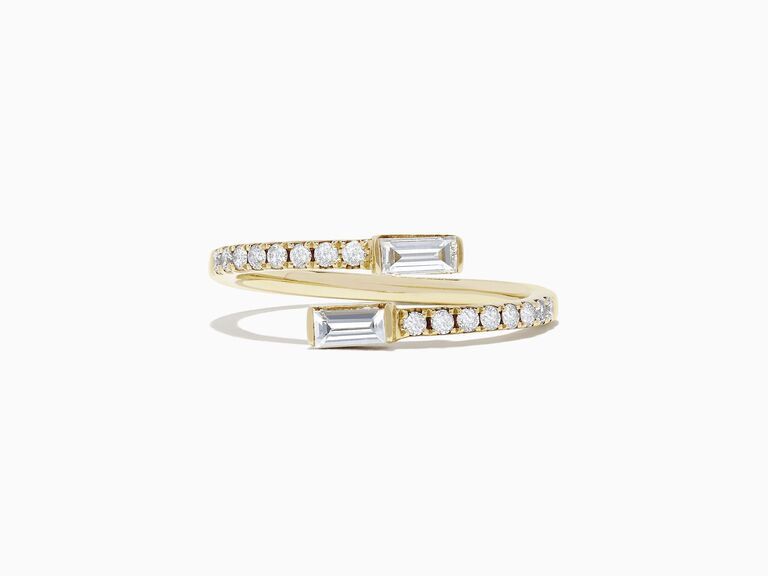 Striking enough to wear on its own but also streamlined enough to work as a modern wedding band, this two stone engagement ring with small diamond baguettes serves effortless glamour.

Effy D'Oro 14K yellow gold diamond ring, $3,850, EffyJewelry.com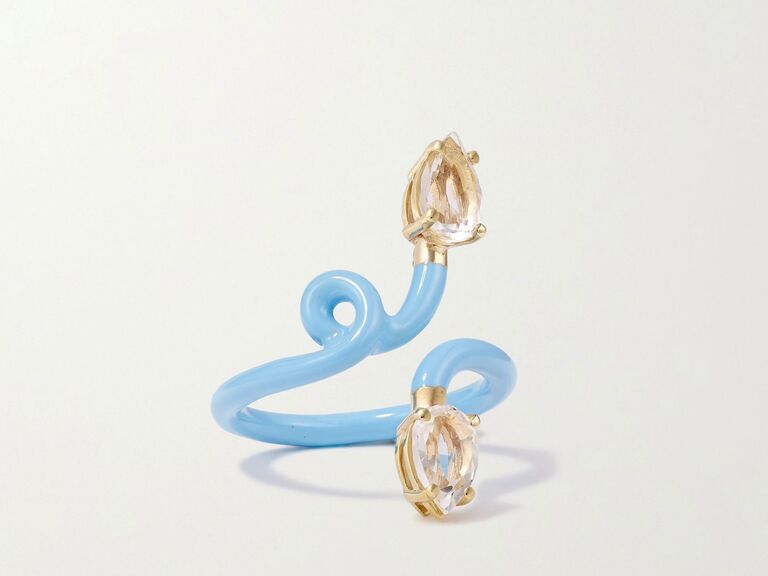 Inspired by vines, the colorful enamel work on this two-stone sparkler makes for a unique "Something Blue." 
Bea Bongiasca Vine Tendril 9-karat gold, enamel and rock crystal ring, $1,080, Net-a-Porter.com