Inside Ariana Grande and Dalton Gomez's Minimony & Former Marriage
The couple is separating after two years of marriage.
Ariana Grande / Instagram
While Grammy winner Ariana Grande and husband Dalton Gomez are going their separate ways, the former couple set the tone for at-home minimonies (mini ceremonies) at the height of COVID when they married in May 2021.
For the subtle affair, Grande chose a strapless, floor-length gown. The bride topped her look with a custom veil featuring a bow. "5.15.21," Grande shared at the time with hundreds of millions of followers on Instagram. The ceremony took place in Grande's Montecito home. The couple exchanged vows by the fireplace, surrounded by flickering candles and simple garlands of hanging florals cascading from the ceiling. The decor was incredibly simple with the pair opting for a white ceremony rug over an aisle runner.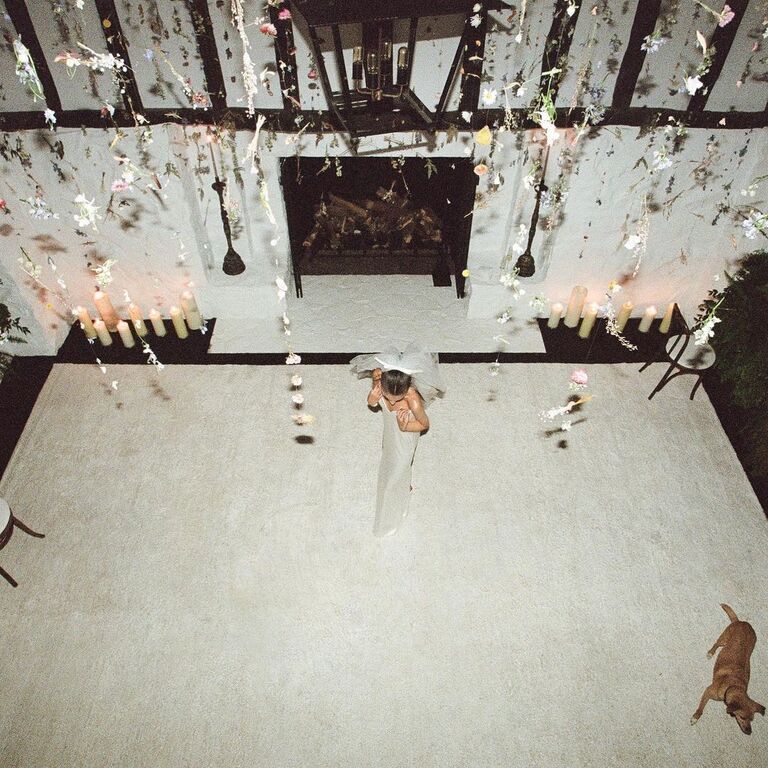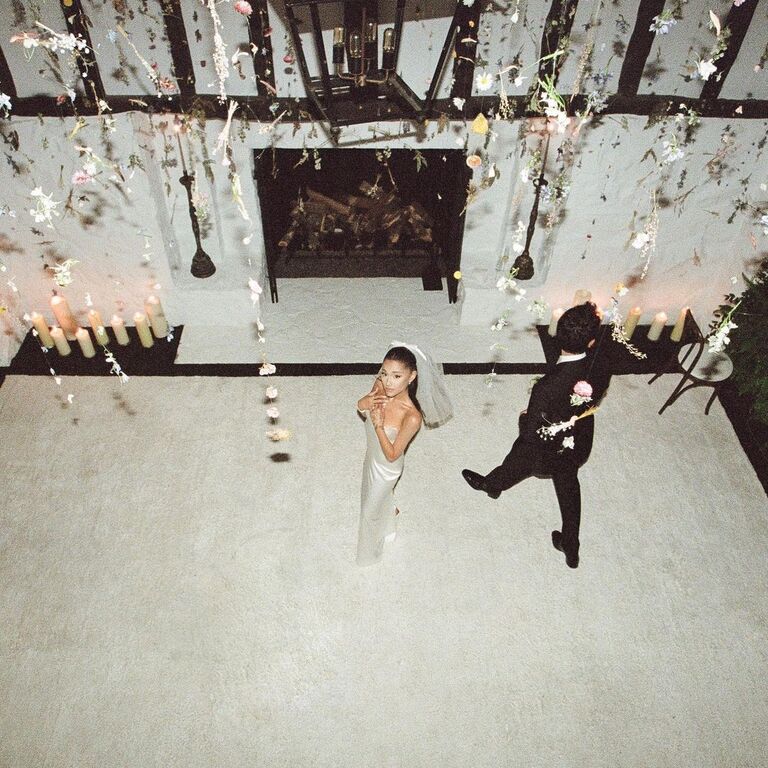 The bride opted for a simple-but-chic, strapless silk gown by Vera Wang. The dress featured a corset-style bodice and a dipped, open back. She topped her look with a veil featuring a bow embellishment to pull together the sweet look. She accessorized her dress with classic, pearl-and-diamond drop earrings custom-made by celebrity jeweler Lorraine Schwartz. Grande kept her makeup simple by opting for a blush and nude palette. She also went with a muted wedding manicure.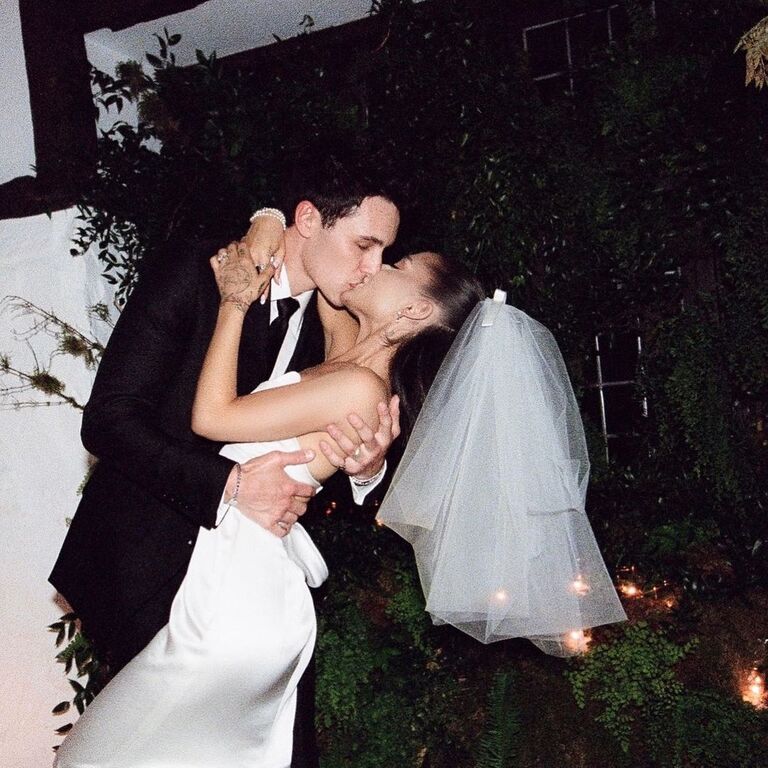 Grande and Gomez chose to wed in a low-key ceremony over something more public and lavish, counter to Grande's larger-than-life career and voice. "It was tiny and intimate—less than 20 people," Grande's rep confirmed to People at the time. "The room was so happy and full of love. The couple and both families couldn't be happier."
Folks previously believed her religious beliefs would also have a role in the wedding and marriage. In 2014, Grande revealed she had converted to Kabbalah (a practice of Jewish mysticism) after being raised Catholic. "They were building a Kabbalah center in Florida so [me and Frankie] checked it out and really had a connection with it," Grande told The Telegraph. "It sort of stuck with me. And since then my life has unfolded in a really beautiful way, and I think that it has a lot to do with the tools I've learned through Kabbalah, I really do." Instead of a formal and structured wedding, the couple invited very few guests, making the event a true minimony, according to our standards. The pair also exchanged informal wedding vows, meaning it was more off-the-cuff. The overall ceremony, TMZ reported in 2021, "was really just for them."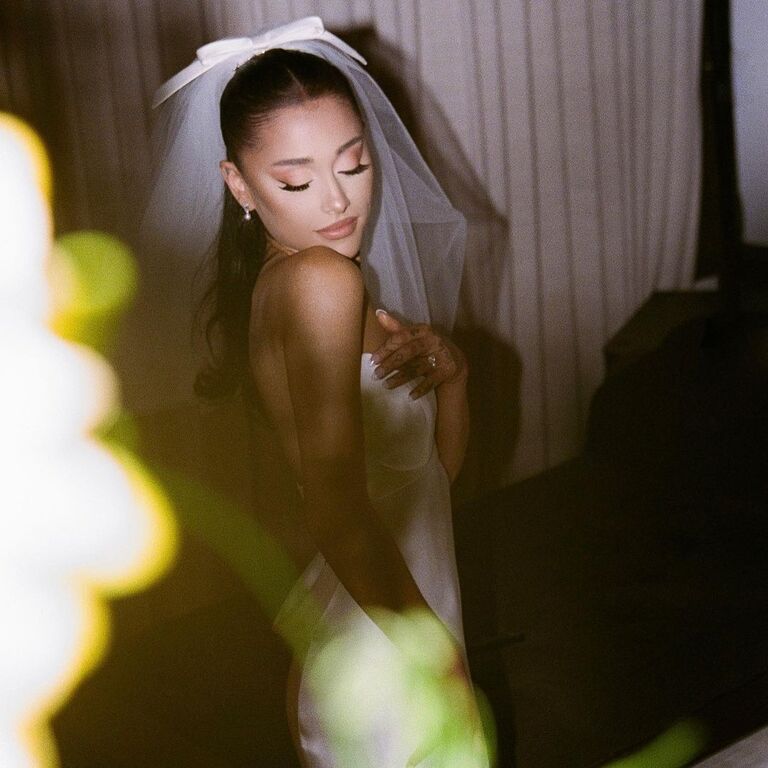 Unfortunately, the spouses called off their marriage in July 2023, just weeks after celebrating their second wedding anniversary.
Ariana Grande & Dalton Gomez's Engagement & Relationship
The singer revealed her engagement in late December 2020, at the height of an unusual proposal season with the pandemic. At the time, Grande posted several photos with her real estate beau—ring, of course, included. "Forever n then some," she wrote on Instagram.
Though their wedding came as a surprise, Grande and Gomez fell quickly for each other. During lockdown in early April 2020, the singer posted photos of Gomez with the caption, "My heart my person. Thank u so much for being u." The two got engaged nine months after they revealed they were dating. (It was the "7 Rings" hitmaker's second engagement after a short-lived relationship and engagement to comedian Pete Davidson.)
Celebrity jeweler Jack Solow was the name behind Ariana Grande's engagement ring. The trendsetting piece was custom-designed by Gomez, who went with a surprising design choice of a toi et moi engagement ring. Grande's ring, in particular, featured one large, diagonally-set oval diamond nestled alongside a round pearl. Both stones were set on a gold band with the diamond registering at about four carats, according to experts.
The toi et moi ring bears romantic significance throughout history as it represents the concept of two people becoming one. As featured on Grande's ring, the gems typically sit directly beside each other. Grande isn't the only celebrity to sport this particular style: model Emily Ratajkowski also previously sported this type of engagement ring when she was engaged and married to her now ex-husband.