The Bachelor's Ashley I. and Jared Haibon Are Expecting a Baby
Read our exclusive interview with the couple about their wedding and more.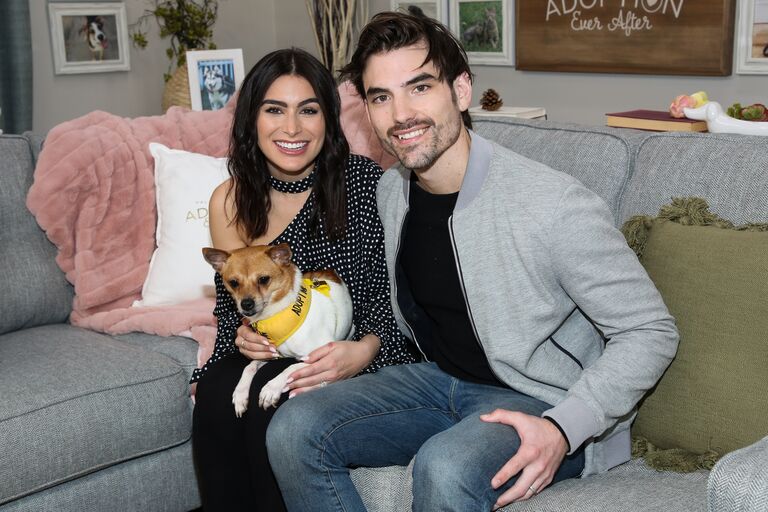 Paul Archuleta / Getty Images
If Ashley Iaconetti (otherwise known as Ashley I.) and Jared Haibon's love story was a rom-com, the selections would vary by stage. The latest is What to Expect When You're Expecting. During an Amazon Live event on July 15, the couple revealed they're expecting their first child together.
"I'm pregnant!" Iaconetti announced. According to the pair, she has been dealing with persistent morning sickness. The declaration came about tw after the couple revealed they had been hoping to start a family sooner, and that they had struggled for six months with the hopes to conceive. "A couple months ago, I was saying I would start feeling worried if I wasn't pregnant by June," Iaconetti expressed in May on Instagram. "This month was annoying, because I ovulated five days earlier than expected and we pretty much missed my fertile window. I haven't had an irregular month in YEARS."
Iaconetti and Haibon have been married for two years after exchanging vows in Rhode Island in 2019. Their love story was particularly popular among Bachelor viewers. The couple's affections oscillated for years as Bachelor Nation was riveted by the friendship-turned-romantic relationship between the Bachelor in Paradise contestants. "Usually rom-coms are the lead-up to the engagement," Iaconetti tells The Knot. "The lead-up [in our relationship] was When Harry Met Sally."
Somewhere, Haibon's heart turned and he professed his love for Iaconetti, culminating in an engagement for the pair. "Our engagement year was The Wedding Planner," laughs Ashley I. "And the marriage year is Boy Meets World, the college years. That's very Topanga and Cory, and that's me and Jared with how we interact." Here, read our exclusive interview with the pair, including their very own rom-com updates, along with their wedding advice for COVID couples, and more reflections and musings from their foray into marriage.
Ashley I. and Jared's Wedding
Celebrity wedding planner Troy Williams of Simply Troy Events helped the couple pull off an extravagant wedding in Rhode Island, where the groom was raised. "Honestly, this is going to sound douche-y, but we wouldn't change a thing. We worked really hard on the wedding with our wedding planner Troy," says Haibon, while Iaconetti adds: "It was a production."
Prior to hiring Williams, the force behind Eva Longoria and José Baston's wedding among other top celebrity names, Ashley I. and Jared grappled with whether they wanted to spend a sizable amount on their wedding, ultimately agreeing upon it as a once-in-a-lifetime opportunity to gather their loved ones in celebration of, well, them.
"For our family and friends, we wanted people coming from out of state to fall in love with Rhode Island. I see the beauty in it, but I wanted our guests to see the beauty in it. So we created an experience for our guests," recalls Haibon. "The chapel that we got married in is a historic, old church in the heart of Newport. It's intimate, small, breathtaking. We had a trolley that picked up our guests to bring them to Rosecliff Mansion, this beautiful road that you go down, so we wanted to make an experience out of it."
More than anything, it was a sudden converging of worlds. "Personally, having the people we love most in this world, all under one roof, dressed up and having fun with food and drinks, beautiful weather [was most meaningful]," reflects Haibon. "Sometimes, it feels like we live two lives—we have our Bachelor friends out in California, Nick, Tanner, Jade, Dean and Ben, and that also includes production like Chris Harrison and others on the camera who feel like our family—and we have our East Coast family: our parents, siblings, cousins and those two worlds haven't interacted before and we love them so much equally. And to have that moment and that weekend where you have people that you love from all different parts of your life come under one roof? Unfortunately, that's something that wouldn't happen again."
Iaconetti says one wedding weekend moment in particular reduced her to laughter and tears, by far making it one of the most memorable. "The rehearsal dinner, we had five people from each wedding party give speeches. It took up an hour and it was the most amazing hour ever," she says. "It seemed like they did it for a living, everything was so heartfelt with the perfect combination of laughter and tears." Haibon's speeches came from former Bachelors Nick Viall and Ben Higgins, along with Bachelorette contestant Dean Unglert.
Ashley I. and Jared's Advice for COVID Couples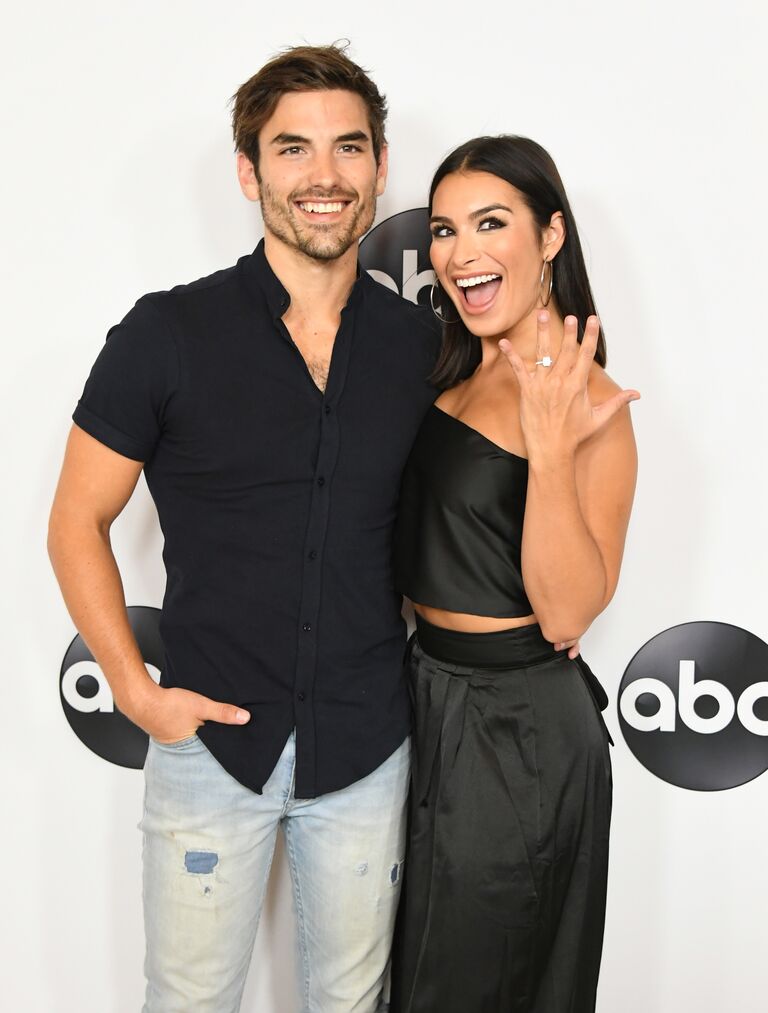 In retrospect, the couple affirms one important step they took during their engagement, which was hiring the right vendors. "First and foremost, it was getting a wedding planner, which I wasn't in favor of early on. I thought we could do it ourselves, and I was way off on that one," says Haibon.

"Troy is the sweetest man. The fact that we hand-picked every song that played during the four-hour reception and the cocktail hour, it was picked out by us," adds Iaconetti. (The couple's band, luxury leaders Jordan Kahn Orchestra, learned new songs for the event.)
As COVID has upended weddings for so many couples marrying in 2020 and 2021, Iaconetti and Haibon reflect on what they would've done had they set a wedding date for a year later. "A lot of it is my personal choice, as in I personally would want to save my big wedding for when I want to have my wedding," she says. "I would get married legally, have a small ceremony and not tell anyone about it. Everyone, it's up to them and what feels right for them. The girls who've dreamt of having a big extraordinary lavish wedding, if that's something you're capable of doing, my advice would be to wait for it."
"Jared and I went back and forth so much during our engagement year about whether we wanted to spend money on the wedding and we decided to go full-blown with it and I'm so thankful that we did," she reflects.
He adds, "If you're willing to spend the money, then wait. Push it back. Why would you spend the money on something that's not what you wanted like Ashley said, we invested in and went forward with it. If you want to get married and you don't care about a wedding, then get married, right now."
Ashley I. and Jared on Marriage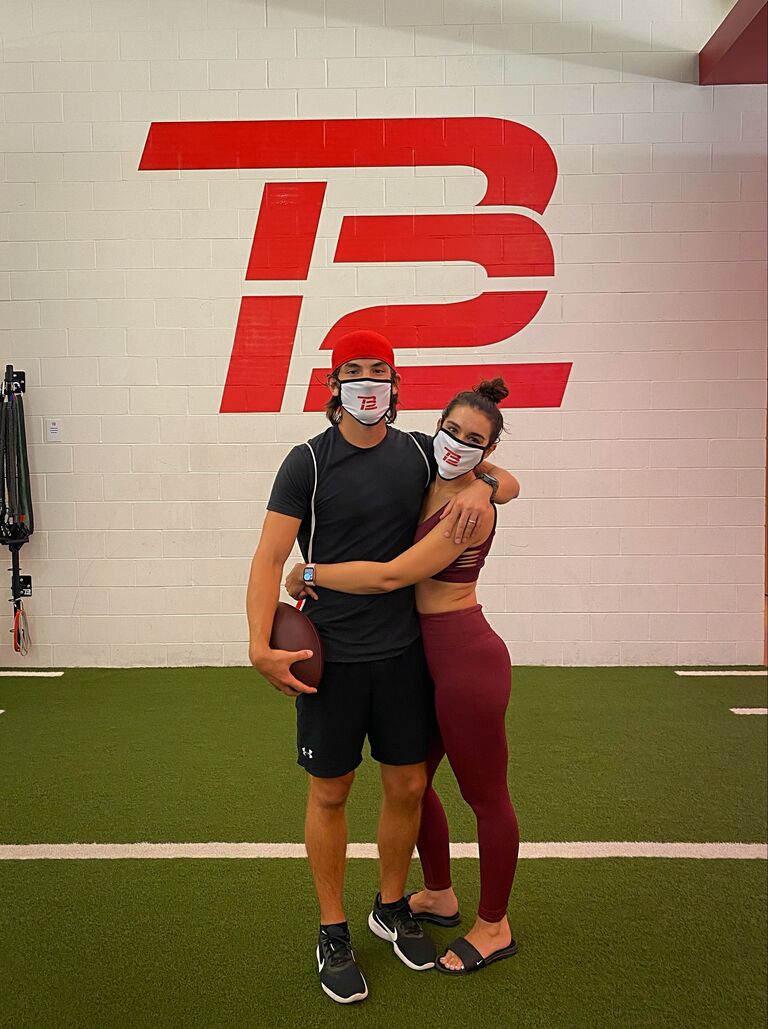 As participants of Tom Brady and Alex Guerrero's TB12 Performance & Recovery Center, quarantining and building a marriage during a pandemic has come with a renewed focus on health and wellness. Prior to COVID and as a surprise for their one-year anniversary, Iaconetti secured a workout at the facility run by NFL superstar Tom Brady for her husband, a longtime fan of the repeat Super Bowl Championship-winning football player.

"Ashley was kind enough to come with me and we had a full day's workout there," says Haibon. "Health and nutrition are an important part of our lives… especially with what we want to do in the entertainment world."
With fitness, the reality couple has settled into a routine. "Ashley and I each do our own workout; she does OpenFit, and I usually go to a gym… but while the gyms were closed, I'd work out in the park with bands and kettlebells," explains Haibon. "Living healthy and active lifestyles are important for couples, because you want to look good for your significant other, try to keep up with them if you're family planning. We want to make sure we have healthy lifestyles to play with our kids until our fifties, and run around with them."
Ashley I. and Jared's Registry Must-Haves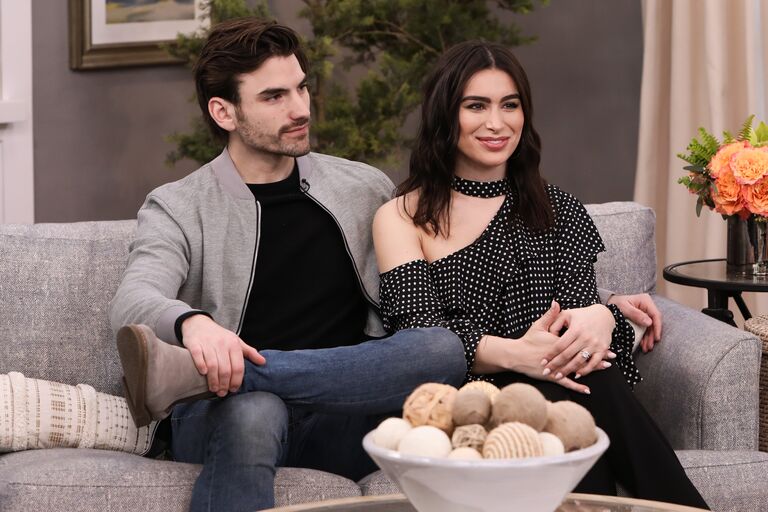 Now, more than ever, it's important for couples to build registries that make their homes feel enjoyable and somewhat experiential, considering the limitations and restrictions in place. (Safety first!) For Haibon and Iaconetti, no wedding gift was received more favorably than one in particular. "An item that we didn't register for, but was a great wedding gift, was the pasta maker. Tanner and Jade got us a pasta maker. We used it at least four times a week. We go to Eataly, buy organic flour, and make our pasta at home. And that's been a nice bonding experience so we're very grateful for that."
The couple has found immense enjoyment in other popular at-home items like a luxe coffee maker and a juicer. "We're able to brew the pot and the Keurig at the same time," notes Iaconetti as she calls attention to another decor item. "The curtains we registered for are our big one," she says. "They're from Crate & Barrel, they're navy blue and velvet. They honestly make our apartment look richer. They're really elegant and add a lot of richness to the room."
"They're very nice, heavy and keep the sun out," affirms Haibon. "They're homey but they're a little masculine. We got a lot of stuff from Crate… pots and pans, dishwater, cool black plates, charcuterie board that's marble—it's really freaking heavy… We like to entertain, we don't entertain much. During the AFC and NFC Championship Games, we had our buddy Nick Viall and Chris Soules and Dean Unglert over, and that was fun to entertain."
Check out another Bachelor Nation couple's registry (ahem, JoJo Fletcher and Jordan Rodgers' wedding plans and pivots too) for inspiration and start your registry on The Knot today.