Exclusive: The Bachelorette's JoJo and Jordan Reveal Never-Before-Seen Wedding Photos
Get an inside look at the couple's ultra-romantic nuptials with these brand-new pictures.
We have included third party products to help you navigate and enjoy life's biggest moments. Purchases made through links on this page may earn us a commission.
According to The Knot Real Weddings Study, the average engagement length is 16 months—a number The Bachelorette's JoJo Fletcher and Jordan Rodgers easily surpassed. The beloved Bach Nation couple, who met on the 12th season of ABC's smash reality dating series, were engaged for a whopping 75 months following their 2016 engagement in Thailand. As fans of the show will recall, Rodgers notably received Fletcher's first impression rose on the first night of the season, and the rest was history… kind of.
Following their televised engagement, Rodgers re-proposed off-camera with a new engagement ring as their wedding planning journey was well underway. But when the coronavirus pandemic broke out, they ultimately postponed their wedding twice in order to have the dream day they always envisioned. Finally, six years after their first engagement, they wed during an intimate rustic ceremony at Sunstone Winery in Santa Ynez, California on May 14, 2022, and, according to the duo, it was well worth the wait. "I don't know if there's anything that could be thrown our way that we can't work through," Fletcher exclusively told us ahead of their wedding. "Six years taught us a lot, and we feel so at peace and prepared—and we're so excited to be married."
Leading up to their nuptials, the couple worked closely with The Knot to design their invitation suite and curate their wedding registry. Now, as they settle into married life, the newlyweds are revealing never-before-seen wedding photos and details, right here. Read on to get a glimpse inside the most anticipated Bachelor wedding yet.
In this article:
JoJo Fletcher and Jordan Rodgers' Wedding Details
Despite postponing their plans multiple times leading up to the big day, Fletcher and Rodgers were able to preserve many of their original wedding details. "We were lucky enough to be able to stay in the same season and take advantage of the beautiful weather that Southern California has to offer in May," they tell The Knot. "Our wedding planner, Gianna SanFilippo, helped us pull all of our ideas together, bring the vision to life and make sure we were able to enjoy the day."
The Wedding Aesthetic
That vision was ultimately inspired by the ethos of their relationship. "We're laid back, so we wanted the wedding to feel natural and calm but still formal," they explain to us. The concept of this casual-yet-elegant aesthetic was perfectly encapsulated by Sunstone Winery's scenic views and sprawling grounds. "We just fell in love with Sunstone. The privacy, the character of the Villa, the ability to have a 'migrating' wedding with multiple event spots, and the stunning lush vineyard encompassed everything we wanted out of a venue."
The Fashion
Both the bride and the groom had outfit changes during their wedding. For the ceremony, Fletcher donned an off-the-shoulder mermaid silhouette gown by Ines di Santo with Jimmy Choo shoes and a full-length veil, while Rodgers looked dapper in a custom black tux and bow tie. For the reception, Fletcher swapped her dress for a custom J. Andreatta gown with beading and feathers while her husband put on a custom off-white tux jacket.
The couple tapped celeb-favorite brand Ring Concierge for their wedding bands and day-of jewelry. Fletcher paired her oval-cut diamond engagement ring with a stack of bands to wear interchangeably, while Rodgers selected a brushed gold wedding band.
The Ceremony
Surrounded by 170 of their closest friends, including Bachelor alums Raven Gates, Adam Gottschalk and bridesmaid Becca Tilley, along with sports stars Tim Tebow and Shawn Johnson East, the couple swapped vows in between towering oak trees in the middle of the vineyard. With the help of Hidden Garden Flowers, the venue was transformed into a magical oasis of fresh flowers, vines, and lush greenery. "We built an aisle and a stage and had flowers lining the aisle the whole way up," says the pair. "It felt like we were walking through the flowers to get to the altar."
The ceremony was officiated by the couple's close friend Pete Wilson, who also married Rodgers' brother, Luke. The groom entered to an instrumental version of "Wildest Dreams," while the bride walked down the aisle to a strings version of "Holy" alongside her father. Prior to the ceremony, they shared private sentiments during their first look and later recited personalized renditions of traditional wedding vows in front of loved ones. Looking back, it turned out to be the bride's most cherished memory from the big day. "My favorite moment was finally getting down the aisle to Jordan and holding his hands," she reflects. "It felt like it was just us there in that moment."
The Reception
Following the romantic ceremony, the string musicians continued to play as guests transitioned to cocktail hour. Food and drinks were two major components of the wedding day, and the couple treated loved ones to some of their favorite pairings. They selected a classic Moscow mule and a passionfruit margarita as their signature cocktails, which were served alongside a fresh prosciutto and burrata bar, prepared and served by an onsite chef.
Ahead of their nuptials, both Fletcher and Rodgers agreed that the reception entrance was their most anticipated moment—a prediction that ultimately came to fruition. "One of our favorite moments was dancing our way into the reception to finally celebrate what we have waited so long for," they note.
And, as it turns out, the dancing never quite stopped. The newlyweds enjoyed their first dance to a cover of Shania Twain's "You're Still the One," which they felt perfectly represented their love story. "After hearing Teddy Swims' version, we fell in love with his soulful voice that added a unique spin to the song," they say. "The lyrics just resonate with us, our love, and our journey to getting here." Following their special moment, the couple's DJ queued a variety of tunes to keep guests on their feet all night long: "The dance floor was never empty."
Amid the party, guests enjoyed a salad and a pasta course, along with filet mignon and Chilean seabass. Although the couple skipped a traditional cake cutting moment in front of the crowd, they did have a red velvet cake to slice for themselves. For dessert, they enjoyed a chocolate and hazelnut crème brûlée bar and a white chocolate mousse with passionfruit and mango compote, which they say was "absolutely incredible."
As their long-awaited nuptials came to a close, they concluded the night with one last surprise. "During our final song, 'Everlasting Love,' we surprised our guests with sparkler canons," they reminisce. "It was so fun!"
JoJo and Jordan's Wedding Invitations
The couple worked closely with The Knot throughout their entire wedding planning journey, and they ultimately designed their own custom invitation collection (available for you to shop too!). The pair wanted to give their guests a taste of what was to come through their invitations, which led to the creation of their romantic design with a vineyard depicted at the top. "We knew that we wanted our invitations to give guests an idea of what our wedding would feel like," Fletcher told us ahead of the nuptials. "Having the illustration of the vineyard was such a beautiful way of showing them what to expect."
They personalized just about every element of their paper suite, from the font to the colors, and even the material itself. "Since we planned a black-tie event, even the quality of the paper was important," Rodgers added. "We wanted them to visually give an idea of what it was going to be like."
While they didn't expect the design process to be one of the most memorable moments of the planning process at first, it ultimately became an integral way for the couple to personalize their nuptials. "We didn't even realize to what extent you can customize these invitations," Fletcher said. "Being able to work with The Knot was really cool for us and our wedding."
JoJo and Jordan's Wedding Registry
Given their six-year engagement, the couple almost didn't create a wedding registry, particularly because they spent that time crafting a full life together. "At first, we didn't even know if we wanted to have a registry, but our friends and family said they wanted to give something," Rodgers previously told us.
Once they learned about all of the personalized gift ideas offered by The Knot Registry, they opted to hyper curate their wish list by selecting products that were sentimental and thoughtfully crafted around their lifestyle. "We loved the ability to add charities, experiences, and cash funds for things like renovations," he added. (Following their Bachelor days, the couple landed Cash Pad, a CNBC reality series that follows them as they flip and remodel homes together.) "There were so many other ways our loved ones could give and feel involved in our lives other than just giving a kitchen appliance. We wanted to give them a lot of different options, and The Knot has the ability to put it all in one so that it's all-encompassing."
Ultimately, the couple registered for a variety of gifts that complement their love of cooking, traveling, entertaining, and spending time together. Included on their list were NFL tickets, a Napa Valley dinner train experience for two, travel accessories, yard games and furniture, and a Winc subscription to taste new varieties of their favorite wines. But their favorite registry addition was perhaps the most personal. "We added an outdoor counter pizza oven to our registry after trying some homemade pizza from the one my brother purchased, and we were obsessed!" Fletcher said excitedly. "We plan to be spending more time entertaining outdoors and know this item will be used often in our household."
Their Plans for the Future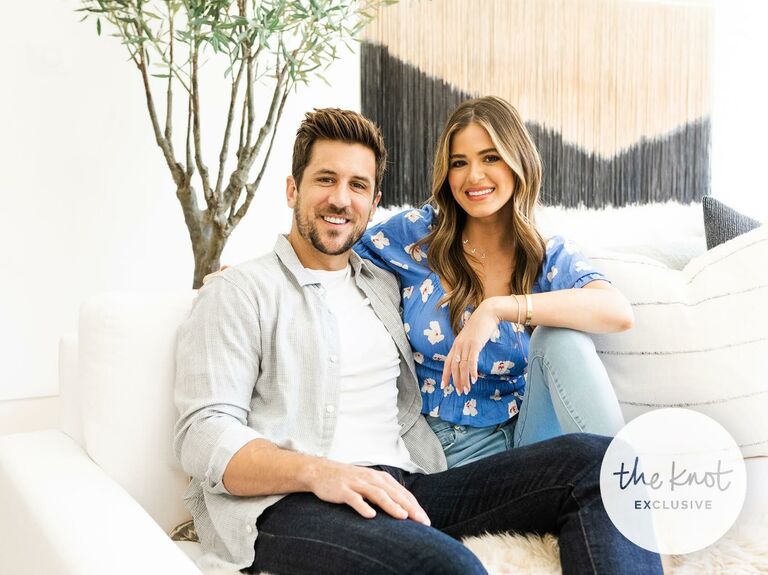 Immediately after their wedding, the happy couple jetted off on a European honeymoon tour for some much-needed R&R. As for the rest of their future plans? They feel prepared for just about anything. "In the last six years, we've experienced a lot, especially considering how we met and how our first year in the public eye played out," Fletcher explained. "Then, going through a pandemic and postponing our wedding twice together really forced us to navigate through life together in a short time." Adds Rodgers: "You want to go through adversity and understand how to get on the other side of it for any relationship."
One major perk is that they're still finding commonalities with their respective interests. "Jordan and I just talked about this the other day: we're very lucky to enjoy a lot of the same things," Fletcher previously said. "On the other hand, my advice would be to have your own individual hobbies, which I think is so important, because when you need your 'me' time, you need to be able to go do something for yourself. But you have to have something as a couple that you enjoy doing together, within your home. Jordan and I love taking walks together. We love working out together. We love cooking together now. So obviously having hobbies and things that you can do on your own time is important, but also really finding things that you love to do together and enjoy together I think is important. And then, when you have disagreements, there's nowhere you can run to so you better sit down and figure it out and communicate. So, definitely been working on that 24/7."
The Silver Lining of Postponing Due to COVID
While the pandemic was disappointing across the board for couples and pros globally, Fletcher and Rodgers saw one upside to their new wedding date: extra time. "Before we made the decision to postpone, there were a few little things that we were still trying to figure out as far as [the wedding weekend]," she told us. "It was important to us that our wedding would be an experience for guests—something that they'll remember."
"The added time since we had to delay our wedding is good and bad," Rodgers joked. "We got time to rethink a few things that we wanted and make a couple adjustments. But the real bad thing is, I had to take JoJo's Instagram away from her at times, because she needed to stop looking at wedding dress profiles! She picked the one and then every couple days she's like, 'Oh my gosh.' I'm like, 'Stop looking at those! Stop looking at dresses.'"
Jokes aside, one thing is certain: JoJo and Jordan are more than ready for their new chapter. "Our six years together has set us up for whatever can come," she says. "We're very excited."
With reporting by Esther Lee
Vendors:
Event Designer: Gianna SanFilippo; Event Producer: Be Inspired PR / Leila Lewis; Venue: Sunstone Winery; Floral Designer: Hidden Garden Flowers; Photographer: Valorie Darling; Video: Robert Michael Films; Furniture Rentals: Found Rentals; Glassware, China, Linens: Signature Rentals; Catering: Colette's Catering; Stationery: The Knot; Lighting & Draping: Bella Vista Designs; DJ: Dart DJ; Strings: Luxury Entertainment Group; Cake: Bodega Bake Shop; Bridal Makeup: Emma Willis; Bridal Hair: Marissa Marino; Wedding Bands & Wedding Day Jewelry: Ring Concierge; Wedding Stylist: The Bold & Bridal; Bridal Gown Ceremony Dress: Ines Di Santo; Bridal Gown Reception Dress: J Andreatta; Groom's Suit: Gentleman's Playbook; Bridesmaid Fashion: Fame & Partners; Bride/Bridesmaids Robes: Le Rose; Bridesmaid Jewelry: Gorjana; Bridal Party Beauty: Contour Fossa; Wedding Bands: Ring Concierge; Cigar Roller: Cigar Bella; Valet: Blue Star Parking; Transportation: Swoop