Exclusive: The Bachelorette's JoJo and Jordan on Love & Almost Marriage Amid COVID-19
The couple has postponed their wedding yet again.
We have included third party products to help you navigate and enjoy life's biggest moments. Purchases made through links on this page may earn us a commission.
JoJo and Jordan were supposed to marry in 2020, but like the millions of to-be-weds who were impacted by the coronavirus pandemic, they, too, had to pivot their wedding plans and change-the-date. Fans first witnessed JoJo Fletcher and Jordan Rodgers (now affectionately referred to by the masses as "JoJo and Jordan") fall in love on the ABC reality show The Bachelorette, where she handed the SEC Network analyst the first impression rose, ultimately singling him out as her final rose recipient in 2017. While cameras rolled and showcased an ecstatic newly engaged pair in the broadcasted season finale, what came next for the couple proved to be the most dramatic season yet. As of late, the couple has been candid about the ups and downs in their relationship, especially early on as they were exposed to newfound attention while getting to know each other; in addition to living together in small quarters.
"The first few years were crazy, we were in the smallest house we've ever lived in, we were still getting to know each other, we didn't figure out communicating at that point," Fletcher, age 29, tells The Knot in an exclusive interview. "But now that we're in a bigger house it's like alright, Jordan's gonna go upstairs, go do his little workout, I'm gonna be downstairs in the kitchen, so we have a little more space now… Can you imagine? Like I think about all my friends in New York who are in these like studio tiny apartments with their significant others, their pets or their kids and I'm like, 'You are sitting there and you're stuck. Like, you guys have got to talk this through.'"
Reflects Rodgers: "I need my [own] time in an argument and JoJo's the exact opposite. This is probably the reason, in those thousand square foot homes in our first couple years, where we almost broke up a few times. We weren't on the same page then and I needed space, and she wanted to fix it right then."
These days, the couple has dealt with a different type of challenge, one that has impacted many engaged couples around the world: wedding planning (and pivoting) given COVID restrictions. JoJo and Jordan's wedding, a highly-anticipated event for Bachelor fans, was originally slated to take place in spring 2020 and was postponed to May 2021. They've since had to postpone their nuptials yet again, pushing it further back to 2022. Read on for all the latest details and what we've learned as they plan a wedding amid COVID-19.
In This Article:

JoJo and Jordan's Wedding Plans
On June 13, 2020, the reality couple was first set to walk down the aisle at Sunstone Villa, which the bride-to-be describes as a "beautiful vineyard, winery, private estate in Santa Ynez… Honestly, it's our dream location, everything was perfect."
"When all the COVID stuff started happening, in the beginning we were really optimistic that this will sort of blow over and as we approached our date, maybe it'll clear up," she adds. "Just as time went on and on we kind of waited as long as we could, and then finally had to make the decision to postpone it, which was difficult but it was absolutely the right decision."
The couple isn't alone: according to our internal data, half of all 2020 weddings were postponed to a later date, a quarter well into 2021 and the remainder into 2022. In Jojo and Jordan's case, the couple made the challenging decision to, yet again, move the nuptials back another year to May 2022 due to restrictions in California.
"We're rolling with the punches, you know, at this point, it is what it is," she told Access in May 2021. "We know that when it does happen, it will be everything that we want it to be. We'll get to have everyone there [whom] mwe love because I don't want to have a wedding with my closest family and my friends aren't able to be there."
The reason behind the postponement is simple: while the couple is "obviously, totally committed," they are also "so in love" with their venue. "We feel married already, so we want to have that day be what we dreamt it to be," Fletcher added. "And we want the people that are there to also feel very comfortable."
JoJo and Jordan's Change-the-Date Process
Given the initial scramble of securing a new date, the couple walked through multiple case scenarios. Did the couple want to move forward with a minimony? Did they want to trim their guest list to only a select few? "Originally, we threw around a bunch of different scenarios: we had a guest list where we invited around 200 and we were expecting around 150 to 170 guests to attend," says Rodgers. "As we were thinking about postponing, delaying, changing the guest list, we didn't want people to have to decide between their health and travel and our wedding."
For JoJo and Jordan, it didn't make sense to speed up a process they've awaited for four years. "We've been engaged a little while now. We're living together, we have dogs together, it was impertinent for us to have a small wedding or a minimony," Rodgers says. "We wanted to have that experience once. We wanted to have that hopefully next year just as we want it where everyone is fine to travel, no one has any worries or concerns about their health… We didn't want to change the guest list. We didn't want to have something that was different than what we've dreamt about for almost four years at this point now."
"To bounce off that, this day is such a big day for both of us," says Fletcher. "It's a once-in-a-lifetime day. I think when we've seen other couples have a mini celebration and then they decide to have the actual wedding next year. We really wanted it to be one time, what we envision, so we're okay with holding out a little bit longer."
As with postponing, one of the biggest concerns was whether the couple would be able to maintain their original wedding vision. "The great news is that we have mostly everything still planned the way it was," remarks Fletcher, "and our vendors and our venue, they've been so amazing. So we're able to really just take what we had and just move it to next year."
Securing a worthy date was another part of the challenge. "It's so funny, we've had so many dates tossed around at us since we've been trying to renavigate this whole thing," she continues.
"Luckily, it'll probably be much of the same," adds Rodgers. "When we originally had to throw around the idea of delaying and rescheduling, we looked at July [2021] as a possibility, but the later you get into summer at our venue, the hotter it gets. Our venue is entirely outside so we were looking at ways to, 'Well, we could create more shade structure. We could change some things. We could try to have the ceremony shorter and a different location.' And there were a lot of moving parts, so with pushing it to May [2021, initially], the weather is much more temperate."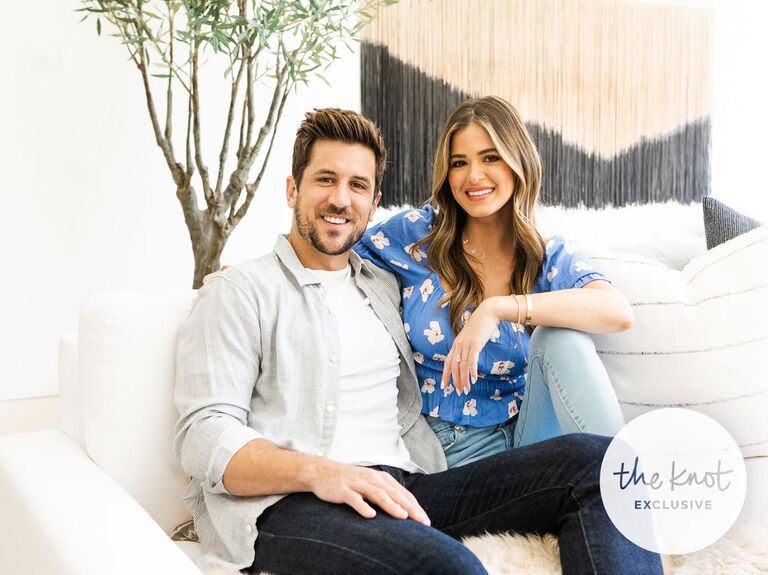 Danielle M. Sabol / Danielle Sabol Photography
The Silver Lining of Postponing Due to COVID
While the situation was disappointing across the board for couples and pros globally, Fletcher and Rodgers have seen one upside to their new wedding date: again, time is on their side. "Before we made the decision to postpone, there were a few little things that we were still trying to figure out as far as [the wedding weekend]," she says. "We want it to be like this sort of weekend celebration—different activities our guests could do leading up to the actual day of the wedding. We hadn't pinpointed exactly what we wanted that to look like."
"Now, that'll be one of those things that we focus on leading up to the weekend. We have no clue what that's going to be, but we have some time," she adds. "It was important to us that our guests who are flying in and the majority of all of our guests will be coming from out of town so we really wanted that weekend to be an experience for them and something that they'll remember so we definitely want it to be more than just that one day. So that's probably something that we'll focus on moving forward as we continue the planning."
"The added time since we had to delay our wedding is good and bad," jokes Rodgers. "We get time to rethink a few things that we wanted and make a couple adjustments. But the real bad thing is, I have to take JoJo's Instagram away from her at times, because she needs to stop looking at wedding dress profiles! It's like she picked the one and then every couple days she's like, 'Oh my gosh.' I'm like, 'Stop looking at those! Stop looking at dresses.'"
JoJo and Jordan's Wedding Registry
The ABC couple opted to hyper curate their wedding registry through The Knot by selecting products that are sentimental and thoughtfully crafted around their lifestyle. The couple added products for a night in like the ever-popular Samsung Frame TV and onesie pajamas that are hilariously themed around In-N-Out. They also requested, under The Knot Cash Fund, that guests purchase them a VINEBOX Wine Subscription, which features a rich selection of varietals from regions such as Italy, Spain and France.
For the pair, who enjoys home renovation and home cooking (generally, all things related to home), the to-be-weds requested items to enhance their engagement together. One of the activities they enjoy is cooking family recipes, including a cultural dish known as the "Ghormeh Sabzi," a beef and lentil stew, from Fletcher's mom, who is of Persian descent. They've also added Gordon Ramsay's MasterClass to their registry since it doesn't hurt to learn how to prepare, sauté and poach from the master chef himself.
"My eyes were opened even more to how JoJo's good in the kitchen," Rodgers says. "For a long time that was really not the case. She had one, maybe two things she could do and in a pinch… But we've been forced, obviously. It's been a good thing… to cook almost every single day, every single night. So I've been like, 'Okayyy.'"

Why Quarantine Was Great for the Couple
Some couples have found new ways to reconnect and thrive while isolated in 2020 due to the coronavirus. JoJo and Jordan, most certainly, have discovered their stride as a dynamic duo. "What have we learned? During football season, Jordan works four to five days a week so he's extremely busy, and that's kind of our season where we spend more time apart," says Fletcher. "When it's not football season, I feel like we're together 24/7, every single day, we do everything together. So being 'quarantined together' during this time… I don't think it made that much of a difference except for we were confined to our home, which was unique. And I think that we both got really creative on how we could still enjoy each other's time and company…"
"…Without driving each other crazy," laughs Rodgers, as Fletcher echoes her fiancé.
Fletcher has also noticed her future husband's quirky habits: his love of coffee and his burgeoning home improvement skills. "Jordan has this serious coffee addiction and it's eased," she says. "When all the coffee shops shut down, we had none in the house. He doesn't like homemade coffee. So I did find out that when he doesn't have his 'Venti Iced Americano' the right way, he gets [antsy]."
Adds Rodgers, "I like to go talk to my baristas. I like to have that experience." (Hence, one of the reasons why the couple added an espresso machine to their wishlist in The Knot Registry Store.)
As the two are known for flipping homes and venturing in that direction, Fletcher has noticed how her fiancé has certainly grown in this department. "He's actually more handy than I had originally imagined," Fletcher admirably remarks. "He's very good at construction and that sort of thing. It's like the little itty bitty things around the house that you didn't know that needed fixing or you knew had a solution, but you figured it out with like crooked trees in the yard, and just little things. He's definitely a lot more aware of… problems now."
Their Biggest Relationship Focus Areas
For JoJo and Jordan, the biggest area of growth in their relationship, something that has helped them move past the biggest hurdles, has been talking it out. "I always say communication is like the biggest thing in a relationship," says Fletcher. "But I also think that like, obviously during this time it is a unique situation and circumstance for so many people, especially people that typically have 9-to-5 jobs, they don't spend every second with each other. Or couples who travel a lot for their work… So first off, communication for everything is so important."
They're still finding commonality with their respective interests. "Jordan and I just talked about this the other day: we're very lucky to enjoy a lot of the same things. On the other hand, my advice would be to have your own individual hobbies, which I think is so important, because when you need your 'me' time, you need to be able to go do something for yourself. But you have to have something as a couple that you enjoy doing together, within your home. Jordan and I love taking walks together. We love working out together. We love cooking together now. So obviously having hobbies and things that you can do on your own time is important, but also really finding things that you love to do together and enjoy together I think is important. And then, when you have disagreements, there's nowhere you can run to so you better sit down and figure it out and communicate. So, definitely been working on that 24/7."
What They've Learned While Wedding Planning Amid COVID
With wedding planning has come a series of lessons, and COVID has added an even bigger twist. "When I first went into wedding planning mode, I think I psyched myself out a little bit and made myself a little bit more nervous than I needed to be. What I've learned is that if you are the type of person who can plan things out really well, you have that party planner mentality, you're super organized, you probably could do it yourself," says Fletcher. "I have seen so much value in my wedding planner, and I just can't say enough about how much easier she's made it. Working with somebody who understands this day. There are many things that I didn't think about, that I didn't realize were important… Little details."
Rodgers agrees. "That's why a great wedding planner, a friend or a family member who's done this before [helps]. When you go through the process of picking everything out, if you're unable to delegate things, you're going to pick things apart, over and over again. I mean you could sit there and try to pick the exact napkin rings and utensils. Then on your wedding day, you're probably going to look at it and go, 'You know what, we should've gone with that other one.' So pick the things that are super important to you. Take a handful of things that are super important, and spend most of your time on making sure those are right."
"We keep going back to this when we were going through the decision to postpone and reschedule and we'd go, 'You know what? In five years, 10 years, 20 years from now, we won't remember if it was 2020 or 2021. We won't remember the difficulties that we went through in planning. We will remember that moment when we're standing up there, saying our vows, when we're getting married,'" Rodgers concludes. "And [couples will] remember the love they had around them. So as difficult as this process is for us and millions of others trying to plan and execute in the time of such uncertainty, what matters is love and what matters is that day and it happening… Just have some faith. It'll turn out amazing."