22 Bachelor Party Favors That the Guys Will Be Happy to Bring Home
Bachelor party keepsakes can be tough to sort out, but these ideas are guaranteed to make lasting memories.

We have included third party products to help you navigate and enjoy life's biggest moments. Purchases made through links on this page may earn us a commission.
Some say it's his last night of freedom, others say it's honoring a new beginning. Whatever the perspective, bachelor parties (also known as stag parties) are a rite of passage not to be missed. The groom might be fine with a night of watching Star Wars with his buddies or be the kind of guy that wants to go wild and make some memories. No matter which type of celebration is planned, bachelor party favors are an essential component to marking this historic event. After all, how else is everyone going to remember what happened? (Kidding—sort of.)
When shopping for bachelor party favors—or bachelorette party favors for that matter—it's important to keep in mind how many gifts you'll need and how much you want to spend all-in. The event style, location and the groom's preferences should also be a big part of deciding what to give. From shot glasses and hiking hats to personalized Hawaiian shirts and matching keychains, we've pulled together the best of the best bachelor party gifts for the groom and his groomsmen. Don't worry, we kept our gift ideas classy—without losing any of the fun.
Brooklyn Brew Shop Beer Making Kit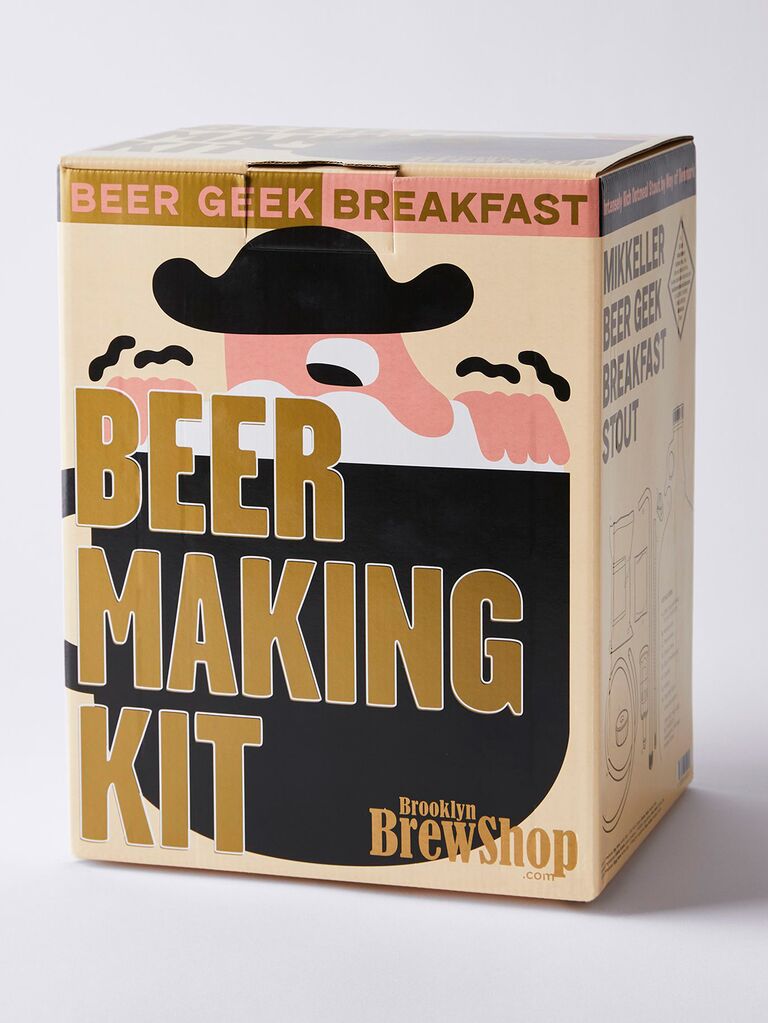 If his friends are looking for a new hobby to pick up, this beer-making kit might be the perfect gift idea for them (not to mention a great bachelor party idea in general—a beer brewing class!). It comes complete with everything they'll need to try their hand at at-home fermentation, including hops and beer-making yeast. Cheers, guys!
The Knot Shop Cool Favor Sunglasses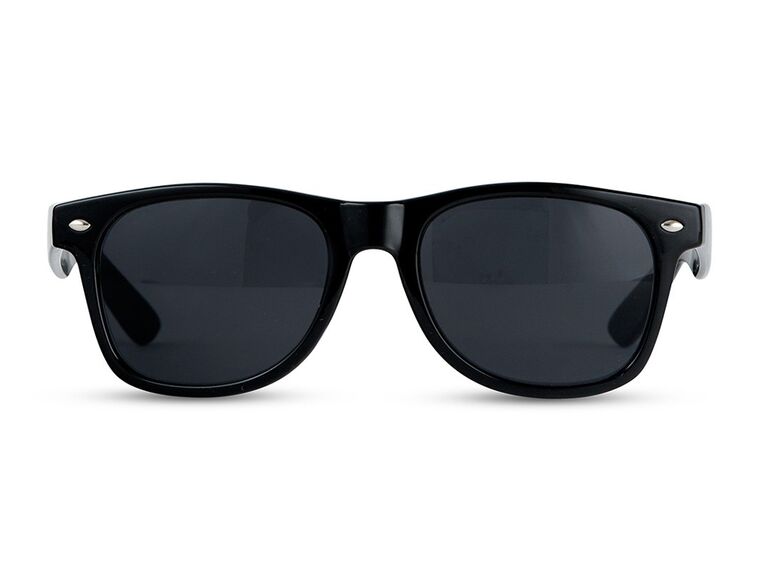 With eleven colors to choose from (including black, gold and bright blue), these retro-cool sunglasses are an easy and affordable choice for a bachelor bash favor. They'll match almost any theme, color scheme or personality and will make for some seriously dapper photo ops.
Printing Off the Vine Custom Fan Faces
For the funny bachelor who is about to say "I do," these hilarious face fans are the perfect gift and the perfect party accessory. Choose a favorite photo of the groom-to-be and print it on these 9- by 12-inch cutouts on sticks. Who needs party hats when you have these?
Bespoke Post Trail Box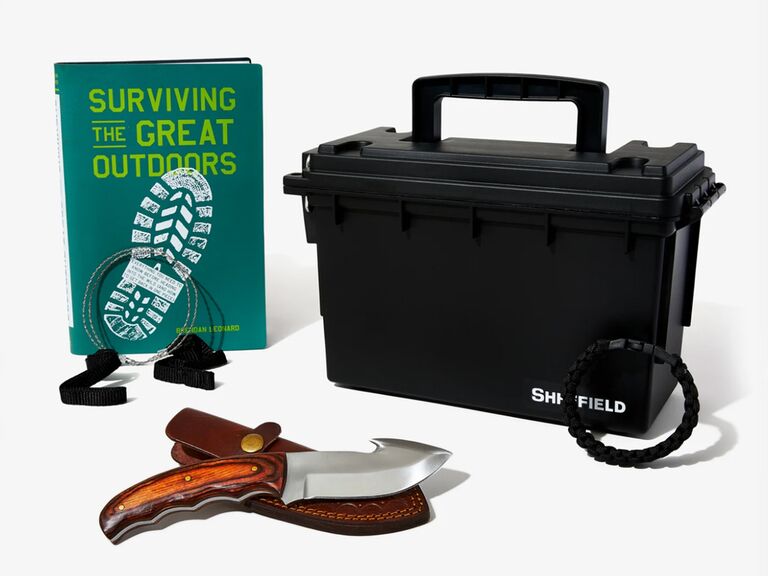 Bespoke Post is amazing at pulling together classy kits filled with things guys actually care about. This kit is one of the pricier bachelor party favors on our list, but it's the ideal option for an outdoorsy bachelor weekend with just a few close pals. Filled with nature essentials (like a knife and book about surviving the great outdoors), it'll be especially handy for his city-slicker friend who may not be as experienced in the backcountry as they'd like to think.
ChumsClassic Neoprene Sunglasses Retainer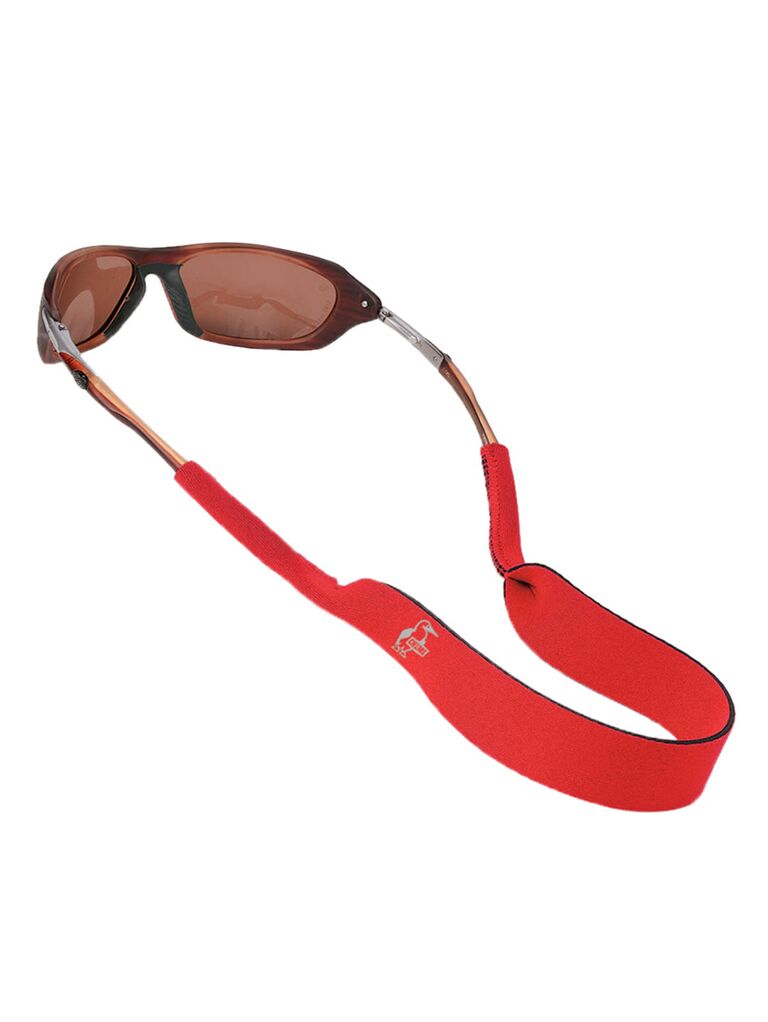 Fishing trip? River tubing? Pool party? If water is involved, a floating sunglasses retainer is worth its (very light) weight in gold. The price is right for these, and they will get used for years to come—as will the sunglasses attached to them, thanks to you.
Intex Mega Chill Inflatable 24 Can Cooler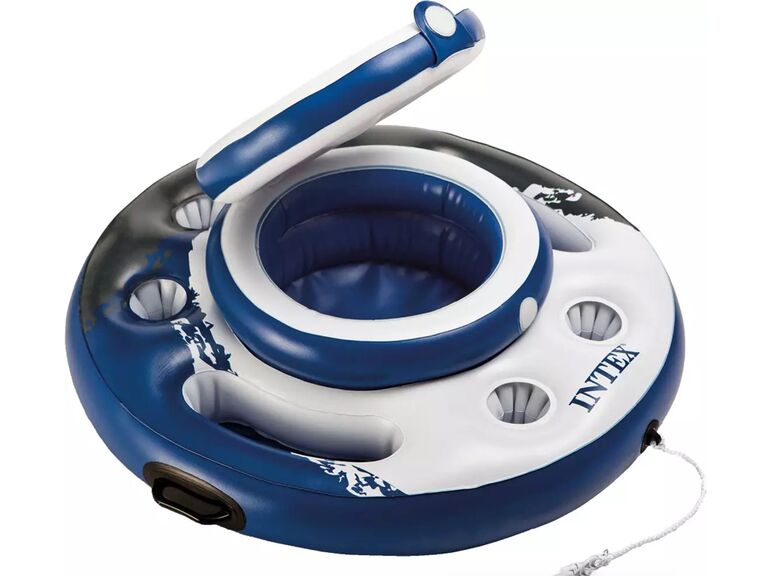 Pools, lakes and relaxing river runs all call for an in-water cooler where drinks and snacks can be stored within a floating arm's reach. This one has a lidded storage compartment in the center for ice, snacks and extra drinks, plus four cup holders. Give everyone their own to take home as a memento of their chill time at the bachelor party.
Filson Tin Cloth Packer Hat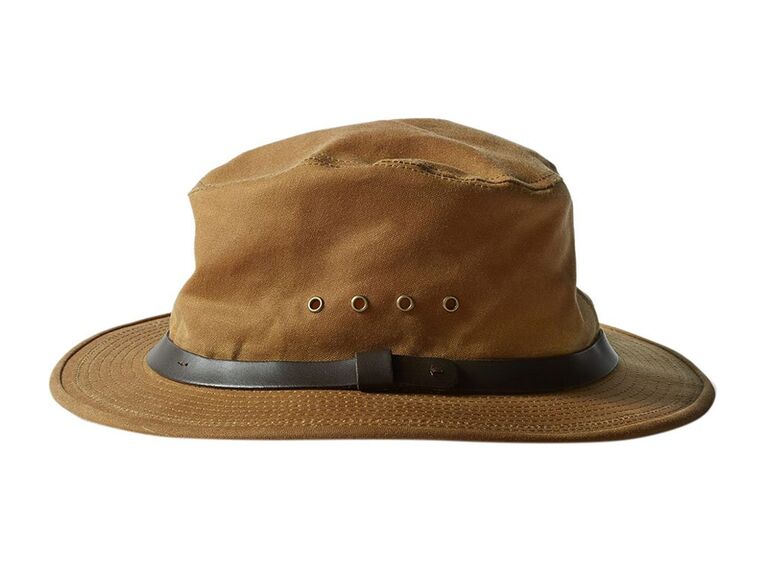 Rugged grooms and their posse will appreciate the well-worn sophistication of this weatherproof Filson hat. It's not too hipster or too old-fashioned, even if Filson has been making hats since 1897. It's a timeless classic, just like the bachelor himself.
Barebones Living Mini Beacon Lantern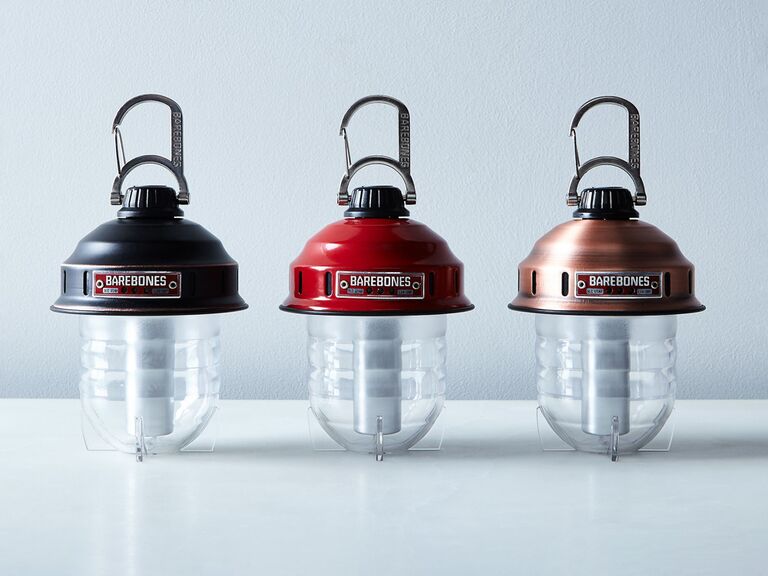 Planning a bachelor weekend of camping far from civilization? Upgrade everyone's wilderness gear with a retro-inspired mini lantern. The clip makes it incredibly portable and hands-free, while the flat base makes it easy to place on just about any surface. Plus, it uses a rechargeable battery and lasts up to 200 hours on the lowest setting. Did we mention it has a dimmer? You bet it does.
Corkcicle Cigar Glass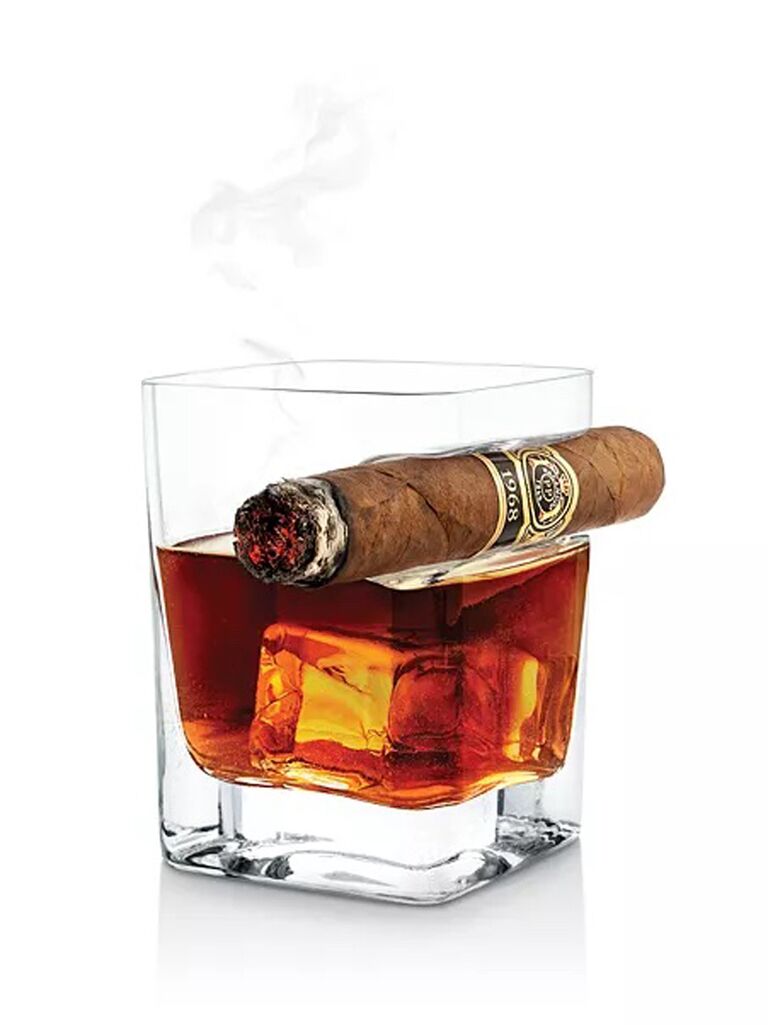 Maybe some puffs on an Ashton or Fuente are what's in store at the bachelor party festivities. If so, this handy whiskey glass provides the ultimate convenience factor with a slot that's just the right size for tucking in his stogie while he sips his spirit. Can't you just see all the guys sitting around a table in the evening, telling throwback stories with these in hand?
Cheeky Cocktails Gold Rush Cocktail Kit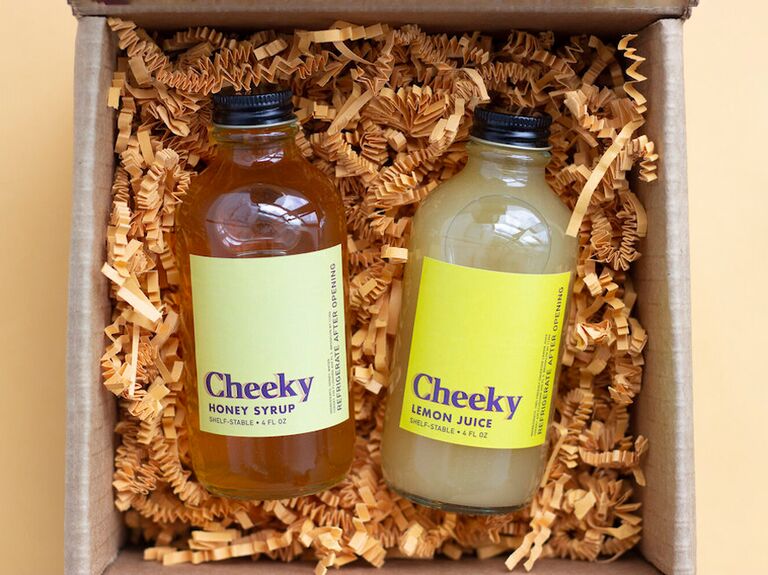 Cocktail kits are a fun way to get everyone involved in the party. Each box from Cheeky Cocktails comes with instructions for one cocktail recipe and enough supplies for five servings (spirits not included). You can choose from margaritas, mojitos, gimlets and more to keep the night interesting—or just send guests home with a kit to make on their own. If it's the bride who's more into mixology, these make excellent gifts for the bridal party as well.
Personalization Mall Poker Night Personalized Playing Cards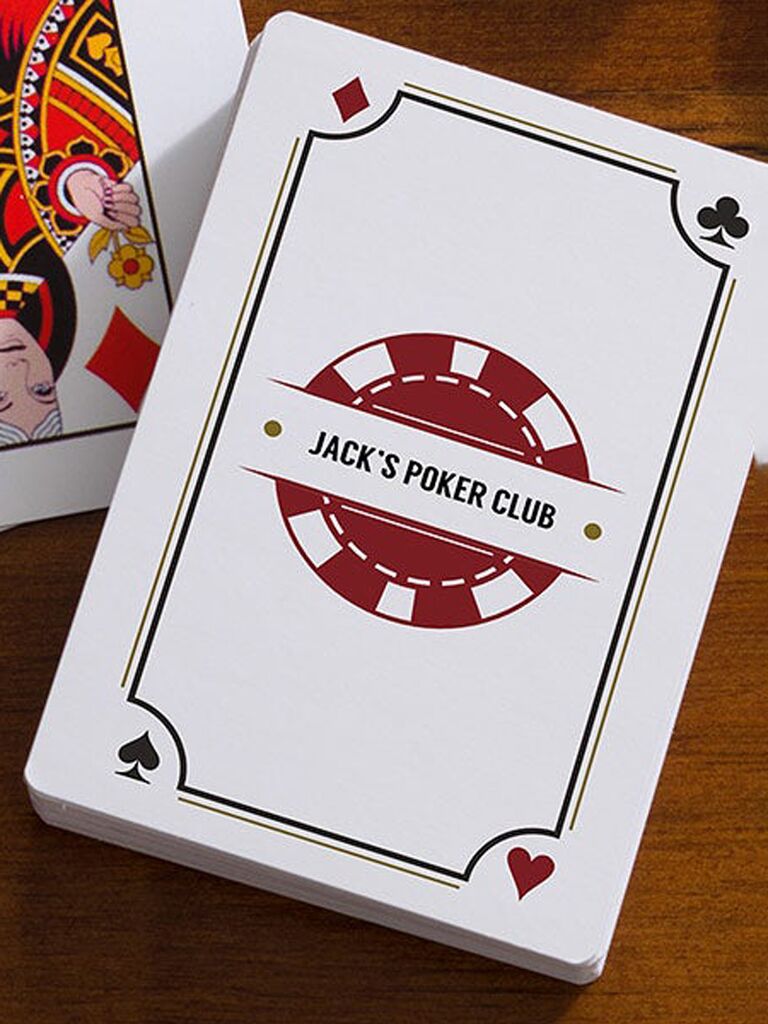 For many dudes, playing poker is more than just a game—it's a time for bonding with their bros while testing their ability to spot a bluff and keep a straight face. Custom playing cards are exactly the right party favor to hand out after a night of party games (or a casino-based bash).
Santa Socks Custom Face Men's Hawaiian Shirt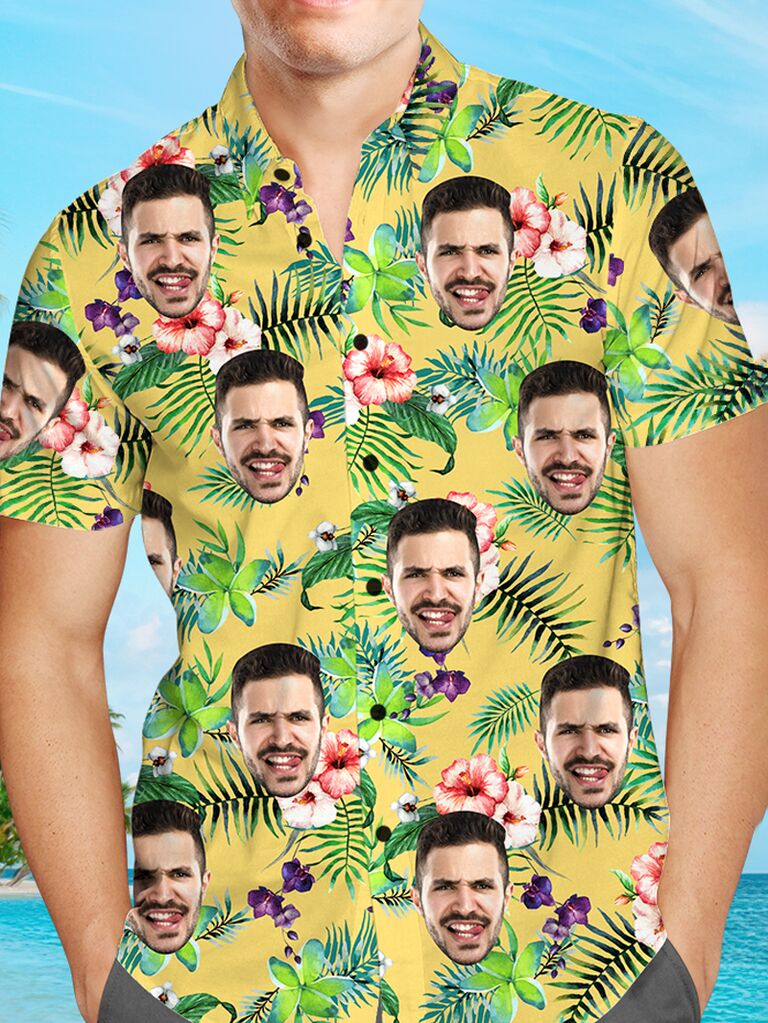 Prepare to laugh all day long thanks to these matching Hawaiian shirts that feature his (or his sweetheart's) face mixed into the pattern. Just upload a photo and the team at Santa Socks takes care of the rest to create this semi-DIY gag gift. Plus, if you just can't get enough of his face, Santa Socks can also put it on stickers, t-shirts, totes and more (wedding favors, anyone?).
The Knot Shop Personalized Cooler Chairs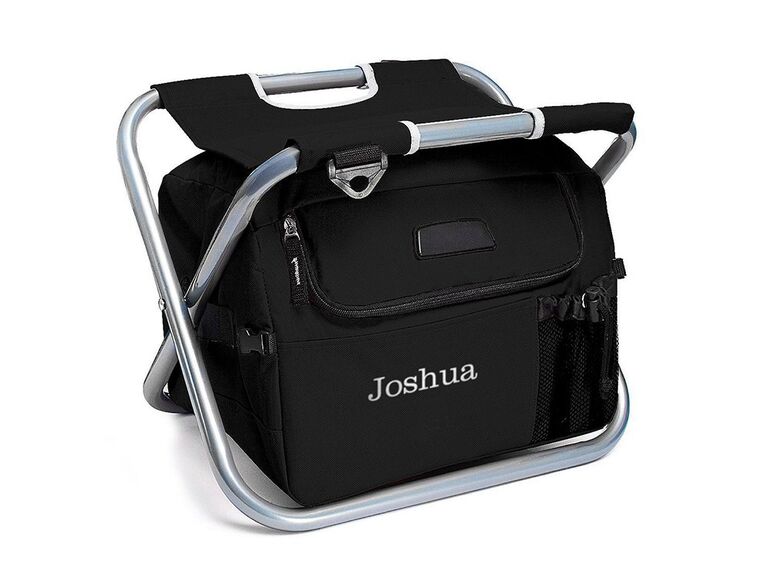 Spending the day fishing at the water's edge, sitting around a campfire or tailgating? Keep comfortable (and keep a cold one close by) with this lightweight, portable cooler chair. Choose from four different fabrics and customize them with each guest's name.
Sir Jack's 6oz Pewter Captive Top Flask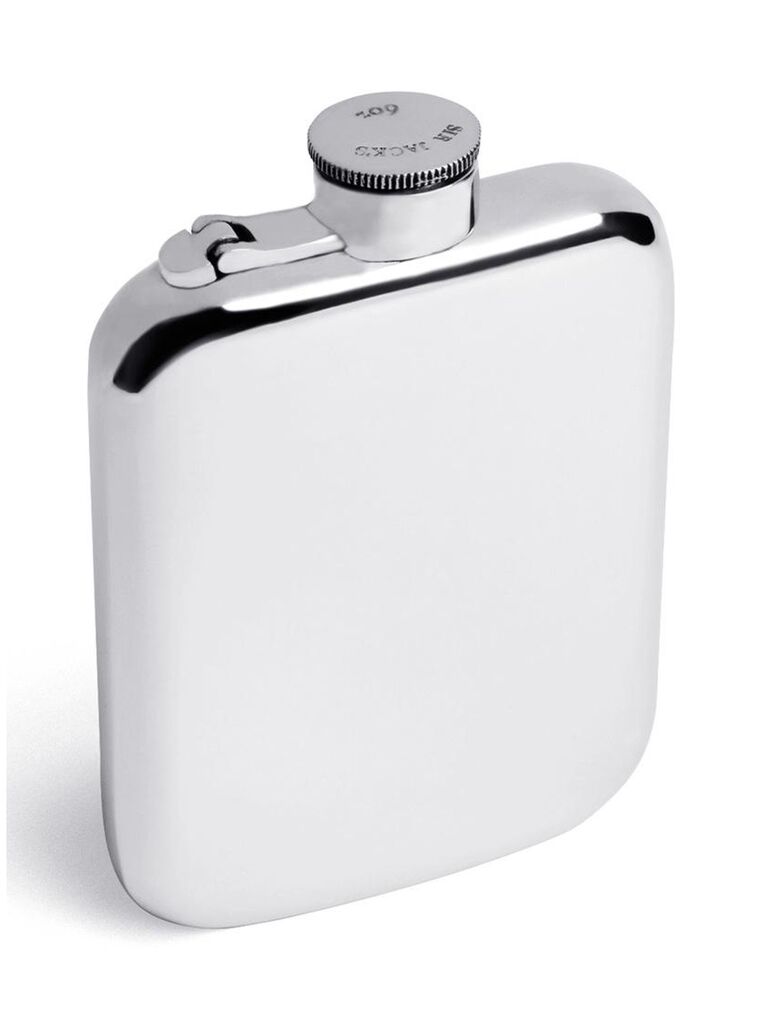 Sometimes, it's a good idea to exercise budget restraint—but weddings aren't usually those times. A high-quality keepsake is exactly the kind of extravagance that a bachelor party calls for. Show some serious 007-level panache with these pewter flasks, which are handcrafted in England and feature a hinge-top screw cap. Bring them on the bachelor excursion for a stylish way to sip on the sly. These are so exceptional that they could easily double as groomsmen gifts, a special thank-you gift for the best man or a wedding gift for the groom. Bonus: Custom monogram engraving can be added for an extra fee.
Carolina Can Coolers Personalized Insulated Can Cooler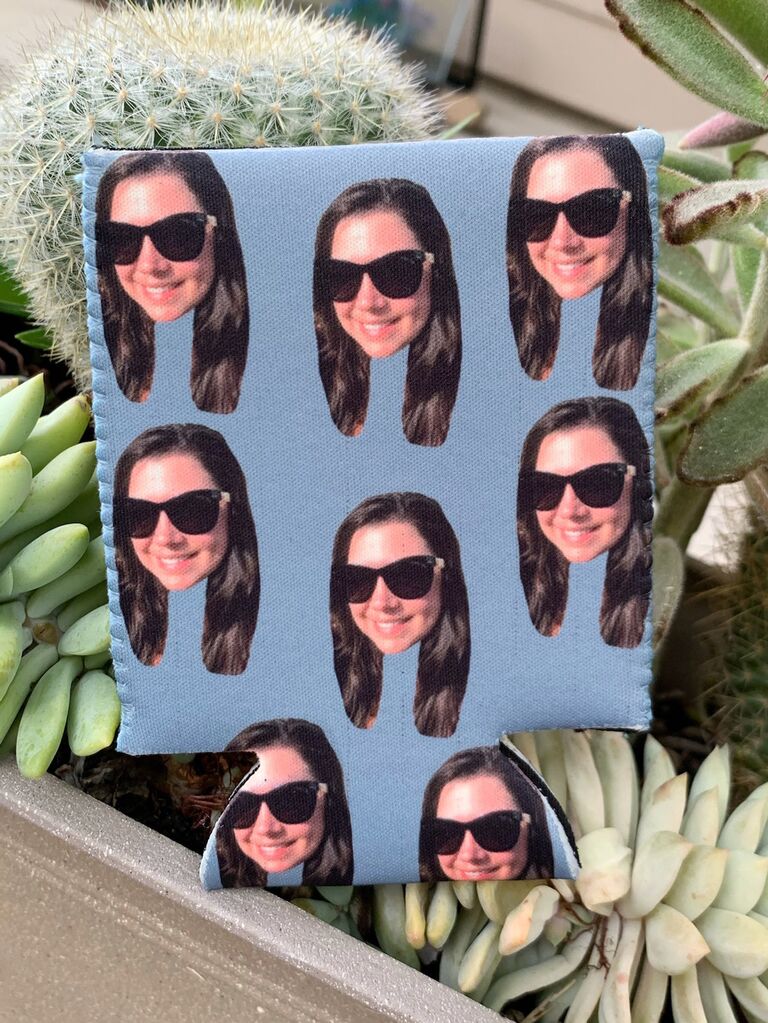 We're suckers for gag gifts, so it's no surprise that we love these custom can coolers. Choose a photo of the groom's fiancé to watch over the bachelor party, or honor the man himself with a classic snapshot of his face instead. Either way, order extra and make sure everyone takes home at least one—they'll laugh every time they use it. In fact, these could be used for both the bachelor party and the bachelorette party or even as wedding favors.
The Good Patch Revive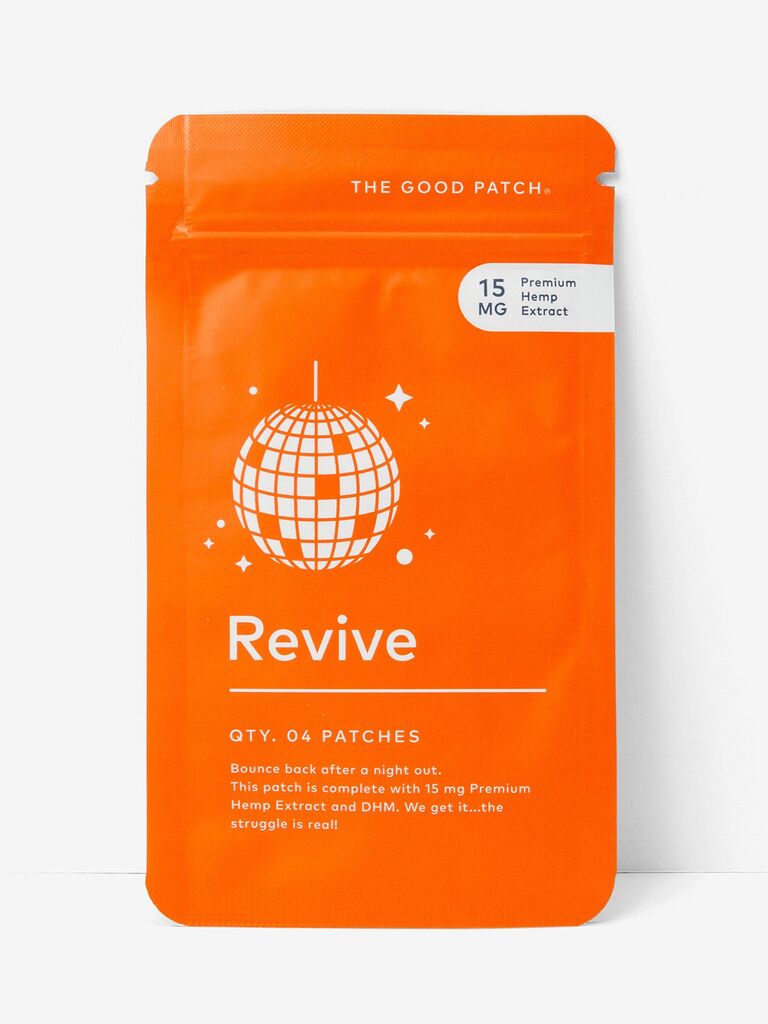 Recover from a hangover like it's 2021. These DHM and hemp extract patches come in a pouch of four and come in clutch during a big night out, or the morning after. Give as a standalone gift or in a favor bag with other goodies like water bottles, pain killers and other day-after essentials.
EngraveIt Personalized Engraved YETI® Can Colster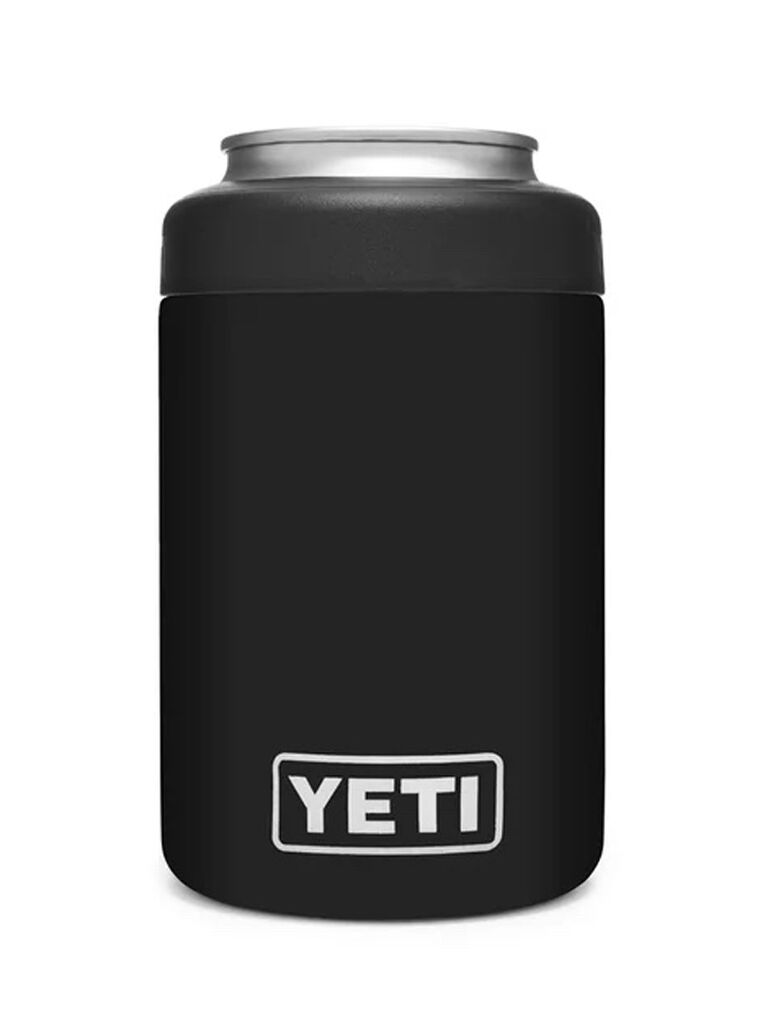 Forget a bottle opener. Upgrade the guys' brews with these customized YETI can holders featuring the last name of each attendee and their role in the wedding, along with the date of the event. We also like the idea of commemorating the location and date of the bachelor party with a simple: "Remember Las Vegas 10.12.2020," for example.
Groovy Groomsmen Gifts Groom's Crew Cap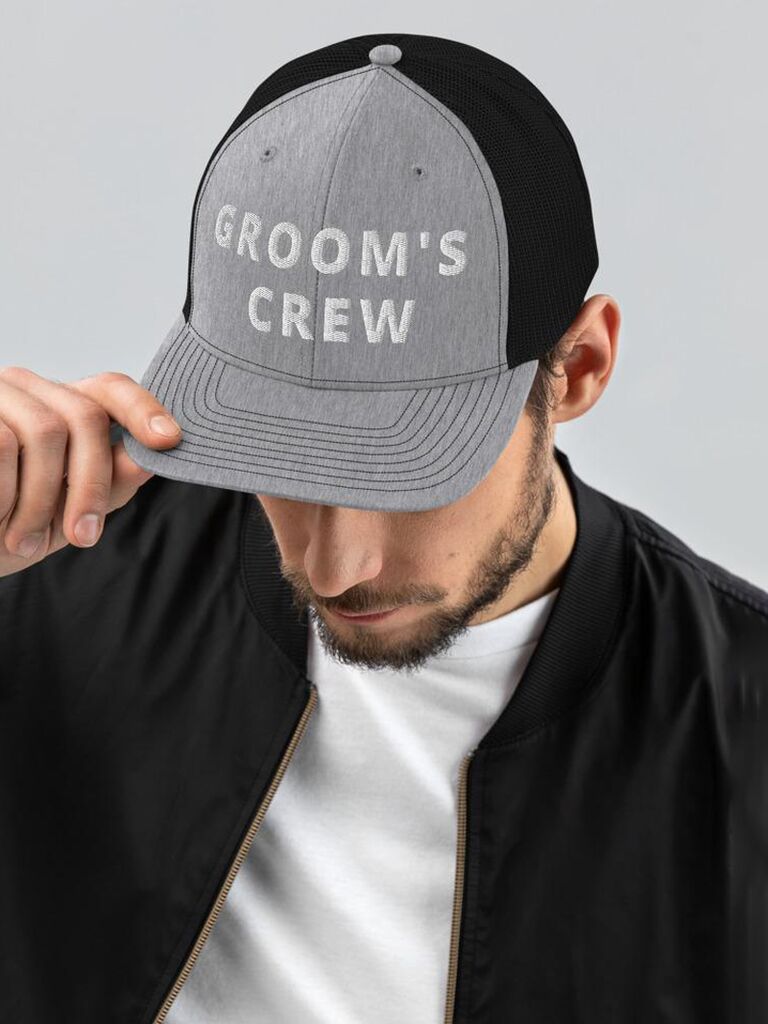 Keep the crew together during a night out with matching hats that will be easy to identify in a crow. Choose from five different color combos, each emblazoned with the phrase "Groom's Crew" on the front. Bonus: They can also be worn at the wedding afterparty, or another casual wedding-related event to easily identify who's on Team Groom.
Rolla Roaster Marshmallow and Hot Dog Roasting Forks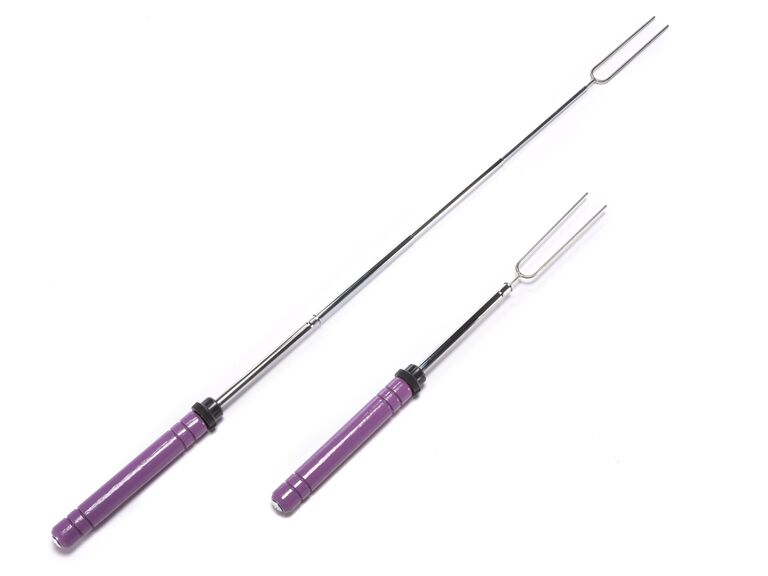 Order up a bunch of these for any bachelor party with a campfire, bonfire, fire pit or grill on the agenda. The telescoping arm gets up to 42 inches long, so everyone can master their roasting skills without having to singe their arm hair at the same time. These come in sets of two—one for dinner and one for dessert—with four colors to choose from. Sausages and s'mores will never be the same.
The Knot Shop Silver Stainless Steel Collapsible Shot Glass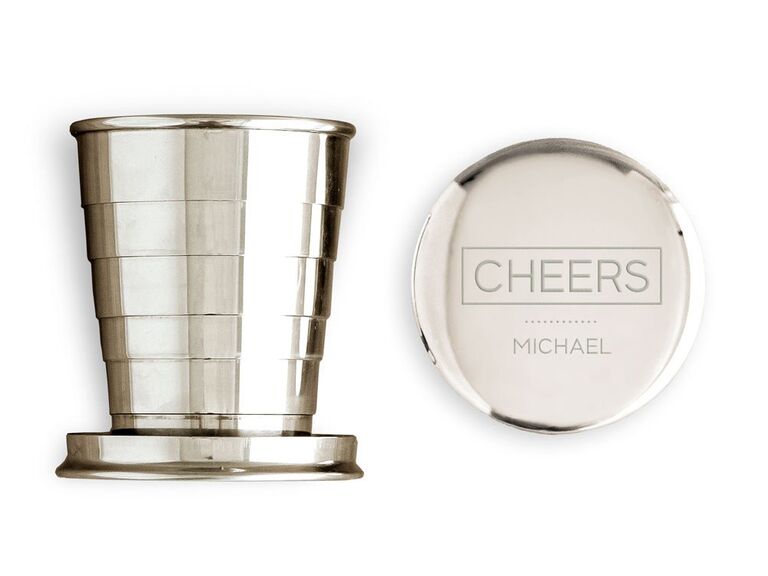 Wherever the party takes you, this little guy is going! This shot glass collapses into a neat pillbox, complete with an engraved cap on the top that tucks neatly into any pocket. To make sure everyone keeps track of their own, customize each by engraving two initials or up to 11 characters.
Groovy Groomsmen Gifts Bro'Ster Holster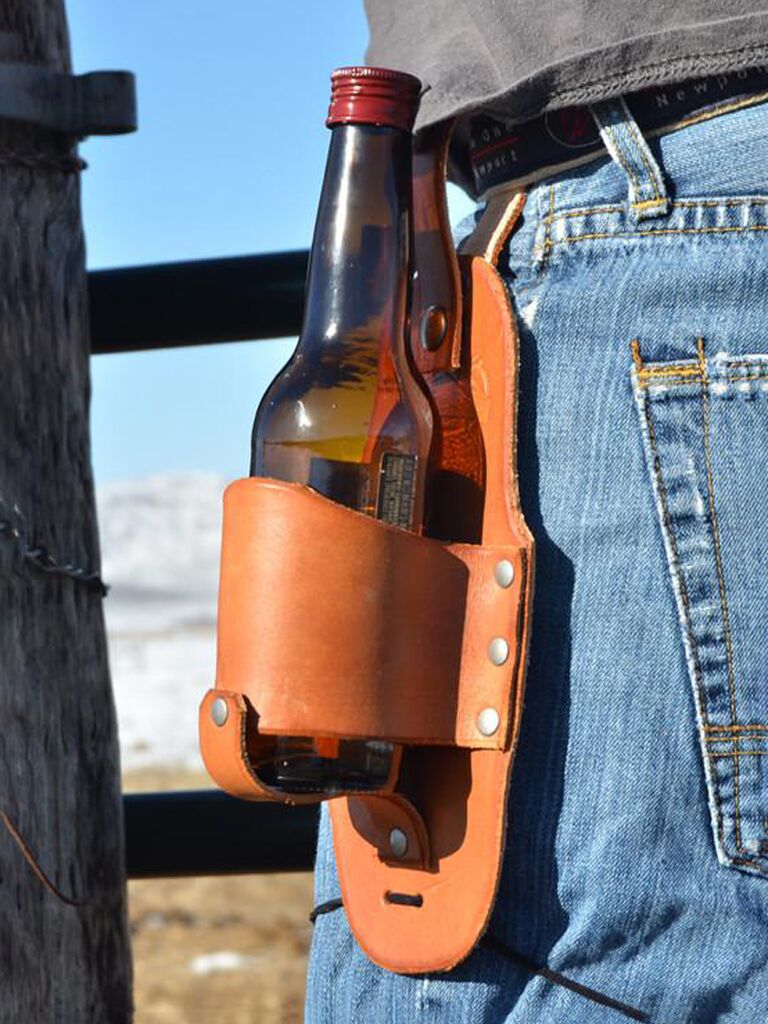 These personalized leather beer bottle and can holsters are perfect for grooms with a little Southern flair in them. They strap right onto any belt, keeping the whole bachelor party crew ready to party at a moment's notice. Choose from three leather colors and personalize each with two lines of up to 10 characters each. Like his friendships, these will only get better with age.
Pammy Tail Custom Engraved Stainless Steel Keychain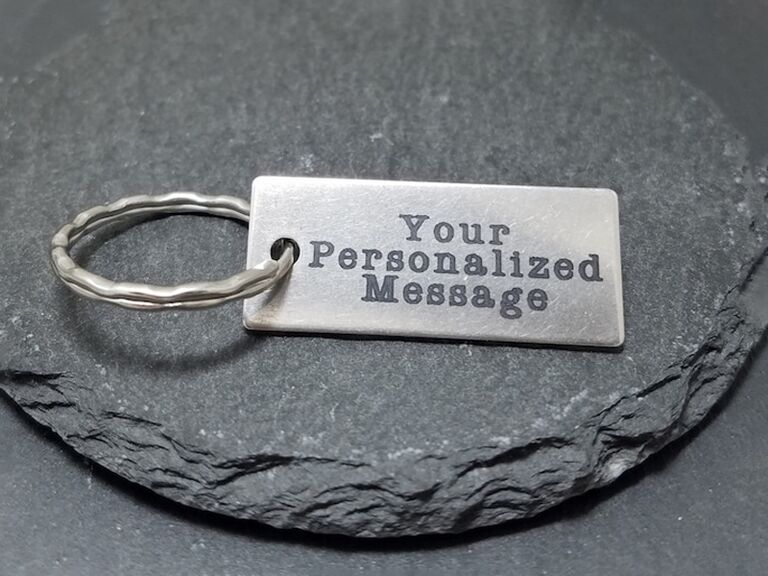 Personalize this keychain to say whatever you'd like, from coordinates of the event to emojis to a message that memorializes the moment. We love that these are simple and easy for anyone to put to use on their own key ring or bag. Plus, you can buy up to 20 at a time, which is great for big parties.