32 Cute and Affordable Bachelorette Party Favors for Every Guest
Surprise your squad without breaking the bank.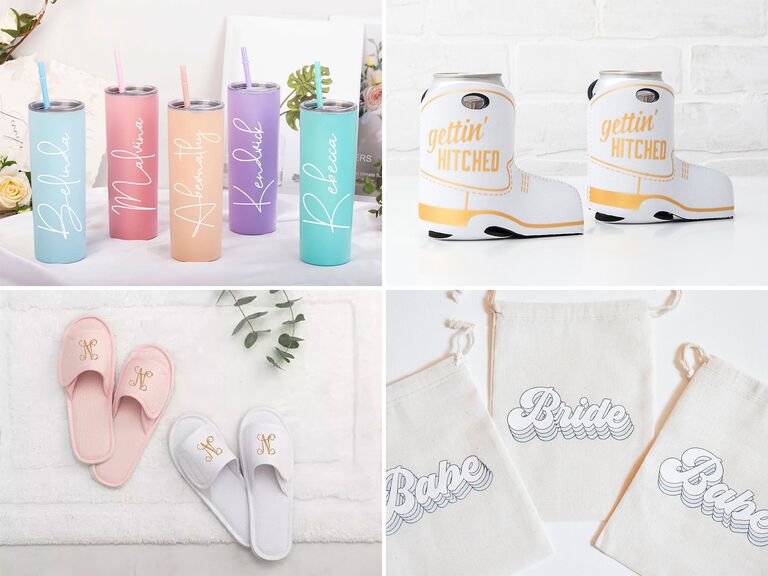 We have included third party products to help you navigate and enjoy life's biggest moments. Purchases made through links on this page may earn us a commission.
There's a lot to check off the list when planning a bachelorette party—especially if it's a destination weekend away. With so much going on, we totally get it if you're on the fence about bachelorette party favors. But there's a reason takeaway goodies are still a popular part of bach festivities. According to our company data, favors are a highly anticipated piece of the party puzzle, with 37% of female attendees stating that receiving swag is the aspect they enjoy most of all. Not only that, but 43% of female respondents said that they expect favors to be handed out at upcoming bachelorette celebrations.
Of course, your bachelorette favors don't have to cost an arm and a leg. As with any gift, it's really the thought that counts. When it comes to filling bachelorette gift bags, there are two ways you can go: Treat your squad to some fun and wearable items for the festivities, or gift them meaningful keepsakes to take home and enjoy afterward. No matter which way you go—and especially if you decide to do a combo—there are plenty of cute, inexpensive items to choose from. We've rounded up some of our favorite affordable bachelorette party favors your guests will love. Yep, these unique ideas are all under $15 each—perfect for planning a memorable bachelorette party on a budget.
What to Put in Your Bachelorette Gift Bags
From welcome bags to hangover kits, there are so many different approaches to bachelorette goodie bags. We suggest taking inspiration from the bach party theme or location to get you started. For example, a cute deck of cards is a great party favor for a Las Vegas bash, while a Disney-themed event might benefit from some adorable mouse ears for everyone to wear.
You should also keep the budget in mind while browsing bachelorette party gift bag ideas, since it's common to buy multiple items for each attendee. One easy way to cut down on costs is to include one main gift in each person's swag bag and fill the rest of it with inexpensive items you can buy in bulk, such as candy, lip balm and sunglasses. (Psst: You'll find plenty of fun favor options at The Knot Shop.) For the finishing touches, you should also consider one or two personalized elements—like stuffing everything into custom totes with handwritten cards—to make each gift bag feel extra special.
The Best Bachelorette Party Favor Ideas
Whether you're the bride-to-be picking up some fun bachelorette swag for your crew or you're a dutiful MOH taking the lead on party favors, we've got some ideas for you. From chic (and reusable!) drinkware to on-theme accessories, these bachelorette party gifts for guests won't disappoint.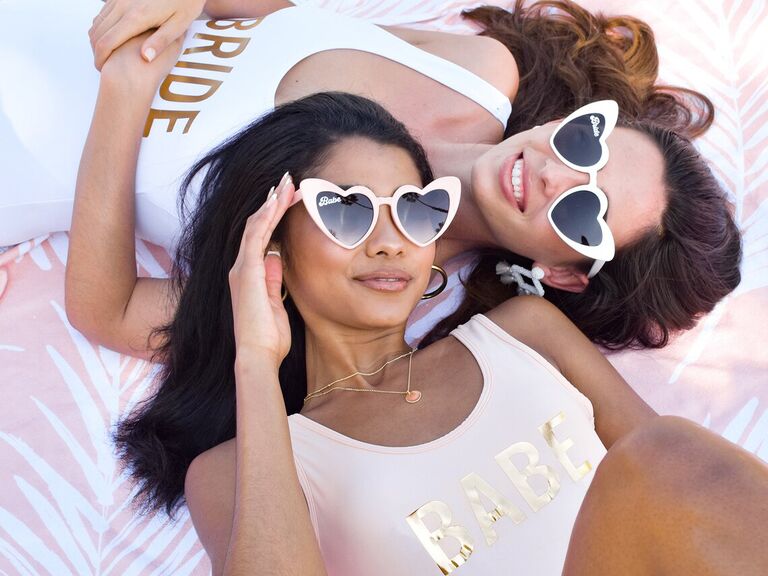 On the hunt for some bachelorette party favors to wear by the pool or on the beach? Whether you're partying in Cabo or Miami, a trendy pair of shades is essential to protect your gals from the sun (and add a stylish finishing touch to their outfits). These cat-eye heart sunglasses are emblazoned with the word "babe" and come in a choice of pink or black for the bridal party. For the guest of honor, pick up a pair of the white sunnies adorned with the word "bride."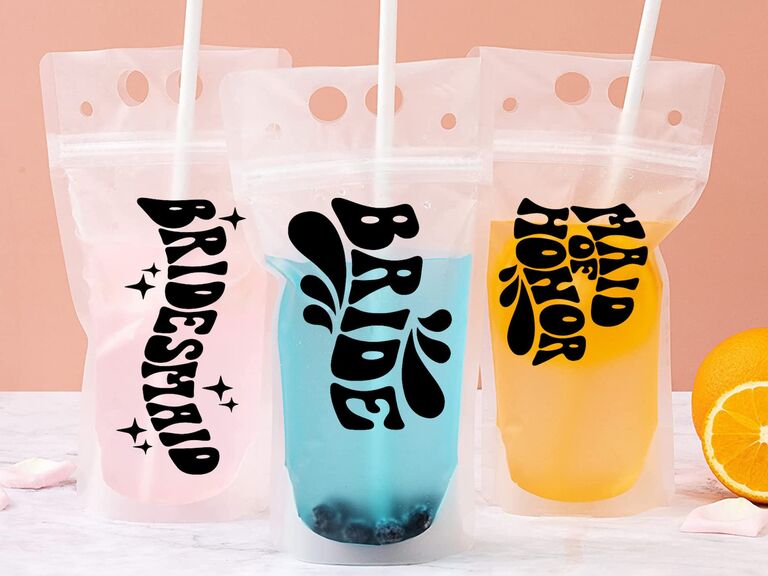 Drinkware is a popular party favor for bachelorette festivities. Up the ante by swapping the usual wine glasses and travel tumblers with these groovy personalized pouches. It's a fun bachelorette party favor that's easy to carry around on the beach, at the pool or wherever.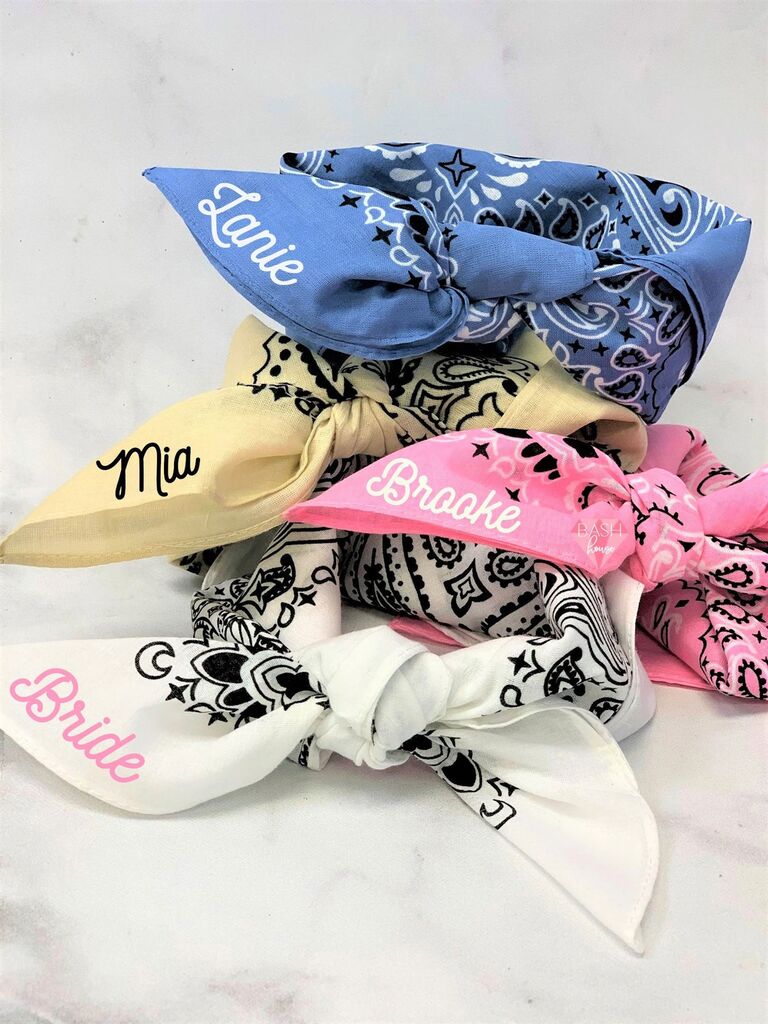 Yeehaw! If you're planning a country bachelorette party, these cute bandanas will be a fitting addition to your goodie bags. Personalize each bandana with your guests' names and pick up a white bandana decorated with the word "bride" for the honoree.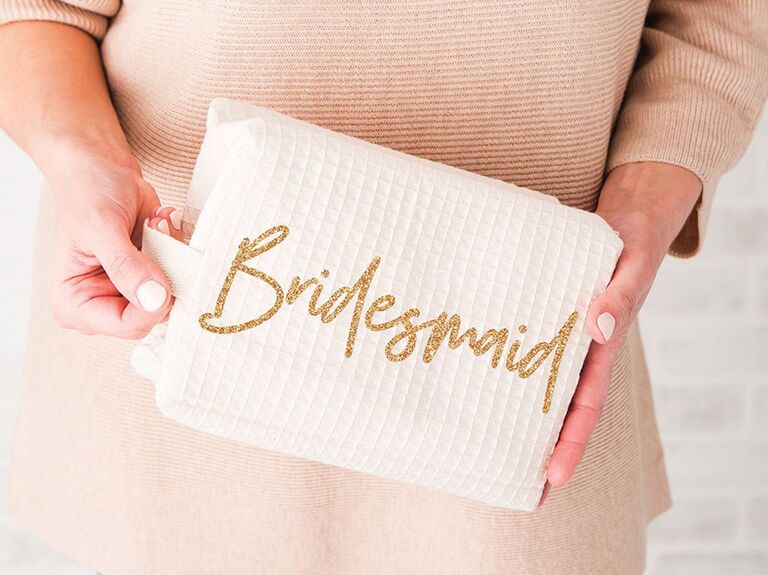 Looking for bachelorette party game prizes? Give this cotton waffle makeup bag to the winning bridesmaid. Or, if you want to give one to everyone in the audience, you can have the bags personalized with each person's name or initials. Trust us, you'll see these makeup bags again on the morning of the wedding.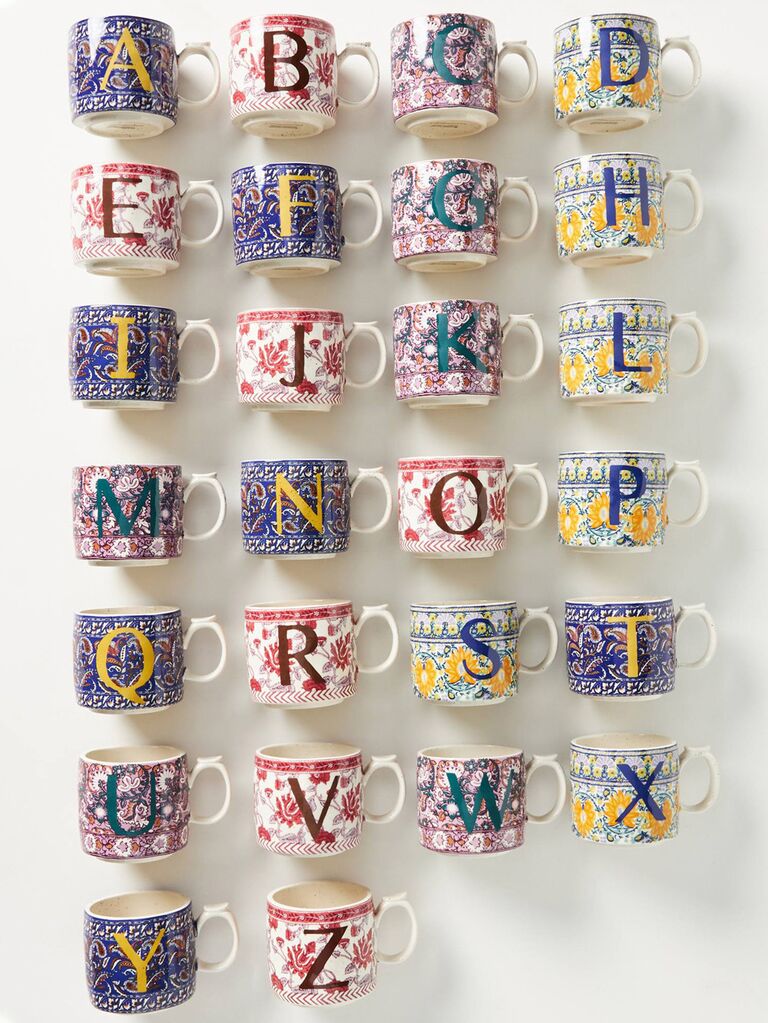 Not everyone is up for a boozy bachelorette weekend—and that's totally fine. Throwing a bach party sans alcohol doesn't mean you have to ditch the awesome drinkware. Swap out can koozies and champagne flutes for these gorgeous monogrammed coffee mugs. The pretty floral design is fitting for a garden-themed party.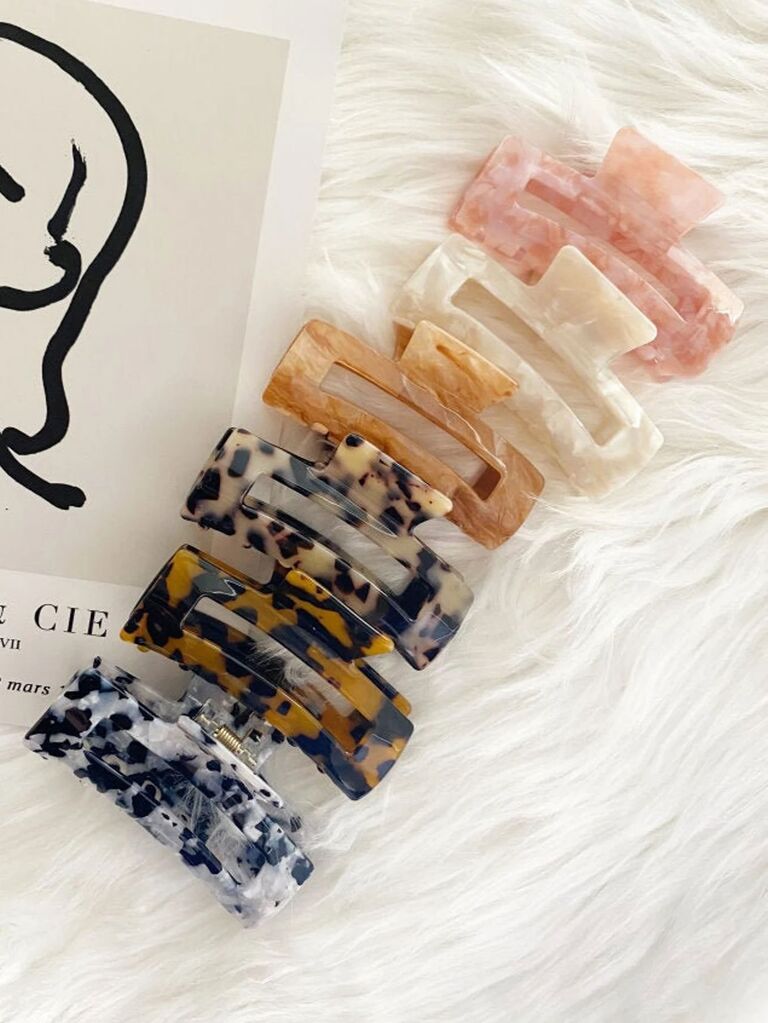 To have and to hold… your friends' hair! Add a claw clip to each bachelorette party bag so they can easily throw their hair up for a day at the pool or as they're doing their makeup. With nearly 50 color options, each guest can have their own unique hair clip—and make sure to snag the white claw clip for the bride!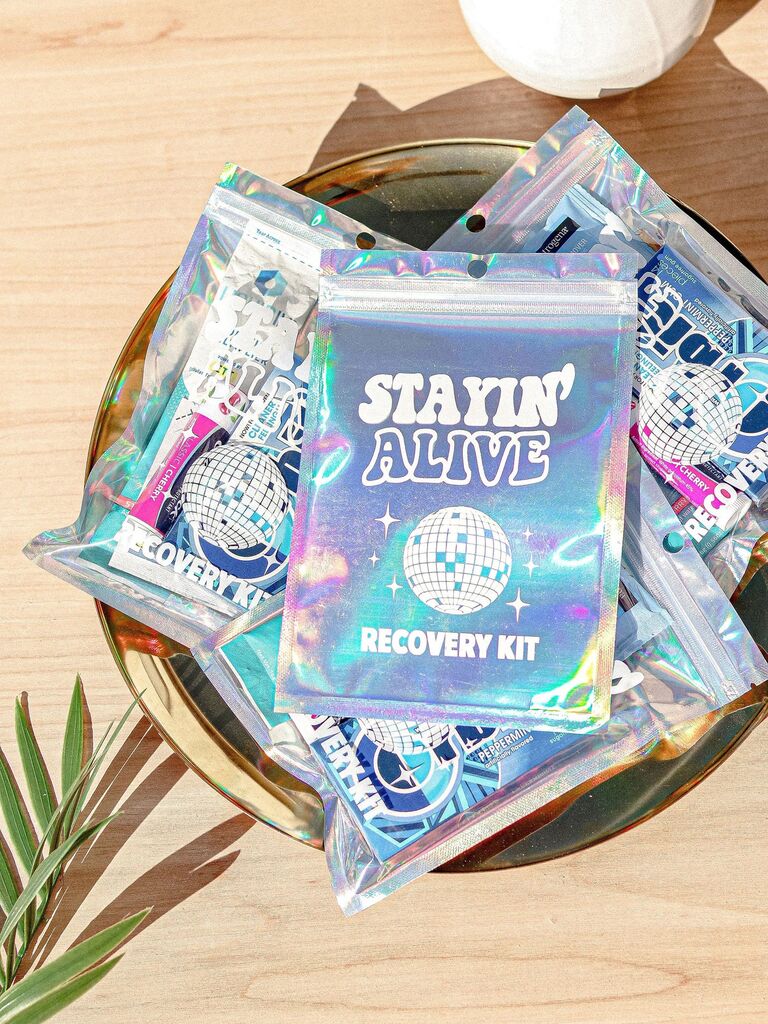 Guests will be relieved to receive a recovery kit packed with all the rations they need to refresh after a night out. You can buy these holographic "Stayin' Alive" bags by themselves or have them prepackaged by the seller with makeup wipes, gum, ibuprofen and more.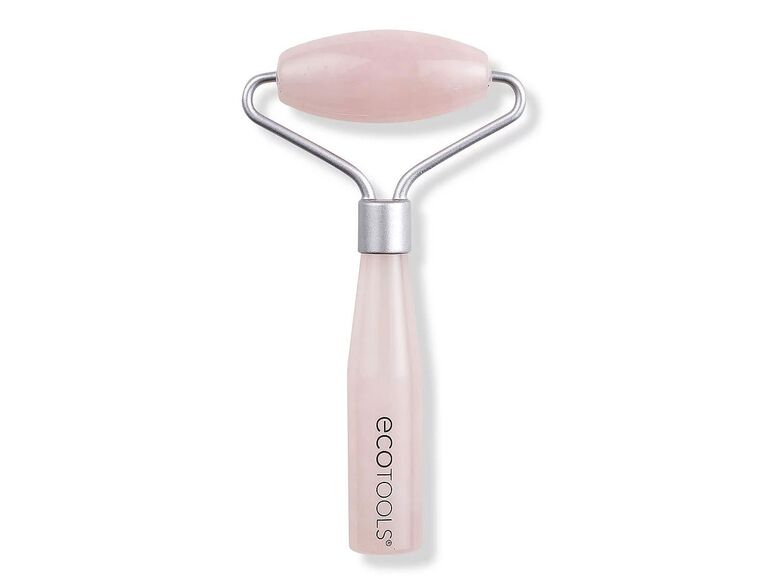 Including a few pampering products in your bachelorette party goodie bags will help everyone feel fresh as a daisy. Follow up a night of boozing with a soothing face massage. A rose quartz face roller can help with puffiness and relieve headaches.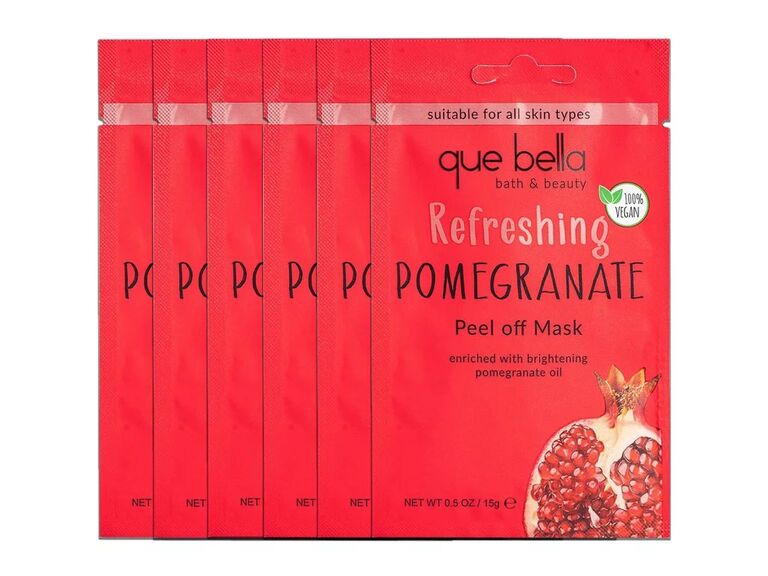 Go all in on the spa theme! Help revive your squad after all the bachelorette festivities with a refreshing facial mask. This peel-off mask is packed with antioxidants from pomegranates (which make it smell amazing) and can unblock pores after a late night out.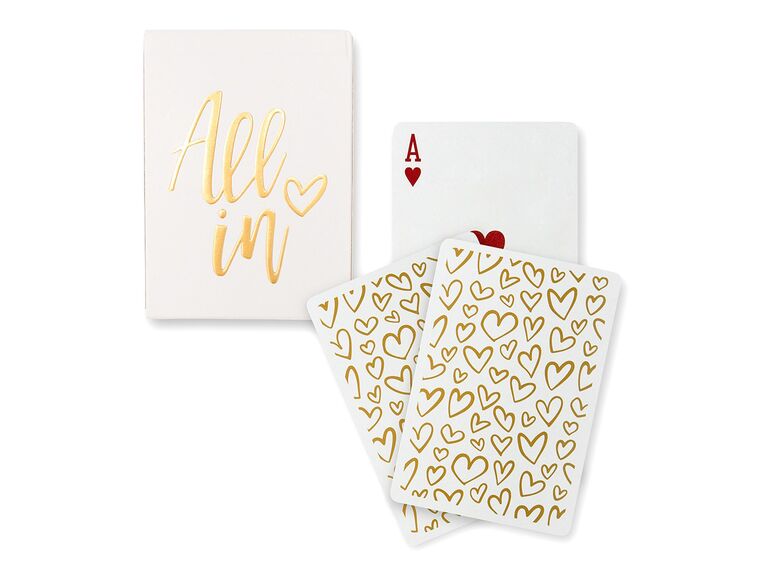 Any casino-themed bach party needs a few cute decks of playing cards. Store this bachelorette party swag in gift boxes or bags for your girls to open on arrival, alongside mini champagne bottles and some personalized drinkware.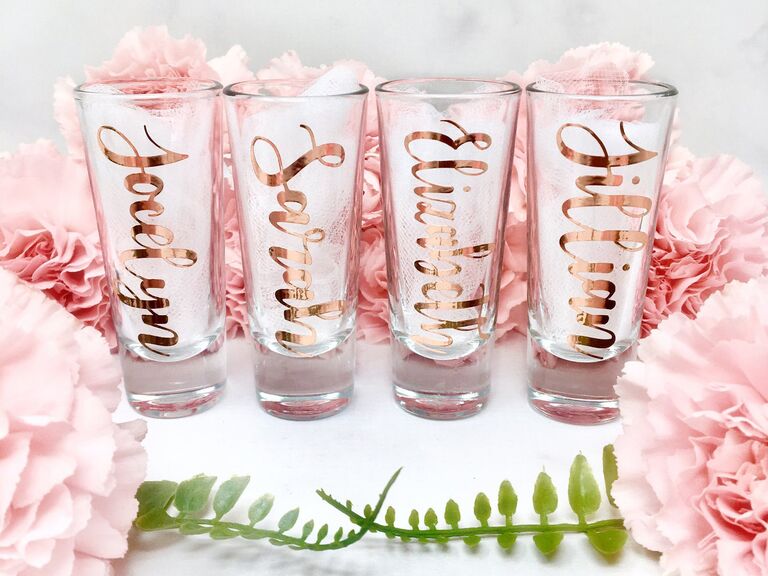 Got a crew that loves to let loose? Then these personalized shot glasses—which you can customize with your choice of font color—are an excellent bachelorette party gift bag idea. Bottoms up!
Why not DIY a few bachelorette party gift baskets for everyone on Team Bride? Pair this fashionable and functional "cheers" bottle opener with a few beers or seltzers, custom koozies and some sweet bachelorette party treats.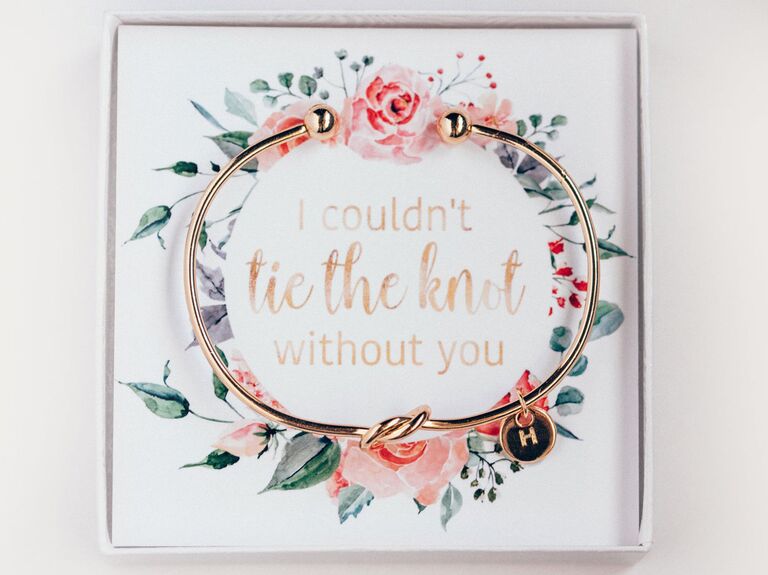 You don't have to blow your budget to treat your crew to some jewelry. This handmade knot bracelet with a monogrammed charm is a heartfelt gift your guests can cherish forever. Choose between a gold, rose gold or silver hue to suit everybody's style.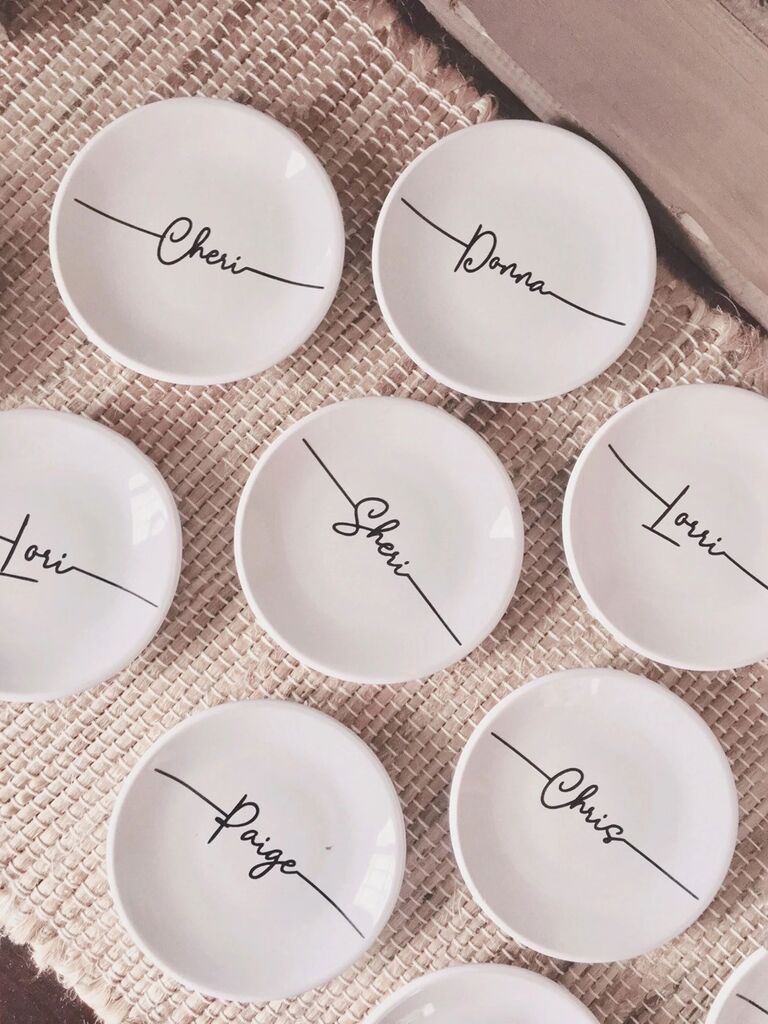 If you're looking for bachelorette thank-you gifts to show your appreciation, it's nice to hand over something special your crew can use again and again. Trinket dishes are one of our favorite party favor ideas, and these ones are pretty, practical and personalized to boot.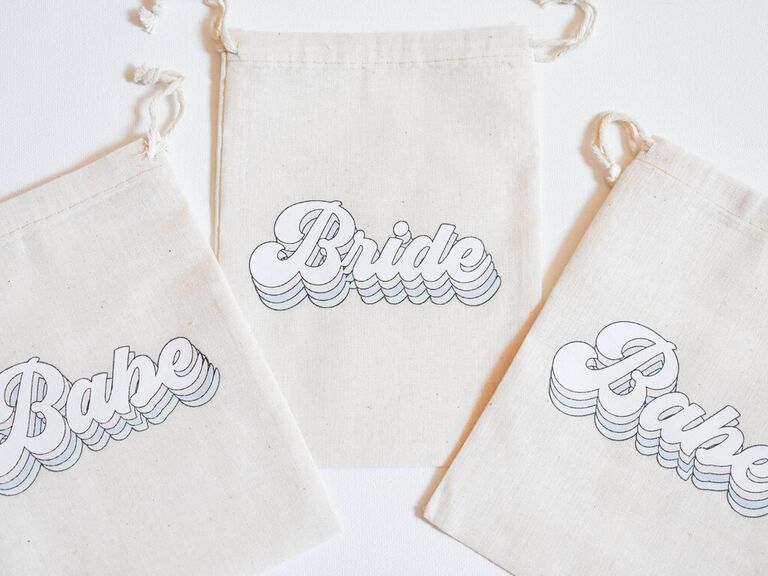 Picking out bachelorette favors for guests is only half the fun—you also get to choose the presentation! Whether it's welcome bags, hangover kits or thank-you gifts you're putting together, your swag will look twice as nice in these retro "babe" drawstring bags.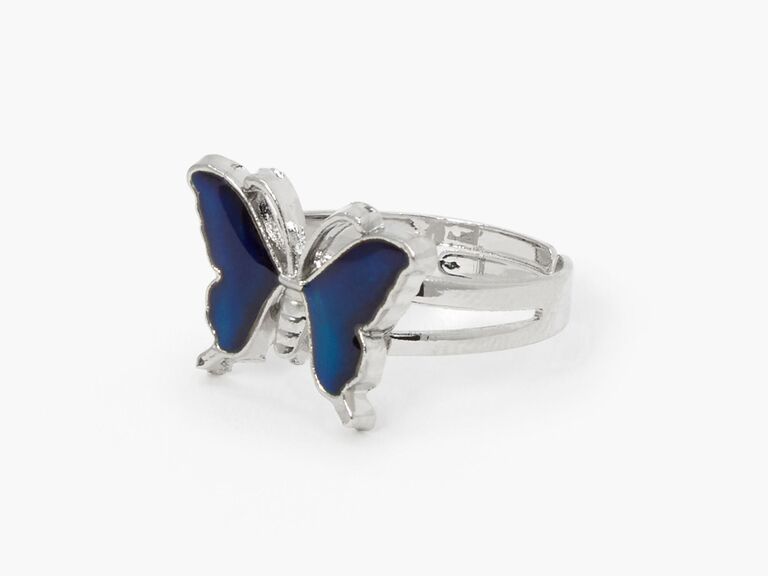 Here's a fun, nostalgic bachelorette party favor: mood rings. Round out your retro bachelorette party with this adorable butterfly ring adjustable to each guest's finger size. Hopefully, everyone's ring will be blue!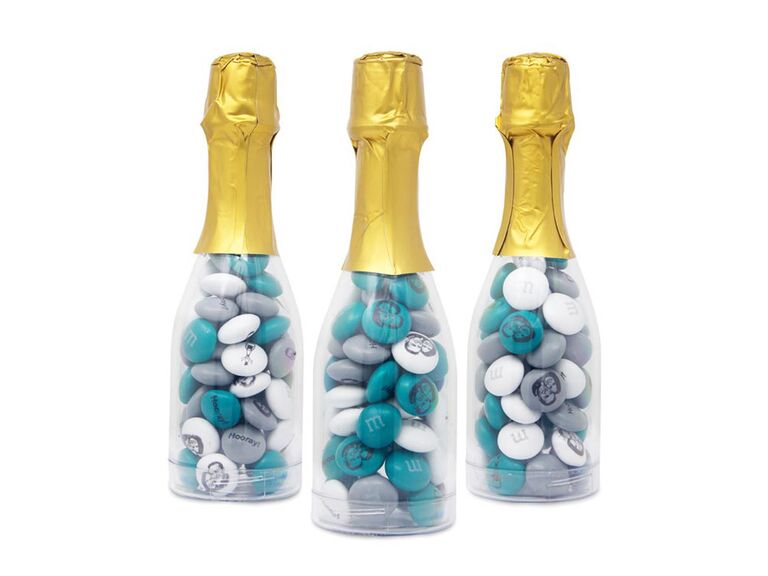 Sweet treats are undeniably one of the best bachelorette party favor ideas and this unique display is sure to be a hit! First, design your own M&M's (with custom colors, text or even the bride's face) then stuff them into mini plastic champagne bottles. The kit comes with 20 bottles and two pounds of your personalized M&M's, so there's plenty of chocolate to go around.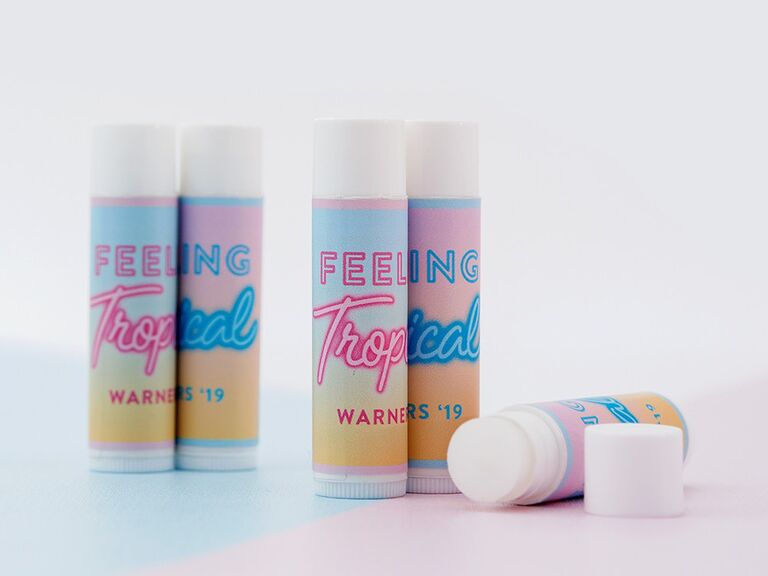 If you're searching for small things to put in your bachelorette goodie bags, lip balm is a little gift that everyone can use. This cute and personalized vanilla-scented lip balm is the perfect addition to guests' welcome bags.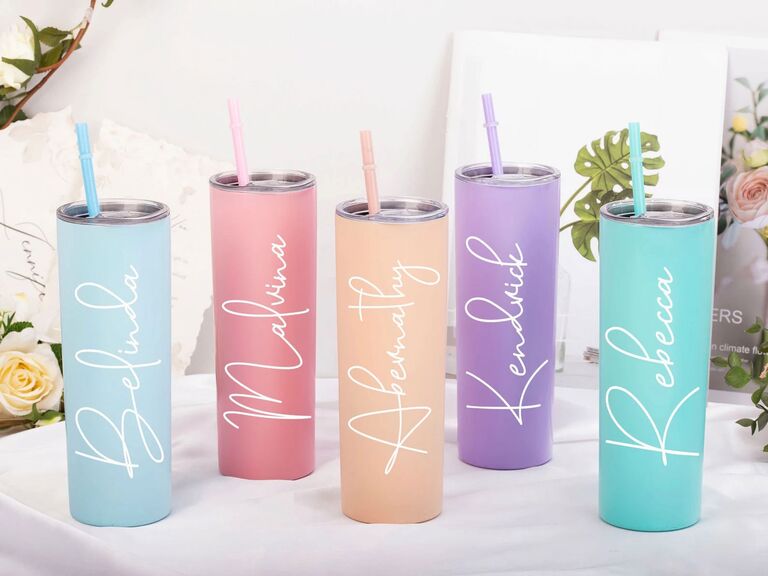 Keep your friends' drinks extra cold with this cute bachelorette party favor. Pick a special color and font for each guest to have their own ultra-personalized stainless steel tumbler. Your bachelorette partiers will want to use these chic cups long after the festivities have ended.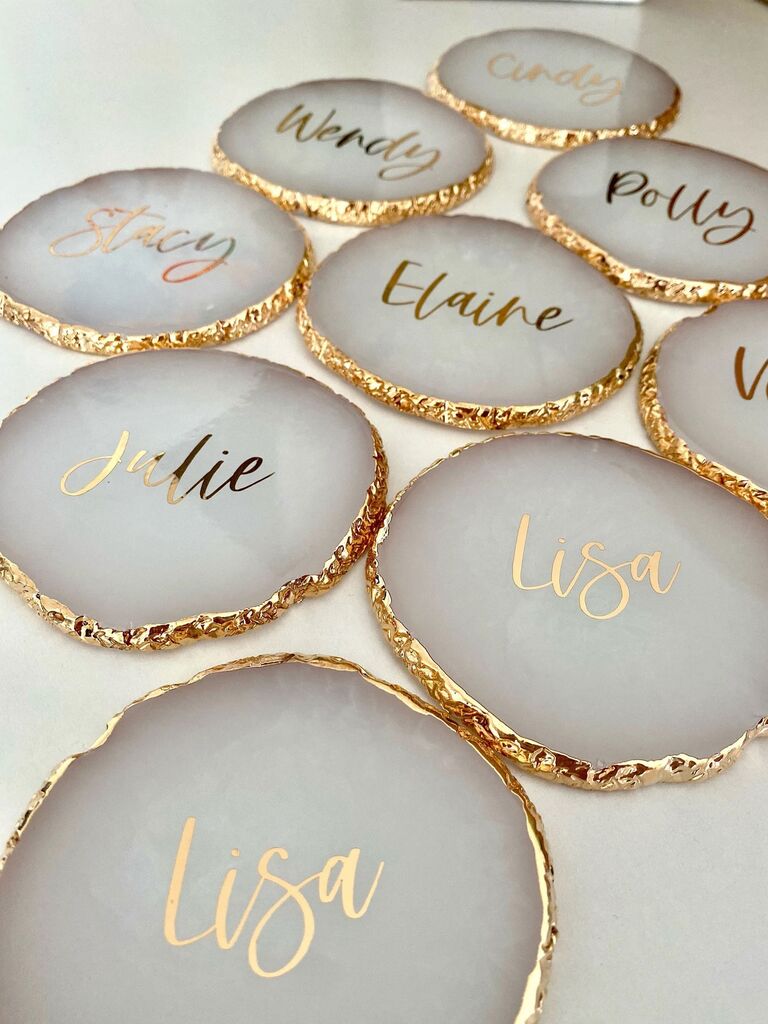 Coasters are a fitting favor for a bachelorette party—after all, your girls will need somewhere to place their drinks! These gorgeous resin coasters can be personalized with each guest's name and finished with a metallic gold rim.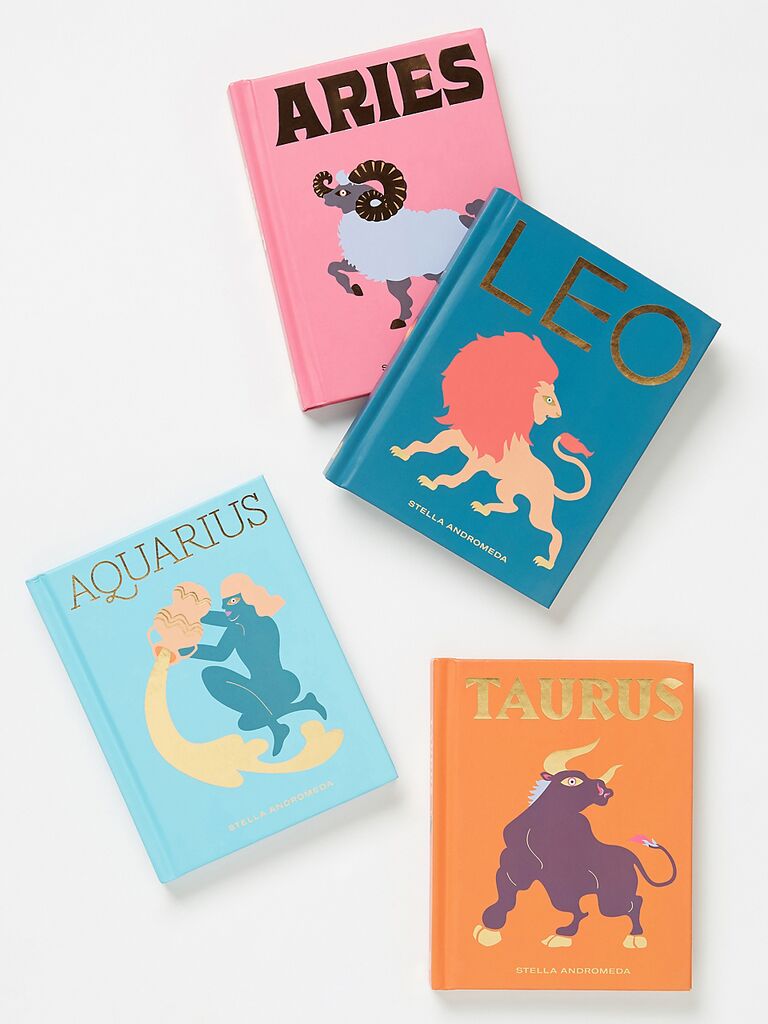 Show your bride squad just how well you know them by including a book all about their zodiac sign in their bachelorette party favor bags. Written by astrology expert Stella Andromeda, each book offers invaluable guidance based on every attendant's star sign.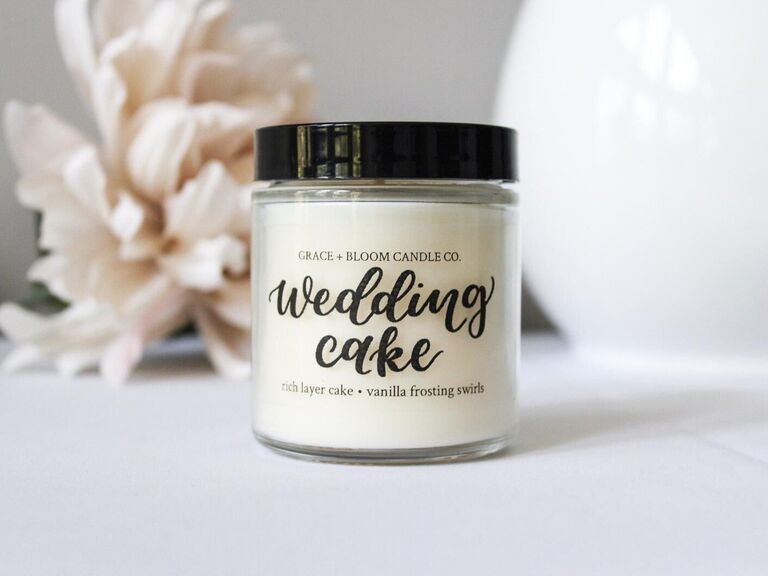 The wedding cake will be one of the highlights of the big day. Send your bachelorette party guests home with a luxe candle in the scent of rich vanilla frosting and sponge cake. This budget-friendly bachelorette party favor certainly doesn't look cheap (and it smells divine!).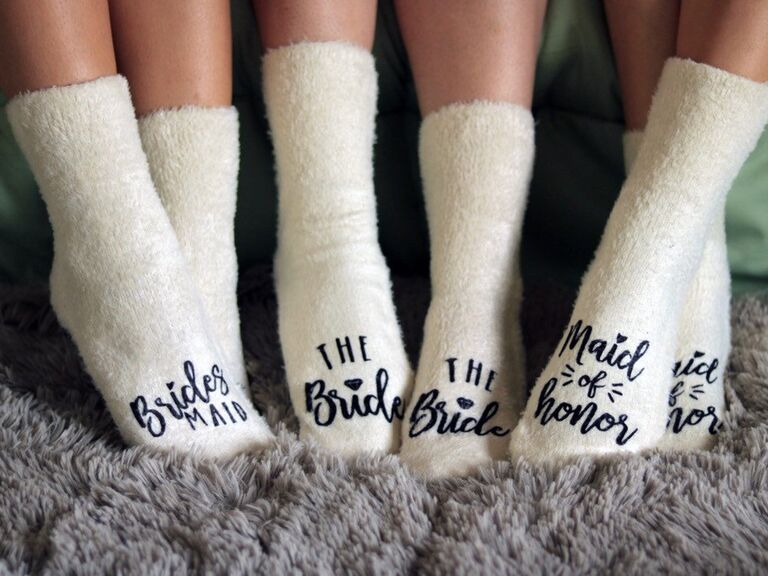 Searching for personalized party favors your guests will love? These stylish socks can be adorned with each guest's wedding title, from the maid of honor to the mother of the bride. They're the perfect bachelorette party swag for brides planning a cozy night in with their besties.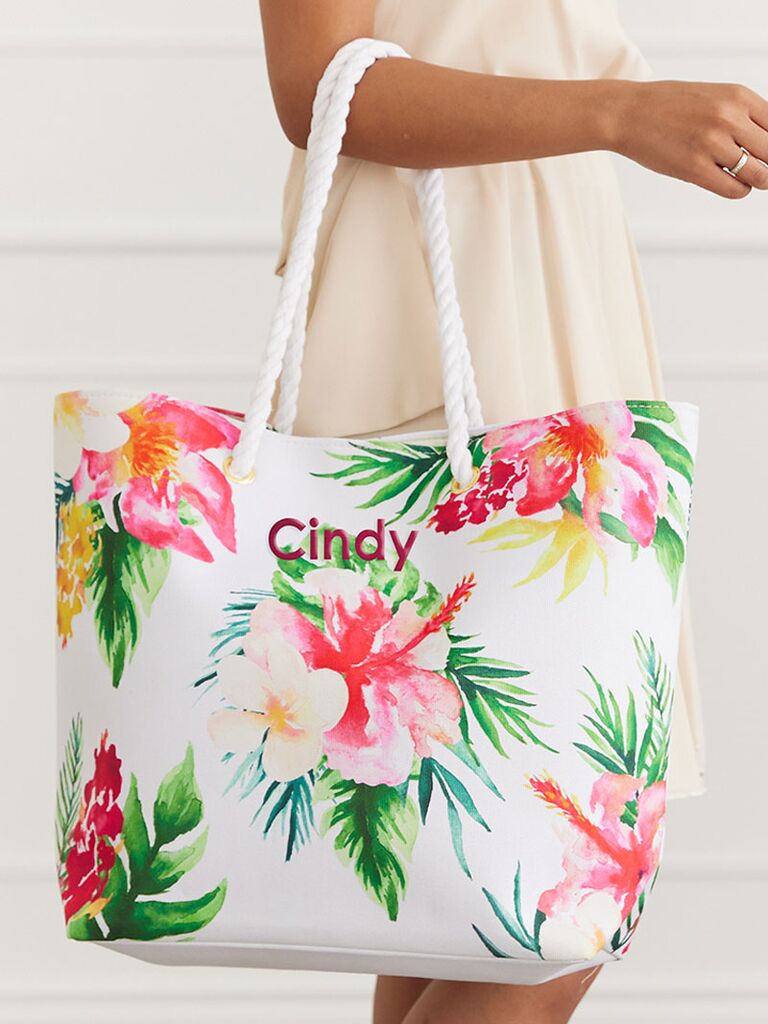 Personalized tote bags are great bridesmaid gifts for pretty much any occasion, whether it's the bridal shower, bachelorette party or the morning of the wedding. If you'll be poolside at the bach party, stock each bag with a few sunny-weather essentials like sunscreen and monogrammed beach towels. Or, if you're planning a city break, fill each guest's tote with cute hair ties and matching tees that reflect the theme or destination.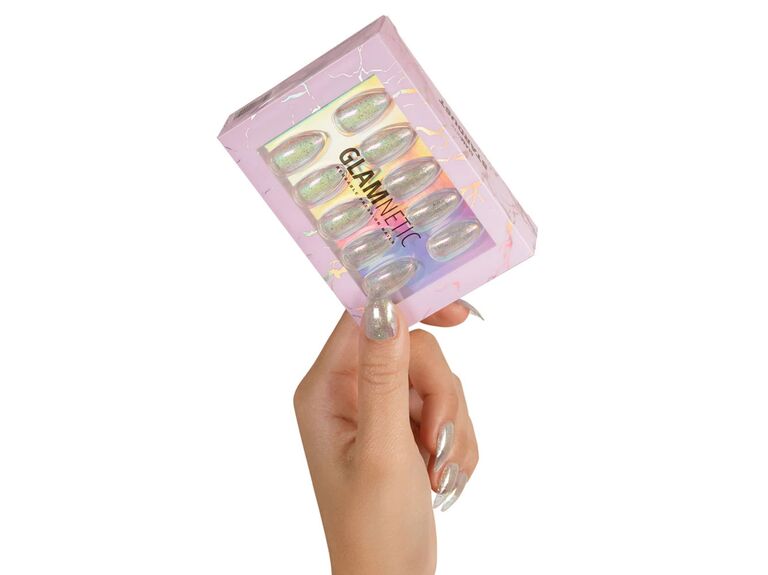 Treat your squad to a manicure without breaking the bank. These beautiful press-on nails will add a little glam to any look. You can play salon before a night on the town, but the fun doesn't stop there. These glittery nails are reusable!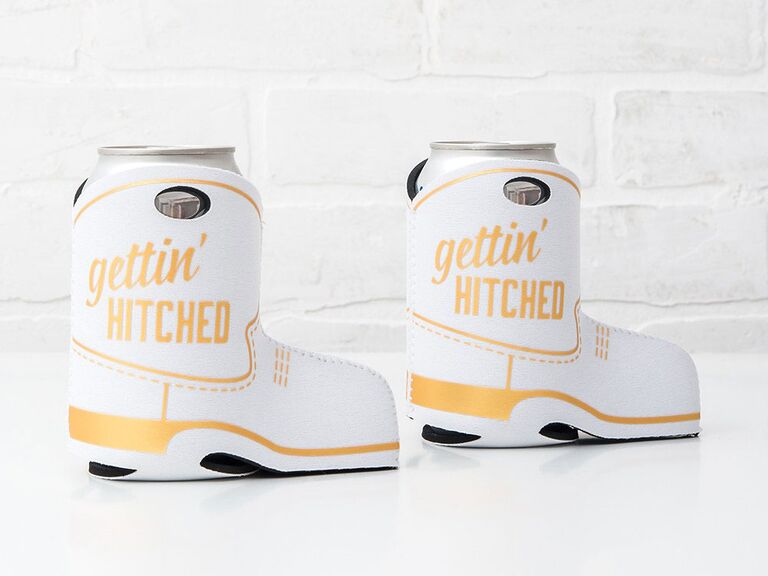 Cheers to a boot stompin' good time! Keep your drinks and your celebrations chill with these unique and affordable bachelorette party can coolers. The neoprene drink holders are cut in the shape of western boots and decorated with the phrase "Gettin' Hitched."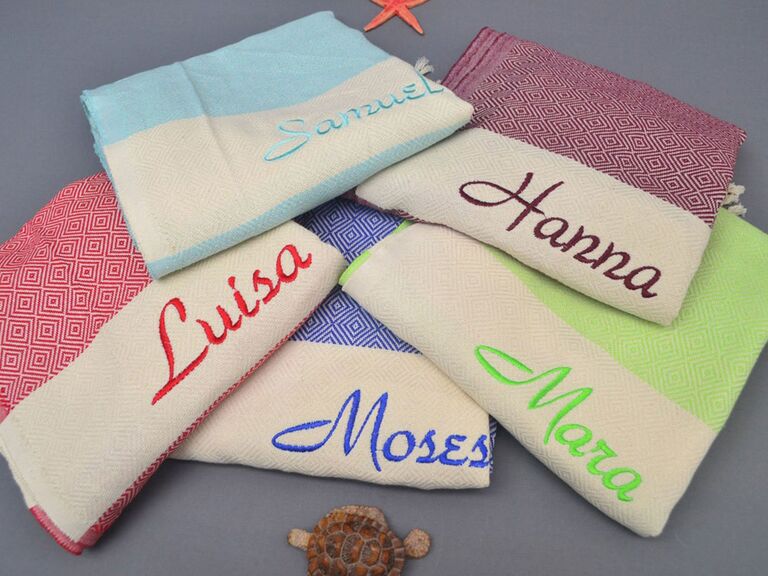 Going to a beach, pool or lake? Add a personalized towel to your bachelorette weekend goodie bags. Your guests will adore the softness of these Turkish towels, which are light enough to pack on the flight home. Simply choose a color then add your personalization—it could be each person's name, their wedding titles or the bach trip destination.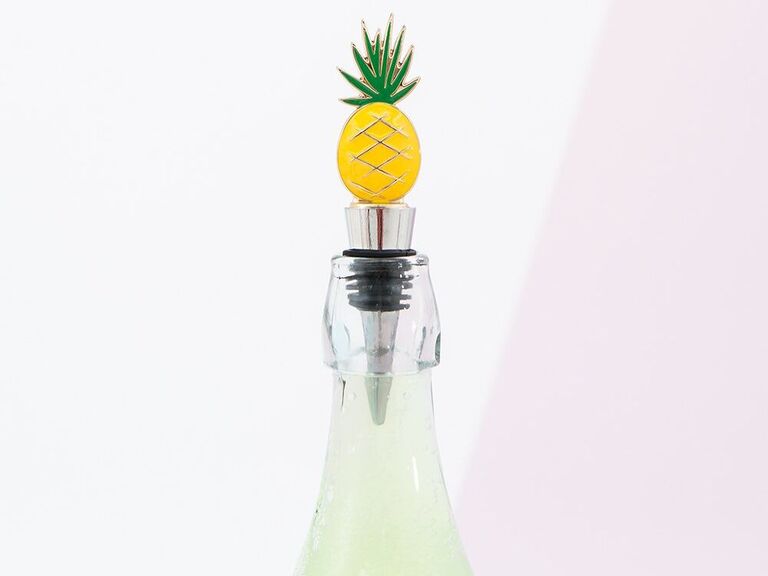 Bottle stoppers are a low-key bachelorette party favor that won't push you over your budget. This fun pineapple-themed stopper is a simple addition to gift bags and a whimsical way to cork an opened bottle of wine.
Even adults can like temporary tattoos! Grab a few packets of these metallic gold nautical tattoos to dress up your squad for a day on the water or a night out in a beach town. They're a budget-friendly way to fill your bachelorette goodie bags with themed swag.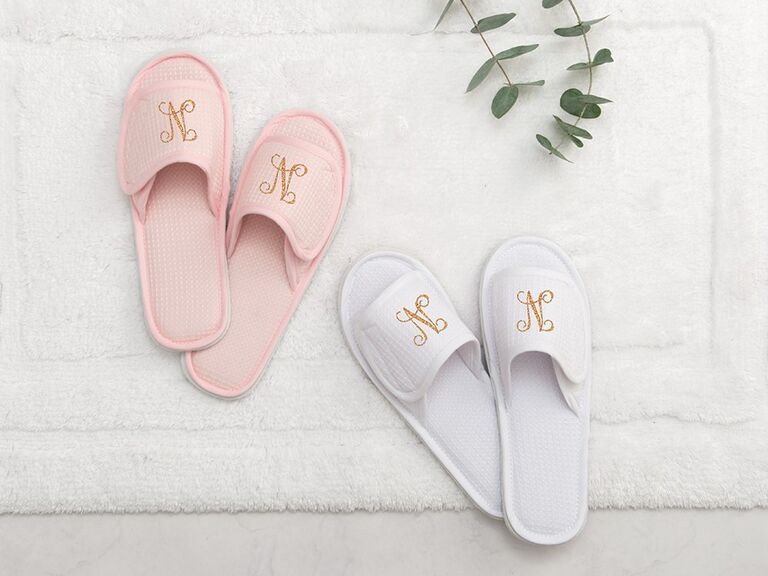 We don't know about you, but we'd be pretty darn delighted to see a snug pair of slippers in our bachelorette party loot bags. Have each pair personalized with the guest's first initials in fancy cursive lettering so they really feel like royalty.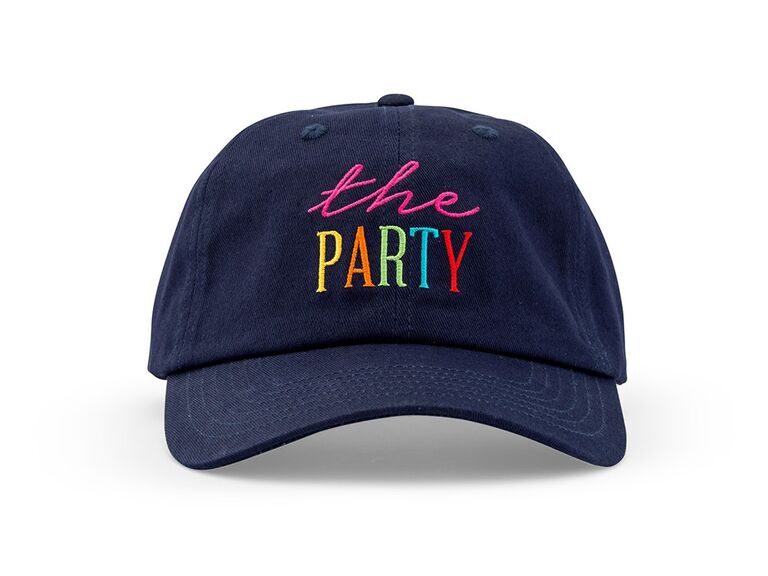 Another cute wearable favor for your crew? Matching caps embroidered with the words "the party" in colorful lettering. Get the bride-to-be a coordinating cap embroidered with "wife of the party" and everyone will get the pun.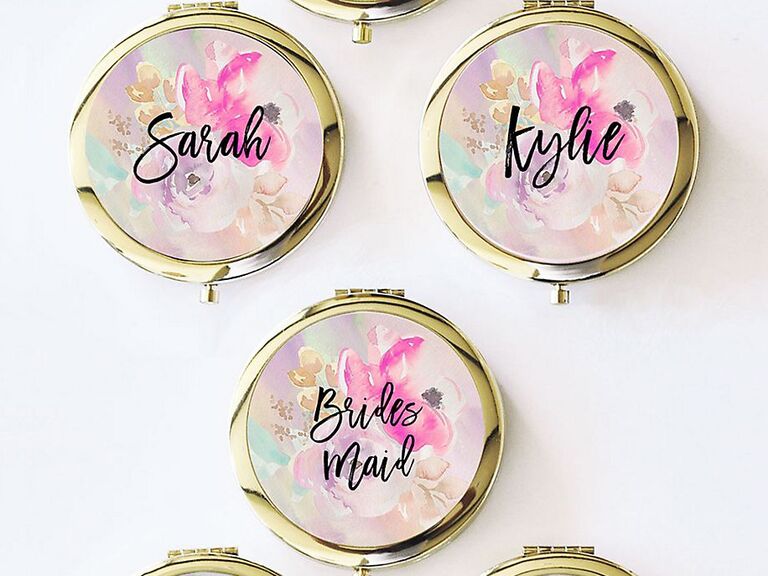 You can't go wrong with compact mirrors personalized with each person's name or wedding title. These small but personal favors are a great filler for goodie bags. Simply pop them in, finish each bag off with a handwritten bachelorette party gift tag, and you're good to go!