35 Cute and Affordable Bachelorette Party Favors for Every Guest
Surprise your squad without breaking the bank.
We have included third party products to help you navigate and enjoy life's biggest moments. Purchases made through links on this page may earn us a commission.
If you're on the fence about bachelorette party favors, let us convince you they're totally worth it. Not only do they make guests feel appreciated, but according to our company data, favors are actually a highly anticipated piece of the party puzzle, with 37% of female attendees stating that receiving bachelorette swag is the aspect they enjoy most of all. More than that though, 43% of female respondents said that they expect bachelorette party favors to be handed out at upcoming celebrations.
Of course, your bachelorette favors don't have to cost an arm and a leg. As with any gift, it's really the thought that counts. When it comes to filling bachelorette gift bags, there are two ways you can go: Treat your squad to some fun and wearable items for the festivities or gift them meaningful keepsakes to take home and enjoy afterward. No matter which way you go—and especially if you decide to do a combo—there are plenty of cute, inexpensive items to choose from. We've rounded up some of our favorite affordable bachelorette party favors your guests will love. Yep, nearly all these unique ideas are under $15 each—perfect for planning a memorable bachelorette party on a budget.
What to Put in Your Bachelorette Gift Bags
From welcome bags to hangover kits, there are so many different approaches to bachelorette goodie bags. We suggest taking inspiration from the bach party theme or location to get you started. For example, a cute deck of cards is a great party favor for a Las Vegas bash, while a Disney-themed event might benefit from some adorable mouse ears for everyone to wear.
You should also keep the budget in mind while browsing bachelorette party gift bag ideas, since it's common to buy multiple items for each attendee. One easy way to cut down on costs is to include one main gift in each person's swag bag and fill the rest of it with inexpensive items you can buy in bulk, such as candy, lip balm and sunglasses. (Psst, You'll find plenty of fun favor options at The Knot Shop.) For the finishing touches, you should also consider one or two personalized elements—like stocking everything in custom totes with handwritten cards—to make each gift bag feel extra special.
The Best Bachelorette Party Favor Ideas
Whether you're the bride-to-be picking up some fun bachelorette party swag for your crew or you're a dutiful MOH taking the lead on bachelorette goodie bags, we've got some ideas for you. From chic (and reusable!) drinkware to on-theme accessories, these bachelorette party gifts for guests won't disappoint.
1. Garden-Inspired Monogram Mugs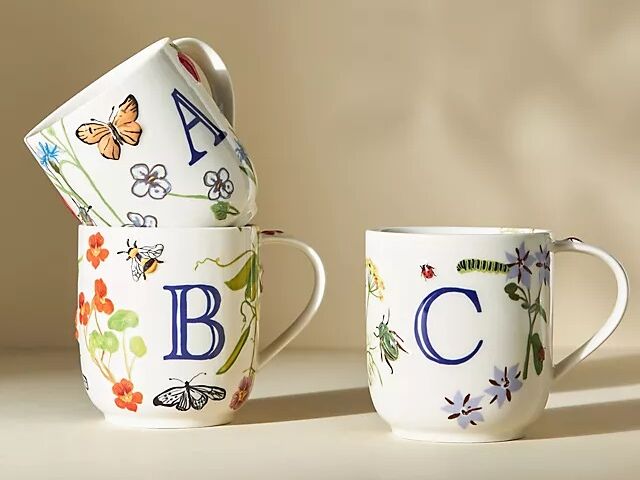 While bachelorette parties are notoriously alcohol-infused affairs, your party favors don't have to be boozy. Whether you're planning a sober bachelorette party or simply know your squad will need their coffee fix on the trip, these monogram mugs are a cute idea. And the pretty floral design with caterpillars and butterflies is too fitting for a garden-themed party.
2. Birthstone Teas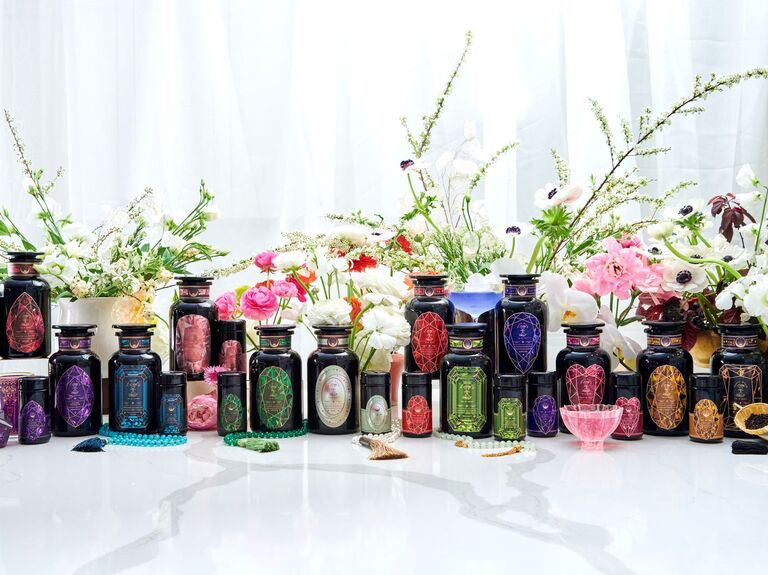 This is hands down one of the most unique bachelorette party favors on our list—and also one of our favorites. Survey your friend's birthdays, then give each a tea inspired by their birthstone. Each blend steeps to the hue of the gemstone for a personal and enchanting gift. Not to mention the herbs, spices and florals used will give them a wellness boost after a night of partying. You could splurge to get each guest a large apothecary-style jar of loose-leaf tea or simply grab the glass travel jar, which is equally charming, but less expensive and easily portable.
3. Heart-Shaped Tea Steepers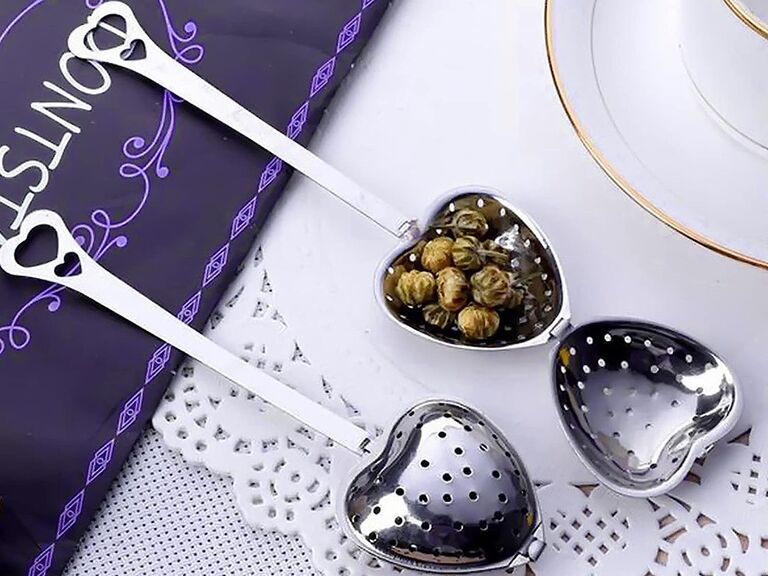 Loving the tea-theme? Add these adorable loose-leaf tea infusers to your bachelorette party gift bags. The heart-shaped (aww!) stainless steel strainer spoon will let their tea steep without leaves floating in the water. And best of all, each is just one dollar.
4. Retro Heart Sunglasses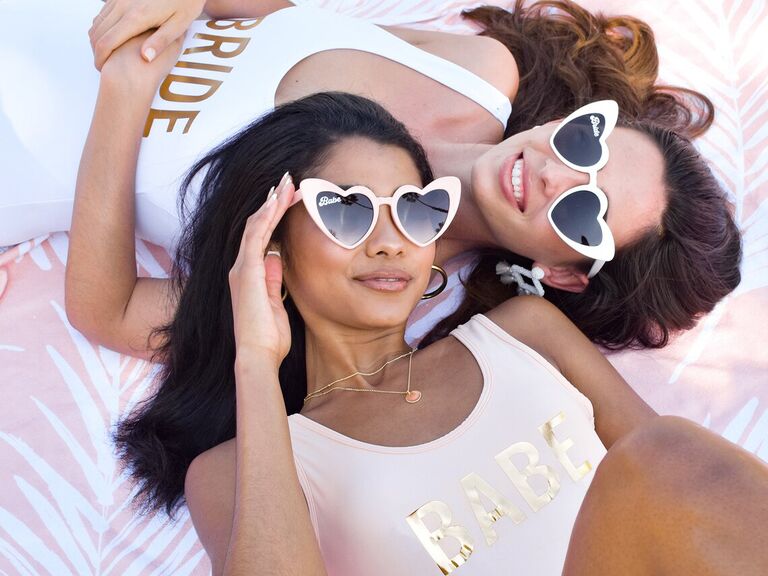 On the hunt for some bachelorette party favors to wear by the pool or on the beach? Whether you're celebrating in Cabo or South Beach, a trendy pair of shades is essential to protect your squad from the sun (and add a stylish finishing touch to their outfits). These cat-eye heart sunglasses are emblazoned with the word "babe" and come in a choice of pink or black for the bridal party. For the guest of honor, pick up a pair of white sunnies adorned with the word "bride." (Psst, this Etsy seller also has personalized sunglass cases for a thoughtful touch.)
5. Funny Drink Pouches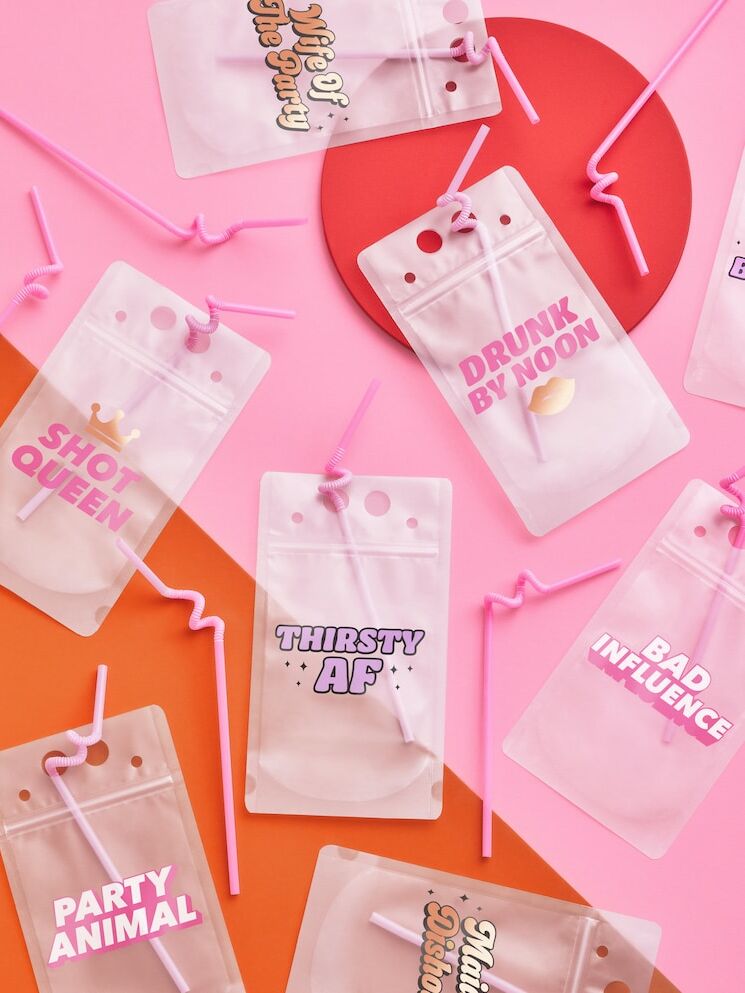 No glass by the pool? Shop these spill-proof, reusable drink pouches instead. They come as a set of 16—which makes each nearly one dollar—and are printed with silly nicknames like "wife of the party" for the bride and "shot queen," "bad influence," "Miss behaving" and more for everyone else. And the pink bendy straws are included!
6. Edible Glitter Dust Packs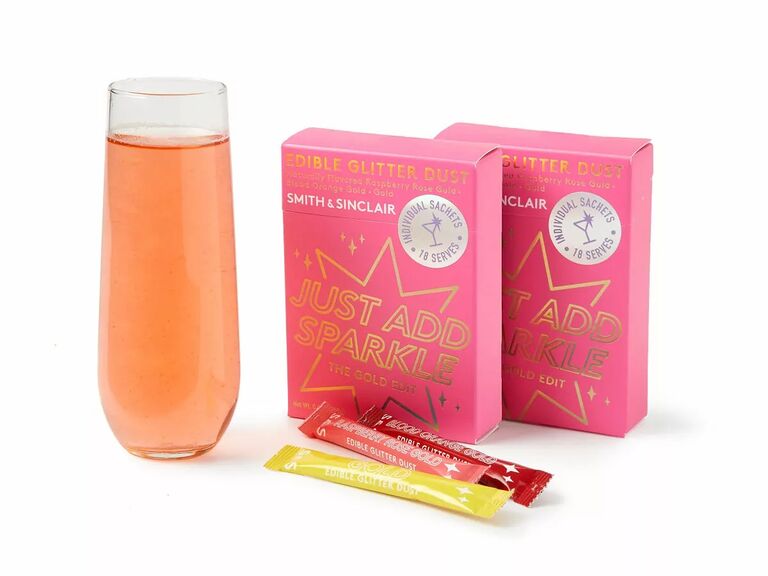 Instantly elevate every drink into an Instagram-worthy concoction with edible glitter. Simply pour a packet of shimmery dust into a drink and stir it up. Violà! Each box comes with 18 glitter packets (six flavorless, six raspberry and six blood orange).
7. Custom-Embroidered Beach Towels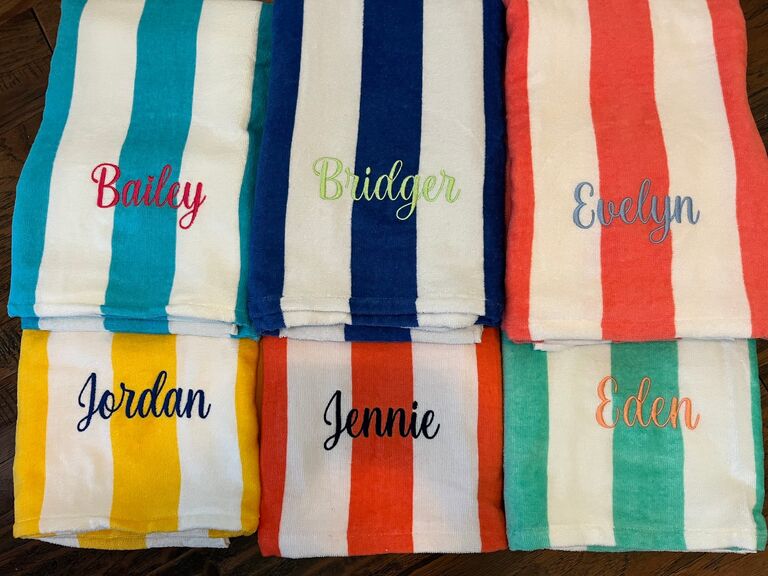 Whether you're going to a beach, pool or lake, a personalized towel is just the favor to add to your bachelorette weekend goodie bags. These 100%-cotton striped towels come in 10 colors with 19 embroidered thread colors. You can personalize them with each person's name, their wedding titles or the bach trip destination.
8. Personalized Makeup Bags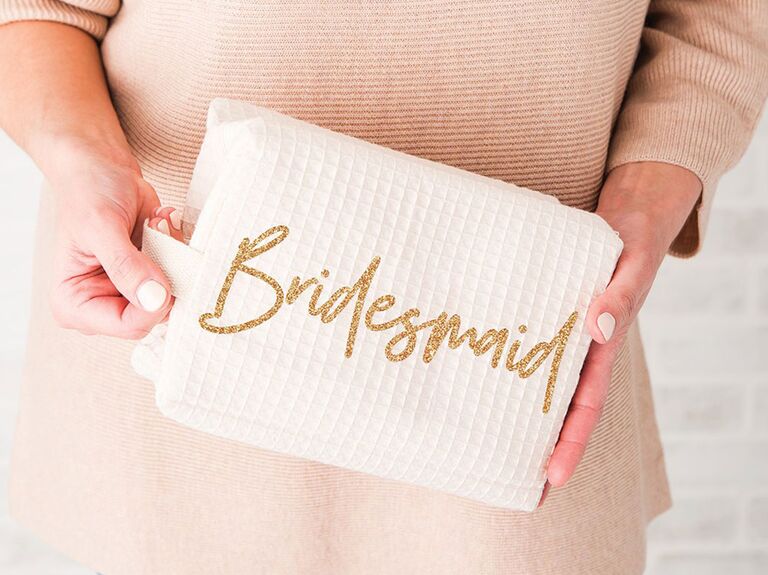 Looking for bachelorette party game prizes? Give this cotton waffle makeup bag to the winning bridesmaid. Or, if you want to give one to everyone as a reusable bachelorette gift bag, you can have the bags personalized with each person's name or initials. Trust us, you'll see these makeup bags again on the morning of the wedding.
9. Mini Rose Quartz Facial Rollers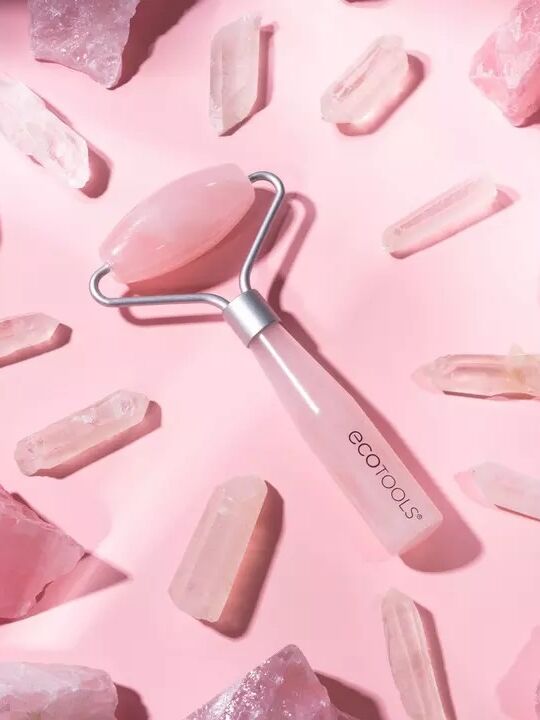 Including a few pampering products in your bachelorette party goodie bags will help everyone feel fresh as a daisy. Follow up a night of boozing with a soothing face massage. A rose quartz face roller can help with puffiness and relieve headaches.
10. Rejuvenating Sheet Masks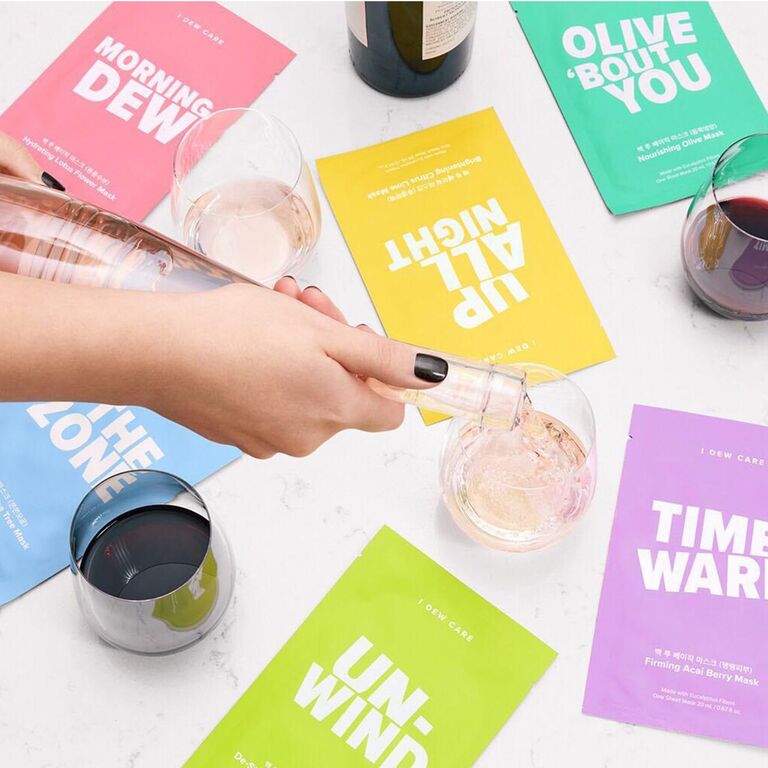 Go all in on the spa theme! Help revive your squad after all the bachelorette festivities with a refreshing facial mask. This assortment of peel-off sheet masks is appropriately named "Let's Get Sheet Faced" and has six different mask options for hydrating, brightening and tightening skin. Your squad can use them before bed or first thing in the morning to relax before more activities.
11. Tortoise Claw Clips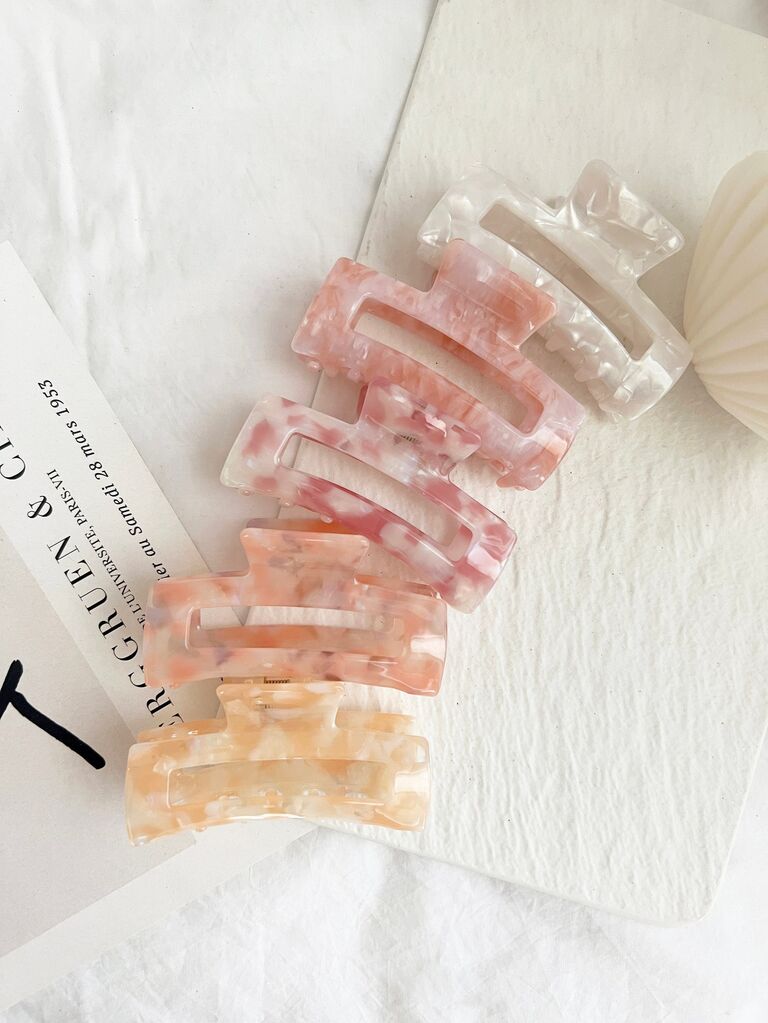 To have and to hold…your friend's hair! Add a claw clip to each bachelorette party bag so they can easily throw their locks up for a day at the pool or as they're doing their makeup. These are sold in sets of five with either a green or pink color scheme—and each set comes with a white claw clip for the bride! Of course, if you're looking for even more colors or designs, this Etsy seller has over 100 hair clip options.
12. Monogram Slippers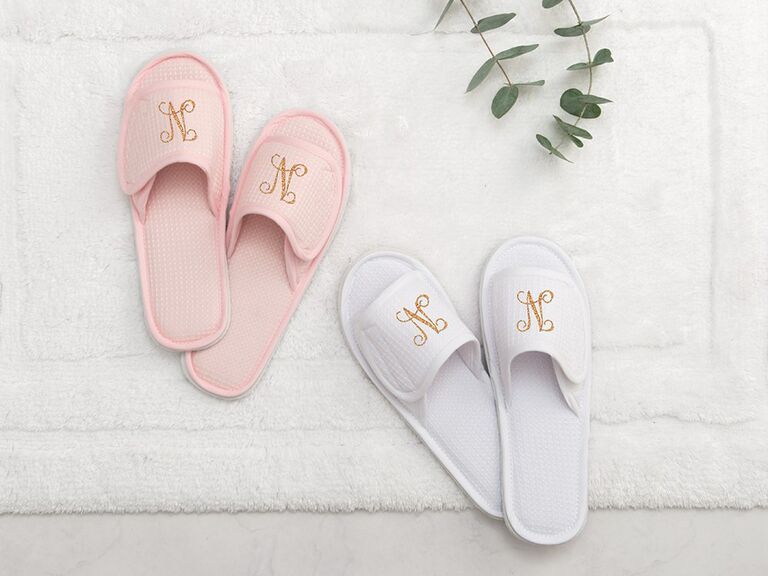 We don't know about you, but we'd be pretty darn delighted to see a snug pair of slippers in our bachelorette party loot bags. Have each pair personalized with the guest's first initials in fancy cursive lettering, so they really feel like royalty. They're perfect for walks to the hot tub when they don't want to get the shoes they brought wet.
13. Zodiac Sign Guides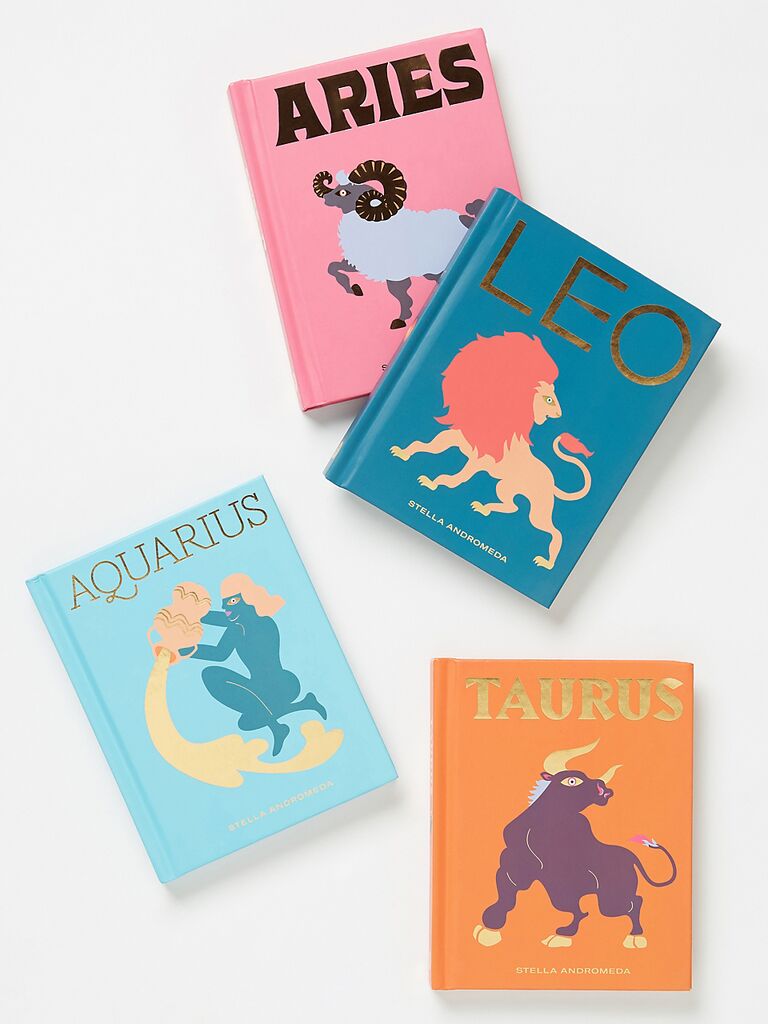 Show your bride squad just how well you know them by including a book all about their zodiac sign in your bachelorette party favor bags. Written by astrology expert Stella Andromeda, each book offers invaluable guidance based on each attendant's star sign. So thoughtful!
14. Portable Phone Mounts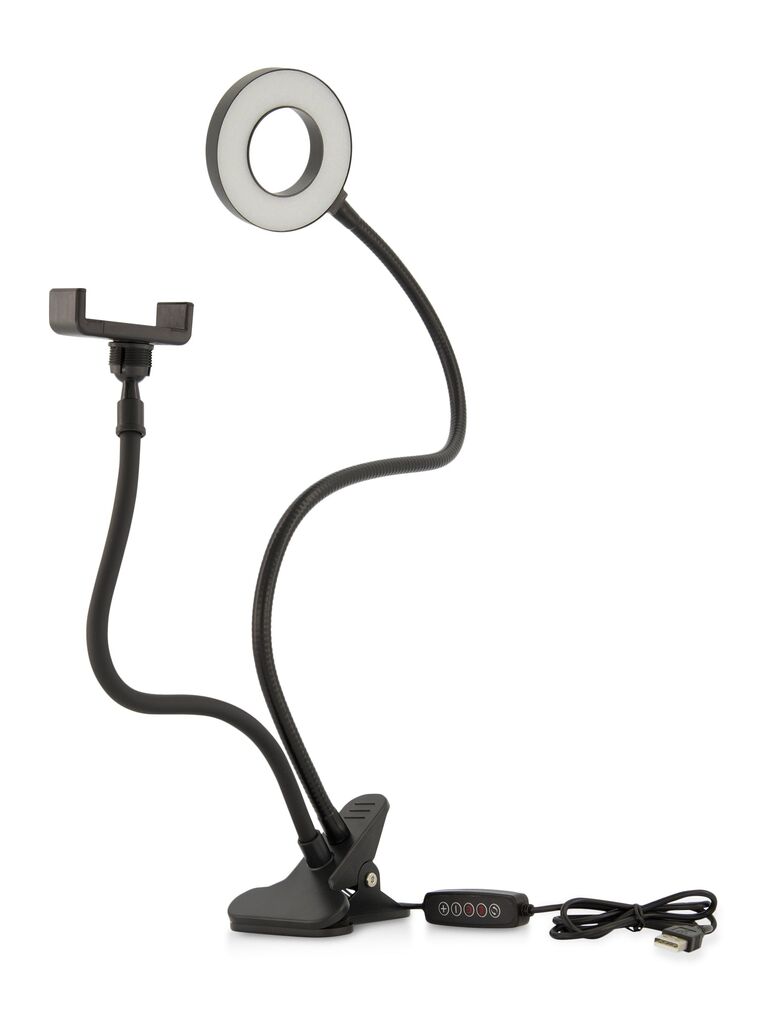 Is the squad all about taking Pinterest-worthy pics and making TikTok videos? Put a portable phone mount in everyone's bachelorette party welcome bags. The tool can clip to almost anything to get the perfect angle and is even equipped with a color-changing ring light. Say cheese!
15. Beachy Friendship Bracelets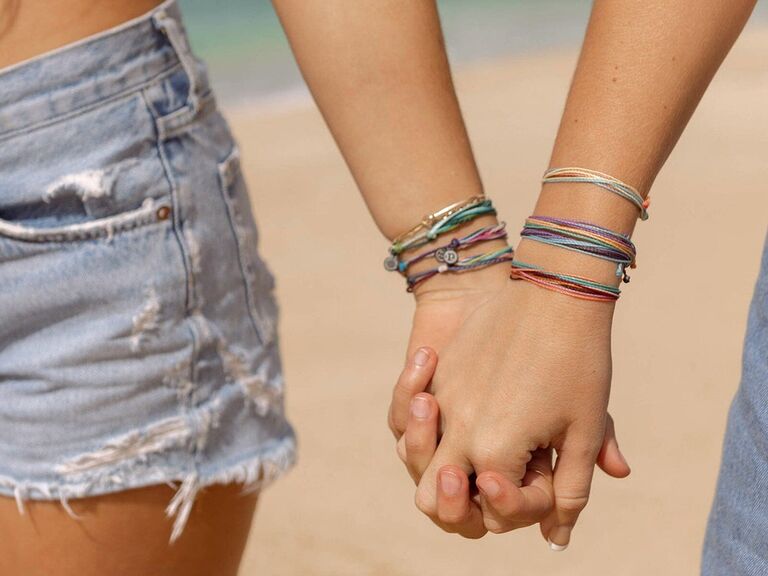 If you want to save money on bachelorette favors, the best thing to do is shop in bulk. For instance, you'll save 35% on Pura Vida bracelets with this 10-piece bundle. Each handcrafted bracelet is waterproof—perfect for your tropical bachelorette party weekend—and comes in gorgeous pastels. Give one to each guest as a symbol of your friendship.
16. Birth Flower Jewelry Cases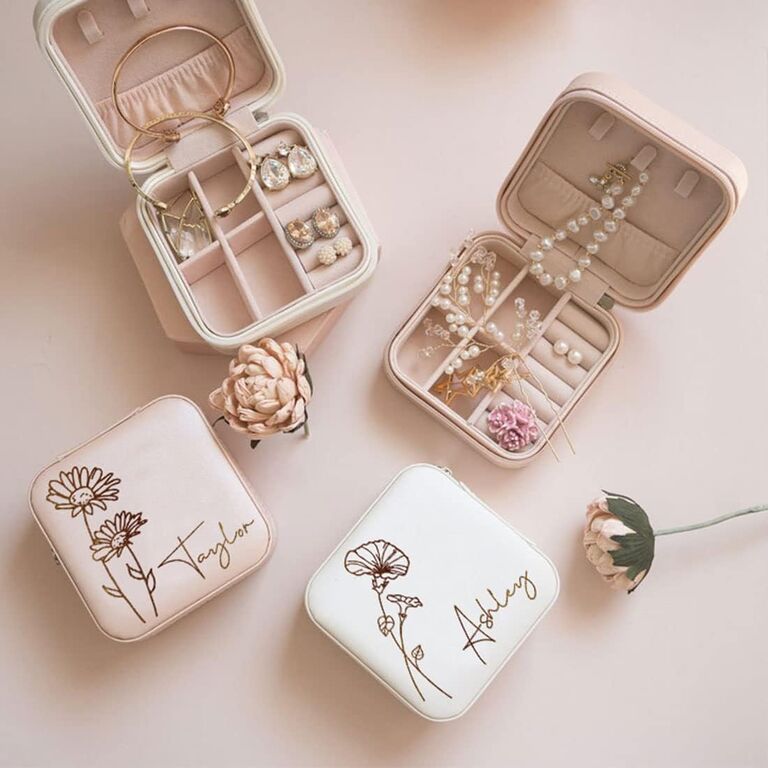 If you're looking for bachelorette thank-you gifts to show your appreciation, it's nice to hand over something special your crew can use again and again. Travel jewelry cases are one of our favorite bachelorette party favor ideas, especially if you're hosting a weekend away since they can put them to use ASAP. These ones are pretty, practical and personalized to boot. Each faux leather case features the guest's name and birth flower.
17. Playing Cards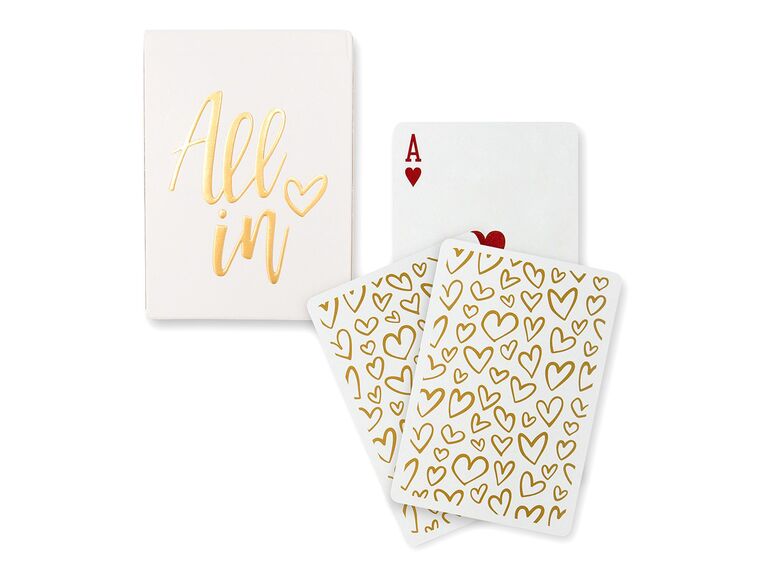 Any casino-themed bach party needs a few cute decks of playing cards. Store this bachelorette party swag in gift boxes or bags for your girls to open on arrival. Add some poker chips, mini champagne bottles and personalized drinkware to make things extra special.
18. Personalized Shot Glasses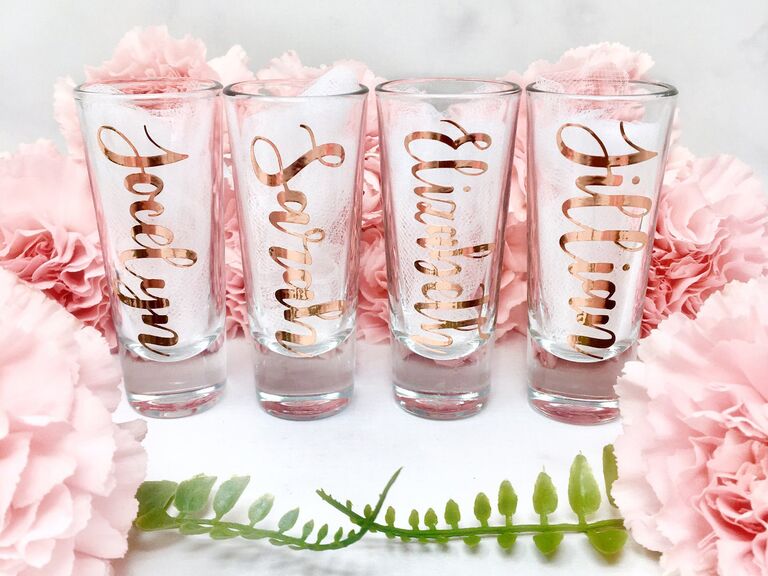 Got a crew that loves to let loose? Then these personalized shot glasses—which you can customize with your choice of font color—are an excellent bachelorette party gift bag idea. Bottoms up!
19. Disco-Themed Hangover Kits
It's a good idea to have some fun bachelorette party giveaway prizes up your sleeve, especially if you've got a few games lined up. Guests will be extra-competitive to win a recovery kit packed with all the rations they need to refresh after a night out. You can buy the cute "Stayin' Alive" bag by itself or have it prepackaged by the seller with makeup wipes, gum, ibuprofen and more.
20. Made-to-Order M&M'S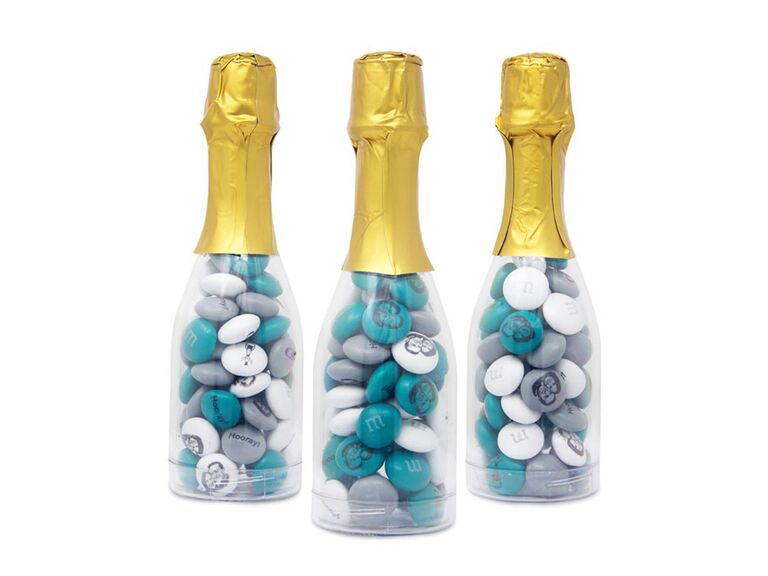 Sweet treats are undeniably one of the best bachelorette party favor ideas and this unique display is sure to be a hit! First, design your own M&M's (with custom colors, text or even the bride's face) then stuff them into mini champagne bottles. The kit comes with 20 bottles and two pounds of your personalized M&M's, so there's plenty of chocolate to go around.
21. Personalized Bandanas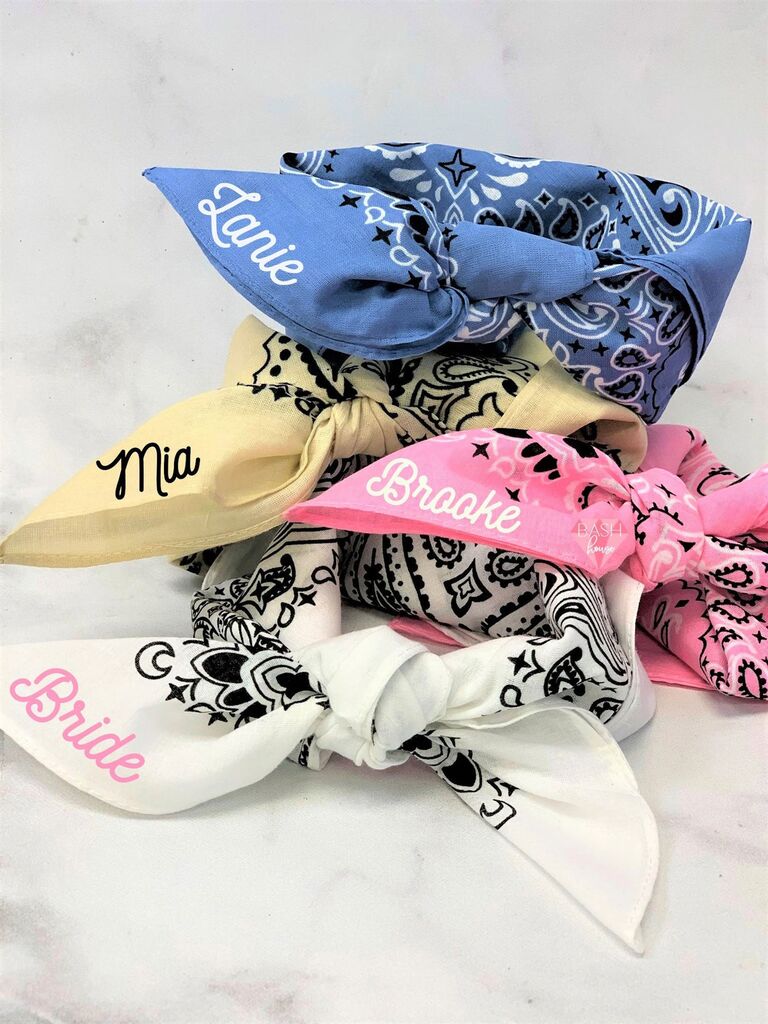 Yeehaw! If you're planning a western-themed bachelorette party, these cute bandanas will be a fitting addition to your goodie bags. Personalize each bandana with guests' names and pick up a white bandana decorated with the word "bride" for the honoree.
22. Cowboy Boot Koozies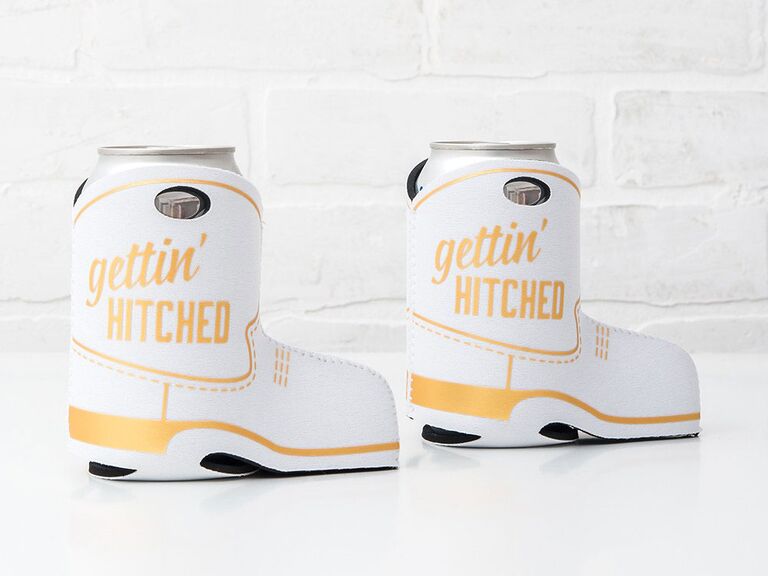 Cheers to a boot stompin' good time! Keep your drinks and your celebrations chill with these unique and affordable bachelorette party can coolers. The neoprene drink holders are cut in the shape of western boots and decorated with the phrase: "Gettin' Hitched."
23. Moisturizing Lip Balms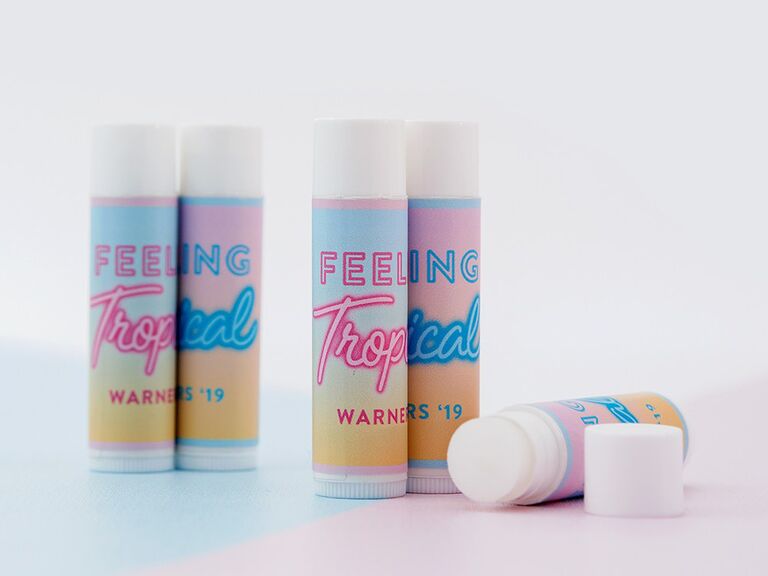 If you're searching for small things to put in your bachelorette goodie bags, lip balm is a little gift that everyone can use. This cute and personalized vanilla-scented lip balm is the perfect addition to guests' welcome bags.
24. Diamond Ring Shot Glasses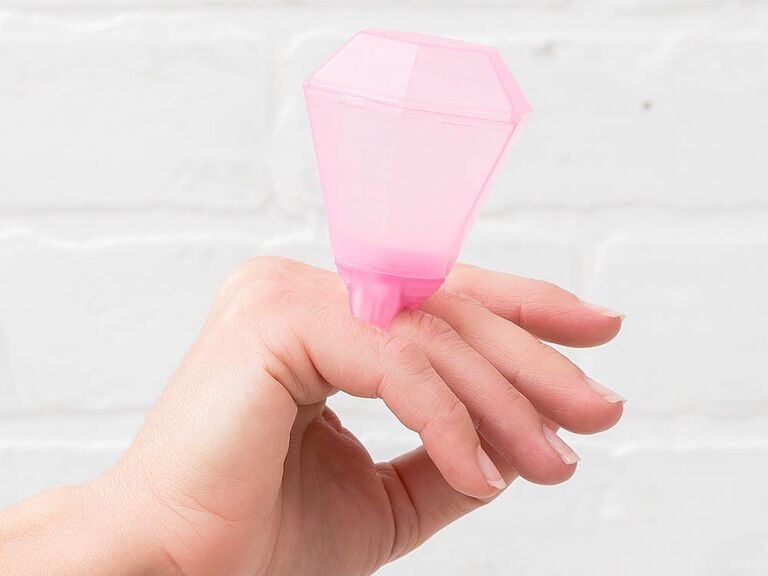 Here's another small and fun bachelorette party favor for welcome bags. This "diamond" ring doubles as a shot glass, so their personal jigger is always close by. Better still, it lights up!
25. Custom Face Tattoos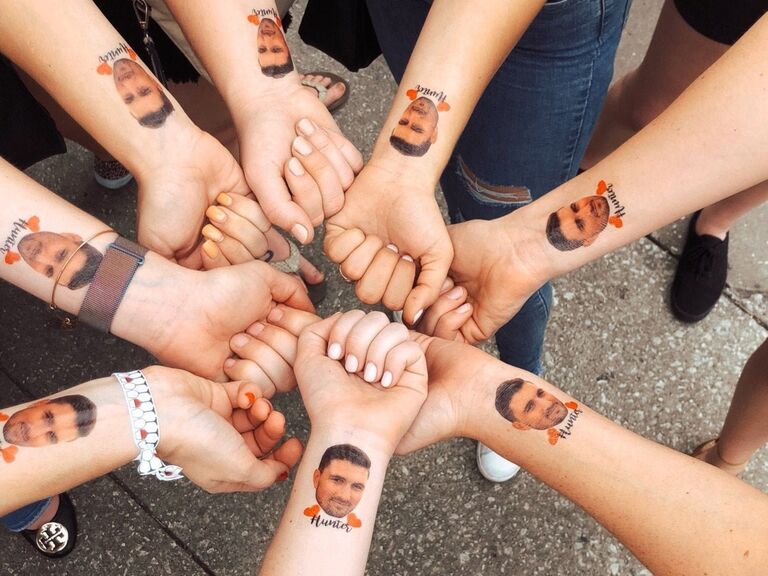 Wondering where bach parties get tattoos of the happy couple? These funny favors can be purchased right on Etsy. This five-star seller will transform a photo of your fiance's face into about a 2-inch large temporary tattoo with added clip art. Think: Your boo as a cowboy, surrounded by hearts or with a silly phrase. You have to order a minimum of five, but the more you order the less expensive each tat' is.
26. Chic Drink Tumblers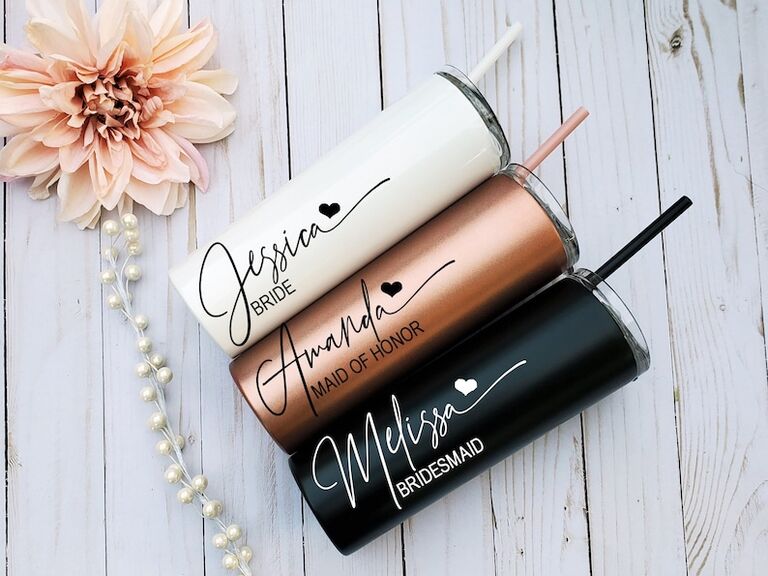 Keep your friends' drinks extra cold with this cute bachelorette party favor. Pick a special color for the bottle and text, so each guest can have their own ultra-personalized stainless steel tumbler. Your bachelorette party squad will want to use these chic cups long after the festivities have ended.
27. Taylor Swift Stickers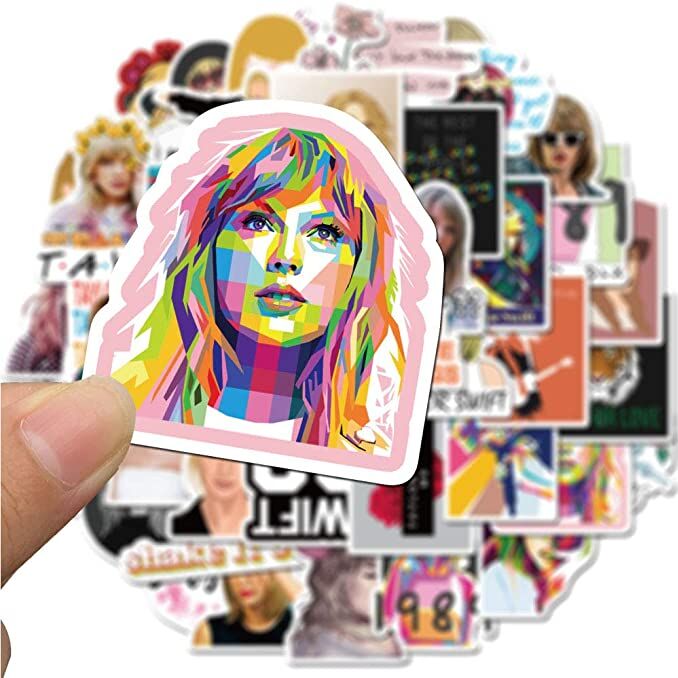 Even adults like stickers—especially when they're Taylor Swift themed. (Hello, "Lover"-themed bach party!) This pack of 200 vinyl stickers with specific "Midnights," "Red (Taylor's Version)," "Folklore" and "Evermore" collections will decorate their water bottles, laptops and more. We suggest scattering them on a table to double as confetti decor.
28. Fuzzy Socks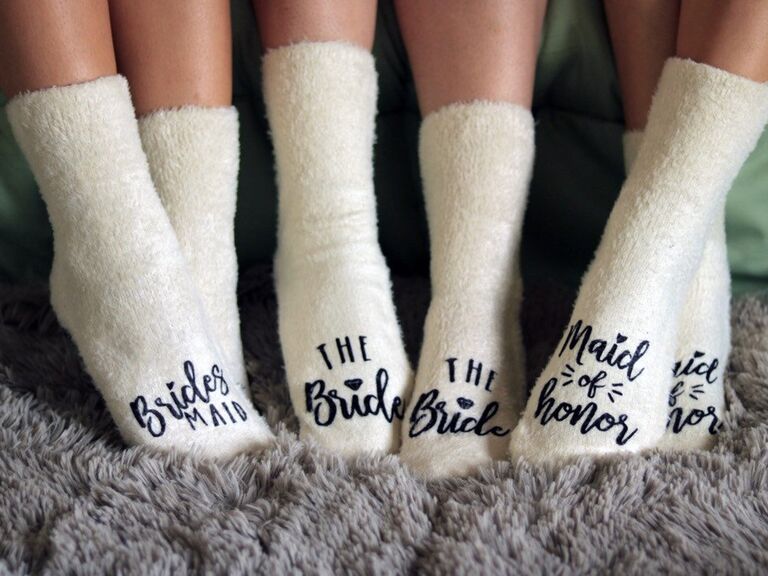 Searching for personalized party favors your guests will love? These stylish socks can be adorned with each guest's wedding title, from the maid of honor to the mother of the bride. They're the perfect bachelorette party swag for brides planning a cozy night in with their besties.
29. "Babe" Beanies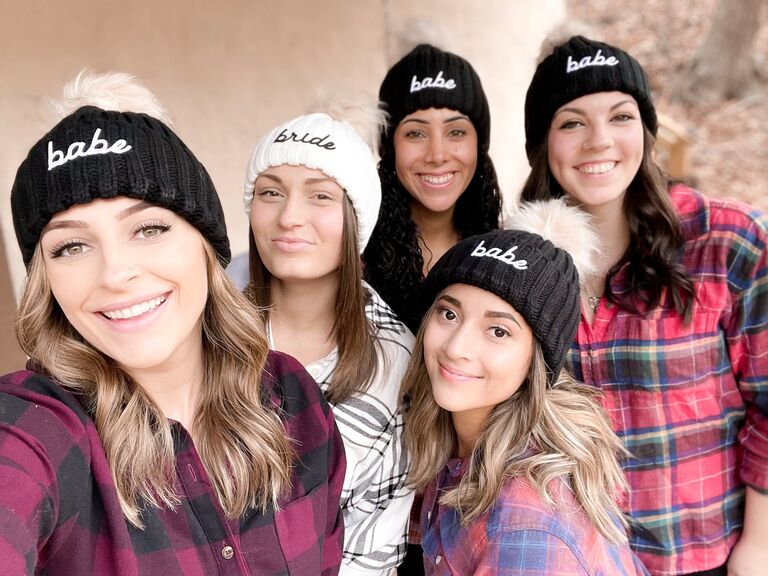 Planning a winter bachelorette party with the theme après ski? These knit beanies will let everyone know you're celebrating a blushing bride. She'll wear a white hat with either a "bride" or "wifey" patch on the rim, while friends and family are outfitted in black, blush or gray "babe" hats. Best of all, they've got a pom-pom.
30. Customized Tote Bags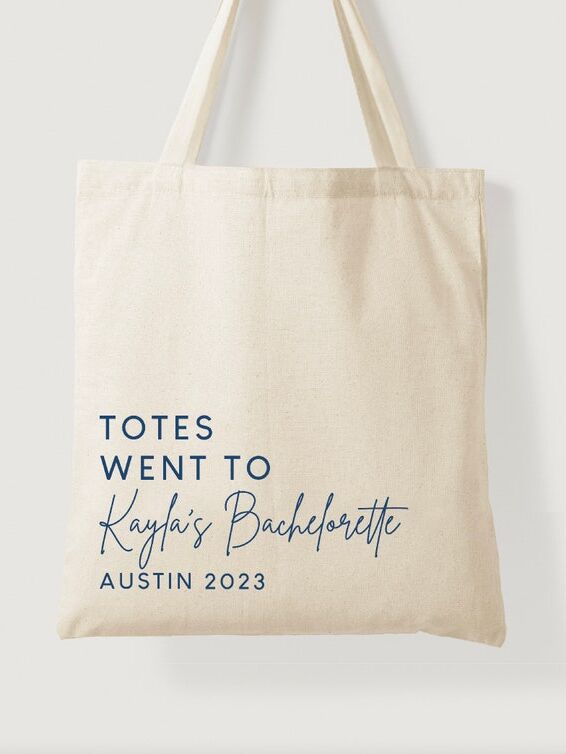 Picking out party favors for guests is only half the fun—you also get to choose the presentation! Whether it's bachelorette welcome bags, hangover kits or thank-you gifts you're putting together, your swag will look twice as nice in these personalized canvas tote bags. They joke: "Totes went to [insert name]'s bachelorette party," with the location and year of the event. Best of all, guests will use these constantly for the grocery store, a beach day or a picnic.
31. Holographic Fanny Packs
Fanny packs—sorry, we mean belt bags—are arguably the easiest way to carry your phone, keys and wallet to the bars. And they'll totally fit a retro bachelorette party theme. These come in sets of seven with black, pink or rose gold bags for guests and a silver one for the bride.
32. Wedding Cake-Scented Candles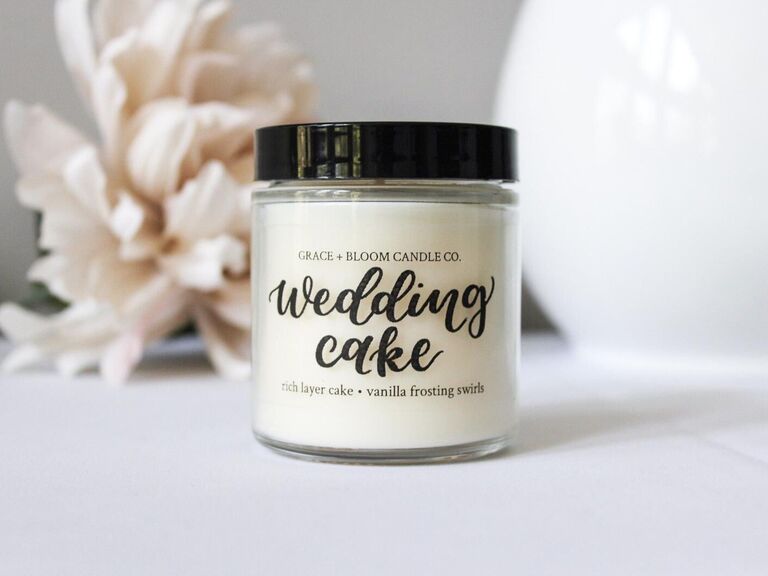 The wedding cake will be one of the highlights of the big day. Send your bachelorette party guests home with a luxe candle in the scent of rich vanilla frosting and sponge cake. This budget-friendly bachelorette party favor certainly doesn't look cheap (and it smells divine).
33. Champagne Gummy Bears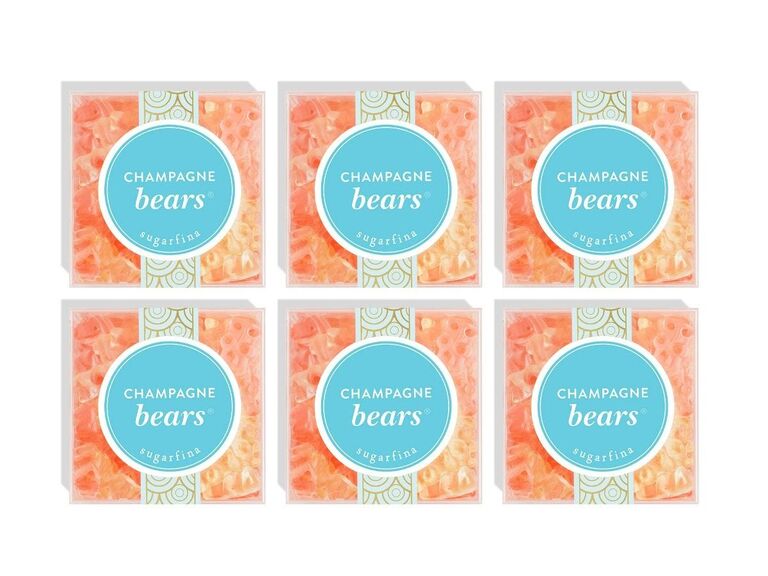 Sugarfina's famous Champagne Gummy Bears come in party packs for the ultimate bach party favor. Each candy cube comes with Brut and Rosé bears for a bubbly treat sans alcohol. They'll be the first favor your squad reaches for.
34. "Cheers" Bottle Openers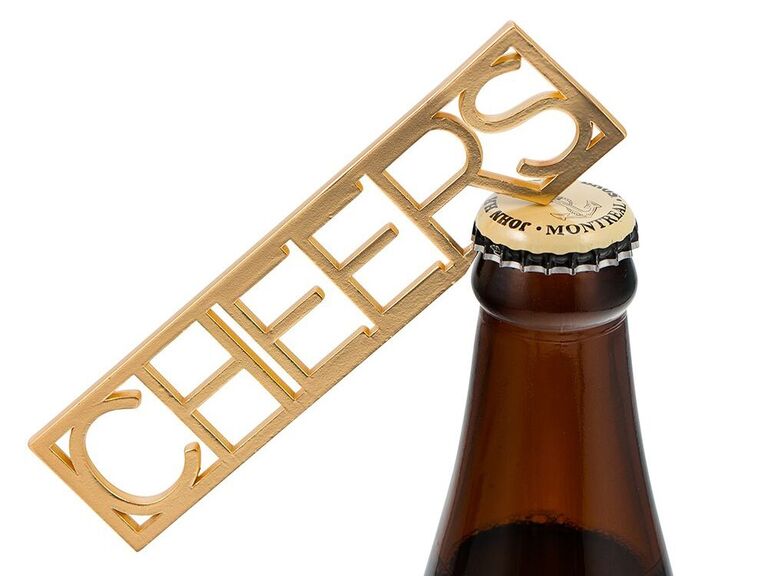 Why not DIY a few bachelorette party gift baskets for everyone on Team Bride? Pair this fashionable and functional "cheers" bottle opener with a few beers or seltzers, custom koozies and some sweet bachelorette party treats. Bottoms up!
35. Press-On Nails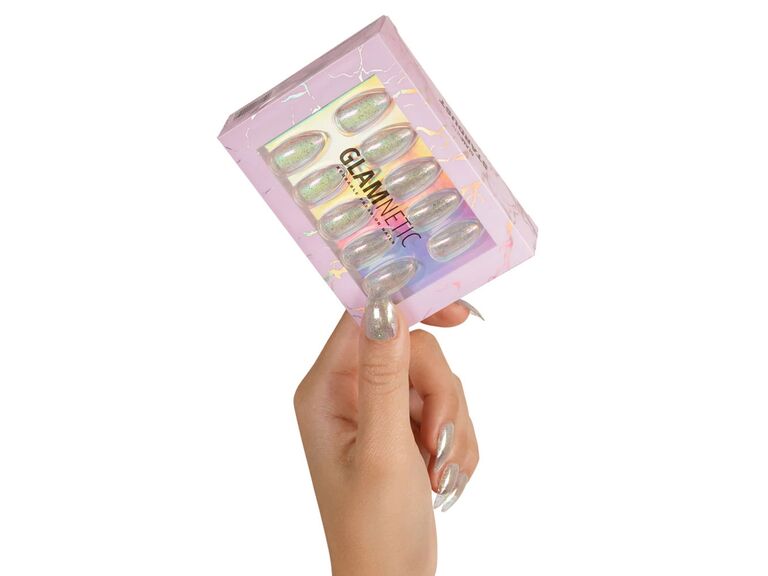 Treat your squad to a manicure without breaking the bank. These beautiful press-on nails will add a little glam to any look. You can play salon before a night on the town, but the fun doesn't stop there. These glittery nails are reusable!