The Complete Guide to Bachelor Parties and Bachelor Party Planning
Get ready for an unforgettable prewedding bash.
LightField Studios / Shutterstock
We have included third party products to help you navigate and enjoy life's biggest moments. Purchases made through links on this page may earn us a commission.
When it comes to prewedding celebrations, bachelor parties are a rite of passage for any groom-to-be. It's an opportunity to spend quality time with his closest friends and family before starting a new chapter in life as a married man. There's just one little (okay, big) thing to take care of before you can enjoy a few days of fun with the crew, and that's plan the whole darn thing. If you're not sure where to start with bachelor party planning, you've come to the right place. We're breaking down everything you need to know about the prewedding tradition, including what a bachelor party is, who gets an invite and how to plan an epic one.
There's no one-size-fits-all approach to planning the perfect bachelor bash. Ultimately, it depends on the groom's preferences and interests. It's always a good idea to consult with the guest of honor before finalizing any details. That way, you can make sure you're heading in the right direction (literally!) with the bachelor party destination, as well as the itinerary. Bachelor parties have long since evolved past club nights and bar crawls—there's a world of possibilities out there to explore, from relaxing golf vacations to adventurous outdoor excursions. At the end of the day, it's about choosing something the groom and his crew will enjoy.
What Is a Bachelor Party?
In the most literal sense, the purpose of a bachelor party is to celebrate the groom's impending nuptials and to wave goodbye to his single life. It's a celebration traditionally attended by men only. Wondering when bachelor parties first started? The time-honored tradition dates all the way back to the Spartans in the fifth century. While the meaning of a bachelor party hasn't changed much throughout the years, it's no longer a hard and fast rule to just invite the guys. You should extend an invitation to whoever you think the groom would really want to have there (so long as they're also on the wedding guest list).
Celebrating the groom before the big day is a popular tradition in other parts of the world too. For example, in the UK, many to-be-weds attend a stag party or "stag do" before their wedding. There are no notable differences between a bachelor party vs. a stag night—they're both prewedding events thrown in honor of a groom-to-be and can take place anywhere from a local bar to a destination abroad.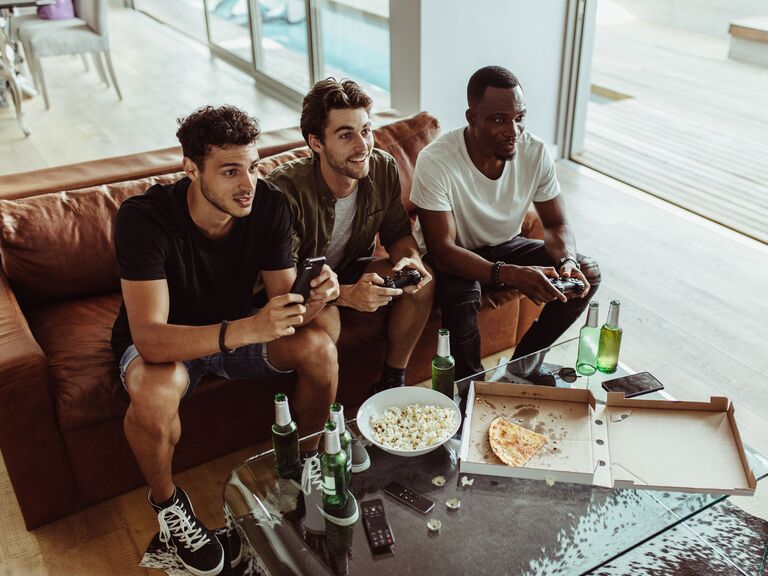 Who Plans the Bachelor Party?
Now that you're clear on the definition of a bachelor party, it's time to dive into the planning. According to our company data surveying 274 male bach party attendees, 41% said that friends took primary responsibility for planning the bash. On the flipside, 39% indicated that the best man (or best woman) was the main planner.
So what does that mean for you? If you're the best man planning a bachelor party for the groom, don't be afraid to reach out to the rest of his wedding party or family for help. While planning the bachelor party is traditionally the best man's responsibility, it's okay to enlist a few others to help out. There are lots of tasks you can delegate, such as picking out bachelor party shirts or organizing bachelor party decorations.
If you're not the best man but really want to take bach party planning on board, it's not totally off limits. Before you make any decisions, you should confer with the best man/woman first in case they already have the ball rolling or really want to take the reins. Chances are they'll be more than happy to share the responsibility.
When Should You Have a Bachelor Party?
This one is a biggie: timing. When do you throw a bachelor party? And how long before the wedding should the bachelor party be? These are two things to consider well in advance. We all know how it usually goes in the movies (hello, The Hangover), but if you think the night before the wedding is the perfect time for a bachelor bash, think again. The last thing the groom needs on the big day is a hangover (or a reason to stress out his partner).
You should schedule the main event about a month before the wedding. One month out is generally the sweet spot in between major wedding planning milestones and finalizing last-minute details. At the very least, schedule it a week before the wedding, preferably during the weekend. Some people from out of town won't be able to attend, but if they do want to make the trip, provide as much advance notice as possible for them to make plans. Notify the bachelor party guests at least three weeks before the party to avoid scheduling conflicts.
Don't have time to schedule a bachelor party before the big day? Or, maybe your brother or best friend has already spontaneously tied the knot? If that's the case, it's not unheard of to have a bachelor party after the wedding. In fact, many couples whose nuptials were affected by COVID-19 postponed their bach celebrations until after the big day.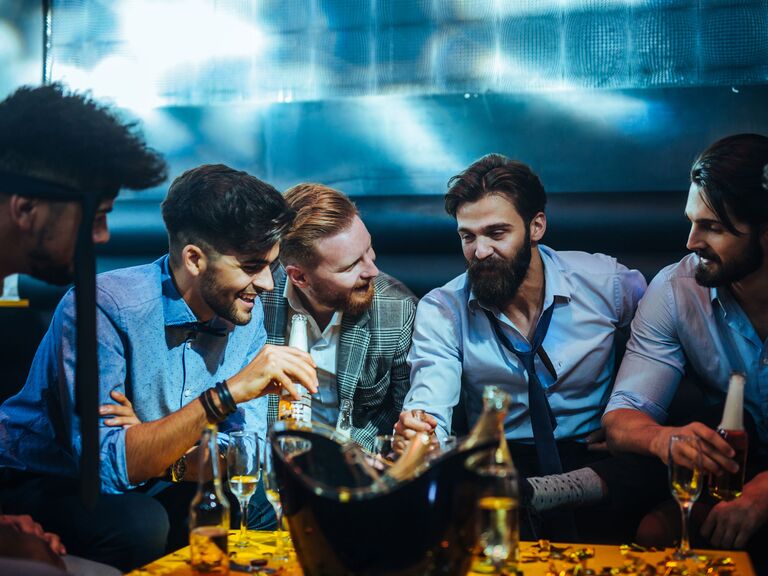 Who Gets Invited to a Bachelor Party?
According to our company data, the average number of guests invited to a bachelor party increased from eight in 2019 to 10 in 2020. Ultimately, it's up to the main party planner and the groom to decide on the right number of guests, as well as who makes the list. Traditionally, this should include the best man and all of the groomsmen, as well as any other really close friends.
Not sure how to invite the groom's friends to the bachelor party? When you're finalizing the guest list, make sure you get everyone's contact details so you can give them a head's up about the party early on. You'll want to gauge interest and estimate numbers before finalizing accommodations and activities, so it's a good idea to extend a preliminary invite through a text or phone call before sending out official bachelor party invitations confirming the date and location.
Do You Give Gifts at a Bachelor Party?
Gifts for the groom aren't a requirement at a bachelor party, but you're more than welcome to bring one if you want to. Looking for ideas? You could get the groom something that'll come in handy during a bachelor weekend, such as a monogrammed hip flask or poker game set. Or, use his interests as inspiration for a meaningful gift. For example, a sports fan will appreciate merch representing their favorite team.
While buying a bachelor party gift for the groom isn't traditionally done, party favors for guests are often a big part of the celebration. The easiest way to pick out favors is to take a cue from the party's theme or location. A nice deck of cards for each guest is a great idea for a Las Vegas bachelor party. If you'll be chilling out poolside during the festivities, insulated drink tumblers or personalized can koozies are a good shout.
How to Throw an Awesome Bachelor Party
Whether you stick with bachelor party traditions or not, any bach can be a blast, as long as you get the right people together and plan something that fits the style of your best bud. We're sharing a step-by-step guide to help bring whatever wonderful celebration you have in mind to life.
Step one: Talk to the groom.
The number one step to planning the best bachelor party for your soonlywed friend or relative? Talk to him about it first. While throwing a surprise bash might sound tempting, you should at least loop the groom in on the basic details (think: location and type of activities). Trust us, it'll be a lot easier to plan a party he'll enjoy if you ask for his opinion on your bachelor party ideas. Some grooms like to get more involved in the planning than others. Whatever the case, you should respect his wishes (this includes any type of activities that he says are off-limits). Now is also a good time to talk about the guest count and create a guest list.
Step two: Set up a group chat.
Once the groom is happy to let you take the lead on bachelor party planning, it's time to reach out to the lucky ones who made the VIP list. We suggest doing this early on to get a grasp of how far people are willing to travel and what an appropriate budget would be. Since guests typically cover their own bachelor party costs, you need to take their individual budgets into account before deciding to fly halfway across the world or rent a luxury suite in Las Vegas. Start a group chat to talk to everyone in one place. Our company data shows that 54% of male bach party attendees use text messages to help coordinate the festivities, while 47% use social media platforms like Facebook, Instagram and Snapchat.
Step three: Decide on a time and place.
Between talking to the groom and gauging the group's interests, you've probably already got a good idea of where the party should take place. Some grooms prefer a chilled-out evening at home or a few drinks at a local bar, while others want to explore a new city or fly somewhere tropical.
Our company data shows that the top 10 locations for bachelor parties in 2021 are Miami, Las Vegas, New York City, Los Angeles, Orlando, Houston, Austin, Denver, Seattle and Chicago. Most importantly, the location you choose should be conducive to the kind of activities the group is interested in. For example, if the groom enjoys water sports, Lake Tahoe is a good spot. Or, if mountain biking and camping are in the cards, organize a trip to the Poconos.
When it comes to selecting a date, it may not be possible to please everyone. The most important thing is that the groom is able to make it, as well as the majority of his crew. If you can find a date that suits everyone—even better! And if most guests work Monday–Friday, weekends are your best bet.
Step four: Book accommodations.
There's a reason setting up a group chat is number two on our list of planning priorities. Reach out to the group about whether or not they think they'll be able to attend before booking accommodations. That way, you won't be stuck with an Airbnb for 10 people and only six of you to cover the cost. While the final head count is still liable to change, you should be able to avoid any drastic differences.
Our company data shows that hotels were the most popular lodging option for bachelor and bachelorette parties in 2021, followed by house rentals such as VRBO and Marriott Homes & Villas. Hotels come with luxuries like room service and cleaning, while a rental house allows the group to stay in one place and enjoy each other's company for longer. Ultimately, it comes down to your crew's preferences, budget and what's available in the area on your chosen date.
Step five: Plan the itinerary.
You've nailed down a time and place—congrats! Now onto the next hurdle: What do you do at a bachelor party? According to our study, the top three activities at 2021 bachelor parties were dinner and drinks, bar hopping and pool days. Other popular activities to add to the bachelor party program include going to a club or casino, watching live entertainment (think: a concert or comedy show) and booking a party bus. Don't forget to pencil in some downtime for your guests too, as well as time to grab food together.
Step six: Finalize the guest list.
Now that you've got all the details in order, you can officially extend an invitation to everyone on the guest list. Feel free to hand over real paper invitations or send digital invites if that's your style. However, it's not necessary to send actual invitations (physical or digital) to bachelor party guests. Many party planners simply send a text or email to provide the final details in writing and gather RSVPs.