50 Groomsmen Gifts the Guys Will Love
Looking for the best groomsmen gifts? We rounded up cool, cheap and unique groomsmen gift ideas you can buy now.
We have included third party products to help you navigate and enjoy life's biggest moments. Purchases made through links on this page may earn us a commission.
We know that a lot goes into planning your wedding, but plenty of to-dos are actually pretty fun. One such task? Treating your groomsmen and bridesmaids to thank-you gifts. After all, they've most likely been a major help along the way. In turn, it's a nice time to show them how much you appreciate their love, friendship and support. Need help picking the perfect groomsmen presents? Get our advice below.

Groomsmen Gift Etiquette
While many couples choose to give their wedding party thank-you gifts after the rehearsal dinner, others like to have a moment with their bridesmaids and groomsmen the morning of. Overall, there isn't really a wrong time to do it. But what about what to give? Here, some of our best groomsmen gift tips: 

Go for quality but focus on practicality. As fun as it is to buy off-the-wall groomsmen gifts, these types of presents aren't likely to be used again. When thinking of groomsmen wedding gift ideas, it's best to give your crew high-quality, meaningful gifts while also focusing on how practical the items are. Will your groomsmen only be able to use their presents once? Or can they pull them out on the regular (and continuously be reminded of how much fun they had on your wedding day)?
Always set a budget. Budgets are always a hot topic when it comes to wedding planning. Many couples don't take into consideration the cost of bridesmaid and groomsmen gifts, which can potentially have a large impact on their total spend. Have a discussion with your spouse-to-be to agree on a set budget for wedding party gifts in advance. (Don't forget to budget for smaller attendants too, like the ring bearer and flower girl.)
Make it personal. It may be easier to find personalized groomsmen gifts that match if your groomsmen are the same group of friends since high school and all have similar hobbies. But for a blended group of groomsmen, which may even include fathers or cousins, consider looking for some creative groomsmen gift ideas that suit each groomsman's unique interests and needs. The key is in finding the best groomsmen gift for each guy that symbolizes a lasting token of your friendship.
The Best Groomsmen Gifts
When it comes down to picking your groomsmen's gifts, we know you want to make sure you're getting them something they really want—something thoughtful, yet affordable. Unique, yet practical. To help narrow your search, we've done some research and rounded up our top picks for groomsmen gifts by popular category, including creative, inexpensive, personalized, cool and downright badass (yep, we said it!) groomsmen gifts.
In this article:
Unique Groomsmen Gifts
When it comes to shopping for unique groomsmen gifts, you want to look for that special item that hasn't been gifted before. DIY gifts can be a great way to give one-of-a-kind presents to your entourage, but if you don't have that kind of time (or creativity), consider one of the below wedding gift ideas for your groomsmen. These unique gifts will demonstrate how much thought you put into showing your buddies your appreciation, regardless of the price tag.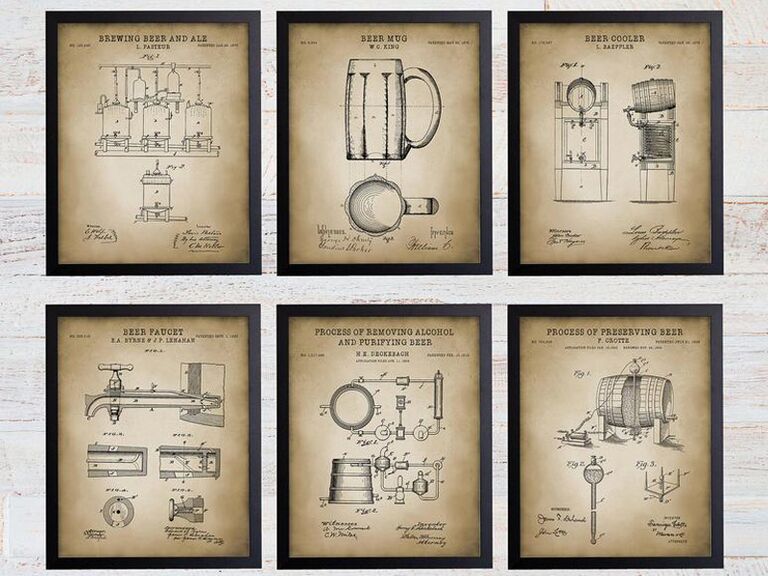 This set of six posters is an ideal gift for beer-loving groomsmen everywhere. Featuring various patent prints, it's the perfect art for the walls of any man-cave. Just make sure you have some beers ready for when you've finished hanging them up...
Patent Prints Store beer making patent prints, from $30 for a set of 6, Etsy.com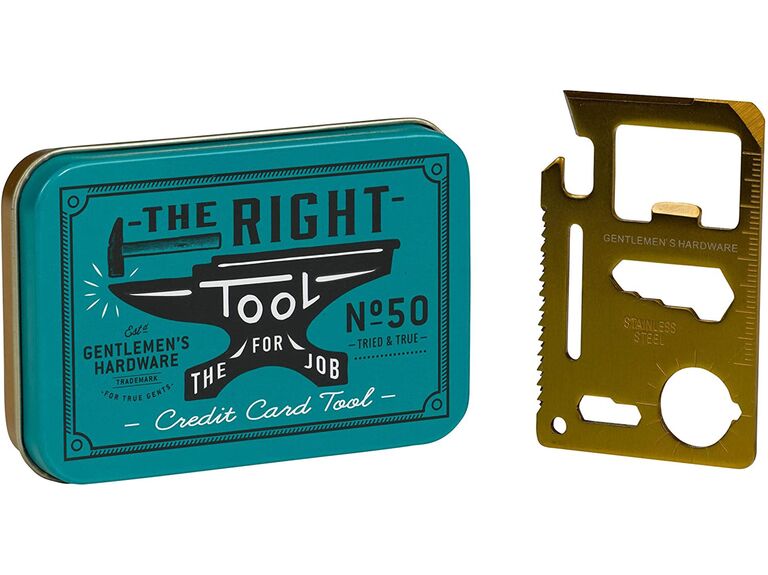 For the no-frills type of guy, this wallet-sized credit card tool can tackle 10 different jobs. It's a ruler, can opener, screwdriver, saw blade and more.  Basically, it checks all the "groomsmen gift" boxes: affordable, efficient, useful and badass!
Gentleman's Hardware credit card pocket multi tool, $10, Amazon.com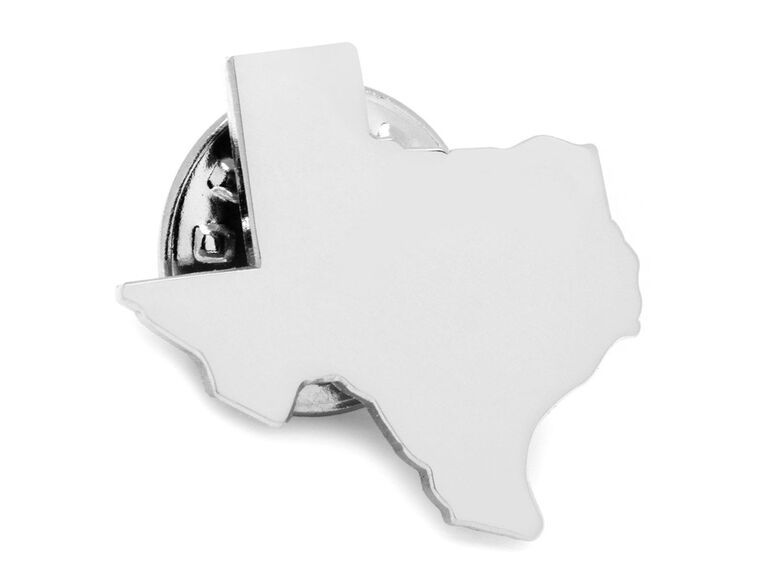 A lapel pin isn't an accessory you necessarily see every day, so it's a unique way for a groomsman to show a little personality. Choose one for each guy with the symbol of his favorite sports team or even in the shape of his beloved home state.
Cufflinks lapel pins, from $20 each, Cufflinks.com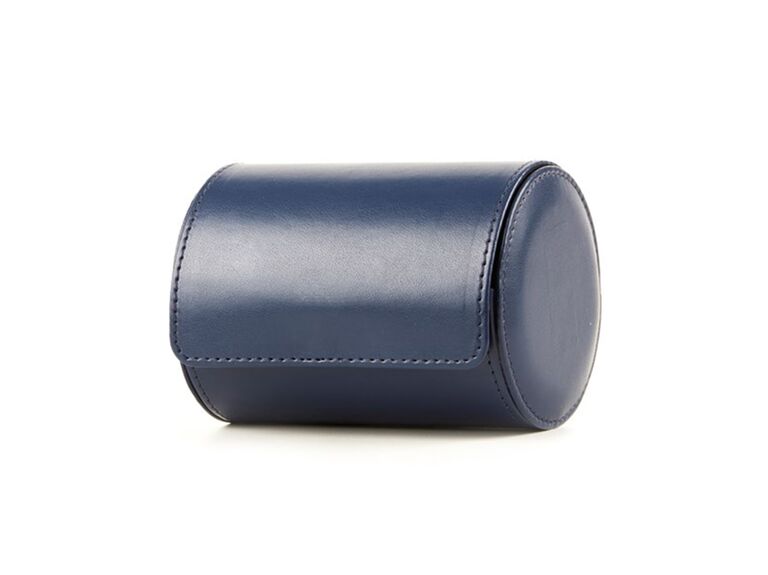 The luggage accessory they never knew they needed? A tie case! This will keep their neckties from getting wrinkled in transit, which yes, is important for the wedding day.
The Tie Bar tie case, $10, TheTieBar.com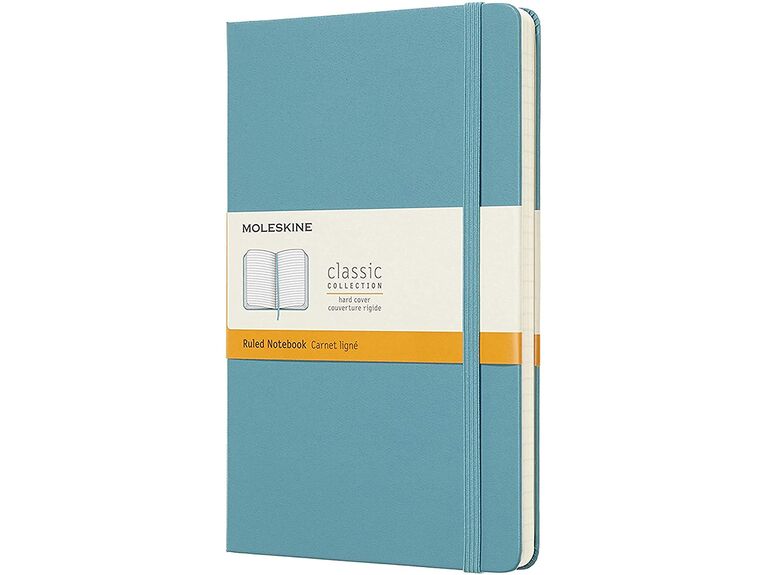 Moleskine's minimalist journals and notebooks would make unique gifts for your creative groomsmen—the writers, journal keepers or artists in your group. With a product line ranging from the classic (think: monochromatic hues) to the funky (think: a special Harry Potter collection), you're sure to find something that speaks to everyone's personalities.
Moleskine classic notebook, from $13, Amazon.com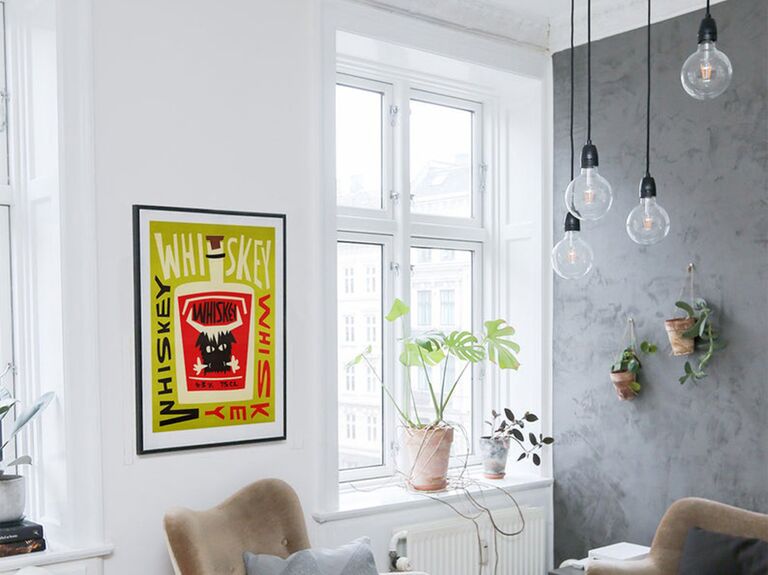 Because friends don't let friends live with bare walls. An art piece depicting their go-to drink is a super-thoughtful and decorative groomsmen gift.
Fox and Velvet groomsmen boozy gift prints, from $15 each, Etsy.com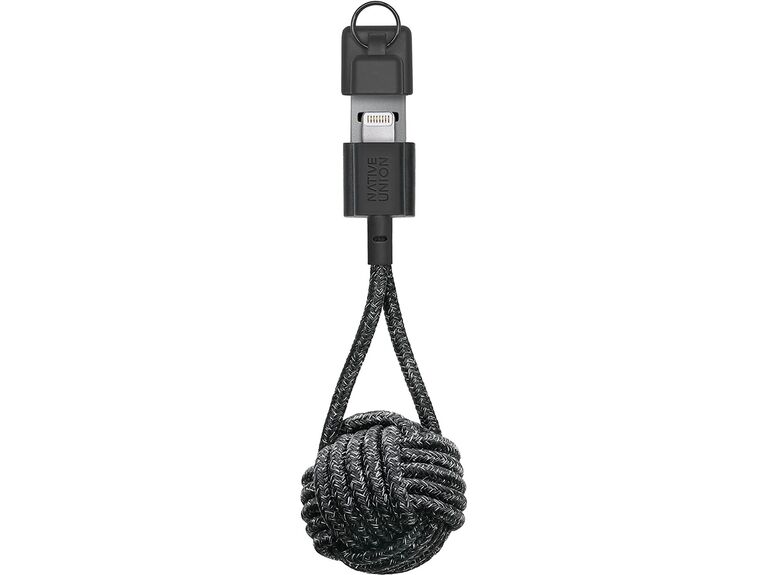 Both handy and stylish, this unique groomsman gift doubles as a keychain and a charger for mobile devices.
Native Union key cable, $30, Amazon.com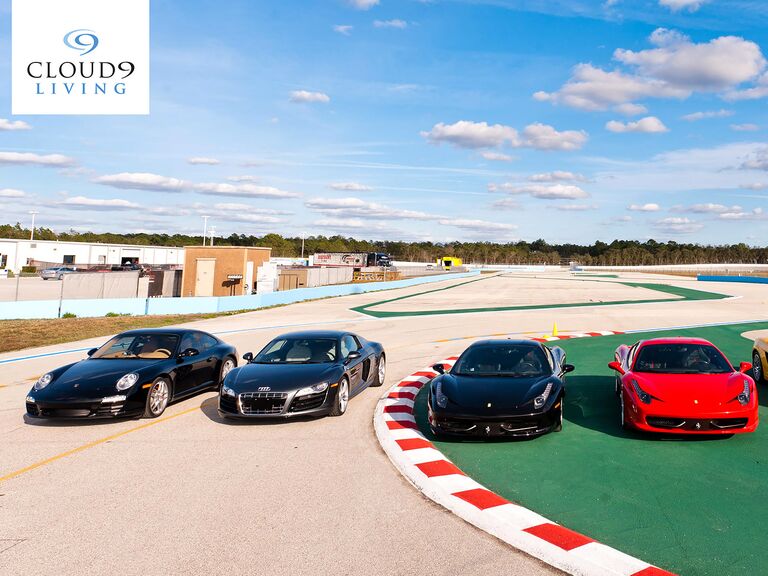 Why not consider giving your best men a gift that can't be wrapped: an experience? There are plenty of lifestyle sites—including PlacePass, Groupon, Living Social and Cloud 9 Living—that offer a bunch of different bookable activities, ranging from sports game trips to hot air balloon rides. Most sites allow you to search for experiences by city, so you could choose to give each groomsman an individual experience near his hometown, or you could plan an awesome outing for the whole group near the location of your wedding. Whatever you go with, your whole crew is guaranteed to have a blast thanks to this unique groomsman gift idea.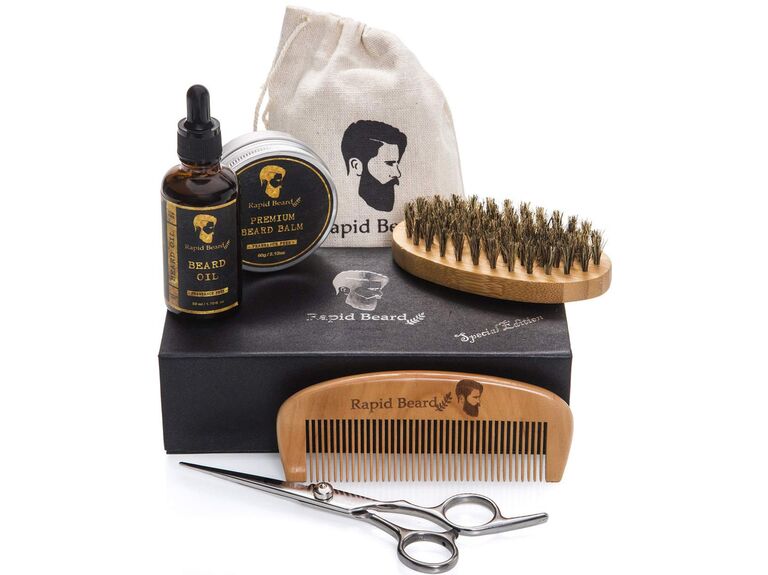 As for those who are bearded or moustached, they'll be all about this grooming kit. It comes with a beard brush, comb and scissors, as well as beard oil and conditioner to keep their pride and joy (their facial hair) soft.
Rapid Beard beard grooming & trimming kit, $26, Amazon.com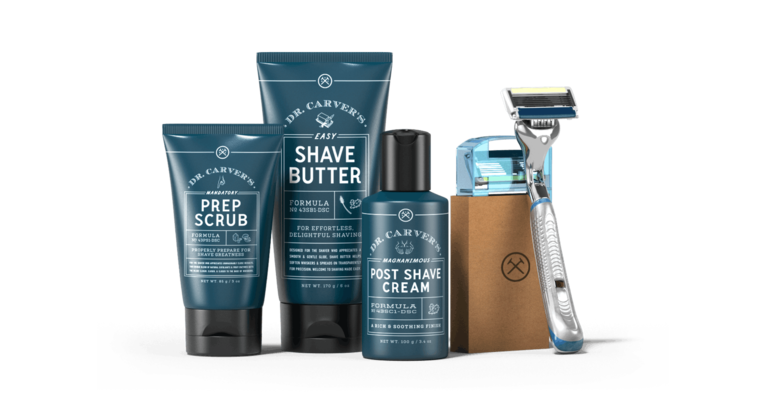 For the guys in your group who aren't going for that rugged beard look, a gift box from Dollar Shave Club will definitely be appreciated. Not having to run out to the corner store to replace old, dull razors? Awesome. (And you can trust they'll be well-groomed for the wedding day, so long as you deliver this groomsmen gift in advance.)
Dollar Shave Club Ultimate Shave gift set, $43, DollarShaveClub.com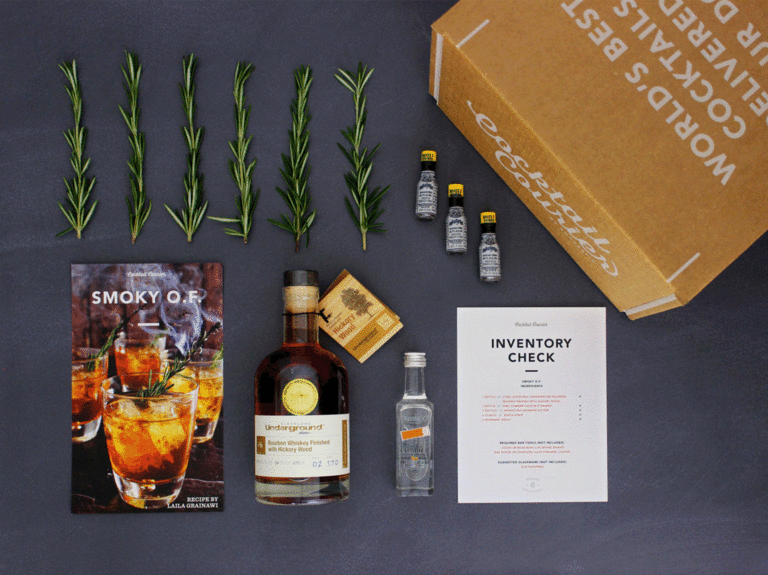 Here's a unique gift idea for your groomsmen: a gift that keeps on giving. With a subscription-based gift, like a monthly cocktail box, your groomsmen will remember your wedding fondly every time a package arrives. With different options to choose from, there's a perfect box for every budget and every groomsman.
Cocktail Courier cocktail box subscription gift, from $90 for a 3-month subscription, CocktailCourier.com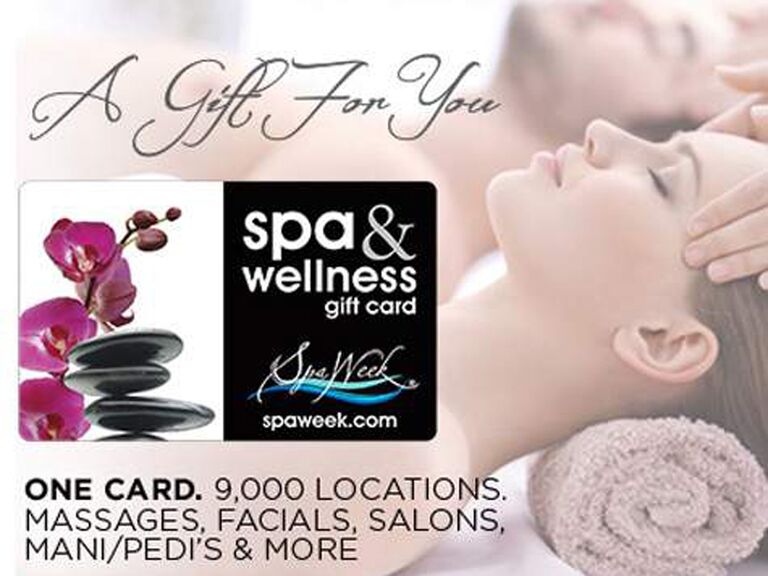 It's not just the to-be-weds who could use some pampering. Consider getting your guys gift cards they can use toward massages or other spa treatments.
Spa Week gift card, value of your choice, SpaWeek.com
Affordable Groomsmen Gifts
With lots of other wedding costs to consider, it's understandable that you may want to tone down your gift-giving budget. Many couples opt to do DIY groomsmen gifts, which makes the presents even more personal and creative. You can also create a customized gift box using several of the inexpensive groomsmen gifts below. Or, choose just one affordable find that looks high-end! Every option below is priced under $25.
This handsome Dopp kit can be personalized with a monogram or filled with various items like travel-size toiletries or gourmet snacks. (Psst: This would be a great groomsmen gift for a destination wedding!)
The Knot Shop personalized men's travel toiletry bag, $20, TheKnotShop.com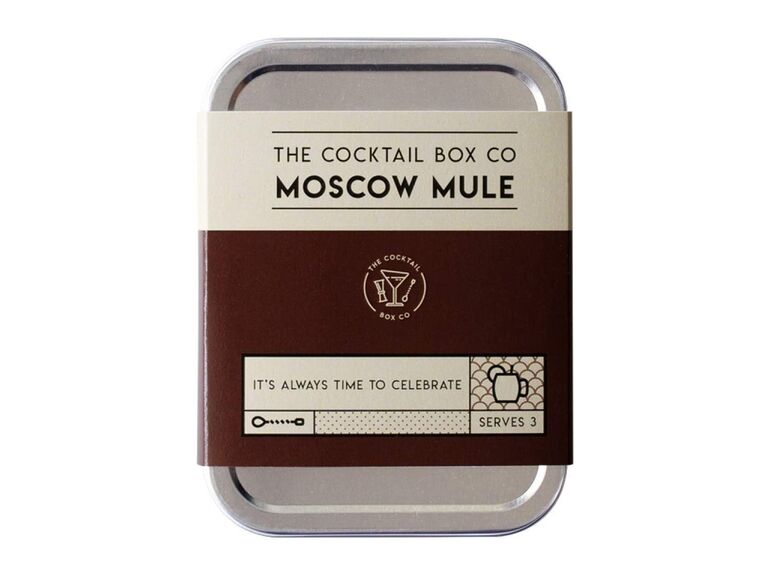 This carry-on cocktail kit is great on its own or as part of a groomsmen gift box. It allows your guys to whip up a perfect cocktail at 30,000 feet, which is especially great if they have to fly to and from your wedding. At a little over $20, it may hit just the right price point for you.
The Cocktail Box Co. The Moscow Mule cocktail kit, $22, Amazon.com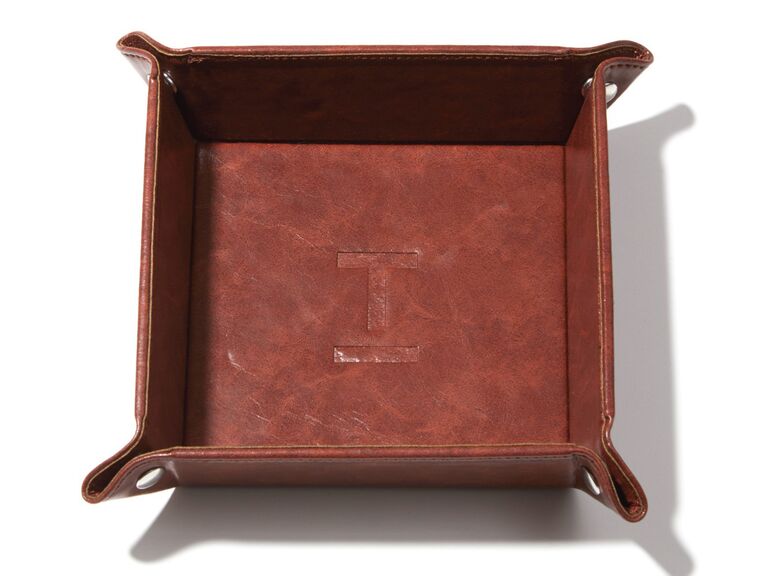 We're willing to bet every guy can use a catchall tray—a place to dump their keys and spare change when they walk in the door or near the bedside. And made of leather, this is one they'll want to put on display.
The Tie Bar catchall tray, $12, TheTieBar.com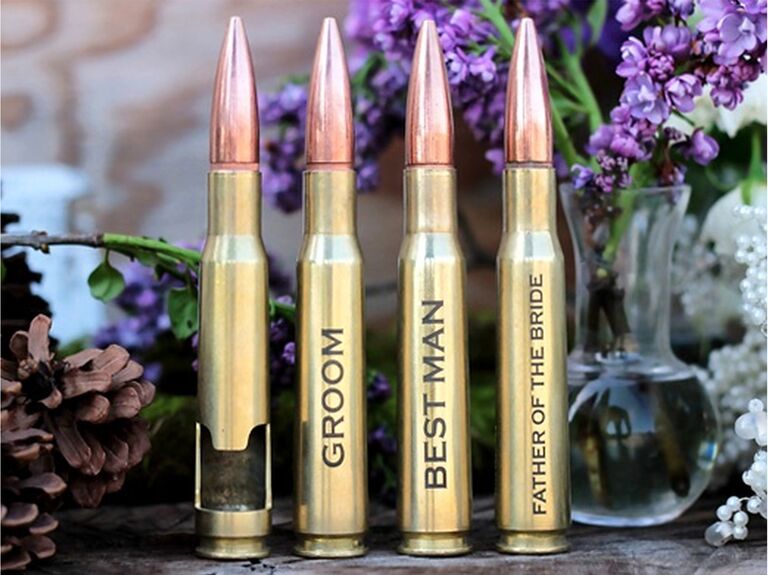 These unique bottle openers are eye-catching gifts, and at only $20, they're a relatively cheap and badass groomsmen gift idea—without looking cheap.
Bottle Breacher .50 caliber bottle opener groomsmen gift, $20, BottleBreacher.com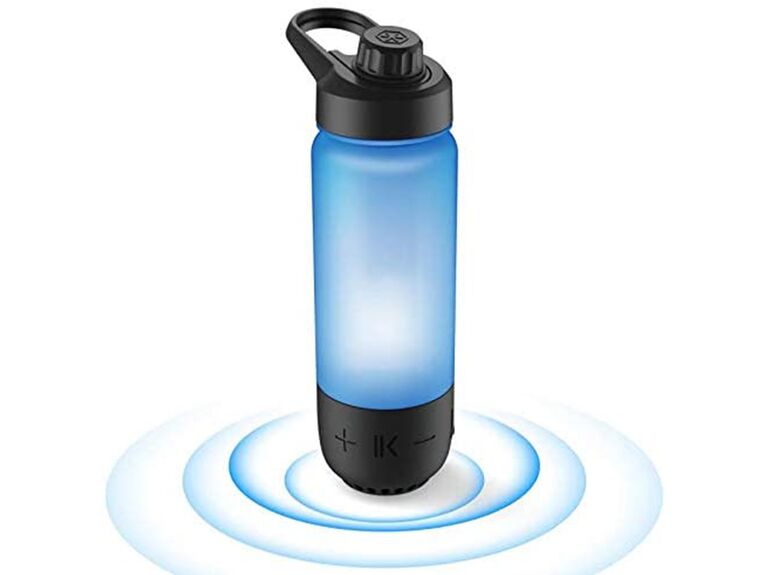 This awesome water bottle that doubles as a Bluetooth speaker rings up at just $20, making it a great option for an affordable groomsmen gift, especially for all the sports (and music) lovers in your group.
ICEWATER 3-in-1 smart water bottle, $20, Amazon.com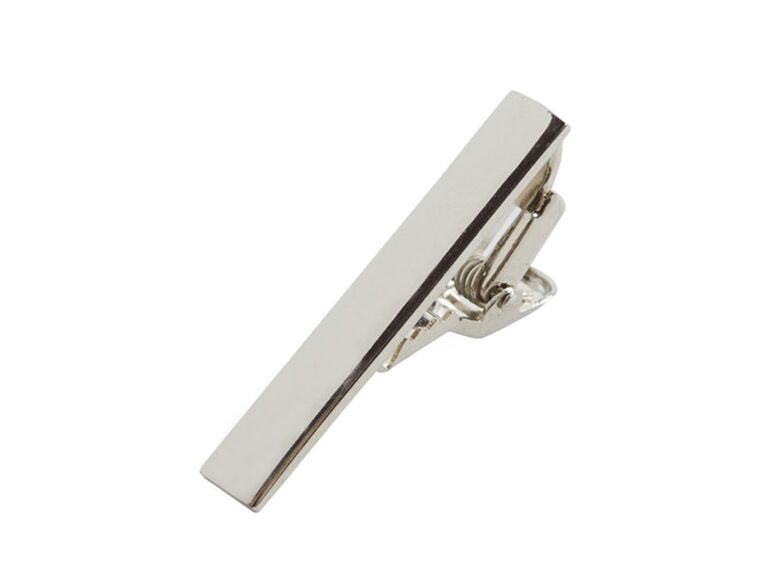 At , $15, this tie bar classifies as an inexpensive groomsmen gift, but it looks like you spent much more.
The Tie Bar Silver Shot tie bar, $15, TheTieBar.com
Personalized Groomsmen Gifts
Engraving or monogramming your presents turns them into totally original and personalized groomsmen gifts. To make them even more sentimental, you may also be able to add a special message. It's these above-and-beyond touches that show the thought you put into your groomsmen gifts and how much you appreciate your pals.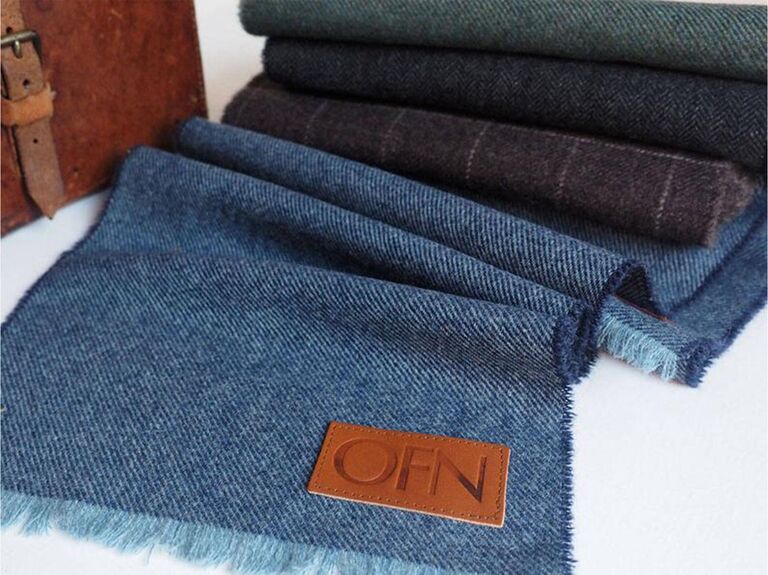 A handsome, warm and personalized wool scarf may be one of the best groomsman gifts for a fall or winter wedding. Like ties, belts and cufflinks, scarves can be found at just about any price point and could even be worn at the wedding or traveling from the ceremony to the reception.
Stabo embossed personalized lambswool scarf, $50, Etsy.com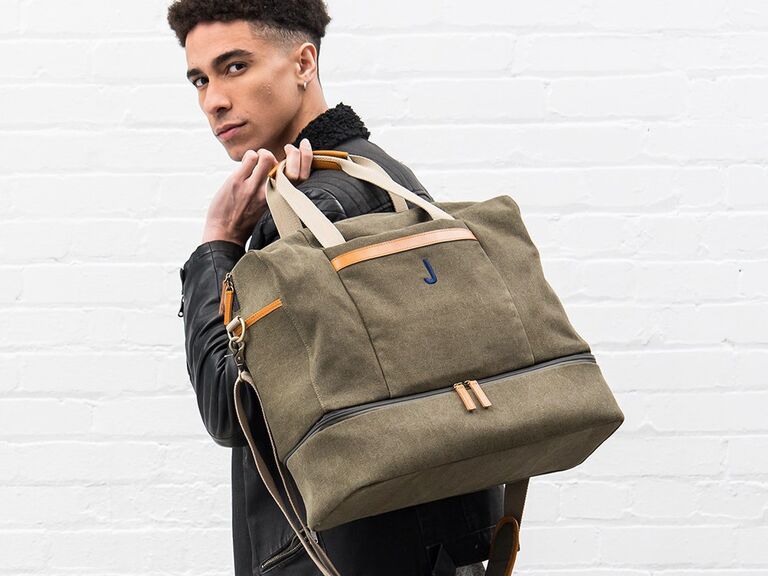 Whether the guys are traveling for the wedding, the bachelor party or both, a monogrammed canvas and leather carry-on bag (with a clever shoe compartment!) could come in handy.
The Knot Shop weekend carry on bag, $40, TheKnotShop.com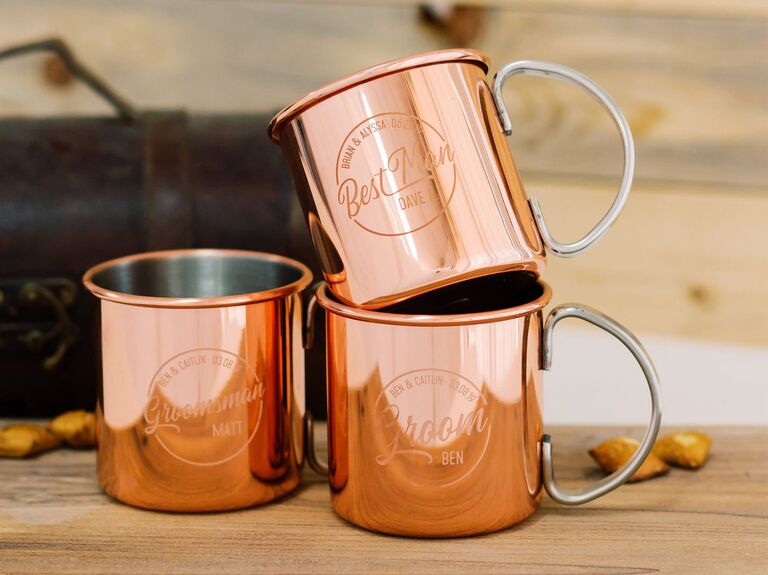 These stylish copper mugs can be engraved with a special motif or monogram that'll look great in posed pictures.
Happily Ever Etched Inc personalized copper mug groomsmen gift, $35, Etsy.com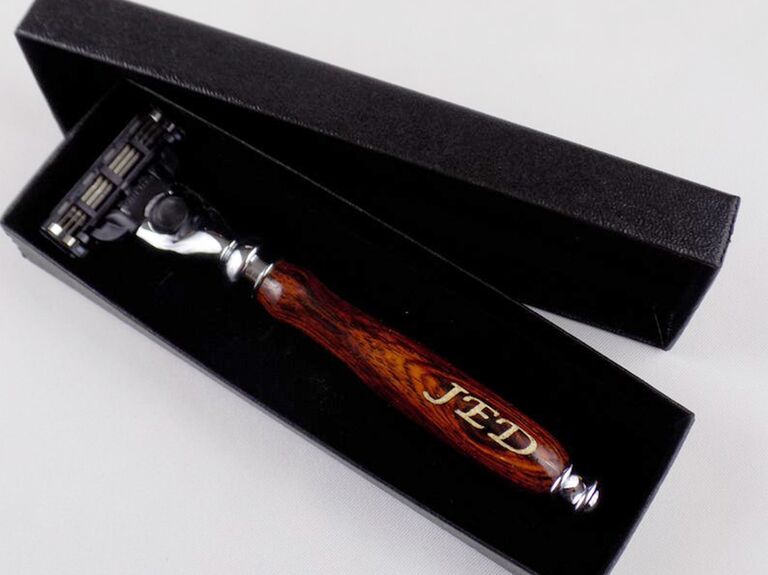 This personalized groomsmen gift can be given as a standalone item or with a custom gift basket. Backyard Sawdust specializes in hand-making these beautiful razors with the quality wood materials of your choice. Personalization makes them that much more perfect as unique groomsmen gifts.
Backyard Sawdust personalized Mach 3 razor, from $32, Etsy.com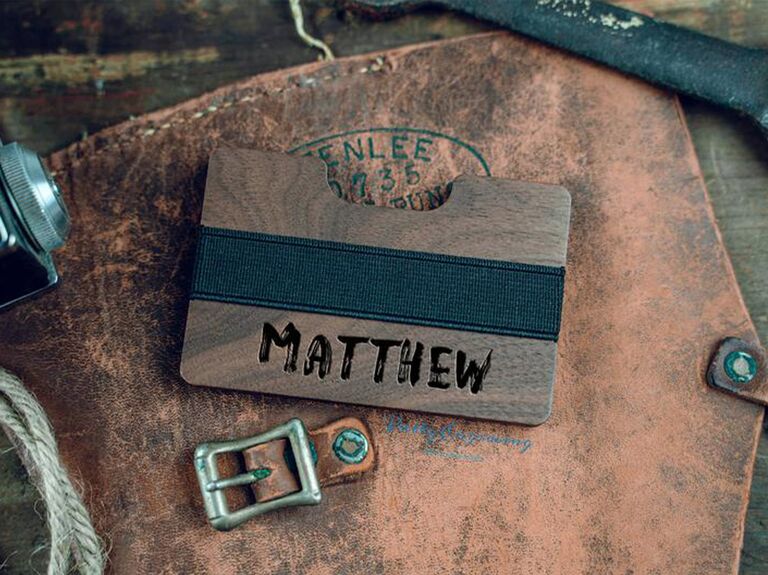 When would gifting your groomsmen a luxe (and efficient) card case not be a good idea? This slim and stylish wooden accessory has enough card slots to carry all the essentials without having to worry about bulky pockets—perfect to tuck into his wedding day attire. Get it monogrammed for a special finishing touch.
Pretty Engraving personalized wooden wallet, from $29, Etsy.com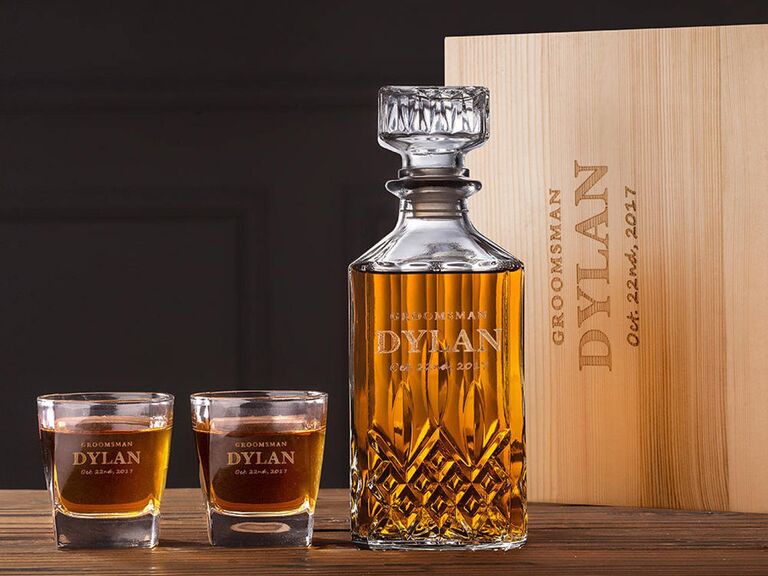 Every group has that friend who takes pride in his self-proclaimed title of "whiskey connoisseur." For these gentlemen, we're thinking a Mad Men–esque glass decanter would be perfect. The vintage-inspired shape of these bar accessories gives a polished feel that makes them an awesome groomsmen gift. Take it up a notch and personalize them with a monogram.
The Knot Thing Co personalized whiskey decanter set groomsmen gift, from $30, Etsy.com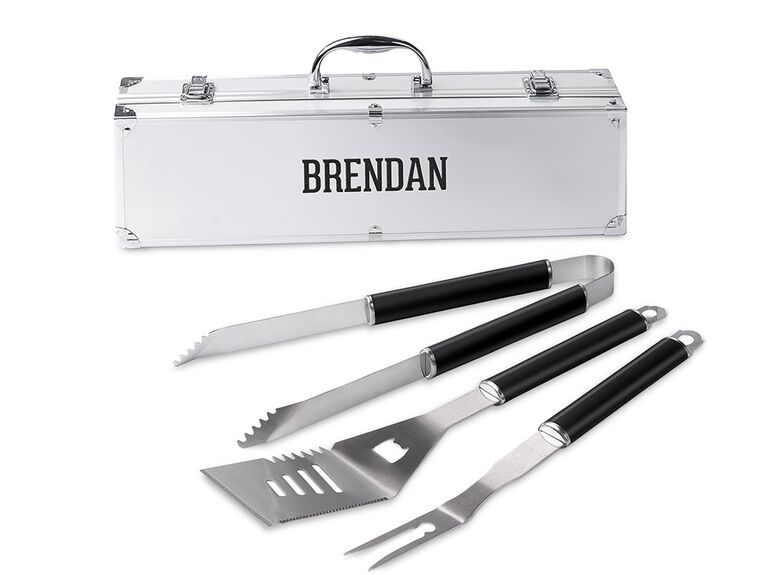 There's nothing like a summertime barbecue with fresh-off-the-grill food, ice-cold cocktails and your closest friends. A set of basic BBQ equipment will ensure he's always got the right tools for hosting, and you know they'll get put to good use. Better yet, these props come in their own personalized carrying case.
The Knot Shop custom stainless steel BBQ tools grill set, $30, TheKnotShop.com
If the guys are commonly found at the gym, playing a pick-up basketball game or on the run, a sports bottle will be a much-used, practical groomsmen gift.
Sofia's Findings personalized water bottle, $25, Amazon.com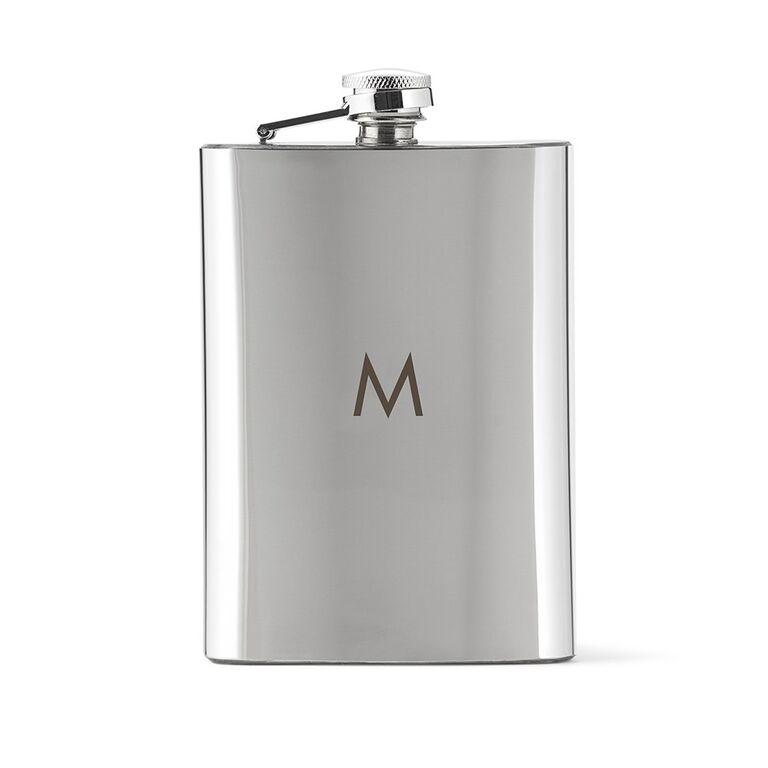 What's one of the most classic groomsmen gift ideas? The sneaky and dependable flask. Go for stainless steel (it's easier to keep clean than some other metals) and finish the design with each groomsman's initials.
The Knot Shop personalized silver stainless steel hip flask, $15, TheKnotShop.com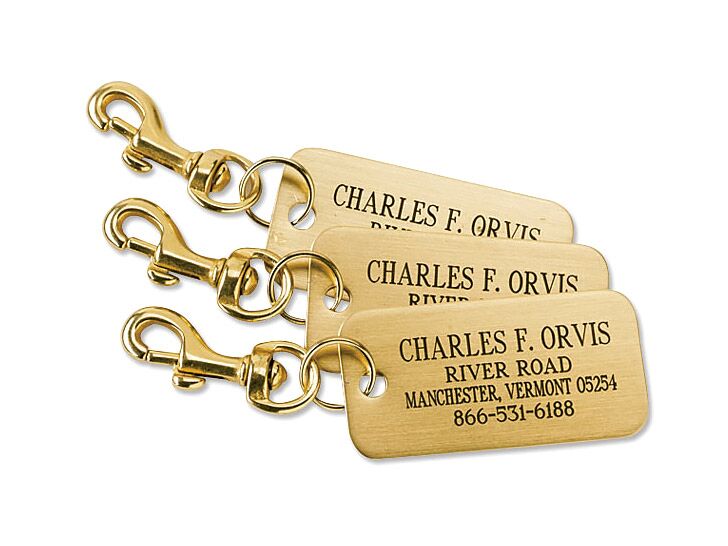 For the avid travelers in your group, consider these solid brass luggage tags, which can be engraved with each man's entire address to ensure there are never lost bags.
Orvis engraved brass luggage tags, $49 for a set of 3, Orvis.com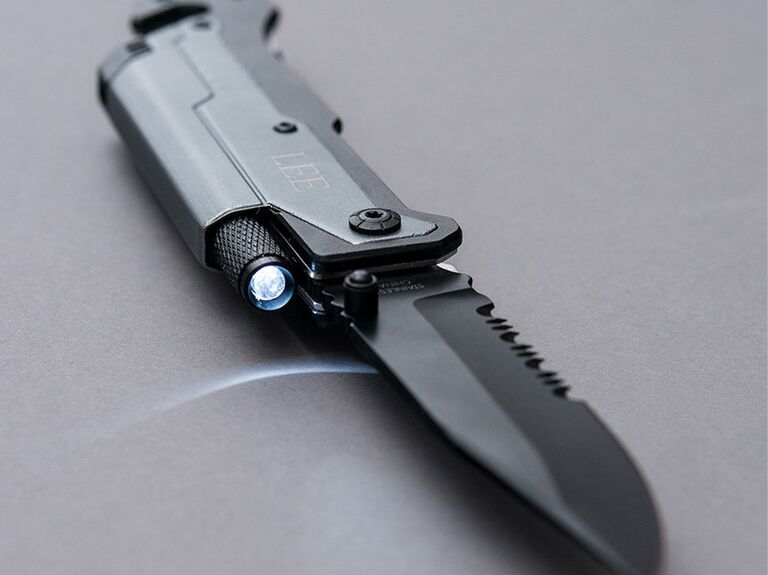 If your groomsmen are outdoorsy or just like to be prepared, have pocket knives engraved with their initials. This souped-up knife comes with an LED light, a magnesium alloy fire starter and other bells and whistles.
The Knot Shop personalized black & silver pocket knife with light, $22, TheKnotShop.com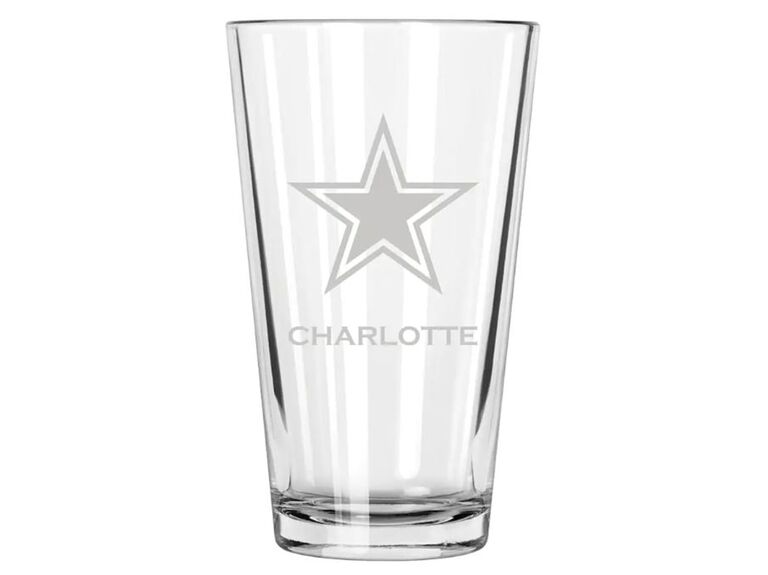 So they're football fans and beer fans? Give them the best of both worlds by gifting mugs, pilsner or pint glasses etched with their favorite team's logo.
NFL Shop personalized etched pint glass, $28, NFLShop.com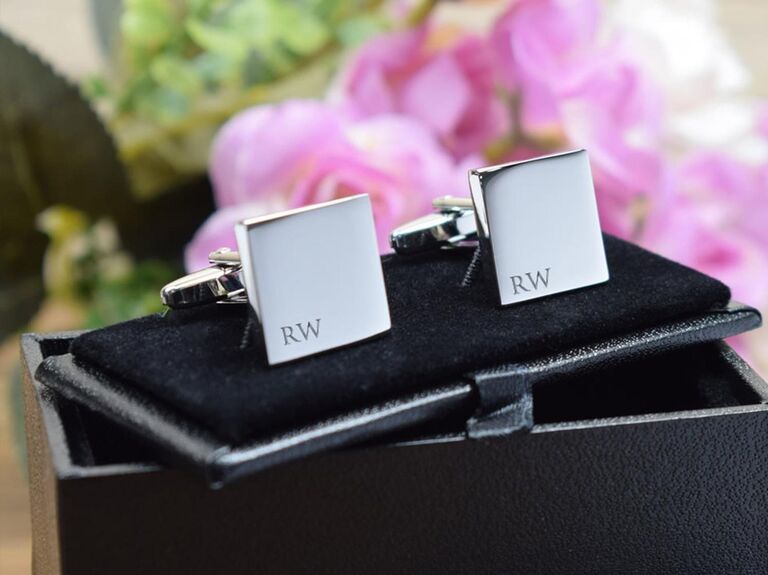 If you're springing for coordinating cufflinks for every guy, you may want to go the personalized route. This square pair is particularly stylish.
Cufflinks Galore silver personalised square cufflinks, from $16, Etsy.com
Cool Groomsmen Gifts
If you want to impress your groomsmen, try choosing something that might already be on their personal wish lists. Consider useful gadgets, tech-savvy tools or gifts that align with their hobbies.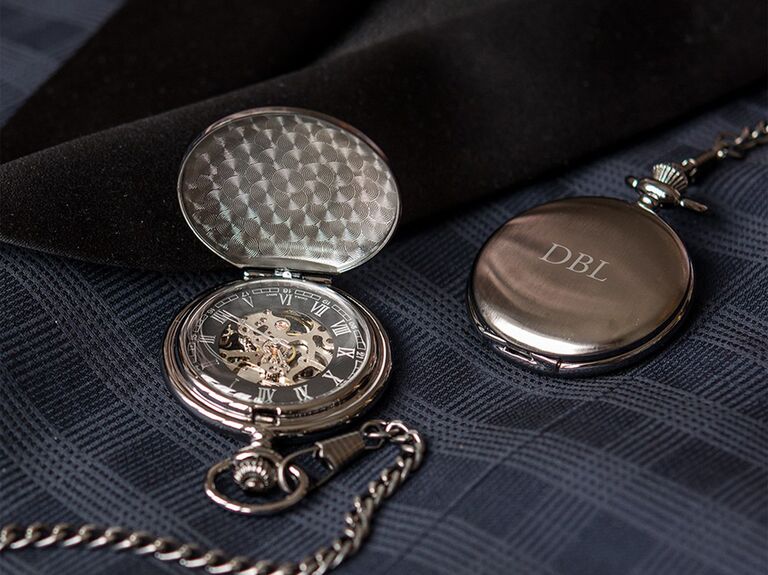 A pocket watch is the type of gift a guy probably wouldn't buy for himself, but they'll almost certainly think it's cool—especially when it's in a sleek gunmetal finish.
The Knot Shop personalized gunmetal mechanical pocket watch & fob, $40, TheKnotShop.com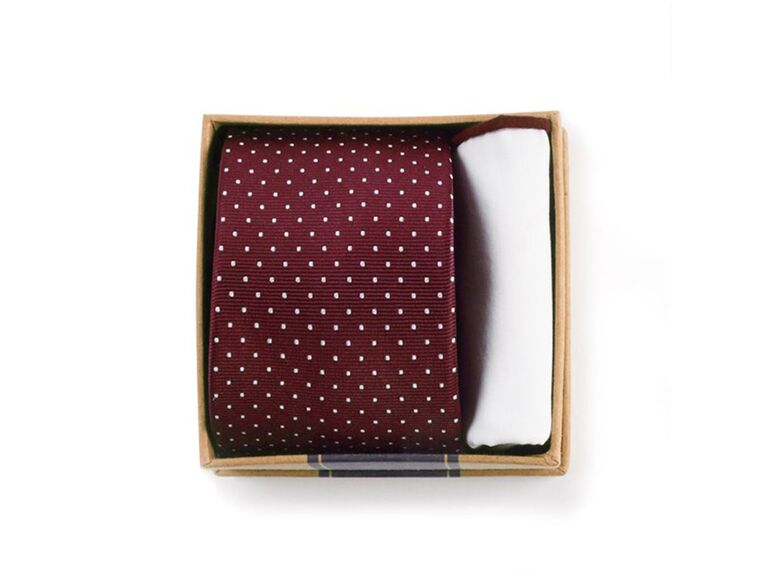 For your stylish friends who appreciate some trend-forward formalwear, they might appreciate this gift most of all: a coordinated gift set with a tie and pocket square. Pick out a box for each of your friends in their favorite hues and you'll never hear the end of how many compliments they get.

The Tie Bar tie box gift set, $30, TheTieBar.com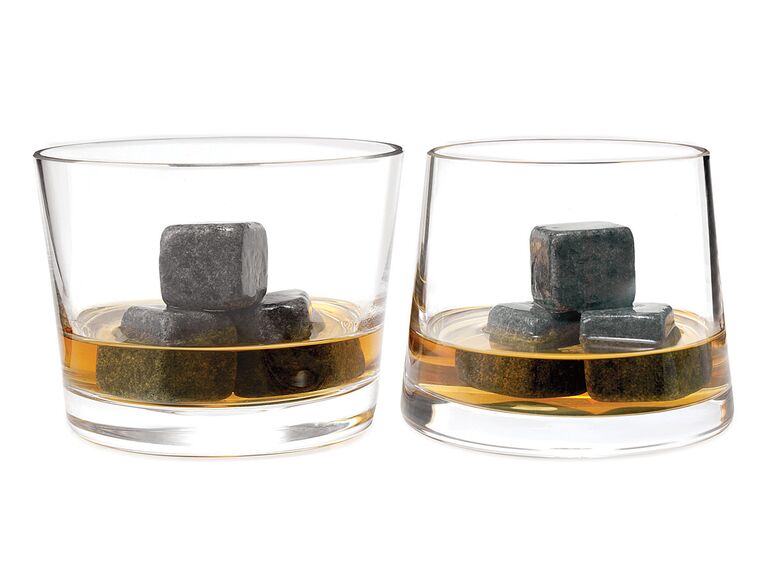 Friends who can appreciate a good bottle of Scotch will love these nifty  whiskey stones. The cool groomsmen gifts will chill their drink without diluting the flavor—and don't worry, they won't scratch or damage any glassware.
Uncommon Goods whiskey stones set, $20, UncommonGoods.com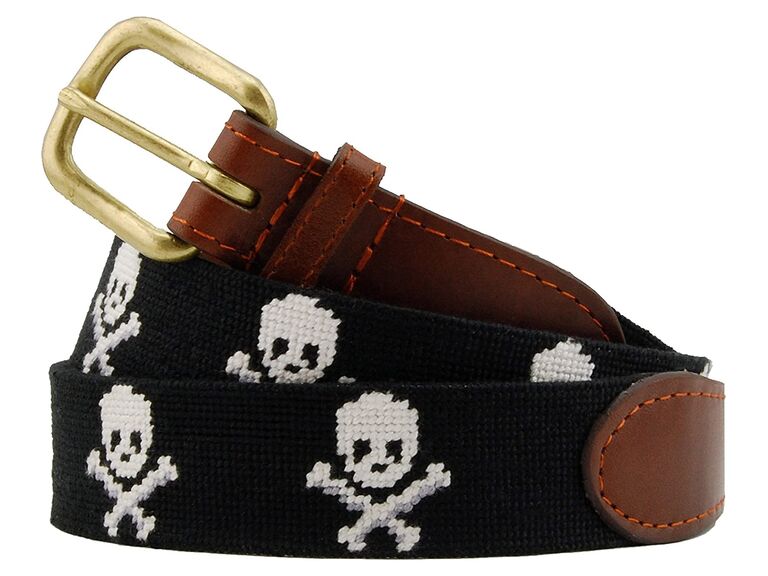 Matching ties or belts are another way to give a special gift to your groomsmen that doubles as a unifying wardrobe detail. These unique needlepoint belts are available in a variety of patterns and colors to choose from to fit the style of your crew.
Smathers and Branson needlepoint belt, from $124, Amazon.com
This awesome box of swag (think: collectibles and T-shirts) will arrive at your groomsman's door each month for as long as you choose. With themed options for pop culture geeks, gamers, sci-fi fans and enthusiasts of certain movies and TV shows, you can cater to each groomsman's interests.
Loot Crate 1-month crate, $35, LootCrate.com

Unify your team of groomsmen with these minimalist black cufflinks, which even the pickiest guys can't complain about. Or, consider cufflinks tailored to everyone's personalities, like stormtrooper cufflinks for the movie buffs or alma mater cufflinks for avid college sports fans.
Ox and Bull Trading Co. silver and onyx cufflinks, $55, Cufflinks.com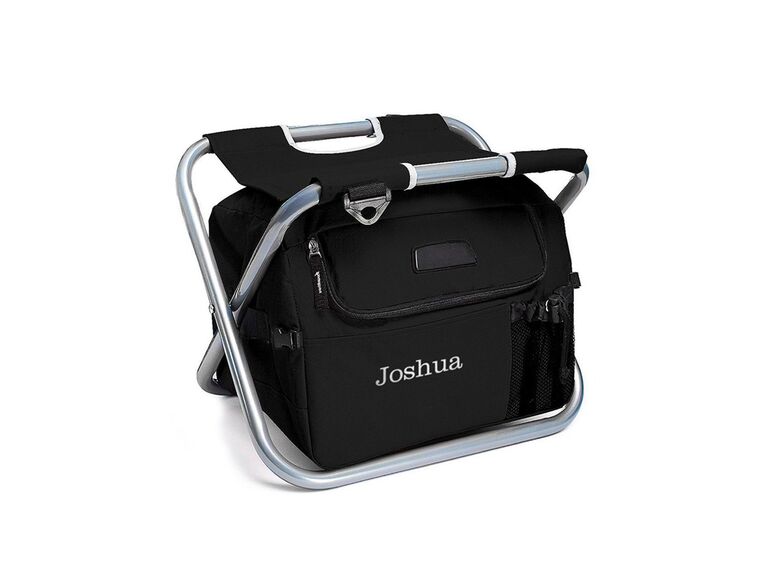 A great bonding activity for you and your groomsmen is to go on a camping trip or hike (unique bachelor party idea, anyone?). But even if he's not into the great outdoors, this collapsible cooler chair is also handy for tailgating or trips to the beach.
The Knot Shop personalized folding cooler chair, $30, TheKnotShop.com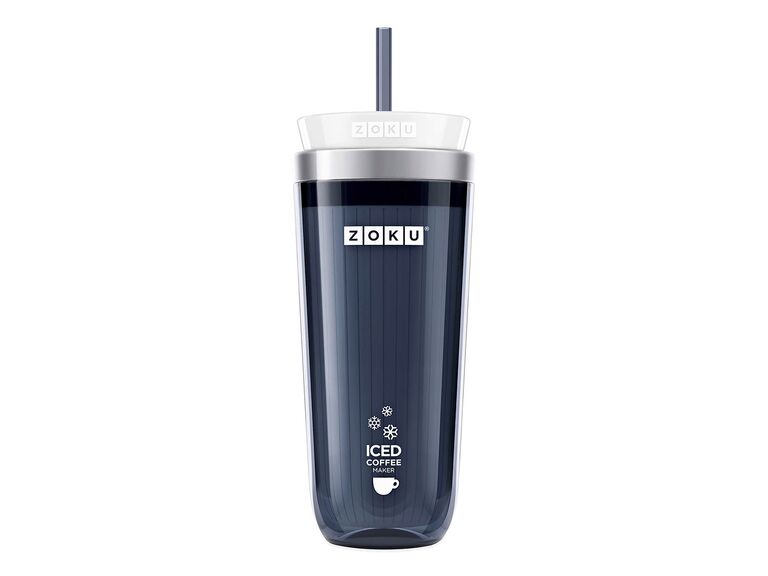 Have a few guys in your crew who aren't morning people? They probably need this iced coffee maker in their lives. The tumbler can chill any hot beverage in just five minutes. So he can pour his cup of joe straight from the coffee maker, grab it and head out the door.
Zoku iced coffee maker, $30, BedBathandBeyond.com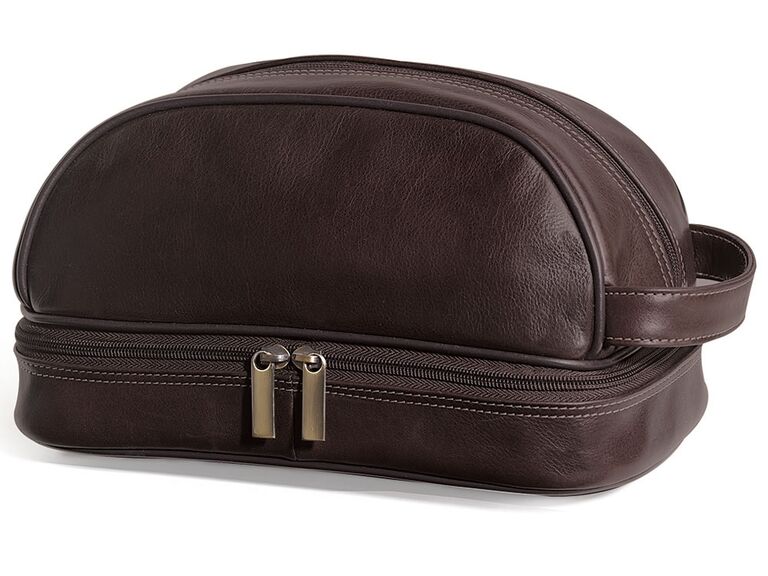 Some of the best groomsmen gifts are those that are just practical—and a leather Dopp kit may be just the thing. This wildly popular durable leather travel case has a roomy compartment and a sturdy, zippered bottom for additional storage. Pair this gift with a personalized razor for an additional useful touch.
Hammacher Schlemmer The GI's leather toiletry kit, $80, Hammacher.com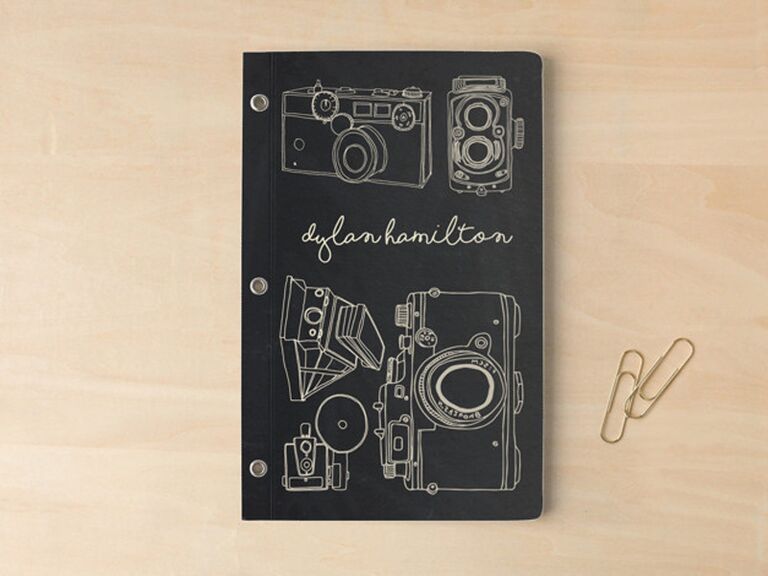 The men who love all things old-school will truly appreciate a monthly planner where they can jot all their plans on actual paper. The vintage camera motif gives this book a retro feel.
Morgan Kendall vintage cameras weekly planner, $26, Minted.com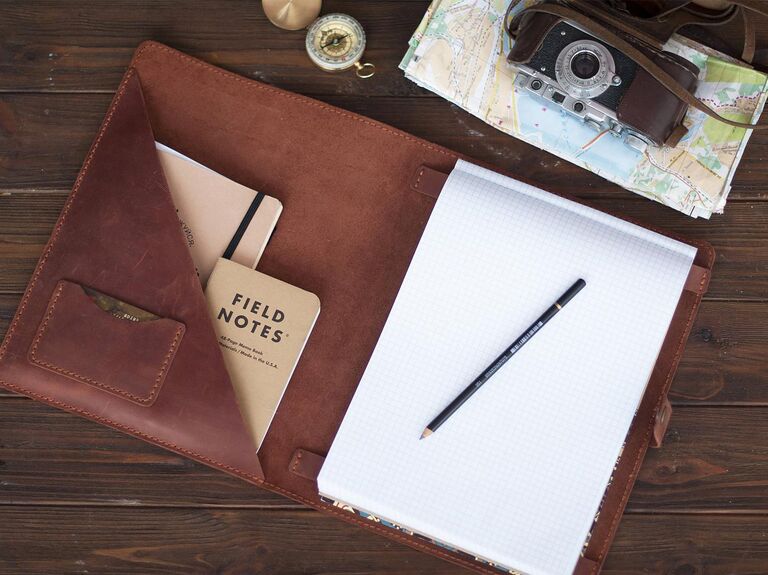 These classic leather folders are perfect from storing everything from iPads to best man speeches. With a variety of stylish finishes to choose from, they can also be monogrammed for a personalized touch.
Major Leather portfolio folder, from $55, Etsy.com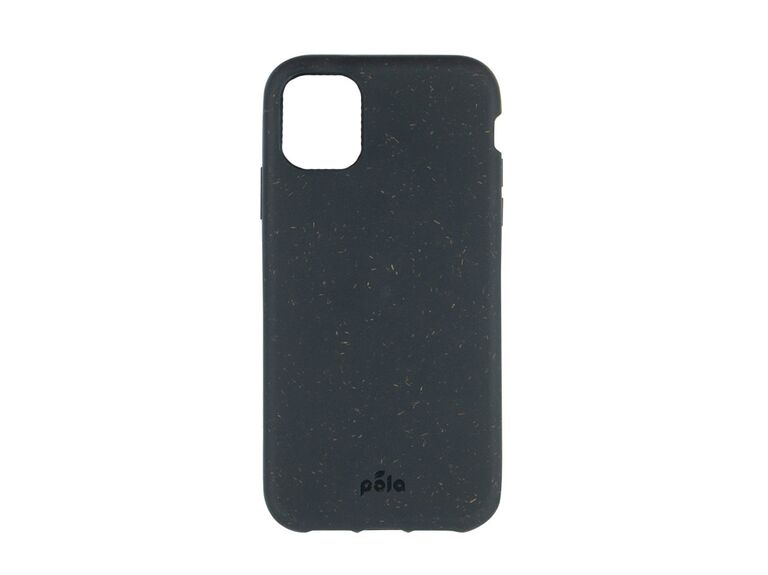 They're getting all dressed up. Maybe their phones should be dressed up too? These eco-friendly cases look good and do good—they're biodegradable to help the environment.

Pela iPhone case, $40, PelaCase.com
Some high-end body care products can really make a guy feel valued.
Jack Black Clean & Cool body basics set, $54, GetJackBlack.com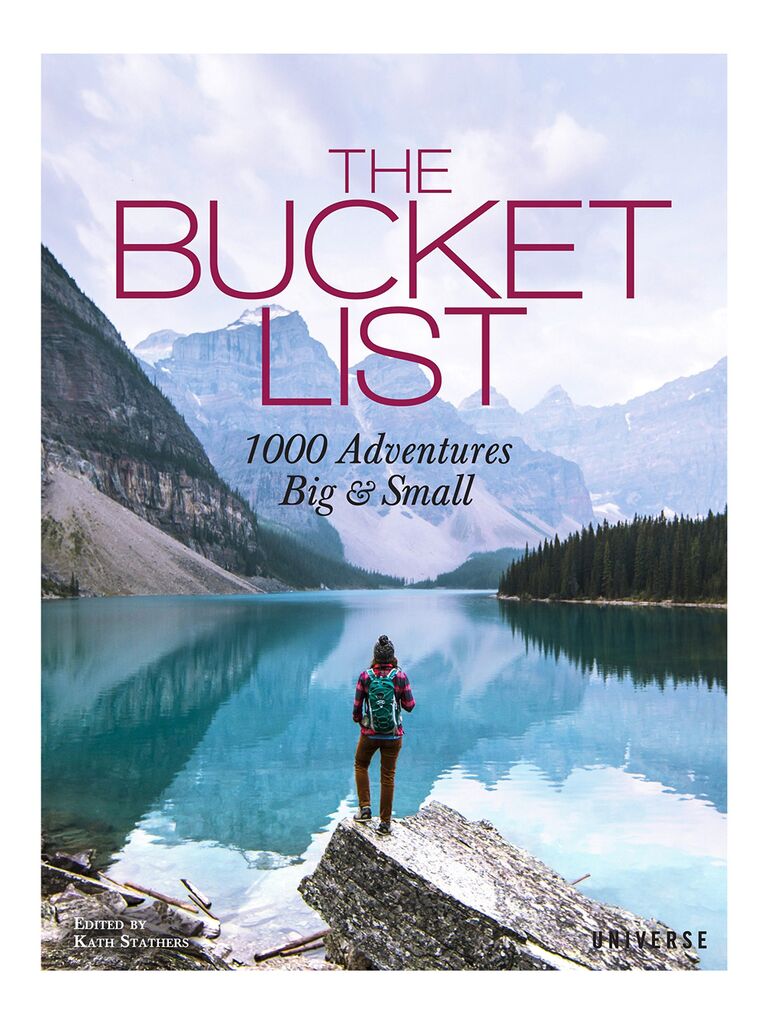 It's never a bad time to start planning your next boys' trip and this book is a fun collection of adventure ideas of all sizes. From driving monster trucks to swimming with dolphins, it's the perfect gift for groomsmen who like to grab life by the horns.
Universe The Bucket List: 1000 Adventures Big & Small by Kate Sathers, $35, Amazon.com

Funny Groomsmen Gifts
We all know that nothing brings people together like a good laugh. From nerdy beer glasses to manly wall art, these gifts are sure to crack a smile from the most serious of groomsmen.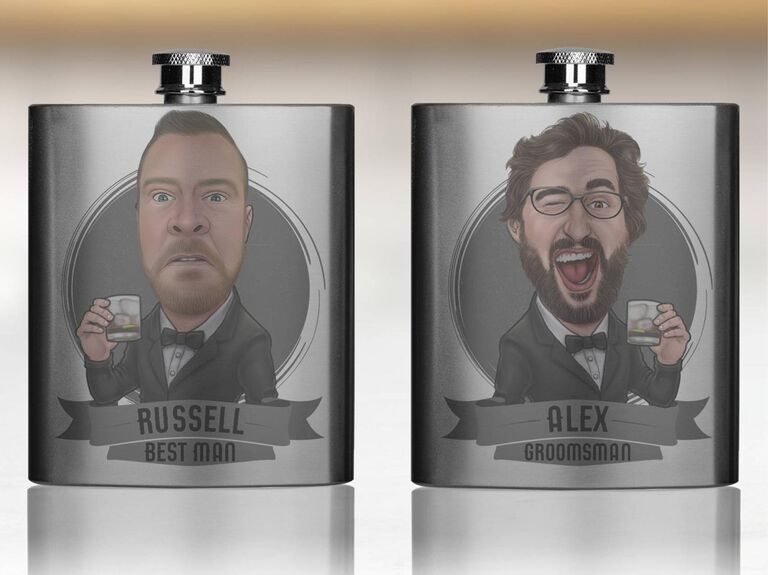 They'll love the cartoonish touch of these personalized (and ultra-unique) groomsmen gift flasks. The caricatures are custom-drawn based on photos of your friends.
Tooned Up Gifts personalized groomsmen flask, $39, Etsy.com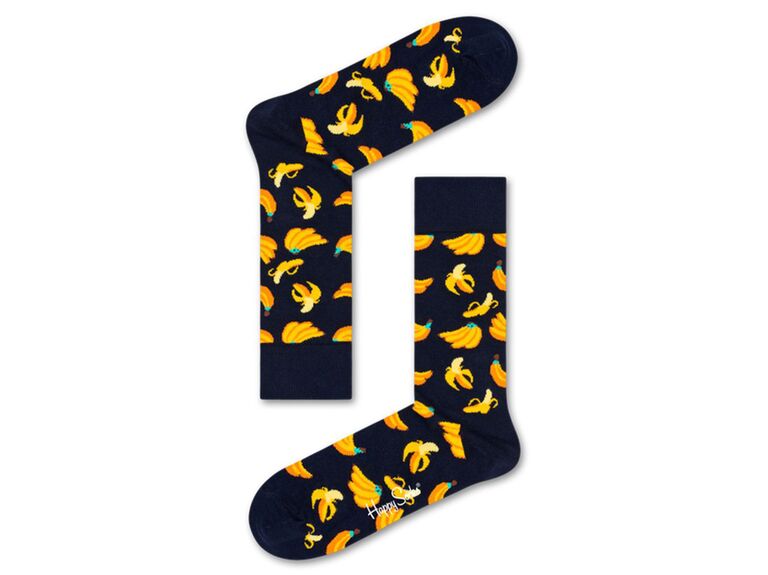 A fun and inexpensive groomsmen gift idea—that your party can wear for the bachelor party, rehearsal dinner and the day of the wedding—is novelty socks. Wedding party socks are the best inexpensive groomsmen gifts for any age and any budget. Choose pairs that are funny and personal to get your crew smiling.
Happy Socks Banana Socks, $14 per pair, HappySocks.com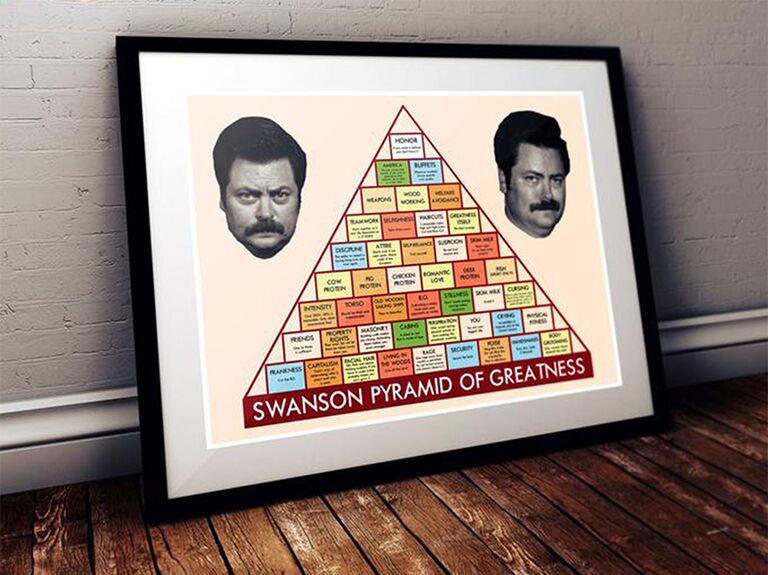 Nothing says manliness quite like Ron Swanson and this "Swanson Pyramid of Greatness" poster is a fitting addition to any man-cave. From "haircuts" to "masonry" this cool gift will separate the groomsboys from the groomsmen.
WizBit Art and Design Ron Swanson Pyramid of Greatness poster, from $12, Etsy.com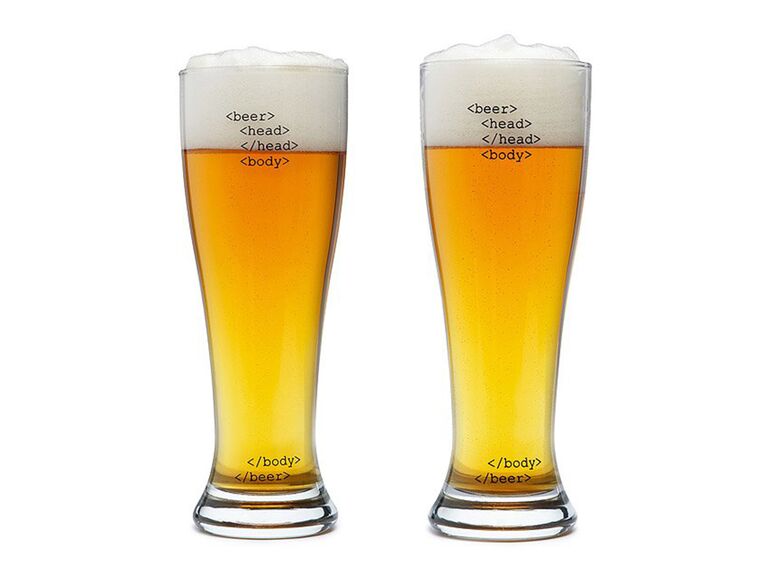 For the tech lover who also loves a cold one, these tongue-in-cheek beer glasses featuring HTML code are punny enough to make him laugh, yet sleek enough to get used regularly. These would be perfect as a standalone gift or paired with a six-pack of his favorite craft brews.
Uncommon Goods HTML beer glasses, $25 for a set of 2, UncommonGoods.com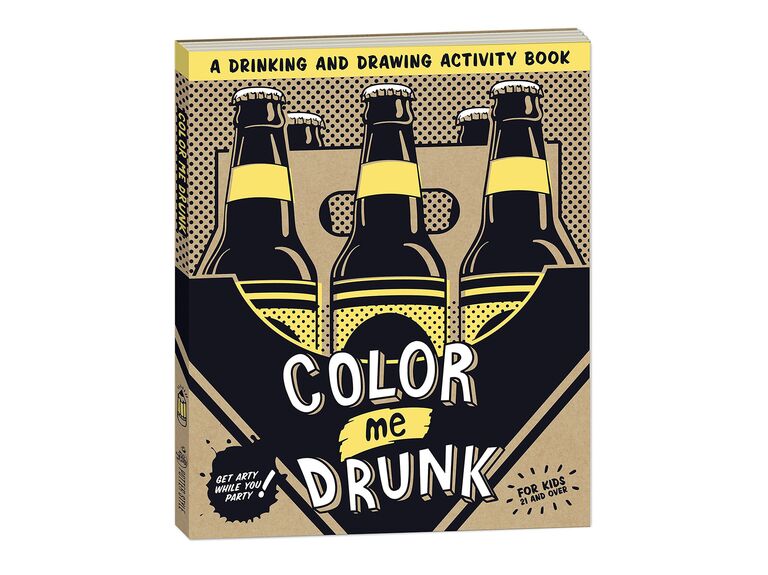 Need some ins-beer-ation for a groomsmen activity? This adult coloring book is full of ways to channel your artistic side while enjoying some cold ones with the boys. As well as images to color, it features a number of fun games including portrait-drawing and "regrettable tattoo" challenges.
Potter Gift Color Me Drunk: A Drinking and Drawing Coloring Book, $13, Amazon.com