The 50 Best Groomsmen Gifts From $3 to $100
Shop unique ideas for every groomsman and budget.
We have included third party products to help you navigate and enjoy life's biggest moments. Purchases made through links on this page may earn us a commission.
Thanking your loved ones is a really important part of wedding planning—and it certainly shouldn't be left to the last minute. You want your groomsmen gifts to be a hit, and the earlier you start thinking about them, the more time you have to secure the perfect presents. That said, buying gifts for groomsmen probably isn't something you've done before. If you're feeling a little lost, don't worry. We're pros when it comes to finding unique groomsmen gifts for every guy in your crew, from the sentimental type to the king of practicality. (Psst, these thank-you gift ideas totally work for groomsmen proposals too.)
In this article:
What to Get for Groomsmen Gifts
Before you whip out your credit card, it's important to know what you're looking for in a groomsmen gift. "At Swanky Badger, our most popular groomsmen gifts all share two characteristics," says Mark Hanratty, founder of the online groomsmen gift store that specializes in custom items. The trick? They're practical and personal. But how do you make a groomsmen gift feel personal? "It can be as simple as having their name or initials engraved on the gift, or you can go as far as incorporating a message on the gift thanking them for being there for you for all those years," says Hanratty. And custom engravings aren't the only way to make a gift feel special. Choosing something that shows your guys just how well you know them is equally thoughtful, like a beer subscription for your friend who loves craft brews.
How you present your gift can also add a nice personal touch. "In an ideal world, you should try to get a moment alone with each guy and have a little one-to-one chat to let them know how much you appreciate them, and then present the gift," says Hanratty. Alternatively, he suggests using the rehearsal dinner as an opportunity to say a few words about each groomsman and hand over their presents.
The Best Groomsmen Gifts Under $20
We've got ideas on our list for every groomsman (and every groom's budget). Starting with options for $20 and below, shop our favorite affordable presents for filling goodie bags and gifting solo.
Historical Rocks Glasses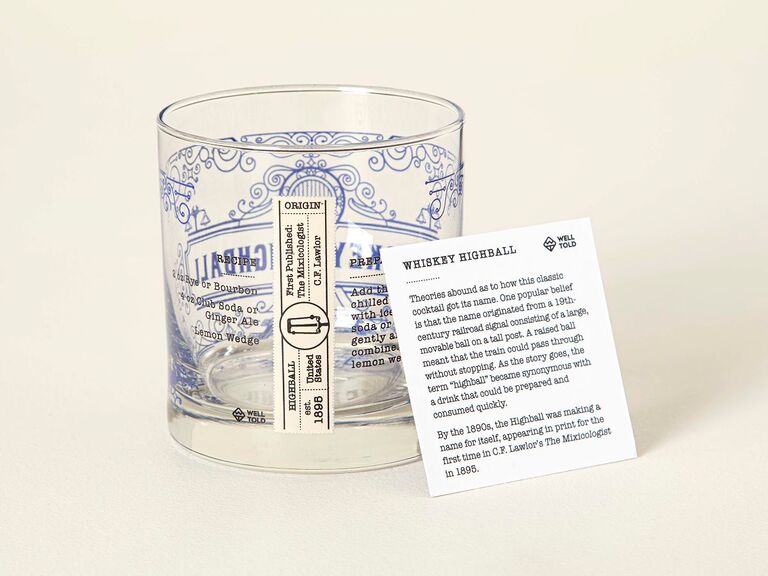 Show them how well you know them by gifting each groomsman a glass inspired by their favorite cocktail. The collection includes glassware for six different libations, including an old fashioned, a Manhattan and a whiskey highball. Each vintage-inspired vessel is etched with details of the cocktail's origin and recipe.
State Outline Baseball Caps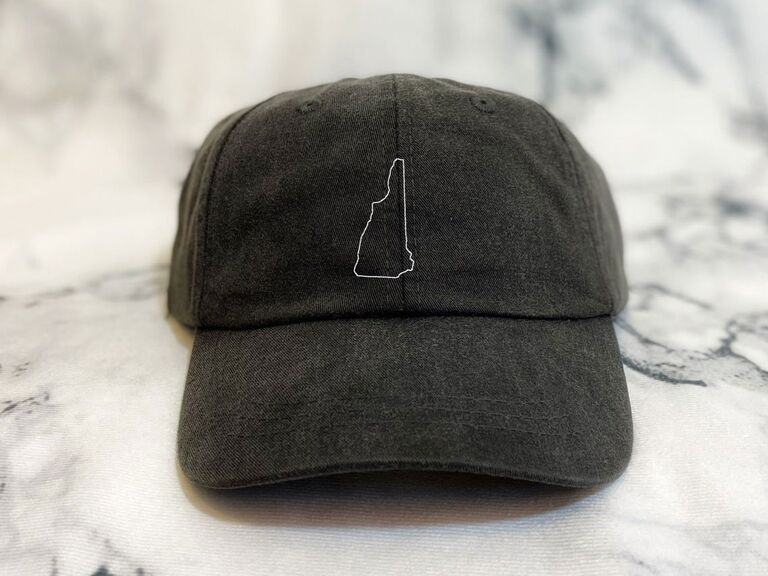 Outfit your crew in matching baseball caps for your bachelor party (or even some fun wedding photo ops). These subtly sentimental hats are embroidered with an outline of the state of your choosing—consider your groomsmen's home states or where they went to college. Choose between ten different colors for the cap and over 40 different hues for the embroidery thread. Talk about good gifts for your groomsmen!
Custom Bottle Openers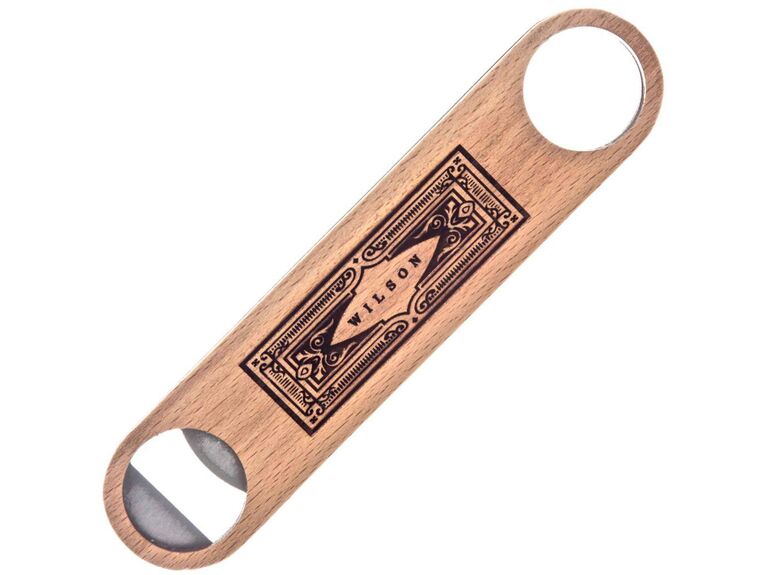 A bottle opener is an undeniably practical groomsmen gift, and this engraved option from Swanky Badger ticks the "personal" box too. It can be engraved with their initials, their last name in a modern diamond design or their last name in this vintage-inspired border. If you want to take it a step further, you can also add an additional engraving on the back. There's space for up to 125 characters—plenty of room to express a heartfelt "thank you." Want an exclusive discount? You can get 10% off your order with code THEKNOT10.
Fun Breakfast Cereals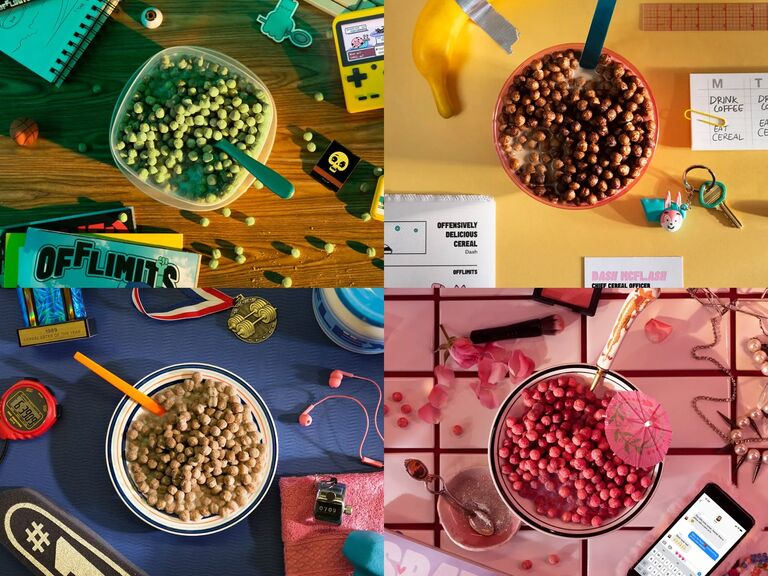 Give your guys the gift of eternal youth by introducing them to breakfast cereal that feels like it came right out of the '90s. Offlimits childhood-inspired cereals have surprisingly grownup flavors (that are still incredibly fun). Who wouldn't want to start their day with crunchy, chocolatey, coffee-flavored goodness? Or how about a cereal featuring vanilla's cooler older sister, pandan? This mini variety pack has it all.
Unusual Drink Koozies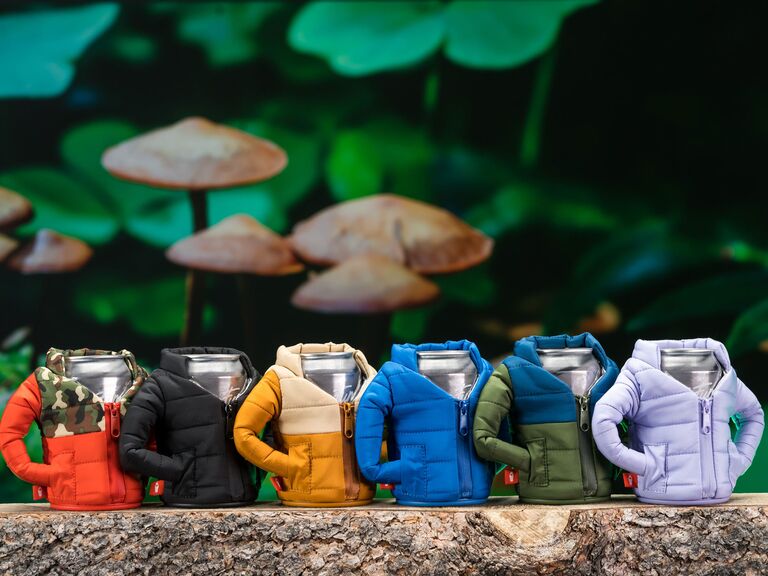 Are your friends always up for a laugh (particularly in the great outdoors)? If the answer is yes, you don't want to miss these funny groomsmen gifts. Say goodbye to traditional koozies and give everyone in your wedding party an adorable mini jacket for their can of beer, cider or soda. These temperature-insulating jackets are a fun addition to gift bags, especially if you're following a camping or hunting theme.
Etched Pocket Knives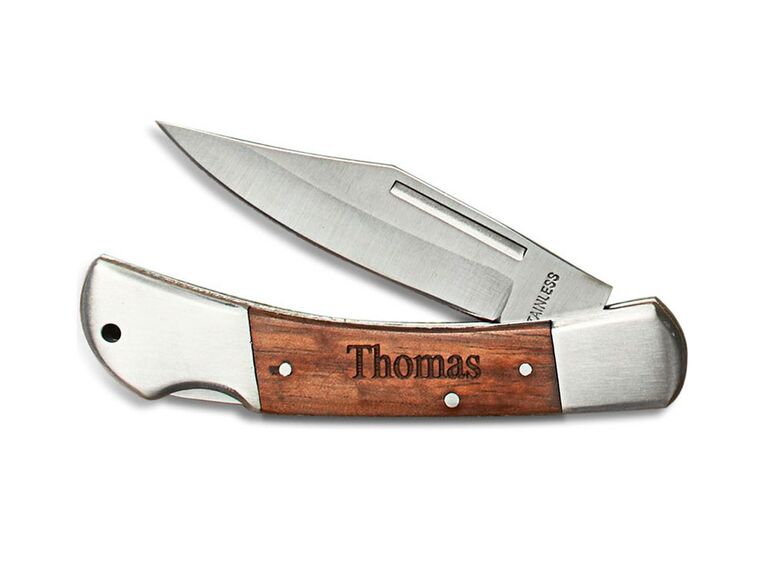 Pocket knives are a quintessential wedding party gift for guys, especially those who love spending time outdoors. This handy stainless steel pocket knife has a rustic finishing touch thanks to the engraved wooden panel.
Football Shot Glasses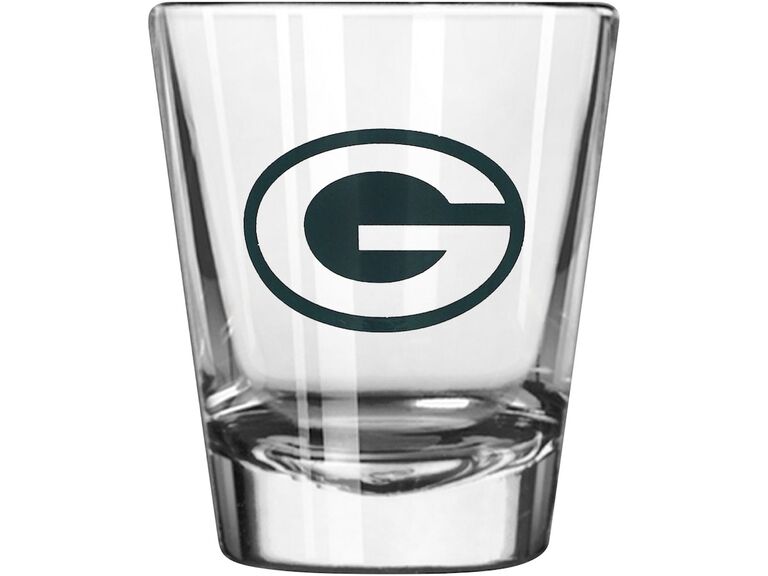 Small groomsmen gifts can be just as personal and precious as big-ticket items. The NFL Shop has affordable drinkware and other accessories that your football-fanatic buddies will want to proudly show off in their homes. Take this affordable Green Bay Packers shot glass, for example. It's a practical gift that any Packers fan would treasure.
Engraved Cuff Links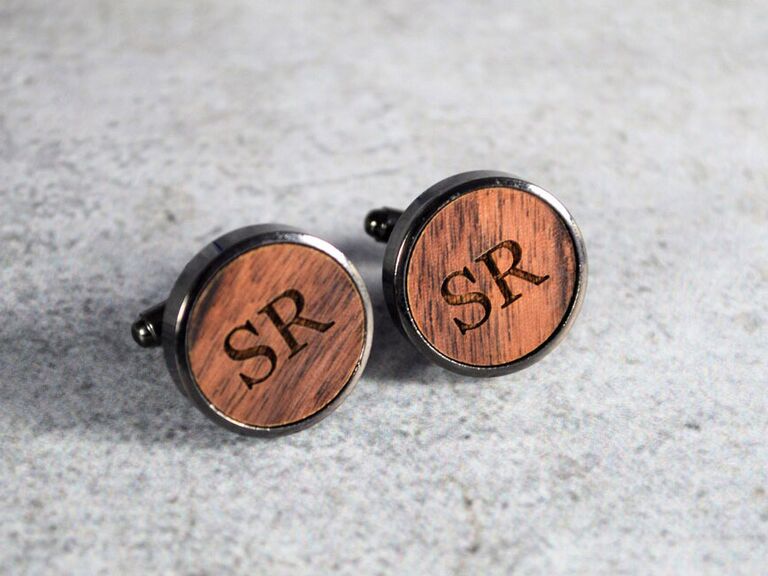 Looking for inexpensive groomsmen gift ideas that don't look cheap? Etsy is full of great finds. We love these rustic walnut-inlay cuff links set in brass with a seamless gunmetal gray finish. They'll be a trendy addition to your groomsmen's formalwear wardrobes, and thanks to the engraving, they're sweet too.
Chilling Whiskey Stones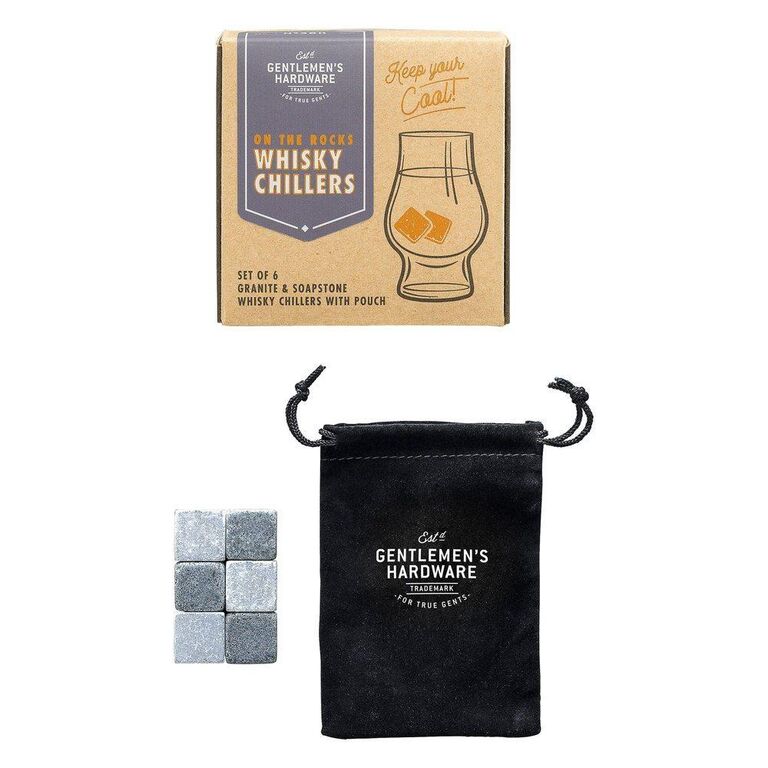 While we definitely encourage thinking outside the box, sometimes the best groomsmen gifts are the completely obvious ones. For those who like their whiskey chilled (but not watered down), whiskey stones are a must. This budget-friendly set is a nice accompaniment to a bottle of their favorite booze. Now that's a classy groomsman gift.
Travel Tie Cases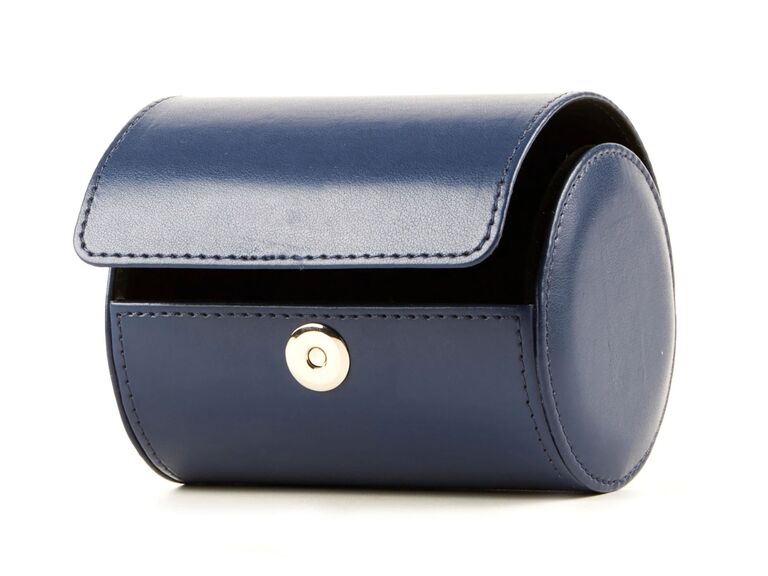 It might come as a surprise, but there are actually a lot of unique and practical groomsmen gifts you can snap up for under $20. Exhibit A: This thoughtful tie case that'll make transporting their formalwear for any special occasion a breeze. No more last-minute scramble to iron their tie before important events!
Coffee Hot Sauce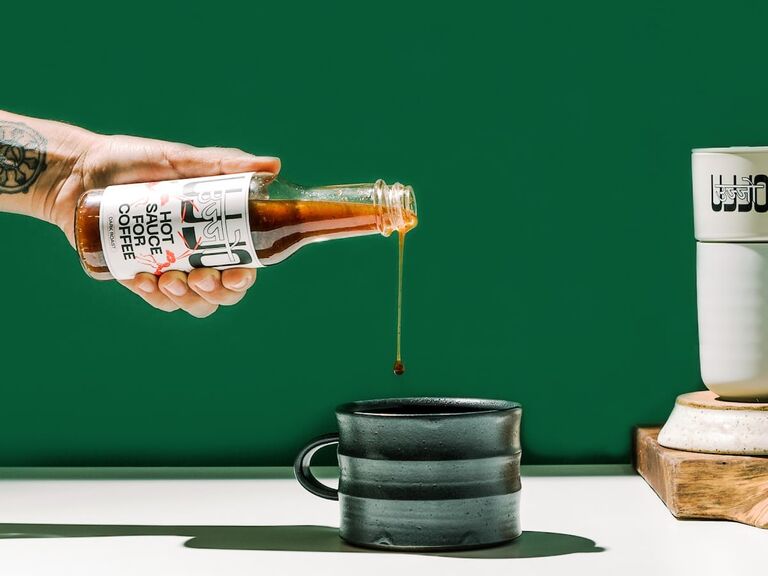 We bet you didn't think you could introduce your caffeine-obsessed groomsman to a completely new coffee sensation. This genius hot sauce is perfect for when their cup of joe could use an extra kick. It adds a delicately balanced spice that beautifully complements dark-roast coffee. It's an extra-thoughtful groomsmen gift for the day of the wedding since they'll have it on hand as a pick-me-up the morning after.
Snazzy Groomsmen Socks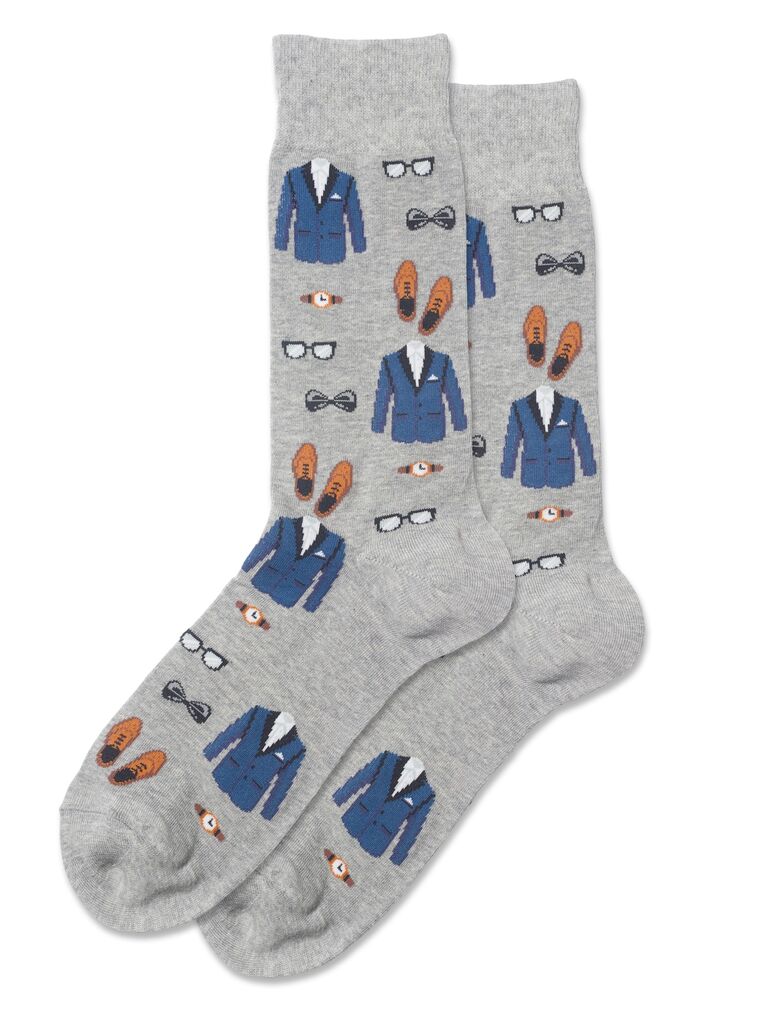 We couldn't round up our list of the top groomsmen gift ideas without mentioning groomsmen socks. This classic present is beloved by wedding parties everywhere and can be a fun way to keep the coordination going underneath the suits or tuxes. These "fancy gentleman" socks are a playful tribute to your guys getting all dressed up in your honor.
Sneaker Cleaning Kits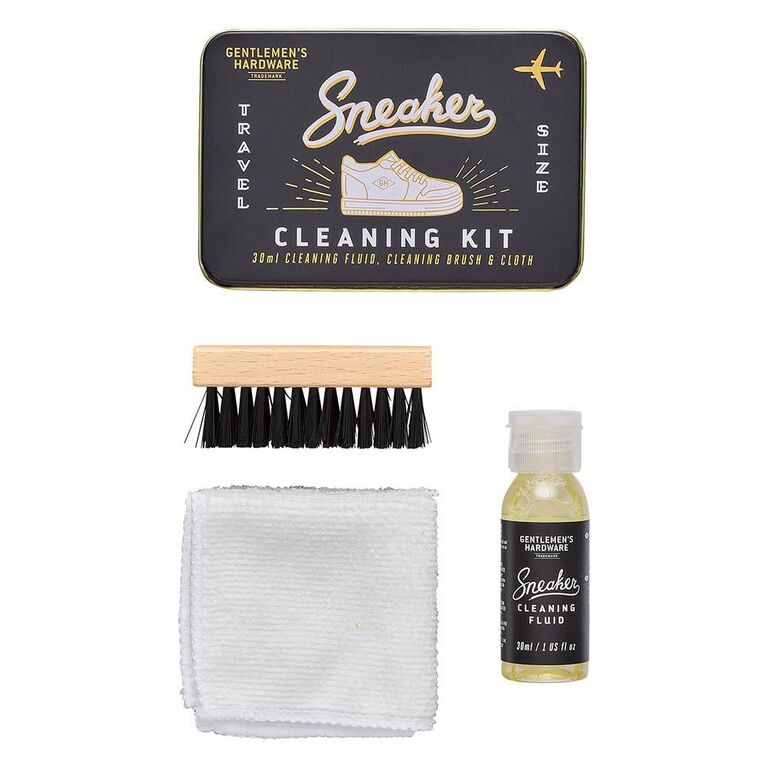 Playing into your crew's likes and interests is sure to earn you bonus points when you hand over your groomsmen's wedding gifts. Shopping for a sneakerhead? We can't think of anything they'd appreciate more than this travel-size sneaker-cleaning kit (except maybe a shiny new pair of Nike Air Jordans). It includes sneaker-cleaning fluid, a brush and a cloth.
Bourbon-Infused Chocolates
Need gift ideas for your groomsmen to round out a box or goodie bag? Candy is the way to go. But we're not just talking about any kind of candy. These bourbon-infused chocolates from Pappy & Co and Sugar Mama's Bake Shop are exactly the kind of elevated treat your squad deserves.
Music-Themed Coasters
This one's for the music lover in your wedding party. Made from upcycled records, each coaster in this set of six showcases a different album from various genres. They're a cool addition to any groomsman's home (not to mention an excellent conversation starter).
Wedding Party Sunglasses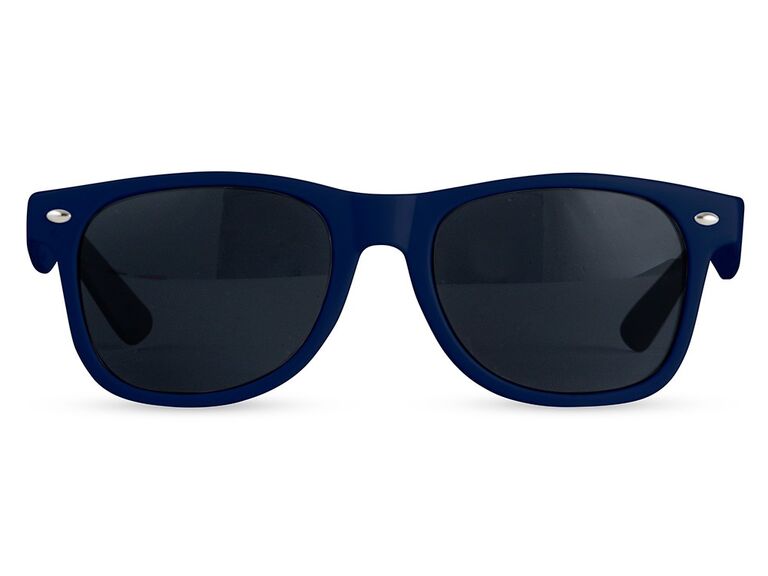 What's a good groomsmen gift that's practical, affordable and always a hit? Sunglasses! They're a small addition to goodie bags that'll serve your crew long after the wedding. These classic shades from The Knot Shop are just $3 a pop and they come in a variety of colors to suit your squad or wedding theme.
Fire Starter Tools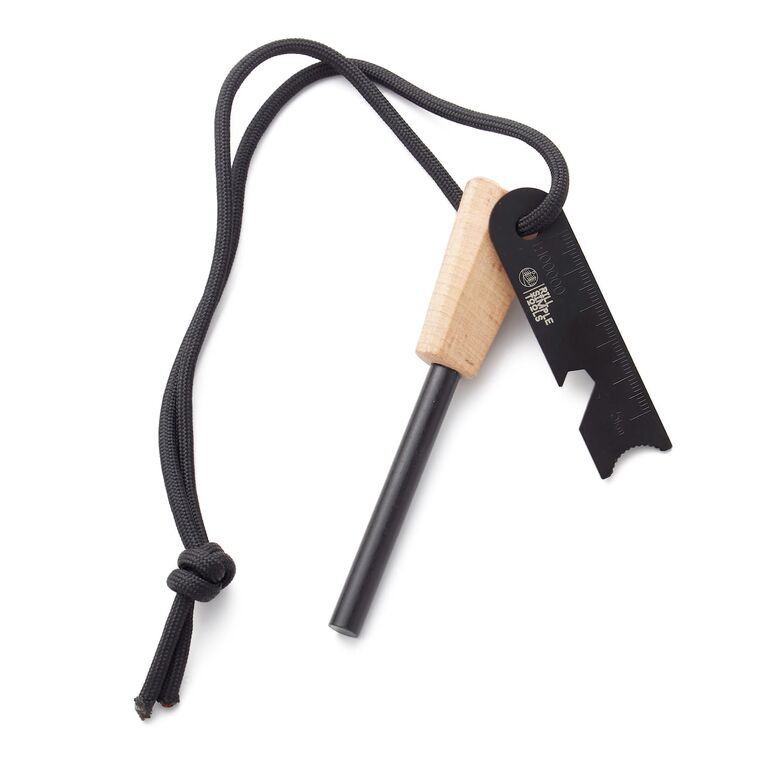 Here's another seriously cool groomsmen gift for anyone in your entourage who appreciates a) the great outdoors and b) practical accessories for using in the great outdoors. With this clever striker tool, getting a toasty fire going will be a whole lot easier. They're already one step closer to delicious toasted marshmallows.
Funny Merit Badges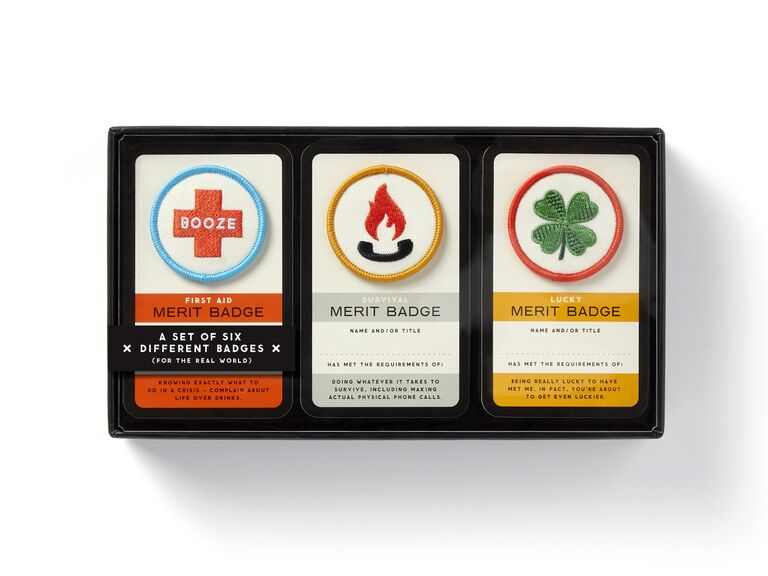 Shopping for someone who could give the Impractical Jokers a run for their money? Have a little fun when thanking them for all of their support in the leadup to the big day. These hilarious merit badges are a beautifully embroidered tribute to their achievements, including a first aid badge for "knowing exactly what to do in a crisis—complain about life over drinks." (Just make sure you remember to thank them sincerely too, whether it's a heart-to-heart or handwritten card.)
The Best Groomsmen Gifts Under $50
Want some more inspiration? From classic presents like multitools to nontraditional groomsmen gifts (hello, custom-embroidered hankies), shop our top picks between $20 and $50.
Embroidered Pocket Squares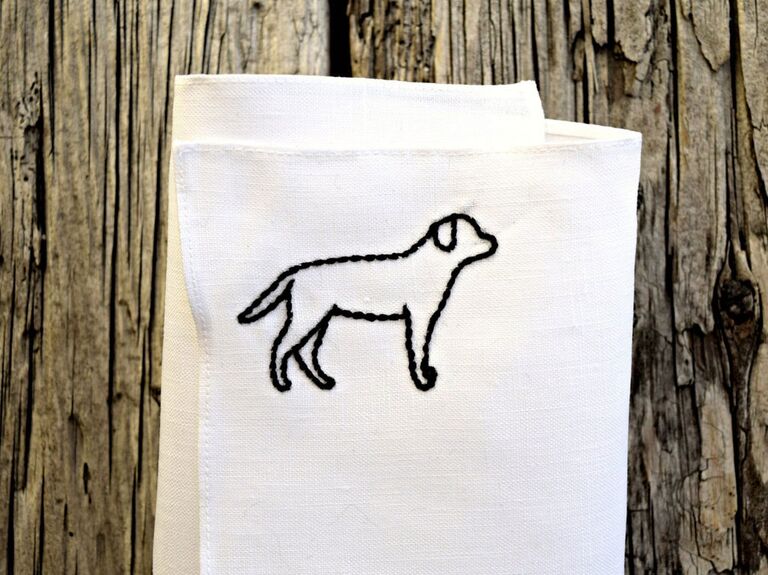 How's this for a unique groomsman gift idea? Get each member of your crew a crisp, white pocket square embroidered with their favorite dog breed (and their initials too, if you'd like). It's something they can all wear on your wedding day but hold onto long afterward as a favorite accessory and sentimental keepsake.
Clever Location Trackers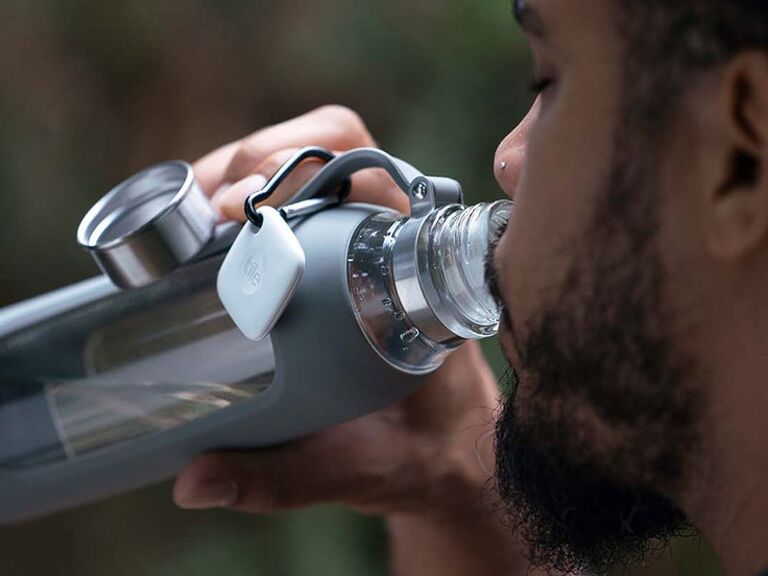 The Tile Mate would most certainly take the top spot on a list of the most practical groomsmen gifts. With this clever device, they never have to worry about losing their keys, satchel or another important item again. The pocket-size square easily attaches to a key ring and you can then track its location through a handy app on your smartphone.
Classic Decanter Sets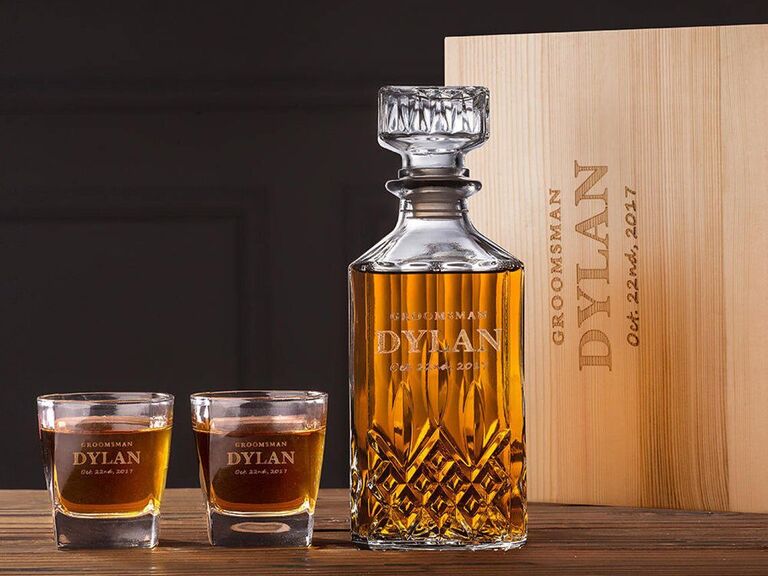 A whiskey glass and decanter set is a popular groomsmen thank-you gift (and it can be a lot more affordable than you might think!). This elegant glassware can be purchased as a full set (decanter, box and two or four glasses), or you can buy the decanter on its own (with or without the box). Each piece is beautifully personalized with an engraving of your groomsman's name, wedding title and the date. Or, if you want to make it a little more practical, you can remove the wedding details and just include their name or monogram.
Wooden Valet Trays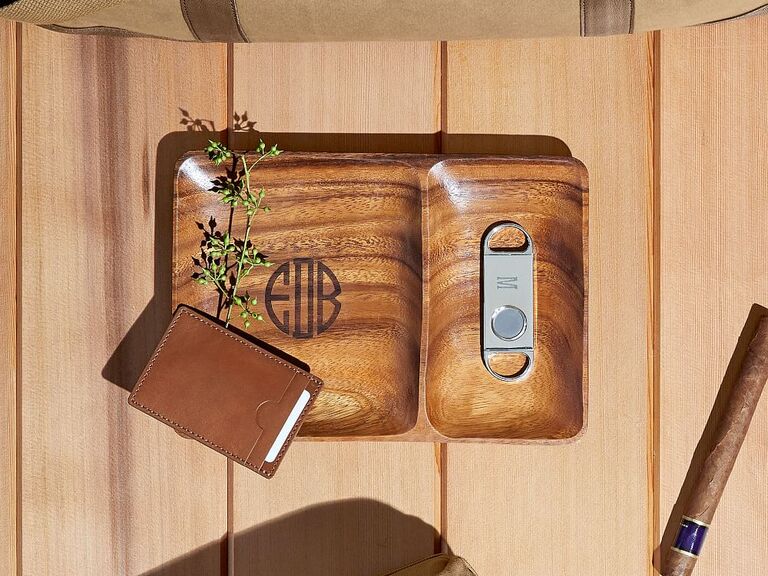 Like we said before, the best gifts for your groomsmen balance the practical with the personal. This beautiful acacia valet tray nails it. Your guys will have a designated space to stow important accessories when not in use (think: their keys and phone) or just odds and ends cluttering their homes. And if you get it personalized with their monograms for an extra $13, it instantly becomes a bespoke piece of decor.
Golf Bag Coolers
Okay, but this really is the coolest groomsmen gift idea—literally. Any avid or amateur golfer would happily make use of this clever piece of kit. It's a cooler that discretely slips inside their golf bag, fitting up to seven cans (or four pint-size cans). The result? Refreshing drinks that stay ice cold for the whole round.
Unique Card Holders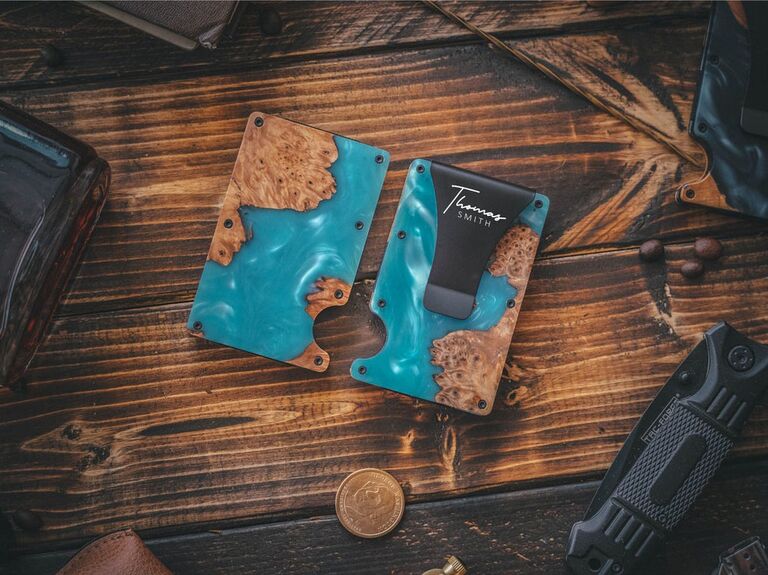 From throwing you an awesome bachelor party to blocking off their calendars for your big day, it's fair to say your guys have earned something special. This resin wood money clip is an unusual spin on a traditional groomsmen gift. The dark and aqua blue colors are reminiscent of a lake or the ocean, making it an extra-thoughtful present for anyone who loves fishing, surfing or swimming. It'll wow your groomsman every time he takes it out of his pocket, whether he uses it as a credit card holder or to store his business cards.
Sleek Travel Tumblers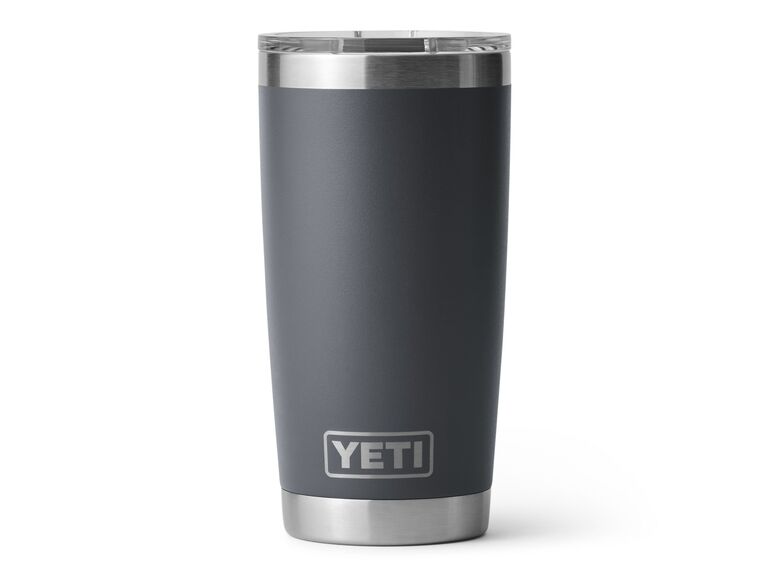 Anyone who loves getting outdoors will appreciate pretty much anything from YETI. And let's face it, you just can't beat the brand's high-quality stainless steel tumblers. This 20-ounce beauty is perfect for using as a coffee or beer mug depending on the occasion. Double-wall insulation keeps the cold in (or out), and you can have it personalized with a phrase or monogram for a special finishing touch.
Groomsman Golf Balls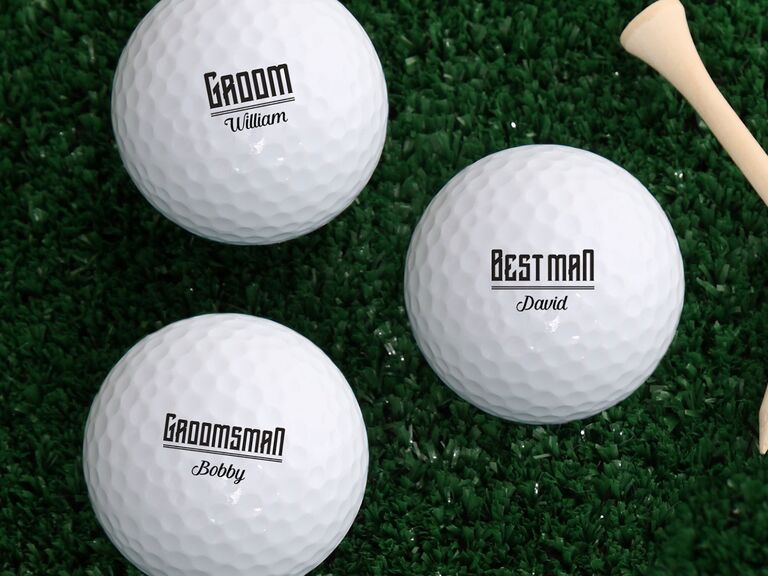 Golf-themed groomsmen gifts are a great option if you're shopping for someone who's always on the links. A set of three golf balls printed with their wedding title and name is an undeniably unique groomsman gift idea. Whether they decide to put them to use or prefer to keep them on display, the golf balls will be a welcome memento during this special time.
Useful Multi-Tools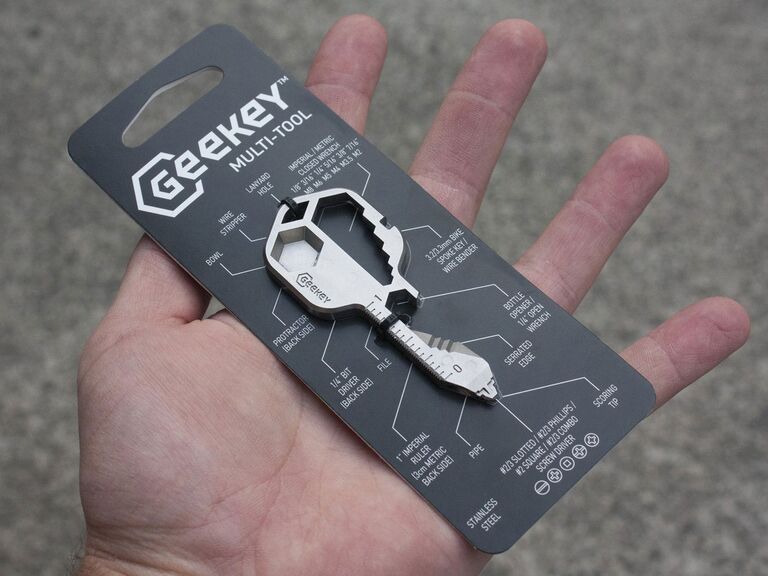 Prepare to be impressed by the coolest multi-tool on the market: Geekey. This clever little gadget is endlessly useful. It has over 16 functions, including a wire stripper, ruler, wrench, bottle opener, file and even a tobacco smoking bowl. All in all, it's a pretty badass groomsman gift, if you ask us.
Curated Gift Sets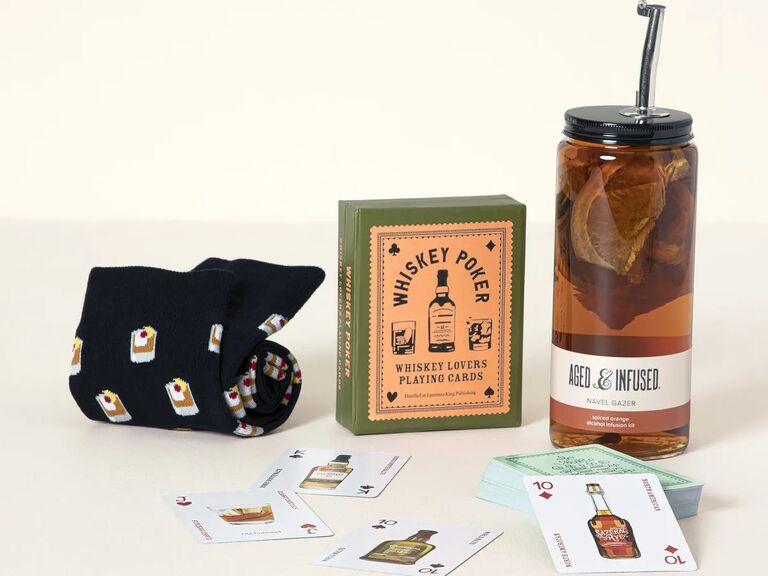 We get it, you want to make sure all your guys get an awesome groomsman gift but you're hard-pressed for time to put everything together. That's where this handy pre-curated gift set comes in. Uncommon Goods has gone to the effort of creating a cool collection of items for you that your wedding party members will love. The set includes cocktail-themed socks, whiskey-inspired playing cards and an infuse-and-pour alcohol kit to awaken their inner mixologist.
Funny Hip Flasks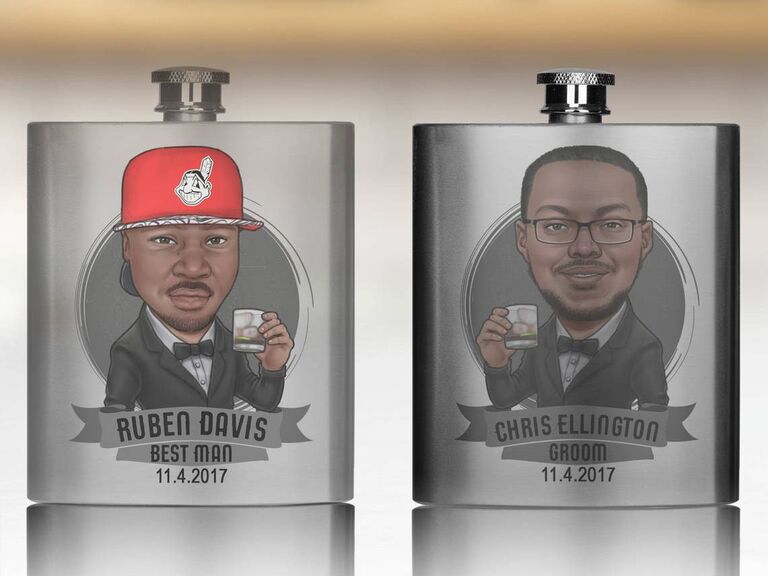 Speaking of cool groomsmen gifts, we're big fans of the funny caricature-inspired drinkware from Tooned Up Gifts. This popular Etsy store makes playful groomsmen and bridesmaid gifts personalized with your crew's faces, like these useful stainless steel groomsmen flasks. You can also add each person's name and wedding title (and don't forget to get yourself one too!).
Personalized Grilling Sets
There are so many useful and creative groomsmen gifts from The Knot Shop (and they're all pretty affordable too). Give the grillmaster in your crew a set of shiny new stainless steel barbecue tools in a personalized case. The set includes tongs, a grilling fork and a spatula with a built-in bottle opener. Postwedding backyard BBQ, anyone?
Unique Lapel Pins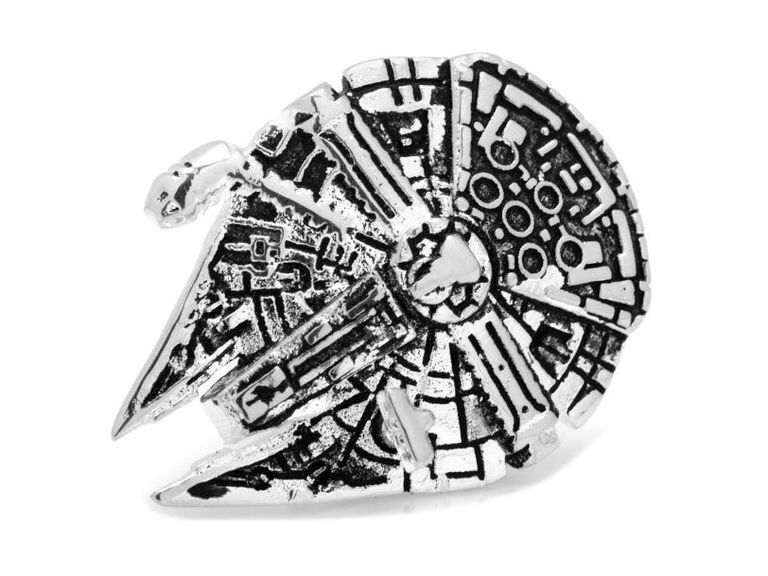 If you and your friends are self-professed "nerds," a nerdy groomsman gift is just the ticket. Say thanks to your loved ones with a lapel pin that reflects their personal interests or your collective interests as a group. For example, if you love catching up over a Star Wars movie marathon, give each member of your wedding party this Millennium Falcon pin. Or, if everyone is into something different, shop around the site to find the perfect lapel pin for each guy. There are pins inspired by DC superheroes, Star Trek, Disney, US sports teams and more.
Virtual Experience Gifts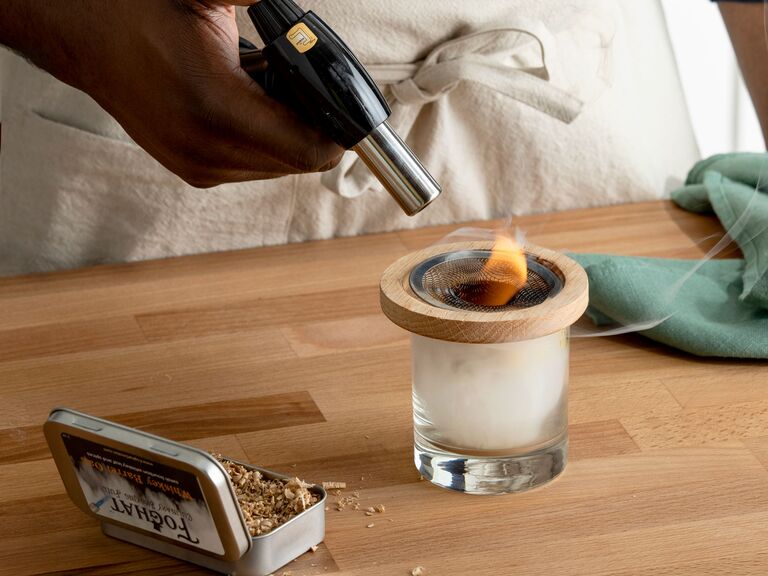 Really not sure what to get your groomsmen? If you're shopping for a person who already has everything they need, experiential presents are the way to go. Uncommon Goods has lots of fun and unique virtual experiences to choose from. Plus, many of them come with a physical gift set or the materials required to take part. There's something for everyone, from mixology to flower arranging.
Decorative Art Prints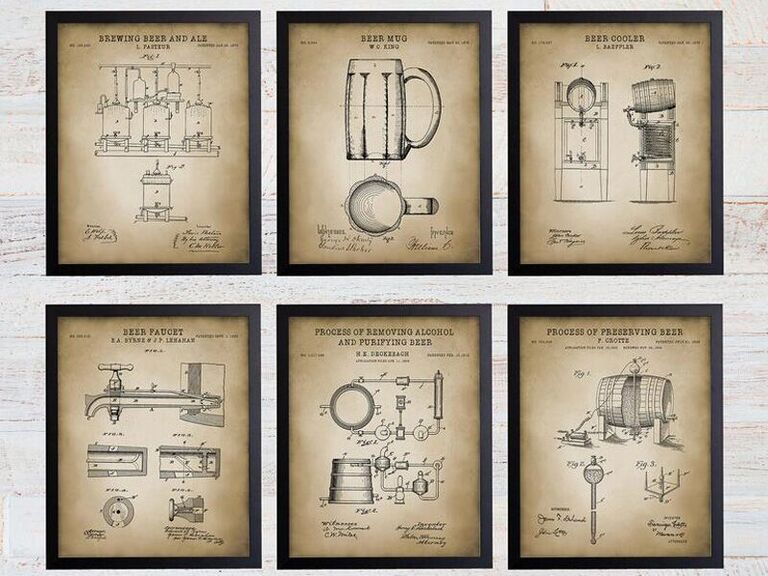 This set of six posters is an ideal gift for beer-loving groomsmen everywhere. Featuring various patent prints, it's the perfect art for the walls of any man cave. Just make sure you have some beers ready for when they finish hanging them up. Talk about a cool groomsman gift idea!
Fishing-Themed Camping Mugs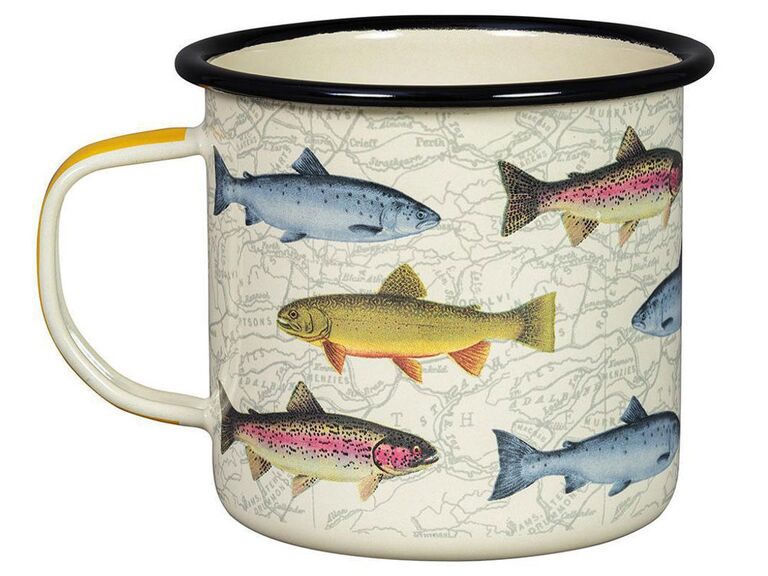 One simple way of scoring good groomsmen gifts? Choose something that reflects your relationship with each unique person. If you bonded with any of your guys on frequent fishing trips, this fish-patterned camping mug is a playful way to sum up your friendship. Since it's lightweight and durable, they can easily take it with them on their next trip to the lake.
Postwedding Pain Relief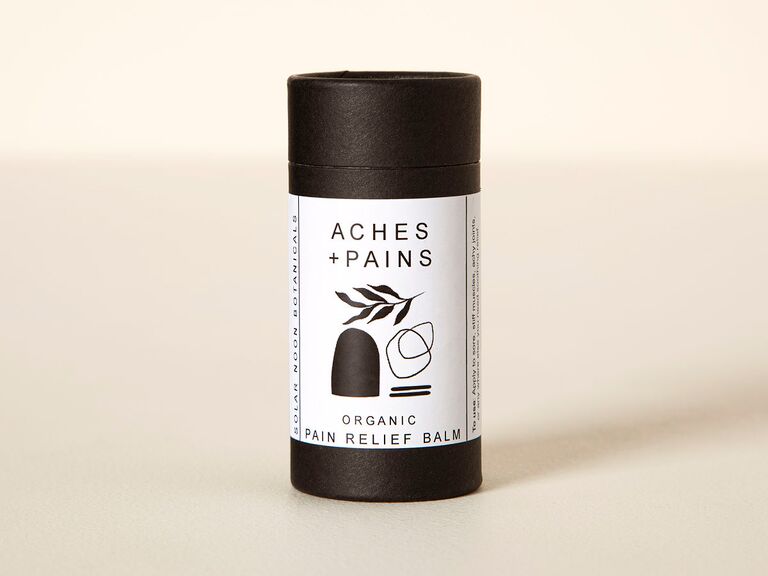 In search of some last-minute groomsmen gifts to deliver on the morning of the wedding? Head into town and pick up some hangover-fighting essentials that'll save a few sore heads just in time for that postwedding brunch. Of course, if you have a little extra time, you should put as much thought as possible into your hangover kits. This organic balm for aches and pains is a funny (but practical) addition, especially if your guys plan on busting a move for the first time since your college party days.
The Best Groomsmen Gifts Under $100
Looking for a gift that'll really steal the show? Wedding party gift trends for 2023 are all about a "less is more" approach. Couples are choosing to splash out on one extra-meaningful present instead of gifting their "I do" crew lots of small, less expensive items. The route you take is totally up to you, but we're sharing our favorite splurge-worthy groomsmen gifts below.
Bespoke Experience Gift Cards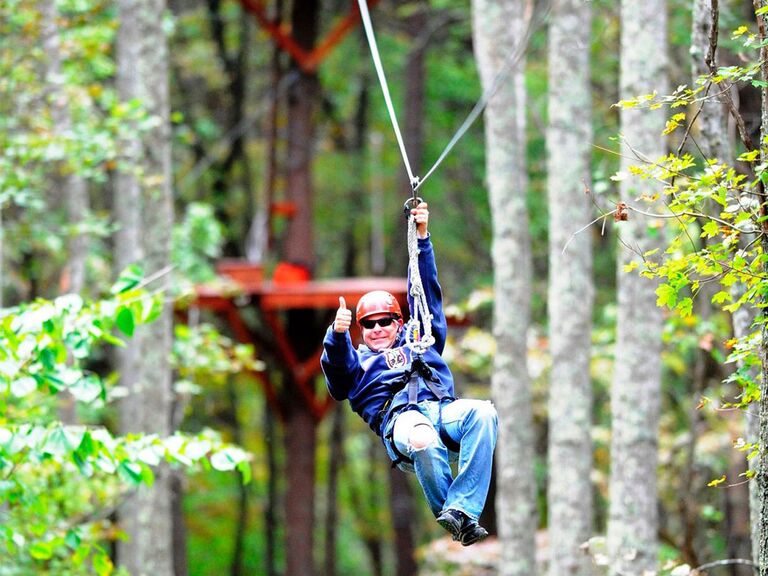 Not sure there's a tangible gift out there that'll fully express your gratitude? We've got the best groomsman gift for you: a gift card for a once-in-a-lifetime experience. The gift card can be applied toward over 2,000 different experiences, and your groomsmen get to choose the ones that resonate most with them. There's everything from indoor skydiving and motor racing to golf lessons with a pro. After all, your groomsmen helped make your wedding an experience to remember, so why not return the favor?
Sentimental Wristwatches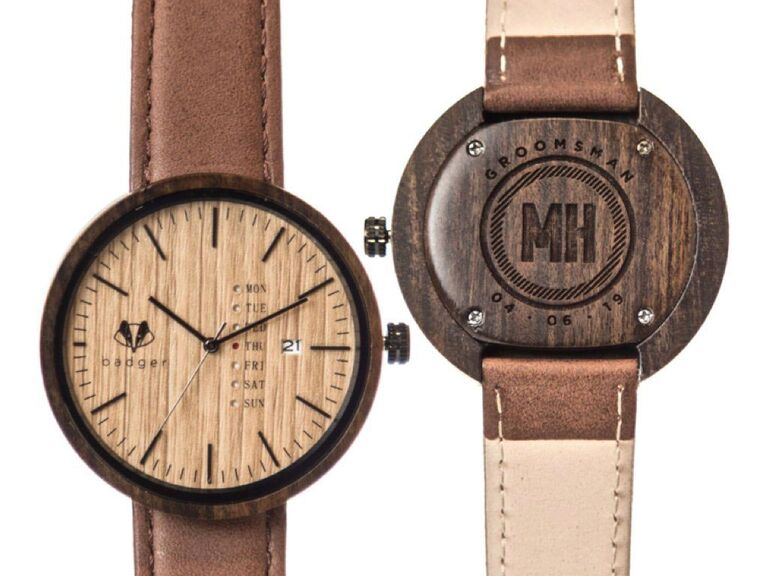 A timepiece is always a sweet gift, whether you choose a classic pocket watch or a rustic wristwatch like this one. Swanky Badger's wooden watches can be engraved with your groomsman's wedding title, initials and the date. Bonus: The face doesn't just tell the time, it also has the date and day of the week. (Psst, don't forget to use our code THEKNOT10 for 10% off!)
Monthly Beer Deliveries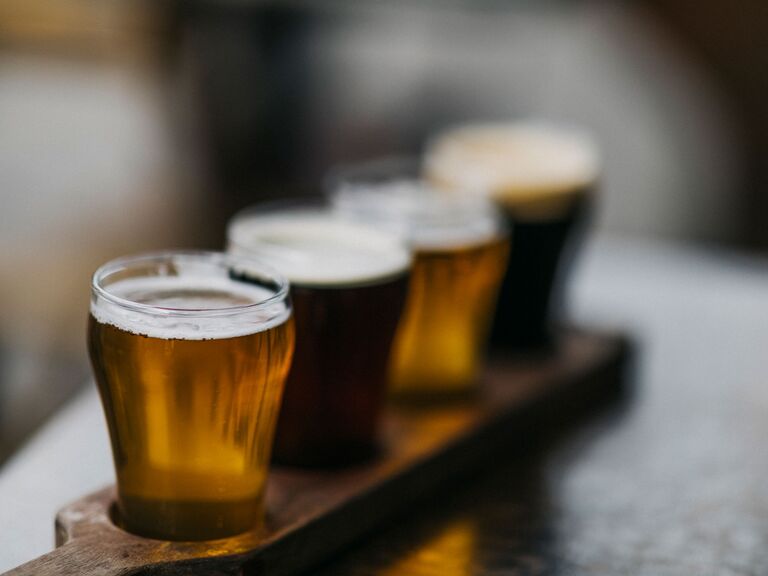 Giving your groomsmen meaningful tokens at the rehearsal dinner or on the morning of the wedding is a sweet gesture, but if you're looking for a gift that keeps on giving, consider a subscription service. With a Beer Drop gift card, they can sign up for one, two, three, six, or 12 months of craft beer from five different microbreweries. Each delivery contains 10 beers for them to sample and enjoy.
Fancy Monogrammed Scarves
Shopping for some sharp dressers? Say thank you to your groomsmen in style with matching scarves embossed with each person's initials on a leather tag. Made from ultra-soft lambswool, it's an undeniably luxurious groomsman present. It's especially fitting if you're having a winter wedding.
Sophisticated Cigar Holders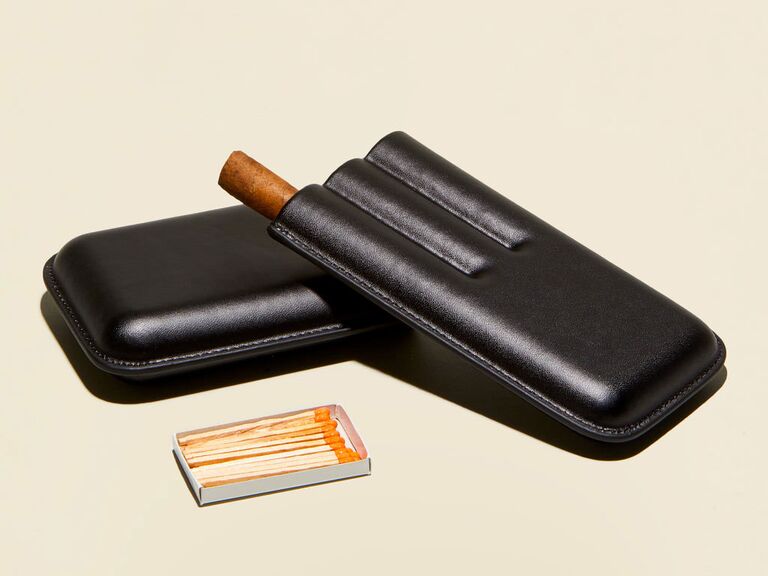 Do your groomsmen smoke cigars? If so, give them somewhere sleek to store their smokes in the form of this black leather cigar holder. You can opt for one with two or three cigar slots, as well as a single letter engraving.
Truffle-Infused Hot Sauce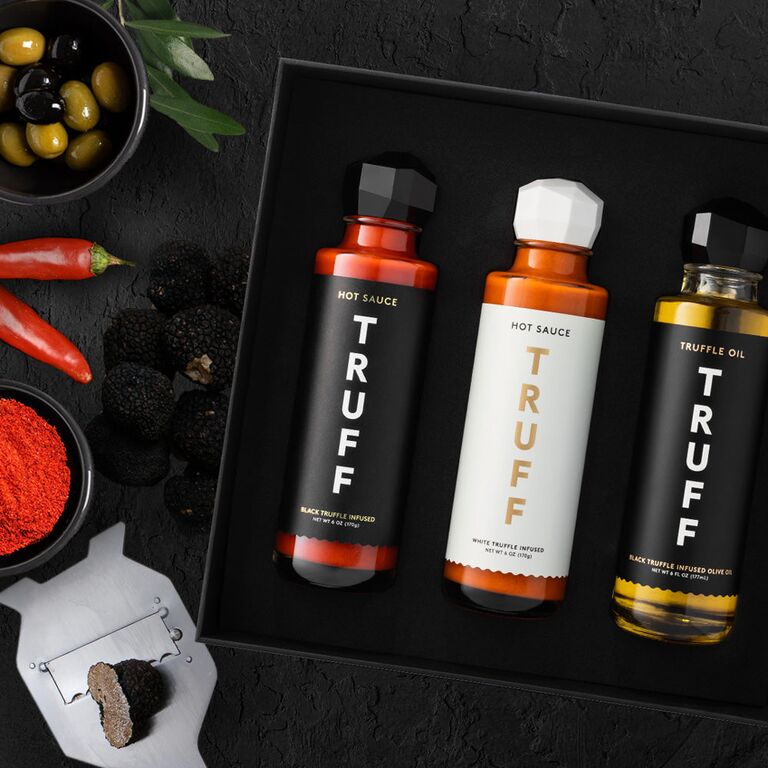 Looking for non-alcoholic groomsmen gifts that are still super tasty? Swap out the booze and cool bar gifts for an even cooler set of delicious truffle-infused hot sauce and oil. This gourmet gift set is a dream come true for spice and truffle lovers alike. Oh, and just in case you needed a little more convincing, it's also one of Oprah's Favorite Things.
Handy Key Holders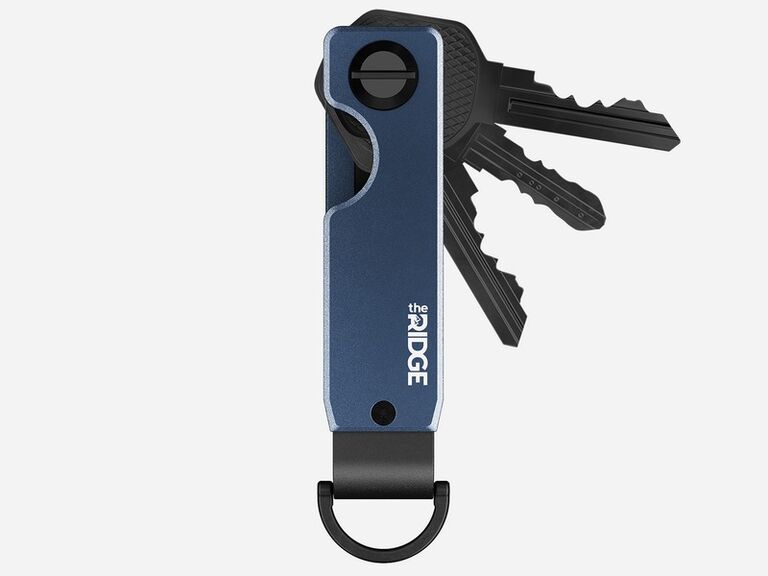 If you couldn't tell, we're big fans of groomsmen gifts they'll actually use. Here's another practical gift idea that'll become an everyday accessory. Ridge's sleek key cases conveniently stow between two and six keys with a patent-pending tension plate system. Wave goodbye to jangling pockets and confusing key chains.
Soft Cotton Bathrobes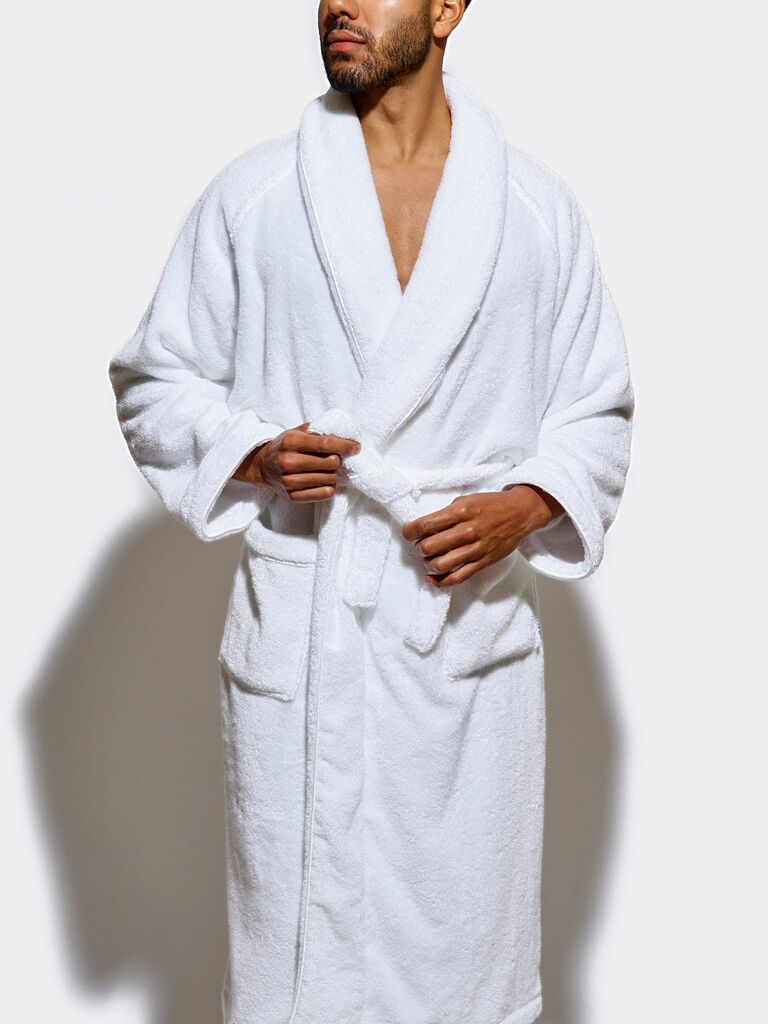 Comfy robes aren't just for bridesmaids. They make excellent wedding party gifts for guys too. The trick to picking up day-of bathrobes they'll wear after the nuptials? Choose something that's a little bit of a splurge (and avoid personalizing items with their wedding party titles). These fluffy masterpieces from Snowe are just the ticket.
Annual National Park Passes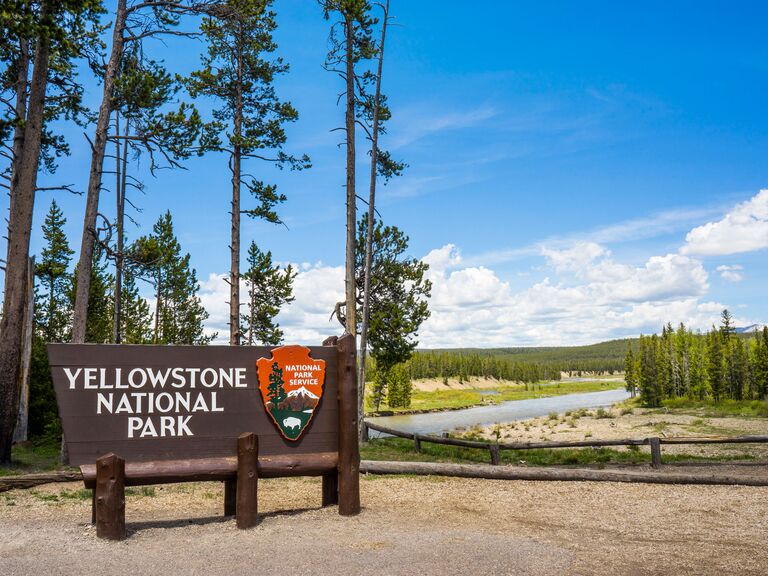 For the best man or groomsman who loves outdoor pursuits, consider an annual National Parks and Federal Recreational Lands pass. It's a super-unique gift that they definitely won't be expecting (but will really appreciate).
Themed Gift Boxes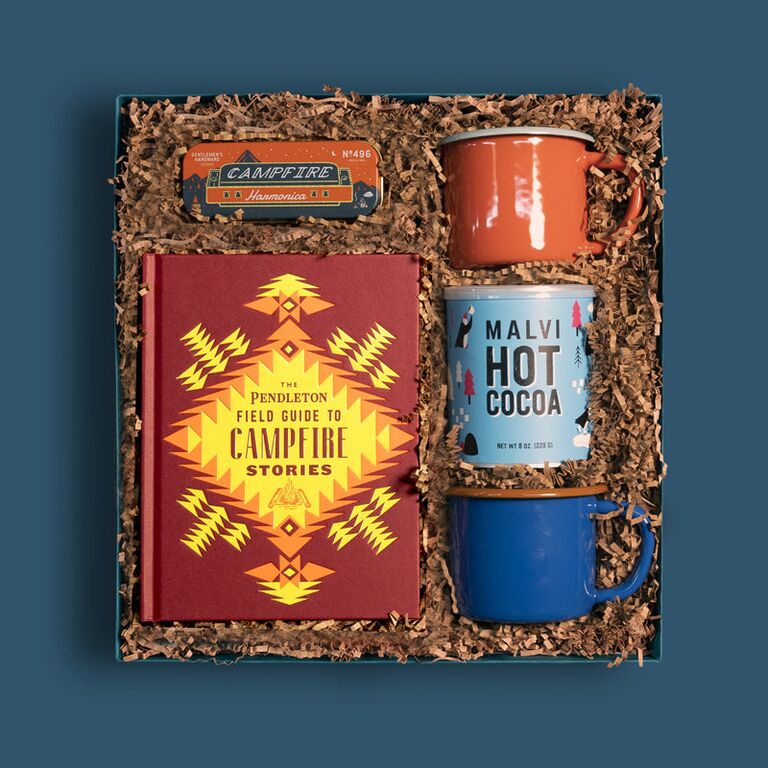 Goodly's groomsmen-worthy gift boxes are excellent wedding party gifts. There are options to suit a variety of different hobbies and interests, including this fun pick for camping enthusiasts complete with two mugs, a book about campfire stories, hot cocoa and a harmonica. Not shopping for a happy camper? Easily curate your own collection of gifts on the site instead.
Engraved Money Clips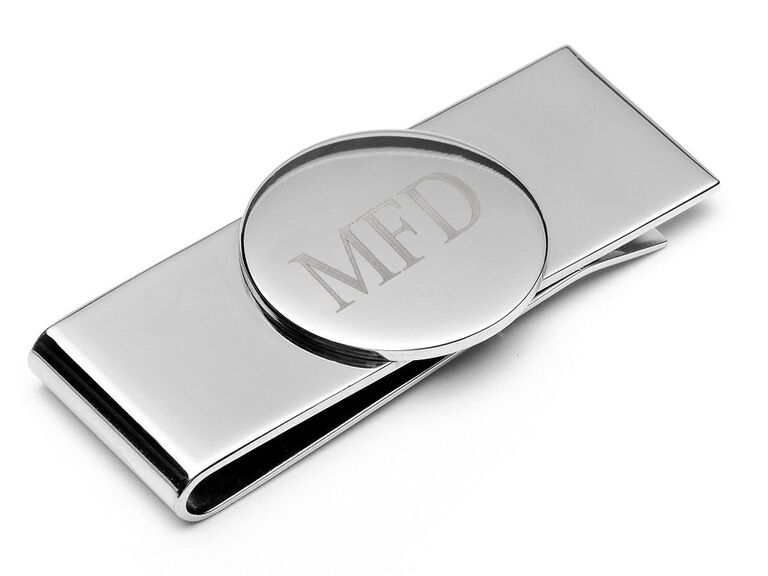 Custom groomsmen gifts are inherently special. They show your guys straight away that you took the time to pick out a special something just for them. A stainless steel money clip is a useful accessory to carry on the big day, since it subtly slides into a pocket without the bulkiness of a traditional wallet. It'll serve your crew long after you tie the knot (and may even reach family heirloom status).
Camp-Friendly French Presses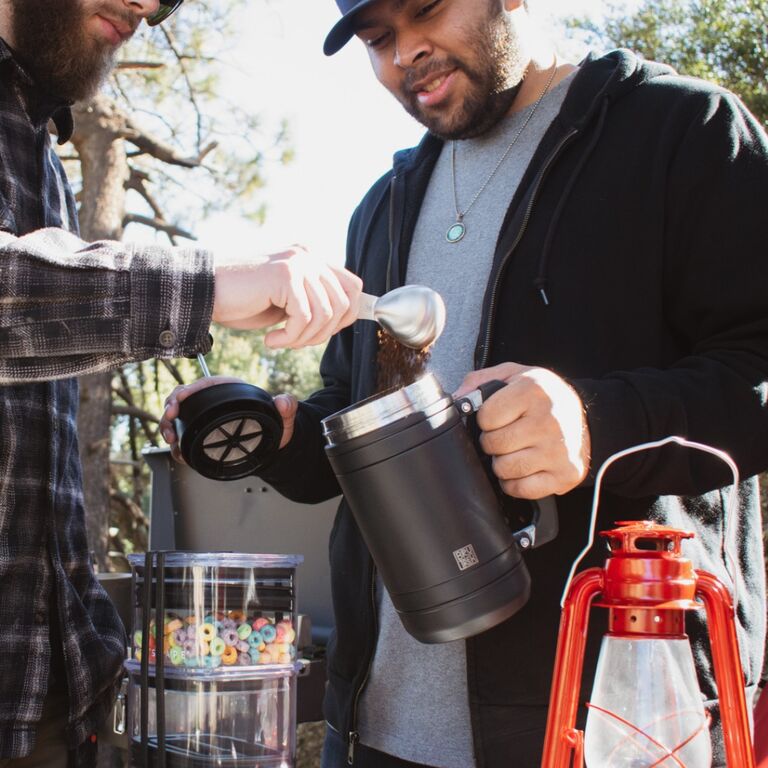 There are coffee drinkers, and then there are coffee lovers. If enjoying a deliciously roasted brew is at the top of your groomsman's to-do list every single day, he'll most certainly appreciate something coffee themed. This fancy French press makes it easy to enjoy a gourmet cup of joe anytime, anywhere. The insulated stainless steel body maintains the perfect temperature (plus, it's tough enough to take out on a hike or camping trip). He'll never have to sacrifice good coffee for spending time outdoors again.
Leather Dopp Kits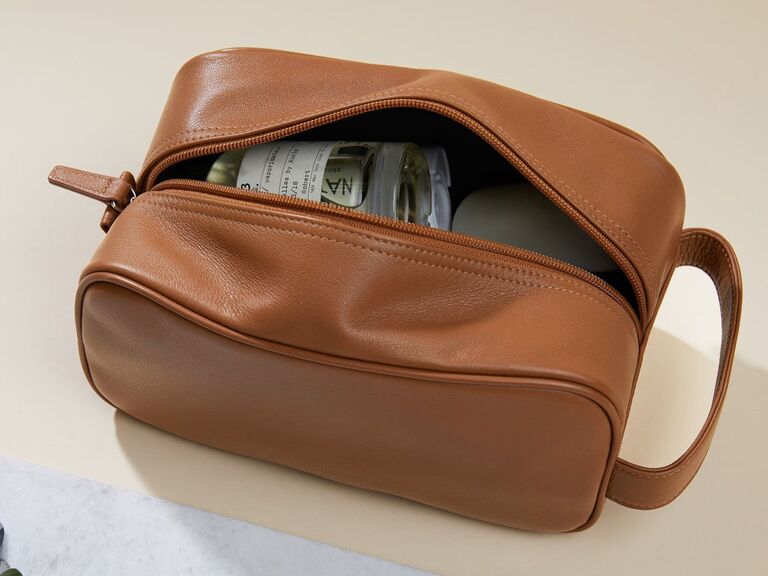 Toiletry bags are great groomsmen gifts, especially if your friends have to travel for the big day. This luxe leather option comes in a classic cognac colorway. Make it personal by adding each person's monogram for an extra $10.
Personalized Tie Bars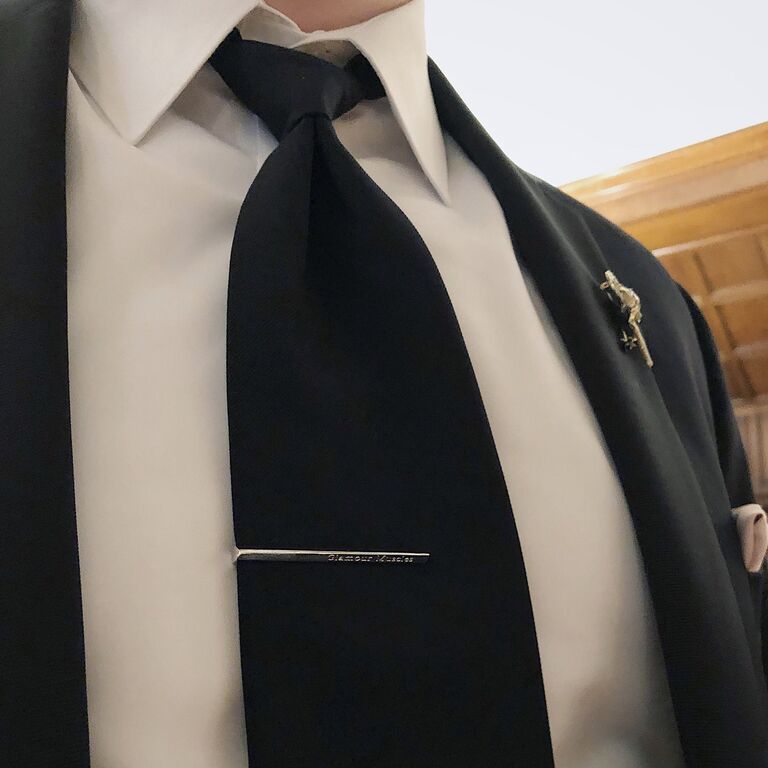 Some of the best groomsmen gift ideas ever are the most simple. A tie bar is a classic accessory that goes a long way when creating a sharp formal ensemble. If any of your groomsmen are getting all dressed up for the altar for the first time, they'll appreciate a gift they can wear on the wedding day and beyond. And of course, you can have each tie bar engraved with a name or monogram.
Luxurious Grooming Essentials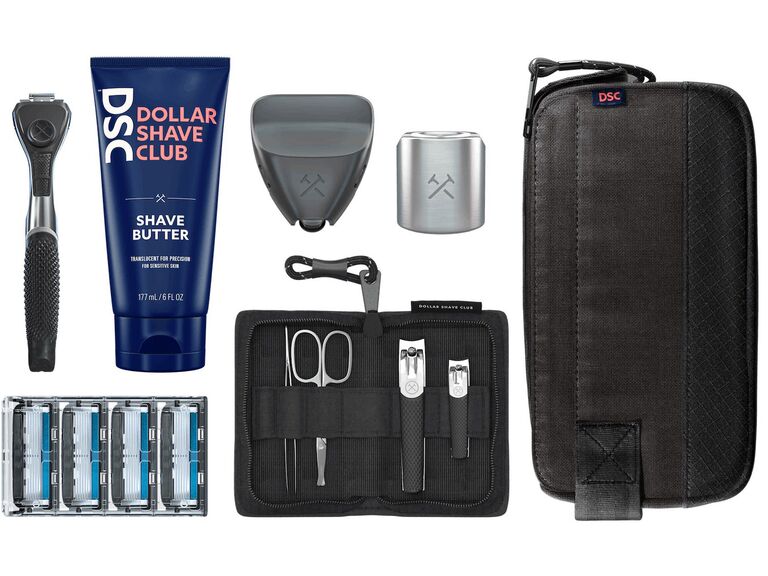 When brainstorming gifts to give to groomsmen from the groom, you don't actually have to get them something they've never received before. Sometimes, the best presents are an upgrade to what they already have. Elevate your guys' grooming routines by giving each of them a Dollar Shave Club gift set including the brand's shave butter, razor handle, blade refills, razor stand, grooming toolkit and more. They'll be set up for the perfect shave for months to come.