What You Didn't Know About Barack and Michelle Obama's Wedding & Love Story
"I was smitten almost from the second I saw her."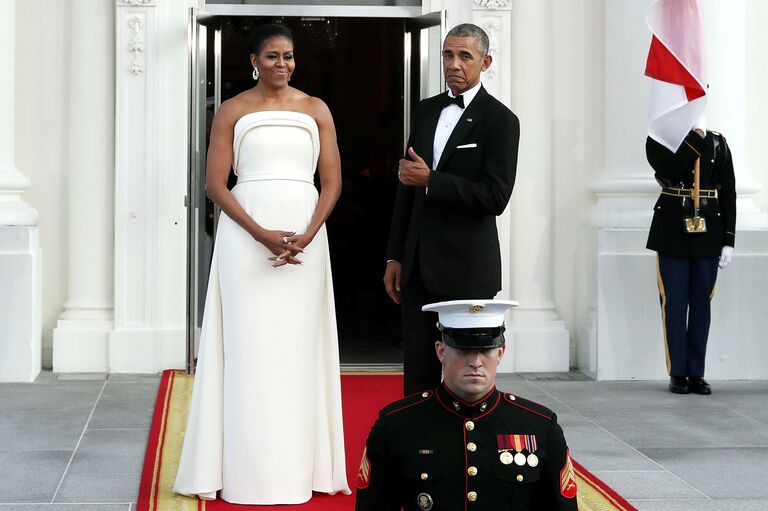 Chip Somodevilla / Getty Images
We have included third party products to help you navigate and enjoy life's biggest moments. Purchases made through links on this page may earn us a commission.
In 2008, a bright, young US Senator from Illinois became the President-Elect of the United States of America. Near overnight, Barack and Michelle Obama became household names after his successful bid as Democratic Presidential nominee in 2008, which he accepted at the Democratic National Convention, and again during his reelection bid four years later. After their heartwarming first-time appearance at the 2009 Inaugural Ball and over the course of the next eight years, the public vigilantly observed the power couple make waves in the White House: They were seen as aspirational-yet-relatable for their often playful and public displays of affection. Both brought effervescence to the address of the Highest Office in the Land, and they were, together, deeply invested in the livelihood of America's youth among other civilians.
The first couple's personal life not only involved nurturing their marriage through painstaking challenges, but they were also called to parent their two children, first daughters Malia and Sasha, who grew into self-assured young women during their father's two terms in the White House. Of course, Obama administration photographer Pete Souza documented the adventures of the family with their first pets, Portuguese Water Dogs Bo and Sunny Obama, as well as their frequent, warm interactions with Vice-President Joe Biden and his wife, Dr. Jill Biden. (The Obamas notably campaigned fiercely for Biden, who was proclaimed president-elect after defeating Donald Trump in the 2020 election.)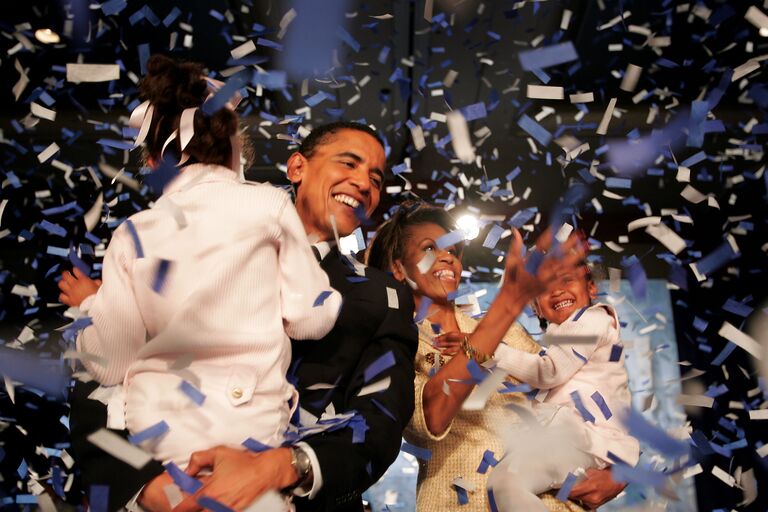 Barack Obama's legacy as former President of the United States, in addition to First Lady Michelle Obama's admiration from the public, certainly paid off once they left 1600 Pennsylvania Avenue in January 2016. The first couple was greeted, near immediately, by two respective book deals from Penguin Randomhouse: Michelle Obama's Becoming emerged as an instant bestseller in November 2018; Barack Obama's A Promised Land followed two years later, setting records for selling nearly a million copies within its debut day on stands worldwide. In their respective memoirs, the couple details every bit of their love story, from where and when they met, their proposal and wedding details, and a deeper dive into their high-profile marriage. Here, The Knot details the making of a modern-day power couple.
In This Article:
When Did Barack and Michelle Meet?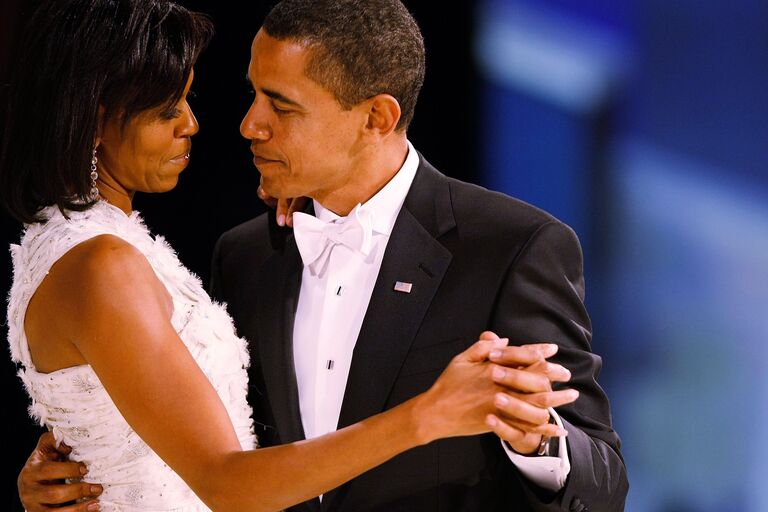 The future spouses met after Barack's first year at Harvard Law School, most suitably, in a Chicago law firm. "Michelle Lavaughn Robinson was already practicing law when we met," the 44th President of the United States of America wrote in his memoir. "She was twenty-five years old and an associate at Sidley & Austin, the Chicago-based firm where I worked the summer after my first year of law school."
At the time, Barack was 28 years old after entering Harvard Law a few years behind his classmates. He had transferred to Columbia University in New York City from Occidental College. His path eventually landed at Harvard Law, where the first African-American president of the US solidified his stance as a prolific law student, eventually soliciting offers from top law firms nationwide. In the interim, he chose to intern at a firm in Chicago, where his future wife awaited him.
Where Did Barack and Michelle Meet?
As noted, the couple met at Sidley & Austin, where Michelle Robinson was a first-year junior associate. "Barack Obama was late on day one," she wrote in her memoir. "I sat in my office on the forty-seventh floor, waiting and not waiting for him to arrive."
The future first lady wrote of how his reputation preceded him: "Barack Obama had already created a stir at the firm," she wrote. "…Rumor had it he was exceptional. Word had spread that one of his professors at Harvard—the daughter of a managing partner—claimed he was the most gifted law student she'd ever encountered. Some of the secretaries who'd seen the guy come in for his interview were saying that on top of this apparent brilliance, he was also cute. I was skeptical of all of it."
His take? "I was smitten almost from the second I saw her."
How Did Barack and Michelle Meet?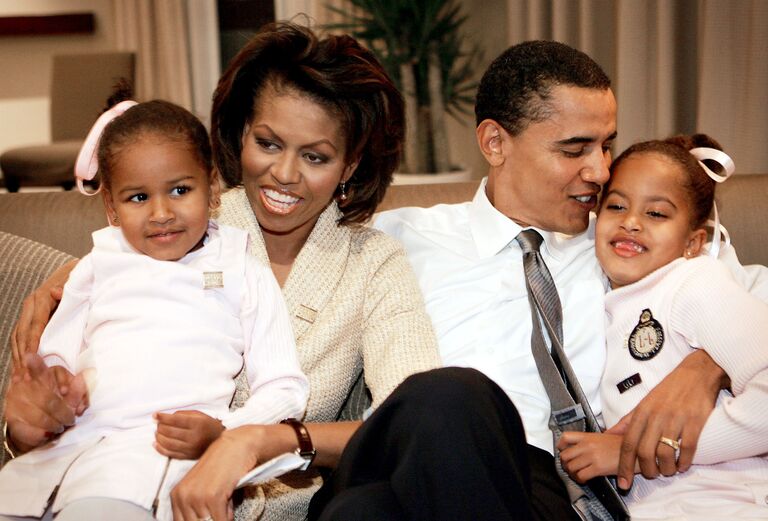 Adorably, Michelle was Barack's supervisor that fateful summer. "She'd been assigned by the firm to look out for me, to make sure I knew where the office photocopier was and that I generally felt welcome," he revealed. "That also meant we got to go out for lunches together, which allowed us to sit and talk—at first about our jobs and eventually about everything else."
"Very quickly, I realized that Barack would need little in the way of advice," Michelle Obama noted in her memoir. "What struck me was how assured he seemed of his own direction in life. He was oddly free from doubt, though at first glance it was hard to understand why."
How He Asked Her Out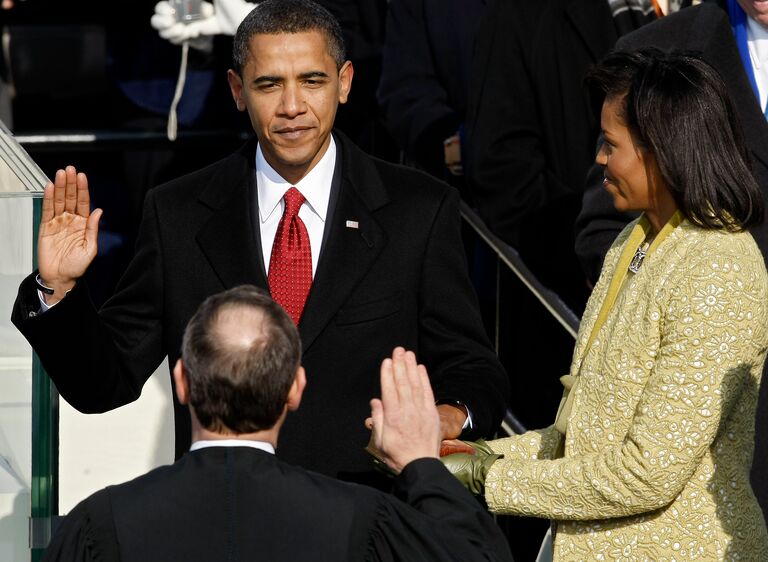 The two started to hang out more frequently at the firm and other social events related to their work. The future 44th President of the United States eventually made the first move and asked his supervisor-turned-friend on a first date. In her memoir, Michelle Obama documented the path to romance. "'I think we should go out,' Barack announced once afternoon as we sat finishing a meal," she wrote. "'What, you and me?' I feigned shock that he even considered it a possibility. 'I told you, I don't date. And I'm your advisor.'"
Michelle has occasionally noted her husband's relaxed confidence, which has often been attributed to his upbringing in Hawaii. Eventually, the two seriously started dating and he even showed up to meet the Robinson family. Michelle's brother, Craig, joked she would chase him away like she did to the other men in her past dating history.
How Did Barack Obama Propose?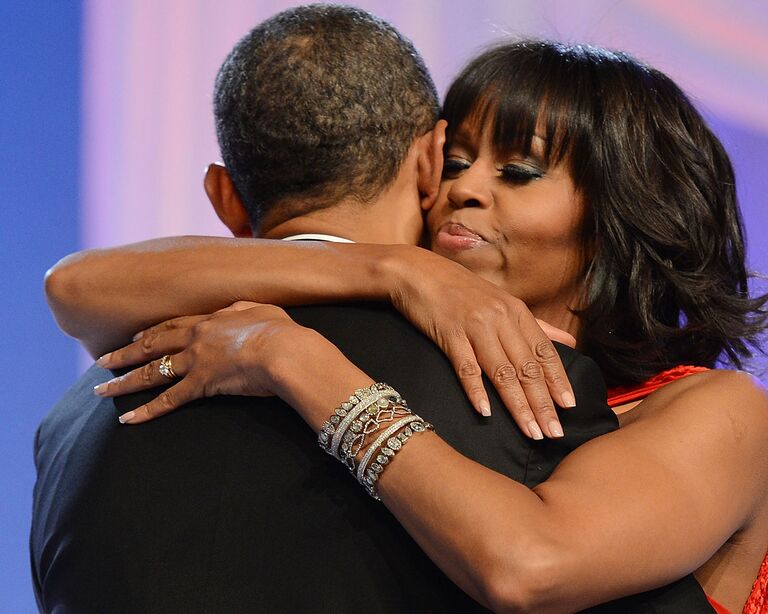 The proposal involved a playful spar between the couple after he broached the topic of marriage at their favorite restaurant in Chicago. The date was July 31, 1991. "As we were reaching the end of the meal, Barack smiled at me and raised the subject of marriage. He reached for my hand and said that as much as he loved me with his whole being, he still didn't really see the point," Michelle Obama shared in her memoir. "Instantly, I felt the blood rise in my cheeks. It was like pushing a button in me—the kind of big blinking red button you might find in some sort of nuclear facility surrounded by warnings signs and evacuation maps. Really? We were going to do this now?"
So the conversation went through their final course where the then University of Chicago adjunct professor had prepared a special moment. "Eventually, our waiter came around holding a dessert plate, covered by a silver lid. He slid it in front of me and lifted the cover," she wrote. "I was almost too miffed to even look down, but when I did, I saw a dark velvet box where the chocolate cake was supposed to be. Inside was a diamond ring."
Barack and Michelle Wedding Details
The future first couple had a rather large and joyous wedding ceremony and reception on Chicago's South Side. "After several years of dating, Michelle and I were married at Trinity United Church of Christ on October 3, 1992, with more than three hundred of our friends, colleagues, and family members crammed happily into the pews," the future POTUS wrote in his memoir.
The couple's officiant was Reverend Jeremiah A. Wright, Jr., a contact from the groom's days as an organizer. The wedding reception was held nearby at the South Shore Cultural Center. "It was a big wedding, and big was how it needed to be," Michelle added in her book. "If we were having the wedding in Chicago, there was no trimming the guest list. My roots went too deep. I had no just cousins, but also cousins of cousins, and those cousins of cousins had kid, none of whom I'd leave out and all of whom made the day more meaningful and merry."
Santita Jackson, the daughter of the Rev. Jesse Jackson, was Michelle's maid of honor, and held more than one role throughout the day. She also sang the couple's first dance song of "You and I" by Stevie Wonder. "We were joyful," recalled Barack Obama. "Our future together was officially beginning."
Barack and Michelle's Honeymoon
The newly-minted Mr. and Mrs. Obama enjoyed a honeymoon along the California coast, the pair taking to the Pacific Coast Highway and its splendor of natural offerings from sun-soaked vineyards to the dreamy redwoods dotted along the coastline of the Pacific Ocean.
"The day after the wedding, we flew to San Francisco, spent several days in Napa, and then drove down Highway 1 to Big Sur to read books, stare at the blue bowl of ocean, and clear our minds," the former first lady wrote in Becoming. "It was glorious, despite the fact that Barack's head cold managed to return in full force, and also despite the mud baths, which we deemed to be unsoothing and kind of icky."
Barack and Michelle's Marriage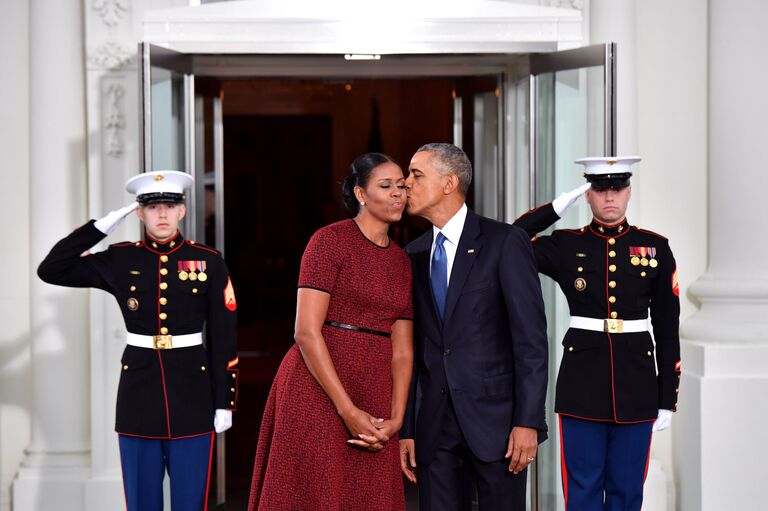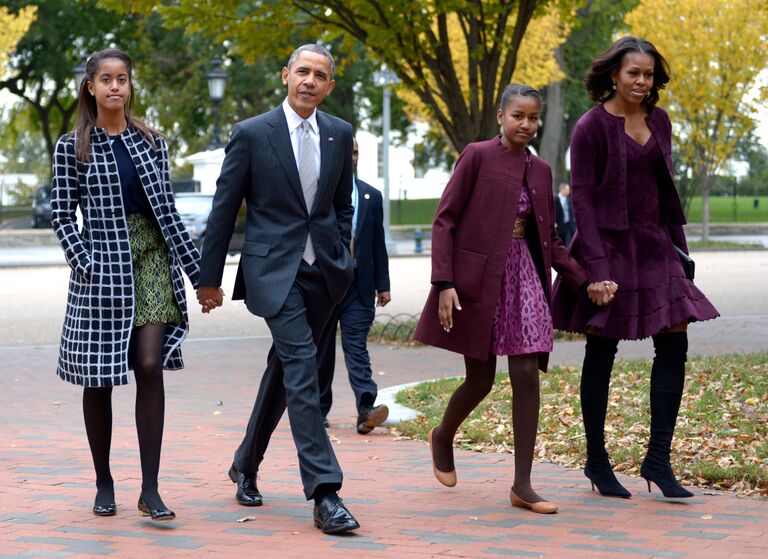 Prior to Barack launching into his political career and making his way to the highest office in Washington, D.C., he had gained the support of his wife, which has carried him—in many ways—through his time from the US Senate to the Presidency. In time, the charismatic duo expanded their social network to a star-studded list of supporters, including Oprah Winfrey, former first lady Hillary Clinton and a Rolodex of Republican Party members, spanning party lines and superceding their Democratic Party affiliation.
"Michelle never asked to be First Lady," President Barack Obama shared in an outgoing Vogue profile of Mrs. Obama in December 2016. "Like a lot of political spouses, the role was thrust upon her. But I always knew she'd be incredible at it, and put her own unique stamp on the job. That's because who you see is who she is—the brilliant, funny, generous woman who, for whatever reason, agreed to marry me. I think people gravitate to her because they see themselves in her—a dedicated mom, a good friend, and someone who's not afraid to poke a little fun at herself from time to time."