Exclusive Photos and Details From the 'Black-ish' Wedding
Plus, more about stars Laurence Fishburne and Jenifer Lewis.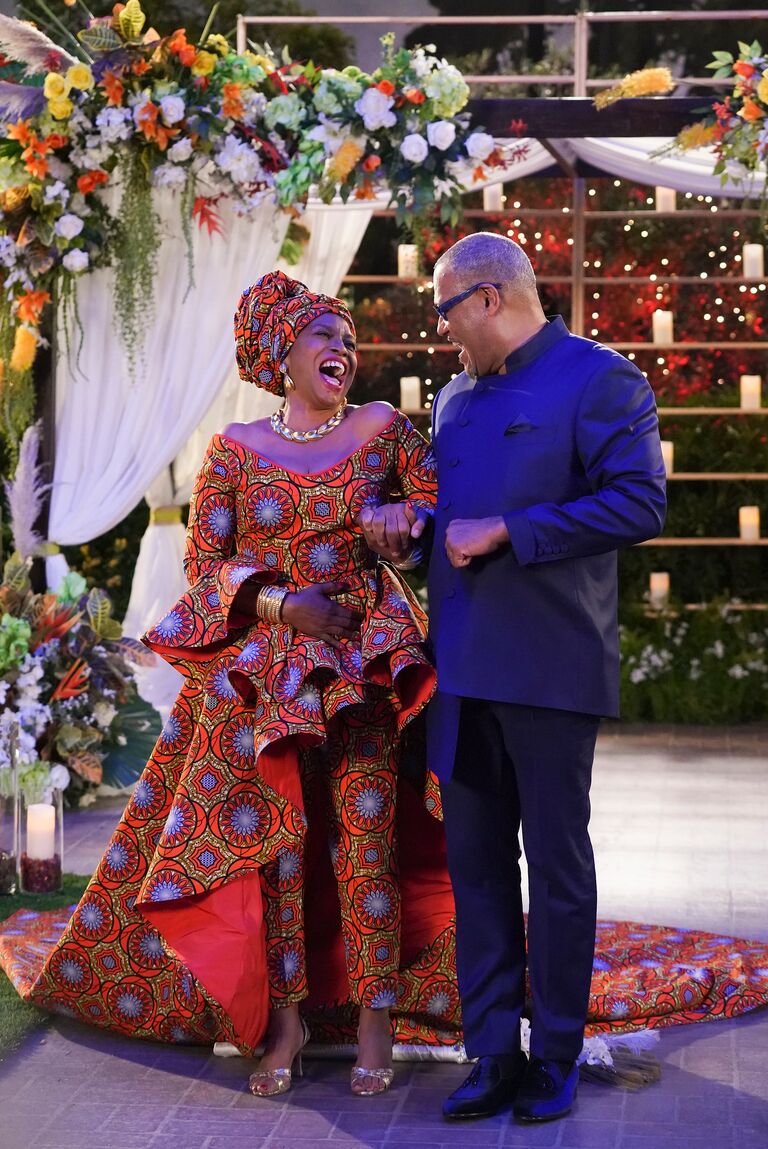 ABC / Richard Cartwright
A Black-ish wedding is upon us, and it's certainly a personalized look into events amid COVID-19. On the November 18 episode of ABC's series, Black-ish core family members, pops (Laurence Fishburne) and Ruby (Jenifer Lewis), get remarried in an intimate, at-home wedding—and The Knot has the exclusive first look and details from the TV event. "Our society tends to associate romantic love with youth," Lewis tells us of her on-screen wedding. "Therefore, I felt grateful to be part of a show that celebrates romance over age 60."
In the wedding episode, Lewis's character of Ruby dons a traditional African-style bridal dress designed by Michelle R. Cole, the show's multiple-Emmy-nominated costume designer. "The first thing we did was talk to Jenifer: she's a mature woman who knows her body and what looks good on her," Cole says. "Jenifer wanted to wear pants. And together with key costumer Stanley Hudson, we decided the piece should include a train."
The costume department had just two weeks to turn around a custom wedding dress (a feat for any design team). They got it done. "I'm a person who works better under pressure and I'm quick on my feet," Cole explains. "But the pandemic did bring some challenges when it came to shopping. It's completely different than what it was previously… I'm grateful for my team."
Black-ish Wedding Dress Details
After Cole's initial discussion with Lewis, the design expert researched heavily, looking into a variety of wedding dress styles from various countries in Africa. "Seeing their colors, their traditions and their use of Kempe cloth, we wanted Ruby's wedding dress to [include that and] to be styled like a '50s Dior evening gown," she notes. "The must-have for me was color. I wanted something that was really beautiful on the bride, and since I love piping and details, we included that around her neckline… When she's moving, you see the orange saille lining underneath her skirt and around her waist."
The African print fabric was sourced from Ashanti Fabrics in Downtown L.A., accentuated brilliantly by a flaming orange lining from Mood Fabrics. The team also imagined bouncy sleeves at Lewis's elbows, along with a cinched waistline and a delightful, detachable skirt. "As a costume designer, you always try and emphasize the best part of people's bodies, especially on the wedding day," laughs Cole. "We wanted her to look fierce and [magnificent] in a custom wedding dress. Jenifer has a great waist, legs and cleavage, and we had to emphasize that."
Ruby's Wedding Accessories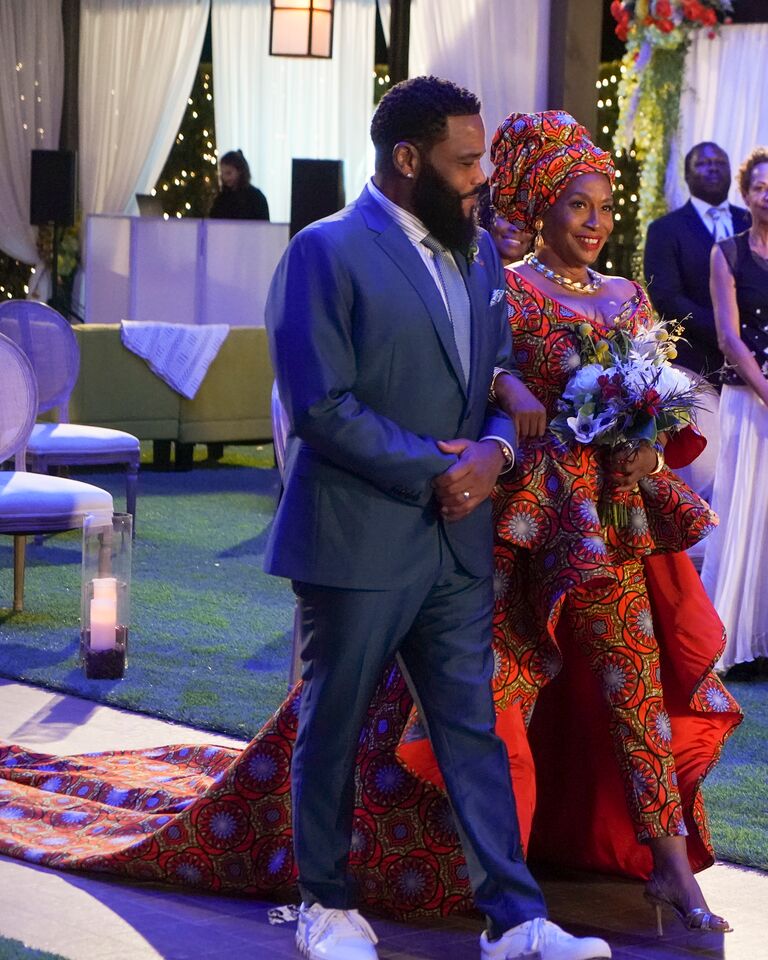 For the ceremony, Ruby's accessories were another standout component of the day. "Jenifer wanted to wear a head wrap," Cole explains. "The 'must-have' was to make her feel good. I wanted her to feel special, like a million bucks, even if this wasn't her real wedding day. Her costume needed flare and vibrant colors because in African culture, wedding gowns are really colorful. Plus, we also wanted it to be modern. It really took a village to pull this off."
The eye-catching wedding dress also included accessories like gold heels, ornate gold jewelry and a matching bouquet with mixed flowers and fillers.
Black-ish Groom Outfit Details
The other opportunity for the costume department was the groom's look, custom designed for Black-ish cast member Laurence Fishburne. "We went with a royal blue suit and a contrasted navy and mandarin collar," Cole reveals. "We wanted a slimmer look on him, and to make him tall and regal. He loved it, and I mean: he loved it. He just out the gate looking sharp, and it's always so great to see an actor really get into the style."
Accessories-wise, Laurence Fishburne, also beloved for his portrayal of Morpheus in the Matrix, added his own personal touches to the overall look. "He brought black glasses with light blue lenses," Cole adds. "Those glasses were the icing on the cake for me."
More About the Black-ish Wedding and Couple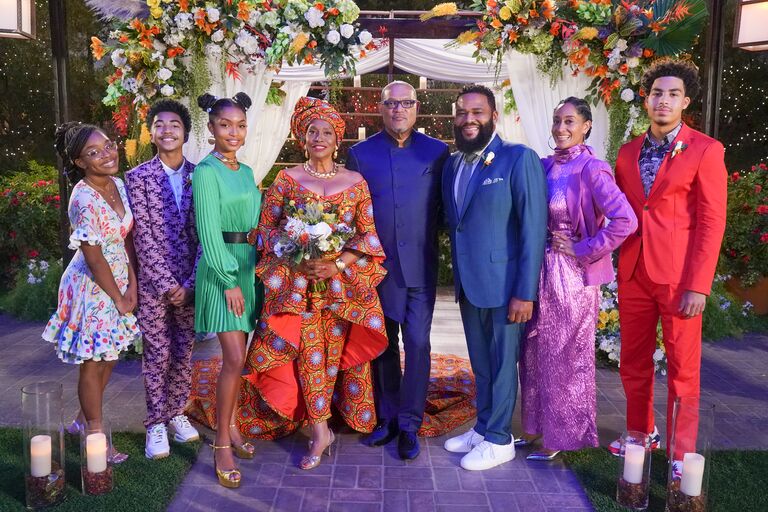 Of course Lewis and Fishburne, who play the happy couple on the show, have an underlying dynamic that spans decades of work in the industry. "He's been like a brother to me since we filmed What's Love Got to Do With It back in 1993," Lewis muses. "When we shot the ceremony, there was a lot of love between Pops and Ruby. But a deeper love was also there: we were celebrating the 27-year-old friendship between ourselves."
"Not to mention: there was a twinkle in our eyes knowing the characters we had cultivated for the last seven years would now lead to a spinoff called Old-ish. Laurence Fishburne is one of the greatest actors of our time. I am in fact, honored to be working with him on our new show." Old-ish will be the third spinoff of Black-ish; the announcement was made in September.
"Love is life," Lewis concludes. "Every living thing belongs to love. It is the air we breathe and in every blade of grass or leaf on a tree. In terms of Black couples in love, I say this: Show your love to the world and express it in all you do. Healthy romantic relationships build stronger families and more vibrant communities."
Tune in to see the special event on ABC's Black-ish at 9:30 PM ET on November 18. The episode will be available to stream on Hulu starting November 19.