The Top Wedding Trends of 2024
Don't take our word for it, just take notes.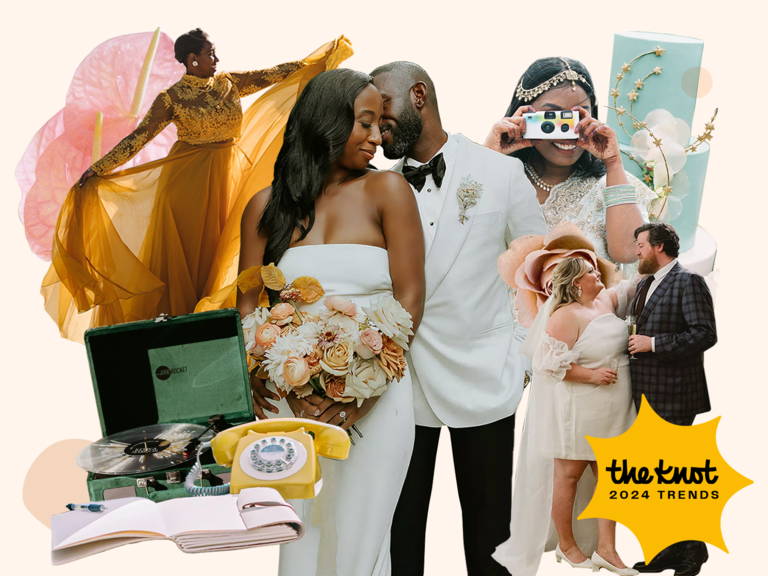 Photos: Ryan Greenleaf Photography, Lauren Mihae Photography, Nikki Daskalakis, Stetten Wilson, Jessica Yvonne Photos, Cristal Veronica Photos, Meg Seitz Photography, Sposto Photography,Ashley Goodwin Photography,Design: Tiana Crispino
The 2024 wedding trends have arrived, fashionably early and well dressed. After surviving the pandemic, the wedding boom of 2022 and the uncertainty of 2023, this year is all about love and celebration. If you're planning your own I-dos or just want to know what's hot, the new wedding trends are equal parts inspiring and down for a good time (we're high-key obsessed, thanks for asking). But the real win here is that the latest wedding trends are easy to make your own.
How We've Spotted the Wedding Trends of 2024
We don't have a crystal ball, but we do our homework and we have a little (okay, a lot of) wedding experience. Our editors look to pop culture to identify the trends that have lasting power. We take notes from the front row at Bridal Fashion Week for the latest wedding looks (we also get early access tothe bling and accessories too). Every day, we pour over amazing wedding submissions, looking for themes and stand-out ideas (yep, our couples often double as our muses). And lastly, we rely on our squad of expert pros in The Knot Vendor Marketplace to corroborate our predictions. The result of all our efforts is below: 24 of the latest wedding trends we confidently stand behind. We know some will inspire you, some may leave you speechless, and we're betting you'll see them at every wedding you attend next year.
1. Candid Cameras
Today's wedding photographers are leaning into docu-style portraiture, capturing candid moments alongside posed pictures. These realistic shots capture the energy of the moment just as much as the moment itself. To-be-weds are asking their guests to moonlight as paparazzi too, arming them with disposable and Polaroid cameras so that your loved ones will snap throughout the day. The result is a wide variety of imagery allowing you to relive your wedding day through multiple lenses.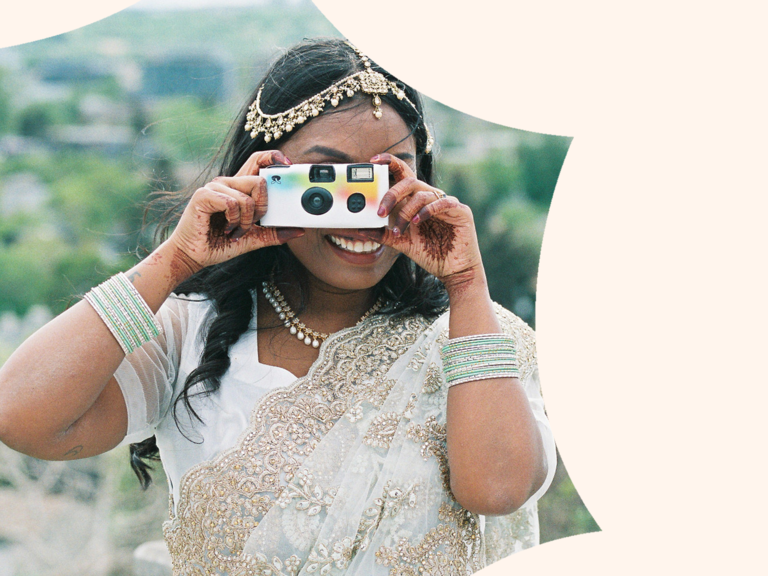 2. The Year Of The Mini
Honey, we shrunk it. All of it. From bouquets to cakes and afterparty dresses, 2024 is the year of the mini. These pint sized details are delivering big though—who says no to a mini cone of french fries attached to a champagne flute? Not us. This is an easy trend to embrace regardless of the party you're throwing. If a mini dress isn't your vibe, ask your wedding party to carry posies down the aisle or serve guests a personalized pie in lieu of a slice of cake.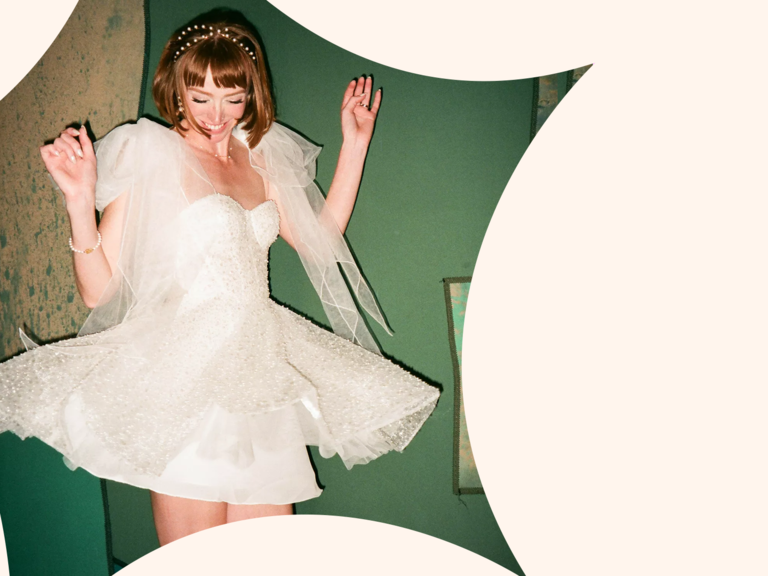 3. Experiential Entertainment
Sure you've got your band or DJ on lock, but why not delight your guests in a new way? Live painters will commemorate your wedding day on canvas (talk about a great wedding gift to yourselves). Couples are also hiring sketch artists to blend in with the crowd at cocktail hour and surprise guests with 5x7 portraits of themselves in their wedding best. These keepsakes can double as unique favors too.
4. Ice Sculptures
We know what you're thinking—this is not the ice sculpture from your parents' wedding. Not to be confused with an ice luge, this frosty decor is more personalized, like a work of art. Your fur baby can't make it to the reception? Sculpt him in ice! Create a table from a thick block to display your cake; or double up with an abstract sculpture that houses the raw bar at cocktail hour.
5. Quality Time Before The Wedding
Contrary to popular belief (cough, your grandmother) you can see your S.O. before you walk down the aisle. Really! And even before a first look. Some couples are opting to meet for breakfast the morning of their wedding to sneak in some quality alone time and set an intention for the day before the celebrations begin. Others are getting ready alongside one another and surprising their wedding party with a "first look". We're here for all of it and love that this new wedding trend is yet another reminder: you do you.
6. Drone Photography
You're right, drones aren't new, but they are one of our favorite trends that grows in popularity every year. For starters, having options when it comes to the visuals of your day is #goals (see 1.). But what we love most about drone photography is the angles, especially if you're saying I do outdoors. Many photographers and videographers offer aerial photography as part of their packages, recognizing the magic of seeing your first kiss (and all the people you love) from above.
7. Secret Cocktail Menus And Late Night Surprises
Who doesn't love a little mystery? Secret cocktail menus are trending among couples—many of whom can't settle on just *one* signature sip. The possibilities to execute this trend are endless: put a hidden note on the ceremony program, or designate a few people to order the beautifully garnished bevy and spread the word. A secret cocktail also needs a chic name, like the restaurant where you had your first date. Keep the surprise and delight coming with a late night snack. Mickey D's your first love? Or maybe you're more of a taco truck kind of couple? A french fry bar or soft pretzel stand is sure to end things on a high note.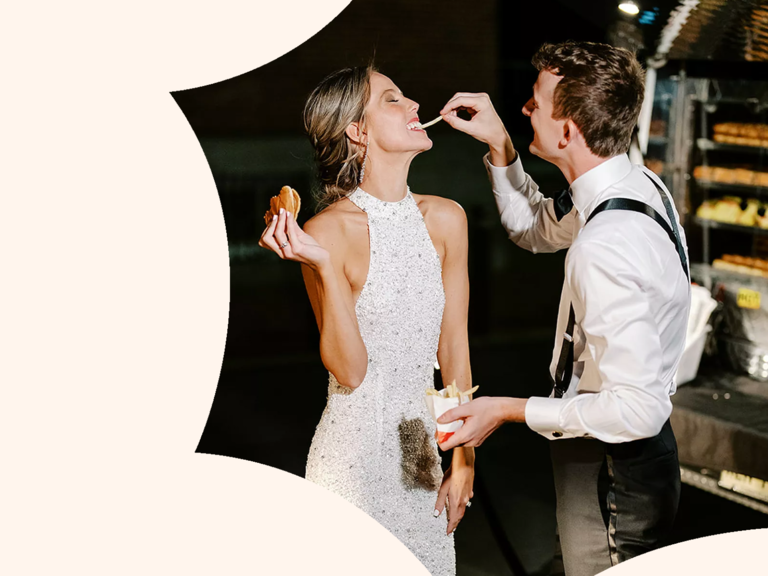 8. Themed Rehearsal Dinners
Soft launch the magic of your wedding day with a themed rehearsal dinner. Most attendees are your nearest and dearest from family to wedding party VIPs—why not dazzle them? Couples are using the rehearsal dinner as an opportunity to deliver a highly personalized guest experience by leaning into a specific theme. Highlight your Italian heritage with an authentic pizzeria experience, complete with make-your-own-pies. Love playing Clue on cozy nights in? Host a murder mystery dinner for a truly memorable experience. Met at a bowling alley? Roll a strike!
9. Textured Cakes
Is it *even* a wedding without a cake? We think not. The new trend in wedding cakes is all about texture. From pleats to lace, there are so many options to personalize your confection. Stenciled patterns that match your grandmother's wedding china or ruffles that mimic the design of your wedding dress are low-key ways to add a little flourish to the finale of your day.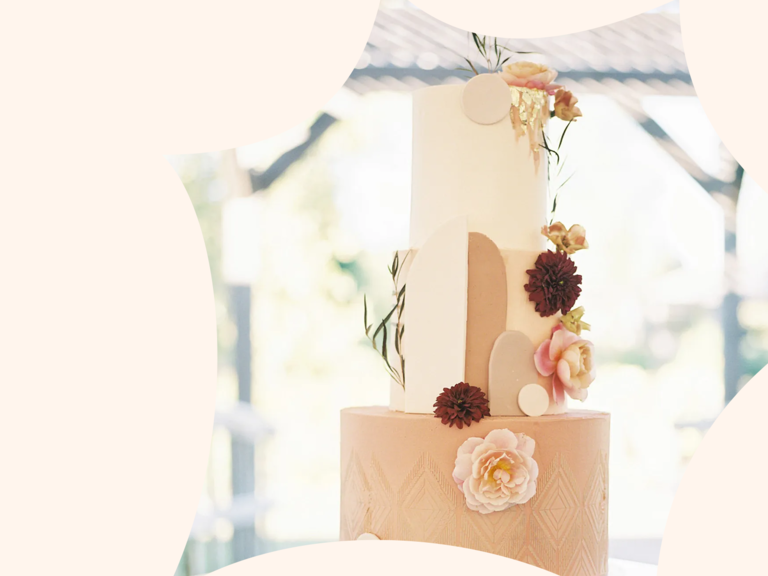 10. Audio Guest Books
Instead of asking guests to pen a few words on paper, record their well wishes on a vintage phone. These fun retro accessories double as recording devices—and the ultimate wedding keepsake. While a note is always nice, there's nothing quite like hearing your grandmother share some marital wisdom or your college roommate crack an inside joke—especially long after the wedding day. Audio guest books are a wedding trend we could see lasting well beyond 2024.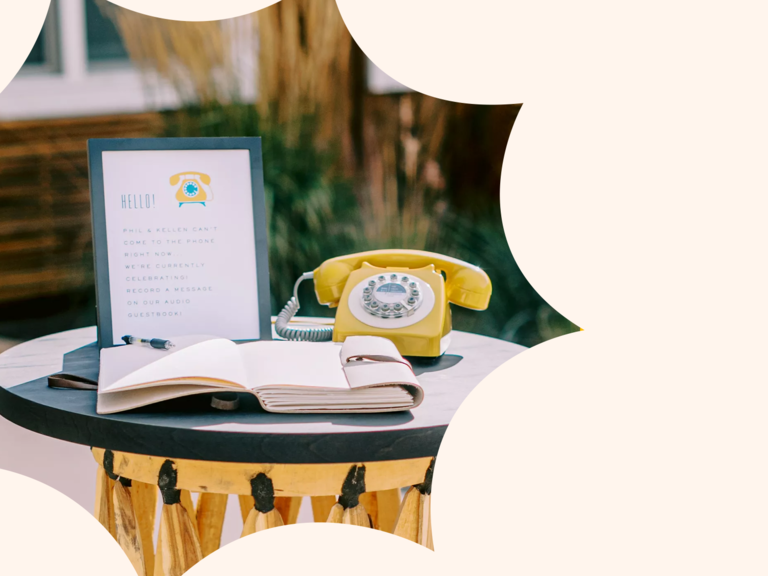 11. Nautical Nuptials
Introducing a completely unique way to wed and party the night away: a boat. Your guests are held captive! There's no noise restriction! And that's saying nothing of the views and gentle breezes you'll get aboard the S.S. I Do. Party boats are the venue of choice for couples in 2024. These floating settings are perfect for nautical soirees or sailing-loving couples. Pro tip: Give this trend its moment by timing your nuptials with golden hour.
12. The New Guest Dress Code
Perhaps you've already given a lot of thought to what you'll wear, or even your wedding party, but what about your guests? Couples are getting more specific with their wedding day dress codes. "Cocktail attire" has been swapped for specifics like, "wear something red" or "no black suits". Themed attire is also a thing, with couples requesting "western wear" or "regency-inspired formalwear". If this trend speaks to you, embrace it kindly—give your party-goers some guidance on what to wear or share your vision with wedding VIPs to spread the word. Also, and we have to say it, don't be disappointed if people don't follow your dress code to the letter. It's your day, but it's their choice.
13. Monochromatic Flowers
Flowers and weddings just go together—you can't fight it. The 2024 wedding trend we can't get enough of is monochromatic blooms. Surprisingly, single color stems pack a punch in small posies and massive arrangements alike. Want a little variety? Opt for shades of the same hue (light pink, magenta, deep reds) for an ombre effect. Can't settle on one color? Group arrangements of the same color together to create a floral rainbow of sorts.
14. Exchange Private Vows
This trend isn't just for introverts (but we know they'll especially love it). Couples are exchanging private vows ahead of their prime time ceremony, a confidential and heartfelt shift from more public declarations of love. If you prefer to wait until the main event, your officiant can let your guests know you're exchanging private vows and give you time to quietly share your promises, mic off. Many couples who go this route still exchange traditional marriage vows (think: "till death do us part") in front of their loved ones.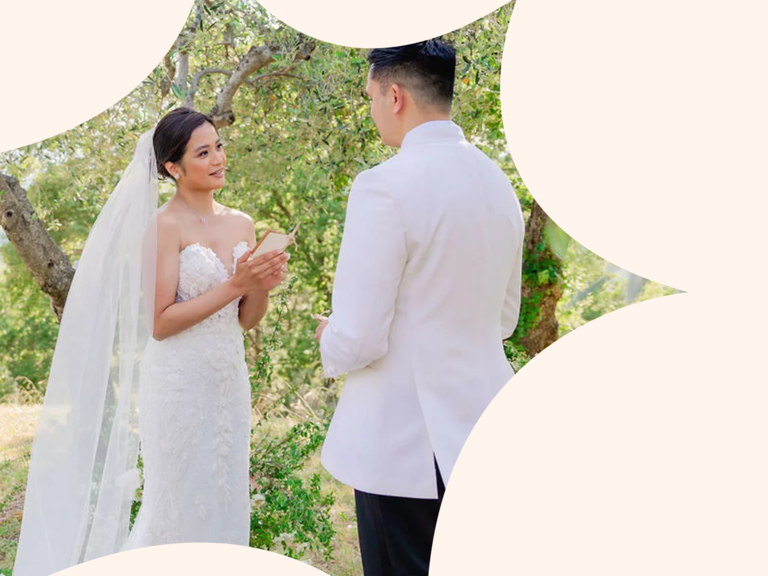 15. Permanent Favors
Delight your guests with the latest in favor trends. Instead of sending loved ones home with monogrammed chocolates, consider something more permanent. Couples are treating guests to bracelets that are welded onto wrists, in addition to tattoos and piercing stations. Yep, you read right. Too avant garde for your taste? Hire an on-site engraver to personalize candles for your guests or an embosser to add initials to leather bound journals.
16. Day-After Recovery Lounge
You just treated your guests to an unforgettable night. Be a little extra and give them a really good morning after too. Couples are trading a sit-down brunch in favor of recovery lounges. In addition to grab and go breakfast options, guests are treated to chair massages, ginger smoothies and even IV drips. You can swap stories from the night before and spend some more quality time with your guests before wrapping the weekend.
17. Mix Things Up
Who says you have to say "I do" before cocktails are had? The latest wedding trend is a little event mashup. Treat your guests to cocktail hour *before* the wedding. Or hold your ceremony at your rehearsal dinner (hey, it's a more intimate gathering after all) and let the wedding day be about the celebration of your new status. We're also here for surprise nuptials positioned as an engagement party or even a housewarming. TL; DR: there's no right way to wed.
18. Sizzle Reel
Picture this: It's the morning after and you *need* to relive last night. Enter the sizzle reel. This 90 second snippet of your wedding video delivers. It's a high energy snapshot of the fun and magic of your wedding day, from clips of your vow exchange to the last dance. Ask your videographer about this 2024 wedding trend—you won't regret it. We are living in the reel world after all (sorry, had to).
19. Dress Separates
We love a good second look. But we'll do you one better: dress separates. The bridal fashion runways were full of skirts and tops and dresses with removable layers, making this one of our favorite fashion trends for 2024. Double looks without having to waste precious wedding day minutes changing looks (it's the fastest day of your life, trust). We also saw plenty of dresses in eye-catching hues, including black!
20. Celestial Vibes
Is there anything more mystifying than the cosmos? Celestial details are one of the 2024 wedding trends living rent free in our heads. From zodiacs to moon phases and meteor showers, there is plenty of inspo in the galaxy. There are dozens of ways to incorporate this theme into your wedding, from naming your tables after constellations to offering guests palm readings and beyond. (DJ, play "A Sky Full of Stars" by Coldplay.)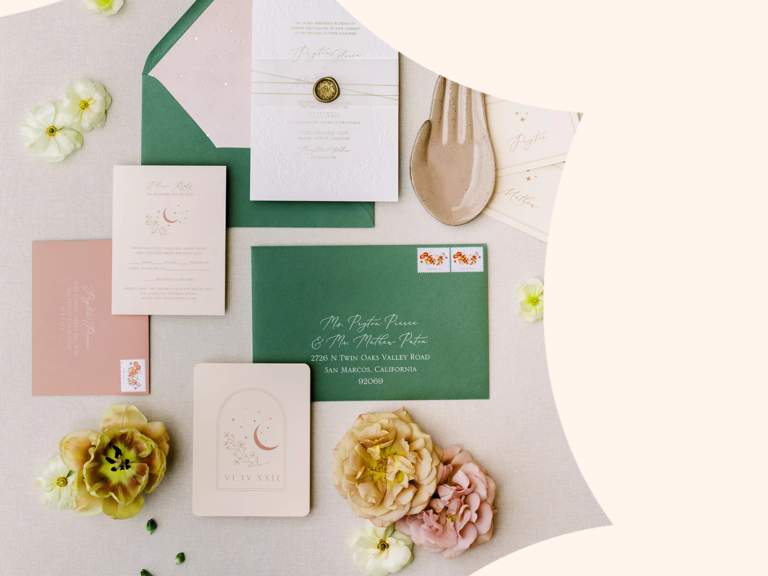 21. The Last Dance
We are here for this new wedding trend: instead of taking the dance floor for your first dance to kick off your reception, save that sway for last. End your wedding day with a special song, surrounded by your loved ones. You'll have the same spotlight at the end of the night, but we're betting a few less nerves after a couple of hours of celebrating. We call that a win-win.
22. Unforgettable Exits
We're not saying sparklers are out, but the 2024 wedding trend we're hyped for is cold fireworks and laser shows. Cold fireworks produce sparks at a low temperature making them safer than their fiery counterparts. Laser shows can be set to music and double as a final moment of entertainment for your guests (this is an awesome choice for events being held indoors, start to finish). Either way, you have yourselves an unforgettable exit.
23. Seated Wedding Parties
You've identified a ceremony seat for your VIPs (mother of the bride, father of the groom, etc.) why not your wedding party? Giving your squad a seat means they're comfortable and you and your soon-to-be spouse have the full spotlight for your vow exchange. Reserve some seats in the front row so that your people get an unobstructed view of your commitment.
24. Minimoon Plus a Honeymoon
What's better than one honeymoon? Two! Couples are saving that bucket list trip for a later date and are instead taking a minimoon to a nearby destination (even the wedding locale) to recharge and relive the memories of the day. These weekend long respites are the perfect way to celebrate, small scale. We love this travel trend for couples who like to maximize their time or for duos whose dream honeymoon location is out of season (like the Amalfi Coast in February).