Elaine Welteroth on Her Wedding Moment That "Illuminates What It's Like to Be Black In America"
"It's why celebrating Black love is important; because we still have to defend why Black lives matter," says The Knot cover star.
I originally contacted Elaine Welteroth's team under the context of COVID-19. The bestselling author, activist and Project Runway judge's viral stoop wedding to musician Jonathan Singletary is a beautiful example of love conquering all—even during a pandemic. I thought their story aligned perfectly with a bigger feature we were doing around weddings and the impact of the virus. But just a few weeks into our conversations came the harrowing and tragic death of George Floyd at the hands of the police. A killing that had been preceded by Breonna Taylor, Ahmaud Arbery and countless other Black people.
As protests took place across the US and the world, it became clear that Elaine and Jonathan's voices should be heard in the context of Black Lives Matter. Even with the weight of the current situation getting heavier by the day, when I connected with Elaine and Jonathan over Google Hangouts, their energy was joyful and positive. Read their account below.
"One thing we've been talking about is this term 'Black Life Matters' as well," Jonathan says. "It's important to smile, it's important to find moments of joy, it's important to find peace in the storm, it's important to find gratitude even when it's difficult."
He points out the sad fact that this isn't anything new for Black people. "This thing is loud right now, but African-Americans and Black people have been dealing with tragedy and trauma and finding ways to smile through it, laugh through it, dance through it, celebrate through it, connect to our communities through it as our only way of surviving and being resilient," Jonathan says. "We've literally been told that our wedding was one of the brightest moments in a dark time that kind of got darker. It definitely was for us. People are able to kind of hold on to that memory—and we're able to hold on to that memory—and I think those moments fuel you to be able to get through darker times like this."
Looking at Jonathan, Elaine answers simply, "That was beautiful," before looking back and joking, "Who's the writer in this family?" Perfectly exemplifying the point her new husband just made—smiling through pain.
"I think we can't only ever say 'Black Lives Matter' in the context of Black bodies—Black dead bodies. We need to understand deeply, every single day, 'Black Life Matters,' and that's what this fight is for," Elaine says. "It is for Black life, it is for Black love, it is for Black joy, it is for Black peace. Not more Black pain, not more Black trauma, not more Black murders and hashtags. This is almost like a battle for Black people to keep being humanized. It's why celebrating Black love is important; because we still have to defend why Black lives matter. I think when you see examples of Black love in this time, it helps to contextualize. It helps bring us all to the table, and it helps us see each other in this."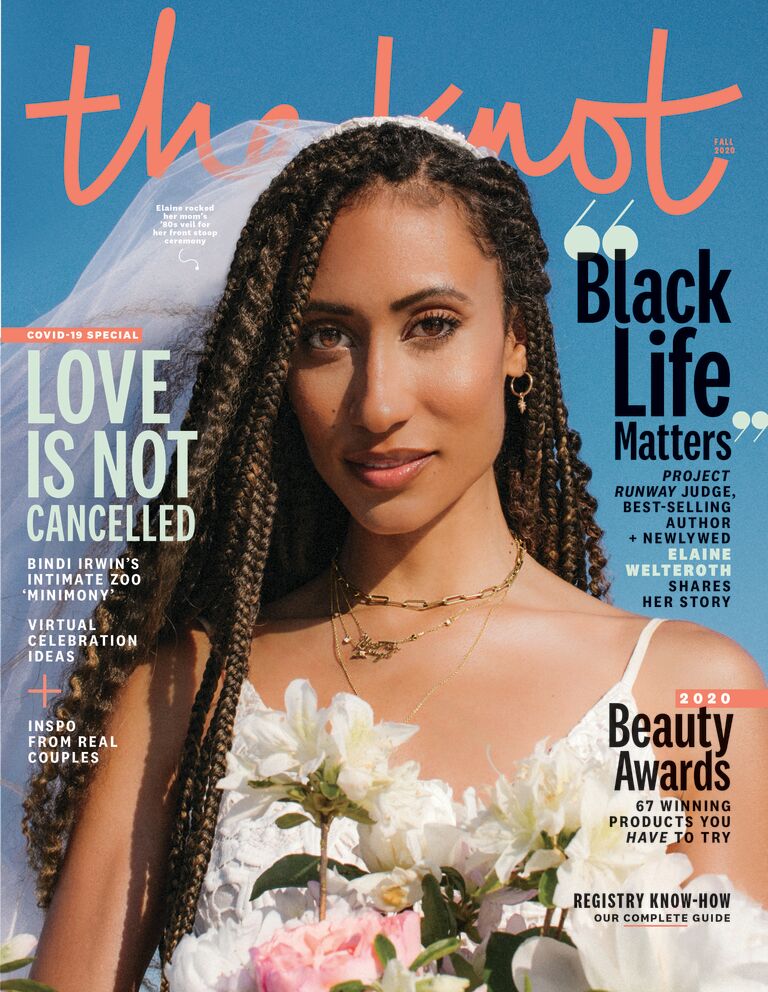 The story Elaine shares next about the pair's May nuptials mirrors an unimaginable number of situations and events Black people experience every day due to systematic racism—for Jonathan and Elaine it happened to take place on a day that should be brimming with joy and hope, not fear.
"I was not sure that I wanted to share [it]," Elaine says. "But it felt necessary to share now. The thing about our wedding and the way that we shared it—it's like there was this glossy, Instagram version of the wedding video, but there was also a moment [the video team] didn't capture that really was the defining moment of our wedding and, honestly, a defining moment of our union. And a moment that really illuminates what it is like to be Black in America every day—trying to celebrate your love, trying to exist joyfully, trying to create a moment of celebration for our lives."
"Obviously we got married in the middle of a pandemic, so, naturally, we took health precautions very seriously. One of the main parameters of the wedding ceremony was that it had to be a socially distanced ceremony. So rather than having a seating chart, I had a standing chart. I had people's names written in chalk on the sidewalk, and we literally measured with measuring tape so that they were each 10 feet apart at all times," she continues. "I took pains to make sure this was going to be safe for people and that we were not breaking any rules. Everyone had masks, everyone had gloves and the community got a heads up about it. So the community came out in masks! It was such an important day for us and the community to have a reason to celebrate life and love and joy in a time of darkness."
There was, however, an uninvited guest who made their way through the ceremony. "And right at the moment when our pastor said, 'You may kiss the bride,' his voice was drowned out by the sound of sirens—a police van. It pulls up and starts going in on his…[megaphone] and he's yelling, 'Clear the streets. Disperse.' It was aggressive," recalls Elaine. "Literally, the police interrupted the moment where we were supposed to kiss—have our first kiss as husband and wife. I just thought, 'What do we do?' And I almost forgot to kiss him."
"In that moment, all of the most terrible things that I've seen take place between the police and Black bodies flashed before my eyes, and I could just feel the panic flood my veins. And I'm just like, 'Have I put my community in danger? Have I put myself in danger?' And as a Black person, when you see the police, you don't think, 'They're just here to make sure everything's going to be okay.' You don't see 'protect and serve.' You really see a symbol of danger. You see the red. And it triggers past traumas," she continues. "I don't know a single Black person in this country who has not had a negative experience with police. I personally have experienced it—more than once. And I don't think people would ever think that about me because people have a false notion that you can educate yourself out of this kind of thing. That you can ascend in your career, or that a certain amount of social status or privilege could sort of insulate you from this kind of discrimination, and it's just not true."
"Jonathan has gone through things in his life with the police that he never should've [had to go through]. That he never deserved and that no man deserves, but this is very present, real trauma. And that [trauma] gets brought up every time we see the police. So, even in the pinnacle of a joyous moment, it tears at the very core of our humanity, and it reminds us that we are not afforded the same pursuit of life, love and happiness—that's not afforded to so many Black people. And our love, our joy, it is fragile," explains Elaine. "Because in a moment, you can go from being celebrated and on a high and feeling joyful and being in a state of love with your partner to being...to honestly being flat-faced on the ground with someone's knee on your neck. Like, that's a reality. It sounds like hyperbole, but that's a reality in this country. To have to contend with that and even just go through that emotion and the thoughts of that [during our wedding], it threatened to steal our joy. It threatened to steal our moments and rob us of this celebration that we had painstakingly preserved."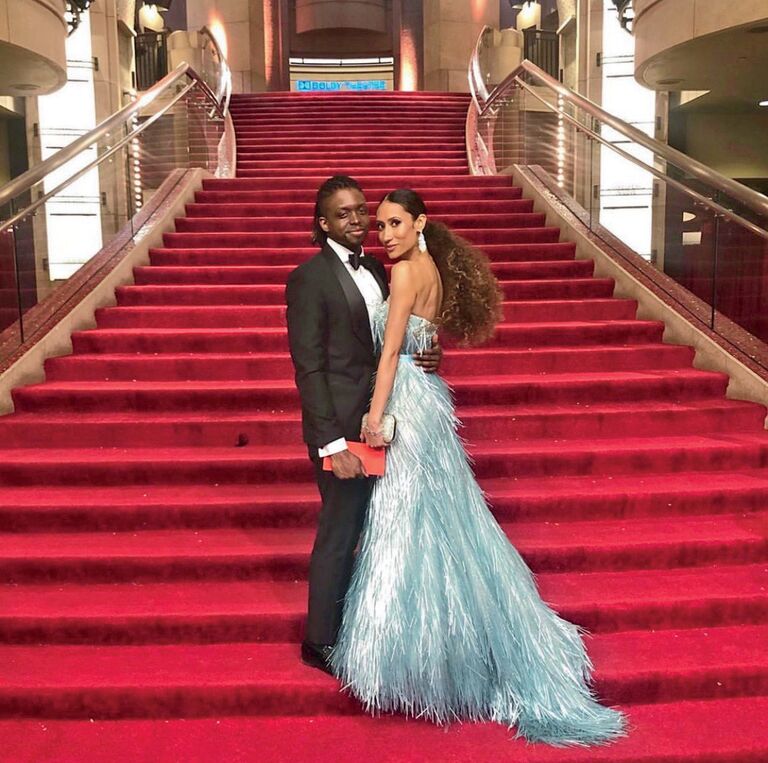 "And I just remember looking at Jonathan and I was like, 'Okay, he's smiling. He's okay.' Everyone in the community was cheering us on. And I thought, 'We're okay. Let's do this. Let's do this. Let's do this. Let's do this anyway. Let's do this anyway—I'm not giving this to them. We're not doing anything wrong,'" she reflects. "And we just kissed, and we held hands, and the music started and we danced into the street. But I will tell you: My mouth was dry, my hands were...my palms...I am sweating just repeating it because it was so traumatizing. I feel like I have PTSD from it. Like, my hands and my palms were sweaty. It was as if what we were doing was an act of defiance. It was like a peaceful demonstration. Dancing in that moment and our first dance was a form of peaceful resistance, and I felt like I was being held by the love and support of the community. But I was scared. Jonathan and I smiled, and we were dancing, but he knew and I knew, and we were asking ourselves, 'What are we doing? Are we okay? Are we okay? Is this all over? Is everything going to end? Is it over? Have we made a huge mistake? Are they calling backup?'"
"I'm just thinking of the worst-case scenarios and...it really does feel like our wedding planner was God. In that moment, I really believe it was nothing other than an act of God that intervened and made those cops have a change of heart. It also doesn't hurt to have a best friend with dimples and long legs and a Southern belle accent—and she worked her charm on those men. And even as she was speaking with them, she said they were so aggressive and they never confirmed that they were going to let us go. They never actually said, 'Oh, alright, alright.' They never conceded. When she backed away from the [police] car and they started pulling out—she honestly didn't know what they were going to do. And when they decided to just drive on by, I've never felt such relief in my life," the bride continues. "I was also in disbelief because that's not the outcome we've seen play out between cops and Black communities. But then the whole block erupted in cheers. It was such an emotional moment. And I came out from behind the car I was hiding behind. [I was] literally worried that I was going to get arrested on my wedding day. I was worried about my friends who had shown up for me. And when [the police] passed, I was out of breath. I thought I was going to have an asthma attack, and I just dropped on the ground and I just started crying. I just felt like, 'Thank you God for giving us...for just this one day that you preserved us. Just this one moment that you preserved for us.'"
"But there were people there who are not Black and haven't experienced that exact same scene. Like, they were there [at our wedding], they saw it happen, but they didn't experience it the way I experienced it. And that in of itself illuminates the difference in our lived experience as Black people," says Elaine. "Even if we are in the same business—we are in the same level of our business—we could be the greatest of friends, but you don't know what it's like to be a Black person in America. And that moment was another example of that in my life. It was such an incredible thing that we were able to preserve that moment. That I could stand up, look at Jonathan smile and be reassured. Our friend who was the DJ played our song again, and we were just like, 'Okay, we're alive. Like, we are good, everybody's okay. Let's do this damn dance again.' We wanted to do it again, and this time without the cops trying to bust us...interrupt us. And it was such a triumphant, liberating, emotional moment that everyone participated in with us. It was like a wedding miracle. It was so special and yet so marked by some of...the deepest traumas that we carry with us every day as Black people. It illuminates this idea of what it's like to be Black in America in a way that words can't. In a way that you had to just see the video. And so that's why I decided that after we put out this picture-perfect, edited video that everyone was so uplifted by—which was important and served an important purpose in that moment—I decided it was important to share the Zoom video. The crummy, gritty, Zoom footage of that moment, because we don't exist outside of that here. Even in our joy, even in our love, that fear still exists, and it's important that folks see that and remember it. It's so emotional…it's so emotional just thinking about it."
"But it also reminds me of why it is important. There's no way we could have known that when we planned our wedding in the middle of a pandemic, that just three weeks later, the world would need a moment like our wedding as much as we do now to get through this moment," says Elaine as she looks to her husband. "And you said it so eloquently, I don't need to underscore it. But I think it just felt like, again, God was our wedding planner and we were obedient. We did the thing that we were supposed to do without even knowing how it was going to be used to bring joy to people in dark times. Not knowing how far and wide this was going to reach, and not knowing really what purpose it served. But now in retrospect, in hindsight, the way we did our wedding just feels more and more significant as the days go on. It feels more and more like we understand why we were called to do it exactly that way and in exactly this moment."
Check out more from The Knot Fall 2020 issue here.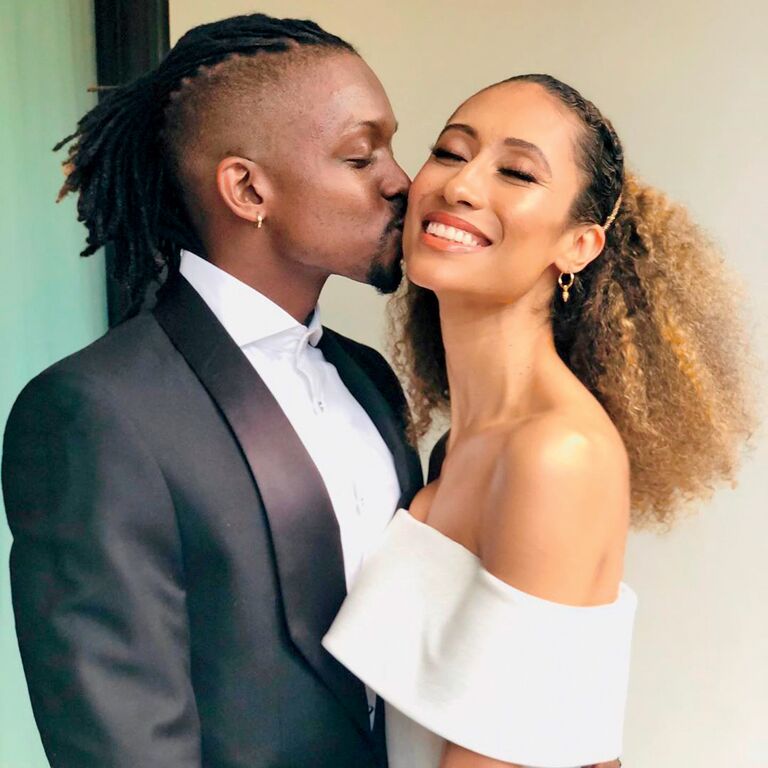 More Details About Their Brooklyn Wedding
Welteroth and Singletary's original wedding date was May 10, 2020, and the pair had to make a final call by April 1. "There was such significance in those numbers," she previously told author Priya Parker in a New York Times conversation. "I had to recognize what was making me sad about this. There are always layers, and I wanted to get to the root of why am I really sad. What pained me more than missing out on this big moment that we had planned together was missing out on our day. This date. I didn't want to give up the date… I said, 'Jonathan, I am marrying you on 5-10-20, even if it has to be on my stoop in Brooklyn, even if it's in my sweats. I got the thing that mattered the most. The party could wait. It took us three-and-a-half years to get to this place of readiness in our relationship, and I wanted to celebrate that."
Ultimately, they ended up sending a notice to loved ones with a Zoom wedding update. "Everyone was bracing themselves for the announcement that we were postponing," she recalled. "And what they were expecting to be a sad email… became this joyous email. People felt a lot of hope that we still were pushing ahead and one of the things that inspired this whole concept was seeing online this meme that said 'Love will not be canceled.' That resonated with me so deeply. love will not be canceled, I'm not giving up my date."
The couple hosted their Zoom minimony, which included a video montage of photos in the "waiting room" in the virtual hangout. They enacted a mandatory, all-white dress code for everyone on Zoom, but from the waist up. "Wow this wedding went from white-tie to pants optional!" one guest joked. The pair hired specific wedding vendors to help out, including a local florist to decorate their stoop. "Every vendor that I called on was so enthusiastic about making this special because for them it was also an opportunity for them to reconnect with their passion," she said.
Neighbors also witnessed the nuptials from their stoops as the couple resides in Brooklyn, within a sea of brownstones. "We're not praying for good weather," it was also noted by the couple. "We're praying for good WiFi."
Elaine Welteroth & Jonathan Singletary's Love Story
The couple first met as teens when they attended church together in Fremont, California. The scribe wrote about their relationship origins in her memoir, More Than Enough, published in 2019.
"When Jonathan, the nerdy-glasses-wearing, science-studying private-school boy I met in church choir as a teenerager all those years ago, reemerged in my adult life while hunting for a job in New York City, we met up for a drink," she recalled. "By then, he was post-grad school at Stanford, and had grown into a broad-shouldered, beautiful man… We fell into a different kind of love. One that was sturdier, safer, and more like home than anything I'd ever experienced."