13 Black Wedding Dress Designers to Follow Now
These gorgeous bridal collections should be on your radar.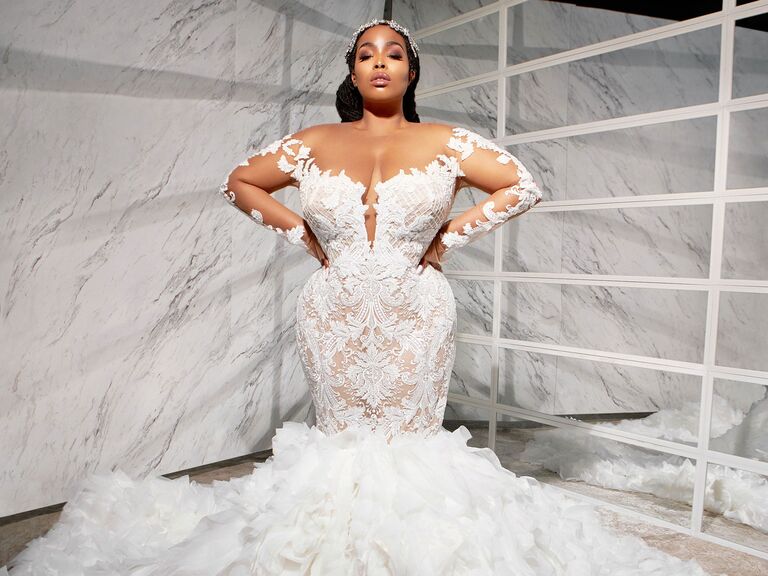 The wedding industry has made strides in recent years to become more inclusive, but there is still work to be done. Perhaps one of the most poignant examples of the lack of diversity in weddings is bridal fashion. When thinking of mainstream wedding dress designers, few people of color come to mind. The problem is not a lack of talent and stunning designs, but rather, a lack of representation and exposure.
"What became obvious in my decision to work in the bridal industry was that it lacked inclusion. I wanted to create a safe place for brides to be celebrated for exactly who they are," says Andrea Pitter-Campbell of Pantora Bridal, a salon catering to Black brides. "Ours is an important story to tell. As I often say, we're bigger than wedding dresses."
Here are 13 Black wedding dress designers to follow now.
1. Andrea Pitter-Campbell of Pantora Bridal
Andrea Pitter-Cambell established Pantora Bridal to address a lack of inclusion and diversity in the bridal industry. A combination of classic silhouettes paired with modern details, Pantora Bridal is made for the glamorous bride who doesn't shy away from edgier trends. Highly customizable, the collection features gowns with various alternative strap, neckline and skirt options. Above all, Pantora Bridal designs with the Black bride in mind. Illusion details are a huge trend in bridal, but standard mesh colors don't work on darker complexions. "Black brides are constantly offered a nude that isn't a nude that works for them, but no nude is universal," says Pitter-Campbell. So the brand launched Forgotten Skin Tones, a selection of illusion and mesh linings created for brides of color.
"The Pantora aesthetic is glamorous and edgy, yet familiar. I wanted to strip away the idea of all societal beauty standards. It became important for me to create a place where women could be understood, honored and celebrated."
Where to follow: @pantorabridal
Where to purchase: PantoraBridal.com
2. Amsale Aberra of Amsale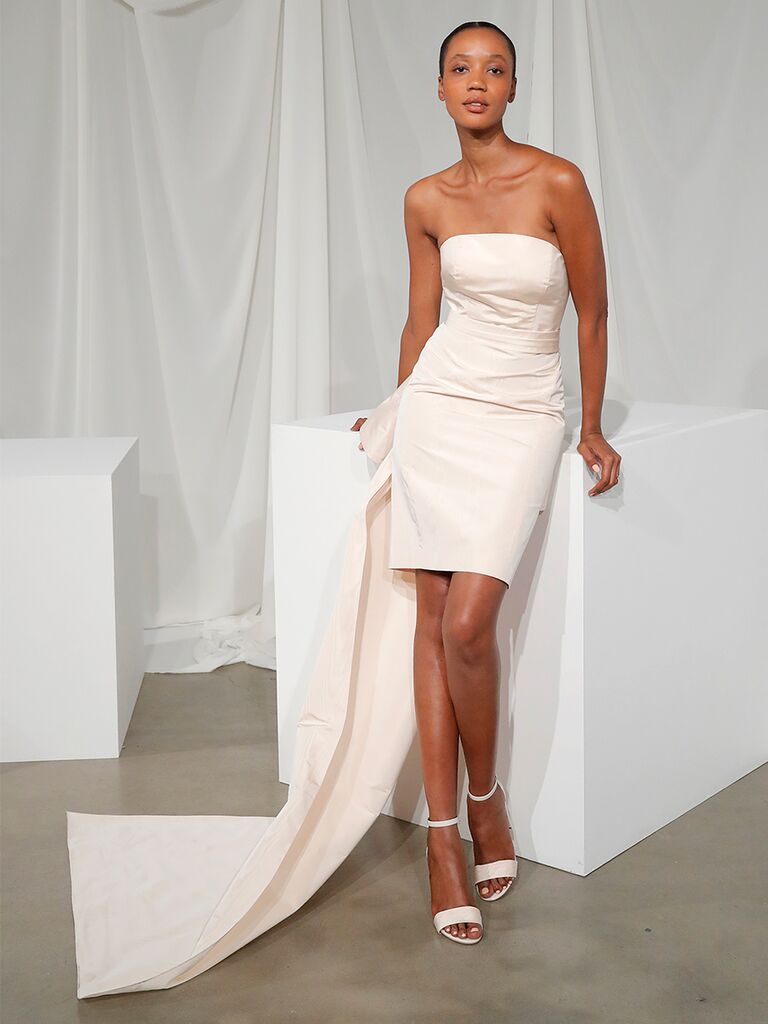 Since Amsale Aberra first launched her namesake label in 1990 with groundbreaking designs, her minimalist aesthetic changed the course of wedding dress trends. The Ethiopian-American designer's eponymous label came about during Amsale's own search for a more streamlined, sophisticated wedding gown. Disappointed with the over-the-top wedding dresses of the '80s, she designed her own gown. Determined to serve brides like herself in the years that followed, Amsale started selling custom wedding gowns from her New York City apartment. Although Amsale passed away in April 2018, The Amsale Fashion House is devoted to carrying on her 30-year legacy under the design direction of Margo Lafontaine. The brand now has three lines: Amsale, Amsale Nouvelle and Little White Dress by Amsale.
Led by Amsale's husband, CEO Neil Brown, and her daughter Rachel Brown, the brand is carrying on her legacy as a trailblazer. "Amsale was the inventor of the modern wedding dress, and now we as a brand strive to invent the modern wedding experience. In many ways—and especially in the wake of a global pandemic—that means a shift toward technology. We've developed tools and services to help brides shop and plan remotely, from a virtual try-on tool that allows brides to upload their own photo and see what different styles look like on; to our Amsale x You design-your-dress platform; to in-depth, one-on-one virtual styling appointments. It is our mission to design refined wedding wear for the modern bride—and for her modern wedding experience," says Neil Brown.
Where to follow: @amsale
Where to purchase: Amsale.com
3. Stephanie White of Odylyne the Ceremony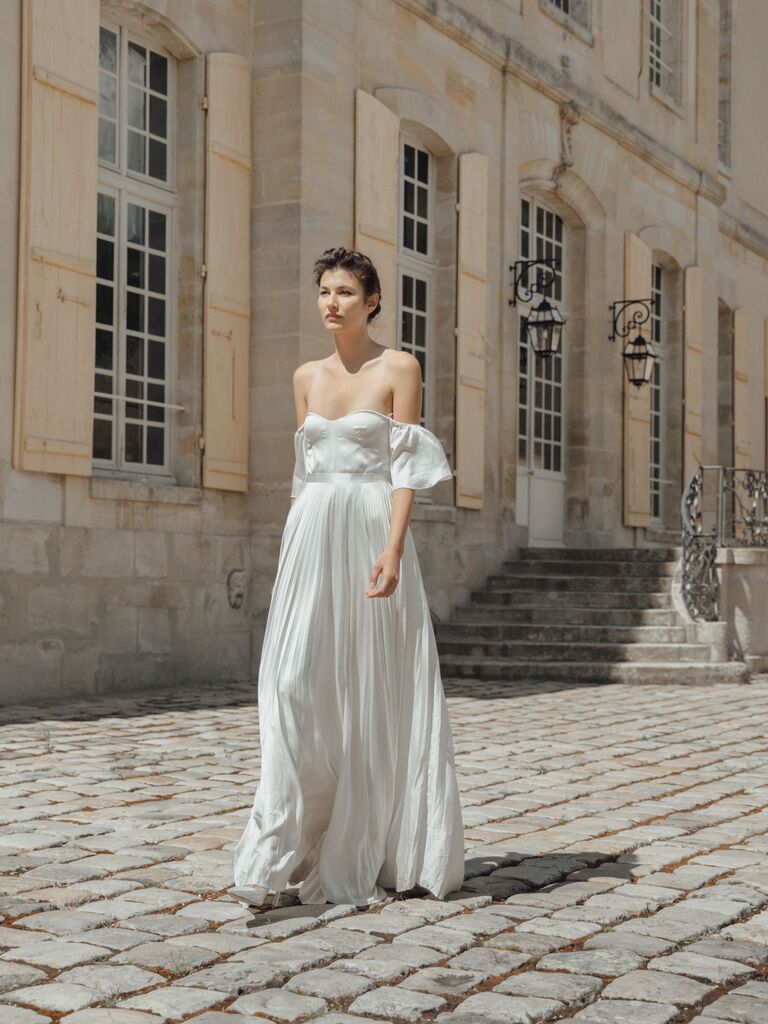 Designed by Stephanie White, ethereal bridal brand Odylyne the Ceremony is made for the free-spirited, boho bride, who doesn't shy away from ornate embellishments and delicate details. Inspired by the dreamy works of French painter Odilon Redon, Odylyne the Ceremony infuses every gown with a sense of romance that pushes the limits.
"At Odylyne the Ceremony, we have a simple mission: To create a dream-like state in reality of the strong expectations that you may have on one of the most special days of your life," White says. "Our collection is curated for the bride that understands that standards are meant to be challenged, and the limits should feel endless. In our ethereal sphere there lies no reasoning, no typicality, no explanations, no realism, no comparisons, nothing ordinary, and no normalcy. Our mission is to help you leave all of those things behind."
Where to follow: @odylynetheceremony
Where to purchase: OdylynetheCeremony.com
4. Jean Ralph Thurin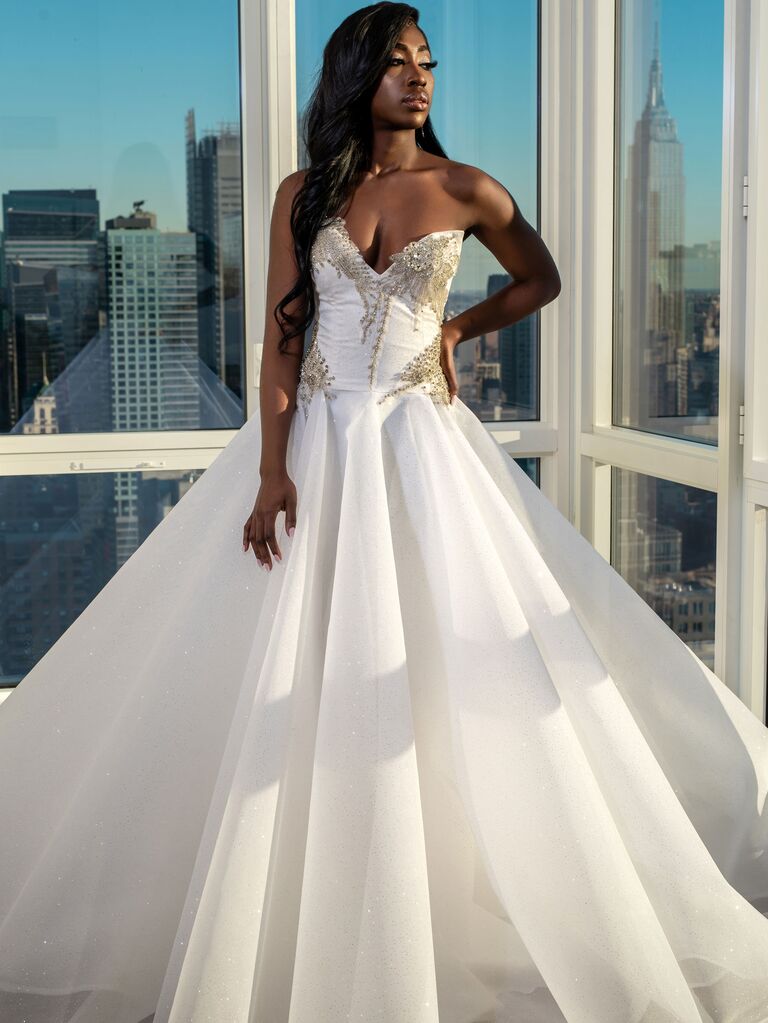 Designer Jean Ralph Thurin's twenty-year career in fashion began as a childhood fascination with his grandmother's sewing skills and iconic Couture Houses such as Dior and Givenchy. A graduate of Parsons School of Design, the designer specializes in custom bridal gowns and evening wear, with a focus on pieces specifically created for Black women and their bodies. Recently, Jean Ralph Thurin launched HUExJRT, a collection of gowns with illusion and see-through details, customized to perfectly match any skin tone.
"As a custom designer, I pride myself in designing for the bride who has a good sense of self, is strong, confident and passionate. As such, my designs are as unique as my brides since they are made to capture their essence and authenticity," Thurin says.
Where to follow: @jeanralphthurin
Where to purchase: JeanRalphThurin.com
5. Esé Azénabor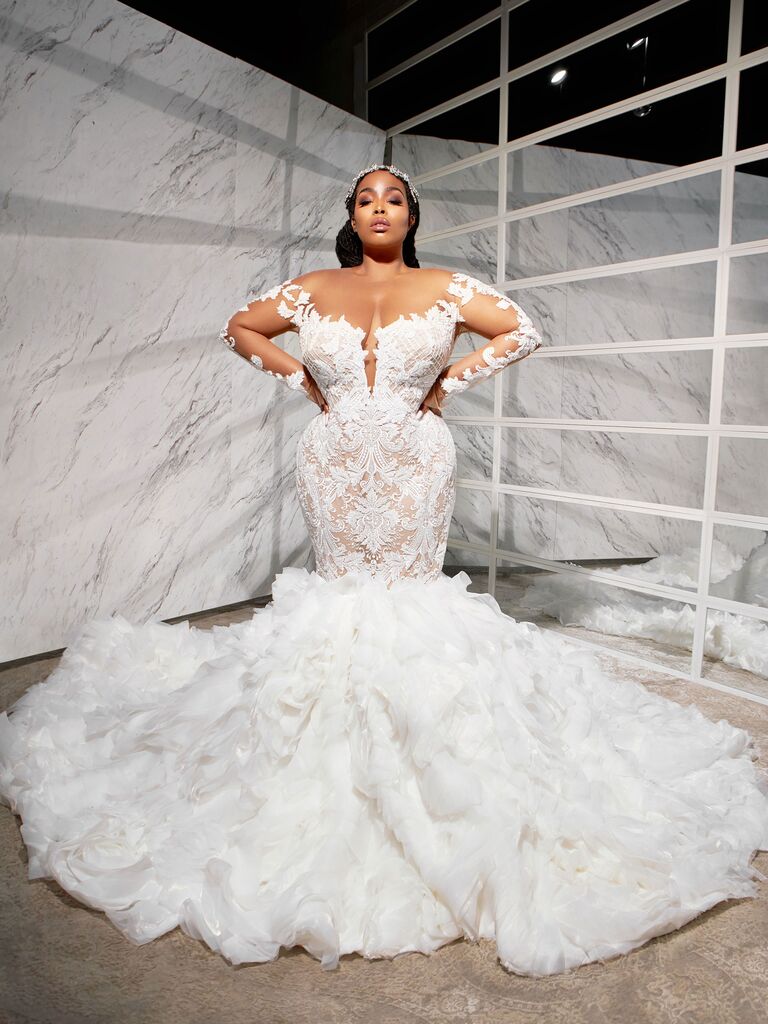 Nigerian-born Esé Azénabor got her start designing custom evening wear. She expanded her line to include bridal options after a client requested a bespoke wedding dress that would work for her body shape and darker skin tone. Inspired by the arts, Esé Azénabor eponymous line is all about empowering women through fashion, as well as an attention to detail: crystals, pearls and hand embroidery are the defining characteristics of her designs. Though mostly known for bespoke gowns, in 2020 Esé Azénabor launched a ready-to-wear line called Prêt Mariée By Esé Azénabor, for brides looking for off the rack options with a faster turnaround time.
"The Esé Azénabor bride is definitely not a wallflower. She is daring, confident, a world traveler and truly appreciates what it takes to create art," Azénabor says.
Where to follow: @eseazenabor
Where to purchase: EseAzenabor.com
6. Yemi Osunkoyah of Kosibah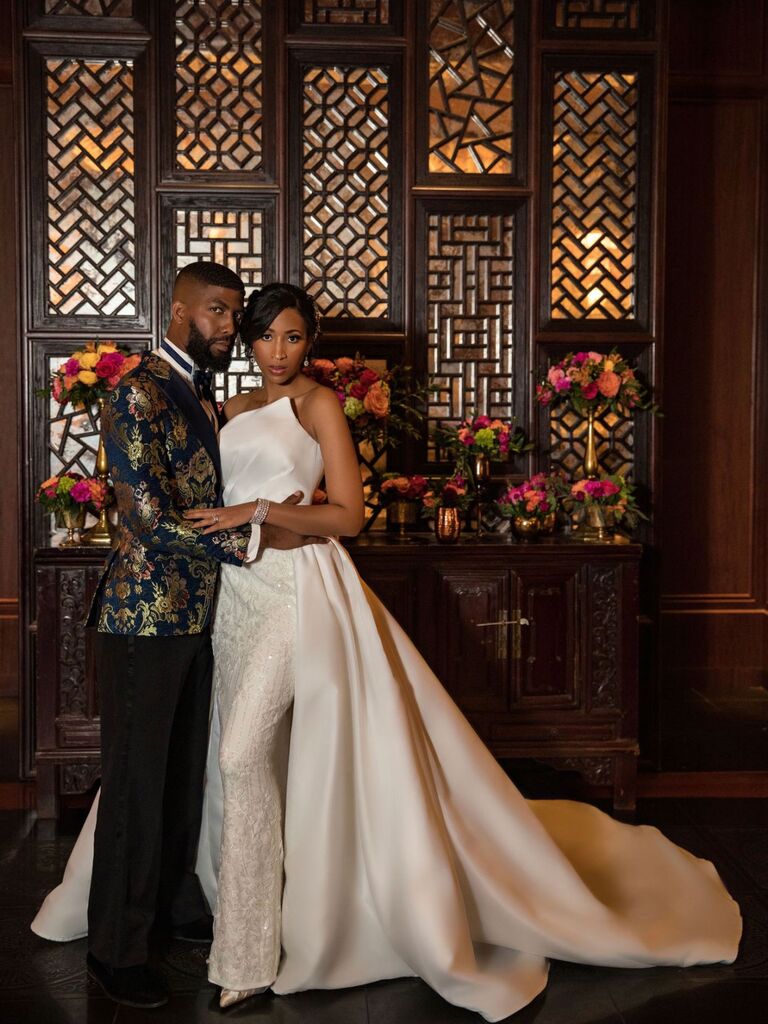 Inspired by weddings in his homeland of Nigeria, Yemi Osunkoyah knew at a young age that he wanted to create bridal gowns. In 1991, Osunkoyah launched his wedding dress label, Kosibah, named after an alternative spelling of his mother's name. Now based in Manhattan, Kosibah specializes in high-end bespoke gowns, designed from scratch and inspired by the elegance and technical intricacy of Dior, Balenciaga and Givenchy Couture gowns popular in the late 1940s and 1950s.
"My signature style is figure-enhancing gowns that recreate the classical hourglass shape, which in turn flatters and celebrates the female form regardless of shape or dress size. I prefer clean, uncluttered silhouettes," Osunkoyah says.
Where to follow: @yemikosibah
Where to purchase: Kosibah.com
7. Valentine Avoh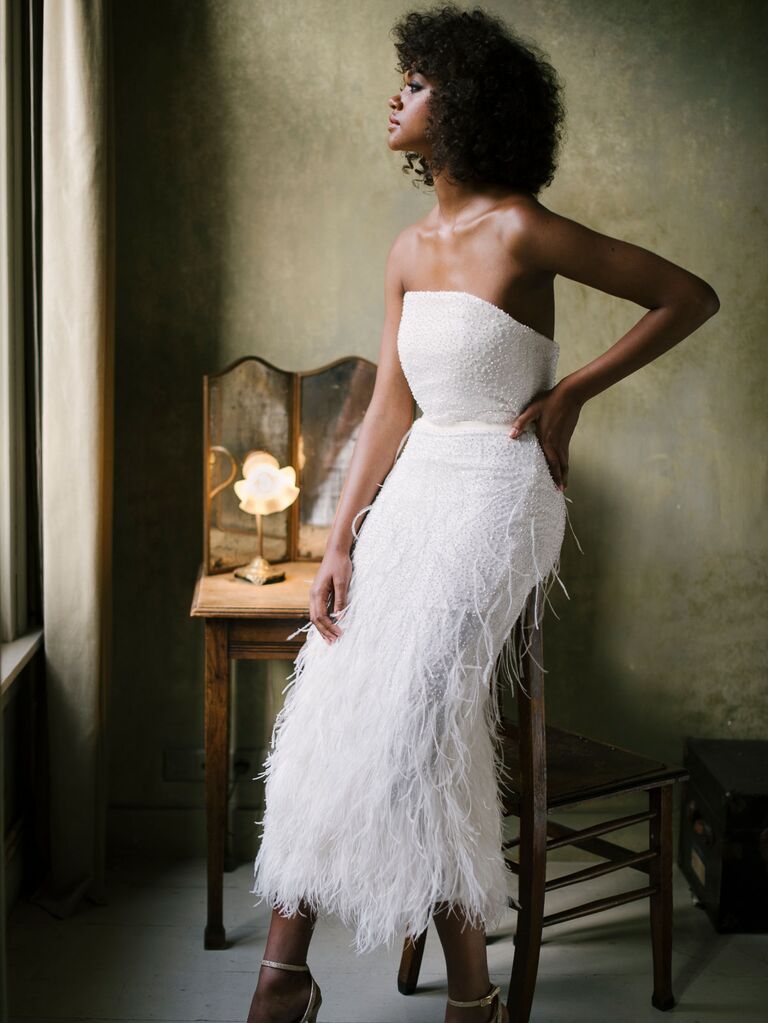 Valentine Avoh's eponymous bridal line has royal roots. After graduating from the London College of Fashion, Valentine Avoh worked for prestigious fashion houses such as Alexander McQueen and Alexis Mabille. While designing a wedding dress for a friend in 2009, Avoh fell in love with the gown creation process. In 2013, Avoh made two bespoke gowns from the Queen of Belgium, which inspired her to formally launch her own brand in 2015. Based in Brussels, Avoh Valentine describes her line as "refined, fluid and delicate," and draws inspiration from the glamour of Jazz and the golden age of cinema.
"My designs are for women who wish to highlight their femininity without compromising their ease. I give a lot of thought to the fabrics I select and create pieces with movement and flexibility. I really want to create showstopping pieces that work for the red carpet just as easily as they work for a wedding," Avoh says.
Where to follow: @valentineavoh
Where to purchase: ValentineAvoh.com
8. Violette Tannenbaum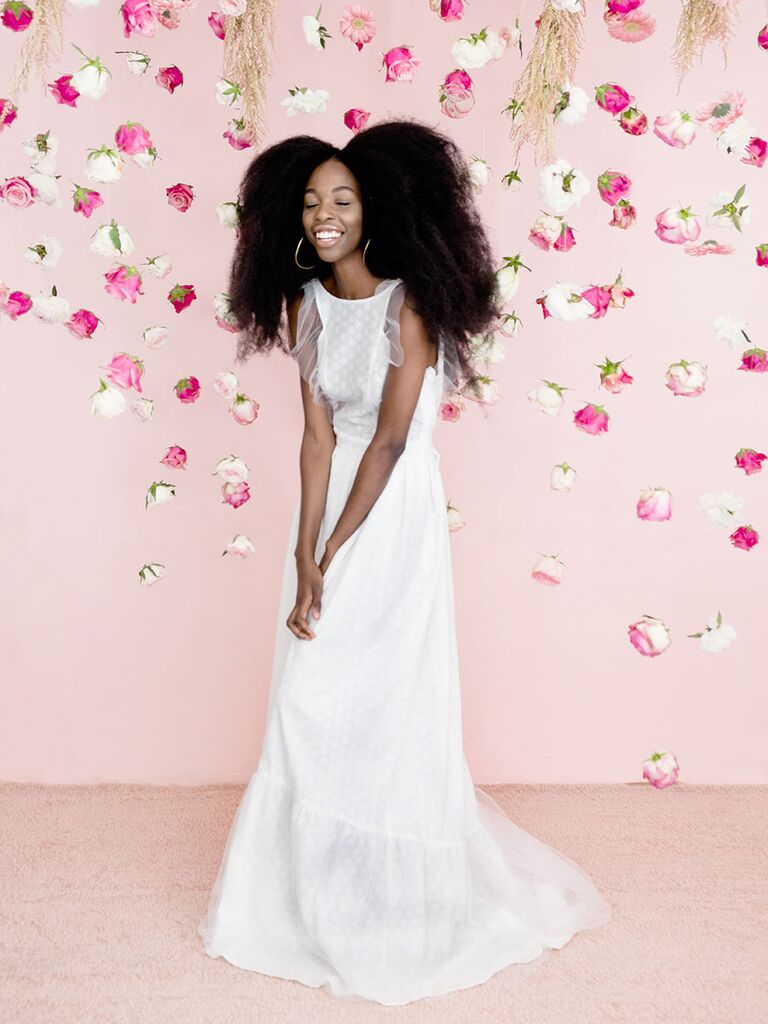 Calling all cool girls, this is the effortless bridal collection you've been waiting for. Violette Tannenbaum launched her eponymous collection in 2103, after designing a wedding dress for a friend. Drawing inspiration from ready-to-wear trends, Violette Tannebaum designs run the gamut from chic little white dresses perfect for an intimate ceremony at city hall, to more formal—though always modern—gowns meant for grander nuptials.
"I want brides to be cool and unconventional. The perfect wedding is the one you want—not your mother's or your grandmother's or even your best friend's. I design for the woman who doesn't care about the rules and gets married the way she wants," Tannenbaum says.
Where to follow: @violettetannenbaum
Where to purchase: VioletteTannenbaum.fr
9. Laurie Underwood of Laury Bride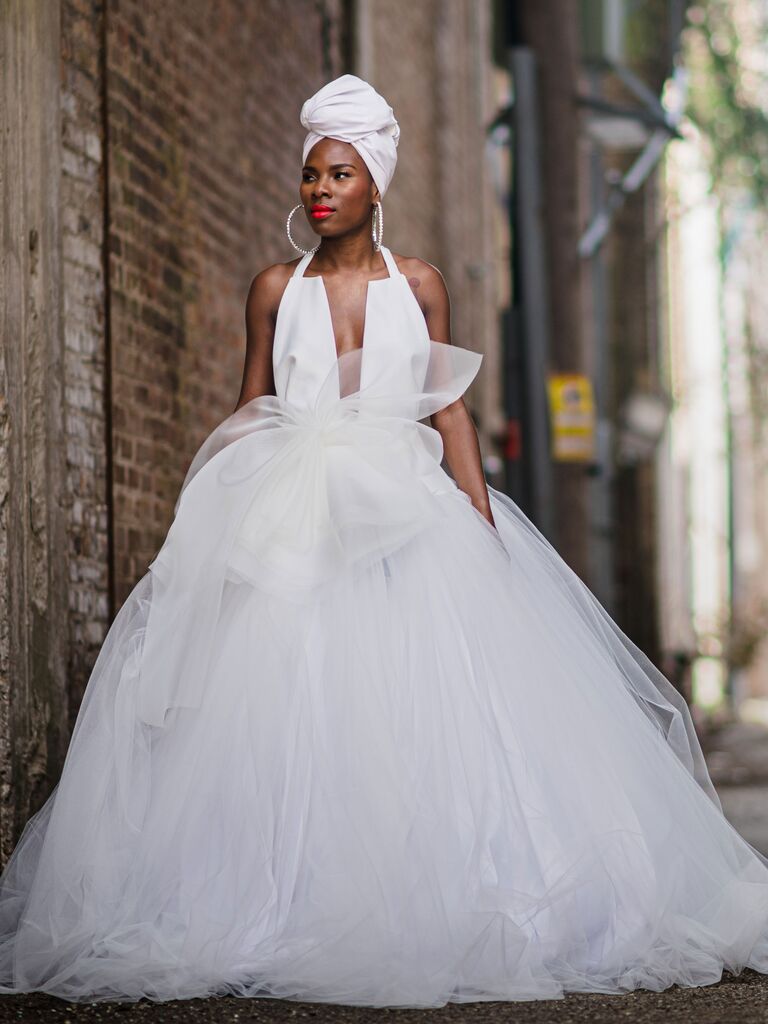 Laurie Underwood's beautifully bold and structured gown designs took her far on season 14 of Project Runway. After the show and the success of her popular ready-to-wear collection Wanda Grace, Underwood's bridal collection, Laury Bride, showcases her unique perspective on bridal style with distinctly modern styles with dramatic flair (think: oversize ruffle details and airy ball gowns). Currently a primarily bespoke collection, Laury Bride plans to launch a bridal ready-to-wear line in Fall 2020.
"Laury Bride is chic and minimal, yet bold and discreetly dramatic. My designs are clean and simple, but there is always that one element that dramatically speaks to the true style personality of the bride, which allows her to honor her true style and who she is on her wedding day," Underwood says.
Where to follow: @laurybride
Where to purchase: LauryBride.com
10. Nneka C. Alexander of Brides by NoNA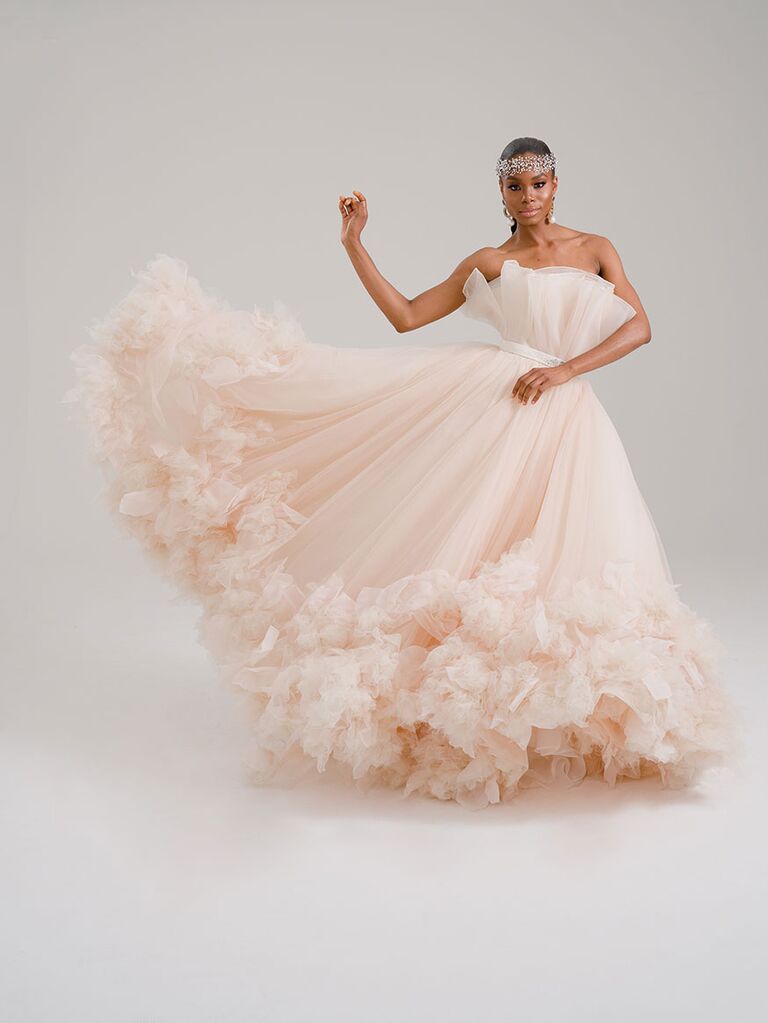 Nneka C. Alexander's gown shopping experience inspired her to leave a budding career in investment to pursue wedding dress design. After finding herself disappointed by the selection at several bridal salons, Alexander decided to make her dress herself. "The only place I could find the gown of my dreams was literally in my dreams—and I wouldn't settle for anything less," Alexander says. In 2014, Alexander launched Brides by NoNA. Based in Atlanta, Brides by NoNA offers a curated collection of ready-to-wear wedding dresses and formalwear, but the brand's main focus is creating bespoke garments for brides looking to go custom-made.
"The Brides by NoNA aesthetic is timeless chic. I design pieces that transcend short-lived trends and fads. Our bride understands the language of luxury and the intricacies of a bespoke process. I create gowns that will still take your breath away 10 years down the road," Alexander says.
Where to follow: @bridesbynona
Where to purchase: BridesbyNona.com
11. Nardos Imam of Nardos Design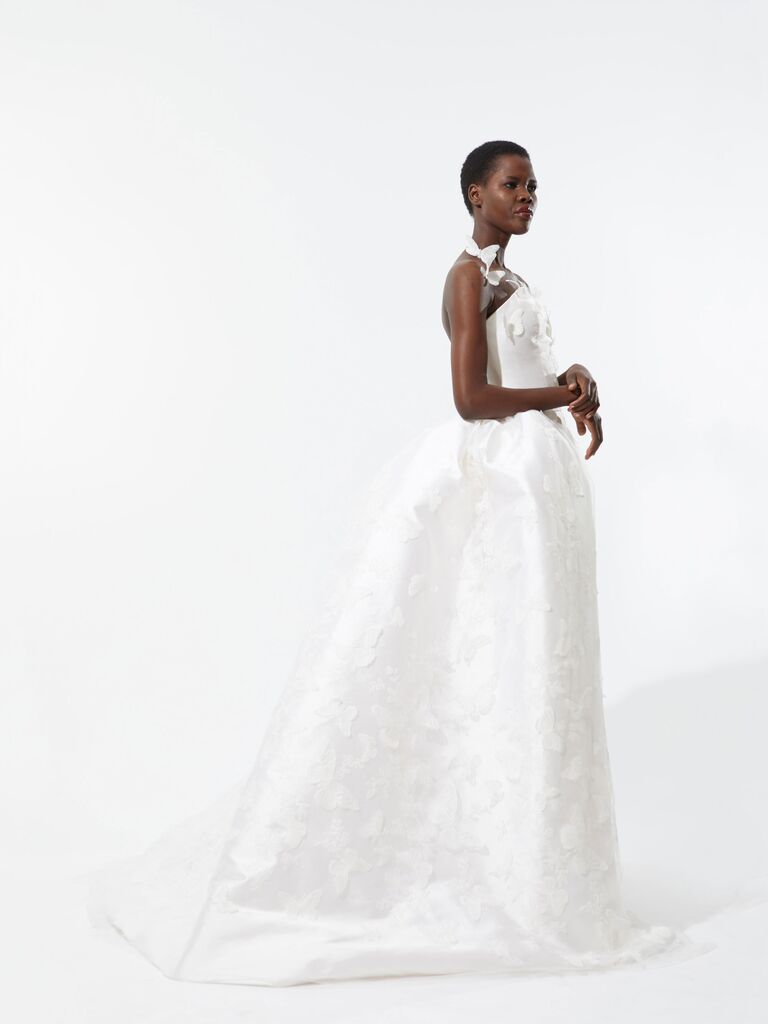 Nardos Imam dreamed of designing dresses as a young girl growing up in Eritrea. Her mother was a talented seamstress who loved making colorful dresses for her children, and Imam was fascinated by different patterns and stitching. After studying costume design at El Centro College in Dallas, Texas and spending several years in the fashion industry, Imam launched her own collection in 2009. Since then, Nardos Design has expanded into evening wear, custom bridal and a ready-to-wear line. Imam credits God and the unique perspectives of her clients as her main source of inspiration. The Nardos Deisgn bridal collection offers a variety of classic, tailored silhouettes with standout details like oversize rosettes, colorful statement bows and 3-D florals.
"Our brides are one of a kind and their aesthetic is something that they dream. We cultivate, create and design our clients dreams," Imam says.
Where to follow: @nardosdesignbride
Where to purchase: NardosDesign.com
12. Cynthia Grafton-Holt of Cynthia Grafton-Holt Couture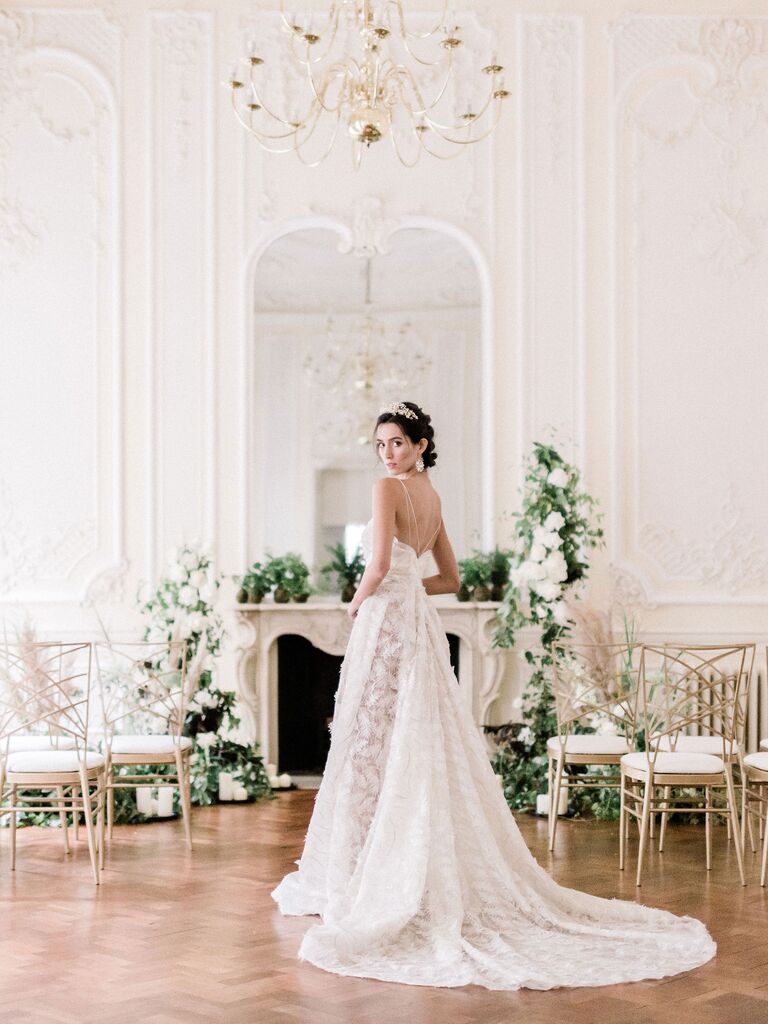 Growing up in the small town of Smethwick in England, Cynthia Grafton-Holt was inspired by the impeccable style of her aunts, who relied on the community dressmaker to keep up with the latest fashion trends. After graduating from the London School of Fashion, Grafton-Holt went on to work for high-end design houses like Alexander McQueen, Giles Deacon, Emilia Wickstead and Victoria Beckham. After 20 years of creating countless evening gowns and dresses, Grafton-Holt launched her own bridal brand, Oui Madame. In 2020, Grafton-Holt shuttered Oui Madame and embarked on a new journey: a bespoke bridal business called Cynthia Grafton-Holt Couture. Based in London, Grafton-Holt creates purely custom gowns, working closely with brides to bring their visions to life.
"My heart is always drawn to diverse styles, cultural references and the personality of the women who I design for. Whilst mainstream boutiques tend to offer up perfectly aligned collections, my collection is reflective of my ideal clients who are both diverse in nature and seek their own path. Being authentic, personable and uncomplicated is what my clients enjoy most. Brides in particular want to know that they can trust me to understand their vision and to interpret it in a way that exceeds their expectations," Grafton-Holt says.
Where to follow: @cynthiagraftonholt
Where to purchase: OuiMadam.com
13. Keisha Ransome of The Lotus Bloom Co.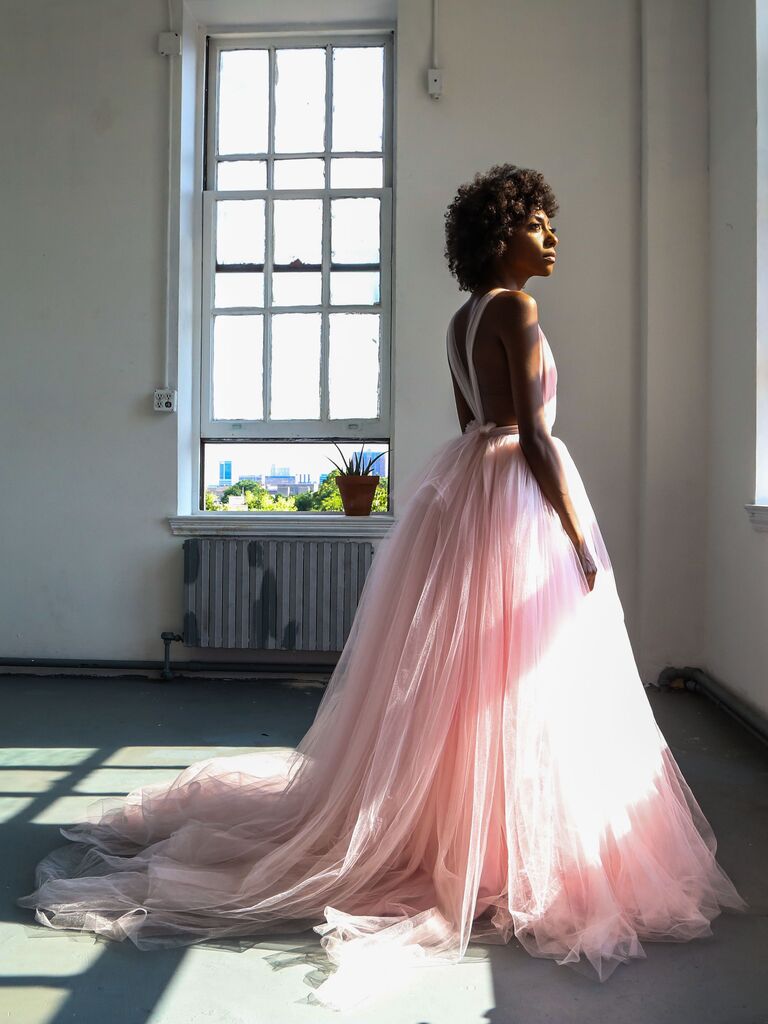 Keisha Ransome got her start in bridal by happenstance. Ransome was selling tulle skirts on Etsy and a customer requested a custom skirt for her wedding. Initially, Ransome was intimidated by the prospect of making a garment for such an important moment and said no, but the customer was insistent. "I was flabbergasted that a stranger online expressed such confidence in my abilities for one of the most special days of her life," Ransome says. "I haven't looked back since." Today, The Lotus Bloom Co. offers a fully realized world of whimsical tulle pieces—from the tulle skirts that inspired its inception, to airy capes, boas and veils.
"My pieces are all intended to make you feel fabulous. The Lotus Bloom Co. bride is confident, fashionable, and owns her identity. She knows what she wants and isn't afraid to be bold," Ransome says.
Where to follow: @thelotusbloomco
Where to purchase: Etsy.com