15 Ways to Jump-Start Your Bridal Beauty Routine
Here are the pro-approved tools you need for looking your best before, during and after your wedding.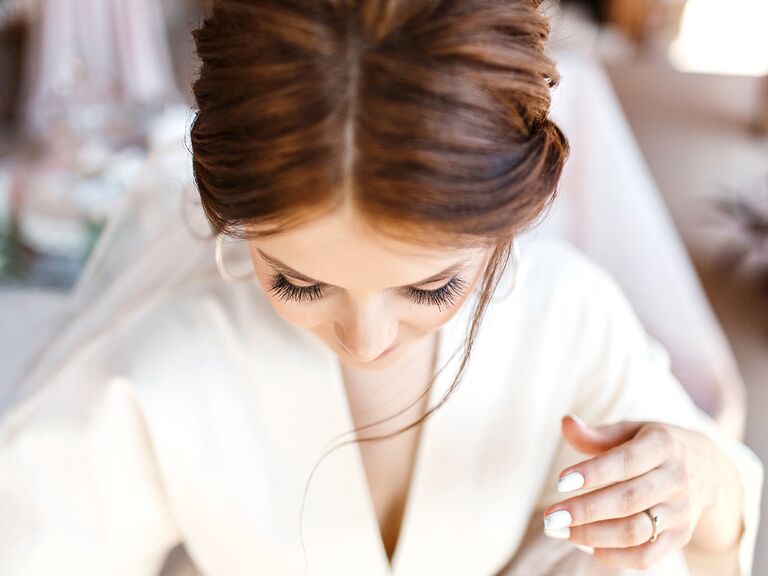 We have included third party products to help you navigate and enjoy life's biggest moments. Purchases made through links on this page may earn us a commission.
We have included third party products to help you navigate and enjoy life's biggest moments. Purchases made through links on this page may earn us a commission.
You want to look like the most beautiful version of yourself on your wedding day, of course. And what better way to do that than planning out a beauty routine in the months leading up to your wedding day? Check out the pro tips below to look and feel beautiful from the inside out.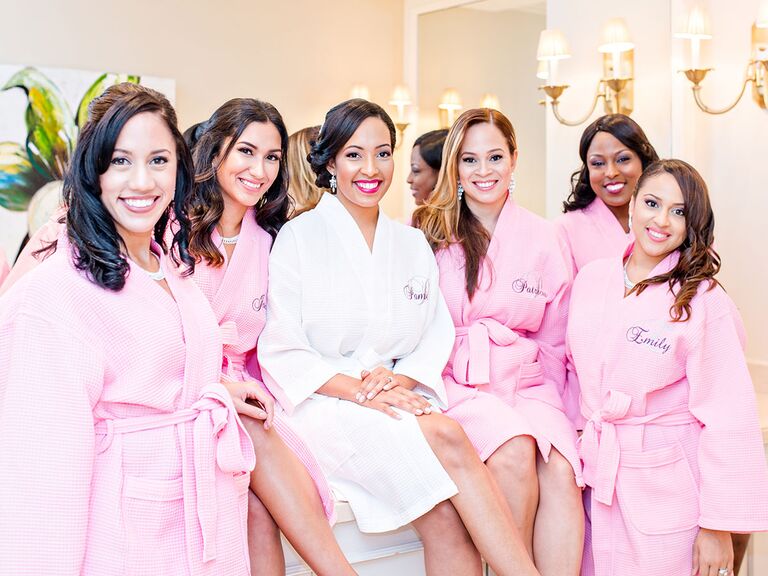 1. Schedule Frequent Manicures
Get ready: As soon as you get engaged, everyone is going to ask to see your ring. Keep those nails and hands primed and pretty with regular manis. This is also your chance to experiment with colors and get to know your manicurist. Pro tip: Let your nail beds dictate the shape of your nails. Matching the two will give your hands and nails a balanced, elegant look.
Special splurge: Gel manicures use UV technology for a harder and smoother finished nail. They're a bit pricier but can last up to twice as long as a traditional manicure.
2. Whiten Your Teeth
You'll want pearly whites for all those pictures you'll be posing for (but we also know how crucial coffee is during the planning process). Most toothpastes have whitening ingredients in them, but for faster results, choose a special whitening one. Whitening strips are also a great option.
Special splurge: Head to your dentist's office to get your teeth professionally whitened. "Just don't go overboard," warns makeup artist Sonia Kashuk, founder of her eponymous makeup line. "Anything that looks too artificial becomes too prominent in a picture." Pros suggest getting a professional whitening about six months out so your teeth aren't too brilliant the day of. Also keep in mind that continuous teeth whitening can wear down your enamel, making your teeth more sensitive to hot and cold.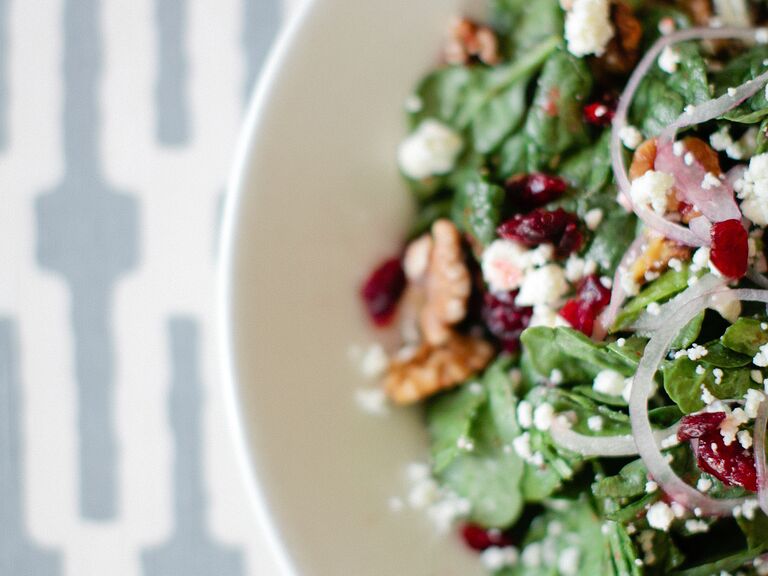 3. Eat Healthier
If you can bear it, try staying away from sugar, lots of sodium and processed foods. These all lead to belly fat and bloating. Instead, focus on green vegetables, fruit and lots of water—all great for fueling your body, boosting your energy and clearing up your skin. And while a glass of celebratory champagne is to be expected from time to time, keep in mind that too much alcohol makes your skin puffy and dry (not to mention, you crave more snacks and junk food when you're buzzed).
Special splurge: Sign up for meal plans that deliver healthy meals right to your door like Hello Fresh (HelloFresh.com) and Sakara (Sakara.com).
4. Get Active
"Working out will help tighten and firm your body while also detoxing your skin," Kashuk says. A good workout also boosts energy and makes you feel happier (hello, endorphins!).
Special splurge: Join a gym. This way, you won't be able to use the weather as an excuse, and you'll have all the equipment you need for any kind of workout all in one place. Plus, exercising with others is always a huge motivation.
5. Lift Weights
A set of dumbbells will be your key to a more toned back, arms and shoulders. Try a trainer-approved exercise like a seated dumbbell press.
Special splurge: Consider a personal trainer. Your fitness pro will customize the session to help you achieve your goals. If months of personal training just isn't in the budget, consider splurging for a few weeks and have your trainer create some plans that you can do on your own.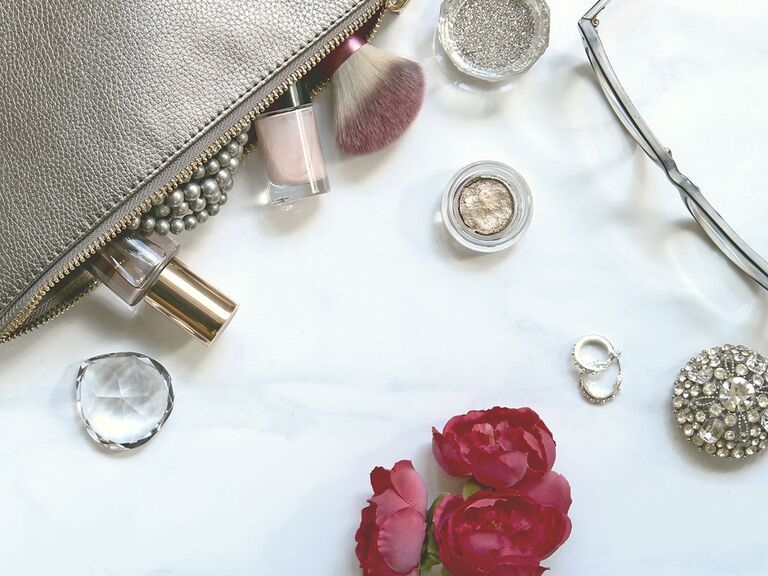 6. Pack a Day-of Bag
Whether it's flyaway hairs or false lashes that keep falling off, make sure you have an arsenal of bridal beauty fixers the day of. Start adding items as you begin to work out the details of your wedding, as well as during your makeup trials. You should have a plan of attack with your makeup artist should they not be there in a moment of need.
Special splurge: If you don't have the time to pull it all together, you can buy premade kits that come with hair spray, clear nail polish, deodorant and all those things you haven't even thought of.
7. Prep Your Face
Weekly exfoliation, either physical or chemical, can provide you with a smooth surface for makeup application. Adding a hydrating serum with hyaluronic acid can also help to plump up fine lines around your face. Apply it daily before your makeup for softer and smoother skin.
Special splurge: At least three months out from your wedding, start planning monthly facials with a professional. Facials boost your skin's health, helping it to look clearer and brighter. We're loving microcurrent facials. Microcurrents help to lift the facial muscles and depuff the face. Think of it as the perfect pick-me-up for your face.
8. Get that Healthy Glow
Skin that looks sun-kissed will give you a natural, healthy glow. Of course, always skip the tanning bed and use a gradual self-tanner insteadlike Jergens Natural Glow moisturizer (Jergens Natural Glow Daily Moisturizer, $10, Ulta.com). And if you really want a spray tan, schedule it a few days before the wedding for a beautiful glow (this leaves enough time to fix any trouble spots and let the color settle). And no need to go overboard, a one-time tan will give you just enough bronze for a sun-touched look in your photos.
Special splurge: Some tanning salons make house calls for an additional fee.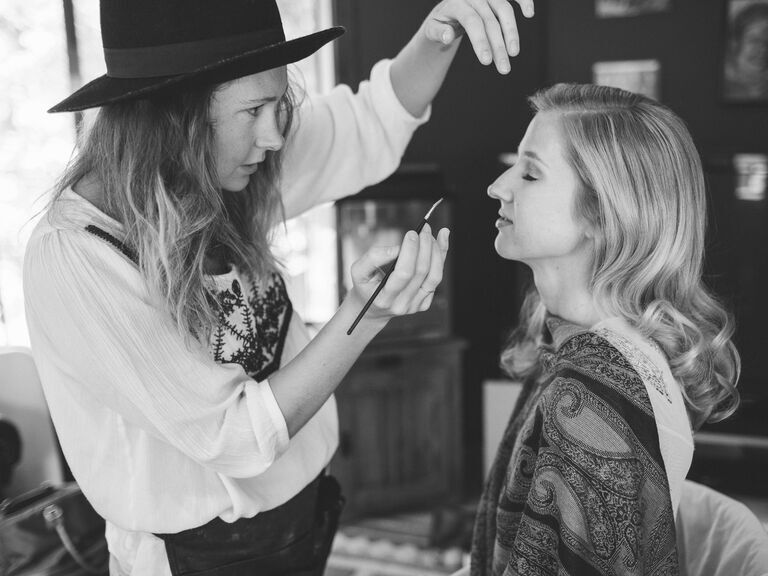 10. Do a Makeup Test Run
Besides your hair trial, you should also schedule a makeup trial at least three months before the wedding. This is where you'll fine-tune your look with your makeup artist so there are no questions day of.
Special splurge: Hire your photographer to take photos of you after you've had your makeup done (or schedule your makeup trial the same day as your engagement photo session). This run-through will ensure you know how you look in different lighting for your wedding photos. If your makeup looks too harsh or too subtle, have your makeup artist experiment and fix the issue.
11. Take Care of Your Brows
If you do your own tweezing, take this opportunity to splurge on brow shaping. The pros at salons will follow your advice, as well as offer suggestions for the best brow shape according to your face. Waxing is a popular option, but threading, which uses a cotton thread rolled along your skin to catch hairs, is quicker and more precise. (It's also the safest way to go if you're on antibiotics or skin medications) One you have your desired brow shape, you can continue the maintenance on your own.
Special splurge: See a brow specialist every three to four weeks starting about six months before your wedding. The regular visits may add up, but it's your surest way to flawless brows.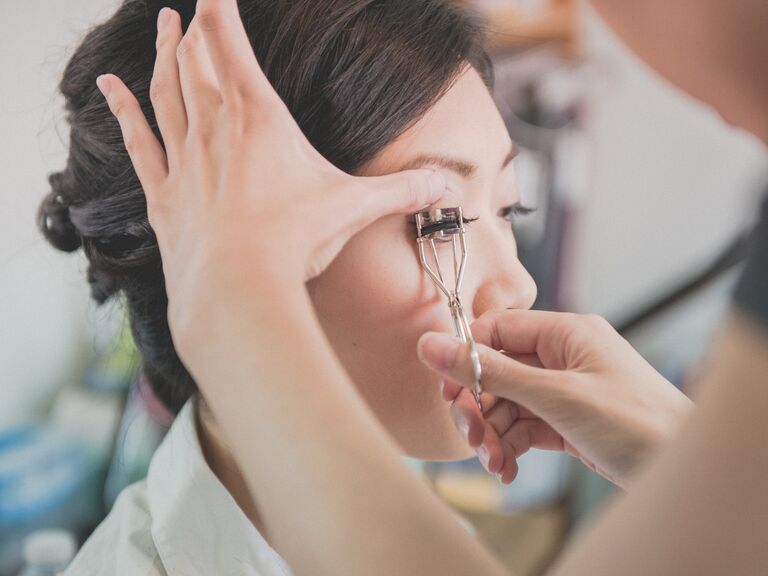 12. Try False Lashes
Go for a drama with a full strip of lashes or get a softer, more romantic look by applying half lashes in the outer corners of your eyes. Longer lashes will enhance the shape of your eyes and focus all attention on your face.
Special splurge: Get semipermanent lash extensions at a salon. Extensions eliminate the need for mascara, which can actually lead to healthier eyes and lashes. They also last much longer than at-home kits. Applications stay on until they fall out naturally (you'll have to get touch-ups every two to three weeks if you want to maintain them).
13. Focus on Your Lips
Take care of your lips each night by applying a generous coat of lip balm or Vaseline. "Gently rub it over your lips in a circular motion with a wet washcloth," says Mally Roncal, celebrity makeup artist and founder of Mally Beauty. This will exfoliate and soften your lips at the same time.
Special splurge: Look for a salon that offers special lip treatments that focus on exfoliating, moisturizing and energizing your lips.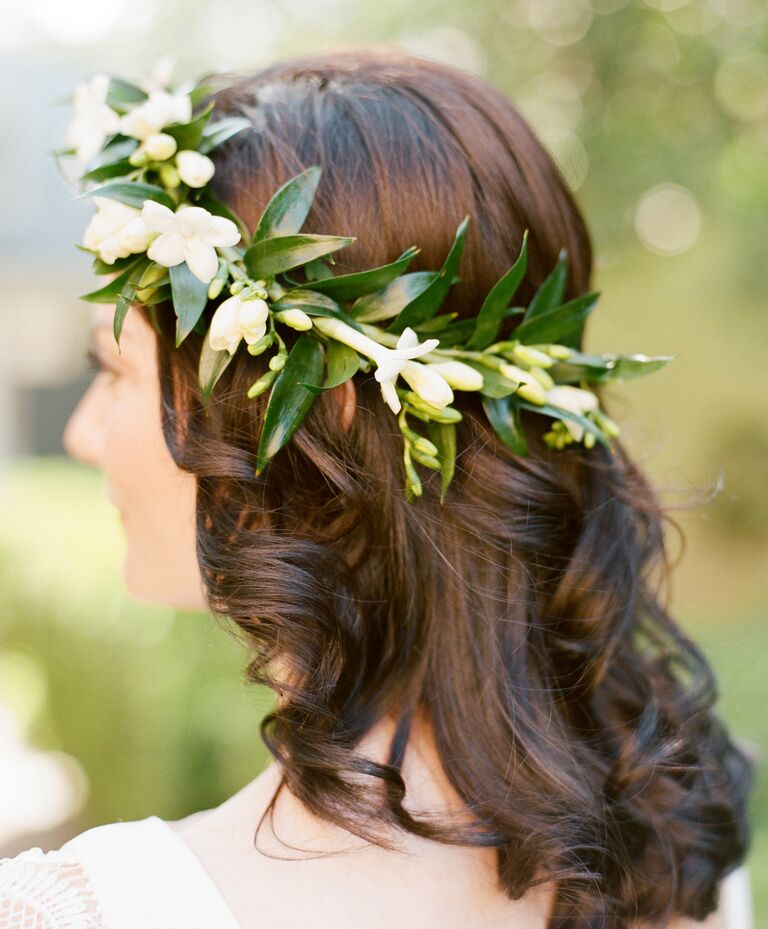 14. Have a Hair Plan
Work with your hairstylist to map out your hair care plan of attack. You may also want to start doing weekly at-home treatments a few months before your wedding, like your favorite conditioner mixed with a mashed-up avocado. (The creaminess of the avocado will increase your hair's silkiness.) For an extra-glossy finish, look for shampoos and conditioners infused with olive oil, which helps tone down frizz and boost shine.
Special splurge: Go to your salon and have your stylist give you a customized conditioning treatment for your hair type—for example, curly hair needs more moisture than straight hair.
15. Get Smooth Skin
Have a tough-to-treat spot like dry elbows? Using a body scrub regularly in the shower will get rid of dead skin. Then, moisturize with a lotion that's infused with almond or shea butter. Wrap your rough spot in a cloth for about an hour to keep the moisture locked in.
Special splurge: Head to the spa for a full-body scrub that will keep your skin smooth all over.
16. Plan Hair Removal
That little peach fuzz just above your upper lip may not seem like a big deal in your everyday life, but you don't want it showing up in wedding photos. Start getting monthly waxes for best results. Not into the pain? Salons now offer special waxes using ingredients like chocolate wax and sugar, which are great if you're looking to walk out of the salon without too much redness.
Special splurge: Book laser hair removal appointments in one month intervals (three treatments are recommended for best results). After around seven treatments, the results can be permanent.
Get more expert bridal beauty tips here.
Want to book a beauty pro for your wedding? Right here.