Your Wedding Guest Makeup Cheat Sheet With Tips From the Pros
Makeup artists aren't gatekeeping these hot tips.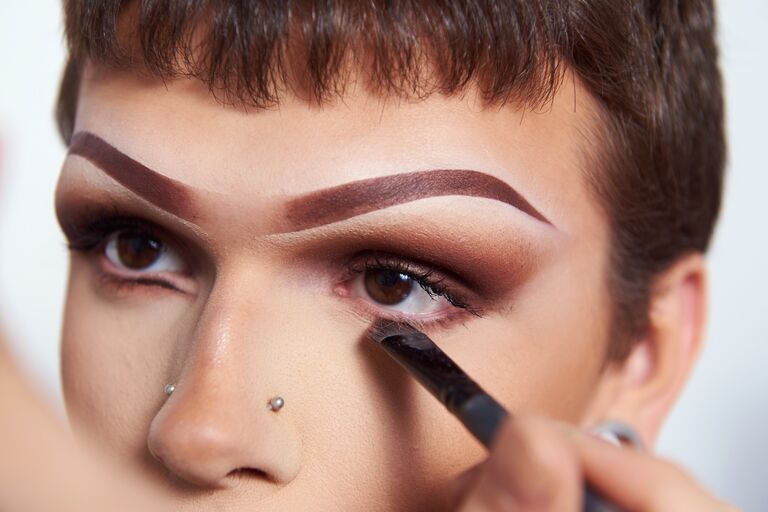 Photo: Stocksy
As a wedding guest, you have the perfect opportunity to showcase your style and radiate beauty. However, mastering the art of wedding guest makeup can be a daunting task. Fear not! We've gathered advice from beauty experts to help you achieve a flawless and gorgeous look that will turn heads at any wedding celebration.
From choosing the right foundation to making your makeup last all night and finding the perfect makeup brushes, these expert tips will help you get your makeup. Whether you're attending a daytime garden ceremony or a glamorous evening affair, these makeup tips will ensure you feel confident and camera-ready as you toast to the happy couple. Get ready to up your beauty game with these invaluable expert tips!
In this article:
Meet Our Wedding Makeup Experts
Wedding Guest Makeup Mistakes to Avoid
Sometimes, in the excitement of glamming up for a wedding, makeup mistakes happen. Trust me, it happens to the best of us. So, get ready to take notes because these tips are going to help you steer clear of any last-minute makeup faux pas.
Don't Wait Until The Day-Of To Try Something New
According to Brittany Lo, it's important not to wait until the wedding day to experiment with that trendy new makeup look you've been wanting to try. "Make yourself look extra special for this special occasion, but don't try something completely new without giving yourself enough time to experiment!" she advises. For example, if you plan to apply false lashes to make your eyes "pop," Brittany suggests setting aside an extra 30 minutes to play around and get the hang of it.

Ideally, try it out a week before the big day to ensure you have enough time to adjust if needed. If you're attending the rehearsal dinner or a pre-wedding event, that can also be a great opportunity to practice your new look and feel more comfortable applying the lashes on the actual wedding day.
Limit Your Alcoholic Drinks The Night Before
Ford advises wedding guests to exercise caution when it comes to alcohol consumption, particularly the night before the big day, to avoid dehydrated skin. "If you're planning to drink at the couple's rehearsal dinner, try to limit it to no more than two glasses," she suggests. However, it's essential to stay hydrated throughout the evening. Thomas recommends drinking a glass of water in between each alcoholic beverage to maintain the body's hydration levels. By limiting your drink intake and prioritizing hydration, you can help ensure that your skin looks fresh and glowing on the wedding day.
Don't Forget the Tissues
One common mistake to avoid, according to Gaviria, is forgetting to keep tissues or Q-tips handy, and instead letting the tears fall down your face. By blotting the tears away without rubbing, you can minimize the disruption to your makeup. "Always remember to carry tissues or Q-Tips for a flawless face throughout the entire night," she says. Tissues can be used to gently dab at the affected area, while Q-Tips can be used to precisely clean up any smudges or streaks.
Find all the vendors you need
Discover top-rated pros for any budget, background and style.
Wedding Guest Makeup Tips From Our Experts
Whether you're a makeup aficionado or just starting to dip your toes in the world of cosmetics, we've got some killer wedding guest makeup tips to help you slay the day. Get ready to turn heads and leave everyone wondering who that stunning guest was.
Find the Right Coverage For You
Ultimately, feeling comfortable in your own skin is the most important aspect of any makeup look. It's essential to find a coverage option that enhances your natural beauty without compromising your comfort level, according to Lo. By finding the right balance of coverage through spot concealing or a buildable tinted moisturizer, you can achieve a flawless complexion that makes you feel confident and radiant as a wedding guest.
It's All About the Tools
When it comes to applying foundation, the tools you use can significantly impact the longevity and overall finish of your makeup. Gaviria emphasizes the importance of using brushes and sponges correctly to achieve the desired effect. According to Gaviria, using a brush first is key to an even and smooth application of foundation. Doing so will help distribute the product evenly across the skin, ensuring maximum coverage. You can also control the amount of foundation used with a brush, preventing waste and allowing for a more precise application.
Use a Hydration or Setting Mist
Wedding celebrations usually last the entire day, which is why it's essential to keep your makeup in place and looking impeccable. To prevent your makeup from smudging or fading, Lo suggests incorporating a hydrating and setting mist into your makeup routine to keep the skin fresh, boost its hydration levels, and keep your makeup looking perfect.
Lo recommends starting with Beia's Daily Hydrating and Setting Mist before applying makeup to hydrate the base. Once your makeup is complete, finish with a setting spray to lock in your look throughout the day. This refreshing mist can also give you a subtle glow, keeping your skin radiant and looking flawless.
Additionally, Lo suggests packing a mini version of the Beia mist in your clutch for added hydration throughout the day. This is especially important if the wedding is on a hot day, ensuring that your makeup stays fresh and radiant all day without the need for touch-ups.
Frequently Asked Questions About Wedding Guest Makeup
What makeup should I wear as a wedding guest?
When it comes to makeup for wedding guests, the key is to strike a balance between looking polished and feeling comfortable. Opt for a natural or glam look that enhances your already gorgeous features.
Do I have to wear makeup as a wedding guest?
No, you do not need to wear makeup as a wedding guest. Makeup is a personal choice, and there's no obligation or rule that says you need to wear makeup. If you feel more comfortable without makeup, rock your natural beauty with confidence. However, if you enjoy experimenting with makeup or want to enhance your look for a special occasion, go for it!
Should wedding guests get their makeup professionally done?
Getting your makeup done by a professional can elevate your look and give you that extra touch of glam. It can also take the stress out of doing it yourself. However, if you're confident in your makeup skills and enjoy the process, there's no harm in doing your own makeup. It's all about what makes you feel comfortable and confident.
How do I make my wedding guest makeup last?
To ensure your makeup lasts throughout the festivities, start with a good primer, use long-lasting products, and set your makeup with a setting spray. Carry some essential touch-up products like blotting papers, a powder compact, and your lip color for quick fixes throughout the day.