What a Groom Should Wear to the Engagement Party (and Beyond)
Tim Gunn talks groom attire for the engagement party, couple's shower and rehearsal dinner. Plus, the 'Project Runway' host breaks down some of the most common wedding dress codes.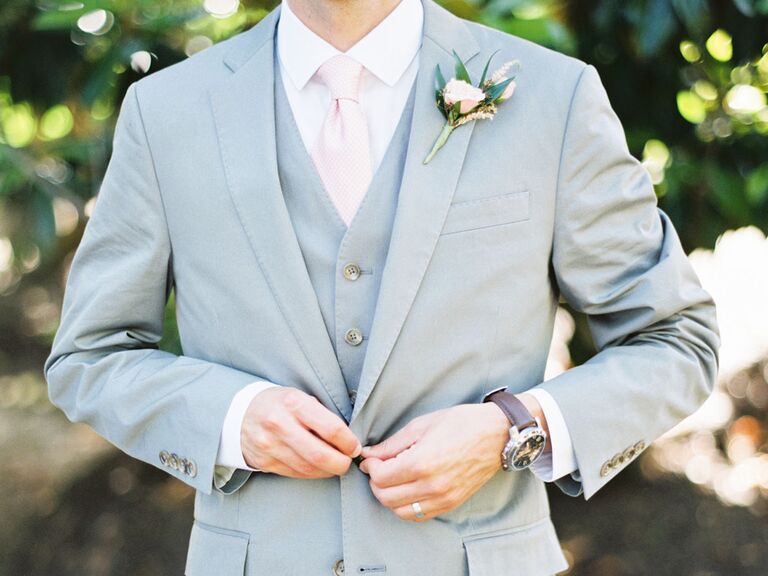 Emily March Photography
Engagement Party
Dress code: dressy casual 
For this sort of event, a pair of dress pants, a blazer and a shirt without a tie feel appropriate. The types of fabric aren't as important as long as the pant is crisp and clean. It could be cotton khaki, gray flannel or even a linen if the season is right—but I wouldn't wear denim. If you're skipping a tie, you should never leave more than two buttons unbuttoned, and depending on the placement, one may be all that's necessary. (Usually I only unbutton the top button.) If you prefer to wear a tie for this type of dress code, a madras one is appropriate for spring or summer, tweed works for fall or winter, and a knit tie is good for any time of year. 
Couple's Shower
Dress code: casual 
This is similar to dressy casual, just exclude the jacket. If it's a substantial knit, and in good condition, I think a polo is also perfectly acceptable. One thing to remember about the casual look though is if in fact it's a shirt with a collar and sleeves and a placket for buttons, it should always be long sleeve. You should not wear a short-sleeve dress shirt—you will look like a barber (no offense to barbers!). Then finish the look with a pair of boat shoes, like a Top-Sider.
Rehearsal Dinner
Dress code: semiformal/cocktail 
No question: A suit and tie is required for a dress code that states semiformal or cocktail. And for this occasion, it doesn't matter what season it is, you should choose a darker suit. You can go anywhere from a light charcoal to a midnight—I just wouldn't wear black. Then play with the shirt-and-tie combo, and consider mixing patterns. It's a celebration after all—you don't want to look like you're going to a funeral. When it comes to shoes, you should choose a dressier one and determine its color by the buttons on the suit jacket. This is also an occasion to wear socks. For more casual events it's okay to skip them, but this is not one of them. 
Dress Codes Decoded
Festive 
Personally, I ignore it and wear what I'm comfortable in, which means I'll be dressed up. For conservative dressers, I think it's about having fun with your tie and pocket square.
Business Formal vs. Business Casual

Both of these require a suit. Business formal means you should wear a tie, while business casual means an open shirt is appropriate.
Black Tie 

I'm not crazy about this dress code for weddings because so many people end up breaking the rules. It means a tuxedo for men, not just a dark suit. And it's only meant for events after 5 p.m.