Your Handy Guide to Engagement Party Etiquette
From the guest list to gifts, here's everything you need to know.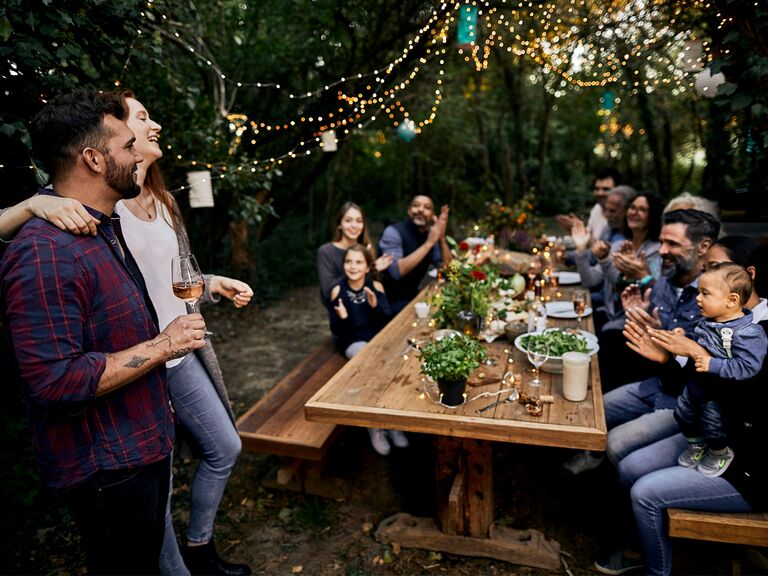 Oliver Rossi/Getty Images
The purpose of an engagement party can be threefold: to share the news of your imminent union with future wedding guests, to introduce your families to each other and to celebrate your impending nuptials. While engagement parties are totally optional, they are a great way to gather with loved ones and enjoy time together before the rush of wedding planning begins in earnest. As you consider this pre-wedding celebration, it's important to keep the answers to these engagement party etiquette questions top of mind.
When should an engagement party occur?
An engagement party is usually scheduled no later than three months after the big announcement. While an impromptu family gathering the weekend after your partner proposed is the perfect opportunity to break out the champagne, we don't recommend scheduling an all-out affair during the first month of your engagement. You and your future spouse both need some time to revel in just being engaged. Plan to have an engagement party two to four months after the question was popped. That gives you the chance to envision your eventual wedding (our app can help with that!)—a crucial element to consider when deciding on the type of event to throw.
Who throws the engagement party?
Tradition has it that the bride's parents host the initial gathering, but the groom's parents can then throw their own party, or both sets of parents can come together to host the fete. These days, an engagement party can be thrown by close friends, other family members or anyone who's willing to take on hosting responsibilities.
Who's invited to an engagement party?
One of the most important engagement party etiquette rules: Everyone who's invited to the engagement party should ultimately be invited to the wedding. Otherwise, guests might wonder what they did at the engagement party to insult you. That's what it's essential to start thinking about your wedding guest list before sending engagement party invitations—or just keep your engagement party invite list to just your closest loved ones who will definitely be invited to the big day.
That said, if you decide to host your own wedding and keep the list small but you want to throw an extravagant engagement party, go for it. Just be sure to let people know that the wedding will be intimate so no feelings will be hurt when guests aren't invited to the wedding. If you're worried your friends will think you want to have a big bash solely to garner gifts, include a note in the invitation that requests no presents.
Where does an engagement party take place?
Typically, engagement parties take place at the host's home, but they can also take place at other event spaces including restaurants, bars, banquet halls, country clubs, or hotels. It all depends on the size of your guest list and your host's budget. But if you're considering booking an event space for this pre-wedding party, we recommend choosing an all-inclusive venue where catering and other services are included to make the planning process more streamlined.
Find your kind of venue
From barns to ballrooms, discover reception venues that feel like you.
Should engagement party invitations be printed or are online invitations okay?
While paper invitations are a must for the big day, you can be a bit more flexible with an engagement party. If you'd like to send out printed engagement party invitations, go for it, but if you're hosting a more casual event, email invitations are okay, too. No matter which type of invites you go for, we do recommend setting up an online RSVP so your guests can easily reply.
Can we have more than one engagement party?
A newly-engaged couple can certainly have two (or more) engagement parties. If the couple's sets of parents live in different areas, they can each host their own engagement party in their home base. Or, you could have a family-focused engagement party or a more raucous one for friends. The only caveat: Guests shouldn't be invited to more than one engagement party (except for your closest family members, like parents and siblings).
Are engagement party gifts required? Should we create a registry before the party?
While guests have not brought presents to this function traditionally, increasing numbers do today, so it's only fair to provide guidance. However, it's not necessary to set up a registry specifically for engagement party gifts. Instead, try to set up your wedding registry shortly after getting engaged, focusing on gifts in the low to middle range—a $500 cappuccino maker is not your typical engagement present. You can put the registry information on your wedding website, which we also recommend setting up ASAP. If some guests arrive bearing gifts, just be sure you unwrap them after the party or away from the crowd, so people who came empty-handed won't feel uncomfortable.
What if our parents are meeting for the first time at the engagement party?
As we've mentioned, an engagement party might be the first time your parents and your in-laws are meeting face to face. If at all possible, try to schedule their first introduction for before the party—perhaps with a quiet lunch or cocktail hour at home. Your parents will likely be somewhat distracted greeting and mingling with loved ones during the engagement party, so setting up a special time for them to focus on getting to know their future in-laws is a better idea.
Who gives engagement party toasts?
Toasts aren't necessary at an engagement party, but if the host or hosts would like to make a short speech congratulating the happy couple, they certainly may. The couple may also choose to give a speech, thanking guests for attending.
Should an engagement party be formal or casual?
Every host wants to plan an unforgettable affair, but you never want to upstage the main event. Try to create a different mood for the engagement party while maintaining your own style. You won't want to force a casual cookout if you (and your guests) favor formal parties, and vice versa. But if your guests are up to it, set apart a black-tie affair with a sit-on-the-floor, buffet-style engagement bash; preview a semiformal daytime wedding with a swanky cocktail party, ties optional; or balance a destination wedding with a home-cooked dinner party.
Since the engagement party custom was actually designed to help you start building bridges between your families, consider their style. If one of you has a very formal family, an impromptu picnic in the park might not be the most appropriate setting for getting to know one another. Likewise, a five-course sit-down dinner attended by all your friends might be a bit intimidating for them. Settle nerves by including as many people from their side as you can reasonably accommodate.
Should we buy gifts for the engagement party hosts?
No matter who is hosting your engagement party, we highly recommend giving them a handwritten thank-you note to show your appreciation. You might also consider buying a small gift to say thanks, though anything too expensive or over-the-top is not necessary.
What is an appropriate dress code for an engagement party?
Most of the time, engagement parties are pretty low-key, so upscale casual attire is usually a safe bet. However, if you're confused about what to wear, ask the host for suggestions.
Do we need to write thank-you notes for engagement party guests?
You absolutely do! Whether or not your engagement party guests brought gifts, each person who attended the event should receive a thank-you note. The wording can be pretty simple, here's a quick example:
Dear Aunt Bess and Uncle Frank,
Thank you so much for attending our engagement party. We're so grateful you made the trip and were able to meet Jordan for the first time. Looking forward to celebrating with you at the wedding in May!
Love,
Avery and Jordan