This All-in-One Engagement Party Checklist Outlines Everything You Need to Do
Less time planning, more time celebrating.
Planning an engagement party is an exciting time for everyone involved. And while this celebratory event isn't as in-depth as the actual wedding day, there are still a number of steps that go into pulling together a memorable event. Our engagement party checklist outlines the major to-dos and nitty-gritty details that you'll want to keep in mind, whether you're engaged and planning the party for yourself or you're a friend or family member planning it on behalf of the couple. After you decide when to have the engagement party (which usually takes place about two or three months after the proposal), next up is finding a venue, which you can easily do by heading to The Knot Vendor Marketplace. Then, use this engagement party planning checklist to zero in on the final tasks.
Printable Engagement Party Checklist
Stay on track with the help of our very own engagement party planning checklist PDF. This free, printable template outlines all of the important tasks on your engagement party to-do list in chronological order, from choosing a theme to booking the venue. Add it to your Pinterest board or print it out and keep it somewhere handy for reference.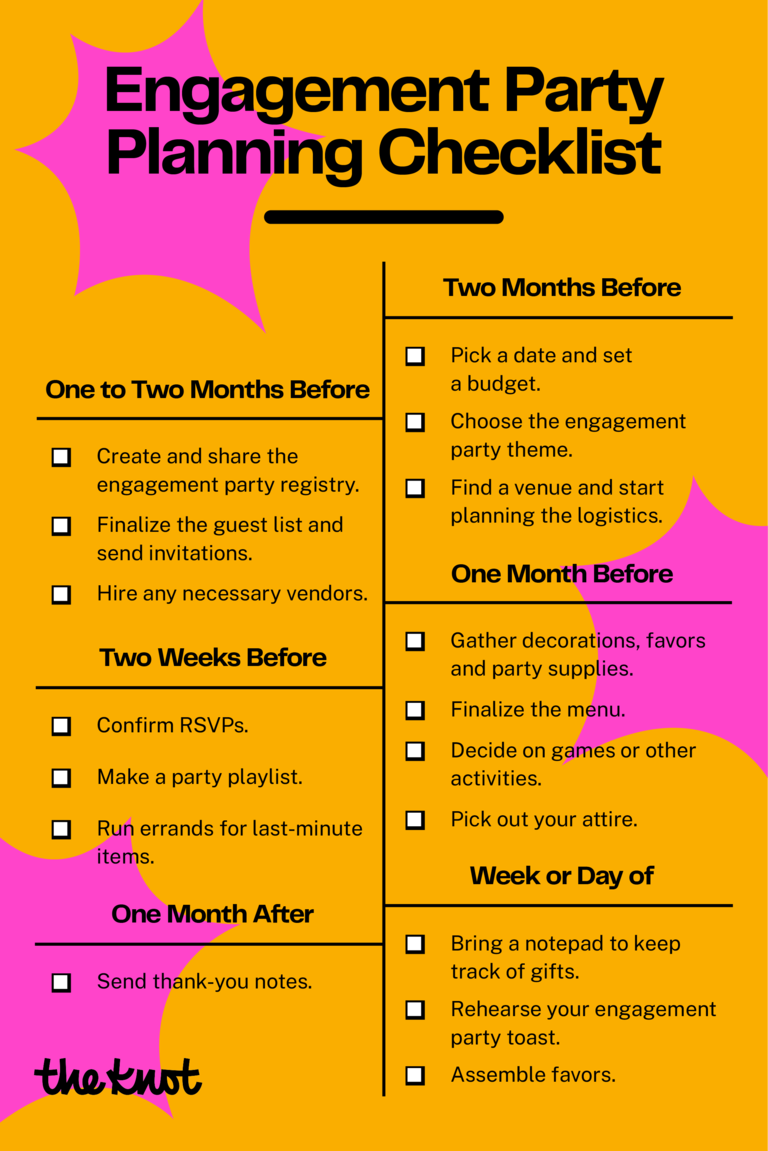 Two Months Before the Party
1. Pick a date and set a budget.
You can't start planning the engagement party until you finalize a date and set a budget, so be sure to tackle these first on your list. The party date should be approved by the couple (unless you're planning a surprise engagement party), but the budget is generally taken care of by the host.
2. Choose the engagement party theme.
Shortly after you decide who's hosting the event, finalize your party budget and set a date, it's a good idea to begin brainstorming about how you want the party to look and feel. This can help you determine whether or not you'll need to reserve a party venue or if a low-key celebration at home is more your speed.
Deciding on a theme at the start of your engagement party checklist will also help you figure out which vendors you might need, such as a florist or cake baker who can design what you're looking for. Think about potential colors, decor ideas and engagement party themes. Want to go all out and celebrate with a glamorous party? Book a rooftop venue and decorate the space with candles and a metallic color palette. Or go the casual route by hosting a backyard engagement party with simple farmer's market flowers and buffet-style food. If you're hosting the party on behalf of the couple, use their favorite hobbies or something about their lifestyle to inspire the theme.
3. Find a venue and start planning the logistics.
Another major to-do on your engagement party planning checklist is choosing the right venue for the event. Depending on how many people you want to invite, you can make the engagement party work almost anywhere—a trendy bar (celebratory cocktails), a restaurant (good food and friends) or even your backyard (easy and casual).
When you're thinking about venue options, it's also a good time to make note of other logistics for the party, such as the start and end times, dress code (if any) and what you'll need to do on the day of the event. If the space will require a lot of setting up before the party, now is the time to enlist a friend or two to help you out—or if the venue has in-house staff who can lend a hand, outline an agreement ahead of time.
One to Two Months Before the Party
4. Create and share the engagement party registry.
Once you're engaged, it's never too soon to start building a wedding registry. Friends and family will want to send you a congratulatory gift (possibly even before your party takes place) and in that case, you can make it easier by having an engagement party registry set up and ready to share. It's okay if there aren't a ton of items on the list yet, but we recommend having a few options picked out for guests who may be interested.
Instead of setting up multiple registries at different stores, keep it simple and pick just one to start with—you can always add more later. If you don't know where to begin, The Knot Registry has some of the most popular wedding registry items all in one place, from cookware and coffee makers to bed linens, decorative vases and more. Guests can purchase their gifts directly through The Knot Registry, and you can link your registries from other stores including Crate & Barrel, Target, Amazon and Pottery Barn.
If you're hosting the party on behalf of the couple, you can ask them about their engagement party registry and share the details with guests as needed. Remember: It's not required for guests to bring a gift to the engagement party, but it's a thoughtful gesture that some may want to take advantage of.
5. Finalize the guest list and send invitations.
Engagement parties tend to be smaller, with primarily close family and friends of both sides in attendance. That said, you'll still need to put some thought into the guest list and engagement party invitations. Most importantly, keep in mind that everyone who's invited to the engagement party should ultimately be invited to the wedding. This is especially crucial to remember if you're hosting the party on behalf of the engaged couple—you'll need to run the final guest list by them first before sending invitations or sharing details verbally about the event.
You can keep the engagement party invites simple, make them yourself or even send them out via email. Don't worry if you (or the couple) haven't chosen the wedding colors or theme yet—the engagement invitations don't need to match. In fact, the engagement party is a chance to plan an event that's entirely different from the wedding, so lean into whatever sparks your creativity.
Need inspiration? The Knot Invitations has thousands of engagement party invitation designs to choose from, including customizable templates, color palettes and text. The engagement party invites should be mailed to guests at least a month in advance, so it's something you'll need to cross off the list fairly quickly when planning the event.
6. Hire any necessary vendors.
Make a list of possible services you'll need to outsource for the party, such as catering, flower arrangements or bartending. Reach out to potential vendors shortly after you've landed on a date and budget to lock your team of pros in sooner rather than later.
One Month Before the Party
7. Gather decorations, favors and party supplies.
Now that you have the theme, venue and invitations picked out, the next step on your engagement checklist is choosing decorations. Again, these can be fairly simple, especially if the party is taking place at a venue where there's already a lot of existing decor (like a restaurant or winery).
Focus on the basics: party centerpieces, congratulatory banners or signs, tablecloths, balloons and decorative string lights or candles to set the mood. Smaller details, like custom cocktail napkins, ring-shaped cupcake toppers or heart-shaped confetti, are nice-to-haves if you want to go the extra mile.
Start thinking about the engagement party decorations as soon as you have the date and location for the party finalized. Depending on what you need and where you're shopping, it could take a few weeks to find everything on your list or wait for items to arrive in the mail. This is also the time to reach out to any vendors who will be supplying decorations, such as a florist or furniture rental company. Lastly, don't forget about the practical items, such as cutlery, drinkware and plates if you're serving food.
8. Finalize the menu.
Around the same time that you start planning the decor, it's time to decide how you want to approach food and drinks for the engagement party. Small bites, buffet tables and light appetizers are all appropriate options if you're planning to host a large group (think 50 people or more). For smaller parties, a sit-down meal is a nice way to slow the evening down and really put all of the focus on the engaged couple. If the party is on the casual side, you can consider providing the food yourself or going the potluck route. Otherwise, start reaching out to restaurants and local catering companies several weeks in advance to ask if they provide engagement party catering and confirm their availability.
You'll also need to think about cocktails, beer, wine and non-alcoholic drinks. Using an alcohol calculator can help you get a good idea of what you'll need to buy—or ask friends to bring if you're hosting the party jointly. Finally, don't forget about the champagne toast to the happy couple. Have a few bottles of bubbly on hand for the occasion (it's a good reason to splurge on a fancy variety!).
9. Decide on games or other activities.
The main point of the party is to celebrate the newly engaged couple, but that doesn't mean you can't add an activity or two to help guests mingle. Keep in mind that the party will likely be the first time that some people meet, especially bringing two families and groups of friends together. An icebreaker or other engagement party game, like couple's trivia, can help facilitate conversation among guests. Popular lawn games can easily be adapted for the engagement party too.
10. Pick out your attire.
If you're one half of the engaged couple, this might be the most exciting to-do on your engagement party checklist. Shopping for a new engagement party dress, suit or other outfit is a fun task compared to some of the more straightforward logistics of planning the party. The attire should complement the overall theme and vibe of the event—if it's a backyard afternoon cookout, skip the stilettos for wedge espadrilles or cute sandals instead. For a party taking place in the evening, you might want to dress up a little bit more.
As the host, you don't want to outshine the couple with your attire. Wear something polished but practical, keeping in mind that there's a good chance you'll be on your feet for most of the event making sure everything runs smoothly.
Two Weeks Before the Party
11. Confirm RSVPs.
If some guests haven't confirmed their attendance, follow up with them about two weeks before the party. Not only will this help you plan for any last-minute errands or party adjustments, but some vendors (like the caterer or venue) will need a final headcount in advance.
12. Make a party playlist.
Unless you're hiring a pro to handle the music, you'll need to make a playlist or queue a few albums ahead of time. The engagement party music should be low-key enough that it won't detract from conversations or other activities—instrumental or acoustic tunes, golden oldies, smooth jazz and R&B are just a few examples of genres.
13. Run errands for last-minute items.
Double-check your engagement party to-do list and run through the party timeline to ensure that you haven't overlooked anything. You might need to pick up an extra pack of paper cocktail napkins, stock up on your charcuterie board ingredients or add more chairs to your rental supplies list.
Week or Day of the Party
14. Bring a notepad to keep track of gifts.
Guests are more likely to bring gifts to your wedding shower or send them directly to your house ahead of the wedding, but there's the chance that some people will bring presents to the engagement party. In that case, have a notepad on hand to write down who brought what so you don't have to worry about forgetting later on. This will make it easier to send engagement party thank-you notes right away—and it's good practice for all of the registry gifts you'll be receiving in the months ahead.
15. Rehearse your engagement party toast.
Unlike wedding speeches, the engagement party toasts are much more informal and brief. But whether you're the host or the engaged couple, it's still a good idea to have something prepared in the back of your mind so you don't freeze up on the spot. You don't need to rehearse anything or write down your speech unless you want to—a simple, 30-second message is enough. If you're the host of the party, lead everyone in a champagne toast to congratulate the to-be-weds. As the couple, be sure to thank your host for planning the event (if you didn't plan it yourselves) and acknowledge everyone for joining you at the party.
16. Assemble favors.
You can thank your guests for coming to the party with small favors, like custom matchbooks, drink koozies or wine bottle stoppers. And when in doubt, you can't go wrong with take-home treats, like cookies or gourmet candies.
One Month After the Party
17. Send thank-you notes.
Following the party, be sure to send thank-you notes to everyone who attended, especially guests who brought a gift, regardless of how big or small. If someone hosted the engagement party on your behalf, surprising them with a handwritten note and a thoughtful gift, like a bottle of their favorite wine, is a nice gesture. Ideally, the thank-you notes should be sent out no later than one month after the event.