5 Ways to Tell if You Should Bring an Engagement Party Gift
Do you really need to give a separate present for this party? Here's what you need to know.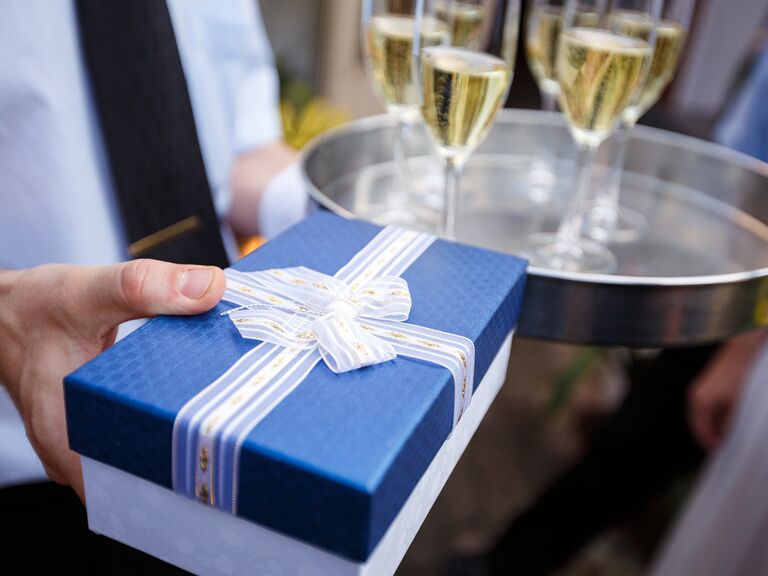 Djordje Boskovic/Getty Images
As a wedding guest, it can feel like you're shelling out for a pricey present every time you RSVP "yes" to any event leading up the wedding day. First, there's an engagement party (sometimes more than one), then the bridal shower, followed by a bachelor and/or bachelorette party—and finally, the main event. But how do you know whether you need to bring a gift to the very first engagement celebration? Simply put, you aren't required to bring a gift to an engagement party. However, it's more appropriate to bring something (even a small something) to some types of events than others—and the honest truth is, it depends (ugh, we know, sorry). Here are a few helpful engagement party gift etiquette tips to consider if you're on the guest list.
1. The Formality of the Event
If your friend just got engaged and texted you about impromptu celebratory drinks at a local bar the next weekend, you probably don't need to come bearing gifts. A gesture of congratulations, like a bottle of champagne or even a nice card, wouldn't be out of place, but don't worry about schlepping a toaster oven to drinks. The invite is casual, so the party will be too. If an engagement party is giving off more formal vibes—like you received a custom snail mail invite for a cocktail party at snazzy venue, and you know the couples' parents will be greeting guests (aka taking stock of who brings what) at the door—either consider asking around to see what other close friends and family members are thinking of doing, or go ahead and bite the bullet and bring something with you.
2. Who's Hosting
If the venue is laid-back and the party isn't officially being hosted at someone's house or by someone in particular (such as one set of parents or the couple themselves), that's another sign the party will be relatively low-key—and that you'll probably be paying for your own meal or drinks. A gift is not "payback" for free food and drinks, but if you're opening your wallet at a party, you're usually not expected to bring a gift too.
3. If Your Budget Allows
On a tight budget? Take some pressure off yourself and know you aren't obligated to bring a gift, even if it is a formal event—especially if you're pretty sure you'll be invited to the shower and wedding. If you hate showing up to events empty handed, consider either dividing your gift budget to accommodate something for each wedding event. Otherwise, go ahead and save your funds to give the couple one, nice wedding gift. Remember, the main thing they want you to give them is your heartfelt congratulations, and for you to share in their happiness. A thoughtful, handwritten card always does the trick without breaking the bank.
4. Whether or Not You Can Make It to the Wedding
If you already know you can't attend the nuptials, but still want to show your love and best wishes for the couple, their engagement party is a great time for gift giving. But before you haul a big box of wine glasses to the event, comb the couple's wedding website to see if they're registered for gifts. If they do have a registry, it'll make the process infinitely easier on both of you (their gift will be delivered straight to their doorstep so you don't have to worry about carrying it).
5. If They Ask You Not to
The happy couple might be very vocal about having a giftless engagement party. If the engagement party invitations, their website or their loved ones personally ask everyone to refrain from bringing presents, you're off the hook.
Should We Bring a Gift to the Engagement Party or Send It Beforehand?
If you do plan on purchasing a gift for the engaged couple, you might be wondering the etiquette of bringing the gift to the engagement party vs. sending it beforehand. While wedding gifts are usually sent to the couple before the big day, engagement gifts are typically brought to the engagement party. Engagement gifts are typically on the smaller side (gift ideas include a bottle of wine, a nice picture frame, a gift certificate to a favorite restaurant, a sentimental keepsake) and can be easily given to the couple during the festivities. If you're planning on giving the couple a larger gift from their registry, you can send it beforehand so the couple doesn't have to worry about transporting it after the festivities.