How to Travel to Your Proposal Spot With Your Engagement Ring
Popping the question away from home? Here's how to keep the ring safe and secret.
by Maggie Seaver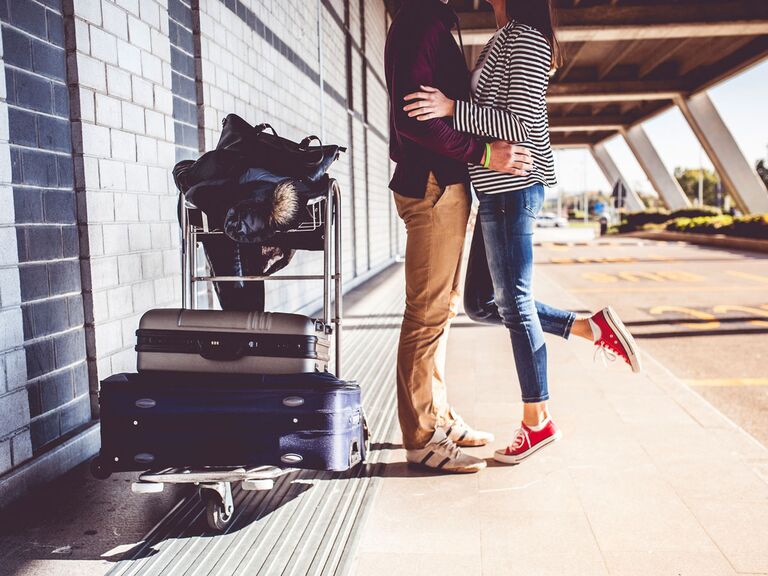 Whether you're driving three hours to the beach or jetting off to the Swiss Alps to pop the question, a destination proposal is a great way to make your engagement that much more unique and memorable. But don't overlook the matter of getting the ring there safely and secretly, if you want the proposal to be a surprise.
Keep Calm and Carry-On
If you're flying to your vacation spot, definitely pack the ring in your carry-on bag. You never want to put something so valuable in a checked bag because it'll be too vulnerable to theft (and why would you let that precious gem out of your sight, anyway?). But you also don't want to have it on your person because you'll have to remove it when you go through security, or worse, you might forget and set the metal detector off—a sure way to ruin the surprise. Pack the ring, in a box, tightly in your carry-on: Roll it up in a sock or sweater for extra padding and security (just don't forget about it). Also do your absolute best to follow all TSA security rules to reduce your risk of being stopped and searched—anything to keep from drawing your partner's attention to the contents of your bag. If you're really worried about getting called by TSA for a closer check, you're better off having the ring in a nondescript, medium-size box rather than a recognizable ring box—especially if a security guard starts unpacking all your stuff.
Don't need to worry about airport security? Feel free to stow the ring on you in a coat pocket or around your neck (if it's not too obvious). Purses, backpacks and briefcases work too, or keep it locked in your car's glove compartment. If the ring box is too conspicuous, safety pin it inside your pants or coat pocket or stash it inside another container, like an eyeglass case.
Find a Special Safe
Once you've arrived, keep the ring safe and hidden until the special moment. Unfortunately, a hotel room safe isn't actually the most secure—sure, it's safe from theft, but not from your partner, who may want to use the safe too or wonder why you're being so secretive about what's inside. Ask the concierge if the hotel has a separate safe they can store it in for you, then retrieve it when it's time.