How to Travel With an Engagement Ring and Not Blow the Surprise
They'll never suspect a thing.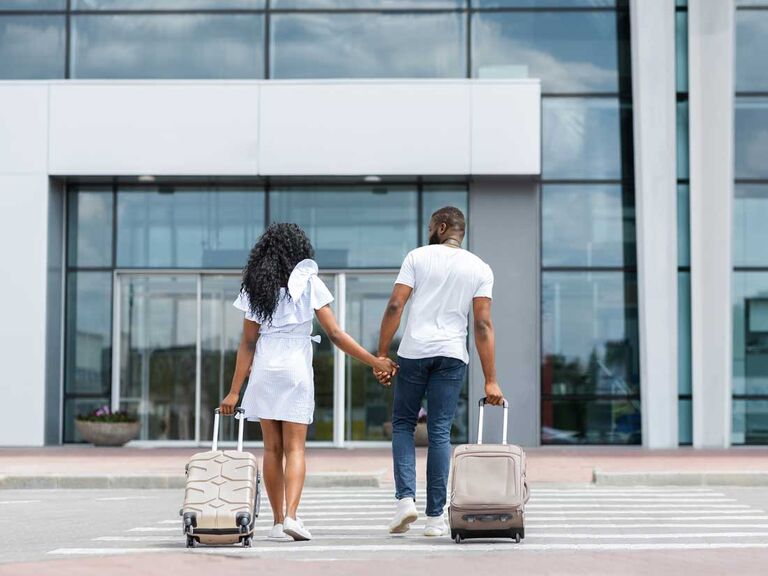 Prostock-studio/Shutterstock.com
We have included third party products to help you navigate and enjoy life's biggest moments. Purchases made through links on this page may earn us a commission.
Whether you're driving three hours to the beach or jetting off to the Swiss Alps to pop the question, a destination proposal is a great way to make your engagement a memorable experience. But if you do choose to travel with an engagement ring and you want the proposal to be a surprise, don't overlook the matter of getting the ring there safely and secretly. You'll already be hiding the engagement ring in your home once you've purchased it, and you'll have to conceal it on yourself leading up to the big moment. If you're traveling for the proposal, strategically plan ahead of time to ensure you keep the secret. Figuring out how to travel with an engagement ring depends on where you're going and your means of travel. Regardless of the details, though, it won't be difficult with some careful planning head of time. Here, we break down how to travel with an engagement ring without blowing the surprise.
Pack the Ring in a Carry-On Bag
If you're flying to your vacation spot, pack the ring in a carry-on bag. You never want to put something so valuable in a checked bag because it'll be too vulnerable to theft. Plus, these bags are more prone to damage once they're out of your hand. Considering the value of your engagement ring, it's best not to let the precious gem out of your sight. However, keeping it on yourself (like in a pocket or inside a coat) can get tricky when you have to remove it when going through security. Or, even worse, you might forget the ring is in your pocket and set the metal detector off—a sure way to ruin the surprise. Pack the ring in a box, and wrap it tightly in your carry-on. Roll it up in a sock or sweater for extra padding and security if you prefer.
Research Airport Security Rules
Discreetly getting an engagement ring through airport security is possible—it just takes preparation ahead of time. Do your best to follow all TSA security rules to reduce your risk of being stopped and searched. Before embarking on your trip, make sure your belongings are in compliance with TSA guidelines to avoid being stopped. If you're really worried about getting called by officials for a closer check, you may be better off having the ring in a nondescript, medium-size box rather than a recognizable ring box—especially if a security guard starts unpacking all your stuff.
If you do have to unpack your bag in front of your S.O., stay calm! You don't want to give away the surprise by getting visibly nervous. Packing the ring in a discreet box will ease your nerves and keep the surprise from getting spoiled at the airport.
Get a Travel Engagement Ring Holder
Whether you're traveling overseas with your engagement ring or your adventure is domestic, consider purchasing a discreet box to hold the gem until you're ready to propose. Sites like Etsy and The Knot Shop sell travel engagement ring holders that are discreet and small—a worthy purchase if you're worried your S.O. will spot a traditional ring box in your luggage. Buy one a few weeks in advance to ensure you have plenty of time to make sure it's exactly what you want.
Look Into Engagement Ring Travel Insurance
Some insurance companies offer travel engagement ring insurance. If this is of interest to you, contact your broker to learn about options included in pre-existing plans you already have. Frequent travelers may want to consider investing in jewelry insurance early on to prevent future problems. Travel engagement ring insurance generally protects your gem in case it's lost or stolen, though specific details will vary among insurance companies and different policies. Be sure to ask your broker if travel coverage is available worldwide—some policies have limitations, so be aware of what your package covers before purchasing.
Find a Discreet Safe
Once you've arrived at your destination, keep the ring safe and hidden until the special moment. Unfortunately, a hotel room safe isn't actually the most secure—sure, it's safe from theft, but not from your partner, who might also want to use the safe or wonder why you're being so secretive about what's inside. Call ahead or ask the concierge if the hotel has a separate safe to use, then retrieve it when it's time.
If that's not an option, keep the ring stored in its box in your suitcase for as long as possible. If you've taken extra precaution by keeping it in an indiscreet box and wrapping it up in a piece of clothing, your S.O. likely won't catch on. Then, when it's time to propose, they'll be shocked by the surprise.