The Essential Wedding Proposal Checklist, From Start to Finish
Think you've got everything planned for your proposal? Consult our checklist just to be sure.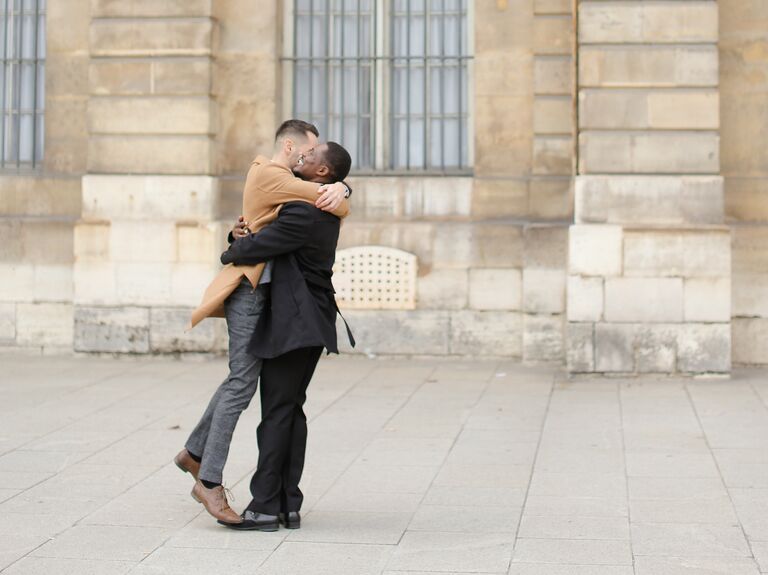 Olena Hromova/Shutterstock
If you're thinking about getting down on bended knee soon, first of all, congratulations! We've put together a foolproof proposal checklist for anyone who is getting ready to pop the question. Follow along with this chronological list of things to do before proposing, from choosing a ring to finalizing the details of the surprise.
1. Decide that you're ready to propose.
Making the decision to get engaged is an important life moment. Maybe it's something you've already talked about at length with your partner, but if not, now is a good time to have a conversation about your future together. There's no right or wrong amount of time to date before getting engaged—what's most important is how well you communicate, if your long-term life goals are aligned and that you're both ready for the next step. While the actual proposal can be a surprise, the decision to move forward with an engagement should be one that you both agree on.
2. Start reading about engagement rings and begin browsing for the right style.
Once you're officially ready to propose, you can start looking for engagement rings. Brushing up on the basics of engagement rings is an important step on your proposal checklist—read about the different metal types, ring settings, stone shapes and where to shop in our engagement ring guide.
Understanding your partner's ring preferences can also help guide your decision. If they haven't shared a specific design they like, we recommend having a general sense of their preferred ring style (or at least an idea of what they don't want). Pay attention to the jewelry they wear on a regular basis or ask their friends for tips. And remember that it's no longer taboo to talk openly with your partner about the engagement ring before the proposal—in fact, many couples even shop or browse for rings together ahead of getting engaged. According to The Knot 2022 Engagement and Jewelry Study, which surveyed more than 5,200 couples who got engaged last year, 40% of couples discussed the engagement ring beforehand and 26% of couples shopped for the ring together.
3. Purchase the ring (and engagement ring insurance).
After you've done your research and browsed different rings, it's time to make your decision. We recommend purchasing the engagement ring at least a month in advance—longer if you're planning to design a custom ring or make changes to an existing design. This is also the time to purchase engagement ring insurance, either through a company that specializes in jewelry insurance or as an extension of an existing policy, like homeowners or renters insurance. Finally, don't forget to buy a box for the engagement ring (most jewelers will provide one with any standard purchase) and make a game plan to keep the ring safely out of sight from your partner.
4. Have a conversation with family and friends.
If you haven't already informed your close friends and family that you're planning to propose, consider confiding in a few people. There's no need to tell everyone just yet, but talking through the emotions and proposal logistics with your closest loved ones can help quell your nerves and keep you grounded. (And you may even get some sage advice from friends who have proposed before.) Just remember that the more people you tell, the harder it will be to keep your surprise a secret. If you are enlisting the help of friends or family, make sure they're committed to sticking with your game plan and keeping everything under wraps.
You might also feel that it's important to ask your partner's family for their blessing before proposing. Depending on your preference, this can be done before you purchase the ring or shortly after—it's up to you. If possible, we recommend having the conversation face-to-face a few weeks before you plan to propose, but if you can't be there in person, a video call or phone call can be just as heartfelt. Aside from this being a special moment with your future in-laws, they'll be excited to help you finalize the details of the proposal as needed—just ask them to kindly keep it a secret!
5. Choose a time and location.
Now that you've got the ring on deck, the next step on your proposal checklist is choosing when and where to pop the question. You can be as creative or as simple with the proposal as you like, but ultimately, the proposal should reflect your relationship in some way. Maybe you propose at your favorite spot in the neighborhood park, or you could surprise your partner by returning to the same place where you first vacationed together. Narrow it down by deciding if the proposal will be private or public—is your partner someone who would enjoy being in the spotlight for such a major moment?
Finding the right time to propose is just as important as picking a location. Avoid proposing if it's not an ideal time personally for your partner, such as their busy season at work or during a family crisis. No clue where to start? We've got plenty of proposal ideas, from simple and sweet to over-the-top impressive.
6. Finalize the logistical details.
With your basic marriage proposal plan in place, you can start to think about the add-on details, like decorations, surprising your partner with an engagement party or hiring a proposal photographer. Are you planning to give your partner flowers? Or having champagne and a favorite dessert on hand? Is there anything that needs to be set up at the proposal location ahead of time? Make a to-do list of what you need for the proposal to cover all of your bases, and reach out to loved ones if you need help tying up some of the loose ends.
7. Rehearse your marriage proposal speech.
No matter what, your spouse-to-be is going to love hearing about all of the reasons you want to spend your life with them, so there's no need to have a speech memorized word for word. But doing a little bit of preparation is always a good idea—especially when nerves and butterflies are involved—so we recommend thinking about some of the special things you want to say.
Speaking from the heart is the most important, but if you need a little inspiration, a marriage proposal speech prompt can help get you started. Reflect on your relationship together, tell them how excited you are about your future, and finally, take a deep breath and ask the all-important question: "Will you marry me?"
8. Pop the question and celebrate.
Congratulations—you're getting married! It's time to share the news with your loved ones. Be sure to personally tell your close relatives and friends about the engagement before sharing it on social media (but bookmark these Instagram engagement captions for the right moment). After a couple of days or weeks have passed, you can start thinking about planning an engagement party and tackling some of the main things to do after getting engaged, such as setting a wedding budget and choosing your wedding party.