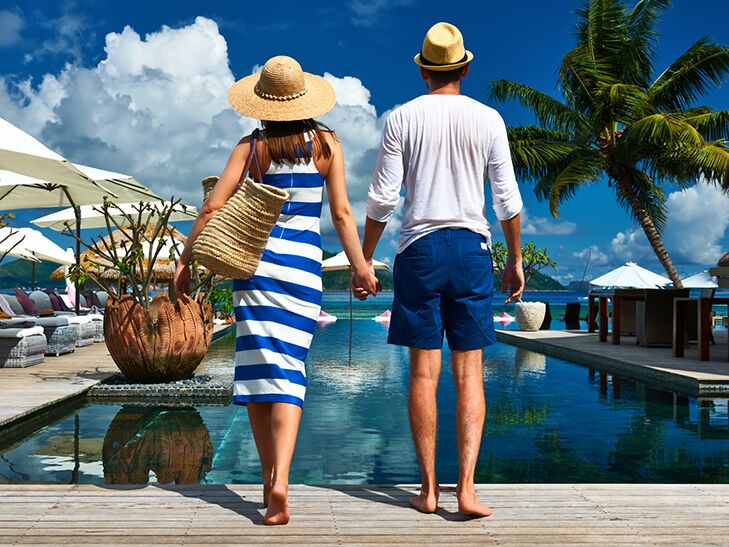 If you're like most newlyweds, you want to wear your engagement and wedding rings every moment of every day. Naturally, that extends to your first big getaway as a married couple. But how can you avoid losing your jewels at some point during your trip?
First things first: Get your rings insured right after you buy them. It's surprisingly inexpensive (expect to pay about 1 to 2 percent of your rings' value each year). And in the event something happens, you'll be so glad you did. Jewelers Mutual Insurance Company offers coverage to replace or repair your jewelry if it's lost, stolen or damaged—wherever you go; its policies cover both domestic and international travel, which is key for honeymoons.
Once your rings have been insured, you can safely bring them on vacay; just wear them strategically throughout your trip. Here are some guidelines for when it's probably fine to flaunt your rings—and when it's smarter to stow them in a safe spot.
Heading to the airport
Keep your everyday jewelry on, but stow your other valuable pieces in your carry-on, rather than in luggage you plan to check. Gold and platinum won't set off the metal detector, but if you're wearing something you think will, store it in a zippered pouch in your carry-on before getting to the security checkpoint. Airports can be crowded and frantic, and if you wait until you reach the conveyor belt to remove your jewelry, you risk dropping it, leaving it in a plastic bin, or forgetting where you stashed it.

Going snorkeling or swimming at the beach
Leave your rings in your hotel room safe. (But make sure your insurance covers in-room safes—some policies only apply to the hotel's central safe.) There are many good reasons to do this: Water can make your fingers shrink, sand is notorious for swallowing up rings, and the open ocean equals a next-to-zero chance of recovering your jewelry. Don't risk it.
Enjoying a pool day
Wear your rings—carefully. Because most pools are surrounded by grass, concrete or wood flooring, it's unlikely that jewelry will be lost forever if you drop it. It is smart, however, to take off your rings before you put on sunscreen: It can build up in the setting and cloud stones. And be cautious if you actually go in the pool. Yes, it's safer than the ocean, but who wants to deal with that stress on their honeymoon?
Hiking or working out
Leave your rings in your hotel room safe. In addition to the possibility of losing them on the trail, you run the risk of scratching a stone, getting grime in a setting, or loosening a prong with any outdoorsy or physical activity.
Sightseeing, shopping, or going out to dinner
Show off your rings. If you're concerned about theft, you can always turn your engagement ring inward so only the band is exposed. Alternatively, store your engagement ring in the hotel safe and rock your wedding band solo. You'll still be able to wear a special piece that celebrates your commitment to each other—and isn't that the whole point?


The Knot and Jewelers Mutual Insurance Company present Rock the Ring, a sponsored series featuring inspiration and advice to help you find the perfect engagement ring—and then keep it safe. Visit JewelersMutual.com to learn more about how to protect your ring.